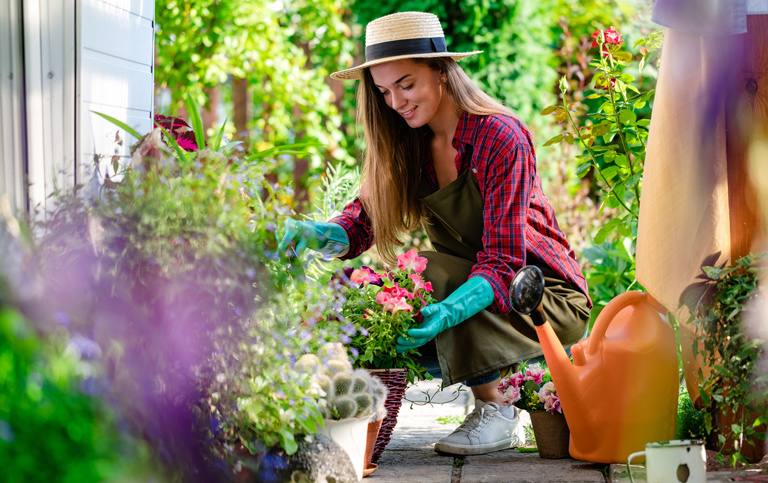 Looking for the perfect gift for the gardener in your life? Make an easy task of it by choosing any one of these 30 great gift ideas for gardeners.
Whether you're shopping for an avid horticulturist or a newbie hobbyist, this list guide covers everything from practical gifts that will help them step up their gardening game, to DIY-inspired gifts that will help them get their creativity on.
Be the hero that found them that special gift they didn't even know they needed.
1.
Extra Thick Kneeling Pad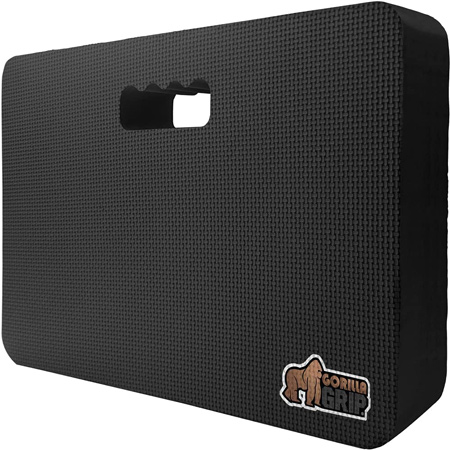 While gardening is a relaxing hobby it can also be tough on the knees. This extra-thick kneeling pad by Gorilla Grip is the perfect solution for that. Made with ultra-durable, high-density foam, this 1.5-inch-thick pad helps to provide support and reduce pain when kneeling, making it ideal for gardening or any other activity that requires extensive time on the ground. Plus the lightweight design and included carrying strap make it easy to stay mobile and move around the garden.
2.
Garden Tool Set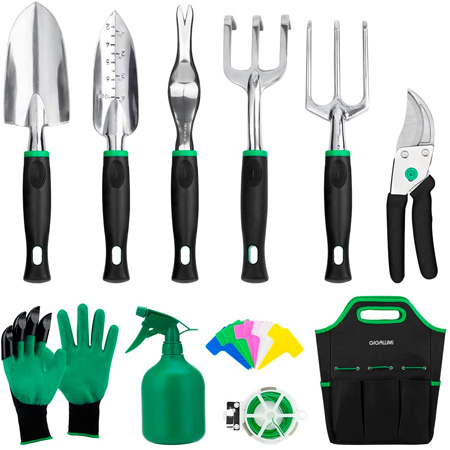 This 11-in-1 gardening tool set is perfect for any gander's needs. The set includes two trowels, large and small, a hand rake, weeder, cultivator, sprayer, gloves and so much more. It's a complete set to get any gardener ready to play in the dirt. Made of heavy-duty aluminum alloy the tools won't rust or break so they'll last many (many!) growing seasons. They also come in a convenient cotton tote bag to keep everything organized when they're not being used.
3.
Soil PH Meter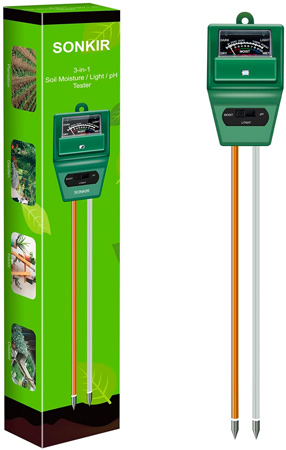 Keeping a healthier garden gets easier with this Sonikir soil pH Meter. The 3-in1 function makes it possible to accurately test the soil for moisture, pH value and the sunlight level of the plants. It takes the guesswork out of knowing when to water or fertilize the garden. No batteries are needed and it's suitable for both indoor and outdoor use.
4.
Garden Kneeler and Seat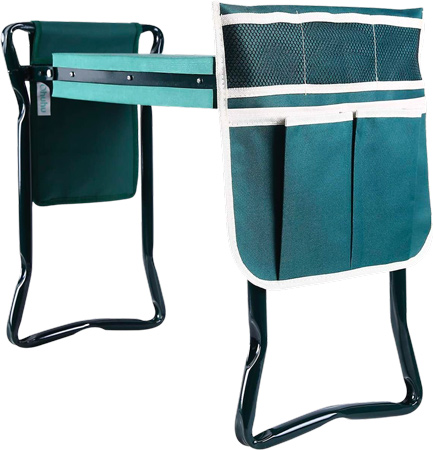 This garden kneeler and seat combo is perfect for anyone who wants the benefits of both a kneeling pad and a garden stool. The thick EVA foam kneeling pad provides cushioning that reduces knee pain, while the heavy-duty foldable stool allows easy switching between kneeling and sitting. It also features two tool pouches for the added convenience of having any gardening tools always at hand. Less knee and back pain means more time enjoying the garden.
5.
Watering Spray Bottle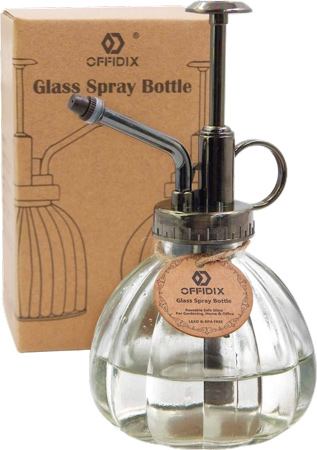 This vintage-style water sprayer is a great gift for anyone that loves their indoor succulent or herb garden. At only 6.3 inches tall it's easily transportable but the large capacity body of 200ml makes it ideal to water all the small pots around the house. While the body is made of durable, thick glass the nozzle is made of rustproof plastic so rusting over time or leaking won't be an issue. When not in use it also makes a stylish piece of vintage-inspired home decor.
6.
Copper Metal Plant Labels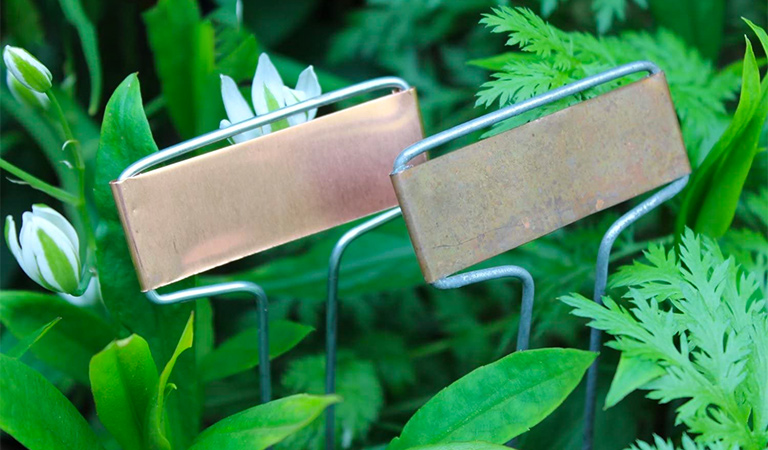 These unique copper metal plant labels are not only functional but will make a beautiful addition to the garden. Made of long-lasting galvanized steel with a slightly sloping label area they're not only weatherproof but they're also easy to read without bending over. They come in a pack of 25, 50 or 100 so there are plenty included to label the entire plant bed or vegetable garden. They make a nice change to the typical wood or slate labels that are more common. Just another way to add a personal flair to the garden.
7.
Garden Colander Trug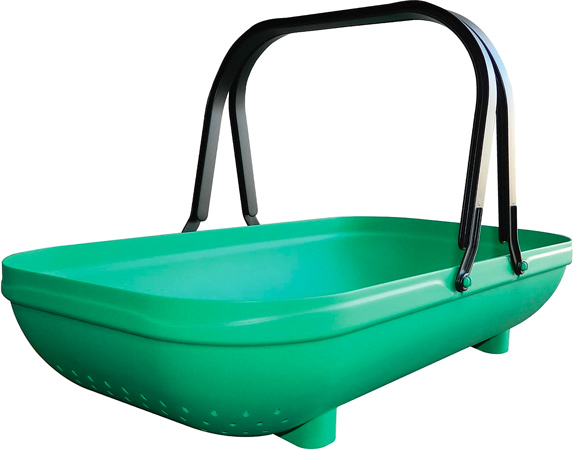 This large garden trug is designed to not only make it easier to collect flowers and vegetables from the garden but the built-in draining system at the bottom makes it easy to rinse and drain without having to remove them from the trug. The hardwearing plastic makes it long-lasting and lighter than traditional metal trugs. At only half a pound it will be easy to carry around the garden picking those prize-worthy tomatoes.
8.
Utility Belt Garden Apron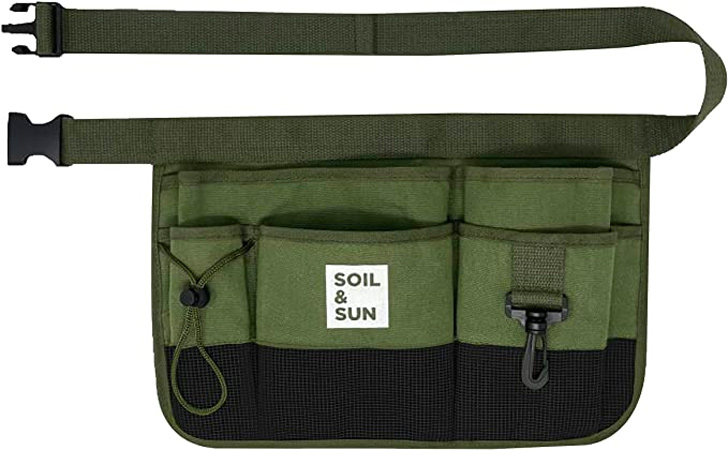 This utility belt is sure to be a hit with the minimal gardener that likes to only carry the necessities with them around the garden. The durable canvas makes it heavy-duty enough to hold metal tools while also being weather-resistant and tear-proof, so there's no need to worry about gardening shears poking through. The adjustable waist strap makes it easy to get the perfect fit for long-wearing comfort.
9.
Gardening Tool Apron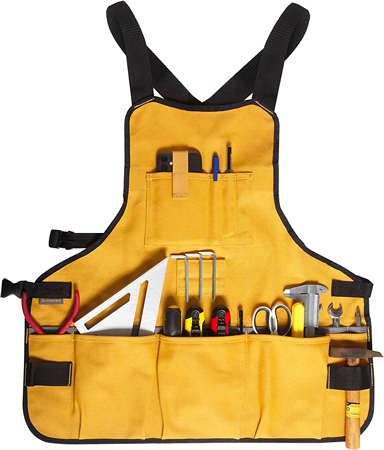 Know a hard-core gardener that likes to carry an entire shed with them? This apron has them covered. With 21 (yes, 21!) pockets there's a convenient place for everything they need. It even has a magnetic strip across the chest so they can magnetically store small tools that need to stay easy access. This full-coverage apron offers more protection from getting their clothes dirty than a waist utility apron does. It also comes in a gift box so it makes a thoughtful but easy gift to give to the serious gardener in your life.
10.
Unisex Gardening Clogs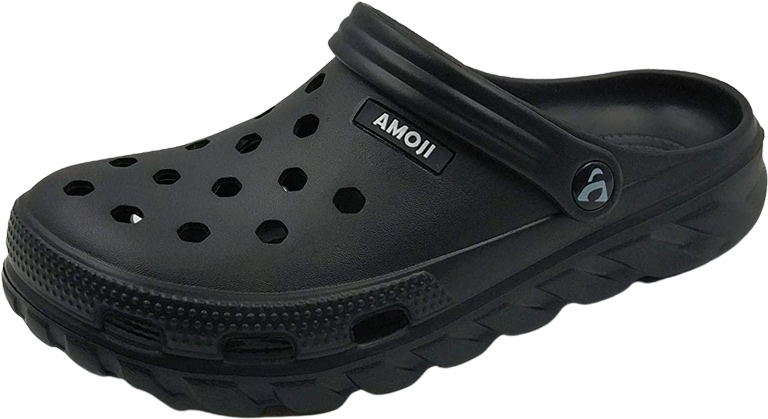 These unisex, lightweight rubber clogs are the ideal gardening shoe. They're easy to slip on and off, offer a non-slip grip on the soles and they're easily washable after a long day of gardening. Just run them under water and leave them out to dry for the next day. They come in various colors and fun patterns so finding the perfect style for your gift won't be difficult.
11.
Landscape Stakes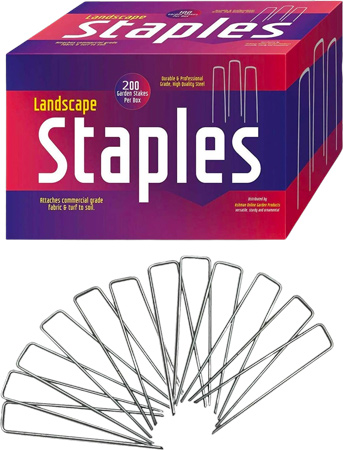 A great garden starts with the right groundwork and these six-inch ground stakes make it easy to pin down landscaping fabric. They can be used in the foundation of raised flower beds, vegetable gardens, or even used to build tomato cages. Sets come in four different qualities from 50 to 500 so there will be plenty of stakes to build whatever type of gardening project is at hand.
12.
Cut Resistant Arm Sleeves

Keep your gardener friend safe with these cut-resistant sleeves. They easily slip on to protect against scrapes, cuts or abrasions that could result from pruning bushes or trees. They're made from TenActiv yarn that offers rugged protection five times stronger than steel while still remaining cool enough to wear in the sun. They also have the added benefit of protecting arms from prolonged sun exposure. This pair of full-length arm sleeve protectors will make a great gift for the gardener or farmer that already seems to have everything.
13.
Paper Pot Maker Kit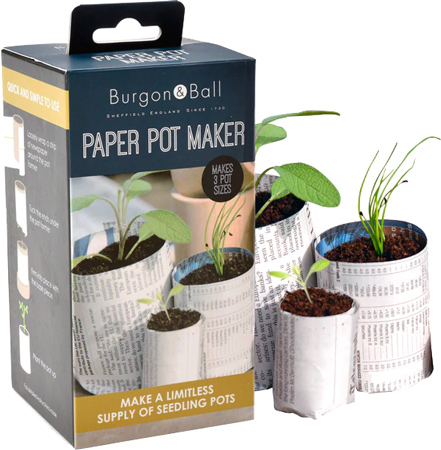 For the gardener that wants to get a little more DIY and creative, this paper pot maker by Burgon & Ball will make a fun and practical gift. Now your gardener friend can turn old newspapers into useful pots in the garden. The paper pots are perfect for seeds and seedlings to get them started before they find their forever home out in the garden beds. What a fun way to recycle and be eco-friendly!
14.
Garden Compost Bin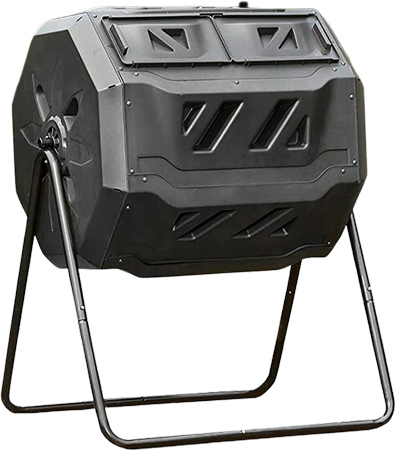 A garden fed well, grows well and this 43 gallon, dual-chamber composter is cleverly designed for easy continuous composting. Fill up one side at a time so while one is composting, the other will be ready to feed the garden. It features aerated internal bars that mix the compost and allow for needed airflow. It also has black double-wall panels that absorb and retain heat to speed up the composting process. Plus, the galvanized steel feet prevent rusting and deterioration so it's made to last. This composter is perfect for the gardener that wants to make their own homemade organic waste.
15.
Flexi Garden Hose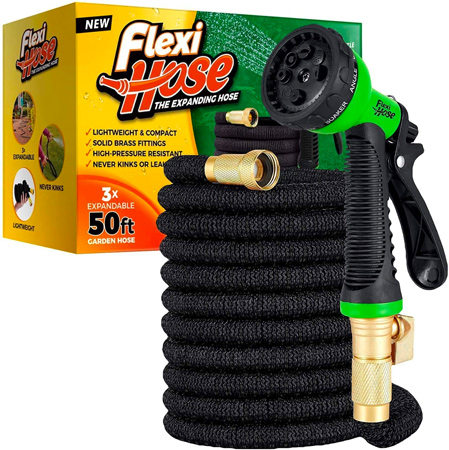 Every gardener needs a reliable garden hose. It's the lifeline of gardening. This heavy-duty, expandable hose is a top choice for both hobbyists and professional gardeners alike. The kink-resistant 50-foot hose is constructed of four layers of latex to protect the inner tube from punctures or leaks while moving it over potentially sharp terrain around the garden. And while not in use it shrinks up to a third of its size for easy storage out of sight. As one of the most recommended garden hoses on the market, this is a useful gift no gardener would refuse.
16.
Rainfall Gauge

This rain gauge makes keeping the garden healthy and thriving easier by tracking how much rainfall has already watered the plants. No more over or under watering the garden. The deep, six-inch reservoir is perfect for catching even the heaviest of rains, and the polycarbonate plastic construction is resistant to yellowing or cracking from the sun. Plus, with no need for electronic calibration, this rainfall gauge is easy to set up. Just mount it in the garden on a wall or fence with the included mounting bracket and it's ready to go. Perfectly watered plants all the time.
17.
Indoor Steel Compost Bin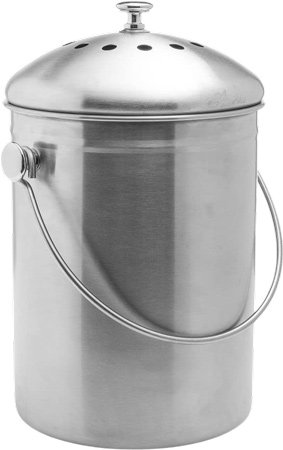 Giving a gardener compost is like giving them gold. They actually even call it black gold! With this one-gallon indoor composting bin they can start the composting process right from the kitchen. It's compact enough to keep on the counter and the rustproof stainless exterior makes it stylish enough to keep on display. It even features an airtight lid and replaceable activated charcoal filter to eliminate any odors. The discreet size and construction make this such a popular choice for indoor composting it was even featured by Bon Appetit and Forbes. Your gardener friends will be sure to love it. (And so will their garden!)
18.
Squirrel-proof Bird Feeder

Gardening is a chance to relax, reflect and be one with nature and this large capacity bird feeder is a fun way to invite more nature into the backyard. With a 3.4-pound seed capacity and six feeding ports with perches, there is plenty of room to feed a steady stream of birds. It's also squirrel proof so unwanted critters won't be an issue. Just another way to make the backyard the perfect oasis for any gardener. This product is surely a safe bet when it comes to grandparents.
19.
Reusable Grow Bags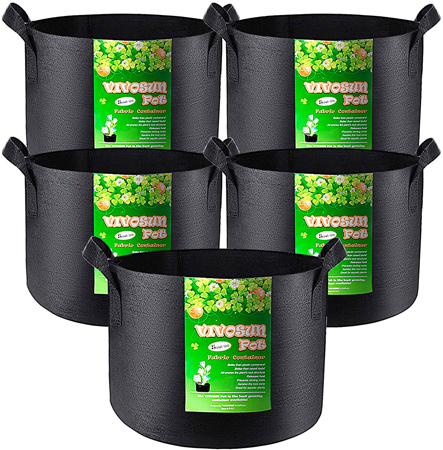 These grow bags by Vivosun are perfect for starting seedlings or growing young plants and trees before transplanting them into the ground. Made of sturdy, BPA-free fabric, they offer superior drainage that allows roots to breathe, stopping root rot and encouraging faster, stronger growth. The reinforced handles make them easy to transport even when holding an entire bag of soil. They come in various sizes, from as small as 1 gallon all the way up to a huge 30 gallons. So whether they're for small plants or large trees, these reusable grow bags are a staple for any avid gardener.
20.
Indoor Hydroponics Growing System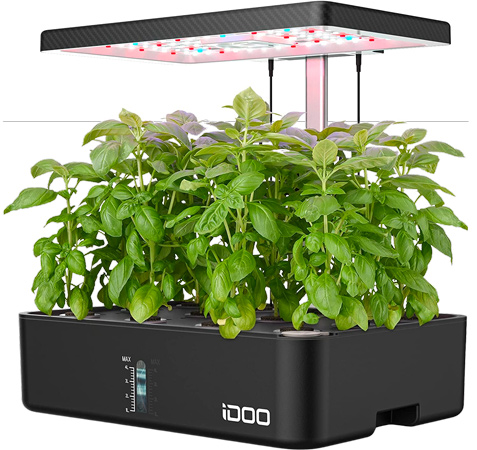 This one is for the indoor gardener or apartment dweller that still wants to stretch their green thumb. This low-noise hydroponics growing system by iDoo grows plants and vegetables indoors 20% faster than in soil alone. With 12 pods that enable plants to grow to an impressive 11 inches tall, your indoor gardener friend can always have fresh herbs at the ready.
21.
Landscape Finishing Edging

Beauty is in the details and this border edging is the perfect way to top off the beautiful bed your gardener friend has loved and nurtured. This flexible wood trim is an understated accent of beauty to finish walkways, garden beds, or anything else that needs that final touch of sophistication to make all that hard work come together. Each set comes with eight sections of edging that easily snaps together to finish a multitude of projects. It's a DIY project that looks like the pros were called in. Perfection achieved.
22.
Solar Wind Spinner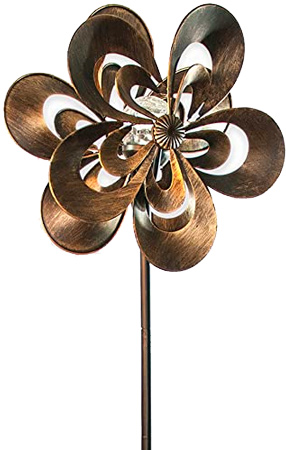 This solar-powered wind spinner will make a stunning gift for any gardener. Not only is it a beautiful piece of garden art by day with its antique bronze powder-coated spinning blades, by night it provides an eight hour display of changing jewel tone colors. The elegant design will subtly blend with the aesthetics of any garden without being obtrusive. It's like a piece of classic jewelry for the garden.
23.
Hanging Herb Drying Rack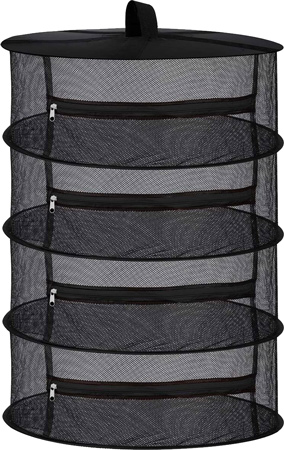 For the gardener that likes to dry herbs, teas, flowers or vegetables this practical gift is sure to get tons of use. Made of breathable mesh, it allows for continuous air circulation, which helps speed up the drying process. Plus, it has multiple tiers which makes it possible to dry large quantities at once. The zipper closures keep birds and other critters from helping themselves to what's inside, and when it's not in use, the rack folds up and fits into the included storage bag. Drying herbs and vegetables is a great way to make a spring harvest from the garden last all year long.
24.
Premium Glass Herb Keeper

This premium herb keeper is a great way to save money by prolonging the usability of fresh herbs and leafy greens for up to three weeks! No more picking herbs from the garden only to have them wilt and spoil faster than they can be used. It's made of clear glass with a stainless steel core and a BPA-free plastic cup, which keeps the herbs fresh without harmful chemicals leaching into them. The design of this herb keeper is compact enough to fit into any refrigerator but has a larger holding capacity than most other herb preservers. It's great for parsley, cilantro, basil, mint, or even asparagus and kale. It's the perfect gift for the gardener that loves to cook.
25.
Watering Globe Set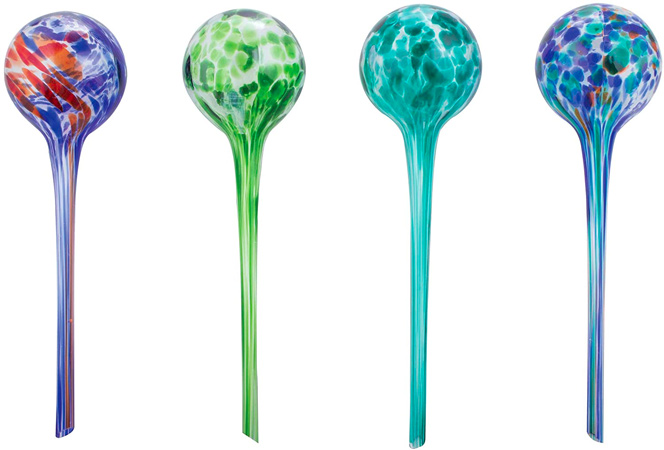 These beautiful hand-blown glass globes by Wyndham House make watering plants a set it and forget task. This set of four is not only aesthetically pleasing, they're a functional piece of art that automatically keeps plants healthy and hydrated. Just fill the globes and stake them into the soil and the plants naturally draw what they need, as they need it. This is an especially perfect gift for gardeners that travel a lot or for the aspiring gardener that tends to over or under water plants.
26.
Mini Greenhouse
Gardeners can keep the growing season going longer with this mini greenhouse. This transportable greenhouse with locking caster wheels makes growing vegetables, herbs, wheatgrass or flowers indoor or outdoor all year long a possibility. It's perfect for seedlings and flowers that would benefit from a longer growing season, and it's great for starting plants indoors and then moving them outdoors when the weather warms. With its huge weight capacity of up to 88 pounds, there is plenty of room to grow whatever would benefit from an extended growing season. Because the only thing better than gardening is more gardening!
27.
Eco-Friendly Bee House Hotel
Every garden benefits from the help of happy bees and this Bee Hotel is a great way to let them know all are welcome. Made from environmentally friendly materials and designed to attract more bees into the garden to help with pollination, this is a creative gift that your gardener friend will accept with enthusiasm. It's a cute little bee house to keep the bees coming back and keep your friend buzzing with excitement as they watch their garden flourish.
28.
Seed Box Storage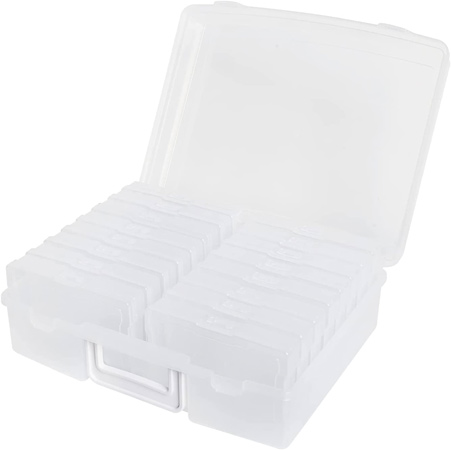 A practical gift for any gardener but one that will be appreciated every time a new growing season begins. Staying organized gets easier with this large organization box. The outer case houses 16 individual 4×6 cases that are the perfect size to hold most standard seed packets. Seeds can easily be organized by type or by season so finding the right seeds at the right time is one less thing they will need to worry about.
29.
Mosquito Repellent Candle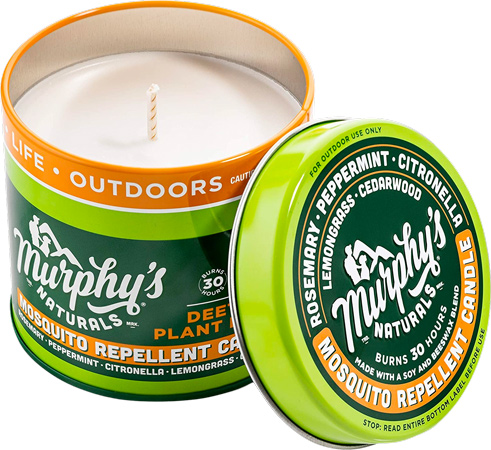 This mosquito repellent candle will keep your gardener friend from having to deal with aggravating mosquitos while they tend to their garden. It provides up to 30 hours of mosquito protection with its unique blend of citronella, rosemary, peppermint, and lemongrass oils. Unlike other candles that just smell like citronella, which is a love it or hate it scent, this candle offers the benefits of citronella while providing the added bonus of a beautiful, fresh aroma. Plus it's petroleum, palm wax and paraben-free so it's an eco-friendly gift for your nature-loving friend. This candle is a must-have for any hiking adventure.
30.
Garden Claw Gloves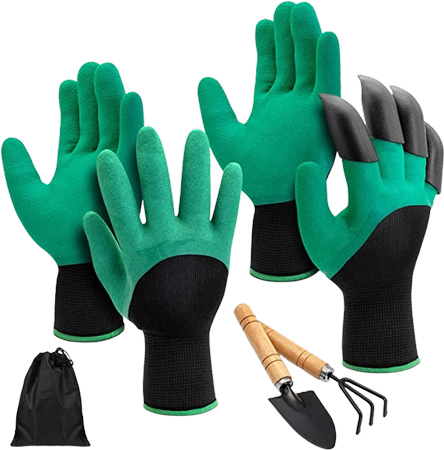 As practical as they are funny looking, these garden gloves are great for weeding and seeding. This gift comes in a set of two pairs, each pair with one hand of built-in claws that will protect hands from broken nails or injuries while digging. The high-quality latex coating makes them durable and easy to wash after use. As an extra bonus, the gloves also come with a garden shovel and a cultivator. Everything a gardener needs to take the challenge out of digging. (The only real challenge will be putting them on and not pretending to be Wolverine at least once!)
Related Posts