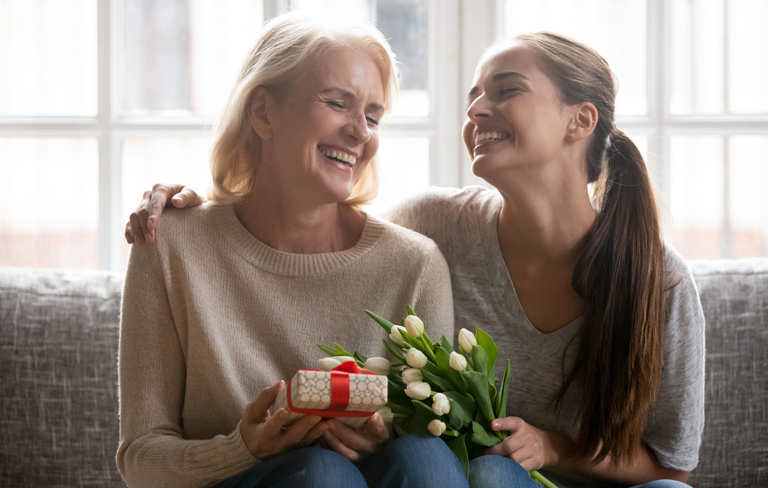 Finding the perfect gift for the perfect grandparents doesn't have to be a chore. This list of 30 unique gift ideas is worthy of gifting to the best grandparents in the world. Everything from fun things to do to great family heirloom ideas you can do together, there's definitely something here to put a smile on their face. Grandparents are the best and they deserve a little something special…
Here are 30 gift ideas to show them how much you love and appreciate them.
1.
Smart Digital Photo Frame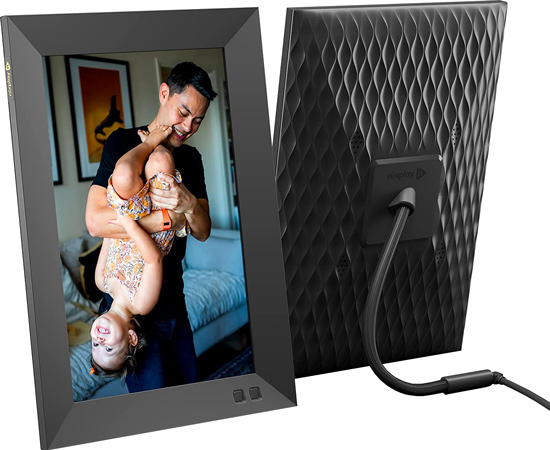 Nothing makes a grandparent happier than seeing and sharing pictures of their grandchildren. With the Nixplay digital photo frame, they can display unlimited pictures without ever having to open the frame. The biggest bonus to this perfect gift is you can even change the pictures for them from wherever you are. You can import photos from Google Photos, Instagram or Facebook and share them instantly to the frame. They just show up! You can even use it to send picture messages to the world's best grandparents. They'll love it.
2.
Faux Fur Throw Blanket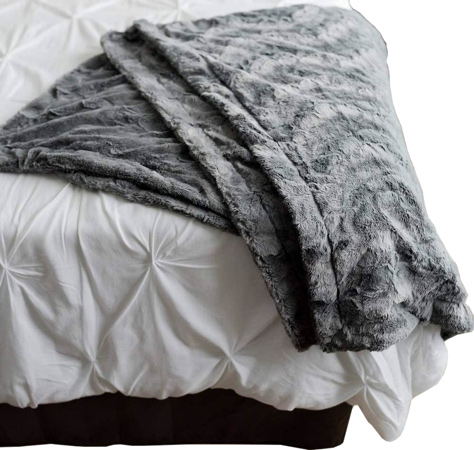 What's second best to hug from the grandkids? How about a snuggle under this oversized faux fur throw? Not only is it stylish enough to use as a couch throw or bed blanket, it's heavyweight enough to keep anyone warm when they want to snuggle up with a good book or cuddle on the couch. Measuring at a huge 80×60, there's plenty of room for both grandma and grandpa to share.
3.
Teabloom Complete Tea Set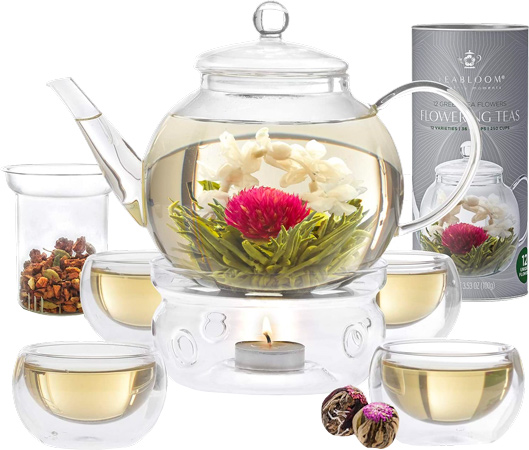 It's tea with a beautiful twist. Grandma and grandpa will love sitting around sipping this delicious tea. Though this unique tea set is also a treat for the eyes too. The set not only comes complete with a beautiful 40 oz glass, infuser teapot, it also comes with four 3.4 oz matching teacups and 12 tea flowers. Just drop the tea balls in the boiled water and watch them bloom. Grandma's tea party just got a little more sophisticated. The neighborhood will be talking.
4.
Unisex Ralen Lined Crocs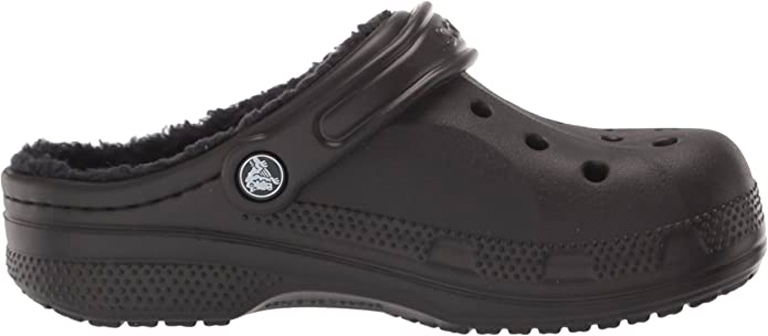 Happy feet, happy grandparents! These unisex crocs are perfect for kicking around the house, playing in the garden or walking the dog. The fuzzy interior makes them perfect for use as a cozy house slipper and their lightweight rubber soles make them the perfect shoe for any grandparent that values comfort and safety in footwear when they're running after the grandchildren. Plus they come in five beautiful colors so finding the perfect one for grandma or grandpa won't be a problem.
5.
Acacia Wood Recipe Box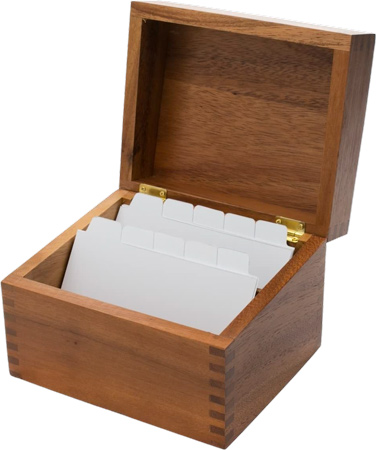 We all love a family heirloom that we can keep on passing down through generations. And what better heirloom than a collection of family recipes? This handcrafted, solid acacia wood recipe box is a timeless design that will keep on looking better with age. With two compartments and ten included dividers, keeping all of grandma and grandpa's best recipes in order will be easy. It even has a grooved lid that will prop up their recipe card when they're making their famous chocolate chip cookies for the grandkids. This is the perfect gift for the grandparents that love to cook.
6.
Slant Cut Bowl Glass Vase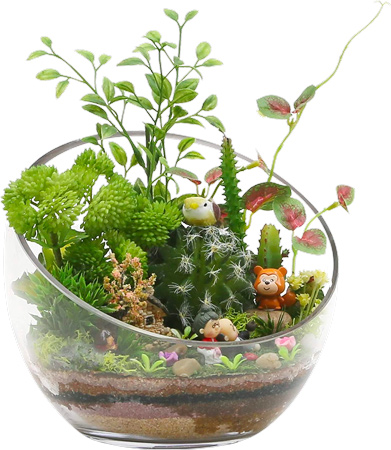 A vase that doubles as a candy dish, because grandparents always have the best candy on hand. This mouth-blown, slant cut glass vase is the perfect vessel for a beautiful terrarium arrangement. Everyone loves getting flowers but a mini succulent garden can last forever. And if it doesn't last forever, the vase makes a classy catch-all bowl for keys, coins, or a luxurious sweet dish for when the grandkids are over.
7.
750-Piece Jigsaw Puzzle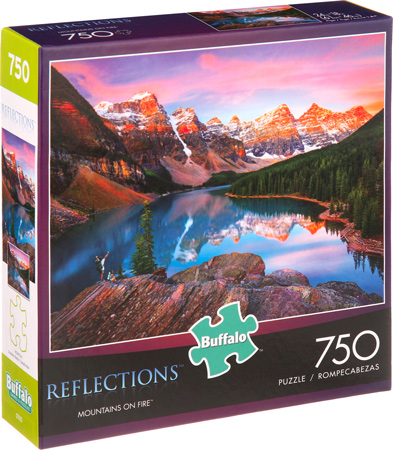 Whether they're doing it on their own or with their grandchildren, puzzles are always a great gift idea. There's something very therapeutic about putting together a puzzle, especially one as beautiful as the Mountains On Fire edition. This 750-piece jigsaw puzzle will provide hours of enjoyment. Plus it can be framed once it's complete as a forever reminder of the fun they had putting it together with their loved ones.
8.
Pioneer Photo Album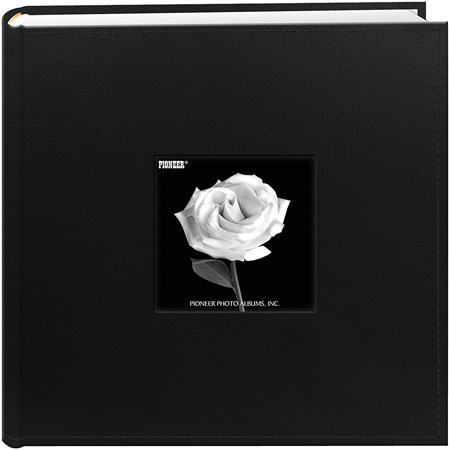 In an age where everything is digital, it's nice to have a reason to print out photos of friends and family. There's something special about having a tangible photo and this photo album is the perfect place to curate all of grandma and grandpa's favorite ones. The sleek black faux leather cover makes it a timeless design that will blend seamlessly with any home decor style. It holds 200 4×6 photos so there's tons of room to keep adding to the memories as the grandkids grow. Either gift it empty or fill it with memories as a truly personalized surprise.
9.
Camping Chair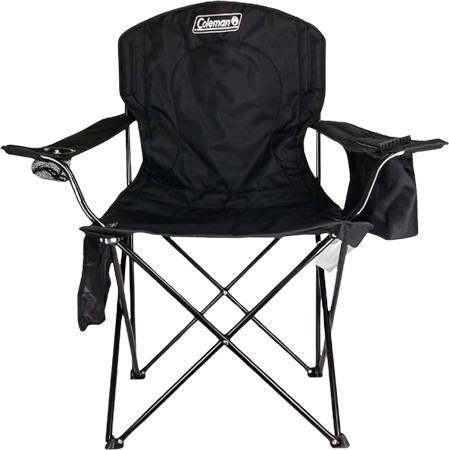 This is the perfect gift for the supportive grandparent's that never miss a game. Rain or shine, they're always on the sidelines cheering. Now they can watch the game in comfort from this chair with a fully cushioned seat and backrest. It even has four can holders for easy-reach refreshments and side pockets to hold books or magazines to keep them busy during halftime. This camping chair folds up in a convenient carrying bag that easily fits in the trunk so it's always on hand ready for the next game.
10.
Thick Fluffy Grip Socks
Socks are always a great gift idea and these non-slip, fluffy socks are the perfect choice for grandparents. Having the grip on the bottom of the socks makes walking on potentially slippery surfaces safer. Plus the comfort of fluffy socks is never a bad thing. They'll also love the on-trend colors that don't make them look like hospital socks. Just stylish comfort to wear around the house.
11.
Chesapeake Bay Scented Candle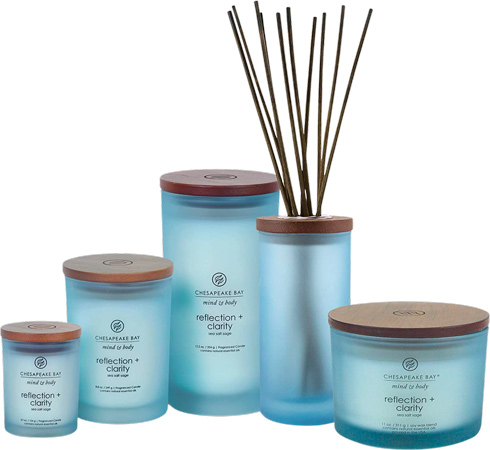 Who doesn't love a candle? Made with natural soy wax and essential oils, this candle by Chesapeake Bay is sure to be a hit with its fresh sea salt and sage scent. With notes of eucalyptus, lavender, cedar, chamomile and orange it will fill the house with a sense of calm and serenity for up to 50 hours. It's the perfect way to relax after all the grandkids go home.
12.
Cafe 21 Ounce Mug Set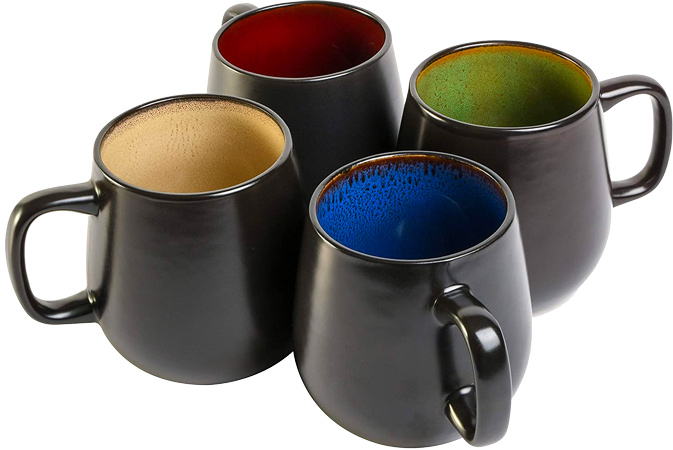 For the caffeine-loving grandparents, this set of four chic mugs is a great addition to their mug collection. With a sleek black exterior and vibrant colorful interior, they make an understated but stylish impact. The thick earthenware makes these mugs extra durable and being microwave and dishwasher safe, clean-up is a breeze when the family goes home.
13.
Keepsake Hands Casting Kit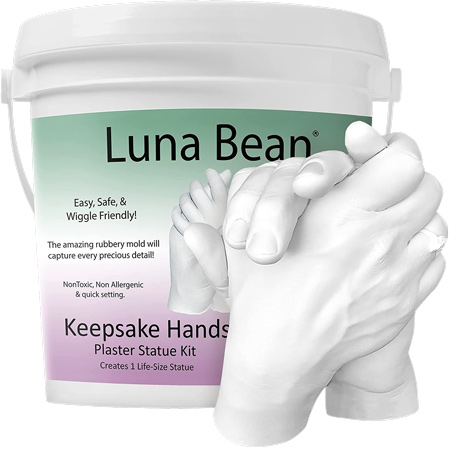 Pictures are great but this hand casting kit by Luna Bean takes freezing a moment in time to a whole new level. The special casting material is so precise it can even pick up fingerprints and fine lines. It can be used for baby footprints and hands or it can be used for a couple holding hands. Whether they want to use it with the grandkids or maybe make a special keepsake of just grandma and grandpa, this unique gift will be a memory that will last a lifetime.
14.
Smart Water Bottle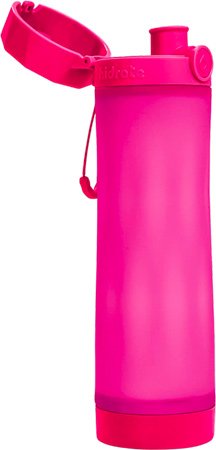 Keep grandma and grandpa hydrated with this smart water bottle. This bottle not only reminds them to drink by flashing three times but also tracks how much they've been drinking throughout the day. The bottle is BPA-free and wrapped in smooth silicone for condensation reduction and better grip. It also fits in most cupholders of both cars and golf carts. It's the perfect water bottle for health-conscious grandparents.
15.
Neck Reading Light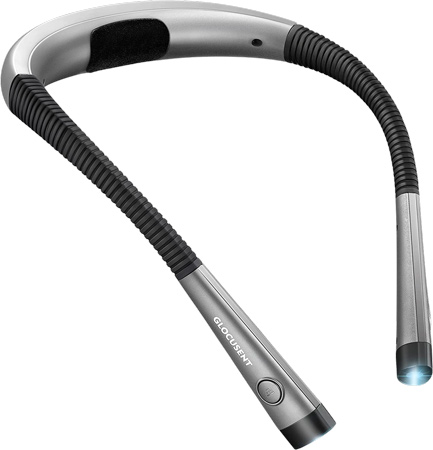 Reading, cross-stitching, knitting, whatever it is they love to do, this hands-free reading light will make it easier. Its ingenious design that rests around the neck makes it a better option than standard reading lights. The angle of the lights makes the beams bright enough for the task at hand without spilling over onto anyone else around them. There are also six brightness levels and three color temperatures, so whatever it is grandma and grandpa are working on they can do it in any environment with ease.
16.
Silicone Tea Infuser Set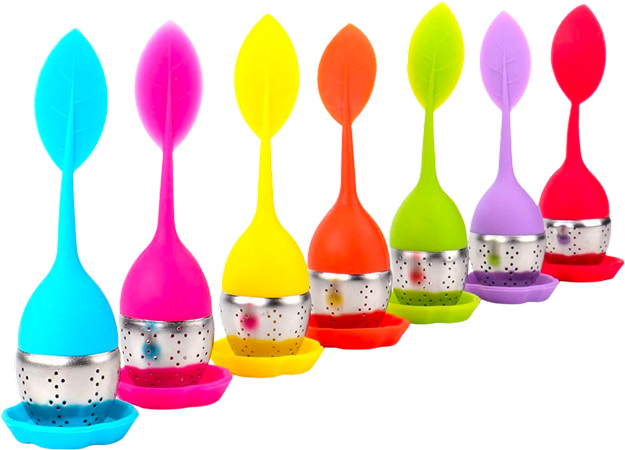 This adorable set of silicone tea diffusers is the perfect way for grandma and grandpa to mix their own loose tea. Drinking loose tea comes with a ton of health benefits. There are teas for everything from heart benefits, immune boosters or even teas to just relax and destress. These single-serving tea diffusers make it easy to mix it up and try different teas.
17.
Insulated Picnic Backpack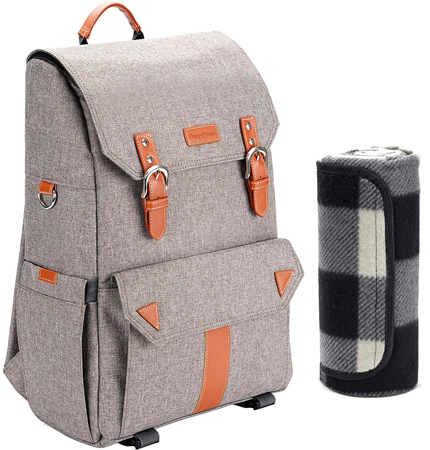 Family picnics are a memory worth making. This large insulated picnic backpack has room for everything they'd need for a perfect park or beach picnic. Its ergonomic design and foam straps make it comfortable to carry on long walks. It even comes with a soft fleece blanket large enough to fit four to six people. The bag is designed with thick insulated walls to keep food and drink cold, or hot, for hours of family day fun. (Or maybe a romantic picnic for just grandma and grandpa.)
18.
Baby Handprint and Footprint Kit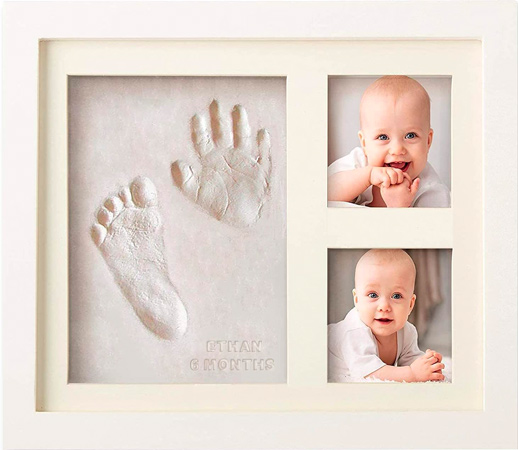 For new parents or grandparents, or the ones with a new addition to the family, this baby handprint or footprint keepsake frame is a gift anyone would love to receive. The kit not only comes with the special, easy-to-use casting clay, it also comes with a frame that displays the cast along with two photos to remember how little their grandchildren once were. So sweet.
19.
Stationery and Envelopes Set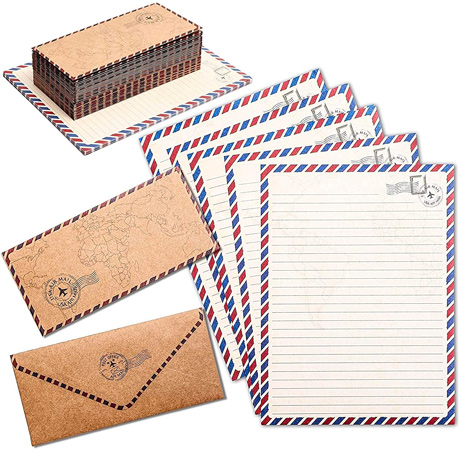 Everyone loves getting handwritten letters and this gift is perfect for the grandparents that don't live local. Who better to be penpals with than grandma or grandpa? This 48-piece stationery set has a vintage design that nods to yesteryear. Not only is having a pen pal fun but a handwritten letter is a meaningful keepsake to hang onto forever.
20.
Peeramid Bookrest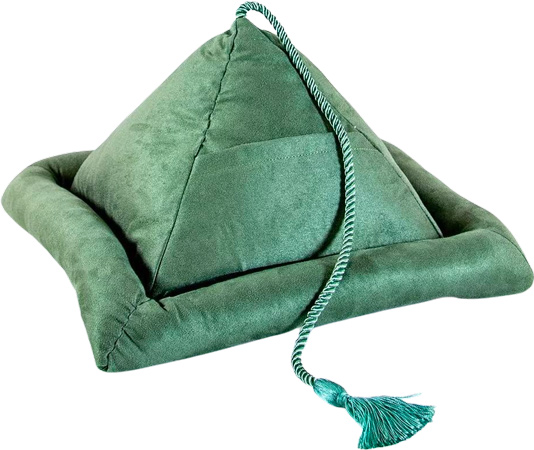 Curling up with a good book just got hands-free with the Pyramid bookrest. This plush, pyramid-shaped book holder makes it easy to prop up a book or an iPad so grandma or grandpa can be sipping tea or even laying down while they're reading. It's also great to use as a recipe book holder on the kitchen counter. It comes in five classic colors plus one fun print if they want a matching one for the grandchildren. This will make reading time together not only more functional but more fun too.
21.
Clear Window Bird Feeder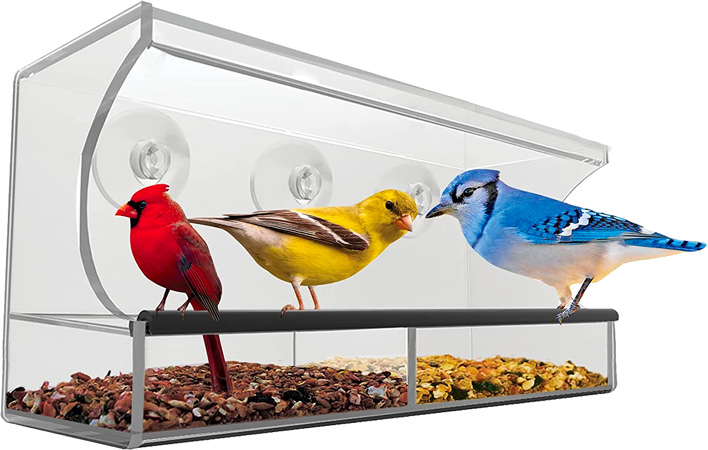 Watching birds is a great way to relax in the garden. Or from a kitchen window. This unique clear window bird feeder allows the birds to feed while allowing a 360° view. Unlike traditional bird feeders, the completely clear acrylic housing makes it easy to take pictures. Grandma and grandpa can take up birdwatching in their very own backyard.
22.
Luxury Bathrobe with Slippers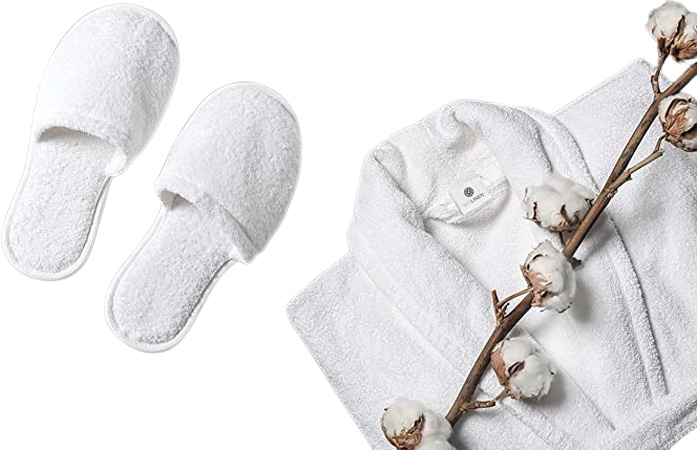 Treat the grandparents to a spa experience from home with this luxurious terry cotton bathrobe with matching slippers. Every time they step out of the bath or shower they can wrap themselves in 100% premium combed cotton so thick and so soft they won't want to get dressed. The matching slippers have a rubber sole so there won't be a danger of slipping on a wet floor. It's like treating them to a little piece of pampered luxury every time they put it on.
23.
Woven Storage Basket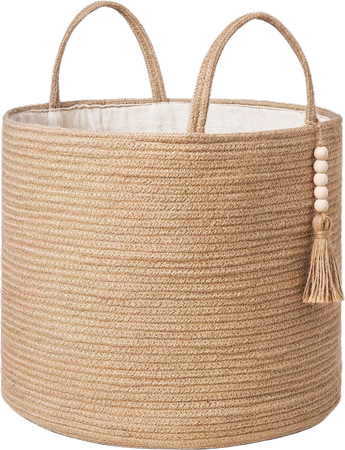 Grandparents, like most of us parents, probably have toys all over the house when the kids are over. Having grandkids around is great. The mess, not so much. This stylish woven basket not only offers a place to store toys but after the grandchildren grow up it doubles as a blanket or pillow basket for the bedroom or living room. Made of neutral tone jute it's a timeless piece of decor that will serve a purpose no matter how their needs change over time.
24.
Adult Coloring Book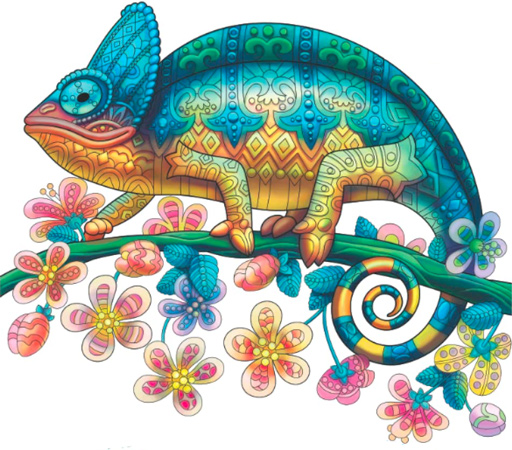 Coloring is fun for all ages. Whether they do it with the grandchildren or on their own this coloring book designed for adults is a great way to relax and have fun. With 121 pages of beautifully illustrated animal prints, there are hours of entertainment to be had. They can even frame their favorite creations to decorate the house or give as gifts.
25.
Microwavable Heating Pad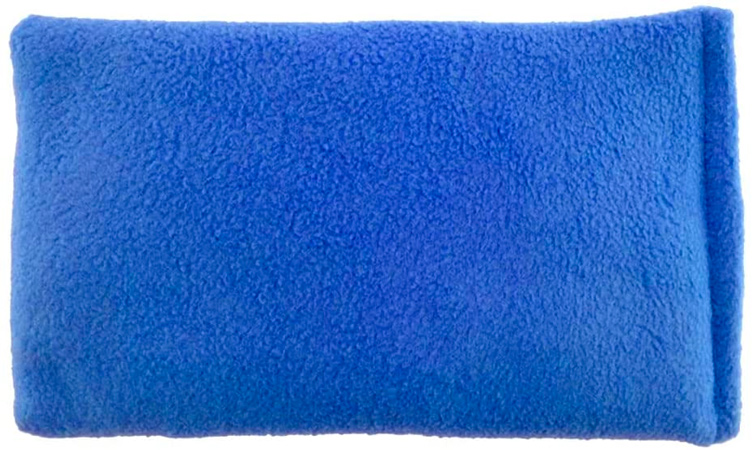 This heating pad is so versatile they'll find plenty of uses for it around the house. Not only is it great for any aches and pains they may have it's also great to pre-heat a cold bed without any of the dangers of an electric blanket. Just put it in the microwave for a few minutes and it's ready to provide pain relief or give warmth whenever they need it.
26.
Pill Organizer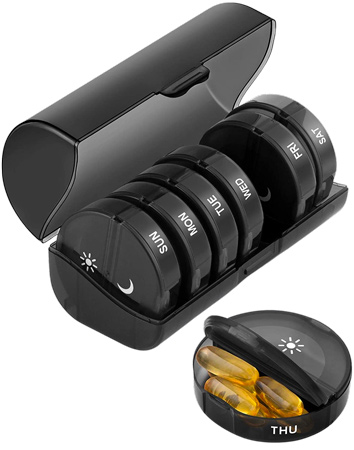 Not just for medications, this organizer can help grandparents keep all their vitamins in order. This organizer offers double protection with a main outer shell that houses the individual days. Each day is divided into two large compartments, day and night, so there's no sorting through which pills are which. While the organizer holds more tablets than traditional organizers, it's still compact enough to easily carry around. It's not just an organizer, it's the gift of one less thing to worry about.
27.
Silicone Oven Mitt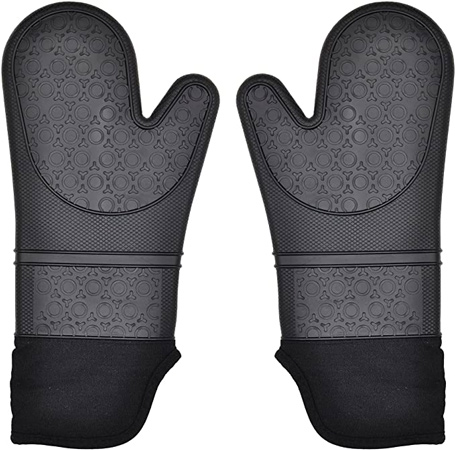 Whether it's grandma in the kitchen baking cookies or grandpa on the grill, these oven mitts make the perfect gift for the culinary able. With up to 450°F protection and a quilted lining for extra comfort, they're the perfect kitchen accessory. They also have silicone grips that help with handling and waterproofing so no more soggy oven mitts. Pairing these with a set of cookie cutters would be a great gift that grandma can do with the grandkids. Memories and cookies!
28.
Shiatsu Neck and Back Massager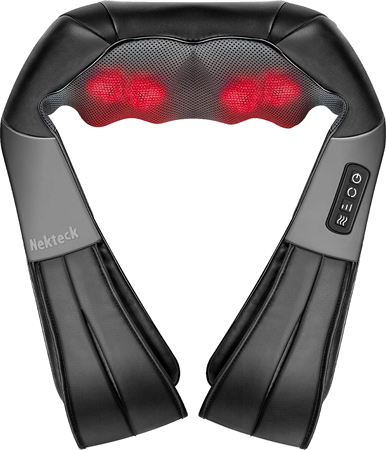 Everyone deserves a great massage, and grandma and grandpa are no exception. With eight powerful massage nodes and three adjustable speed strengths, it will alleviate sore muscles and eliminate neck stiffness. It also has a built-in infrared function for heat therapy when needed. Not only is it a moment of blissful relaxation, but it's also good for improving blood circulation. A great gift for busy grandparents that deserve a break.
29.
Professional Mahjong Set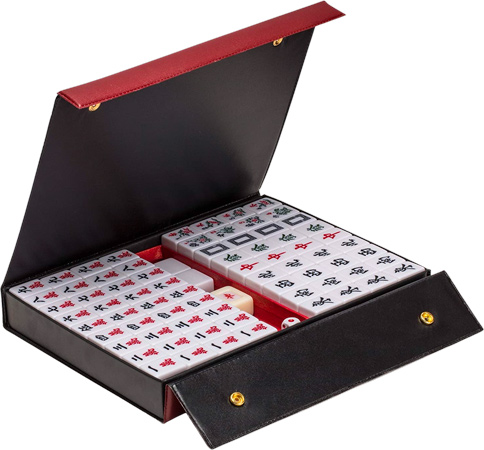 Everyone loves Mahjong! Fun with family and friends is always at hand with this professional Mahjong set. The set comes complete with 146 professional tiles, three dice, and a wind indicator that all fit into a carrying case so it's easy to carry to the party. Mahjong is hours of fun, plus playing games is said to improve mental clarity and overall health.
30.
Foldable Trolley Bag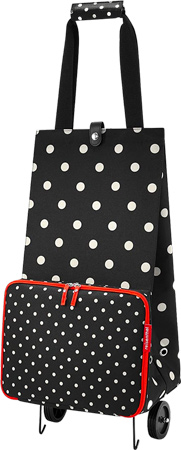 Shopping at the grocery store or farmers market will be so much more convenient with this foldable shopping bag with wheels. We've all been guilty of picking up a few more things than we intended at the store and then having to carry home bags that are just too heavy. With this soft-shell trolley that folds up to the size of a child's lunchbox, straining to get the shopping home will no longer be an issue. It comes in five colors, including solid colors and fun patterns like polka dots or a checkered dogtooth. It's a fashionable alternative to the traditional trolleys that look like they're made for the elderly. We know grandparents might have a few years on us, but they're as young as they feel, and carrying this will relieve strain and keep them looking on-trend.
Related Posts