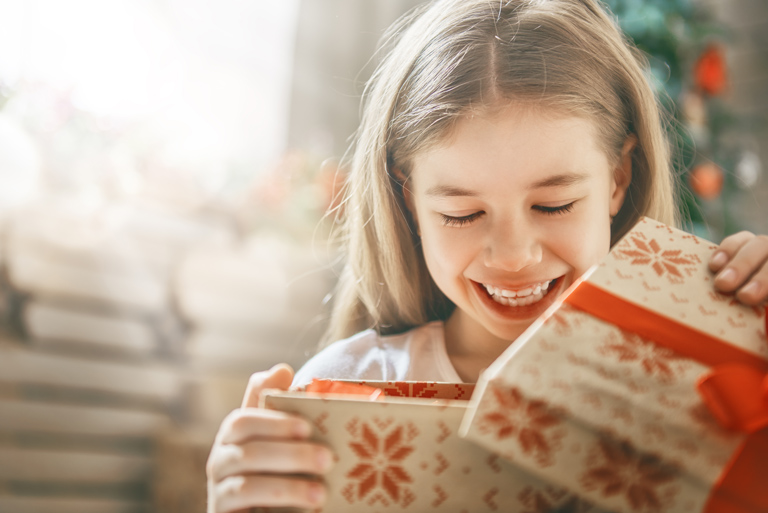 Santa Clause is coming to town… except he's not really, which means all the pressure of finding the perfect gift for the 11-year-old girl on your list falls onto your plate. You've probably ended up here after a frustrating deep dive into the millions of pages on the internet about finding a gift for pre-teen girls with high expectations.
Consider this list of 18 incredible Christmas presents for 11-year-old girls the last stop on your search. We've done all the hard work for you so you can relax knowing the gift you give is the one she wants.
1.
Disney Silver Stud Earrings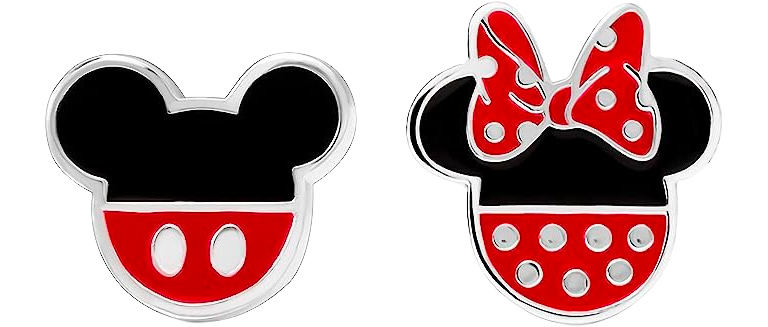 This Christmas, give a gift that is going to delight the 11-year-old Disney fan you're shopping for with these adorable earrings. Made by Disney, these earrings feature the iconic mouse ears of the brand. One earring is designed to represent Mickey Mouse and the other represents Minnie Mouse.
They're made of silver-plated metal that is safe for sensitive skin and won't tarnish. The bold black and red enamel details stand out against the silver backgrounds, making these an eye-catching accessory despite their tiny size. They even come ready to gift in a Disney-branded box and luxurious satin drawstring pouch.
2.
Musical Princess Jewelry Box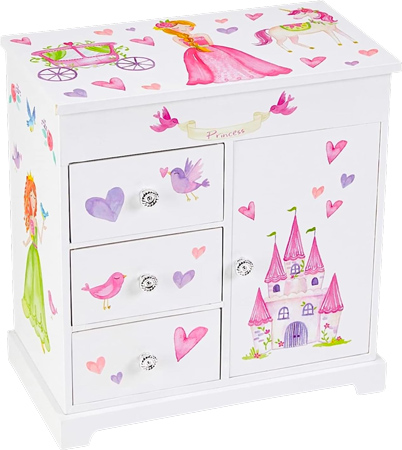 If the 11-year-old girl you're trying to find a gift for this Christmas loves her jewelry collection, this gift will help her keep it all organized and easy to sort through when it's time to get ready for school. Made by Jewel Keeper, this unique jewelry box is designed vertically, like a tabletop jewelry armoire instead of a traditional box.
It features three pullout drawers for small pieces, a door that opens to reveal a necklace hanging rack and a hinged lid that hides the pink velvet-lined interior compartments. When the lid is opened it plays the Nutcracker's Dance of the Sugar Plum Fairy tune while the little princess that pops up spins in her purple crown and princess dress. This quality gift will be perfect for the princess you're shopping for.
3.
Pop Art Cat Hoodie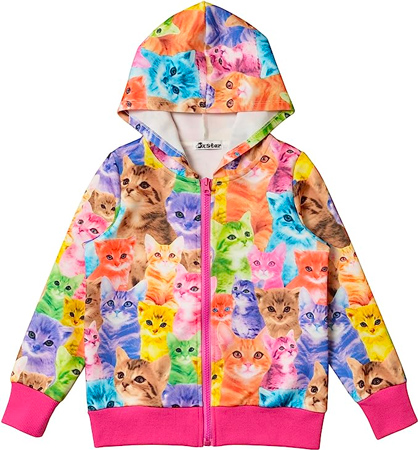 Searching for a Christmas gift for a trend-setting preteen? This vibrant zip-up hoodie will undoubtedly be a prized addition to any 11-year-old girl's wardrobe. Offering a fun blend of style and comfort, it's crafted from a soft, machine-washable material that stands up to regular wear without pilling.
Perfect for daily use, this distinctive fashion accessory stands out with a pop-art-style cat design, set to make a splash when paired with her favorite jeans. Whether strutting down school corridors or hanging out with friends, she's sure to be noticed.
4.
Sequined Mermaid Suitcase Set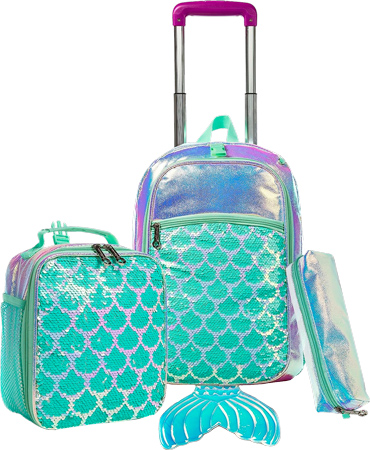 Make this Christmas extra special for an 11-year-old girl who loves to travel in style with this sparkling sequin suitcase set by Meetbelify. Not just an eye-catcher, this trolley luggage set is as practical as it is beautiful. The three-piece set features a rolling backpack, a matching lunch bag and a holographic pencil case.
The matching backpack and lunchbox are covered in glittering sequins that form a mermaid tail pattern. The rolling backpack even features an actual 3D mermaid tail at the bottom. This gift is ideal for traveling but would also make a great set for everyday school so she won't have to carry all those heavy books on her back.
5.
Fashionable Zippered Slim Wallet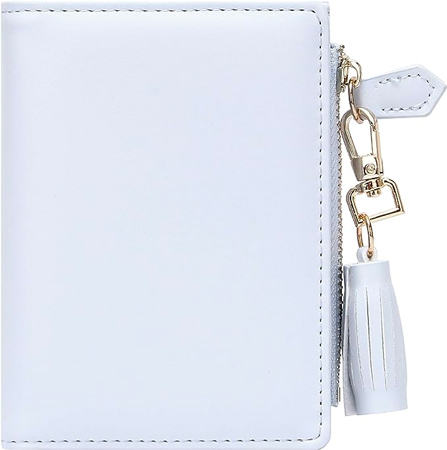 Gift the 11-year-old girl on your Christmas list something that combines style and practicality with this sleek zippered wallet by Geead. Crafted from high-quality vegan leather, this wallet offers durability and timeless elegance, making it an accessory she can rely on for daily use.
The wallet provides ample space with its multiple card slots, bill compartments and zippered coin pocket. The attractive design, available in various youthful colors, adds a stylish touch to any outfit. Whether she's holding her library card, pictures of her friends or just her pocket money, this gift will give her a grown-up accessory to keep her important stuff all in one place.
6.
Pink Regulation Soccer Ball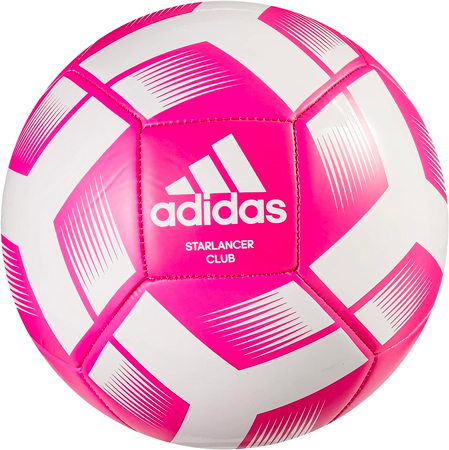 This Christmas, nurture the athletic skills of the 11-year-old soccer star on your gift list with this regulation size five soccer ball by Adidas. With its vibrant shock pink and white design, it is not only visually appealing but also of professional-level quality.
Crafted with a machine-stitched body, it offers a high level of durability and a soft touch, enhancing control during play. The butyl bladder within the ball ensures it retains air pressure over extended periods of intense play. It's a ball that will keep up with her athletic prowess.
7.
20 Inch Wheel Bike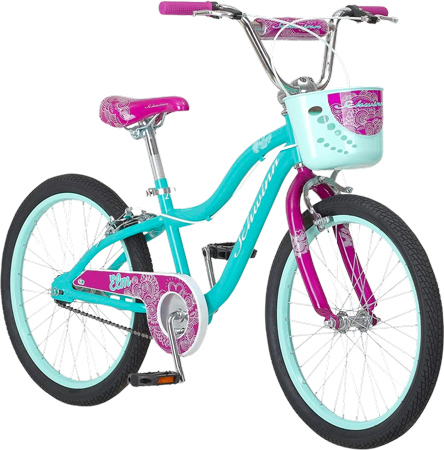 Give an 11-year-old girl the gift of freedom and adventure this Christmas with this awesome bike by Schwinn. Designed with a steel frame for durability and equipped with 20-inch wheels, this bike is perfect for both on-road and off-road rides. Schwinn's SmartStart Technology ensures the bike is proportionately designed for a comfortable and efficient ride, accommodating a child's growth and development.
It features a saddle that adjusts as she grows, ensuring continued use over time. It even includes a kickstand for easy parking and front and rear brakes for reliable stopping power. This bike not only promotes physical fitness and outdoor exploration but also provides a sense of independence that every young girl craves.
8.
Pink Protective Safety Pads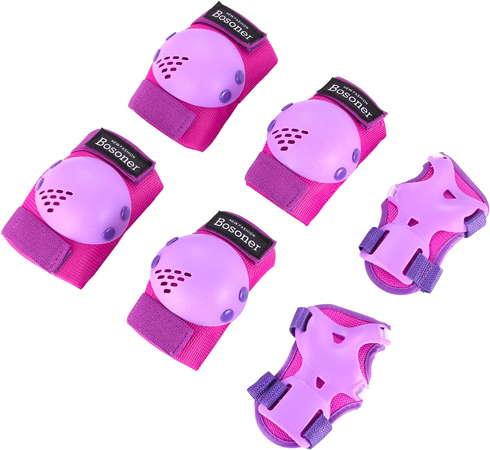 For the 11-year-old girl who enjoys outdoor activities and extreme sports, consider this Christmas gift that combines safety and style. This set of protective pads by Bosoner is designed for various sports, providing thorough protection for knees, elbows and wrists.
The tough and durable materials teamed with breathable elastic sleeves ensure comfort while offering a snug fit and robust protection during all the action. Available in multiple colors, including vibrant pink, these pads add personality and style to her sports gear. Staying safe looks cool with this gift.
9.
Glow in the Dark Planetarium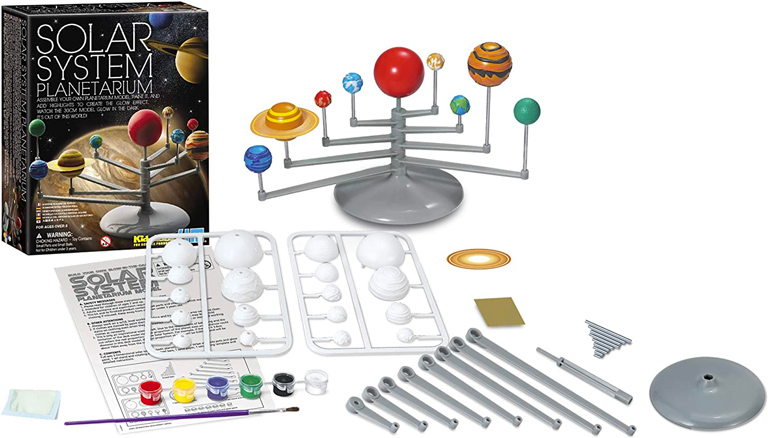 Why not give a Christmas gift that inspires the 11-year-old budding astronomer in your life? This solar system planetarium model by 4M is a hands-on toy that is both engaging and educational. The set includes the solar system stand, nine planet models that are proportionally sized to one another and a glow-in-the-dark painting kit to complete this table-sized representation of our universe.
If the young girl you're shopping for is into learning about existence beyond our own atmosphere, this gift is going to make her happy. Even after she's done constructing it she'll be proud to show it off on her bookshelf.
10.
DIY Spa Product Studio
This awesome Christmas gift is the one to choose if you're looking for something an 11-year-old girl can use to give herself some much-deserved at-home spa time. This DIY spa kit by Project MC2 gives her all she needs to create her very own beauty products. Everything from gemstone-inspired soaps to scented body lotions and lip balms is right here in this easy-to-use kit.
Not only will she enjoy the hands-on learning and fun of creating something she'll be able to use, but she can also relax and enjoy the fruits of her labor in a custom-scented bubble bath.
11.
No-Sew Unicorn Pillow Kit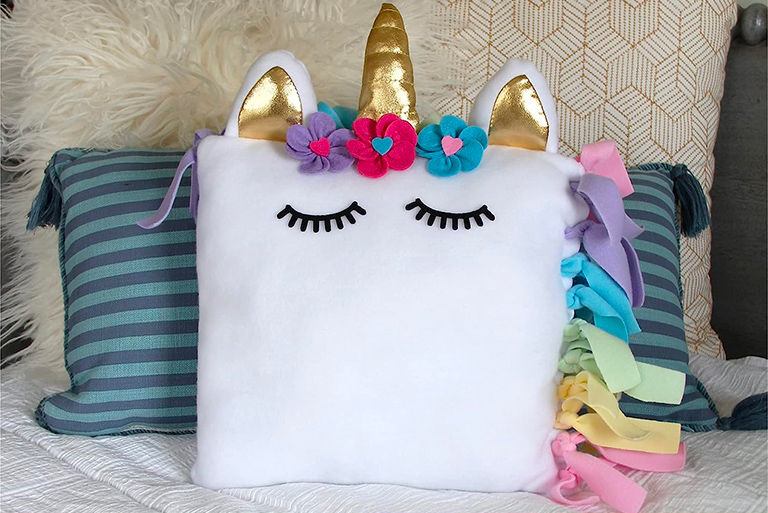 With this unicorn-themed Christmas gift, the 11-year-old girl in your life is going to be able to make her very own decorative pillowcase, all by herself. This no-sew kit by Pinwheel Crafts comes with all the supplies to make a colorful and adorable throw pillow that looks like a unicorn. It even includes the filling to stuff the pillow after all the decorating has been done.
Instead of having to sew up the sides, she can use the 20 included fleece tassels to seal up her pillow. It's a fun project for her to enjoy and also a way for her to put her personal spin on her room decor.
12.
Glitter Slime Making Kit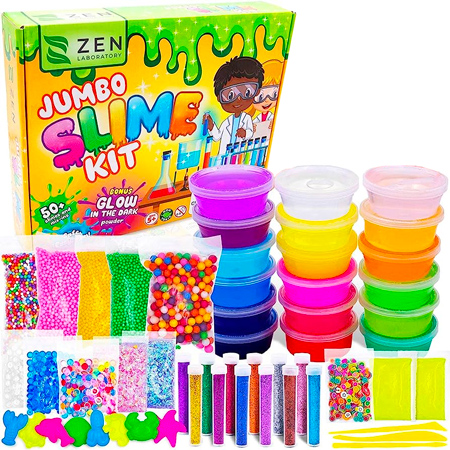 If you've been on the search for a Christmas gift that an 11-year-old girl will love to play with, this slime kit is a no-brainer. For whatever reason, kids love to play with slime. Maybe because it feels good squished between their fingers or maybe because it amuses them to see their parents clean it up from all over the house. Whatever the reason, this kit will allow the young girl on your Christmas list to create her own custom slime in a variety of glittery and glow-in-the-dark colors.
The kit only uses ingredients that are free of harmful chemicals, including Borax which is found in most other slime kits. With this huge kit, you'll be gifting hours of slimy, toxic-free, messy fun. It will be a hit.
13.
Complete Fashion Design Studio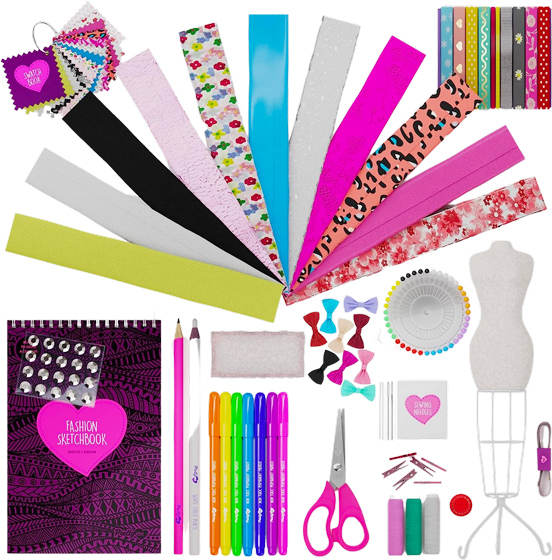 If you have an aspiring fashion designer on your list, this Christmas present is perfect for an 11-year-old girl that has some dolls that need a style upgrade. This complete set by Pretty Me is like an instant design studio that includes everything she'll need to sketch and sew custom dresses to fit her favorite dolls.
Not only does it come with a large variety of fabrics and swatches, it includes buttons, bows, clips, ribbons and a ton of other accessories she'll need to create one-of-a-kind, runway-worthy miniature clothes. It even includes a doll-sized mannequin to hold up her creations while she works. No doubt she's about to have the best-dressed toy collection in the neighborhood with this Christmas gift.
14.
Mermaid Themed Makeup Set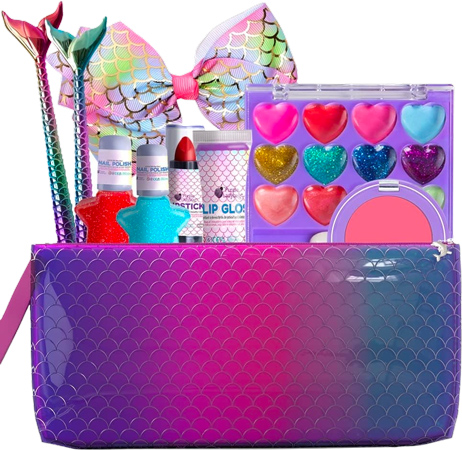 Looking for a Christmas gift that will combine multiple things the 11-year-old in your life loves? This mermaid-themed makeup set by Purple Ladybug is going to be an exciting present she won't want to wait to try out. It includes a huge variety of makeup pieces and fashion accessories so it's like a bunch of gifts in one fun package.
From lipsticks to blushes and eyeshadows, this kit will have her trying new makeup looks like a pro. It also includes mermaid-inspired makeup brushes, glitter nail polish and a fashion bow for her hair. Mermaids and makeup? You won't go wrong with that.
15.
3D Cover Photo Album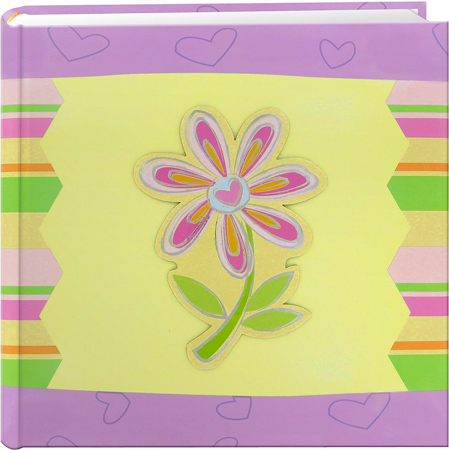 Whether the 11-year-old girl you're Christmas shopping for loves taking pictures of her friends or just likes to scrapbook her precious memories, this gift is going to be something she cherishes. Made by Pioneer Photo Albums, this picture book will hold 200 4×6 photos.
The photos are protected behind plastic protectors so there's no need to worry about finger smudges as she flips back through her past. It even includes a space to make notes next to each picture to remind her why she's so grateful to have that memory. The pink and yellow cover features an adorable 3D flower appliqué that would beautifully compliment her cheery room decor.
16.
Pink Bendable Reading Light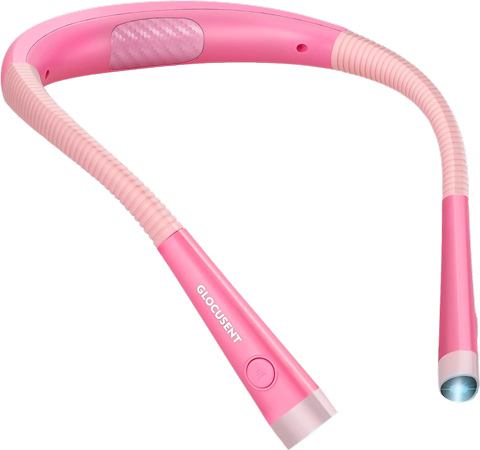 For a Christmas gift that delivers practicality with a pre-teen girl-approved design, choose this pink bendable LED reading light by Glocusent. It's ideal for any 11-year-old girl who enjoys reading, crafting, or even needs a reliable light for late-night homework sessions. This lightweight and innovative light features three color modes and three brightness levels to suit a range of viewing needs, whether she's engrossed in a gripping novel or meticulously detailing her latest artwork.
The light is USB rechargeable, supporting up to 80 hours of illumination and the neck design with bendable arms ensures the light will always be positioned just right.
17.
Pink Modern Book Ends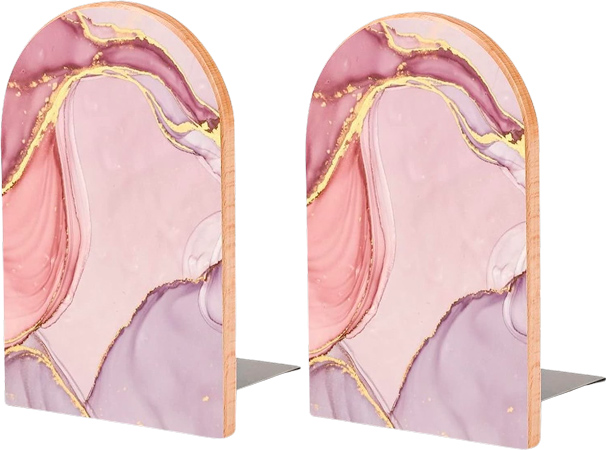 For the book-loving 11-year-old girl on your Christmas list, these pink glittery bookends are a functional and stylish gift. They feature a sturdy construction and a non-skid base to ensure books stay neatly organized and secure on her shelves or desk.
Decorated with a striking marbled glitter finish, these bookends bring a subtle touch of sparkle to her room, elevating the decor while serving a practical purpose. This gift is perfect for a young girl who takes pride in her book collection and enjoys personalizing her space with classy accents.
18.
Rainbow Tie-Dye Storage Ottoman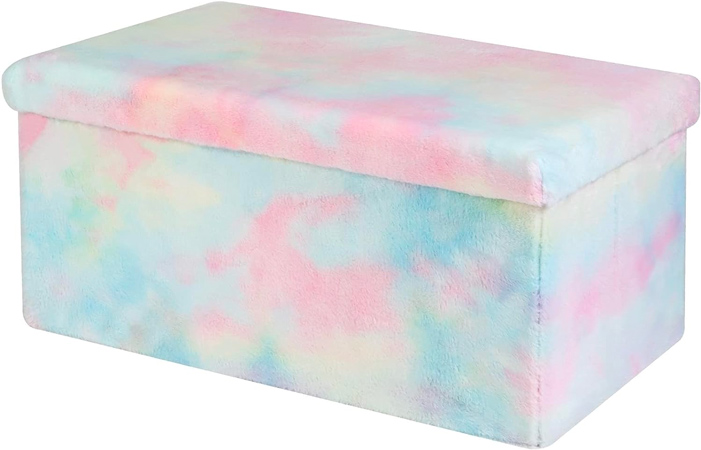 If you're looking for a cool Christmas gift that is going to add style and storage space to an 11-year-old girl's bedroom, this ottoman by Storage Plus is a winning choice. Parents will love it for the easy setup and 80 liters of organization it will add to her space and she'll love it for the vibrant tie-dye pattern that is going to look amazing while it holds her special toys, blankets or knickknacks. This is the perfect ottoman for the end of her bed and is even strong enough to use as a chair to put on her shoes or just sit and read a book.
Need more inspiration?