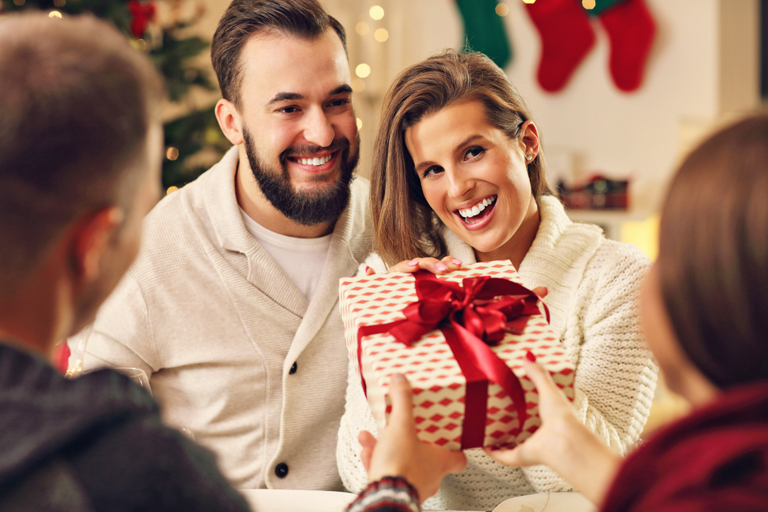 This holiday season is when you're going to claim your throne as the ultimate Christmas gift giver. The person that knows your friends and family better than anyone else. If you're shopping for gifts for a special pair in your life, this list of 27 cheer-worthy Christmas gifts for couples is going to serve up the perfect idea that will have them convinced you've been planning your shopping all year long.
We did the nitty-gritty work of finding cool gifts they'll love so you can be the hero when they unwrap that special thing they can't live without. Don't worry, it will stay our little holiday secret.
1.
Hidden Photo Box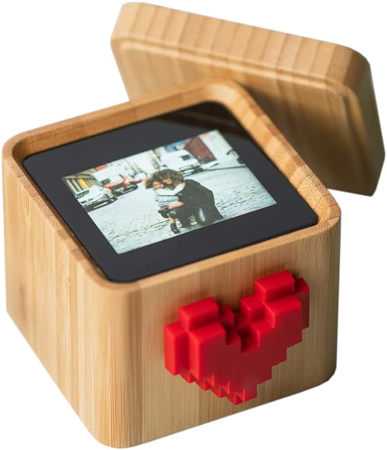 Get the couple you're shopping for something unique this Christmas with this digital photo box. It's great for sending pictures and messages with family members that are long-distance or even for the couple that needs to be away from each other for business trips.
The photo cube connects to an app on their phone so they can instantly send digital reminders of their love for one another with the click of a button. When a new message has made its way to the box, the heart on the box starts to turn. When they open the box there will be a special surprise just for them.
2.
Picture Frame Album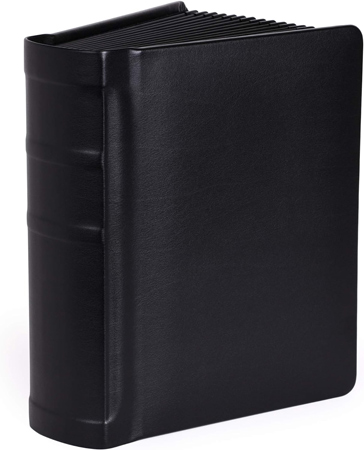 This beautiful picture album would make the perfect Christmas gift for the couple who loves to share their favorite memories with friends and family that come over. Unlike other picture albums that require glue or plastic sheets that can potentially harm photos, this album is like a stack of full-sized photo albums that are all bound together.
It comes in two different size options, including a 5×7 and an 8×10 version. Memories as special as theirs deserve to be displayed in a big way and this is the Christmas gift that will let them do it.
3.
King Weighted Blanket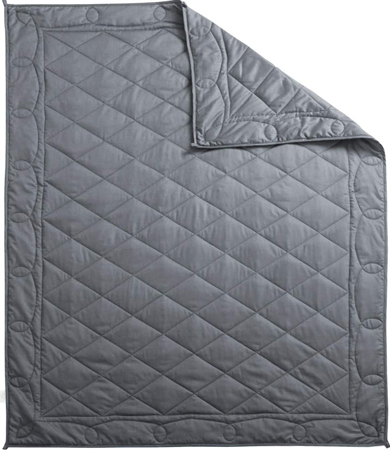 Cuddling up by the fire under a blanket this Christmas evening is going to get even better with this gift idea. This weighted blanket will not only keep them warm but the glass bead filling adds weight that is proven to help relieve anxiety and make falling asleep faster and easier.
It's industry standard with weighted blankets that they are never true to the traditional bed sizes they claim to be. This blanket is a true king size so there will be plenty of room to use on their bed. With this Christmas gift, they will never want to get out of bed again and they'll have you to thank for the best sleep they've ever had.
4.
Deep Massage Gun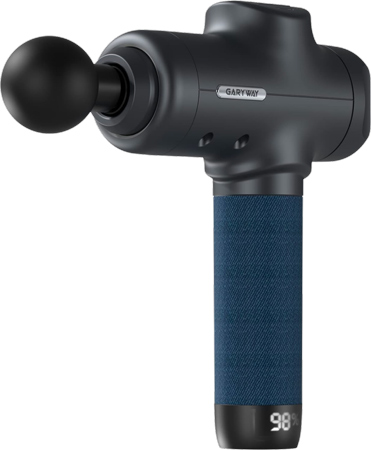 This Christmas gift is going to help the couple you're shopping for give each other better massages without getting tired hands. With nine head attachments and six speeds, they'll be able to give the exact massage their partner wants with minimal effort.
It's also a great gift if your friends work out. The compact size makes it easy to toss in a gym bag for a post-workout recovery massage.
5.
Stemless Champagne Flutes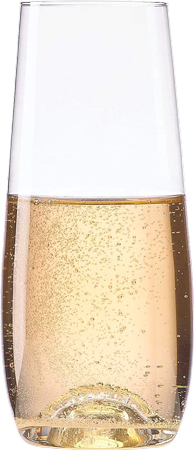 This Christmas gift will give the lucky couple a reason to celebrate every milestone they reach together. These modern, stemless champagne flutes are a refreshing alternative to traditional flutes that break easily or have to be washed by hand.
These flutes are break resistant and can be easily cleaned in the dishwasher. They would also make great cocktail glasses. If your friends love the bubbly but appreciate low-maintenance living, they'll raise a glass to this gift.
6.
Glass Coffee Mugs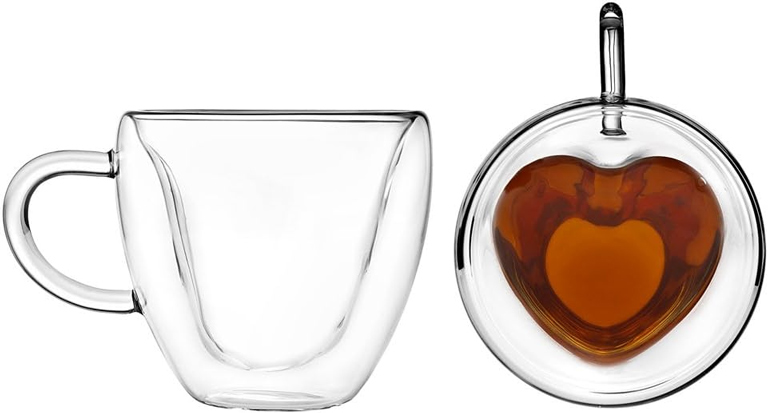 This cute coffee mug set is made for the couple in love. This Christmas morning they can sip their coffee together out of these unique, clear glass mugs. The double wall design keeps their coffee insulated while keeping the outside cool to the touch.
The inner wall is shaped like a heart, a reminder of how lucky they are to be in love with every sip they take. This Christmas gift idea will be a sweet addition to their mug collection.
7.
Glass Wine Decanter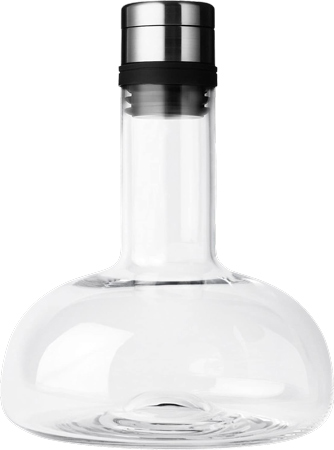 If the couple you're shopping for appreciates high-quality wines, as in not from a box, they'll love this Christmas gift idea. This glass decanter is like no other they've seen before. They can simply connect a bottle to the mouth of the decanter and flip it upside down to decant the wine.
The bonus with this decanter though, is that, unlike alternative products that require the wine to be served from the decanter, this one makes it easy to transfer the wine back to the bottle. Just flip it right side up and the wine rushes back to the bottle, aerating in the process. They'll be impressed when they see this gift.
8.
Red Wine Aerator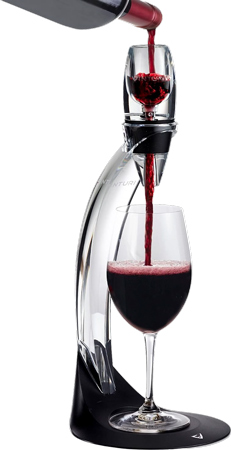 This Christmas gift will give any couple a reason to open up that bottle of expensive wine, even if they only want one glass. No need to decant the entire bottle with this cool wine accessory. All they have to do is place their wine glass under the spout and pour their wine into the top chamber.
The patented design of the chambers draws the air out as it passes through the system and into the glass. It will produce an aromatic and richly flavored glass of wine instantly, unlike decanters that can take up the three hours. Who has time to wait three hours for a glass of wine? With this gift, they won't have to.
9.
Luxury Cocktail Tools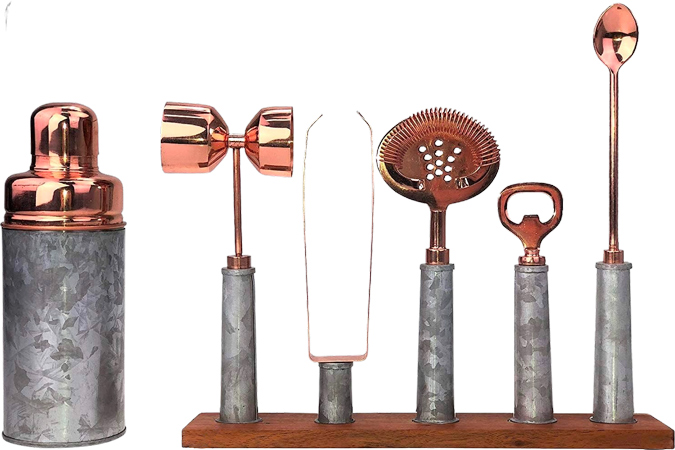 If the couple you're Christmas shopping for wants to whip up their next cocktail using tools that are just as impressive as their bartending skills, this gift is for them. Skip the boring stainless steel set you were thinking about getting them and give them this rose gold and galvanized steel set instead.
The set comes with a full-sized shaker, five bar tools and a wood display stand they can use to show off their classy bar accessories. This gift is going to look amazing on their kitchen counter or bar cart.
10.
Modern Ice Bucket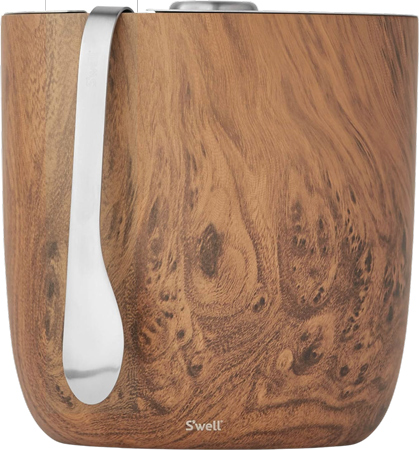 Make sure the lucky couple never runs out of ice at their next party with this cool Christmas gift idea. This ice bucket not only offers triple wall insulation to keep ice from melting, it has a unique teakwood design that would look stunning in any type of home decor.
It's large enough to hold 68 ounces of ice, or it can double up as a bottle chiller for wine or champagne. Next time their friends come over for a cocktail night, this gift is going to be as useful as it is beautiful to look at.
11.
Party Chip Tray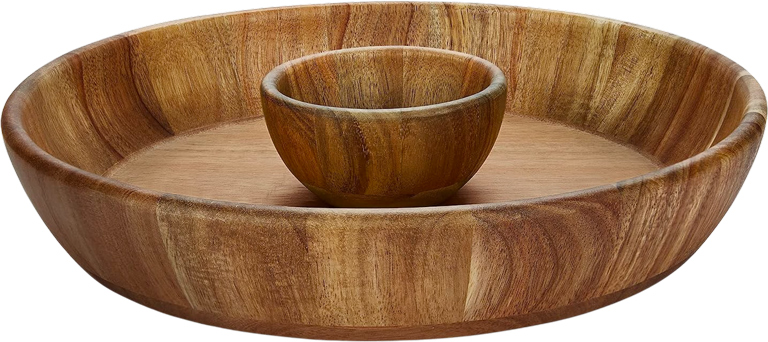 Every couple needs at least one great tray to serve chips and salsa at game nights and this Christmas gift is it. Anything served in this serving set is going to get an instant lift of sophistication over the old plastic ones they use. The set comes with two bowls, a larger one for chips or snacks and the smaller one for dips. They're both made of solid acacia wood, which is environmentally sustainable.
When they're not having parties they can also use the larger bowl to display fruit or make a classy table centerpiece. This is a gift they'll love having in their home.
12.
Ramen Set for Two

This Christmas gift is a fun idea to get the couple you're shopping for cooking together. This ramen serving set for two comes with everything they need to beautifully present their ramen masterpieces, including two bowls, two sets of chopsticks and two ladles. The unique cutouts on the bowls hold the chopsticks in place so they don't roll off when they're being brought to the table.
If fancy ramen recipes are above their skill set, no worries. This gift can even make a cheap packet of instant noodles look like something that belongs on Instagram.
13.
Couples Bath Robes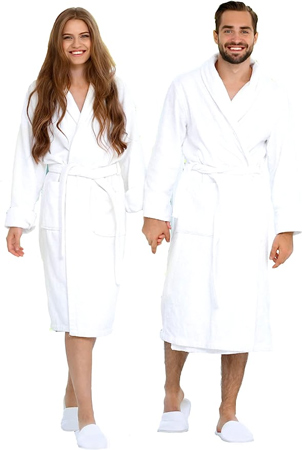 Give your friends the spa treatment from home this Christmas with this set of luxury bath robes. The robes are made using premium, staple combed cotton which makes them even softer than regular cotton robes. It also means they're more absorbent than other cotton robes.
The set comes with two robes and two pairs of spa slippers. Every time they get out of the shower and slip into this gift, they're going to feel like they're getting the five-star treatment of a fancy spa.
14.
Portable Table Lights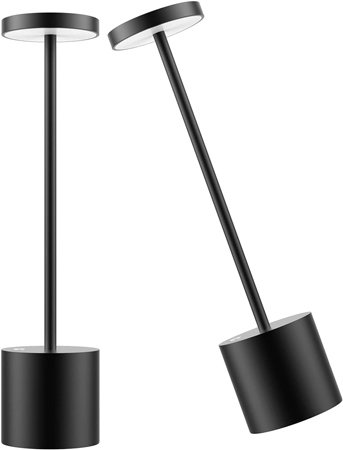 Here's a Christmas gift idea that any couple is going to find useful in so many ways. Anywhere they need light, these portable lights are going to come through. They're rechargeable via USB so they don't need an outlet and don't require expensive batteries that constantly need to be changed.
Whether it's on a dark bookshelf, an outside patio table, a tent while camping or as an extra light for reading, these lights are going to be a gift they want to have in their life.
15.
Mini Donut Maker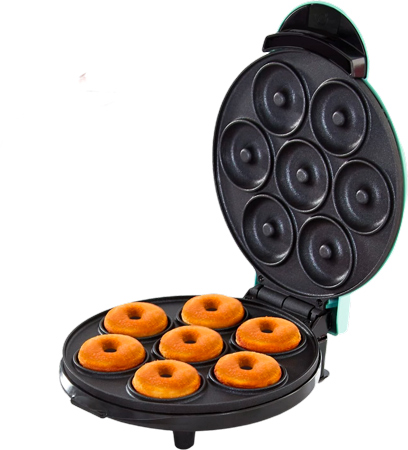 Delicious homemade donuts are on the menu with this Christmas gift. This mini donut maker will allow your friends to whip up professional-looking donuts with ease. If they can use a waffle maker, they can use this clever machine.
They just pour the batter onto the nonstick plates, close the machine and within a few minutes, they've got seven little donuts they can glaze or decorate how they want. It's great for snacks, party foods or a sweet treat if they have kids.
16.
Candle Making Kit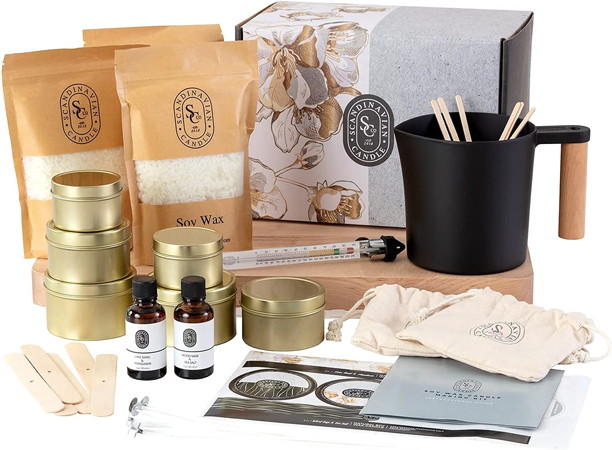 Getting creative together can bring a couple closer. This Christmas gift is going to have them making custom-scented candles that only they will have. The candle kit comes with all the supplies they need to create candles from the convenience of their kitchen stovetop.
It comes with two scented oils but they can use any essential oils they want to recreate the aromas of their fondest memories.
17.
Pocket Language Translator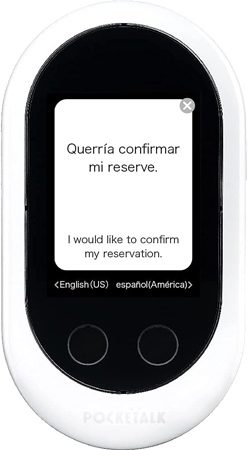 For the couple that loves to travel, they're going to get really excited about this Christmas gift. This pocket gadget is like having a translator that travels with them wherever they go. They can just speak into the device and it will translate, with accuracy, what they say in 75 different languages. Whoever is responding can speak into the device and it will translate it back to whatever language they want.
Sure, they can use their phone but everyone knows how unreliable Google Translate is. This dedicated device is guaranteed to translate exactly what they want to say without any embarrassing mistakes. With this gift, they can travel like the locals without having to spend weeks studying the language.
18.
Tablet Wall Mount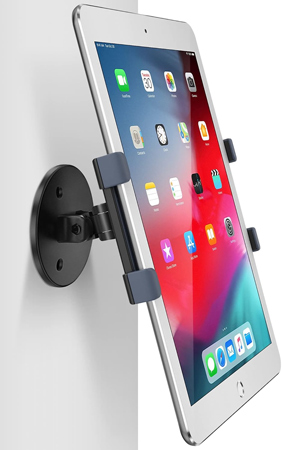 This Christmas gift is great for the couple that loves having their tech at their fingertips wherever they are in the house. With this universal tablet mount, they can hang their tablet in the bathroom, the garage or the kitchen to have an instant smart TV they can watch while they bathe or cook.
They can also use it as a hub for their smart home network. Make their home more tech-friendly with this useful gift idea.
19.
Couple's Jewelry Box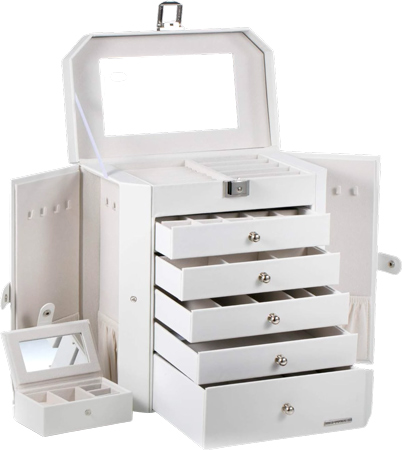 If the couple you're shopping for this Christmas values their jewelry and body bling, this large jewelry case is going to make sure all their expensive possessions stay safe and organized.
The organizer, made of white vegan leather, offers plenty of room for multiple people to store their watches, necklaces, earrings and other valuables. It also locks for safety and includes a top handle for transporting on trips or for moving it into storage if they don't want to leave it out on display. This is a classy gift for a couple that loves to stay stylish.
20.
Fireproof Steel Safe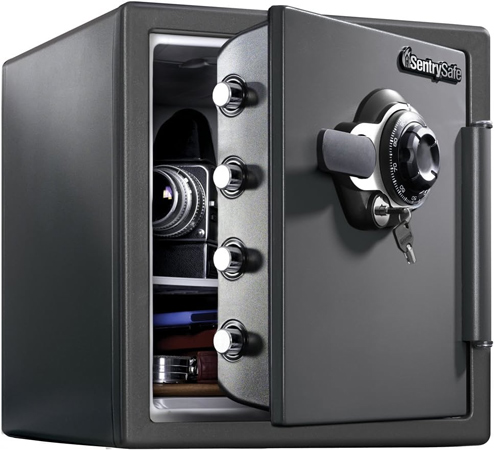 This Christmas gift is for the couple that wants peace of mind that all their important documents, photos, contracts and irreplaceable items will always be protected. Goodness forbid they ever suffer a fire or flood in their home, this safe will stop anything inside from being destroyed.
It's made of alloy steel that can withstand fire for up to one hour. It secures using four lock bolts and can only be opened with the combination lock and the included key. House deeds, wedding photos, baby keepsakes, whatever it is they want to protect, this gift has them covered.
21.
Outdoor Portable Table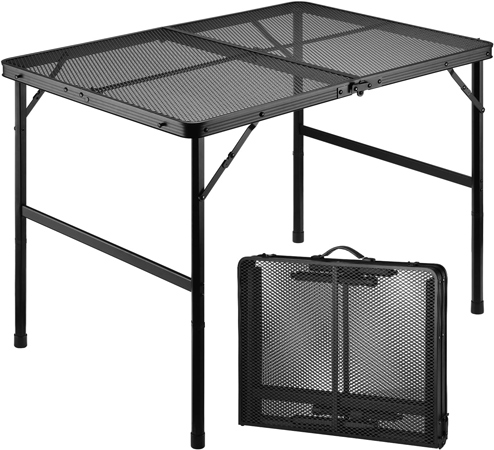 Know a couple that would rather spend all their time outside? This Christmas gift is going to be their new favorite outdoor accessory. Not only is this portable outdoor table lightweight and easily transported, it also unfolds to two different height options, sitting and standing.
It's great for the beach, backyard parties, camping trips and would make the perfect table to take along to a romantic picnic in an open field. This gift will help them enjoy more of nature while still having the luxuries of indoor living.
22.
Loving Bronze Sculpture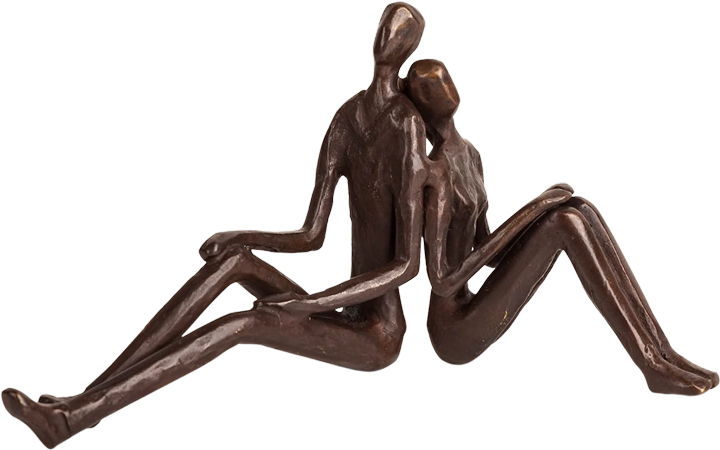 If the couple you're Christmas shopping for loves art and home decor, this gift is going to find a special place in their home where they can always admire it. This petite statue is made of heavy, solid bronze and depicts a couple in love in a modern and abstract style.
It would look great on top of a stack of books, displayed on a coffee table vignette or even used to give a romantic touch to a work desk. It's a piece of art that will stay with them for a lifetime.
23.
Bedside Water Carafe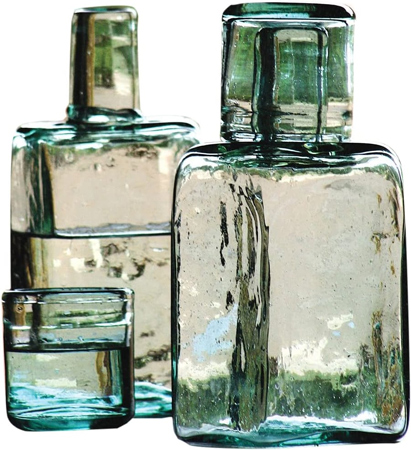 Give the couple you're Christmas shopping for a boost of luxury in their bedroom with this unique water carafe set. Just like in luxury hotels, this gift will eliminate plastic water bottles next to the bed. The set comes with a carafe and a matching drinking glass that rests on top of the carafe as a lid.
They're both made of completely recycled glass and come in a beautiful green tone that will look very high-end next to their bed.
24.
Hanging Key Rack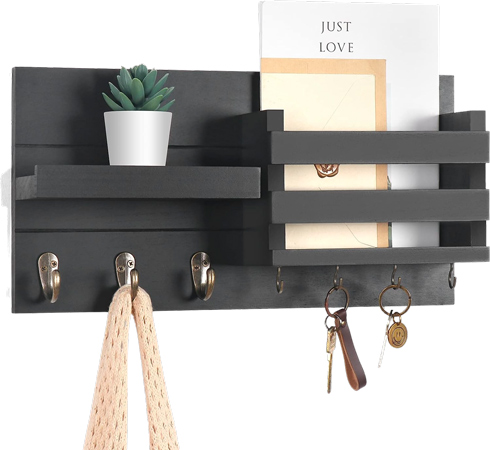 This practical Christmas gift will keep the couple's entryway organized and clutter-free. Instead of throwing their keys and mail on an entry table, everything will have a place with this wall-mounted key rack.
It offers plenty of hooks for all their car, house and office keys as well as providing dedicated space for papers and sunglasses. They'll never have to go searching for their keys again with this great gift.
25.
Wood Coaster Set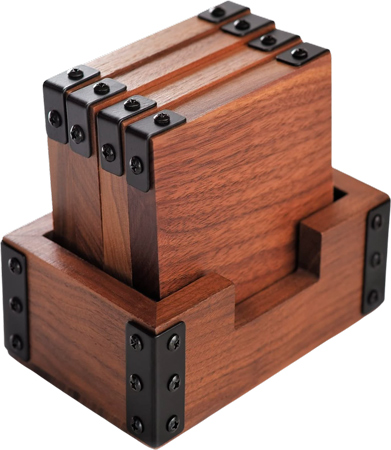 This Christmas, give a gift that's going to get used every day, all year round. These coasters are rustic, modern and on-trend with nature-inspired home decor. More than just decor on their own though, they will also help protect the couple's furniture from scratches, water stains or other damage.
The set comes with four coasters and a display holder that will keep them all organized and make a statement on the coffee table.
26.
Relaxing Tabletop Fountain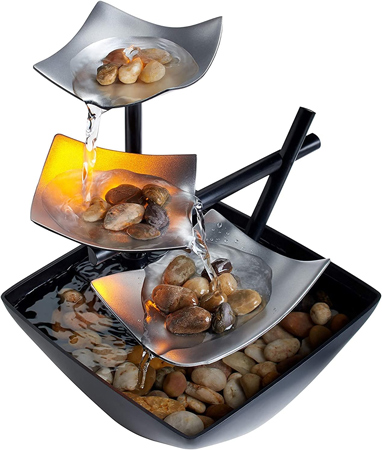 With this Christmas gift, the lucky couple can enjoy the sound of a trickling summer stream anytime they close their eyes to relax. Wherever they place it in their home, this tabletop fountain is going to allow them to escape the stress of the day.
It's also a great gift if they want to add to their meditation regimen as the sound of running water has been proven to help reach a deeper state of meditation. Besides the mental health benefits of this gift though, it's also a lovely piece of decor that any couple would be glad to have in their home.
27.
Modern Art Planter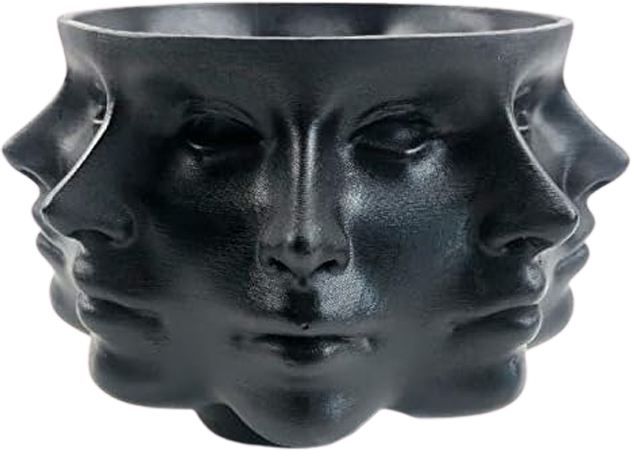 This modern planter will look amazing in any couple's home. The striking design of the repeating faces makes it as much a piece of sculptural art as it is a functional plant pot for succulents or small indoor plants.
It comes in white or black, either of which will add a bold splash of personality to any room that's unapologetically stylish. This Christmas gift is going to get some reactions.
Need more inspiration?