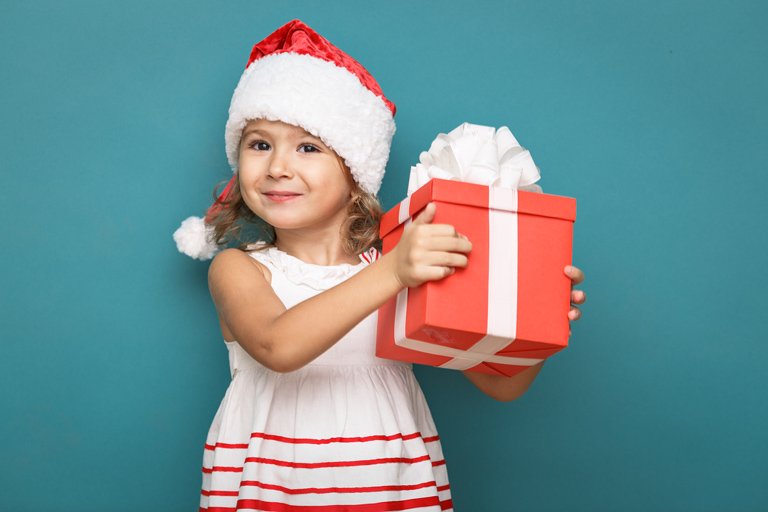 If you know a little girl who deserves to open something magical this Christmas morning, the Universe has brought you to exactly where you need to be. Or maybe that's just holiday magic! Either way, we're here to remove the stress of Christmas shopping by providing you with this list of 15 amazing Christmas presents for 2-year-old girls.
Every gift idea on this list is a nod to quality and a promise of joyous fun and educational development. Whether you're looking for something artsy, unique or inspired by her fantasies of being a little princess, we've found the best gifts that will have her jumping with joy when she opens what you chose.
1.
Solid Wood Building Blocks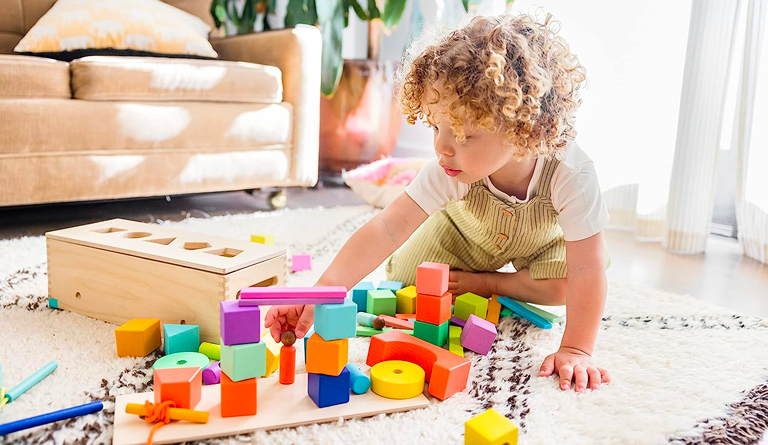 For the 2-year-old aspiring builder on your Christmas list, this set of wooden building blocks would make both a fun and developmentally beneficial gift. The set includes 70 pieces in 18 different shapes, from classic rectangles to arches and columns. Each piece, with its vibrant hues and smooth texture, invites little hands to stack, build and explore.
As she constructs her mini masterpieces, she'll be enhancing her spatial awareness, problem-solving skills and hand-eye coordination. It will also encourage imaginative play and is a great activity to play with friends. The set comes in a reusable wooden storage box with shape cutouts that will help teach shapes as she cleans up her own toys.
2.
Storage and Activity Desk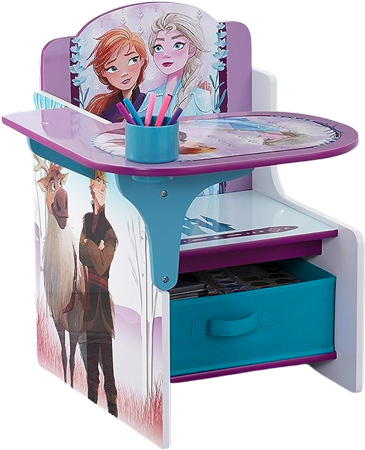 This Christmas, gift a 2-year-old girl with the magic of Arendelle with this beautifully designed desk, inspired by Disney's Frozen. The desk features vibrant illustrations of Elsa and Anna, making it a captivating addition to any playroom or bedroom.
The large tabletop provides plenty of space for a wide variety of activities, from drawing and coloring to setting up miniature play worlds. Under the attached chair is a fabric storage bin that offers a convenient solution for organizing art materials or small toys, ensuring a tidy workspace.
Crafted from highly durable engineered wood, the desk is designed to stand up to daily use and the usual heavy play of young children. This colorful all-in-one desk set will give her a dedicated place that is all hers, where she can learn, play and develop important life skills.
3.
Minnie Mouse Bow Backpack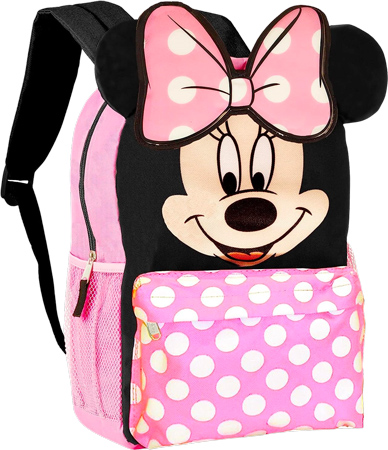 If you want to surprise a 2-year-old girl this Christmas morning, she's going to love this tiny backpack featuring the iconic Minnie Mouse. Designed with fun tones of pink and accented with a giant, 3D Minnie Mouse bow, this backpack is the perfect accessory for little adventurers. The bag's compact size is made for little bodies, yet it offers enough space to store treasures, snacks and small toys.
Adjustable straps make it easy to get a comfortable fit, allowing her to wear it for long days out with the family. An added zippered compartment at the front provides quick access to essentials, while the main compartment features a convenient zipper closure and tons of internal space for her favorite teddy bear. If you're shopping for a Minnie Mouse fan, this gift couldn't be more on the nose and she's sure to love it.
4.
Portable Magnetic Doodle Board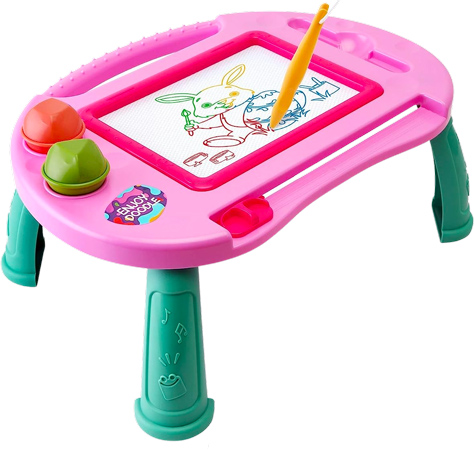 This Christmas, open a world of creativity for a 2-year-old girl with this magnetic drawing board that promises endless hours of imaginative play. Designed in a bright pink color she'll love, the board becomes a canvas for her to scribble, doodle and bring her visions to life.
Featuring an easy-to-use slide eraser, it's simple for her to wipe away old designs and start anew, offering a fresh palette each time. The ergonomic stylus pen is designed for small hands, ensuring a comfortable grip and smooth drawing experience.
Built with high-quality materials, this magnetic drawing board is both safe and durable. The removable legs make this great for use on the floor or on a desk, so wherever she prefers to get creative, this drawing pad is going to be her new favorite toy.
5.
Anatomically Correct Newborn Babydoll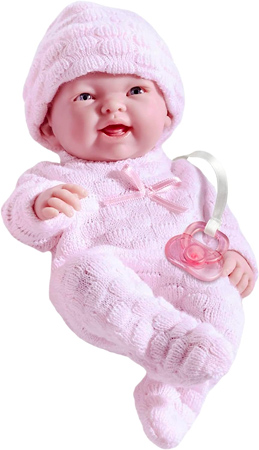 For the 2-year-old girl who's naturally nurturing, giving her a gift as timeless as a baby doll will bring her joy this Christmas morning. This baby doll features the lifelike nuances of a real infant. From the creases in the tiny hands to the gentle expression on its face, the doll's realism is impressive. Made from soft vinyl, it's soothing to the touch and perfect for cuddling.
The anatomically correct features enhance the play experience, making her feel like she's got her own baby to care for. The doll's size is ideal for her little arms to hold, cradle and care for. It comes dressed in a sweet little onesie with a matching hat and pink pacifier, so she can practice changing her baby for bath time.
6.
Wide Slot Piggy Bank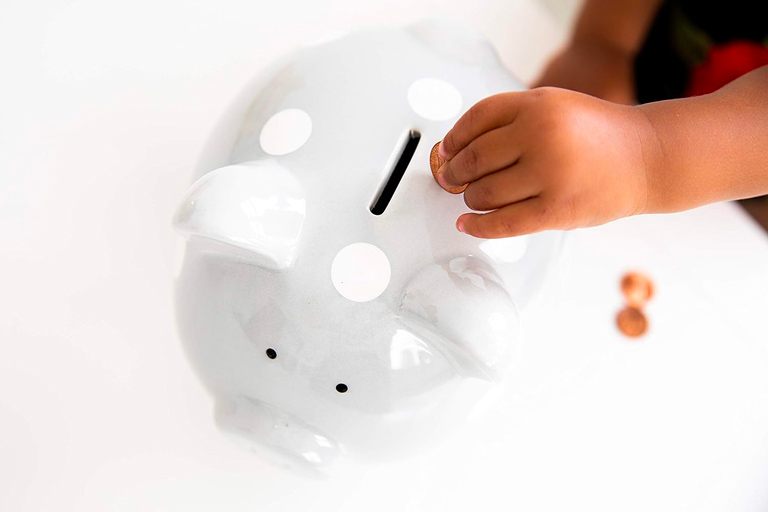 Give a Christmas gift that will be saved for years with this adorable ceramic piggy bank. This gift is both a decorative piece as well as a great way to teach about saving. It's made of durable ceramic and features an easy-to-remove rubber stopper at the bottom so she can access her coins when she wants something special.
The wide coin slot on top makes it easy for little ones to put in their own coins, making saving fun. It's available in multiple colors but the white and grey polka dot design is the perfect color combination to make this a gift she can use even if she leaves her "everything has to be pink" stage. This is a gift that teaches value, patience and an important life skill that is never too early to learn.
7.
Felt Puppet Making Kit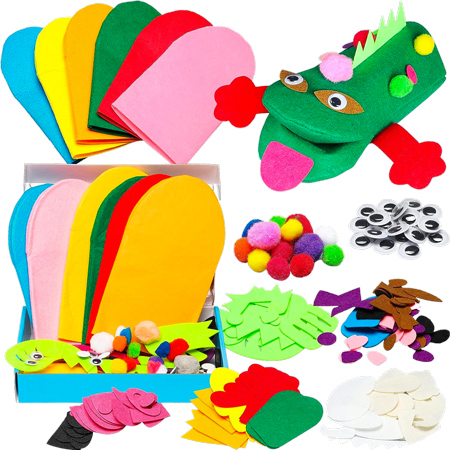 If you're looking for a fun craft project that a 2-year-old girl will love to do with her family, this is the Christmas gift you're looking for. This puppet-making kit includes everything she needs for Mom and Dad to help her make her own custom puppets.
This is not only a great way for a little girl to spend quality time with friends and family but puppets are also a great tool for teaching as they keep toddlers engaged. The set comes with all the supplies to make six puppets, each a different color. She'll appreciate the memories this gift will bring. Plus, she'll have an entire squad of new puppet friends that she helped design.
8.
Giant Paper Coloring Map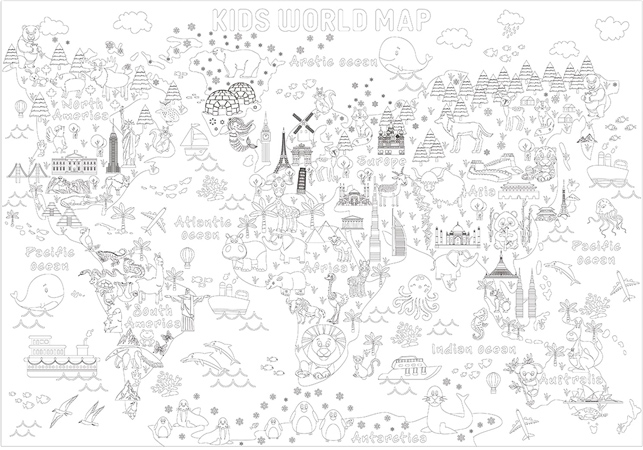 Gift a 2-year-old girl a larger-than-life canvas to inspire her creativity this Christmas with this giant coloring paper. This expansive poster offers her an immersive world of animals, plants and whimsical characters waiting to be brought to life with color. Every inch of the paper invites exploration, teaching her to recognize familiar creatures while discovering new ones.
It can either be spread out on the floor, taped to a wall, or used as a tablecloth for a fun coloring session. The thick paper ensures her crayons, markers, or even paint glide smoothly without tearing or bleeding through.
As she fills in each section, not only is she developing her motor skills, but she's also creating a masterpiece that can be proudly displayed. If she's a girl who likes to color, even if not in the lines yet, she's going to love having this massive space to go crazy with colors.
9.
Natural Beeswax Triangular Crayons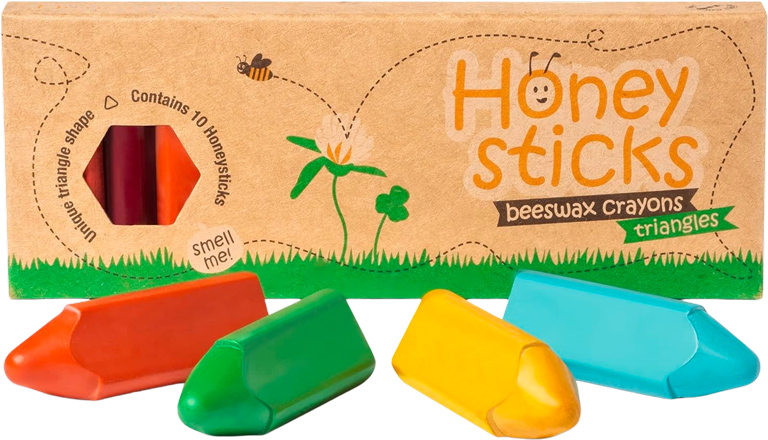 This Christmas gift is going to make a 2-year-old girl and her parents happy. Handcrafted from 100% pure New Zealand beeswax and food-grade pigments, these crayons provide the safety and assurance every parent looks for. Each pack contains 10 vibrant shades, allowing her to create colorful scribbles that are worthy of hanging on the refrigerator.
Their chubby size and triangular shape are designed specifically for tiny hands, ensuring a firm grip and preventing them from breaking. They're also non-toxic and environmentally friendly so they're safe for chewers. The smooth texture offers a delightful coloring experience and the gentle honey scent serves as a sweet reminder of the natural ingredients.
10.
Pink Round Fluffy Rug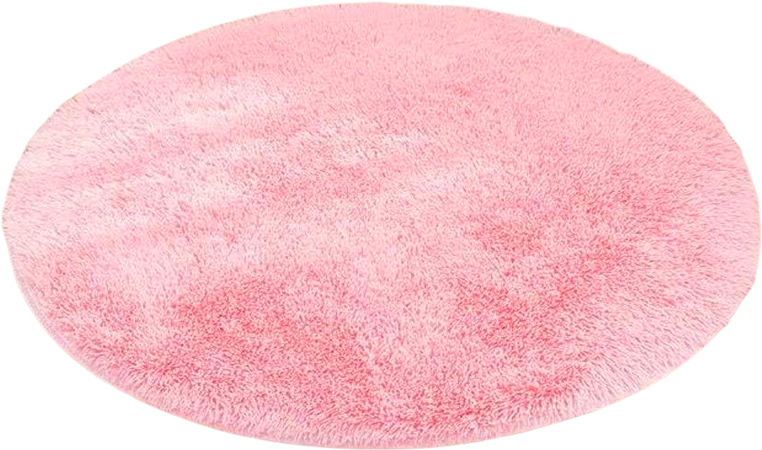 Bring some luxury and warmth to a 2-year-old girl's room this Christmas with this fluffy round pink rug. A pleasure to the eyes and feet, this rug transforms any space with its vibrant shade of pink and ultra-soft texture.
It's the perfect size to either be placed beside her bed, in a reading nook, or in the center of her play area, making it a versatile addition to any room. Made with high-quality synthetic materials, the rug is designed to be durable, ensuring it withstands the daily activities and playful antics of a lively toddler.
11.
Soothing Night Light Projector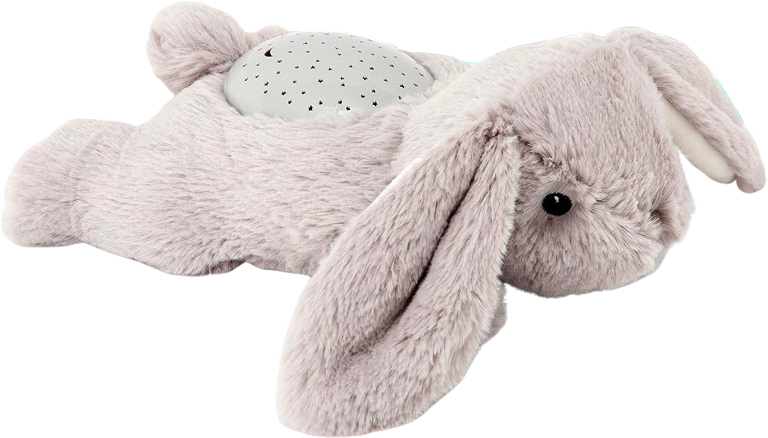 Give a Christmas gift that will bring a 2-year-old girl security and relaxation during bedtime. This star projector and nightlight combination is made to be cuddled with in bed, adding another element of security.
The rabbit plush doll is adorable as a security toy but becomes even more functional when it projects star constellations onto the ceiling. It even projects an accurate depiction of The Big Dipper.
The light automatically cycles between three colors and shuts off by itself after 45 minutes, giving parents extra peace of mind. If the little girl in your life doesn't like bedtime or is a little afraid of the dark, this Christmas gift is going to be a game changer.
12.
Wooden Ice Cream Truck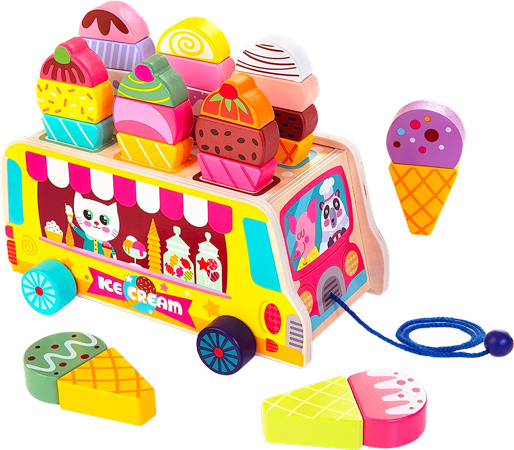 Bring some wholesome fun to a 2-year-old girl's Christmas morning with this charming wooden ice cream truck. Crafted from high-quality wood, this toy is as durable as it is fun to play with. It's designed to encourage imaginative play as she sets up her own ice cream business, serving friends and family with a smile.
The set comes with 27 magnetic ice cream pieces, allowing her to mix and match flavors while improving her fine motor skills. The truck's rolling wheels provide added fun and mobility, making it perfect for on-the-go play throughout the house. For parents who appreciate educational toys, they'll be happy to know this truck encourages role-playing, cognitive development and creativity.
13.
LED Light Bed Canopy
Make a 2-year-old girl feel like the little princess she is by giving her this beautiful bed canopy net for Christmas. Not only does the net cover the top half of her bed, making her feel like she's sleeping in her own safe haven, but it also features tons of LED lights. At night the lights double as a colorful nightlight, by day the butteries covering the netting make her feel like a fairy princess.
Also included are glow-in-the-dark stars that can be used on her ceiling so she can feel like she's sleeping out in an enchanted forest. The universal size means it fits most beds and the multiple color options make it easy to match her room decor. This gift is going to make her bed her favorite place to be and forever change how she feels about bedtime.
14.
Funny Face Sticker Set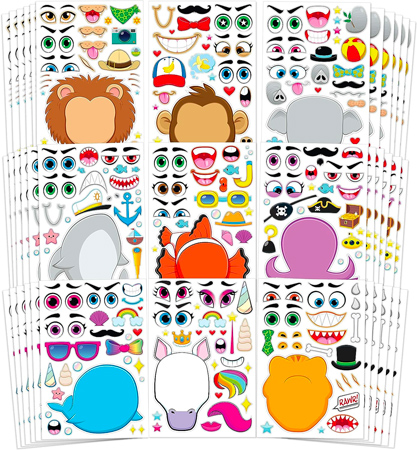 Here's a fun Christmas gift idea that will keep a 2-year-old girl enthralled in hilarious fun. This cool sticker set will let her create her own faces just by combining the stickers. It would be fun on paper but even more fun for making faces on things around the house like the refrigerator or even fruit. A banana with a goofy face will certainly be more fun than a plain banana!
The set is available in a jungle theme, unicorns and safari animals. Kids love stickers, but even adults will have fun with these ones. Parents will also appreciate the set's educational angle, as it teaches kids about feelings, characters and facial expressions.
15.
Light-Up Sit and Spin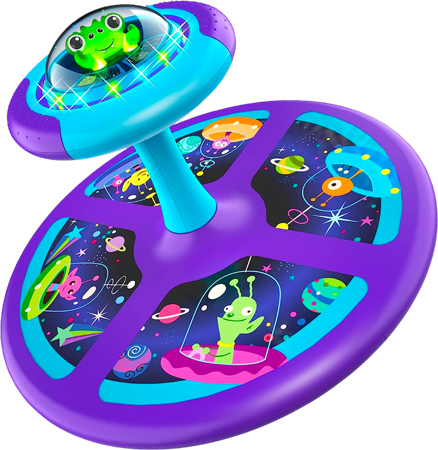 If you're in search of a Christmas gift that blends fun with physical activity for a 2-year-old girl, this sit-and-spin toy is an excellent pick. Designed to engage her sense of balance and coordination, it promises bouts of laughter as she spins herself round and round. Spinning gets even more fun with this toy though as it lights up with flashing LED lights while she's turning.
The sturdy base and easy-grip handle are designed for her small hands, ensuring safe spins every time. Whether indoors on a rainy day or outdoors in the sunshine, this toy will quickly become her go-to for active play.
Need more inspiration?