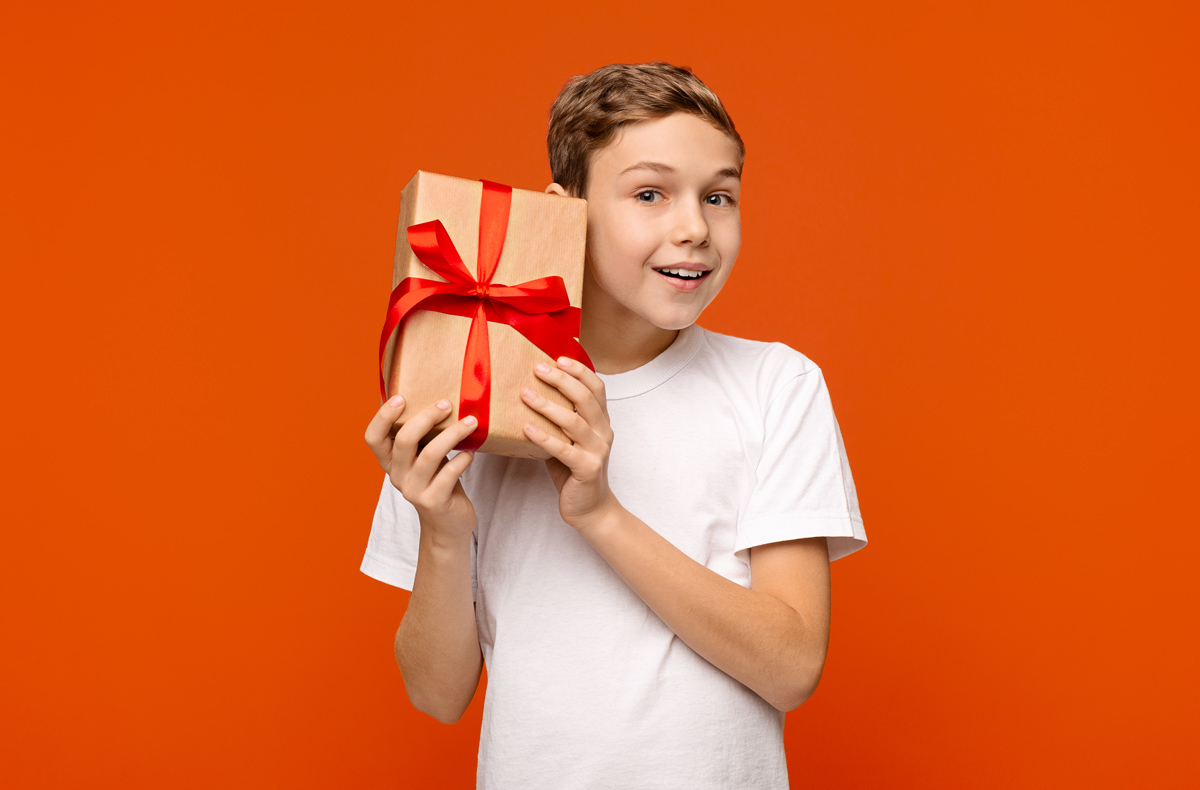 Christmas is that magical time of year when everyone looks forward to unwrapping surprises on Christmas morning. You're here because you've got a special 13-year-old boy in your life who deserves something equally special.
We've created this list of 17 trendy Christmas gifts for 13-year-old boys to save you the stress of finding the perfect present. From tech gadgets and gaming gear to art supplies and sports equipment, we've covered the top gifts to make sure this Christmas morning he'll be blown away by what he gets to unwrap from you.
1.
Roller Derby Inline Skates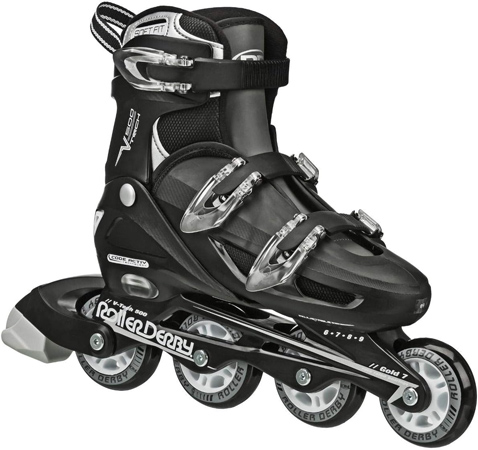 Kick off the teenage years in style with these rollerblades, perfect for the adventurous 13-year-old boy on your Christmas list. This gift is what he wants if he's outgrown his kiddish rollerblades with flashing lights and is looking for something more mature.
With their sleek design and adjustable sizing, these rollerblades offer a fit that can adapt as he grows. The comfortable padding ensures hours of skating fun, while the durable wheels promise a smooth and stable ride.
If he's new to rollerblading, the easy-to-use push-button adjustment will give him the perfect fit for better stability and more confidence. Whether he's cruising around the neighborhood or heading to the local skate park, these rollerblades are going to have him rolling in style.
2.
Lightweight Foldable Scooter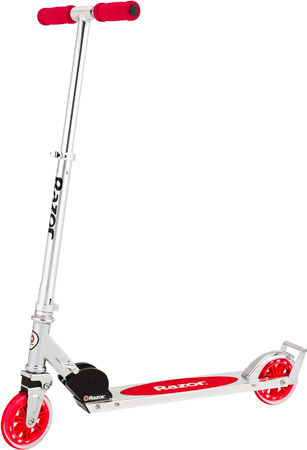 For the 13-year-old boy who's ready to cruise the streets on a cool new ride, this scooter by Razor is a fantastic choice for Christmas. It's not the same old toy he once pushed around the driveway. It's a streamlined, modern ride for a teen on the go.
Built with a sturdy aluminum frame and featuring a rear fender brake, this scooter offers a safe yet thrilling riding experience. The adjustable handlebars ensure a comfortable grip as he grows and the folding design makes storage or transport easy. This scooter is made for speed and pulling off wicked tricks, and it's a gift he'll love.
3.
Multi-Sport Safety Helmet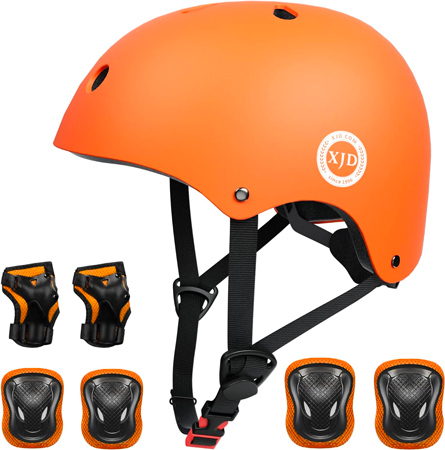 Gearing up for an outdoor adventure is incomplete without ensuring safety and this helmet and safety pad set ensures the 13-year-old boy on your Christmas list stays protected. Whether he's skateboarding, biking, rollerblading, or taking a spin on his scooter, this high-quality helmet offers the security he needs.
The durable ABS outer shell coupled with a high-density EPS inner shell means it provides optimal protection against impacts. The matching wrist guards, elbow pads and knee pads also add to his safety while he's doing his favorite activities.
The helmet is available in two size options, ensuring a snug fit. Plus, with a selection of six vibrant colors, you're sure to find the one that best suits his personal taste. Protection looks stylish with this awesome gift.
4.
Sport Practice Rebounder Net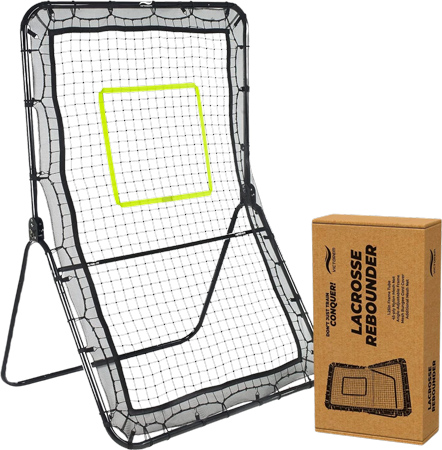 For the 13-year-old sports enthusiast on your Christmas list, this rebounder net is the perfect gift. Ideal for lacrosse, baseball, softball and tennis, it offers endless opportunities for skill improvement. The durable frame ensures longevity, while the robust netting is designed to handle powerful shots and intense practice sessions.
Thanks to the five adjustable angles, he can challenge himself with various in-game scenarios, refining his techniques with each repetition. The net encourages consistent practice, helping him enhance his game, boost confidence and master those challenging shots. With its versatile features and sturdy design, it's the ideal companion for a young athlete eager to reach his peak performance.
5.
Gym and Sports Bag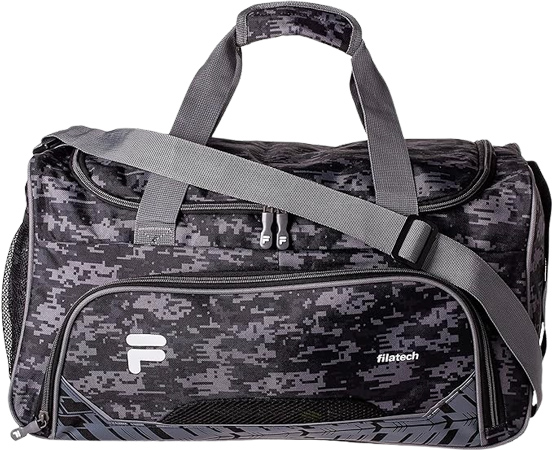 If the 13-year-old boy on your Christmas list leads an active lifestyle, this gym duffel by Fila would make a great gift. Designed for athletes and fitness enthusiasts, this duffel provides generous space for all his sportswear, shoes, water bottles and workout essentials.
The adjustable shoulder strap adds convenience, allowing for comfortable carrying even when it's full of all his gear. With its eye-catching pattern and bold Fila logo, this is a bag he'll be proud to show off as he's going to the gym or heading to his team practices.
6.
LED Wireless Bluetooth Speaker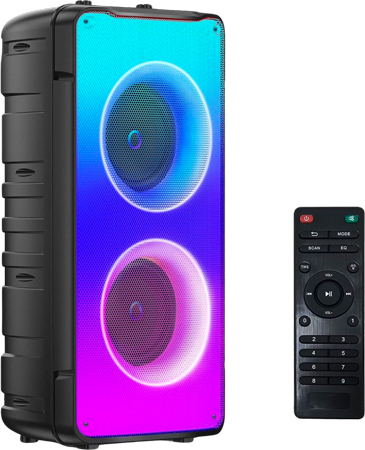 The 13-year-old boy on your Christmas list is going to light up when he sees this LED Bluetooth speaker. Not only does it deliver crisp and clear sound, but it also comes with a dynamic LED light show that dances in tune with the music.
With Bluetooth 5.0 wireless connectivity, he can easily link it to his phone, TV or computer, elevating his entertainment setup. Plus, the long-life 10000 mAh battery promises hours of uninterrupted enjoyment. The combination of top-notch audio and colorful visuals make this a gift you won't regret giving him.
7.
Video Game Controller Stand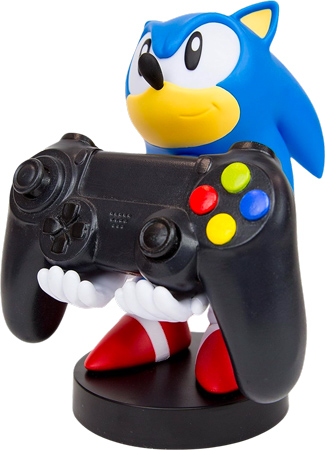 The 13-year-old gamer on your Christmas list will definitely appreciate this game controller stand featuring Sonic the Hedgehog. This stand, made of heavy-duty PVC, features a weighted base, ensuring stability for his controller.
Standing at eight inches tall, it fits perfectly on a gaming desk without overwhelming his space. The universal design means it can accommodate most controllers, making it not only a nod to a beloved gaming character but also a practical addition to his gaming station. When it's time to take a break, he can trust Sonic to keep his controller safe and ready for the next session.
8.
Universal Adjustable Tablet Stand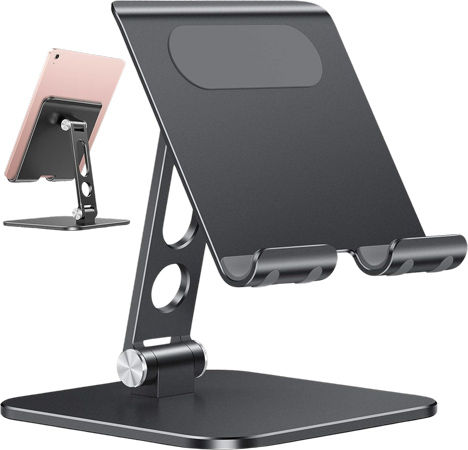 Make the 13-year-old boy's tablet time more comfortable and convenient this Christmas with this adjustable tablet stand. Whether he's binge-watching his favorite shows, catching up on homework, or diving into an online game, this adjustable tablet stand ensures he gets the best viewing angle every time.
Designed to be universal, it accommodates any tablet, making it future-proof for device upgrades. The adjustable feature means he can shift from a laid-back movie-watching angle to an upright position for video calls or studying.
The compact design also makes it great to keep on his desk at home for online classes or doing research. If you're shopping for a boy who loves tech, he'll appreciate a gift like this.
9.
Video Game Phone Grip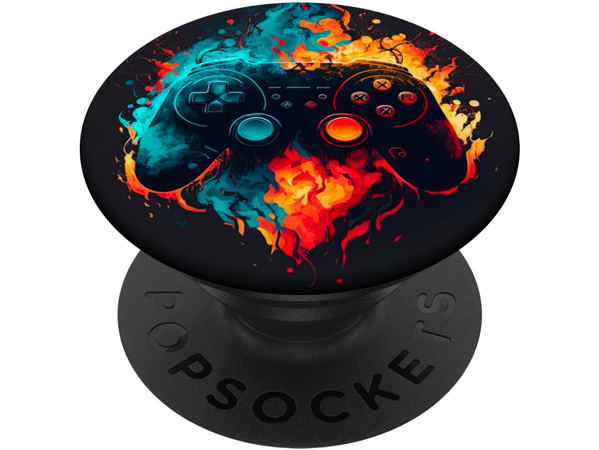 Gift the 13-year-old boy on your Christmas list a trendy and functional accessory with this PopSocket phone grip. It provides a secure, single-handed grip on his phone for texting or snapping photos without the fear of dropping it. Featuring a vibrant video game controller design, it speaks to his love for gaming.
It can also be used for more than just his phone. It's great for gripping a tablet or e-reader so he can read, watch movies or work more comfortably. If the young teen you're shopping for loves his phone (and as a teen, he's probably never off of it) this gift will make the perfect stocking stuffer.
10.
Touchscreen Smart Watch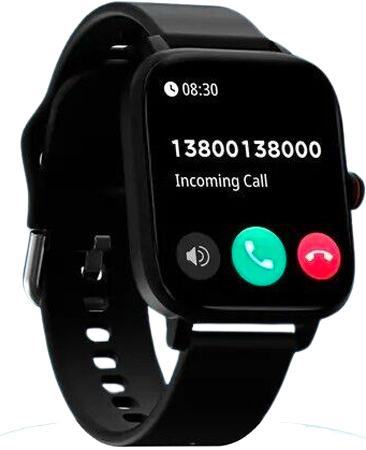 The 13-year-old boy on your Christmas list will appreciate the functionality and versatility of this touchscreen smartwatch. Compatible with both iPhones and Androids, it offers the convenience of making and answering calls directly from his wrist. Beyond communication, the watch also serves as a health and fitness tracker.
It tracks heart rate, sleep patterns, calories burned and steps taken throughout the day. Plus, with the companion app, he can customize the look by choosing from over 100 free watch faces. It's the perfect blend of style and tech, making it a standout gift for any tech-savvy teen who likes to stay in the loop without being attached to his phone.
11.
Sherpa Lined Zip-Up Hoodie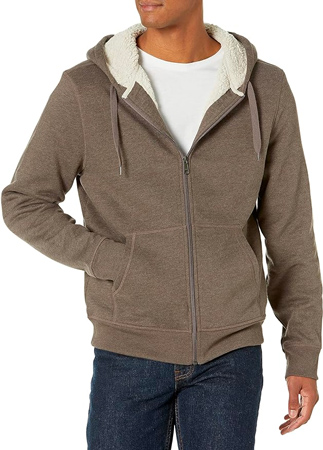 If you're Christmas shopping for a 13-year-old boy who likes to dress casually but still takes pride in how he looks, he's going to get tons of wear out of this fashionable zip-up hoodie. Warmth and style come together with this sherpa-lined design.
Outside looks like a typical sweatshirt hoodie but the inner lining not only adds warmth but also elevates the style factor. This would look great with a pair of jeans for weekend hangouts or days at school.
It features a full zip-up closure, a large hood and convenient side pockets to keep his hands warm and hold his phone. No doubt he's going to be reaching for this hoodie anytime it's chilly out. You won't go wrong with this gift. There's a reason it has over 26,000 five-star reviews on Amazon.
12.
Shark Truck Lego Set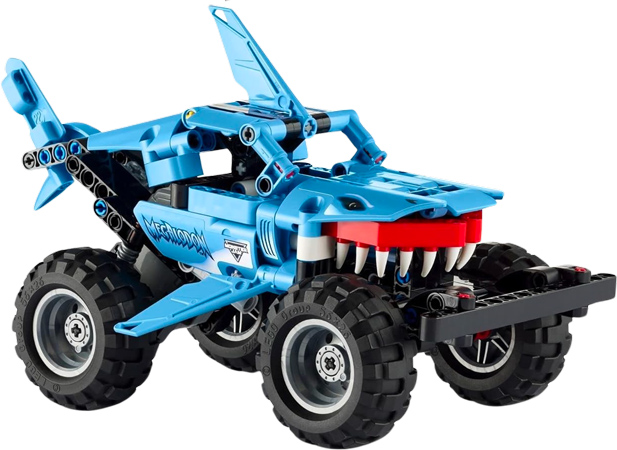 Fuel the imaginative play of the 13-year-old boy on your Christmas list with this captivating Lego Technic set. Designed to challenge and inspire, this set allows him to construct a detailed Monster Jam Megalodon truck, bringing engineering concepts to life piece by piece.
Once assembled, the truck boasts intricate details and functioning features, creating an interactive model he can proudly display or use for action-packed adventures. The set provides hours of creative building, making it perfect for both Lego enthusiasts and those new to Technic sets. This is a gift that combines hands-on fun with the thrill of accomplishment, perfect for any teen who loves a building challenge.
13.
Spikeball Game Set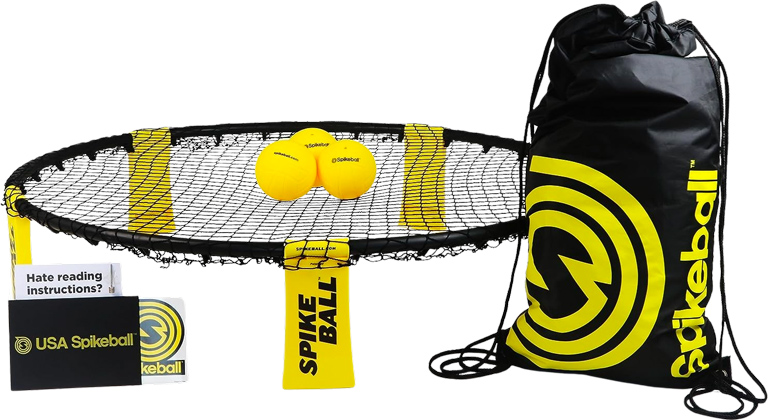 This Christmas, surprise the 13-year-old boy on your list with a game that's all the rage. This Spikeball game set is perfect for teaming up with friends and family, guaranteeing hours of laughter and friendly competition.
The purpose of the game is to hand-spike the ball down onto the net while the opponent has to re-spike it back onto the net without missing the bounce up. The match goes on until someone misses.
Each set comes complete with three Spikeball balls, a Spikeball net and a convenient drawstring bag for travel. The legs of the net collapse flat so it can be easily put in the trunk of a car to take to a park or even the beach. If you're looking for a fun-filled gift the whole family can enjoy, this choice is going to be a winner.
14.
Portable Regulation Pickleball Set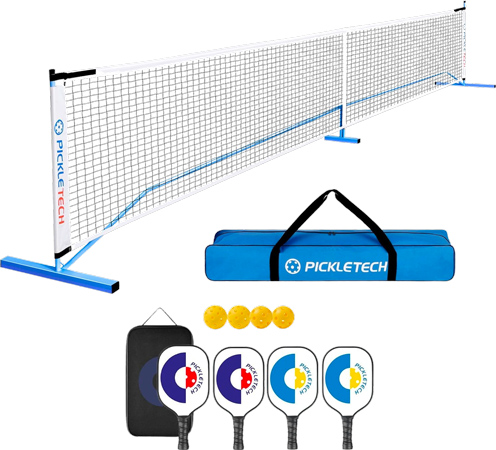 Gift the 13-year-old boy on your Christmas list the excitement of pickleball with this full outdoor set. Perfect for those interested in trying new sports, this set includes everything from paddles to balls and even a regulation-sized net. The included four paddles mean he can invite his friends or family to challenge him to friendly matches.
It's also a great way to get some outdoor activity in and cut down on screen time. This set is made with durability in mind. Everything from the high-quality poplar the paddles are made out of to the reinforced steel frame means this is a gift that is made to last.
15.
Giant Chess and Checker Set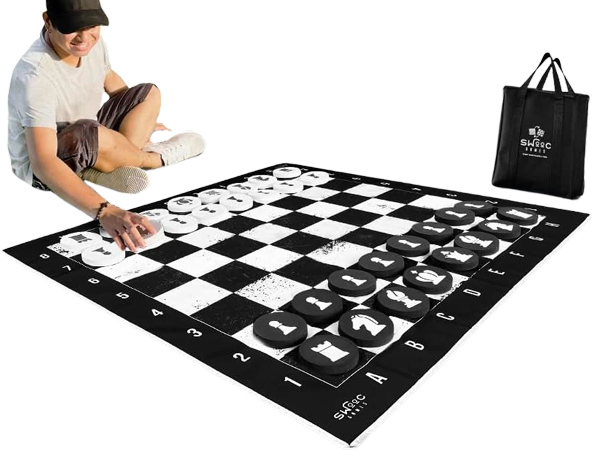 This Christmas, give the 13-year-old you're shopping for some oversized fun with this giant three-in-one board game. With this massive 4×4 foot mat, he'll be able to engage in classic strategy with chess, enjoy the timeless rivalry of checkers, or have a quick game of tic tac toe.
The mat is made out of tear and stain-resistant fabric that can be tossed in the machine for washing. The oversized playing discs are made from non-toxic recycled EVA foam so they're safe for the whole family, even little ones.
All the pieces, including the folded mat, can be packed up into the included carrying case for storage or easy travel. Family game night is getting a huge upgrade if you choose this amazing gift.
16.
Handheld Smartphone Video Rig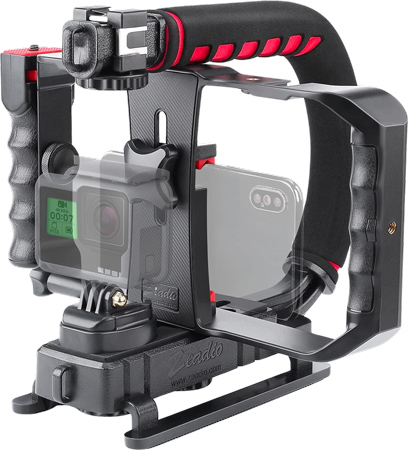 If the 13-year-old boy on your Christmas list has a passion for videography, this handheld video rig will be a game changer for him. Designed for steadiness, this rig allows for smoother shots, improving the quality of his video projects. Whether he's into making short films, vlogging, or even exploring the world of stop motion, this rig lets him capture every scene with clarity and precision.
The rig's design ensures compatibility with most phones, cameras and camcorders, offering him versatility in his creativity. The ergonomic grip also means longer shooting sessions without hand fatigue. Make his directorial dreams come true with this useful gift.
17.
Painting Set with Easels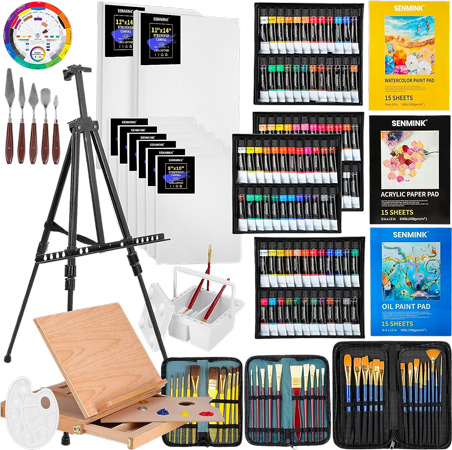 Unleash the creative potential of the 13-year-old boy on your Christmas list with this deluxe 149-piece art set. The set includes acrylic paints, watercolor paints, oil paints, three sets of brushes, pallet knives and two different types of easels.
One easel is made of high-quality aluminum for standing and the other of solid wood for tabletop use. The included sketchpads and painting canvases give him plenty of space to paint until his heart is content. This set is huge, just like his smile will be when he opens this gift on Christmas morning.
Need more inspiration?