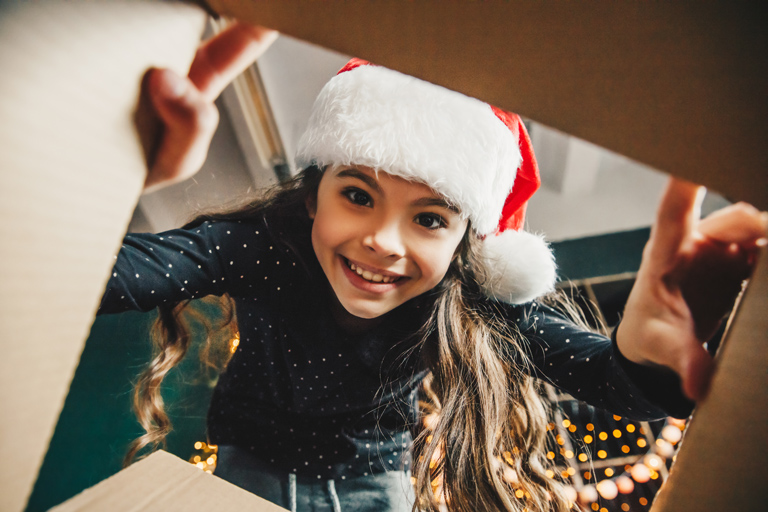 Looking for a Christmas gift for a 10-year-old girl but keep coming up short on ideas? It's not easy. You want to choose that one special gift that's going to make her eyes light up when she opens it. But it can be tough weeding out the junk that will be forgotten from the truly magical gifts that will create a memory.
That's why we've put together this list of 17 exciting Christmas presents for 10-year-old girls. If you need a gift that will tick all her holiday wishlist boxes, you're about to find it here.
1.
Shimmer Body Art Set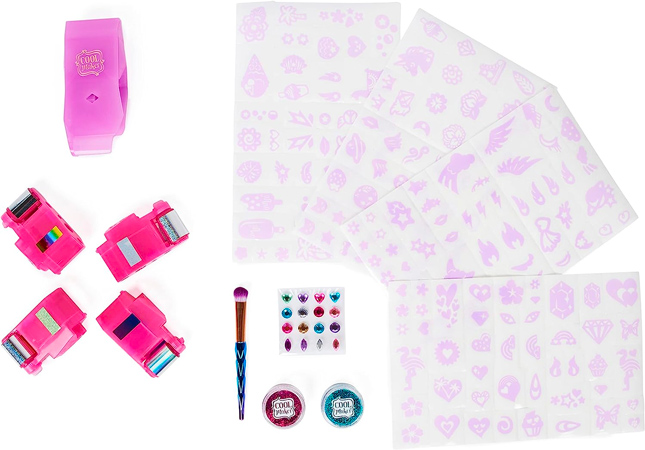 If you're hunting for a cool present for a 10-year-old girl who loves anything that glitters, this Christmas gift is going to put a sparkle in her eye, and all over her body! The Glitter Body Art Studio by Cool Maker is an engaging and creative gift that will let her design her own shimmering tattoos.
With 180 double-sided stickers, she'll be able to build out her designs to create a look unique to her. The kit also includes glitter in pink and blue, a glitter application brush and gemstones for blinging out her cool new tats. All the materials are skin-safe and are designed to last 24 hours but can also be easily washed off with warm water. This gift is sure to be a Christmas Day hit.
2.
Bath Bomb Making Kit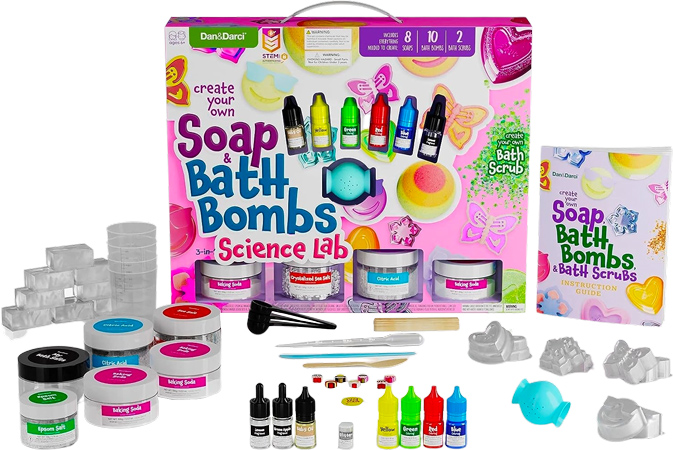 Give a Christmas gift that will allow a creative 10-year-old girl to create her very own soaps and bath bombs with this fun kit by Dan&Darci. This comprehensive kit includes everything she'll need to create multiple soaps, bath bombs and body scrubs in a variety of colors and sumptuous scents.
The scents can be used as is or can be mixed for custom creations that only she will have. The kit also includes special molds to create bath bombs that can hide surprises inside. As the bath bomb fizzles it will melt to reveal the hidden treasures, an added bonus to bath time.
3.
Water Bottle Decorating Kit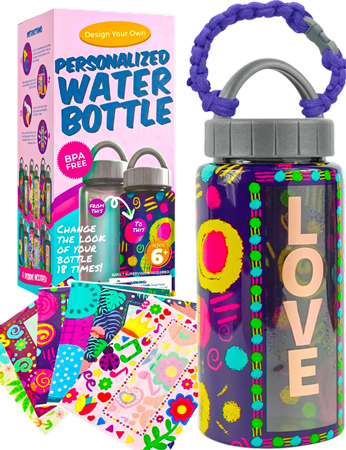 If you're shopping for a 10-year-old girl who appreciates personalization and creativity, gift her this Purple Ladybug water bottle decorating kit. A BPA-free water bottle comes ready to be transformed into a unique piece of art with rose gold letter stickers and 18 sheets of colorful shrink-wrap films.
The films can be placed over the sticker designs and sealed into place with a hairdryer. If she ever changes her mind, or her style, the films can be peeled off so she can try something new. The kit also includes paracord bracelets and bracelet clips as a fashionable way for her to carry what will surely be the coolest water bottle on the playground.
4.
Unicorn Art Decorating Kit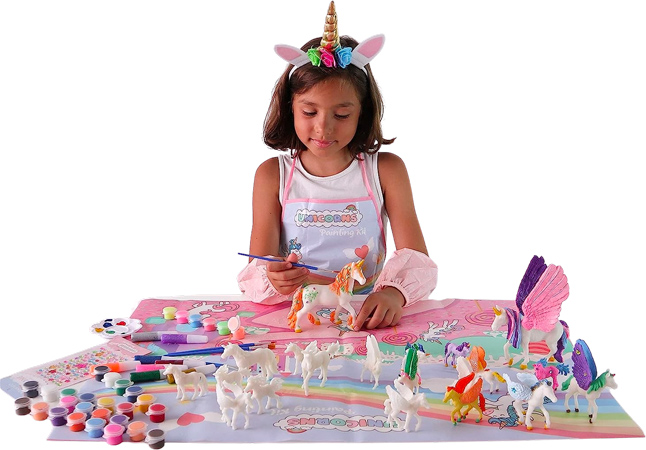 This is a Christmas gift that's going to have the creative 10-year-old unicorn lover on your shopping list beyond excited. This set will allow her to paint not just one, but 18 different unicorn figurines! The figurines come in different sizes and models, some even have wings.
With the kit, she'll also get an adorable apron decorated with unicorns, multiple paint brushes, a ton of different colors, jewel stickers and a unicorn horn headband so she can really channel her unicorn powers for magical inspiration. Once they're all decorated she can use them for playtime or display them on her bookshelf so everyone else can admire her beautiful masterpieces.
5.
Deluxe Art Supply Set

This Christmas, delight the artistic 10-year-old girl on your gift list with this portable art supply set by Kinspory. This massive set is designed to inspire creativity and ignite her passion for art. It includes a diverse array of high-quality materials, such as colored pencils, markers, watercolor paints, sketching pencils and more. The portable case means she can take her creativity on the go, whether it's to school, the park, or on a family trip.
With this thoughtful gift, you'll be encouraging her artistic expression and providing endless opportunities for imaginative exploration. Watch her artistic skills flourish as she brings her visions to life with this deluxe art supply kit.
6.
Premium Spiral Sketch Pads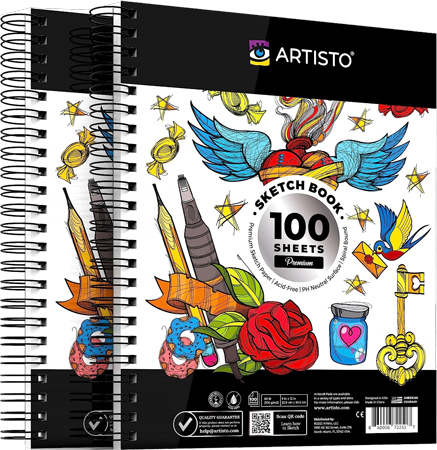 If art is something the 10-year-old in your life takes seriously, she's going to want this Christmas present. This set of sketchpads provides the optimal canvas for art that is intended to be kept. Whether it's something she wants for her portfolio or something she wants to frame for her bedroom, the acid-free paper in these pads means her art will stand the test of time.
The thick paper makes these pads ideal for everything from pens to pencils and even charcoal. The spiral binding provides a flat surface to work on and the micro-perforated tear-out feature means clean edges when she's done with her gorgeous creations and they're ready for display.
7.
Elastic Strap Analog Watch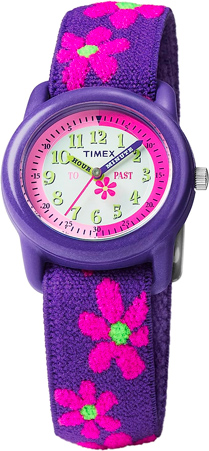 If you're on the lookout for an awesome Christmas gift for a fashionable and time-conscious 10-year-old girl, take a look at this stylish watch from Timex. This chic timepiece effortlessly combines practicality with vibrant and young style. It features a bright purple elastic strap and a clear analog display, making time-reading simple. Designed with young girls in mind, the strap can be easily removed and washed, ensuring it stays fresh and comfortable on her wrist.
The eye-catching pink and purple hues with splashes of vibrant green set this watch apart, making it a fashion-forward accessory for any outfit she wears. Plus, being waterproof means she can wear it while playing outside without having to worry about the weather.
8.
Minnie Mouse Birthstone Necklace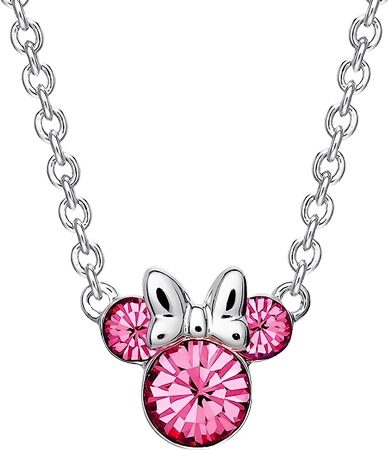 Celebrate the magic of Christmas with this crystal Minnie Mouse necklace by Disney. It's a lovely gift choice for any 10-year-old girl who adores Disney and loves to sparkle. The necklace showcases a Minnie Mouse pendant made out of three bezel-set, radiant-cut crystals. Of course, it wouldn't be Minnie Mouse without her signature bow which is featured prominently over the three crystals in a high-shine silver finish.
The necklace is available in the 12 birthstone colors so you can either choose the color associated with her birth month or just choose the color she loves to wear most. If she's a Minnie Mouse fanatic or just loves to wear beautiful things that glint in the light, this necklace will make an unforgettable gift.
9.
Kid-Sized Colorful Yoga Mat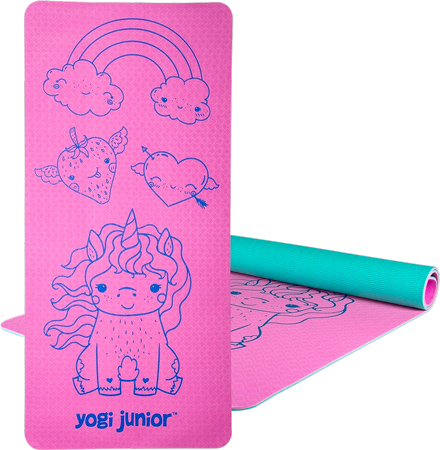 This Christmas, surprise the 10-year-old girl on your gift list with this fun, kid-sized yoga mat by Yogi Junior. It would make a useful present that encourages her healthy and active lifestyle. Designed with young yogis in mind, this mat provides a comfortable and non-slip surface, ensuring she can practice a variety of yoga poses with ease and confidence. Crafted from toxin-free and recyclable materials, it prioritizes both her safety and environmental consciousness.
The mat's playful and vibrant design with unicorns and hearts adds a fun element to her yoga sessions, making it even more appealing for her to maintain her fitness and mindfulness. Whether she's a seasoned yogi or just beginning her yoga journey, this considerate gift will inspire her to stay focused and balanced on her path to wellness.
10.
LED Bike Wheel Lights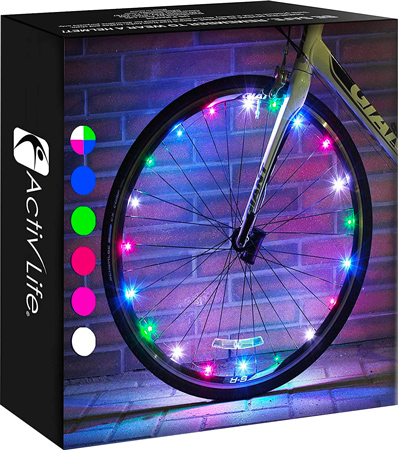 Add some excitement to a 10-year-old girl's biking adventures with these LED bike wheel lights by Activ Life. Perfect for Christmas, these lights will instantly transform her bike into a dazzling display of colors as she rides around the neighborhood or cruises along the park trails with her friends.
The set includes vibrant and weather-resistant LED lights that easily attach to the spokes of her wheels, creating a neon light show as the wheels spin. Not only do they look cool, but they also enhance safety by increasing visibility during evening rides.
11.
LED Flashing Roller Skates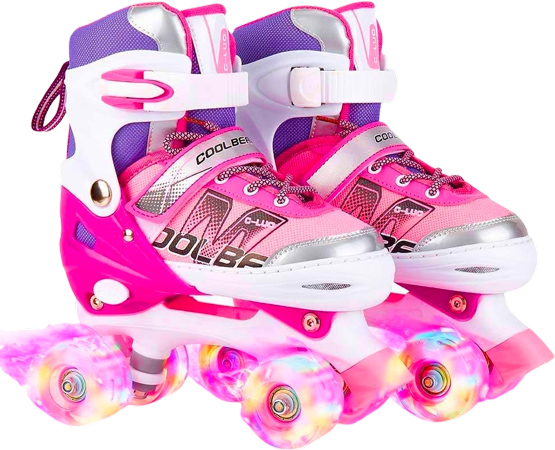 Looking for an exhilarating Christmas gift for a 10-year-old girl? These rad roller skates are a perfect choice. Not only are they stylish with their pink and purple design but they're also created for maximum comfort and safety. The adjustable sizing means they'll fit her feet perfectly and even leave room to grow so she can wear them for many years, which she's definitely going to want to do. These skates are so cool she's never going to want to take them off.
The LED lights that are hidden in the wheels flash in bursts of color as she glides down the street. Even during the day the lights are bright enough to make all her gal pals wish they had skates this lit.
12.
Stylish Pink Athletic Shoes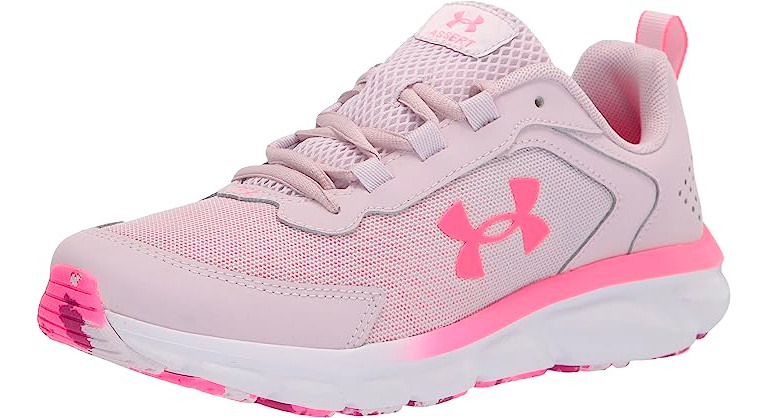 If you're trying to find a gift for the stylish and sporty 10-year-old girl you know, these pink athletic shoes by Under Armour are a great choice. Designed keeping both performance and fashion in mind, these shoes will look just as great with a pair of jeans as they will at the gym.
The pink-on-pink tones with the gradient white and pink rubber soles give these shoes a young and feminine vibe while still looking sporty enough for the serious athlete. The mesh uppers provide ventilation to keep her feet cool and the thick cushioned inner soles provide soft cushioning for high-impact sports and all-day wear.
13.
LED Light Frisbee Disc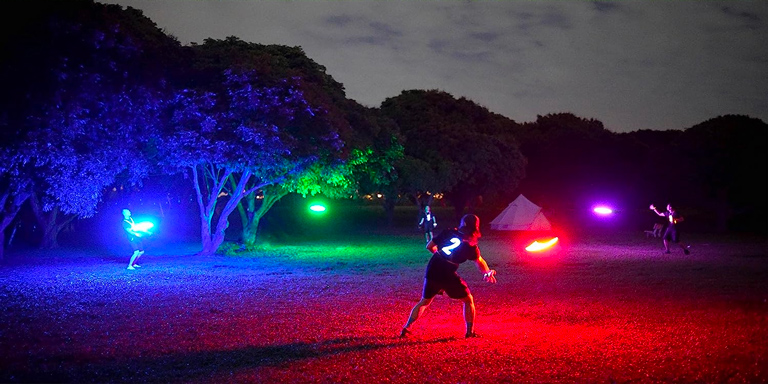 Looking to put a fun gift under the Christmas tree this year? This light-up frisbee by Tosy would make an impressive gift for the 10-year-old girl you're shopping for. Tossing around a frisbee is always a fun outdoor activity but combine it with flashing LED lights that glow in bright fluorescent colors and you've got an exciting night game of ultimate frisbee that will be a treat for everyone involved.
The frisbee is available in multiple colors, it's rechargeable, waterproof and even floatable so it's the perfect backyard toy to get in some high-energy playtime.
14.
Rainbow Puzzle Ball Game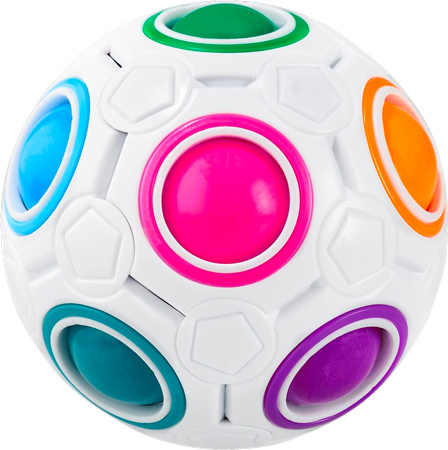 This puzzle ball by Cubidi is an engaging Christmas gift idea for any puzzle-loving 10-year-old girl. This unique rainbow ball challenges her color-matching skills and dexterity as she twists and turns to align the colorful segments into their correct positions. The compact size and lightweight design mean she can take it anywhere for hours of brain-teasing fun.
This puzzle ball is not only entertaining but also helps improve her cognitive abilities, problem-solving skills and hand-eye coordination. It's a delightful and intellectually stimulating gift that will keep her entertained during this holiday season and beyond.
15.
3D Butterfly Wall Decor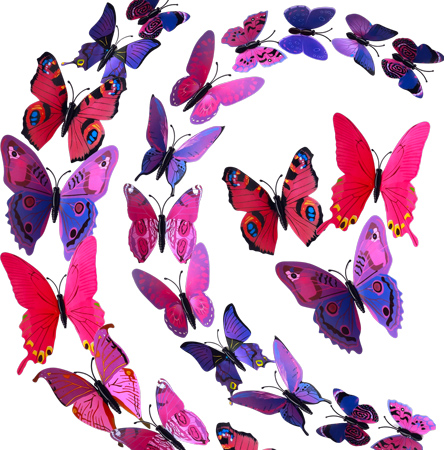 Transform the bedroom of the lucky 10-year-old you're shopping for with this whimsical Christmas gift. This set of 3D butterflies by Live Gallery includes 72 butterflies that are designed to stick onto walls via the included double-sided foam tape. The butterflies come in various sizes with an assortment of realistic wing designs and shapes.
The vivid colors will instantly add life to her walls, turning her room into a magical world of beauty and wonder. They can either be scattered in random patterns to look like a vibrant cluster of fluttering colors or they can be used to spell out her name or other personal message. They're also easy to apply so it's decorating she can do herself.
16.
Furry Rainbow Backrest Pillow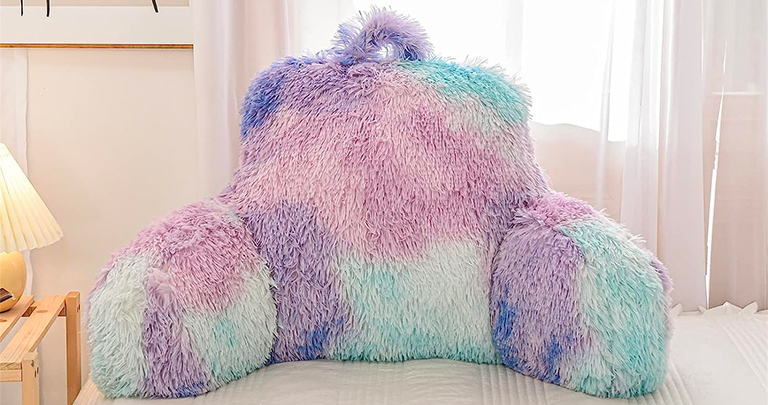 If the 10-year-old girl you're gift shopping for likes to read or just relax on her bed watching Netflix, this backrest pillow by A Nice Night is going to be a Christmas gift that will get constant use. It's designed like the top half of a chair, with the backrest and arms, so it can be used anywhere she likes to sit. It's great for beds, on the floor or even used for extra back support on the couch.
The faux fur material coupled with the cotton candy-inspired swirls of blues and purples not only make this a very cool bedroom accessory but it's also the perfect prop for lazy days of relaxing and chill time.
17.
Collapsable Unicorn Storage Basket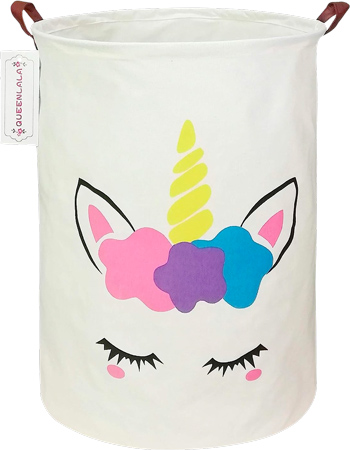 Give a Christmas gift that will help a 10-year-old girl keep all her toys neatly organized while also expressing her unique decor style. This collapsable unicorn basket turns what could have been just another boring storage solution into a playful and fun addition to her room, sparking joy every time she tidies up.
The sturdy construction and deep interior mean it can hold all her favorite toys, blankets and books. It can also be used as a clothes hamper as the carrying handles will make it easy to move down to the laundry room. This gift is exactly what she wants if she just can't get enough unicorn horns in her life.
Need more inspiration?