By the time they reach age 4, little girls tend to be interested in absolutely everything. They are curious about how things happen and why they work and their cognitive development is happening at a really rapid pace. Social skills and development become incredibly important at this age as 4-year-olds are beginning to understand much more of the social world and take an interest in other's opinions, lives and preferences. Around age 4, imitation and play-acting scenarios are typical types of play and many of the gifts on this list will support this kind of play and the development of social skills.
With so many different products and great options on the market it can be overwhelming to try and choose a gift for a 4-year-old girl. This list showcases a range of different options to help you pick something out.
1.
Minnie Mouse Rain Wear Set
Why we like it: A cute rain poncho and umbrella set featuring Minnie Mouse designs.
The Minnie Mouse Rain Wear Set includes a water-resistant vinyl poncho and matching umbrella. The poncho has an adjustable hood, snap closures, and a fun Minnie print. The 8-panel umbrella has a safety cap, Velcro strap, and handle.
Designed for ages 2-7, this set is sized for a perfect fit. The easily accessible snaps allow kids to put it on themselves. This stylish rainwear set is both fun and practical for rainy day activities. Officially licensed Disney product made with durable, quality materials. Wipe clean with a damp cloth for easy care. A useful gift she'll love wearing on stormy days.
Pros
Cute Minnie Mouse design
Durable and water-resistant
Perfect, easy fit for kids
Builds independence
Officially licensed Disney
Cons
Hand wash and air dry only
Poncho runs small
2.
Medical Doctor Play Kit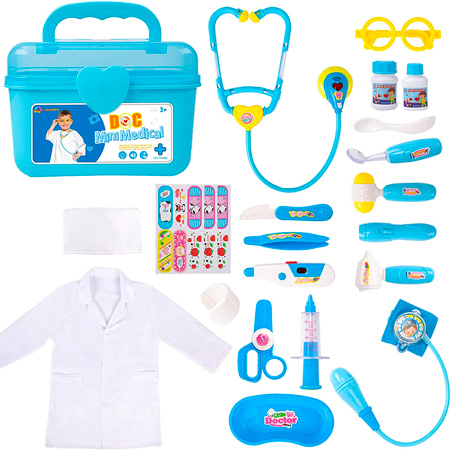 Why we like it:
A fun toy that stimulates the imagination and helps young girls learn about the medical field.
Develop imagination through role-playing with this playtime doctor kit. Made by Lilberry, this kit includes 23 pieces of pretend doctor's equipment, including a stethoscope, examination tools, a blood pressure cuff, a thermometer, medicine bottles, bandaids and a darling little lab coat that's perfectly sized for a four-year-old girl.
This doctor kit will encourage creative play, either independently with her dolls or with friends. It's a great way to develop social skills and further evolve cognitive skills. As an added benefit, playing with this kit will help young children get more familiar with the medical field so doctor's visits won't be as intimidating. All the tools in the kit are designed with rounded edges for added safety and are made of non-toxic, BPA-free and odor-free plastic. When playtime is over, or there's an onsite doctor's call, the kit is all stored and easily transported in the included medical case.
Pros
Interactive and light-up tools

Helps evolve social skills

Familiarizes with the medical field

Nontoxic materials and easy to clean

Includes storage case
Cons
Tools require disc batteries
3.
Melissa & Doug Disney Princess Wooden Stamp Set
Why we like it: A princess-themed stamp set to inspire creativity and imagination in kids ages 4+.
The Melissa & Doug Disney Princess Wooden Stamp Set includes 9 character stamps, a 2-color inkpad, and colored pencils. Kids can get creative stamping their favorite princesses like Ariel and Belle.
The washable ink makes clean up easy. The set comes with a sturdy wooden storage box to keep all the pieces neatly organized. It's an engaging toy that inspires artistic fun without screens.
Pros
9 princess character stamps
Washable ink
Sturdy storage box
Promotes creativity
Cons
Small pieces require supervision
Ink can stain clothing
4.
Baby Born Soft Touch Girl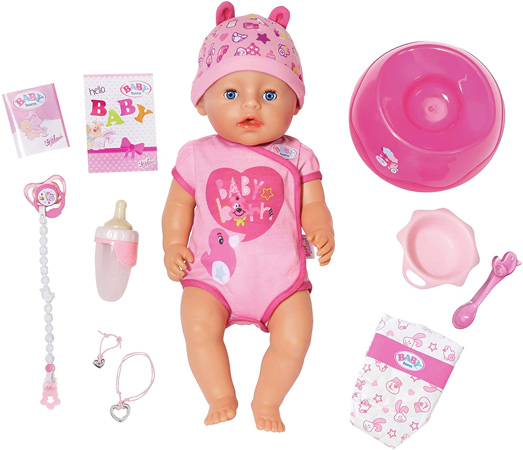 Why we like it: Soft doll which feels more lifelike and has 9 interactive features, perfect for a little girl's imaginative role play and developing social skills.
Baby born dolls are extremely popular with little girls and the Baby Born Soft Touch Girl is a really lovely doll with a soft body and flexible limbs she feels much more lifelike than a hard, plastic doll. She can also function just like a real baby; drinking water from a bottle, crying real tears and even going to the potty! These features are sure to delight a 4-year-old girl as she includes the doll in her imaginative role play and takes on the role of mummy or big sister, caring for the baby and developing her social skills along the way.
Pros
Soft body doll- feels more lifelike
Prompts imaginative role play
Supports the development of social skills
Life-like functions- eats, drinks, cries, potty trains, can be bathed
5.
Brio World Cargo Railway Deluxe Set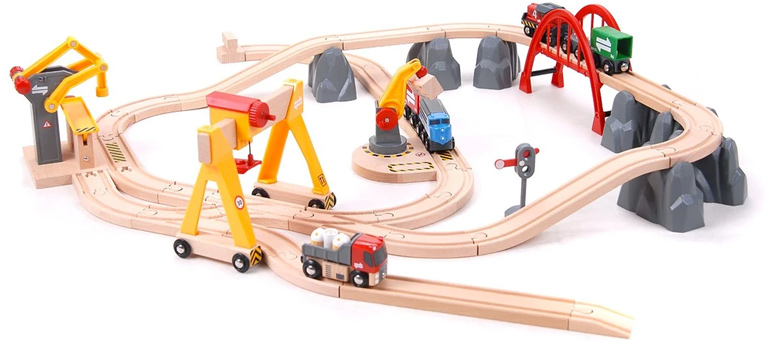 Why we like it: A train set with additional features such as ramps, cranes and cargo loaders to enhance open-ended construction and imaginative play.
Train sets are a brilliant toy at almost any stage of childhood, and by age 4 children are likely to have developed enough physical skill to lay, connect and rearrange track independently as well as begin to plan and design track layouts. This set includes crane, bridges and ramps to add extra dimensions to imaginative, open-ended play.
Brio track tends to be slightly more expensive than other brands but its name is synonymous with quality and longevity; many grandparents have Brio track stashed away in the attic from when their children were young! The Cargo railway deluxe set can also be connected to any other sets of wooden track the child has, expanding play even further.
Pros
Additional features such as ramps, cranes and cargo loaders
Promotes open-ended construction
Enhances imaginative play
Hones fine motor skills: connecting track and winding cranes
Fits with other wooden train sets
Cons
Slightly more expensive than other brands
6.
Light-Up Unicorn Terrarium Kit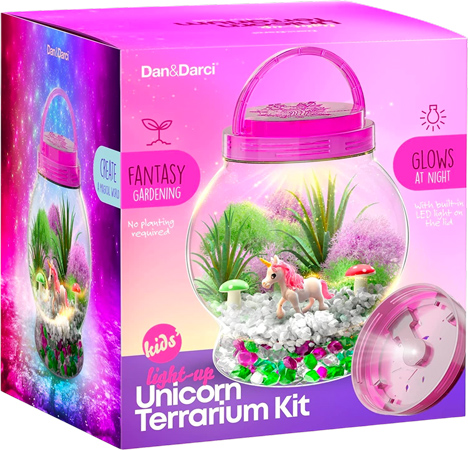 Why we like it:
A DIY project for little girls that allows them to design and decorate their own unicorn-themed garden.
For a creative project to do with a four-year-old girl, this unicorn terrarium kit is going to be fun for the entire family. The kit comes with everything needed to create a magical unicorn garden, including a terrarium jar with a lid, various-sized decorative crystals, mini faux mushrooms and succulents, moss, and of course, her very own pocket-sized unicorn.
Beyond being just a beautiful arts and craft project that can be displayed on a shelf or next to a bed, this gift doubles as a nightlight. The lid of the terrarium includes a built-in LED light that can be charged with the included Micro-USB cable, which means no need to ever worry about changing batteries. This gift will encourage artistic expression and give any four-year-old girl something she can use to decorate her room. Plus, it's something she can be proud of because she made it herself.
Pros
Encourages interest in art

Promotes family time

Lights up as a night light

Can be opened and restyled
Cons
For show only- Not watertight

Includes small parts
7.
Flybar My First Foam Pogo Jumper for Kids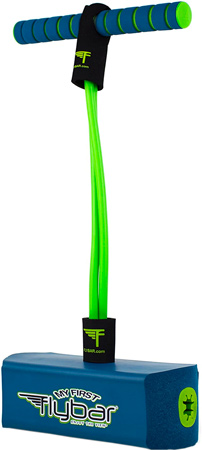 Why we like it: A pogo stick without the risk! Can be used indoors or outdoors to keep children active and healthy.
The Flybar My First Pogo Jumper for Kids makes an ideal gift as it's something novel, that children are not likely to have, or have used, already, keeping the excitement levels high. This pogo jumper removes much of the danger of a traditional pogo stick, using a padded bar to spread the load and make jumping a little easier for younger children. This also means that you can use the jumper both indoors and out as it won't damage household flooring surfaces. However, the stick still provides plenty of challenge for 4-year-olds as they learn to balance, increase their core strength and gross motor skills, and stay active.
Pros
Improves cardiovascular health, core strength and gross motor skills
Activates the vestibular system
Compact design- does not require lots of space
Can be used indoors and out
Cons
Squeaking noise when jumping can be noisy
8.
Barbie Camper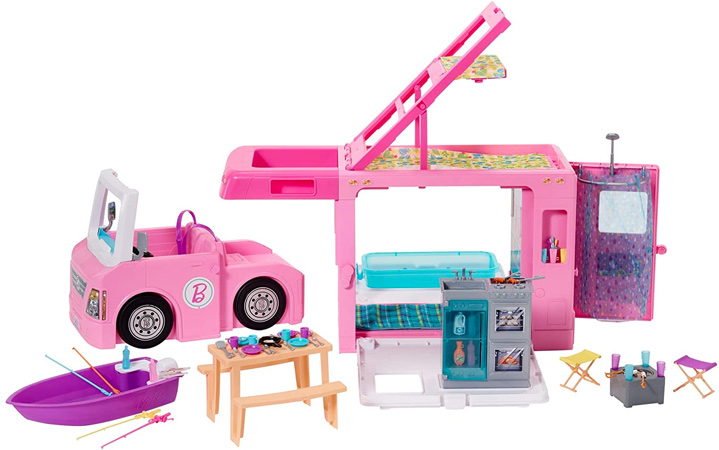 Why we like it: Playing with dolls and figures promotes social play and imagination and this Camper toy includes a huge array of play pieces to support that play.
Barbies are another toy that seem to have lasted through generations. Many 4-year-old girls will spend hours changing their outfits, brushing their hair and acting out different scenarios with them. The Barbie Camper comes with lots of different accessories to expand that imaginative play and can be used in a variety of ways, as well as in combination with any other Barbie sets the little girl may have.
Acting out scenarios with dolls, figures, and vehicles, or 'small world play' as it is known to professionals, is a safe way for children to experiment with different social situations and build up their social skills. Playing alongside other children also encourages children's social skills as they learn to negotiate, cooperate and discuss ideas.
Pros
Develops imaginative play
50 play pieces- versatile, can be used in a variety of ways
Promotes social play
Can be used in conjunction with other Barbie playsets
9.
Fisher-Price DoodlePro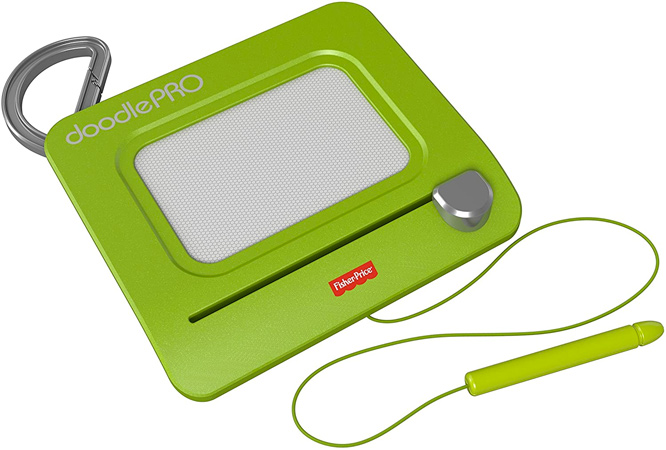 Why we like it: Kids love to doodle which improves their fine motor skills, imaginative drawing and letter formation. This mess free board can also be taken on the go.
4-year-olds are often in the process of learning to form letters and this can cause a lot of paper waste! The Fisher-Price DoodlePro is an ideal solution to this. Making an ideal gift for a 4-year-old girl the Fisher-Price DoodlePro is a plastic board and pen that uses magnetism to make marks, which can then be wiped away when the child is done. This not only saves paper but is mess-free and ideal for taking on the go.
Practicing drawing, doodling and letter formation improves the strength and flexibility in hands, wrists and fingers and improves children's writing.
Pros
Mess-free
Transportable, can be taken on the go
Improves motor skills
Enhances imagination
Allows for endless letter practice
Cons
Made of plastic- can shatter
10.
Lego Classic Medium Creative Brick Box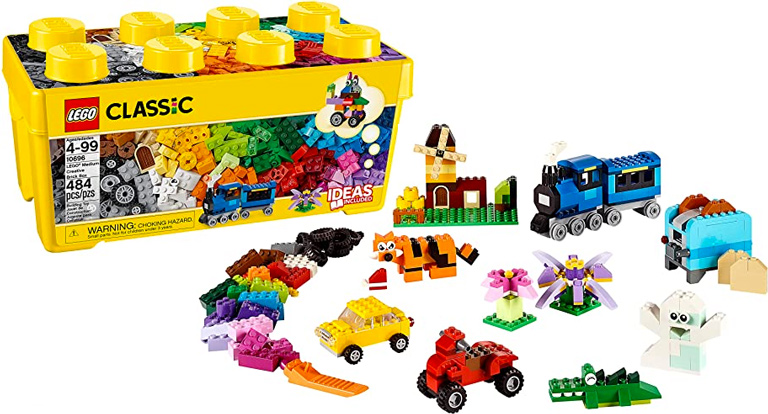 Why we like it: Lego is a classic children's toy that will last for generations to come, encouraging construction, fine motor skills and imagination.
Kids love Lego, and its durable, indestructible nature means that it's really built to last and will hold its appeal for years to come. The Lego Classic Medium Creative Brick Box comes with a storage box to keep all of the small pieces contained, and some instructions for small models that can be made using the pieces however, it is open-ended enough to allow children to construct and play their own way.
By age 4, most children will have the fine motor skills required to construct with traditional Lego, and doing so will improve those fine motor skills further, building strength in the fingers and hands which will translate to letter formation and writing.
Pros
Durable, built to last
Open-ended, can construct in a variety of ways
Improves fine motor skills
Encourages imagination and imaginative play
Comes with a storage box; can be used with other sets
Cons
Small pieces are a choking hazard for younger siblings
11.
Melissa & Doug Hi-Rise Wooden Dollhouse
Why we like it: A doll's house is a gift that will last for years to come and encourage imaginative, social play.
A doll's house is a classic childhood toy and one that will last for years as children's imaginative play becomes more sophisticated. As children play with small figures, they act out social scenarios, testing their knowledge and understanding of the world. This Melissa & Doug Hi-Rise Wooden Dollhouse is tall, open-sided with 6 rooms and comes with dolls and furniture so the set is ready to play with straight away!
The Melissa & Doug Hi-Rise Wooden Dollhouse is made using high-quality materials and decorated in fresh colors with lots of natural wood on display. This makes it suitable for both boys and girls, and means that it should last for years.
Pros
Open-ended play
Encourages imaginative role play
Promotes social learning and skills
Wooden toy; eco-friendlier than plastic
Neutral colors
Cons
Large item; requires space to store and play
12.
Kidkraft Vintage Kitchen Pink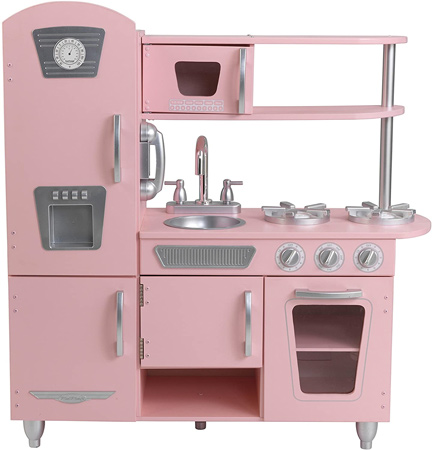 Why we like it: A 4-year-old girl will have hours of fun cooking up a storm in this play kitchen; promotes imaginative role-play.
Most children love play kitchens and the opportunity to re-enact their family life. As children learn through imitation play kitchens are a great way for them to experiment with the skills they have seen their parents using in the real kitchen. The Kidkraft Vintage Kitchen comes in pink, which may match the décor of a 4-year-old girls bedroom or playroom, and is built using wood making it a robust piece of equipment that is designed to last.
As children role-play in the kitchen they process and make sense of their own experiences of life and, if they play alongside others, develop their social skills and understanding. 4-year-olds will love to imitate stirring, whisking, frying and baking, and using their wrists in these ways also helps to develop strength and control needed for handwriting!
Pros
Promotes imaginative role-play
Child gains understanding of food preparation
Wooden; eco-friendlier than plastic
Built to last
Cons
Large item; requires space to store and play
13.
Fatmoose Playground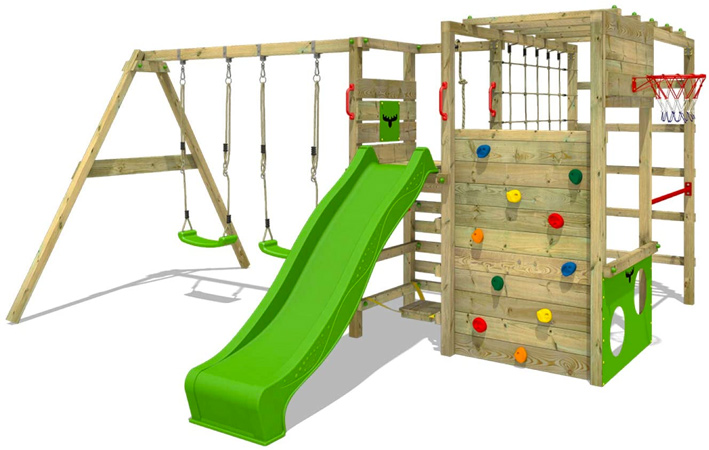 Why we like it: An amazing addition to outside space that will last through different ages and stages with multiple children, keeping them active and healthy!
Any 4-year-old would love the opportunity to have this Fatmoose Playground in their garden or yard. Whilst it is certainly an investment piece, it's built to last. Not only is the Fatmoose Playground made from high quality pressure treated wood with a 10-year warranty, but it also has enough variety to see children through a variety of different ages and stages and is perfect for using with siblings or friends.
Playing outdoors is vitally important to children's overall health and wellbeing and a piece of equipment like this will encourage them to get outside and stay active. With a slide, climbing wall, basketball net, swings and more, the range of physical skills that can be developed is absolutely huge! This Fatmoose Playground is sure to provide hours of fun, physical play.
Pros
Made with pressure-treated solid wood; built to last
Will last through different ages and stages
Suitable for multiple children
Keeps children active and healthy
Encourages physical skill, strength and development
Cons
Expensive
Requires significant outdoor space
14.
Aquabeads Beginners Studio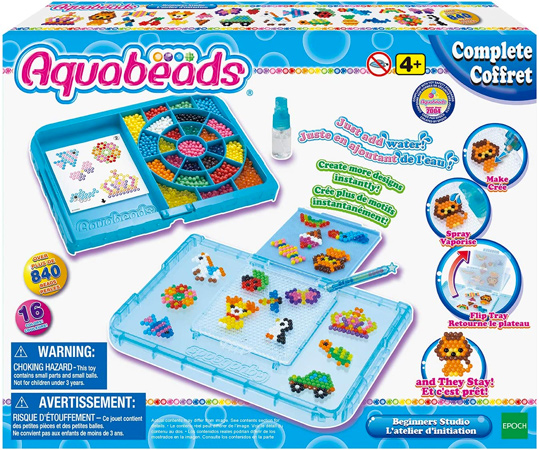 Why we like it: A creative activity that also develops fine motor skills and strength and flexibility in the hands and fingers ready for writing.
Aquabeads are tiny little beads that can be carefully placed into a range of beautiful designs. Children can design their own patterns and shapes or follow templates provided in the set to create shapes, animals, vehicles and more. Templates can also be downloaded, giving a wide range of ways to play. Unlike similar toys, no heat is needed to bond the beads together. Instead they are simply sprayed with water and left to dry, after which they have bonded together and can be lifted from the tray. The Aquabeads Beginners Studio is ideal for storing the collection as it comes with a storage tray as well as a work surface.
As children use fingers or small tools to position their Aquabeads they develop their fine motor skills, and strength and flexibility in the hands ready for writing. They also develop patience and perseverance, important social skills for the rest of life and their hard work is rewarded by a sense of pride in the shape and pattern they have created. This is an ideal gift to keep them busy!
Pros
Encourages creativity
Develops fine motor skills
Increases strength in hands and fingers
Uses water to bond designs instead of heat; safer
Templates can be downloaded
15.
Snap Together Jewelry Beads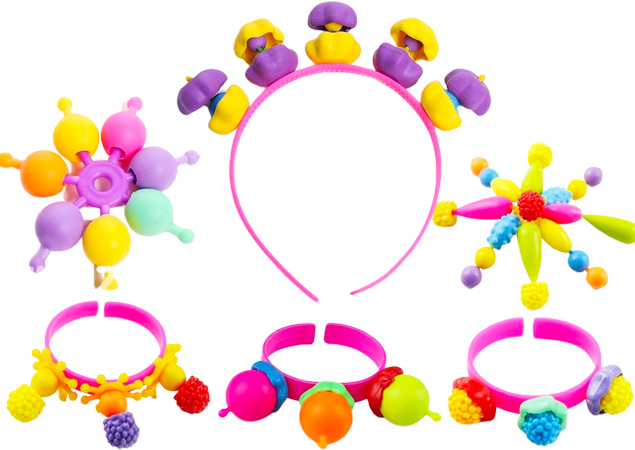 Why we like it:
A creative toy that will inspire personal style and individuality through fashion accessories.
Little girls love getting into their mom's jewelry box and playing dress up. Save the expensive jewelry from going missing under the couch and give the little girl you're shopping for a way to make her own costume jewelry. It's a great way for her to get creative and also have pride in the beautiful pieces she creates. With this huge set of snap-together beads by Funzbo there will be endless possibilities for all the creations she can think of.
The set comes in two size options, either large or extra large. Both sets include snap beads but the larger set also includes headbands and plastic bangles to decorate. The way the beads are designed there is no need for elastics or wires to connect the beads. They snap together to make bracelets, necklaces and rings. The beads can be dissembled and redesigned as many times as she wants. Once design time is over, everything can be neatly stored in the included box.
Pros
Nurtures artistic ability

Develops personal style

Many design possibilities

Includes storage case
16.
Toy Puppy Play Set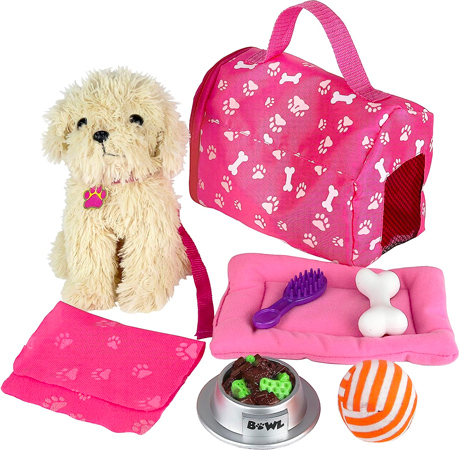 Why we like it:
A great toy for animal lovers that will teach the responsibility of pet ownership while encouraging imaginative play.
For four-year-old girls who love animals, this gift will be her very own puppy to take care of. This sweet puppy set comes with everything she needs to learn the responsibility of loving on and caring for a real dog. In addition to her new puppy, it includes a pet carrier, a leash, a food bowl, a grooming brush, a plush bed, a blanket and a few dog toys to keep her new friend happy.
This gift encourages imaginative play as well as provides a soft toy that will provide security as she takes it with her on pretend walks or on car rides in the carrier. The soft material also makes this puppy the perfect cuddle buddy for nap time, just like a real dog. The puppy is machine washable and all the materials of the accessories are non-toxic and easily wipeable. This adorable puppy is waiting to be some little girl's new best friend. It's a gift a four-year-old will love.
Pros
Teaches responsibility

Promotes imagination

Builds self-confidence

Machine washable and nontoxic
Cons
Small size- Younger children only
17.
Paw Patrol Main Quartier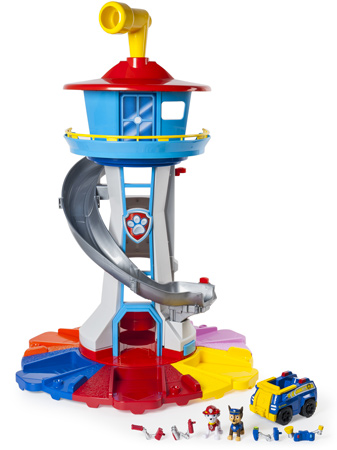 Why we like it: Based on a popular TV Show this playset will encourage children to use their imaginations to act out different scenarios.
Paw Patrol is a major hit with 4-year-olds and this playset based on the TV series will delight them! Being able to play with something familiar gives them a base from which to create play scenarios and as they act out the different missions of the Paw Patrol they will be able to explore different social scenarios and develop problem solving skills.
The Paw Patrol Main Quartier fits with the basic Paw Patrol vehicles, which are sold separately so this may make a good collaborative gift to give a 4-year-old girl. It also features lights and sounds to add an extra dimension to play.
Pros
Based on a popular TV show; will appeal to children's interests
Encourages imaginative, social play
Fits with the vehicle toys that are sold separately
Features lights and sounds
Cons
Requires batteries
Tall; requires storage space
18.
VTech Kidizoom Smartwatch DX2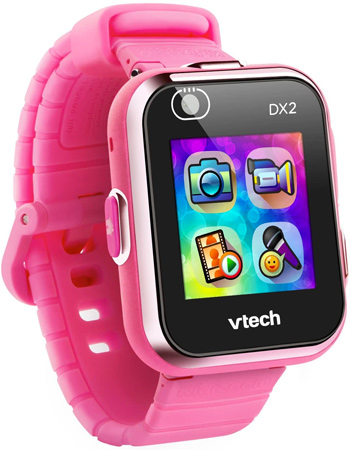 Why we like it: A first smartwatch designed especially for children which has lots of educational features too.
Children love to imitate adults, and 4-year-olds may already have seen adults they know wearing and using smart-watches and express an interest in features like the pedometer or the games! The VTech Kidizoom Smartwatch is built just for kids, so it's durable and splash-proof whilst also offering a good range of features that will promote different kinds of development.
The Kidizoom Smartwatch features a pedometer, to measure steps taken, just like many adult smart watches but also has games that involve running and jumping around to beat characters on screen, a great way of avoiding the sedentary temptations of technology! The Smartwatch also teaches children to tell the time through an interactive, educational game and through their general interest in looking at their new watch!
Pros
Encourages use and understanding of technology
Educational games
Promotes physical activity through pedometer and games
Helps with time-telling
Durable and splash-proof design
Cons
Requires frequent charging
19.
Playmobil Large Dollhouse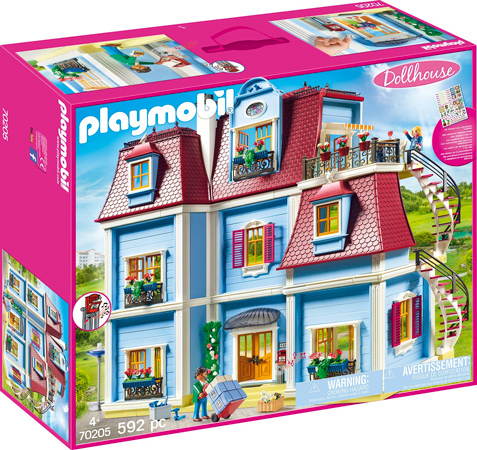 Why we like it: Designed to work with other Playmobile sets this encourages imaginative, small world play and social development.
Dollhouses are a great way to promote small world imaginative play where children can use figures to act out and imitate a range of different scenarios and through this, they develop their social skills. As the Playmobile Large Dollhouse is made by Playmobile it is designed to be just the right size to work with other Playmobile sets, extending the range of scenes and scenarios a child can create.
Open-ended play through toys like doll houses is much better for children's imagination and creativity than toys which are really only designed to be used in one way. Playmobile is also really durable and built to last and holds its appeal across generations so whilst this piece is a little more expensive than others it will represent a good investment.
Pros
Designed to be used with other playmobile sets
Durable and built to last
Open-ended play
Encourages imaginative role play
Promotes social learning and skills
Cons
Large item requiring space for storage and play
Requires construction
20.
Piano Toy Keyboard for Kids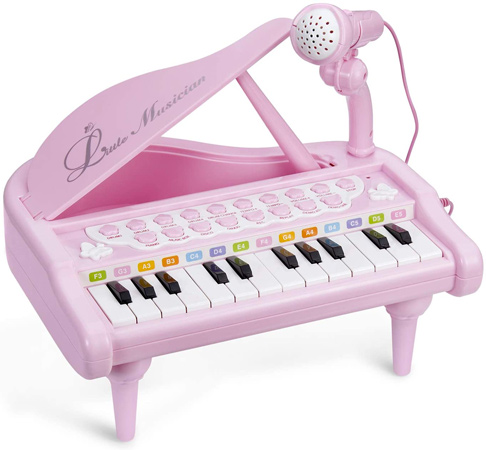 Why we like it: A gift for a music-lover this piano toy keyboard features a range of different sounds to encourage musical skill and creativity.
This Piano Toy Keyboard is ideal for extending the musical skill and learning of a 4-year-old. Many 4-year-olds love music and this toy will help extend their knowledge of different sounds and beats with its range of different instrumental sounds available.
You can also connect an audio device to the 3.5 mm audio cable in the keyboard so that the child can play along with their favorite tracks. The Piano Toy Keyboard also promotes listening and attention skills as the child begins to notice the different qualities of instrumental sounds and notes and picks out their favorites.
Pros
Encourages musical skill and learning
Promotes listening and attention skills
Prompts creativity and imagination
Different instruments and sounds available on keyboard
Can plays audio from external sources
21.
Green Toys Jump Rope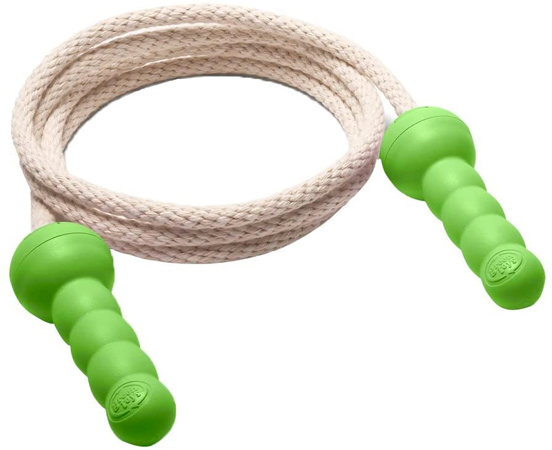 Why we like it: An eco-friendly, non-toxic skipping rope to promote physical skills and fitness with adjustable sizing.
Outdoor play and physical skills are really important for 4-year-olds; not only are they part of a healthy lifestyle, improving children's strength, flexibility and fitness, but they also form the foundations of early writing skills. In order to be able to hold and manipulate a pencil well enough to write a child must have a good base of gross motor skills, large scale movements and control over their body. The Green Toys Jump Rope is a fantastic way to encourage children to play outdoors and develop different kinds of physical skills.
The rope is 7 feet long and can be adjusted to suit the size of the user, so even adults can have a go! Or it can be used by multiple children as a long rope to play skipping games.
Pros
Long and adjustable sizing
Made with recycled plastic
Non-toxic; BPA free, no PVC or external coatings
Encourages outdoor play
Improves physical skills and fitness
Cons
Slightly more expensive than other skipping rope toys
22.
Melissa & Doug Fire Chief Role Play Costume Set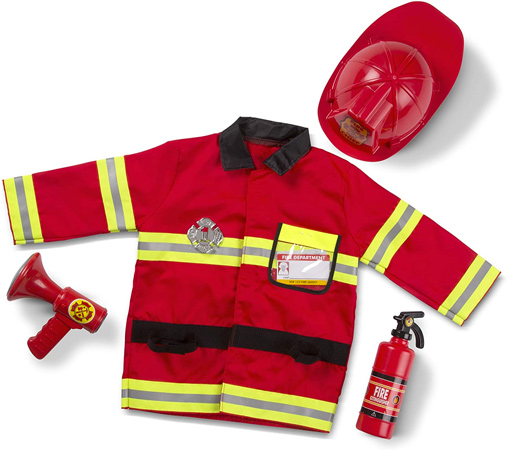 Why we like it: Dressing up and role play is a great way to encourage imagination and social learning, this set comes with a costume and accessories too.
4-year-olds love to role play both the familiar and unfamiliar aspects of life. Whilst they may enjoy imitating their parents by playing mums and dads or cooking in a play kitchen, young children also enjoy experimenting with different types of scenarios and occupations.
Fire-fighters are a popular choice and the Melissa & Doug Fire Chief Role Play Costume Set will allow the child to both dress up as a fire fighter, and use accessories to play imaginatively. It's washable and wipeable too so it's easy to keep clean, and practicing putting costumes on and taking them off is also a great way to promote independence and self-care skills.
Pros
Supports imaginative role-play
Encourages independence in self care
Washable and wipeable
Comes with accessories
Cons
Batteries required for some accessories
23.
Lego Friends Juice Truck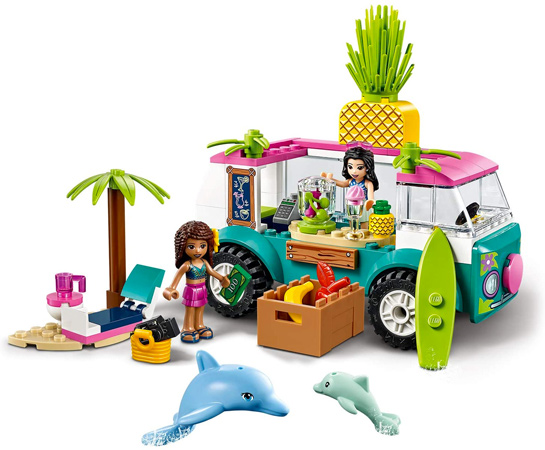 Why we like it: Lego is a classic construction toy and this set is perfect for beginners, with 'starter' blocks to make following the instructions a little easier.
Lego helps to build imagination, support imaginative play and can be very open-ended. This Lego Friends Juice Truck is a specific set that allows the child to construct a Juice Truck which can then be played with; however it fits with other Lego bricks so can be used in collaboration with other sets the child may have or be given in the future.
The Lego friends range is a fantastic way to introduce 4-year-old girls to Lego, as it features appealing designs and 'starter' bricks which are larger, joined pieces to make instructions shorter and easier to follow.
Pros
Comes with starter bricks to help with construction
Fits with other Lego sets
Supports imaginative, social play
Improves fine motor skills
Cons
Small pieces and no storage box
24.
Sgile Magnetic Drawing Board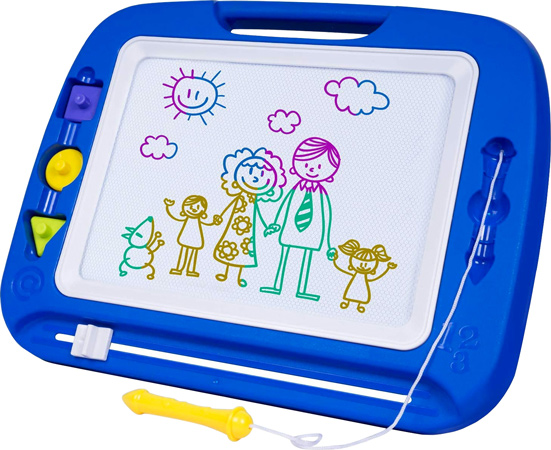 Why we like it: Improving pencil control using a large sized board with colorful display to add interest to drawing.
By 4 years old children are starting to master their grip and control over a pencil ready for writing, some may even be expressing interest in writing letters or their name. Practice really does make perfect and finding new and exciting ways for children to practice the skills they need for letter formation is key to making sure that their interest is maintained.
The Sgile Magnetic Drawing Board is a large board, allowing plenty of space for large scale drawing and mark-making. It also uses different colors on the display unlike traditional magnetic drawing boards, adding interest for the child.
Pros
Large sized board
Colorful display
Non-toxic plastic
Includes shape stamps
Promotes pencil control
25.
Bedsure Unicorn Flannel Fleece Blanket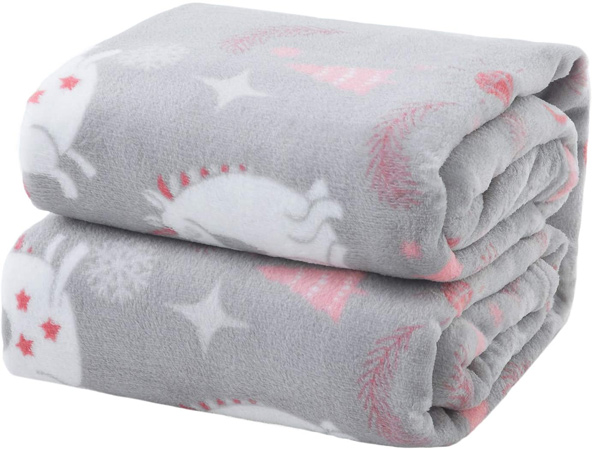 Why we like it: A soft fuzzy blanket, perfect for snuggling up with, covered in a beautiful unicorn design.
Soft fuzzy blankets are great for children to use to cuddle up whilst watching tv, or in the car or take along to the beach or the park to sit on. The Bedsure Unicorn Flannel Fleece Blanket features a cute unicorn design that 4-year-old girls will love and might enhance their bedroom décor. Whilst it is not thick enough to use on its own it makes a great extra level of bedding.
The Bedsure Unicorn Flannel Fleece Blanket is quick drying and wrinkle resistant making it easier to take care of.
Pros
Cute unicorn-themed design
Breathable fleece
Folds up small
Quick drying and wrinkle resistant
Cons
Some light shedding possible
26.
Barbie Careers Care Clinic Ambulance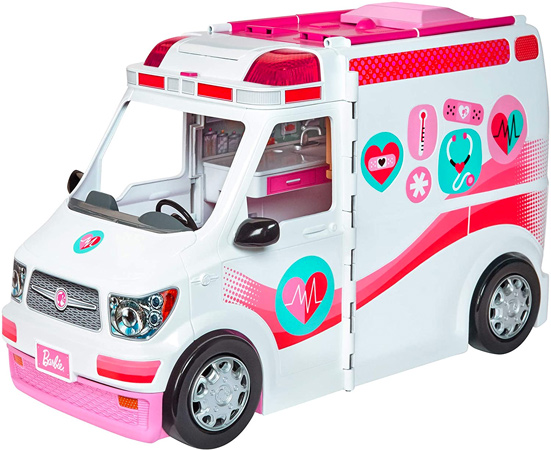 Why we like it: Promotes imaginative and social play and gives children the opportunity to explore different careers.
The Barbie Careers Care Clinic Ambulance is an ambulance vehicle which folds out into a 3-room hospital setting with details such as an X-ray machine. This allows children to explore a range of different roles within the medical profession and role-play imaginatively, creating a range of different scenarios.
This set is compatible with other sets by Barbie so can be used in collaboration with others, promoting social play and speech and language development as children talk to one another to decide what will happen next, use storytelling and narration and take on different personas and play-act. If the 4-year-old girl you're buying for likes Barbie products then this is a great set to give variety to her play.
Pros
Promotes imaginative and social play
Allows children to explore different careers and ways of life
Compatible with other Barbie products
Plenty of accessories
Cons
Requires batteries
Small parts
Final words
4-year-old girls are at a wonderful stage in their development when they are seeking to become more and more independent and want to explore a wide range of toys, crafts and games. They are also full of a real zeal for life which means they often have quite broad interests and lots of them. In some ways this makes buying a gift for them easier, whilst in other ways it may become overwhelming with such a wide variety of products on the market!
This list of 26 ideas captures a range of quality products available as gifts for 4-year-old-girls so will hopefully help you as you consider what might make a good gift for the 4-year-old girl you have in mind!
Need more inspiration?