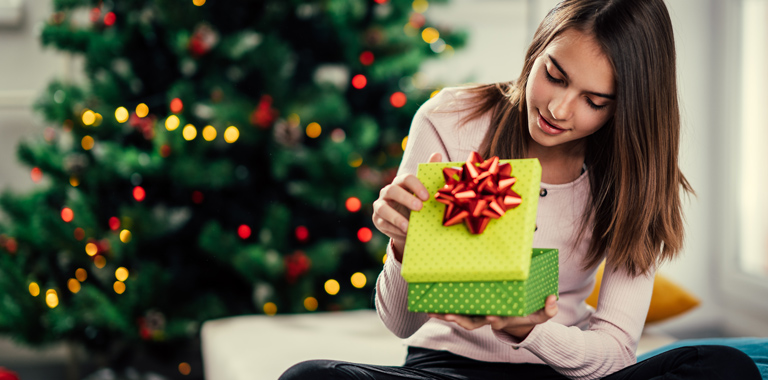 Finding the perfect Christmas gift for a 17-year-old girl can be quite a challenge. You want to impress her with something unique and thoughtful, but it has to be trendy enough to win her approval. That's why we've compiled this list of 17 amazing Christmas gifts that cater to a wide variety of interests.
1.
Electric Facial Cleansing Brush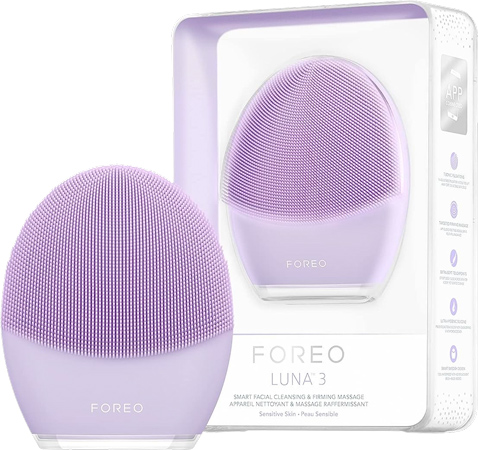 Here's a Christmas gift for a skincare-loving 17-year-old girl. This little gadget by Foreo is an electric mini facial cleansing brush that will take her skincare regimen to a level on par with a professional esthetician salon. With its gentle silicone bristles and T-Sonic pulsations, this brush works hard to remove dirt, oil and dead skin cells to reveal a glowing complexion.
The waterproof design means it can be used in the bath or shower and the adjustable pressure levels that can be controlled through the app make it perfect for sensitive skin. This Christmas gift is like giving the gift of a daily mini-facial that will promote radiant skin and boost her self-confidence.
2.
Clay Face Mask Set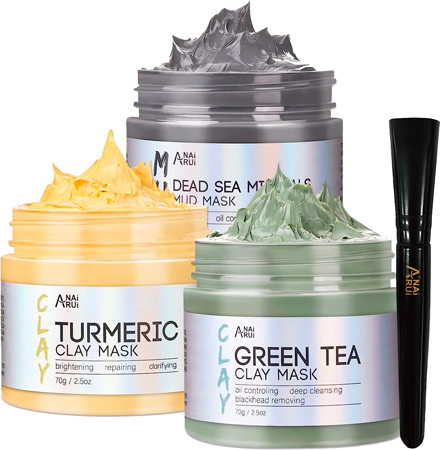 This Christmas, treat the 17-year-old girl on your gift list to a revitalizing skincare experience with this trio of clay masks by Anairui. These masks are enriched with natural minerals and ingredients like turmeric and aloe vera that work synergistically to soothe, cleanse and rejuvenate tired or dull skin.
Each mask in the set has a unique purpose. One is for detoxifying the skin, one for brightening the complexion and the third for providing deep hydration. Easy to apply and remove, these masks are designed to fit seamlessly into any skincare routine. With regular use, they promote healthier, brighter and smoother skin so the teen you're shopping for can prolong her beautiful and youthful appearance.
3.
Premium Makeup Brush Set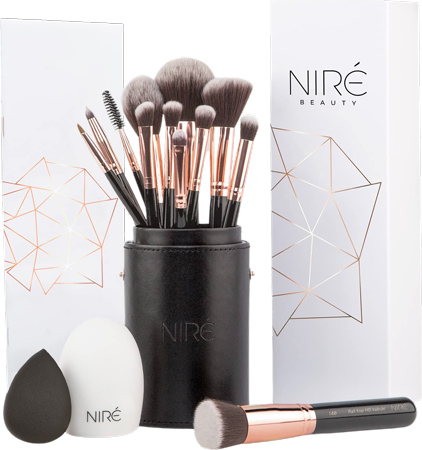 This Christmas gift will enhance the makeup experience of the 17-year-old girl on your list. Made by Niré Beauty, this 15-piece award-winning professional makeup brush set is perfect for beginners and makeup enthusiasts alike. It includes a wide collection of brushes so she'll always have everything she needs on hand to try out that new look she's been learning on YouTube.
Each brush is designed with high-quality, vegan-friendly bristles that are both soft and durable, making application smooth and makeup perfectly blended. The set even includes an attractive eco-friendly brush holder for easy storage and transportation. This is a wonderful Christmas gift idea for an aspiring makeup artist or a teen girl who loves expressing herself through fun makeup looks.
4.
LED Portable Makeup Mirror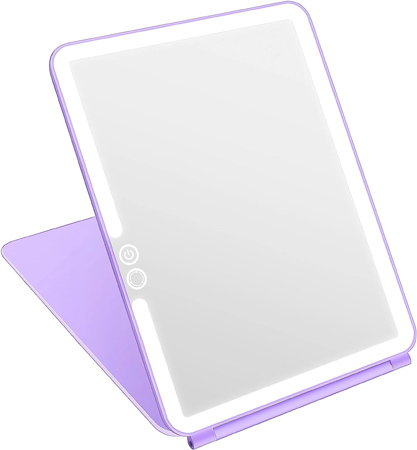 If you're shopping for a 17-year-old that likes to make sure her makeup always looks flawless, this gift is going to be a pleasant surprise on Christmas morning. This folding LED makeup mirror by Deweisn provides the optimal light to make sure her application is always perfect.
It features three brightness levels and three temperature settings, including warm white, white light and even a daylight setting. The portable design means she can keep it on her vanity or take it with her to the bathroom. Being around the same size as an iPad, it also makes a great companion for her school bag or gym bag. This gift will make sure she's looking and feeling her best every day.
5.
Celebrity Designed Luxury Perfume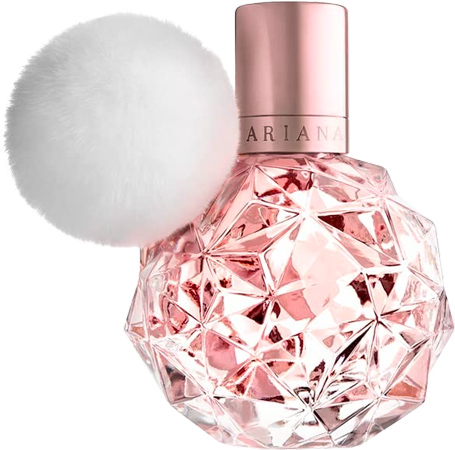 Shopping for an Ariana Grande fan? This is a Christmas gift that any 17-year-old girl will be delighted to see in her stocking. This Eau de perfume spray designed by the ultra-popular songstress delivers a scent that is both alluring and refreshing.
With its top notes of crisp pear, pink grapefruit and raspberry, coupled with a soft musk, the aroma limbos between fruity and warm. The base notes of orchid and precious woods tone down that sweetness of marshmallow and vanilla, leaving a perfectly balanced scent that's ideal for everyday wear.
6.
Designer Genuine Diamond Watch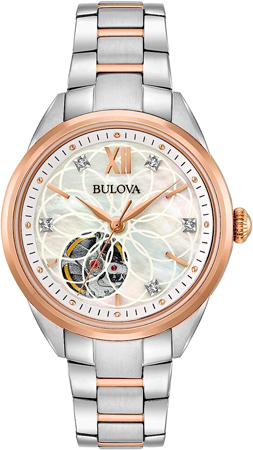 This Christmas, give a gift that a 17-year-old girl will want to keep for a lifetime with this elegant watch by Bulova. This luxurious accessory will add sophistication to any outfit, from casual days at school to fun nights out with friends.
The two-tone stainless steel bracelet and case look stunning set against the mother-of-pearl dial. To up the wow factor even more, the dial is adorned with five genuine diamonds. If you're looking for a gift that is going to make an impression that she'll never forget, this timepiece is the gift to choose.
7.
Crystal Daisy Eternity Ring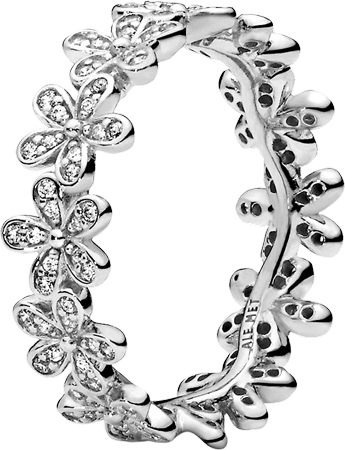 Put some bling under the Christmas tree this year with this eye-catching ring by Pandora. It's designed like a traditional eternity band but with a twist. Instead of just a single row of sparkling crystals, this band of daisy flowers wraps completely around her finger. Within each daisy are clusters of radiant-cut cubic zirconias that will catch the light and dazzle as she moves her hand.
This would look equally great as a single statement piece or layered with other rings. The sterling silver and alloy blend is specially designed to never lose its luster and won't cause any discoloration or skin irritation. This gift isn't just a ring. The symbolism of the eternity band will remind her of the infinite possibilities her future holds.
8.
Multi Level Jewelry Box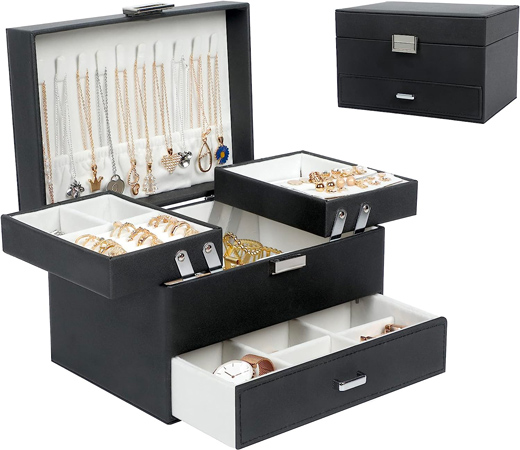 For the 17-year-old girl with a growing jewelry collection, consider gifting this Dajasan jewelry box this Christmas. It's an organized storage solution made with her treasured pieces in mind. Crafted with durable vegan leather and soft velvet lining, it's designed to protect her favorite jewelry from scratches and tarnishes.
This jewelry box features a variety of compartments, including dedicated sections for earrings, necklaces, rings and bracelets. It's compact, yet it can hold a surprisingly large collection. This thoughtful gift will be a useful addition to her vanity and a meaningful place she can keep all her most valued trinkets.
9.
Plush Decorative Throw Blanket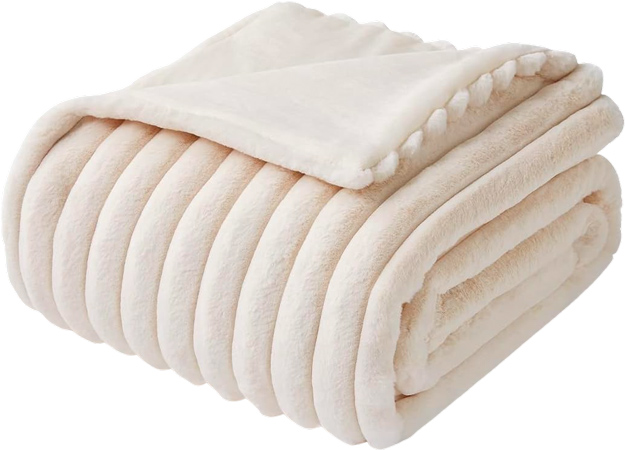 Give the gift of serenity this Christmas with this super luxurious throw blanket by Amélie Home. This inviting throw blanket is designed to add warmth and texture to any room, as well as provide an extra layer of coziness for those chilly winter nights. It's made of a soft and durable polyester blend that is resistant to shedding or color fading.
The thick and fluffy design is akin to an opulent mink blanket, but vegan-friendly, of course. The 50×70 cm size makes it the perfect couch companion for curling up with a good book or enjoying time with the family with a delicious mug of hot chocolate.
10.
Selfie and Conference Light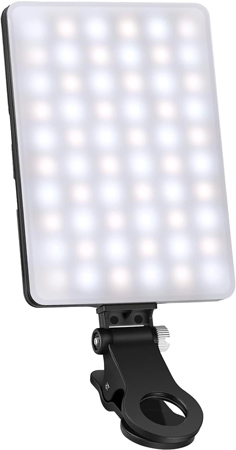 If the 17-year-old girl you're shopping for this Christmas is an aspiring influencer, a lover of selfies or frequently partakes in video conferencing, this Neewer selfie and conference light is an ideal gift. Designed for smartphones and laptops, this lightweight device provides optimal lighting to enhance the quality of video calls or selfies.
The clip-on design is easy to install and remove and the 2000mAh battery capacity provides a flattering light for up to two full hours. With an adjustable color temperature spectrum and various brightness levels, customizing light for different moods and environments is effortless.
Whether this light is being used for her next viral TikTok dance or she's using it to join in on distance learning classes, her selfies and videos will always show her in the best light.
11.
Noise Canceling Headphones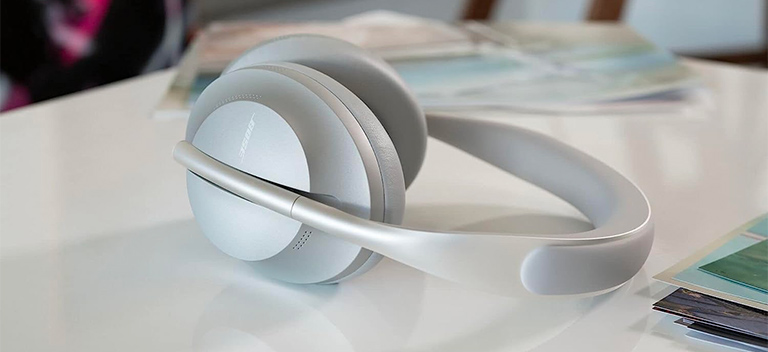 For the music-loving or studious 17-year-old girl, these Bose Noise Cancelling Wireless Bluetooth Headphones make an exceptional Christmas gift. Renowned for their impressive sound quality, these headphones also come equipped with a superior noise-canceling feature that ensures an immersive listening experience free from any ambient disruptions.
Designed for comfort, the adjustable headband and angled earcups are perfect for long listening sessions, whether studying or simply enjoying her favorite tunes. The Bluetooth connectivity and built-in voice assistant offer added convenience for answering calls or controlling music hands-free. This gift not only satisfies a love for music but also provides a quiet sanctuary for focusing on work or studies, a worthwhile addition to any teen's daily essentials.
12.
Eco-Friendly Yoga Mat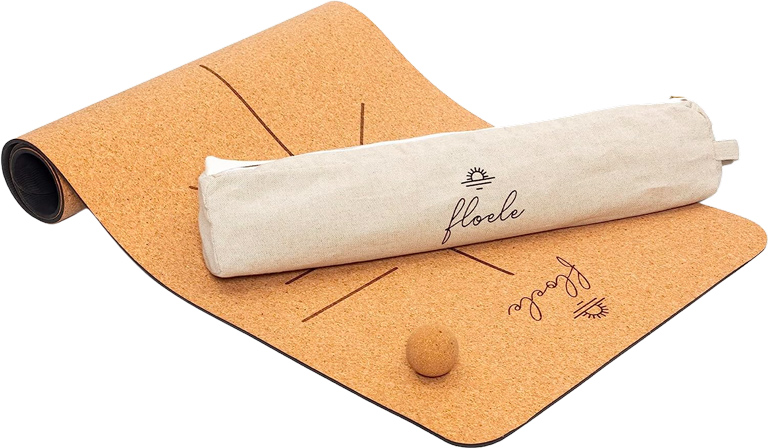 Have a health-conscious 17-year-old girl on your Christmas list that wants to bring more mindful living into her life? This eco-friendly exercise and yoga mat by Floele is a gift she'll be thrilled to unwrap. Made from nontoxic rubber and sustainable cork, this yoga mat offers an optimal blend of cushioning and stability.
The double-layer design boasts non-slip textures on both sides, providing a secure grip and adding safety to her workout routines. The mat's extra thickness provides premium support, allowing her to focus more on her postures and less on discomfort. To top it all, the mat is eco-friendly and recyclable, aligning with her sustainable lifestyle.
13.
Designer Crossbody Shoulder Bag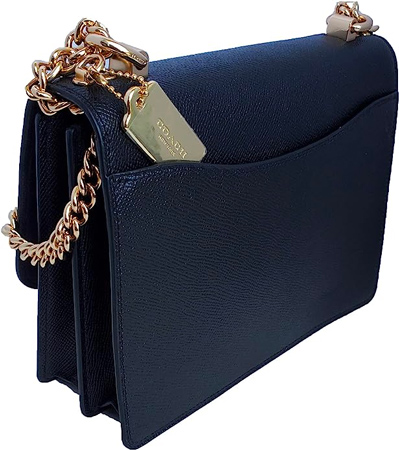 For the fashionable 17-year-old girl with an eye for style, this crossbody shoulder handbag from Coach's signature collection is a Christmas gift that will have all her friend's talking. Crafted with cross-grain leather featuring a chic signature pattern under the top flap, this bag blends functionality with an unmistakable sense of luxury.
The bag's compact yet spacious design accommodates all her daily essentials, while the crossbody strap offers the flexibility of hands-free convenience. Designed with multiple interior pockets, it will keep her organized while on the go. The zip-top closure ensures her belongings stay secure, even when in crowded spaces or on public transport. This is definitely a gift you won't have to save the receipt for.
14.
Genuine Leather Photo Album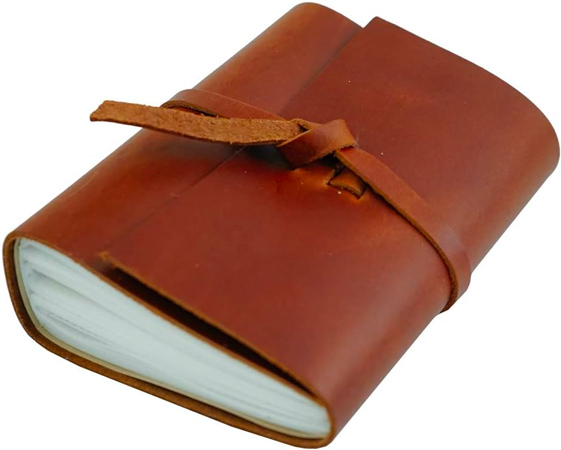 If you're looking for a Christmas gift that a 17-year-old girl will cherish for many years to come, this genuine leather photo album won't disappoint. Made with high-quality top-grain leather, this album is not only a storage place for photos but a piece of art in itself. It would look great sitting out on a coffee table in a dorm room or look beautiful displayed on a bookshelf.
The rustic design, complete with a leather strap closure, brings an old-world charm that makes each viewing of photos a special occasion. Inside is room to hold 96 photos so there's plenty of space for her to document the important moments in her life, from school events to travel adventures.
15.
Leakproof Insulated Travel Mug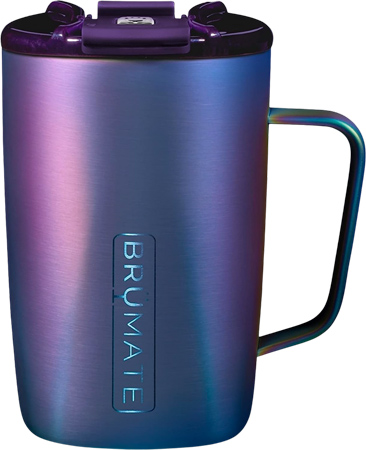 Christmas morning coffee is going to taste better in this cool gift. If you know a caffeine-loving 17-year-old girl that deserves something special this year, this travel mug by BrüMate is going to be her new go-to mug. Not only does it look absolutely beautiful in this deep shade of iridescent purple, it's also triple-insulated to make sure her drinks stay piping hot or refreshingly chilled for hours.
The 16-ounce capacity means there's plenty of room to take multiple servings of her favorite beverage with her anytime she leaves the house and the leakproof design means no more messy accidents in transit. This is a gift she'll look forward to using every day.
16.
Iridescent Wall Shelf Set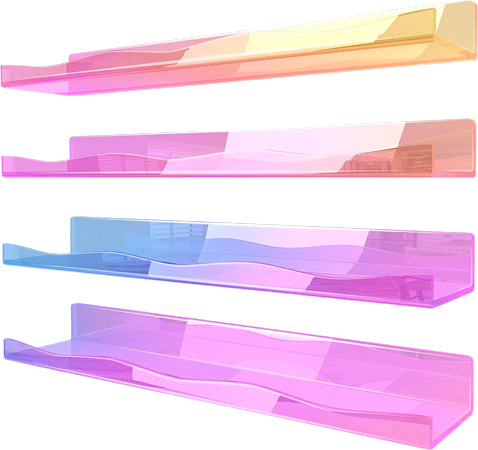 Bring some serious style to a 17-year-old girl's living space with this unique Christmas gift idea. If home decor is a passion for her, she is going to be so impressed with how this set of shelves is going to give her walls an instant upgrade worthy of her favorite home decorating TV show. The set comes with four matching shelves that are made of thick acrylic.
Unlike other acrylic floating shelves that are meant to blend in with the walls, these ones are made to be seen. The iridescent coating pops against plain walls in a spectacular rainbow of colors. These would be great as bookshelves, picture displays or used in bathrooms to store makeup or beauty products. These shelves are full of style and personality, just like the teen you're shopping for.
17.
Natural Soy Candle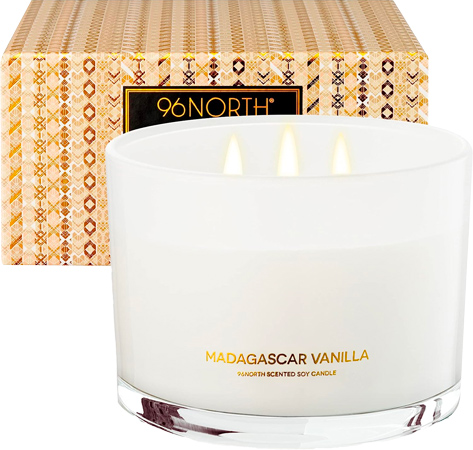 This Christmas, why not bring a touch of cozy ambiance to the room of a 17-year-old girl with this luxury vanilla-scented candle by 96North? This soy wax candle is both eco-friendly and free from toxins, making it a safer choice for her and the environment. Infused with rich, creamy vanilla, the candle provides a serene aroma that creates a calming and relaxed atmosphere.
Its aesthetic appeal is equally impressive with the minimalist and modern design, featuring a clear glass jar that will fit seamlessly with any decor. This candle does more than provide light and scent. It sets the mood, encourages relaxation and adds a chic element to her personal space.
Need more inspiration?