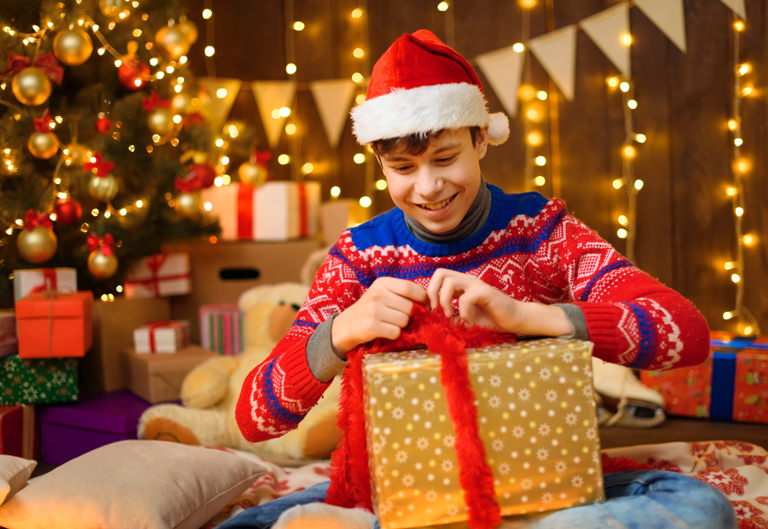 If your goal is to make this Christmas the best one yet for the 15-year-old young man in your life, you've found the gift guide you've been looking for. Our carefully curated selection offers a diverse range of gifts, tapping into his evolving interests, hobbies and creative aspirations.
From cutting-edge gadgets that cater to his tech-savvy nature to unique presents that will create lasting memories, we've done the searching so you don't have to. This list of 16 best Christmas gifts for 15-year-old boys is going to make you a very popular person this Christmas morning.
1.
Portable Waterproof Bluetooth Speaker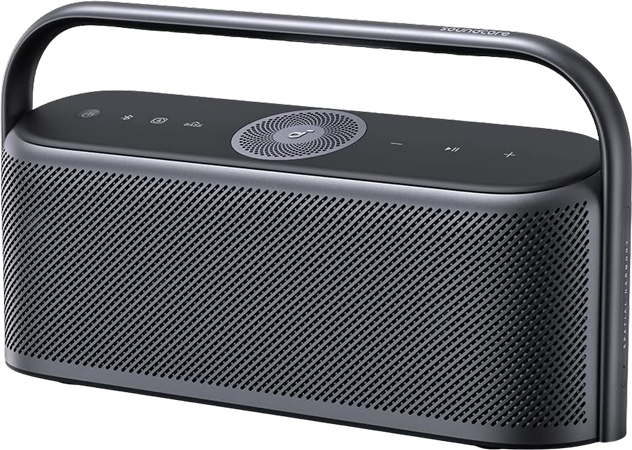 For the 15-year-old boy who appreciates top-notch sound, this portable Bluetooth speaker is an amazing Christmas gift choice. This speaker features five drivers and 5 amplifiers, making the sound so crystal clear he'll feel like he's at a concert.
The impressive 12-hour playtime means he can vibe to his favorite songs without having to worry about constantly recharging. The IPX7 waterproofing protection lets him take it with him to the pool, the beach or even outdoor sports games without having to worry about wet weather.
Its compact and chic design will make him want to leave this on display in his room just as much as he'll enjoy tossing it in his backpack and taking it with him on the go.
2.
Gaming Virtual Reality Headset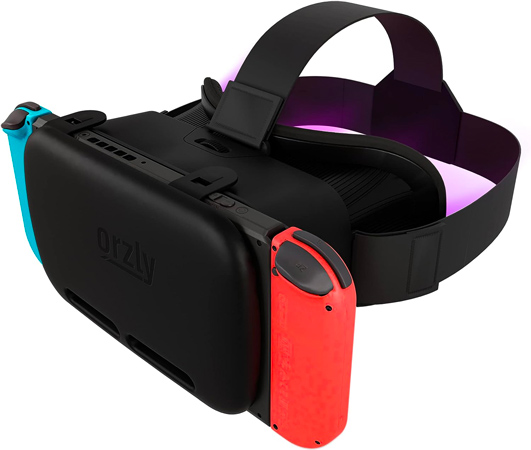 Stepping into the world of video games is a dream for many 15-year-old boys. This Christmas gift can make that wish come true. Designed specifically for the Nintendo Switch, this virtual reality headset offers an immersive experience that will have him playing with his Switch in a whole new way.
The cushioned eye pads ensure optimal comfort for prolonged gaming sessions while the built-in vents make sure his device won't overheat. Inside the headset are adjustable lenses that provide crystal clear optics to make compatible video games come to life. If you choose this gift, this is definitely going to be the first thing he'll be playing with on Christmas morning.
3.
Video Game Control Holder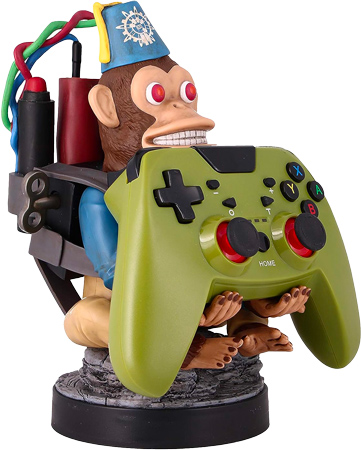 The gaming setup for the 15-year-old boy you're shopping for is about to get a fun upgrade this Christmas. This unique video game controller and phone holder is where style meets function.
Designed to look like the Monkeybomb character from the video game, Call of Duty, it's the perfect companion to always be standing by to give him a helping hand. This little guy will hold his controller when it's not in use, and when he's ready to start playing it transitions into a phone holder.
The heavy-duty PVC construction means it won't break when in use and the weighted base means it won't tip, possibly breaking his expensive phone or controller. This is a Christmas gift he'll really appreciate.
4.
Professional USB Condenser Microphone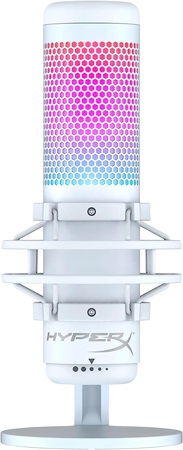 Improve the audio recording experience of the 15-year-old boy you're shopping for with this cool Christmas present. This USB condenser microphone is perfect for budding podcasters, gamers or music enthusiasts.
It will make sure that whatever he's working on will be captured with clear audio that makes every word resonate with precision. Featuring an anti-vibration shock mount, it minimizes unnecessary sounds from table bumps, ensuring a smooth recording experience.
The white design and customizable RGB lights make this a microphone that would look great on camera for activities like school conferencing, live-streaming, recording videos or podcasting. The tap-to-mute sensor with LED indicator ensures he's always in control of the broadcast. With plug-and-play compatibility, he can dive right into his passion projects and sound good doing it.
5.
Portable Wireless Pocket Projector

For the 15-year-old boy who's always ahead of the tech curve and loves sharing content with friends, this pocket projector by Kodak is a game-changer. He'll love that the next time he has his friends over for a gaming session he can project the image from his gaming console onto the wall in 1080p up to the size of a 150-inch TV! No more crowding around a tiny TV.
He can even project it onto the ceiling for playing while lying down. Movie nights transform into cinema experiences in the comfort of his bedroom.
With its compact design, he can easily carry cinematic power in his pocket. The built-in speakers and rechargeable battery mean he's always ready for impromptu movie sessions or showcasing his latest TikTok videos.
6.
Model Airplane Building Kit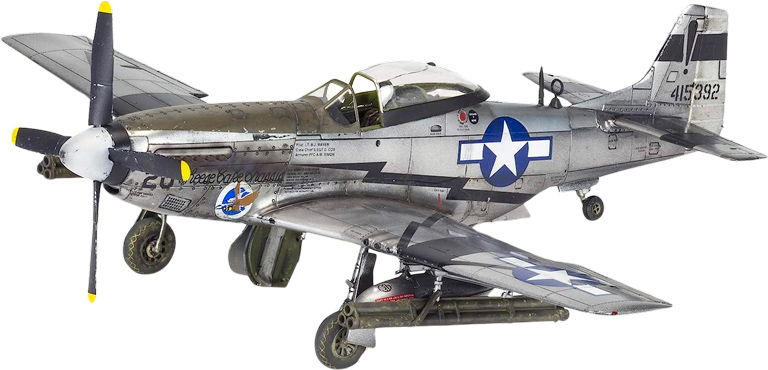 If you're shopping for a 15-year-old boy with an interest in aviation and a knack for building things, this is going to be a Christmas gift he'll love. With this kit, he'll be able to build a detailed replica of the American Mustang, a military fighter plane. The 147 pieces are made of sturdy plastic that he'll hand-paint to finish off his project.
Each component is crafted to mirror the intricacies of the actual aircraft, delivering a fun and rewarding assembly experience. Once completed, the model stands as a testament to his patience and craftsmanship, making for a boast-worthy display piece in his room. Beyond just a hobby, this kit can ignite a passion for history and engineering.
7.
Ball Catching Skill Game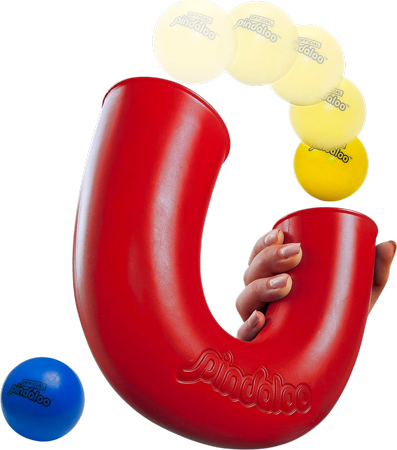 Here's a fun Christmas gift that will be both challenging and fun for a 15-year-old boy. This ball-catching game is an exercise in hand-eye coordination, timing and patience.
Ideal for both indoor and outdoor play, he can either practice on his own or make it a competitive game with friends to see who can get the most consecutive catches. Not only does it provide hours of entertainment, but it also helps develop focus and dexterity. Whether he's in his room taking a study break or outside enjoying the sun, this game offers endless fun and progressive skill-building.
8.
Massive Art Supply Set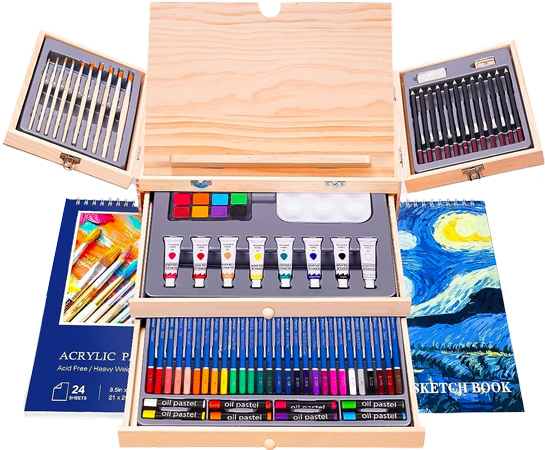 Are you shopping for an artistically inclined 15-year-old boy who enjoys expressing himself through colors and art? This Christmas present will be an instant hit.
This amazing art set is a massive collection of pencils, paints and art pads that will allow him to dive deep into his creative mind.
From sketching pencils to vibrant watercolors, every item has been carefully selected to offer the best quality. Stored in a reusable case with a built-in easel, his art supplies will stay organized, making it perfect for both home and on-the-go creations. The set not only provides an expansive palette to experiment with but also encourages him to develop and refine his artistic skills.
9.
Vintage Record Wall Decor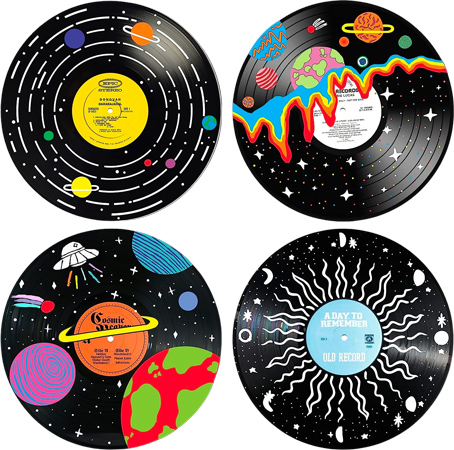 Unleash the vintage vibes this Christmas for the 15-year-old music enthusiast you're shopping for. With the comeback of record players and vinyl culture, these wall decor pieces are perfectly on-trend. Designed to look like vintage records that feature colorful universe-inspired cartoons, they will make very groovy wall decor in a young teen's room.
The set comes with four records, each with a different design. They're made using printed decals that are placed on a PVC backboard so they're lightweight and easy to hang. Whether he just likes fun decor or he's a dedicated music lover, this Christmas gift is going to let him build a personal space that reflects his interests.
10.
Music Sync LED Lights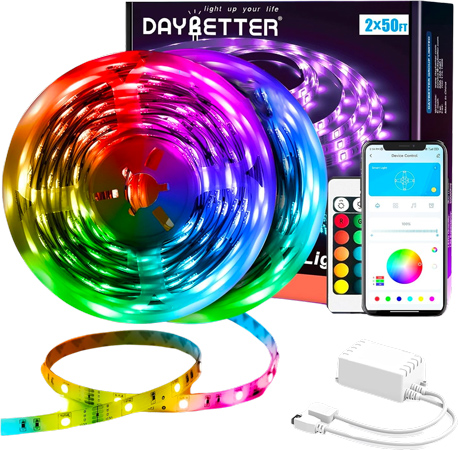 Illuminate the space of the 15-year-old boy you're shopping for this Christmas with these dynamic LED light strips. Perfect for setting the mood or personalizing his room, these lights offer a spectrum of vibrant colors and modes that can transform any space into an ambiance of his choice.
Whether he's aiming for a chill gaming environment or wants to sync the lights with his favorite tunes, the remote control and optional smartphone app make customization a breeze. Easy to install and durable, they adhere securely and can contour around corners or furniture.
With their energy-efficient design, these LED light strips are both a stylish and eco-friendly addition to his room. This gift is sure to brighten his holidays and add a modern touch to his personal sanctuary.
11.
Laptop Sleeve and Tech Bag
For the 15-year-old boy who values both style and function, this laptop sleeve and tech bag set is a great Christmas gift choice. Made with three layers of padding, this laptop sleeve provides a snug fit, ensuring optimal protection for his computer against scratches and impacts. The minimalist design, combined with premium materials, gives it an attractive modern look without compromising durability.
Included with the sleeve is a tech organizer, a compact bag designed to store and sort all his essential gadgets and accessories. From cables and chargers to earbuds and flash drives, everything has its place. This is a gift he'll appreciate every time he leaves the house with his computer and tech gear.
12.
Large Capacity Pencil Case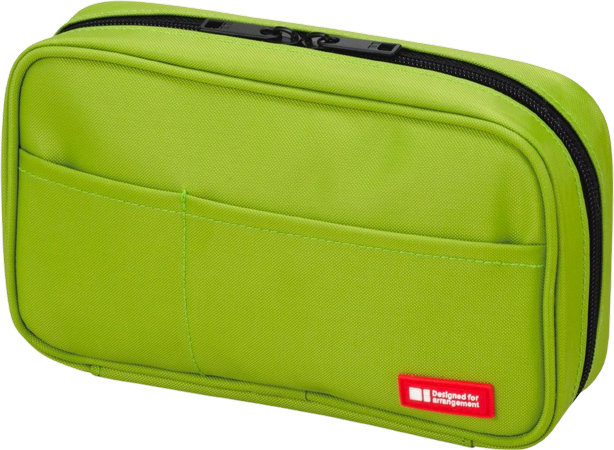 When it comes to school essentials for the 15-year-old boy, this pencil case stands out not only for its stylish design but also for its impressive functionality. With its large capacity, it can effortlessly store a range of writing tools, from pencils and pens to highlighters and markers.
The spacious interior means he'll always have the right instrument at his fingertips, keeping him organized and prepared for any school project or assignment. Its durable construction promises longevity, making sure it can withstand the daily rigors of school life. A fusion of style and practicality, this pencil case is an essential companion for his academic journey, ensuring he's always geared up for success.
13.
Octopus Puzzle (700 pieces)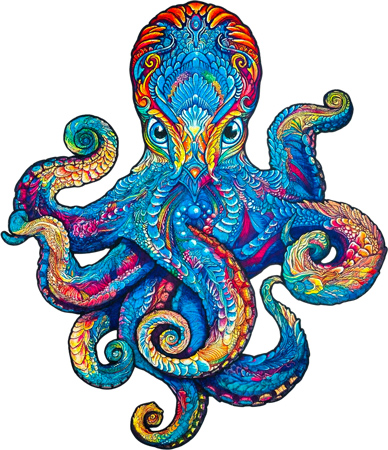 For the 15-year-old boy who loves a challenge, this octopus puzzle promises hours of engaging fun this Christmas. Each of the 700 pieces is colorfully designed, ensuring a captivating assembly experience as he works to bring the intricate octopus to life.
Made of durable materials, the puzzle not only offers a hands-on brain teaser but also becomes a stunning display piece he can keep forever. Whether he's a seasoned puzzle enthusiast or just starting to get into the world of jigsaws, this octopus puzzle will test his skills and patience.
A blend of artistry and complexity, it's a gift that combines entertainment with a sense of achievement. It will also be a great gift for him to do with the family on Christmas Day after all the presents are opened.
14.
Beginner Electric Drum Kit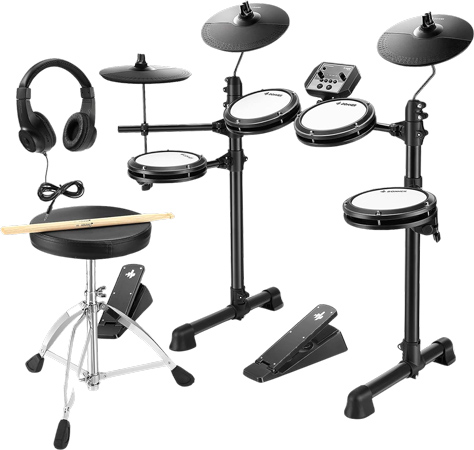 Perfect for the 15-year-old boy with rhythm in his soul, this electric drum set is a Christmas gift that'll strike the right chord. Whether he's a new drummer or looking to refine his skills, this set offers a professional experience while being perfectly sized for home use.
Featuring multiple drum pads and cymbals, it delivers a realistic percussion experience, with a wide array of sound samples to explore. The included headphones ensure he can practice at any time without disturbing others.
Designed for both durability and sensitivity, the pads capture every beat with precision. With easy setup and customizable settings, it's a drummer's dream come true. You'll be putting his passion for music center stage when you give him this cool gift.
15.
Beginner Longboard Cruiser Skateboard

For the 15-year-old boy who thrives on adrenaline and outdoor adventure, this skateboard is definitely going to be a winner this Christmas morning. Designed for both beginners and seasoned riders, it features a sturdy, concave deck and smooth-rolling wheels, ensuring a reliable and exhilarating ride every time.
The edgy graphics on the underside showcase a unique design, reflecting the spirit of the modern skater. Whether he's cruising around the neighborhood, practicing tricks at the local skate park, or commuting to school in style, this skateboard promises durability and performance. A symbol of freedom and youth culture, it's more than just a mode of transport, skating is a way of life.
16.
Death Star Popcorn Maker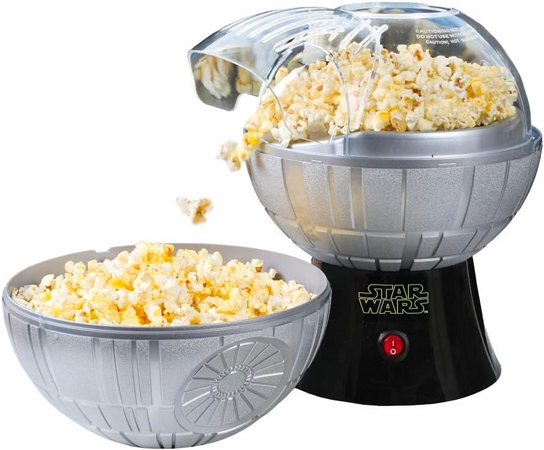 Surprise the 15-year-old Star Wars enthusiast you're Christmas shopping for with this incredible popcorn machine. Designed to resemble the iconic Death Star, this popcorn maker isn't just functional, it's a collector's item.
He can enjoy fresh, theater-quality popcorn while binge-watching the Star Wars saga or any of his favorite films. The machine's operation is straightforward, making it easy for him to whip up a batch for friends or family. Plus, with its compact design, it won't occupy too much space, but it's sure to be a conversation starter.
Need more inspiration?