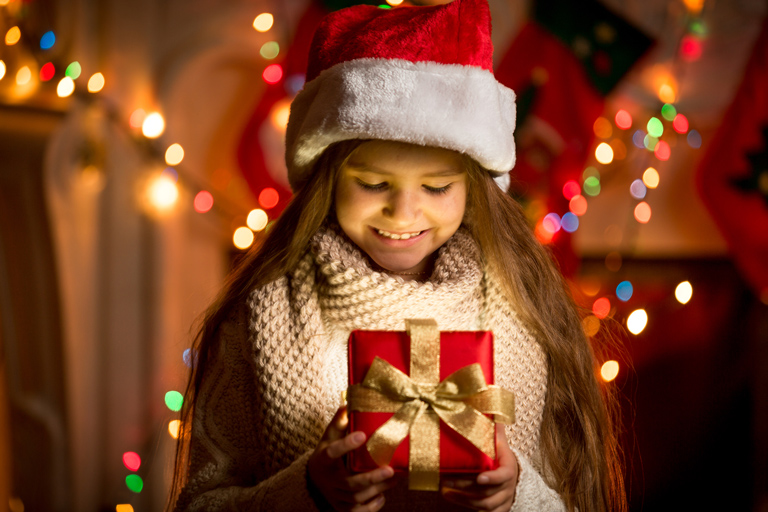 Christmas is a time for family and for spreading love and charity. Unless you're an 8-year-old girl, then it's all about the presents! Sure, she probably cares about the other stuff too because she's a good kid. But just to be safe, make sure you get her something that will make her eyes light up brighter than the Christmas tree.
This list of 15 outstanding Christmas gifts for 8-year-old girls is full of premium ideas she'll love. Whether she's into arts and crafts, jewelry or anything involving mermaids and unicorns, there's something here that will have her caroling your praises.
1.
LED Unicorn Horn Headphones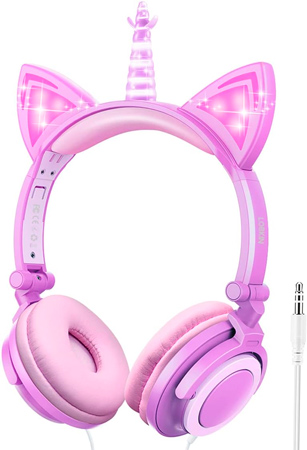 If you know an 8-year-old girl who loves tech gifts and deserves something special this Christmas, these headphones will be right up her alley. Not only do these headphones by Lobkin deliver top-notch sound, but they're also super adorable and totally on brand if she's proud to be a unicorn enthusiast. The headband, which is designed to fold for easy transport and storage, features ears and a unicorn horn that glow with purple and blue flashing lights.
The cushioned ear pads make these comfortable for long sessions of watching YouTube videos or playing video games and the built-in volume limiting will make sure that no matter how long she wears them, her hearing won't be damaged by excessive volume levels. All the tech specs aside though, it has a flashing unicorn horn and that's all she needs to know to love this Christmas gift.
2.
Luxury Vertical Jewelry Box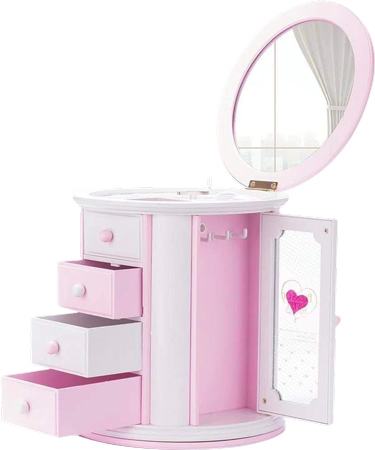 Here's a Christmas gift idea that is full of charm and definitely something any 8-year-old princess will appreciate. This musical jewelry box by Renawe is a grown-up storage solution that will not only keep all her glitzy adornments organized but will also be a beautiful accessory she'll love displaying in her room.
The vertical design with multiple drawers and compartments means it's large enough to hold her entire collection but still has a small enough footprint that it won't take up much space on her dresser or vanity counter. When the hinged lid of the box is opened it plays a classical tune she can enjoy while she's getting ready for school or dressing up for a girl's day with her best friends. If you're looking for a gift that will get many years of use, this jewelry box will stay age-appropriate well into her teen years.
3.
Crystal Koala Heart Necklace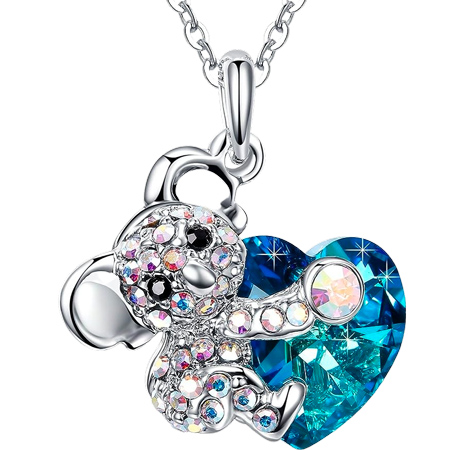 Surprise the 8-year-old girl on your Christmas list with this sparkling koala bear crystal necklace by Mega Creative Jewelry. If she's the kind of girl that appreciates eye-catching jewelry that's unique, this necklace won't disappoint. The necklace, which is made of hypoallergenic metal with a high-shine silver finish, features a pendant of a koala bear clinging onto a huge blue crystal heart.
The koala is covered in tiny crystals that shine in iridescent shades of pink, yellow and red, depending on how the light hits it. The chain includes an extender so this is the kind of jewelry piece that can be adjusted to suit different outfits. When she unwraps this gift, her eyes will be full of just as much sparkle as the bling on this utterly adorable pendant.
4.
Clay Handprint Trinket Bowl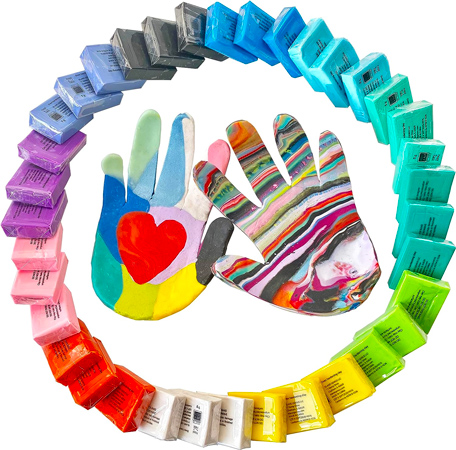 If you're trying to find a craft project that will keep an 8-year-old girl engaged in creative fun, this clay bowl-making kit would make an excellent Christmas gift. The kit, made by Hapinest, includes everything she'll need to create personalized clay bowls in the shape of her hand. It's as easy as choosing one, or all, of the 12 included colored clays and rolling them out with the kid-friendly tools.
Once the bowl is baked in the kitchen oven it will keep its form, making a durable and conversation-worthy trinket tray she can use to hold coins, jewelry or small toys. This is a great gift idea if you're looking for something that will encourage creative play or something she can do as a family project.
5.
Pink Carry-All Organizer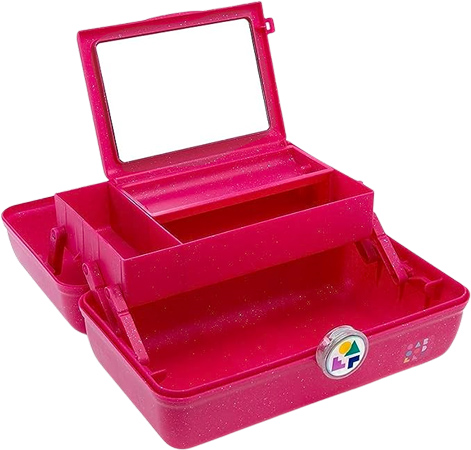 Searching for a Christmas gift for an 8-year-old girl who appreciates organization? This present ticks all the right boxes. It's not just a comprehensive carry-all system for her favorite things, but it's also a nostalgic throwback to the same one her mom likely owned. Having a Caboodle, the creator of this organizer, is like a right of passage for a little girl.
It's the perfect place for her to organize her makeup, hair accessories, art supplies and treasured toys that she wants to stash away for safekeeping. Introduced in the 80's, it's maintained its appeal over the decades, making this as a fantastic pick for a Christmas present.
6.
Origami Flower Folding Kit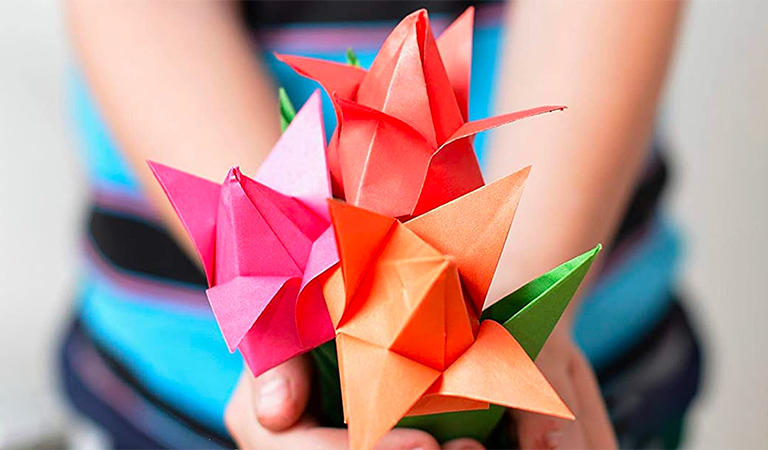 This is a fun Christmas gift idea if you think the 8-year-old you're shopping for would enjoy delving into the ancient art of origami. Everything she'll need to create beautiful paper flowers to decorate her room is in the box, including an easy-to-follow visual guide with 40 pages of flower projects.
To display her flowers in a vase, the kit even includes green pipe cleaners to use as stems so she can show them off in an everlasting bouquet of paper blooms. This is a fun, mess-free art project that also teaches her a skill that she can share with the world.
7.
Colorful Unicorn Velcro Wallet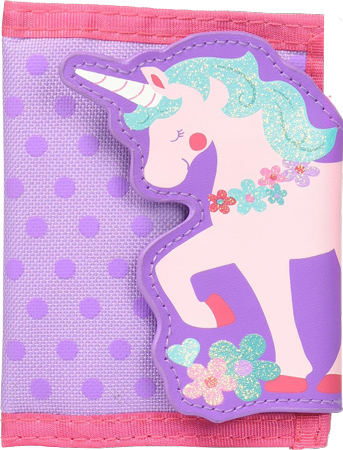 Here's a fabulous Christmas gift idea for a fashion-conscious 8-year-old girl who wants to carry a wallet like a grown-up but isn't quite ready to give up on her passion for all things unicorns. This cute wallet by Stephen Joseph features a vibrant pink and purple exterior and a bold unicorn appliqué over the closure. Crafted from a resilient nylon material, this wallet is robust, designed to stand up to the everyday life of an active kiddo.
Inside, she'll find numerous compartments, including a billfold, a zippered coin pocket and a mesh card slot, providing ample room for all her little treasures. The hook-and-loop closure offers an easy-to-use and secure closing that provides quick access to her pocket money when she sees that candy vending machine that she just can't pass on.
8.
Rainbow Art Supply Caddy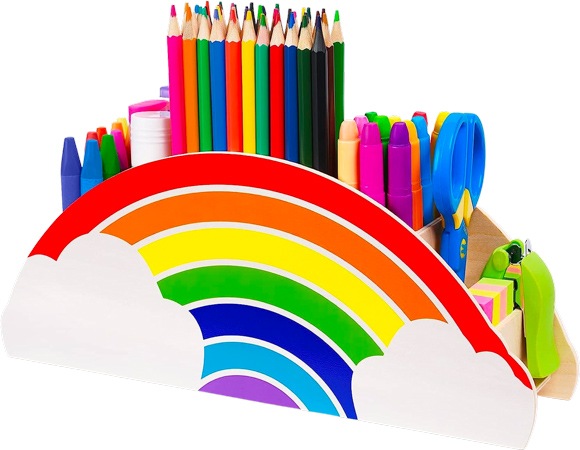 This Christmas, consider a gift that combines utility with creativity for the 8-year-old girl on your list. This wooden art supply organizer from Gamenote will make a stylish and practical addition to her crafting corner or desk. The multiple compartments can store a variety of art supplies, from pens and brushes to scissors and markers.
The rainbow and cloud design make this a cheery desk accessory that will add color to her bedroom while also keeping her creative space tidy. Whether she's coloring, painting or crafting, this organizer will make sure everything she needs is within easy reach.
9.
Glittery Horse Jigsaw Puzzle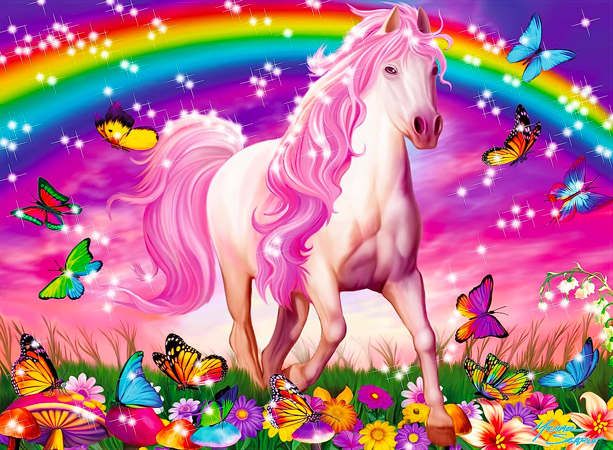 If you're gift shopping for an 8-year-old girl that isn't afraid to take on a challenge and also loves mythical creatures, this glittery jigsaw puzzle by Ravensburger would make a fantastic Christmas gift. This 100-piece puzzle is designed for young children, with large and durable pieces that promise an engaging and age-appropriate challenge. As she puts together the pieces she'll reveal the dreamy image of a magical pink horse running under a vibrant rainbow and surrounded by colorful butterflies.
Puzzles are a great way for her to develop problem-solving skills while also enjoying creative time. This would also be a great choice if you're looking for something she can do as a family activity or with friends.
10.
Lego Beauty Salon Set
This Christmas gift idea is going to be a winner if you've got an 8-year-old girl that likes to be hands-on with her creative playtime, especially if she likes to play hairdresser or beauty salon. This Lego set comes with all the pieces and visual instructions to build her own miniature beauty salon. The set even includes three little dolls to play in her imaginary world, one with a swappable hairpiece for the perfect before and after of a happy client.
This set is fun as a stand-alone toy but is also designed to integrate with other sets so she can build out her own Lego city.
11.
Bubble-Making Machine Toy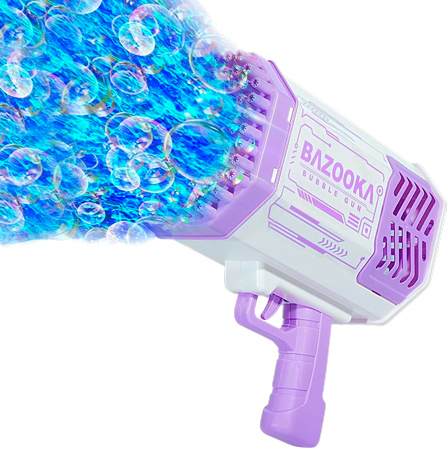 What young kid doesn't like playing with bubbles? This bubble gun machine is going to be some serious outdoor fun for the 8-year-old on your Christmas list. Instead of having to manually blow the bubbles like the traditional way of bubble play, this automatic machine blasts out thousands upon thousands of bubbles at the single squeeze of the trigger.
The gun is designed with 69 bubble holes that instantly blow air into the bubble solution that's stored inside the built-in reservoir. This is great for playing in the backyard or for using to set the perfect atmosphere for a birthday party. Everything needed to create the most bubbles she's ever seen comes in the box, including a rechargeable battery and plenty of bubble solution.
12.
Unicorn Floor Pillow Cover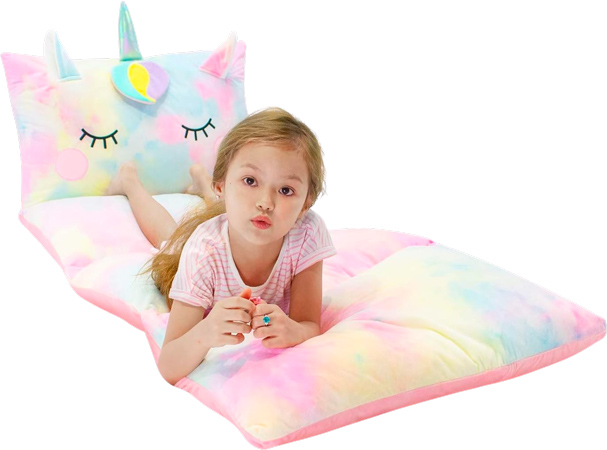 Choose this cleverly designed floor pillow cover and you'll be giving the 8-year-old on your Christmas list a very cool and ultra-comfortable place to hang out in her bedroom or playroom. This cover, made by Yoweenton, can be stuffed with standard-sized bed pillows to create a portable floor bed that's great for nap time or for use as an extra pullout bed for sleepovers.
The cover is divided into four individual sections, each to be filled with a pillow. The top section, which is decorated with plush unicorn ears and a blue iridescent horn, can be detached to either carry around the house or to be used as her primary pillow on her bed. The entire cover is made of a soft, velvet-like material that's easily tossed in the washing machine, making this a perfect everyday floor pillow for naps, reading time or just kicking back and enjoying her favorite Sunday morning cartoons.
13.
Mermaid Tail Fleece Blanket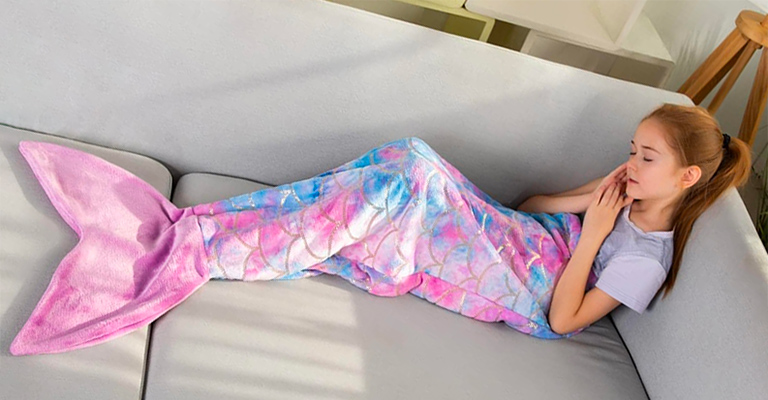 Shopping for an 8-year-old girl obsessed with mermaids? This Christmas gift is a winning choice you won't regret. And neither will she when she's snuggled up in her very own mermaid tail! This incredible blanket by Cosusket merges the practicality of a cozy blanket with the fun of dress-up time. Instead of laying under a regular, less inspired blanket, this amazing blanket is stitched up on both sides, creating a wearable blanket she can slip into while she snuggles on the couch for family Netflix night.
The pink and blue fleece material is decorated with gold glitter dots that form a repeating mermaid scale design. The bottom of the blanket is finished off with a large pink fin, adding to the fun of this beautiful mermaid tail blanket.
14.
Unicorn Silicone Night Light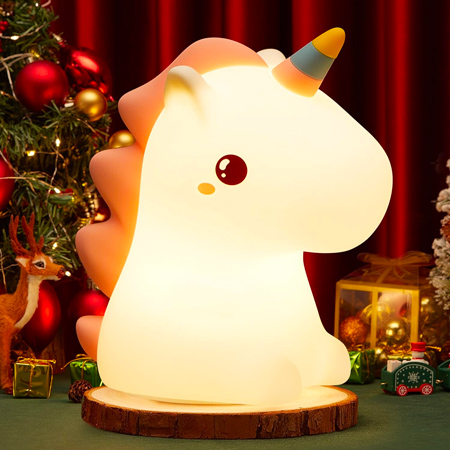 This Christmas, surprise the 8-year-old girl in your life with the gift of magical ambiance with this unicorn night light by Mubarek. Made from kid-friendly, BPA-free silicone, this charming unicorn not only offers a whimsical touch to her room decor but also serves as a comforting companion during bedtime. The night light features 16 color modes, allowing her to set the mood just how she wants it.
Whether she's reading her favorite fairy tale and wants a warm white glow or she wants to fill her room with a fun pink light, this gift is going to be her new favorite thing on her nightstand. It's designed with an easy-to-set timer for going to sleep but can also switch on and off with a single tap of the magical unicorn horn.
15.
Pink Glitter Rain Boots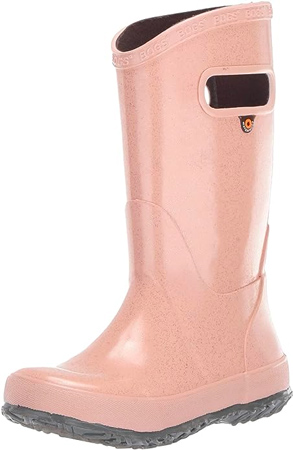 Here's a stellar holiday present idea if you know a fun-loving 8-year-old girl that isn't going to let a little bad weather stand in the way of being the most fashionable young lady on the playground. These sparkly rain boots by Bogs are designed to be a fashion statement while also keeping her feet warm and dry. They're also made keeping safety in mind, with extra thick rubber soles that feature deep tread to prevent slips.
The cutout handles on the sides of the boots make these easy to pull on, even over thick winter socks. The pink glitter uppers are made using a soft rubber that is ultra-flexible, meaning they'll be comfortable to wear whether she's walking to and from school, playing in the muddy garden or just jumping in puddles for the fun of it.
Need more inspiration?