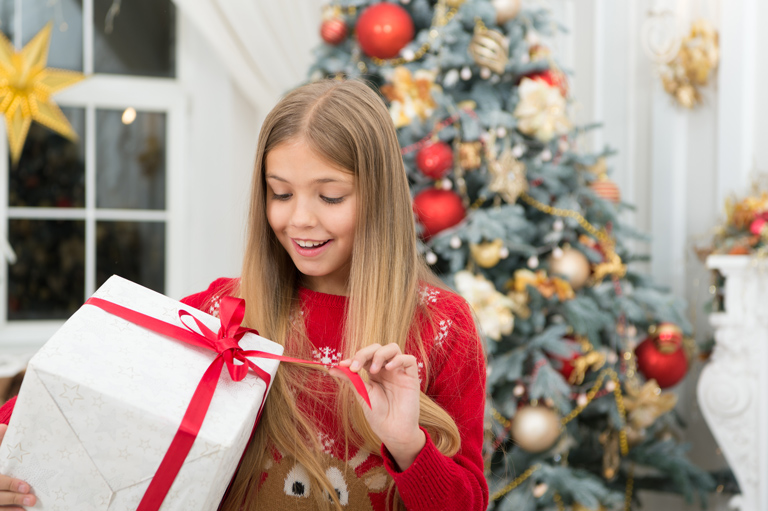 Christmas is coming and you're feeling the pressure of finding the perfect gift for the 13-year-old girl on your list. You know she's not a little girl anymore as she's officially entered her teen years, making it even more confusing choosing the right gift. And let's be honest, teens aren't subtle about letting you know when something isn't cool.
Avoid the gift-giving shame of getting her something lame by choosing one of these awesome presents. We've curated this list of 18 standout Christmas gifts a 13-year-old girl will love to make sure your gift is the one she's bragging to all her friends about.
1.
Glittery Unicorn Resin Bookends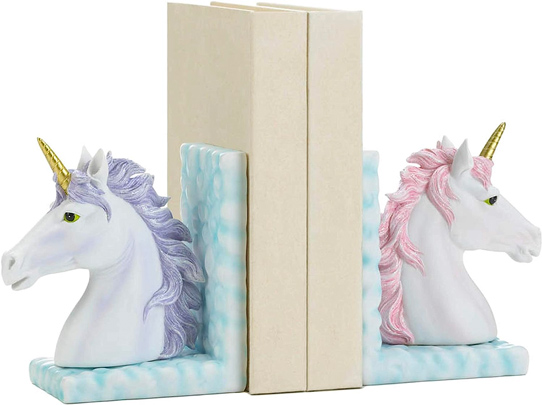 This Christmas, make the reading nook of the 13-year-old girl on your list even more magical with these striking unicorn bookends by Dragon Crest. Crafted with keen attention to detail, these bookends are designed to look like mystical unicorns, embellished with vibrant and glittery accents.
Made from polyresin, these bookends promise not just enchanting aesthetics but also durability and stability. They're perfect for keeping her favorite books neatly organized while adding an element of fantasy to her bedroom.
2.
Modern Book Shelf Set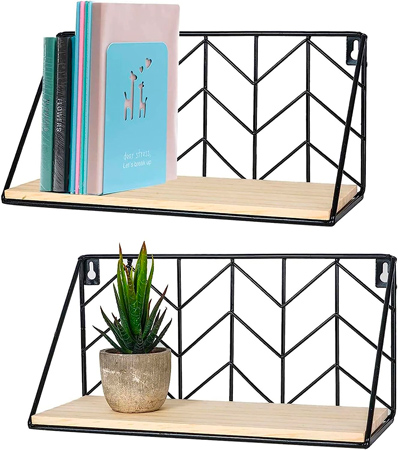 If you're on the search for a Christmas gift for a 13-year-old girl that likes to personalize her space to reflect her unique style, this gift is what you're looking for. These floating shelves by Timeyard blend rustic and industrial elements to create an attractive and versatile showcase for her walls.
The set includes two shelves that would look amazing displaying her favorite photo frame or collection of figurines. They come ready to hang with the included mounting hardware and are coated in a watertight varnish so they're even fit for displaying plant pots. A teen girl's room is her safe place and with these cool shelves holding all her favorite things, it'll be a place she never wants to leave.
3.
Gummy Bear Night Light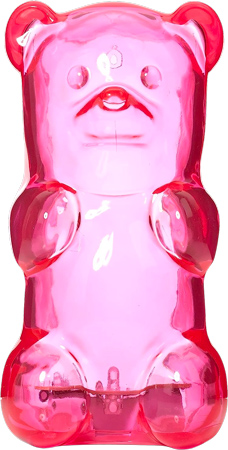 Light up a 13-year-old girl's Christmas morning (and her bedroom) with this delightful night light by Gummygoods. This has got to be the coolest night light ever. Shaped like a giant pink gummy bear, this night light adds a playful and whimsical touch to her room decor.
The light features a soft, squeezable body with a 60-minute sleep timer, providing a gentle and comforting glow as she drifts off to sleep. Safe and portable, it's made of BPA-free rubber and operates on a rechargeable battery, allowing her to take it anywhere. As well as a fun and colorful bedroom accessory, it's also a practical gift that provides comfort during the night.
4.
DIY Trinket Tray Kit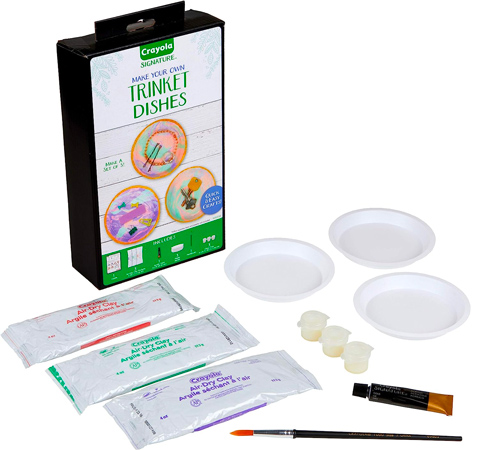 If you're shopping for an imaginative 13-year-old girl that enjoys getting hands-on with her art projects, this Trinket Tray Kit by Crayola would make an exciting Christmas gift. This fun kit includes everything she needs to create her own jewelry trinket tray that she can use to hold her beloved nicknacks. Not only is this a great creative outlet for her, but it's also a way for her to craft a piece of functional decor that is truly one of a kind.
The kit includes multiple colors of the special air-drying clay so there's no need to bake it in the oven, meaning no adult supervision is required. From start to finish it's a craft she can do on her own and proudly display on her nightstand or vanity.
5.
Ombre Bedroom Curtain Sheers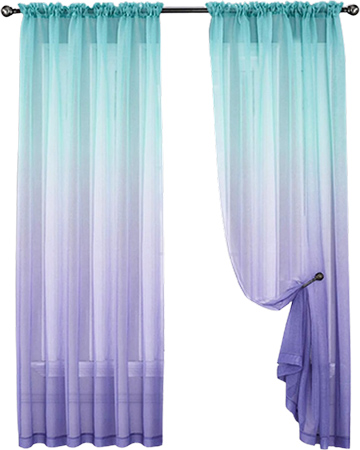 Give a Christmas gift that will infuse a 13-year-old girl's room with some fun color and trendy design elements with this set of beautiful curtain panels by Yancorp. The gradient blend of turquoise and purple in these curtains will instantly give her room a makeover that looks like it was done by a mermaid or magical decor fairy.
Crafted from high-quality fabric, these curtains not only deliver a soft touch and pleasing drape but also provide much-needed privacy. The easy-to-install rod pocket design makes it a hassle-free addition to her space. In a single Christmas gift she'll have a room makeover that will be the envy of all her friends.
6.
Rainbow Faux Fur Blanket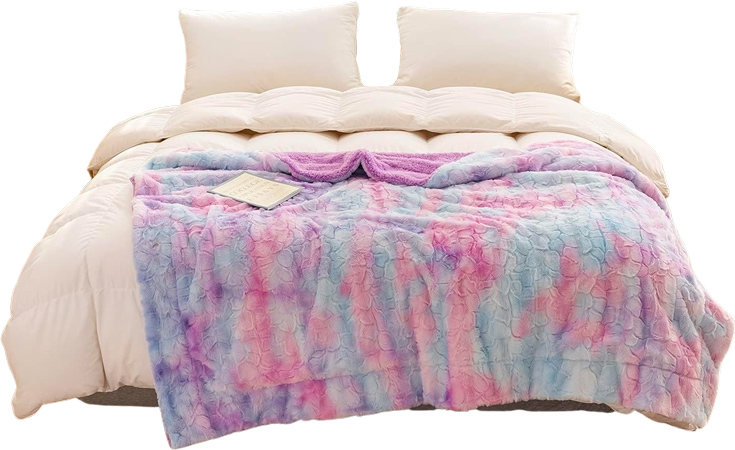 For the 13-year-old girl who loves comfort and isn't afraid of decorating with color, this rainbow faux fur blanket by Newcosplay is the Christmas gift she'll want. This delightfully cozy blanket features a vibrant array of colors, perfect for livening up any bedroom or living space. Made from premium faux fur, it provides a heavenly softness that invites hours of relaxation and cozy couch cuddles.
The generous size ensures ample coverage for chilly nights, while the high-quality construction promises long-wearing durability. Whether draped over a bed or used as her favorite nap-time blanket, this is a gift she'll look forward to using.
7.
Nail Art Painting Set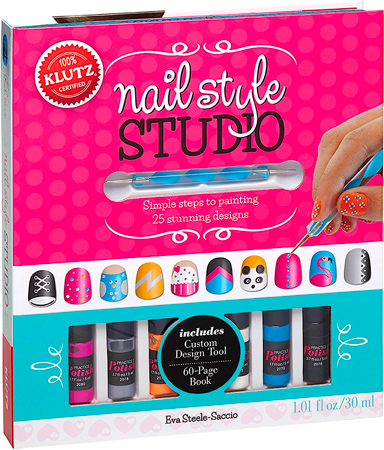 If you're shopping for a Christmas gift that offers a mix of creativity, fashion and fun for the 13-year-old girl on your list, the Klutz Nail Style Studio set is a top-notch choice. It comes with everything she'll need to dip her soon-to-be bedazzled toes into the fun world of nail art.
The 250 stick-on stencils and 60-page visual guide make creating stunning designs easy for anyone to do, especially for someone as creative as she is. The kit also comes with six bottles of practice nail polish specially formulated to peel off in-between practice designs so there's no need for harmful acetone polish remover.
8.
Temporary Hair Color Set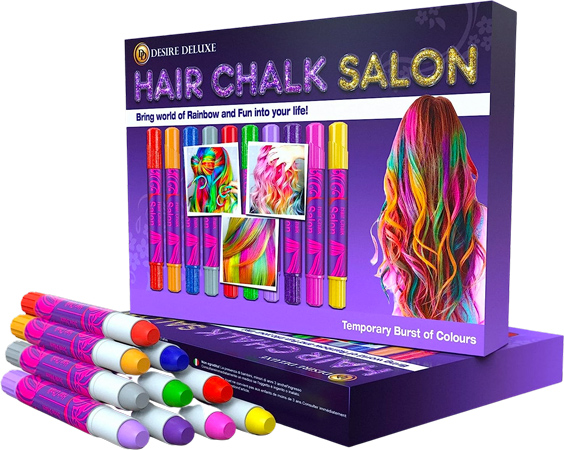 Give a Christmas gift that will let a 13-year-old girl express her wild side with this set of colorful hair chalks by Desire Deluxe. These non-toxic, temporary hair chalks allow her to experiment with a rainbow of ten vibrant colors without any long-term commitment or potential damage to her hair.
Easy to apply and wash out, it lets her change up her look on a whim or coordinate her hair color with her outfit for any occasion. The set is designed to work on all hair colors and types, making it a versatile gift for all girls.
9.
Disney Fruity Body Spray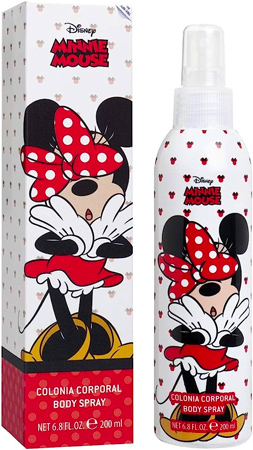 Inject some Disney magic into a 13-year-old girl's Christmas morning with this Minnie Mouse body spray. It's a youthful blend of fresh and fruity scents that will become her new signature fragrance. Created and licensed by the official Disney brand, this high-quality spray is designed specifically for young teen girls.
The subtle aroma is great for everyday use, letting her express her personal style while boosting her confidence and making her feel grown up. Presented in a beautiful Minnie Mouse bottle, it won't just be her daily perfume but also a cute statement piece for her vanity table.
10.
Sterling Silver Cat Necklace

This sweet cat pendant necklace by S.Leaf is the Christmas gift you're looking for if the 13-year-old girl you need to find something special for loves minimalist fashion. Even better if she loves cats! This sterling silver necklace is designed to look like a kitten trying to climb up onto the chain by its front paws. It's absolutely adorable and the perfect pop of fun to her fashion accessory collection.
It's available in a high polish option or a more modern matte finish. The adjustable chain means she can alter the length to suit whatever neckline she's wearing it with. This is a necklace she'll love at 13 but will still be wearing when she's 23.
11.
Rainbow Hoop Crystal Earrings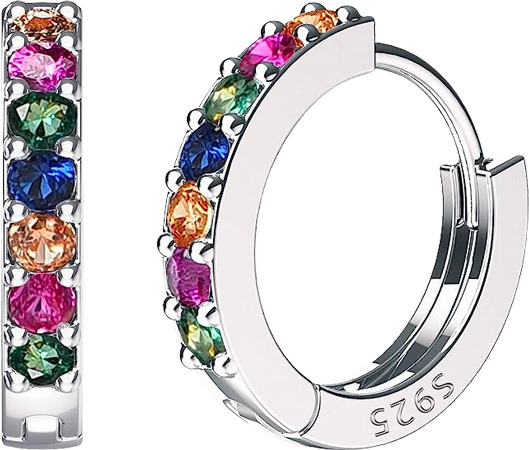 As a Christmas present for the budding fashionista in your gift plans, opt for these rainbow crystal hoop earrings by Sweetv. Made with 925 sterling silver and adorned with a rainbow of dazzling cubic zirconia stones, these earrings bring a vibrant and playful twist to any outfit. They offer a comfortable and secure fit thanks to the smooth hinged clasp, making them ideal for everyday wear to school.
These eye-catching hoops combine the classic hoop design with a burst of multicolored sparkle that suits the energetic personality of a 13-year-old girl. A perfect addition to her growing jewelry collection, these earrings embody the spirit of youthful exuberance and timeless elegance.
12.
Sporty Rainbow Logo T-Shirt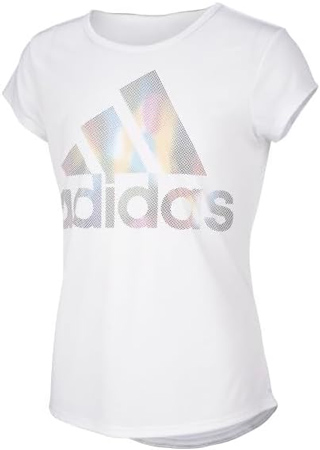 For an athletic 13-year-old girl that loves fashion as much as she does sports, this t-shirt by Adidas is a gift she's going to want. This graphic tee features a bold Adidas logo set on a classic white background. Instead of the traditional ink-printed logo though, this t-shirt stands out with the holographic foil logo that shines in a burst of vibrant colors. It's where sporty meets glittering goddess.
Made from soft, breathable fabric, this tee is designed to offer comfort throughout the day, making it perfect for school, hanging out with friends, or lounging at home.
13.
Tie-Dyed Stretchy Socks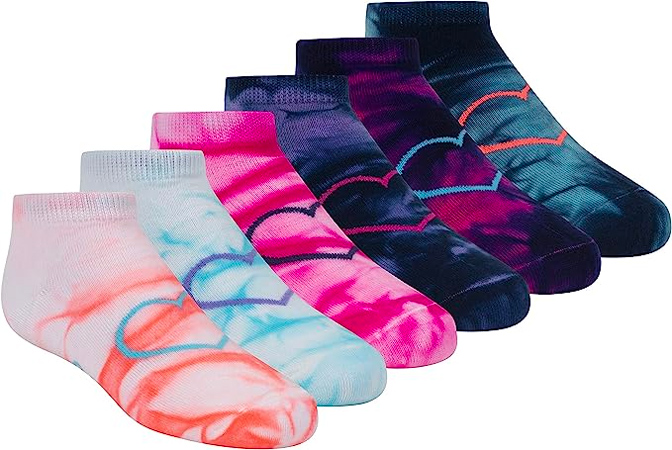 Thinking socks can't be a cool Christmas gift for a 13-year-old girl? These funky socks will change your mind. Made by Sketchers, these low-cut socks will make even her footwear an extension of her stylish personality. The vibrant tie-dyed design with bold heart embellishments makes these socks a fashion accessory that will make her want to toss out all the boring socks she's been subjected to in the past.
They're made of a unique blend of materials that offer softness, comfort and durability. The stretchy fit means these socks stay in place throughout the day, whether she's at school or wearing them with her running shoes. This gift will make sure she's staying stylish from head to toe, literally.
14.
Vegan Leather Turtle Purse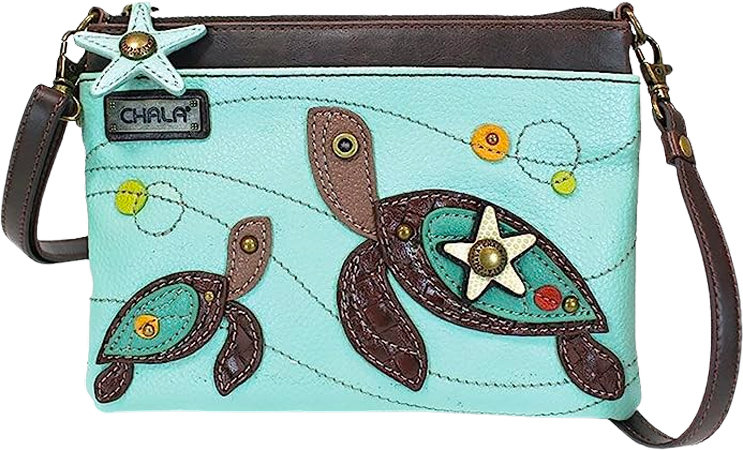 For a gift that merges style with conscious choice, go with this sea turtle-themed vegan leather purse by Chala. It's an ideal Christmas gift for a 13-year-old girl who is environmentally conscious and has a budding fashion sense. This cross-body purse is crafted from high-quality, animal-friendly vegan leather that is durable and easy to clean.
The delightful sea turtle design adds a unique touch, expressing an appreciation for the conservation of endangered ocean life. Plus, it's just really cute. It's spacious enough for her everyday essentials and chic enough to elevate any outfit she's wearing.
15.
Fashionable Duffel Gym Bag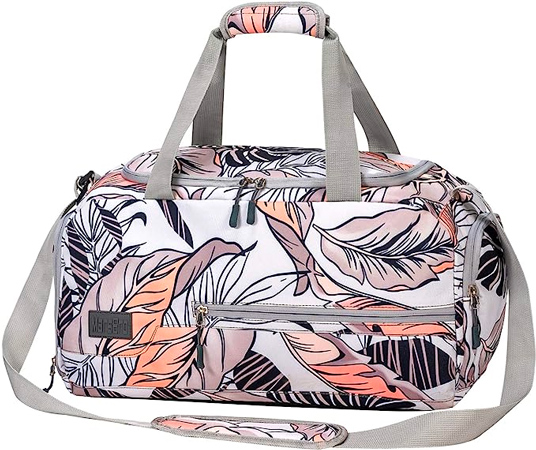 This fashionable gym and weekender bag by MarsBro will be a Christmas gift that a 13-year-old girl will not only love but will also get frequent use out of. It can double as a gym bag as well as a sleepover bag or for taking away on family trips.
It's designed with premium, water-resistant polyester that is made to withstand her daily activities. When she's off to the gym or to her athletic practices, the dedicated shoe compartment will keep dirty footwear away from her clean clothes. For sleepovers or getaways, the multitude of zippered pockets on both the interior and exterior will give her ample space to organize all her essentials.
16.
Portable Art Supply Studio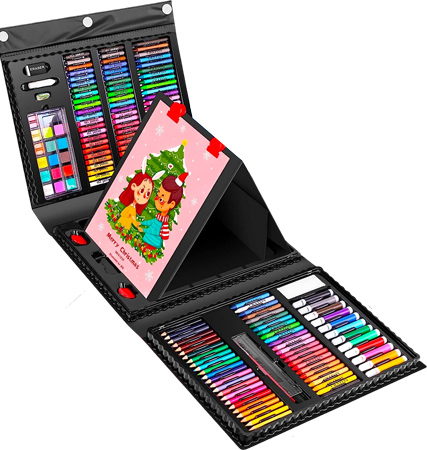 Inspire creativity in the 13-year-old girl on your Christmas list with this massive art set by iBayam. This all-inclusive kit caters to a wide range of artistic expressions, including sketching, coloring and painting. The collection includes everything from crayons and oil paints to glue and sketchpads, all tucked inside a compact carrying case for easy transport.
Wherever she decides to find her creative inspiration, this gift is like an instant pop-up art studio. If art is her passion, this is a Christmas gift she'll be over the moon about.
17.
Unique String Art Set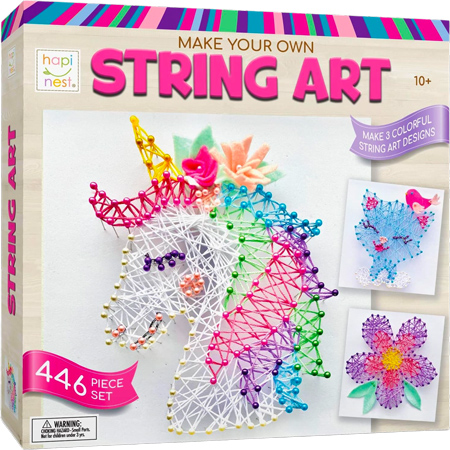 This unique art project kit would make an excellent Christmas gift for a 13-year-old girl with a knack for crafts. This string art kit by Hapinest allows her to bring three-dimensional art to life. The kit includes a design template for a unicorn, a cat and a flower. To create unique and colorful pieces of art all she needs to do is follow the templates, wrapping string around the included pins
This is not only a safe and mess-free art project she can do on her own but it's also a way for her to create one-of-a-kind room decor she can be proud to hang and show off to her friends.
18.
Rainbow Over-Ear Headphones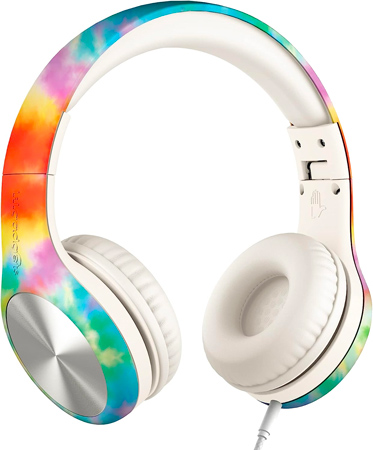 From gaming to listening to her favorite bands, this is a Christmas gift that is going to be a crowd-pleaser for the 13-year-old girl you're shopping for. Made by LilGadgets, these rainbow-colored headphones are designed specifically for young ears. Not just because they look super cool, but because they are designed to limit the volume output. These headphones won't play over 93db, meaning they are safer than traditional headphones that can damage hearing.
Just because they're not as loud as adult headphones doesn't mean the sound quality isn't there though. These headphones play crisp audio with a balanced base, making them a gift both she and her parents can love.
Need more inspiration?