6-year-old boys can be a mass of contradictions; on the one hand they start to go to parties, play dates and school events by themselves, and on the other hand they crave the security and comfort of home and parents. It is a time of change.
Whilst many 6-year-old boys will develop some kind of hobby or interest indoors, such as board games, video games, or construction activities, they also still have tons of energy and will crave and need time outdoors. As school steps up and becomes more classroom-based this time outdoors becomes even more important. Around this age lots of parents seek to involve their child in sports to keep them physically active and healthy.
If you're looking for a gift for a 6-year-old boy there are plenty of options based on indoor and outdoor interests. We've put together a list that incorporates a variety of these ideas so that you can find the perfect gift for a 6-year-old boy that will also benefit his development.
1.
Hot Wheels Mini Cars and Toy Garage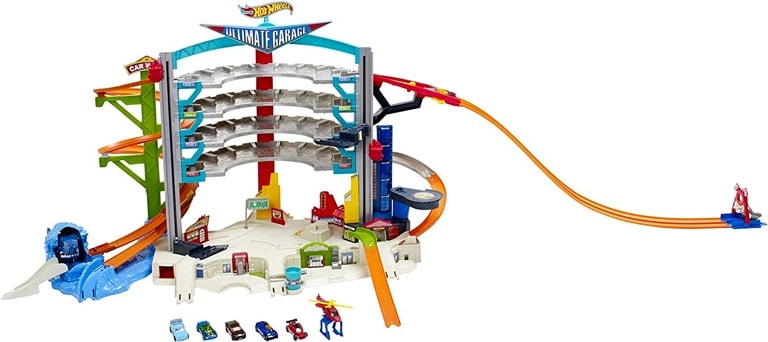 Why we like it: One of the biggest Hot Wheels garages ever to encourage imaginative play and construction skills.
Part of the popular Hot Wheels range of toy cars and accessories, the Hot Wheels Mini Cars and Toy Garage is one of the biggest garages with lots of exciting features. There are parking spaces for 36 cars so if the 6-year-old you're buying for has, or is starting, a collection of toy cars then this might just be the ideal gift; plus there's room for plenty more cars to play!
Putting the toy garage together requires following instructions and improves construction skills and the finished product is perfect for encouraging imaginative play.
Pros
One of the biggest Hot Wheels garages
Encourages imaginative play
Improves construction skills
Multiple action zones
Parking spaces for 36 cars
Cons
Large toy; requires space to store and play
2.
Lego City Downtown Fire Brigade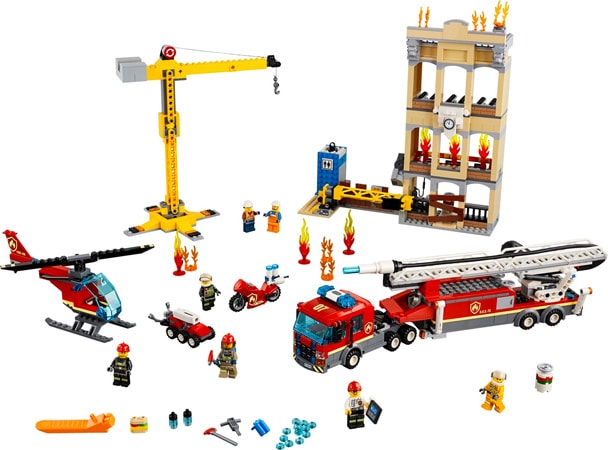 Why we like it: A complex fire station to construct with lights and sounds to keep the child motivated and engaged!
Lego is a brilliant choice for improving concentration and perseverance and the Lego City Downtown Fire Brigade is a suitably complex kit allowing children to build a fire station complete with lights and sounds which is bound to keep them engaged in the construction, working on following instructions and developing their fine-motor skills.
Robust and built to last, Lego is a timeless toy and its appeal will last through the ages. Like other Lego sets the Lego City Downtown Fire Brigade is compatible with any other Lego bricks allowing play to be expanded and extended, and making this an ideal gift for a Lego lover!
Pros
Improves construction and fine motor skills
Encourages perseverance and concentration
Compatible with other Lego sets
Lights and sounds
Robust, built to last
Cons
Lots of small pieces; requires careful storage
3.
Magnetic Flag Building Blocks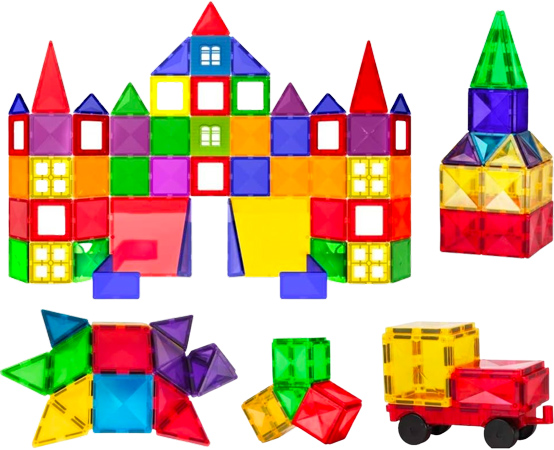 Why we like it: A pixel-inspired set of magnetic building blocks that encourages creative play while teaching about flags and world culture.
Combining playtime and learning time is the best way for young minds to absorb new information. This magnetic building block set by Pixio is the ultimate way to have fun learning about the flags of the world. This world flag edition is part of a series of magnetic building blocks that take creative inspiration from the concept of pixels in the digital world. Little square magnetic blocks that resemble pixels are attached together via the song magnets to create the bigger picture.
The flag edition includes all the colors required to recreate the flags of the world. The easy-to-use app provides visual guidance on how to arrange the magnets for each country. Not only is this a fantastic learning tool but it's also a hands-on way to unlock creativity and independent learning. Finished flags would be a fun show-and-tell project for school when learning about flags or world culture.
Pros
Serves as an interactive learning tool

Strong magnets for easy attaching

Inspires interest in other cultures

Easy-to-use app for inspiration and design

Durable and splash-proof design
Cons
Contains very small parts

Limited colors but can be expanded
4.
Hudora Nest Swing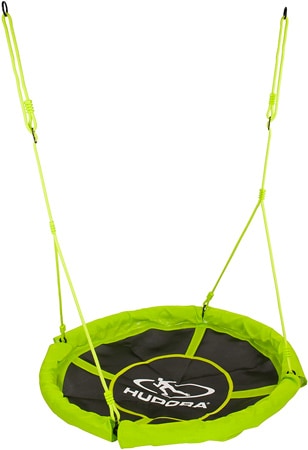 Why we like it: A swing that lasts right through childhood, increasing time spent outdoors and core strength.
Swings are a firm childhood favorite, and the Hudora Nest Swing will last all the way through childhood due to its robust design and high weight limit. The swinging action activates the vestibular system in children, which is a soothing sensory input helping children to calm down, and develop their self-regulation skills.
The Hudora Nest Swing is a fabric swing that can be hung from most swing frames promoting time spent outdoors and physical play. The swinging action also helps to improve a child's core strength and muscle tone. This would make a great gift for a 6-year-old boy with an outdoor play space at home.
Pros
Made of high-quality materials
Max user weight of 220 lbs
Can be used from 3 years up to adults
Promotes outdoor, physical play
Increases core strength
5.
Electronic Piggy Bank Vault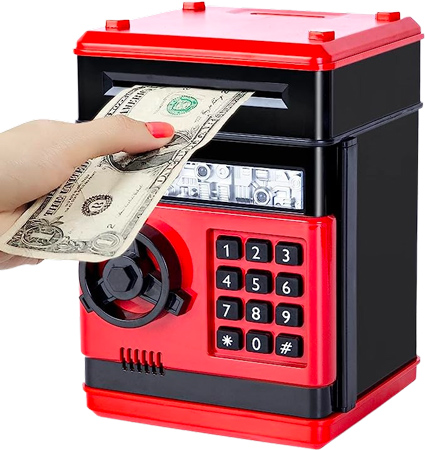 Why we like it:
An electronic piggy bank vault that will teach young boys about saving while improving counting and math skills.
Give a gift that will teach a six-year-old boy a life lesson that he'll appreciate for the rest of his life with this electronic piggy bank. It will provide a secure place for him to keep all his hard-earned pocket money while teaching him the value of saving for the things he wants to buy. Teaching this lesson from a young age can positively impact his financial future. Sure, he's only six now, but good habits start early.
This gift is also a great way to teach math skills as he adds up his savings and learns about the face value of the notes and coins he deposits. When it's time to take money out for that new toy he's been saving up for, the door is opened by entering the four-digit code. Parents can either keep the code secret or share the code to teach about trust and personal restraint. Saving will be fun with this kid-approved money vault.
Pros
Teaches personal responsibility

Customizable keypad code

Indicator light for secure locking

Large size for long-term savings
Cons
No LCD screen

Requires batteries- Not included
6.
Playmobil Police Command Centre with Jail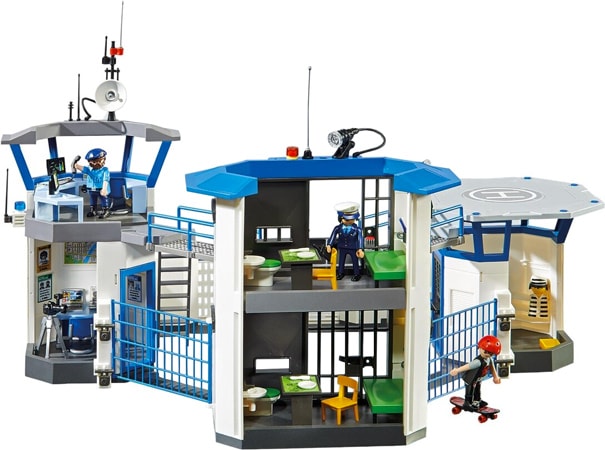 Why we like it: Playmobil set encouraging role-play and exploring different careers and ways of life.
Imaginative, small-world play (play with small figures and vehicles) is a great way for children to develop social skills, even when they play alone. This kind of play allows children to explore a range of social interactions and scenarios in a safe, controlled way by acting them out with the figures, which allows the child to process their thoughts and make sense of the world through play.
The Playmobil Police Command Centre is a great way for children to explore the concepts of good, bad, law and justice and is a popular play theme with 6-year-old boys. Playing in the way also allows children to develop positive values around the rule of law.
Pros
Encourages imaginative, small-world play
Children are able to role-play different scenarios
Promotes positive values
Can be used with other Playmobil sets
Robust, built to last
Cons
Large toy when constructed; requires storage space
7.
Hudora BigWheel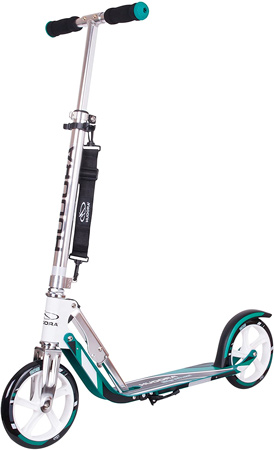 Why we like it: Scooters are really popular with 6-year-olds and this high-quality model will encourage their physical skills and increase fitness.
6-year-olds love scooters! Whether it's riding them around an outdoor space at home, riding them at the park or riding them to school they are popular as both a play item and a mode of transportation. Scooters are also a great way to prompt outdoor play and increase fitness as well as physical skills. Learning to balance increases core strength and stability whilst steering requires hand-eye coordination and a developing sense of direction.
The Hudora Big Wheel is a robust, high-quality model built for safety; the larger front wheel makes it more stable, and the rear-wheel friction brake is easy to operate. It is also very easy to fold, store or carry making it an ideal gift even if there's not much storage space available.
Pros
Adjustable handlebar height-grows with child
User weight up to 220 lbs, won't be outgrown
Folds down for easy carrying and storage
Encourages physical skills
Increases fitness
Cons
Protective equipment required, e.g. helmet
8.
Code & Go Robot Mouse Activity Set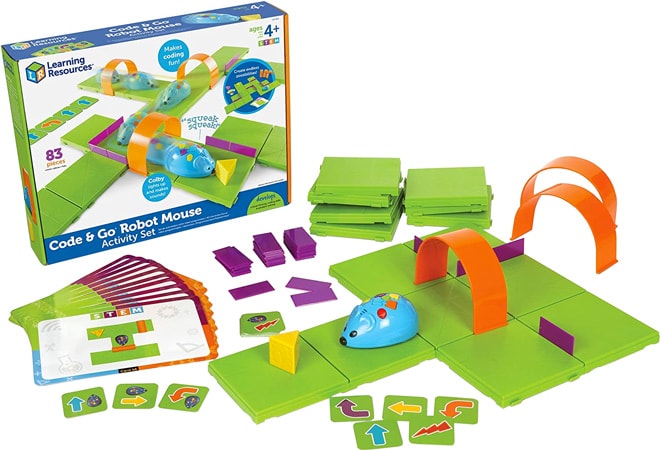 Why we like it: Introduce kids to scientific skills early with a fun way to learn program.
This gift purposefully focuses on introducing scientific skills and coding in particular. Ideal for a 6-year-old boy who is beginning to develop an interest in computing, the Code & Go Robot Mouse Activity Set helps children learn to program.
The idea is to program the mouse to go through and interact with a maze and this increases problem-solving and critical thinking skills as children learn to plan ahead and then program the mouse accordingly. This makes a great educational gift, promoting skills that wouldn't necessarily be learned in school but are becoming increasingly important.
Pros
Early introduction to scientific skills
Learn to program
Increase critical thinking and problem-solving skills
Lights and makes sounds
Beginners and advanced options
Cons
Child may require help to start off with
9.
Nerf Elite Titan Toy Blaster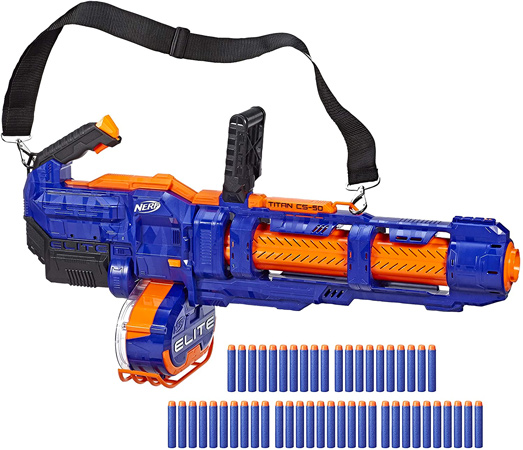 Why we like it: A 6-year-olds dream! A Nerf blaster with a huge capacity, improving hand-eye coordination through shooting action.
Nerf guns and blasters are a fun favorite with 6-year-old boys who love the thrill of chasing and battling with others or trying to hit targets and the Nerf Elite Titan Toy Blaster is a great model. It has a huge dart capacity, so the child can keep on shooting without needing to reload. The fully motorized barrel makes shooting pretty easy and allows the child to focus on aiming and this improves hand-eye coordination.
Running around and wielding the Nerf Elite Titan Toy Blaster promotes physical activity, keeping children active and increasing cardiovascular health. If you're looking to really delight a 6-year-old boy then this gift is sure to be a hit.
Pros
Fully motorized
Huge dart capacity
Improves hand-eye coordination
Promotes physical activity
Cons
Larger toy; storage space required
10.
Hudora Basketball Stand

Why we like it: Help a 6-year-old develop or pursue an interest in sports, encourages physical, outdoor play keeping children fit and healthy.
The Hudora All Stars Basketball Stand is a basketball hoop that comes complete with a stand and pole meaning that wall-mounting is not required. This basketball stand can also be stored away and brought out when needed. As well as developing an interest in sports, specifically basketball or netball, the Hudora All Stars Basketball stand will get a 6-year-old playing outdoors and keep them active, fit and healthy.
Basketball and other similar sports help to develop all-round coordination but specifically hand-eye coordination which enhances the skills used for writing. If the 6-year-old you're buying for loves sports then this is a great way to help him pursue his passion.
Pros
Encourages outdoor play
Develops interest in sports
Promotes physical activity keeping children fit and healthy
Improves hand-eye coordination
Does not require wall-mounting
Cons
Requires significant outdoor space
11.
Smart Sketcher Projector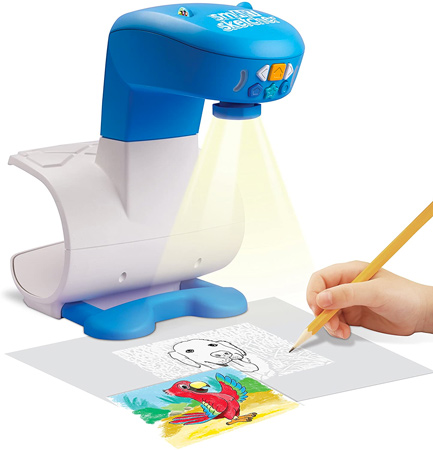 Why we like it: Using their own photos and pictures to create beautiful drawings encouraging an interest in art and creativity.
Most 6-year-olds like the idea of art and drawing and some have a natural flair for drawing, whilst others can find the process frustrating as their own work doesn't match up to the vision in their head. The Smart Sketcher Projector projects pictures and photographs onto paper so that the child can then trace around the shapes of the picture to create their own drawings and designs. Following the lines to achieve these results is very rewarding for children but also improves hand-eye coordination, fine-motor skills and concentration, which are all important for 6-year-olds handwriting skills.
6-year-old boys also really like producing drawings for themselves, their bedrooms, and friends and family too. The Smart Sketcher Projector is a great way to bolster 6-year-old boys' artistic and creative skills.
Pros
Interactive sounds and special effects
Can use your own photos and pictures
Encourages creativity and artistic skills
Improves hand-eye coordination
12.
ThinkGizmos RoboShooter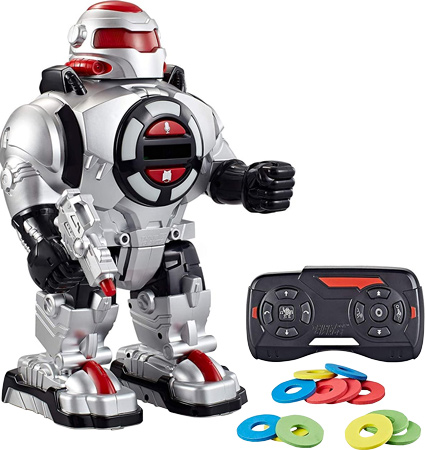 Why we like it: A great interactive robot toy with lights, sounds, shooting disks and more at the touch of a remote-control button!
So many 6-year-old boys are interested in robotics, and playing with robots is a great way to encourage scientific skills. Since the ThinkGizmos RoboShooter is remote controlled and has features including disk firing, lights, sounds and voice recording, it encourages the use of technology skills.
The ThinkGizmos Roboshooter also speaks multiple languages and encourages plenty of imaginative and creative play, especially with the voice recording feature; children will love sending the robot all over the house to deliver messages! A great gift for a 6-year-old boy with an interest in robots or technology.
Pros
Voice recording, disk firing, lights and sounds
Speaks multiple languages
Remote controlled
Encourages imaginative play
13.
Shape Shifting Fidget Cube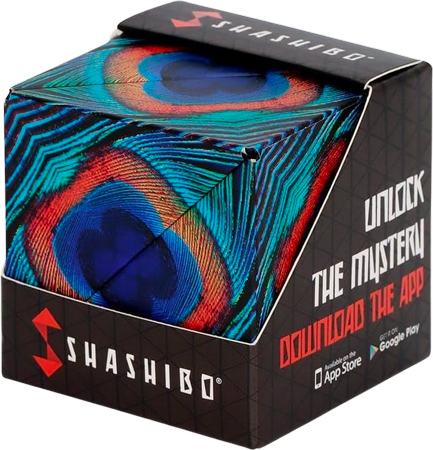 Why we like it:
An entertaining toy that captivates the imagination and promotes creativity as it's manipulated into over 70 unique shapes and designs.
Unleash the power of imagination with the Shashibo Shape-Shifting Box. This captivating toy is sure to delight any six-year-old boy with endless possibilities for fun and creativity. This isn't just an ordinary box. It's a geometric marvel that magically transforms into over 70 different shapes. The unique design features interconnected magnetic sides that can be folded, twisted and combined to create mesmerizing patterns and structures. This toy sparks curiosity and challenges young minds to think creatively while discovering new shapes and psychedelic designs.
Beyond its entertainment value, it also offers numerous benefits for a child's development. It enhances fine motor skills as kids manipulate and transform the sides to create various shapes and designs while the puzzle-like nature of the toy promotes problem-solving skills and critical thinking. It also makes a great fidget toy, which is said to relieve stress and anxiety. This colorful and wildly addictive toy will have kids and parents fascinated for hours.
Pros
Low-tech, high-fun toy

Enhances fine motor skills

Improves critical thinking

Develops problem-solving skills

Fidget toy for stress relief
Cons
Could be fragile if not handled correctly
14.
LeapFrog Magic Adventures Globe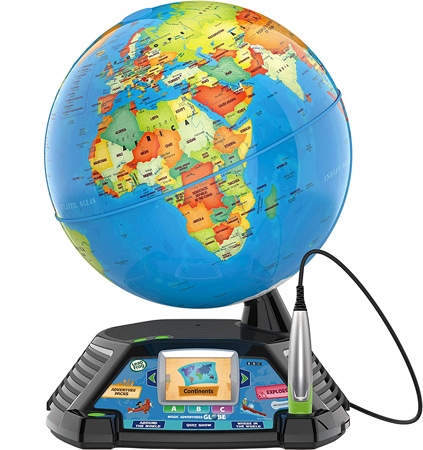 Why we like it: Encouraging plenty of geographical learning, this toy really makes the most of technology.
A 6-year-old may not yet have an understanding of the wider world but 2D maps often don't give a full perspective. A globe is a useful learning tool as children progress through school and this LeapFrog Magic Adventures Globe utilizes plenty of technology to really enhance geographical learning and perspective. This may be a great introduction to the concept of the wider world.
With a built-in screen, stylus and over five hours of video, children can improve their technology skills whilst they learn about the world. The LeapFrog Magic Adventures Globe allows children to retrieve information about different areas of the globe simply by touching them with the stylus. This globe represents a good educational investment piece that will also capture children's interest.
Pros
Geographical learning
Improves technology skills
Screen and stylus included
5+ hours of videos included
15.
Mindscope Neo Tracks Twister Tracks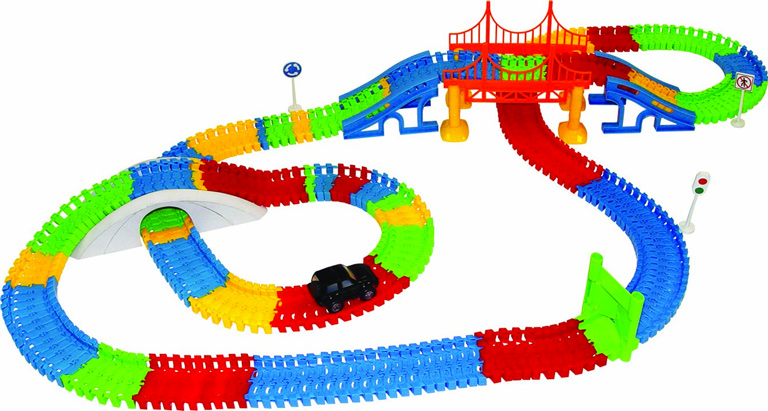 Why we like it: Increase creativity and construction skills by building these exciting tracks for battery-powered cars to race along!
These tracks are brilliant for 6-year-old boys, not only are they fun and exciting but they also help to improve creativity and construction skills as they require assembling. The assembly itself is relatively simple so the child can do it independently but with 228 pieces of track included in the Mindscope Neo Tracks Twister Tracks there's plenty of room for creativity.
The battery powered cars will automatically follow the tracks so children can experiment with creating different roadways for them. The Mindscope Neo Tracks Twister Tracks can also go up and down steps or stairs, or over objects so there's plenty of fun to be had by creating different hills and slopes.
Pros
Improves construction skills
Promotes creativity
Simple-assembly
228 pieces of track
16.
Osmo Genius Starter Kit for iPad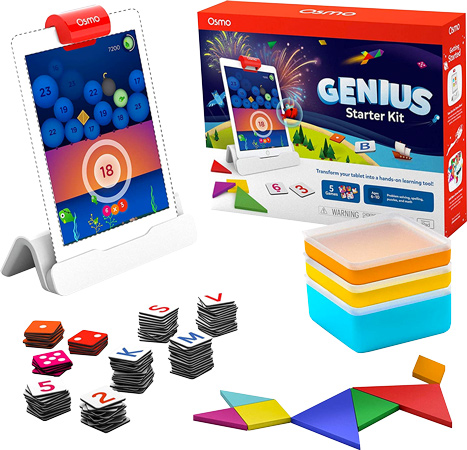 Why we like it: This kit is designed to be used with an iPad but has plenty of educational games that support logic and problem-solving: A solution to too much screen time?
Children absolutely love technology, unfortunately with technology comes a lot of screen time, which can become a source of stress and conflict for parents of 6-year-olds. If the 6-year-old you're buying for has an iPad or access to an iPad then the Osmo Genius Starter Kit may be a good gift for them because it promotes a positive kind of screen-time.
The Osmo Genius Starter Kit is a set of materials which can be used in conjunction with a program on the tablet. The materials are physical things that can be picked up and manipulated and they interact with the games on screen. The games and materials are all educational promoting scientific subject knowledge and skills such as logic, problem-solving and innovation.
Pros
Builds on children's interest in technology
Real, hands-on learning
Teaches numbers, letters, words and maths
Promotes logic and problem-solving skills
17.
Guess Who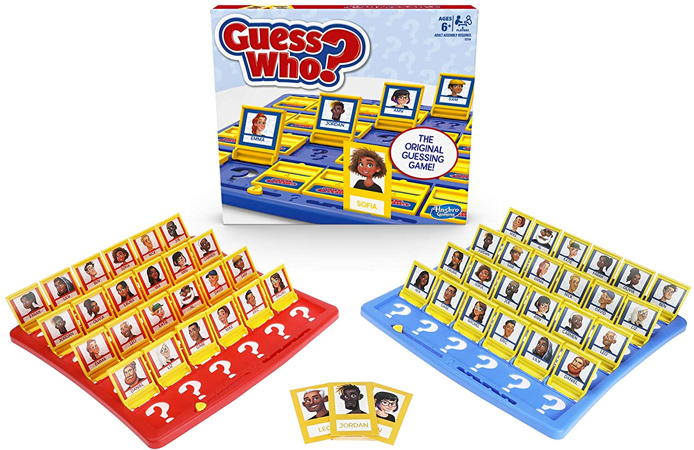 Why we like it: Interactive Board Game that improves speech, language and logic skills.
Guess Who is a classic family board game and around about 6 years old children will be able to begin to play it properly. Guess Who requires players to use a process of elimination to determine the character that the other player has selected, this requires logic and problem-solving skills. It also improves children's speech and language skills as they ask questions to find out information about the other players' characters, and think carefully about how to gain the most useful information.
Playing board games with others also requires that children learn the etiquette and rules of playing games and promotes pro-social skills such as turn-taking, winning and losing gracefully, and following the rules. This is a great way to get a 6-year-old involved with family games.
Pros
Involves another player; social play
Promotes social skills; turn-taking
Improves speech and language skills
Increases logic skills
18.
Playmobil Porsche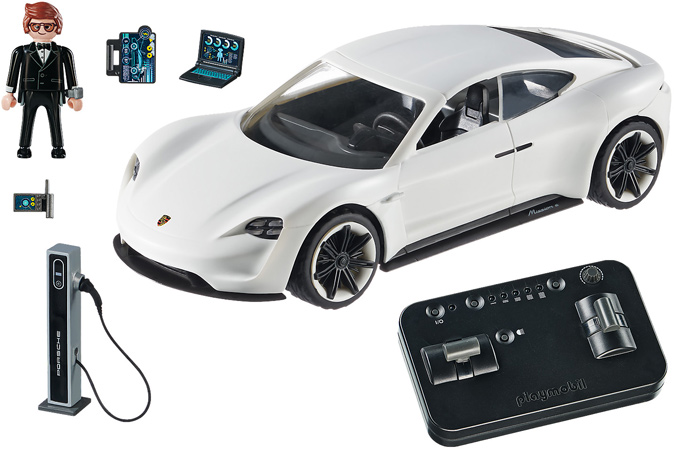 Why we like it: Remote control Porsche car, perfect for Playmobil figures and imaginative play!
Based on Playmobil the movie, the Playmobil Porsche can also be used with other Playmobil sets to encourage imaginative, social play. The Porsche, figures and accessories can be used to 'act out' scenes from the movie or other social scenarios, helping to sort through understanding of social situations.
The Playmobil Porsche is also remote controlled, increasing children's use of and mastery over technology. This set could make a great starting point for a Playmobil collection, or an addition to an already growing one, especially for fans of the movie.
Pros
Based on Playmobil the movie
Encourages imaginative play
Remote control improves use of technology
Compatible with Playmobil sets
Cons
Requires batteries
Pre-constructed, no construction to do
19.
Intex Inflatable Duck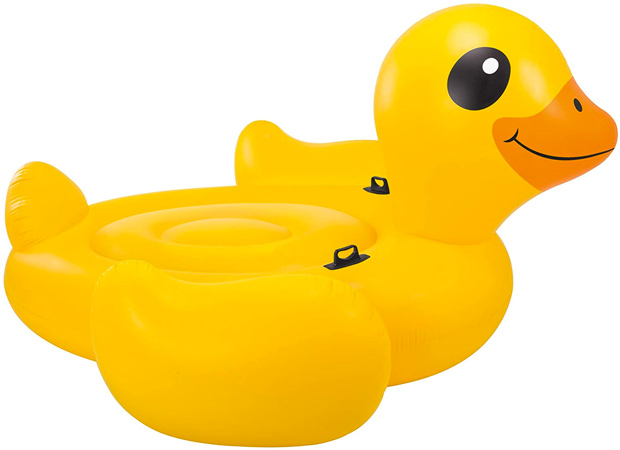 Why we like it: A classic pool toy to help gain confidence in the water and keep kids active.
Swimming is a great exercise for young children and at 6-years-old many children are beginning to feel more confident in the water. Under adult supervision, using this fun, inflatable duck toy they can build up their physical strength and fitness. The two handles increase the float's stability in the water meaning that it is less likely to tip, further increasing children's confidence.
Swimming also improves children's gross motor skills as they learn to move their body through the water, and the Intex Inflatable duck also encourages skills like pulling up, balancing, and kicking which in turn increases the strength and control needed for writing.
Pros
Helps children gain confidence in the water
Fun way to increase physical activity and skills
High strength handles
Repair patch included
Cons
Requires access to pool
Close adult supervision needed
20.
Lego City Cargo Train Set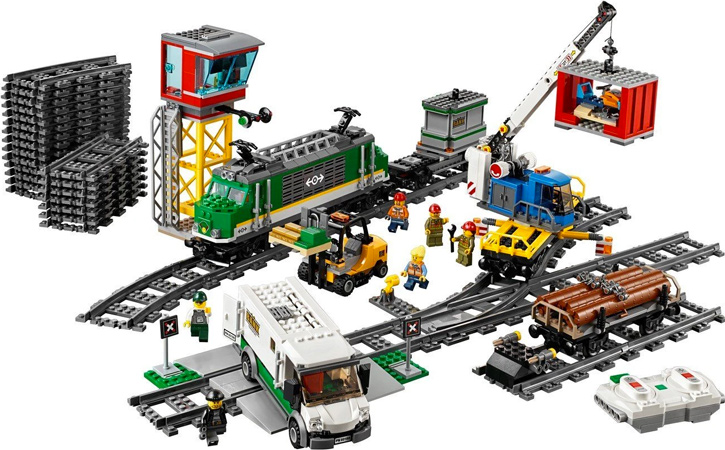 Why we like it: Combining two classic construction toys: Lego and a train set, with the added excitement of battery-powered trains!
Lego and train sets are both classic toys which promote different kinds of construction skills and this Lego City Cargo Train Set combines both! It also includes six mini figures to promote imaginative play once the set has been constructed.
An ideal gift for 6-year-old boys who love Lego and trains, the Lego City Cargo Train Set comes with a motorized train that can be remote-controlled using Bluetooth, and is compatible with any other Lego brick sets which means that children's imaginations can really run wild.
Pros
Combines two classic construction toys
Compatible with other Lego sets
Motorised train with Bluetooth remote control
Includes six mini figures
Cons
Lots of pieces requiring storage
21.
Brio Labyrinth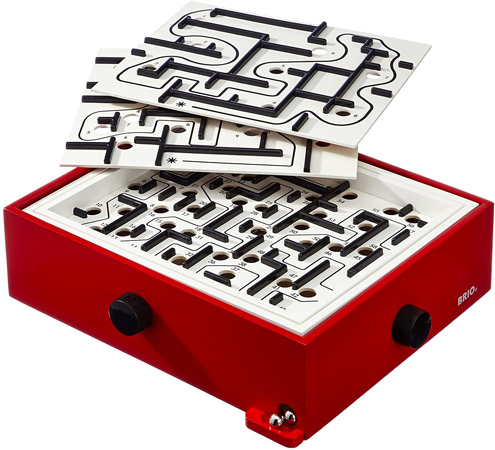 Why we like it: Beautiful traditional game, made of wood which encourages hand-eye coordination.
Sometimes it's nice to get back to basics in this age of interactive electronics, technology and screen time. The Brio Labyrinth is a traditional maze game, which encourages hand-eye coordination. The child must use twisting knobs to tilt the board in order to lead a small ball through a maze.
This requires skill, patience and logic too. It also improves fine motor skills by building up flexibility and the small muscles in the fingers which in turn improves handwriting skills. The Brio Labyrinth is made of wood, adding to the traditional feel and representing an eco-friendlier approach. A lovely gift for a 6-year-old boy who already has all of the modern, technological gadgets!
Pros
Traditional game
Made of wood; more eco-friendly
Encourages hand-eye coordination
Improves fine motor skills
Cons
No storage place for balls
22.
ValueTalks Kids Helmet and Pads Set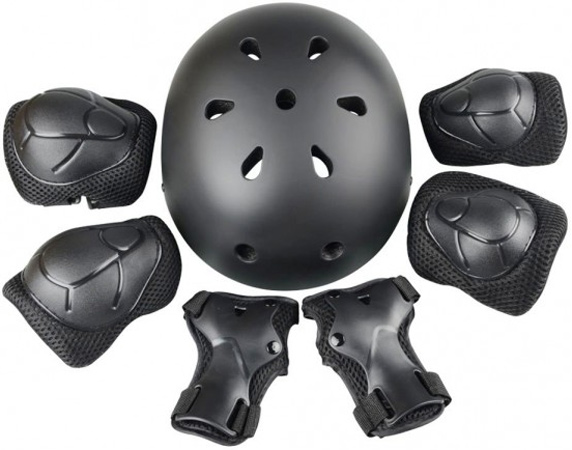 Why we like it: A great add-on gift to keep a child safe as they explore a variety of sports and activities.
If you know that 6-year-old you're buying for has, or is going to be gifted, a scooter, bike or skateboard or is a bit of a daredevil then the ValueTalks Kids Bike Helmet and Pads Set is a great gift to buy to complement that. This set provides all-round protection for participating in a range of sports and activities.
With adjustable straps the set is suitable for children aged 3 to 12 years and is comfortable to wear whilst having hard, robust outer materials so the child remains safe while having fun on outdoor adventures!
Pros
All round protection
Adjustable straps; fits children age 3-12
Suitable for a variety of sports and activities
Hard outer shell yet comfortable to wear
Cons
Only available in two color choices
23.
Rechargeable Laser Tag Set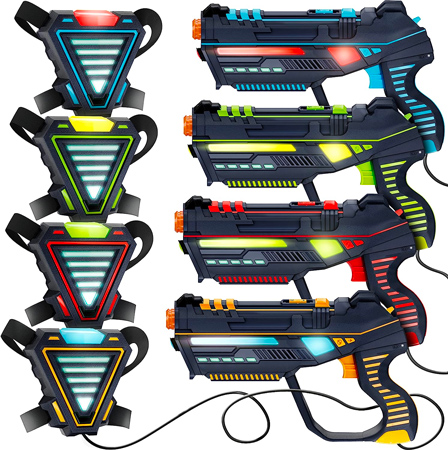 Why we like it:
A laser tag game that includes four blasters and vests so boys can have safe fun playing as a group either indoors or outdoors.
Prepare for a high-energy experience with this awesome laser tag game. Designed to captivate the imagination of six-year-old boys, this thrilling game promises hours of action-packed fun while providing valuable developmental benefits. With its innovative features and immersive gameplay, it encourages strategic thinking, problem-solving and effective communication skills. The set includes all the required gear for four people so it's perfect for playdates or parties. As children engage in team-based battles they learn to cooperate, plan strategies and adapt to different situations.
Equipped with durable laser blasters and vests with built-in sensors, this game will deliver hours of active play. The rechargeable batteries offer extended gaming sessions without the hassle of constant replacements, allowing children to fully immerse themselves in the excitement. It can be played both indoors and outdoors, providing flexibility for playtime. Whether organizing thrilling missions in the backyard or creating epic battles in the living room, young boys will unleash their imaginations and have fun being active.
Pros
Vests with sensors track stats

Includes four sets of gear

Encourages group play

Promotes outdoor activity
24.
Hot Wheels City Gator Car Wash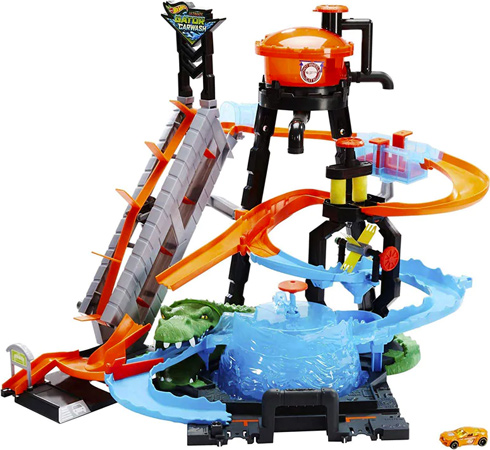 Why we like it: An impressive large-scale car wash toy which helps develop construction and motor skills.
The Hot Wheels City Gator Car Wash is part of the popular Hot Wheels range and can be used in conjunction with other Hot Wheels sets to extend and expand play. This car wash toy is large, with lots of different and exciting features, like color changing components.
Putting the set together helps to improve construction skills and improves motor skills as does pushing cars along in and around obstacles. The Hot Wheels City Gator Car Wash is a great gift for a 6-year-old boy who loves playing with cars and will give him plenty of opportunities to engage in imaginative play.
Pros
Colour change features
Helps develop motor skills
Encourages imaginative play
Improves construction skills
Cons
Large scale toy require space to play and store
25.
Playmobil City Life Furnished School Building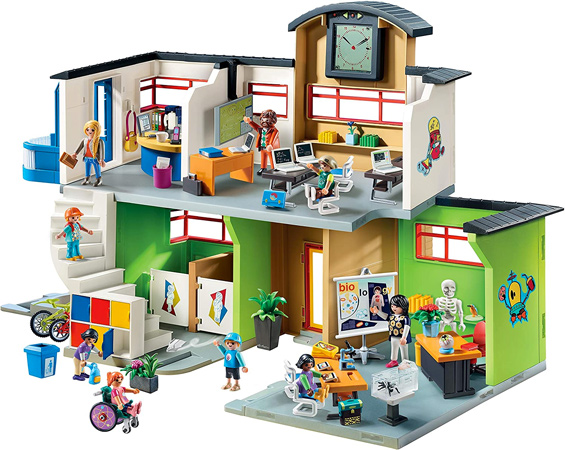 Why we like it: Can be used to encourage imaginative story-telling and play based around children's experience of school.
Whilst children love to play imaginatively, they also enjoy playing with what they know and basing imaginative play on real-life scenarios. The Playmobil City Life Furnished School Building allows them to do just that! Set over two floors with stairs, a lift, and all the furniture and accessories you'd expect to find in a real school, children can apply their real-life knowledge of school and the school day to their play.
When 6-year-old boys are playing in this way they are also improving their speech and language skills as children often use language to tell the story or explain the scenarios they are acting out with figures.
Pros
Can be combined with other Playmobil sets
Encourages storytelling and narration skills
Increases imaginative play
Age appropriate size
Accessories and figures included
Cons
Larger item; requires space to play and store
26.
Cluedo Junior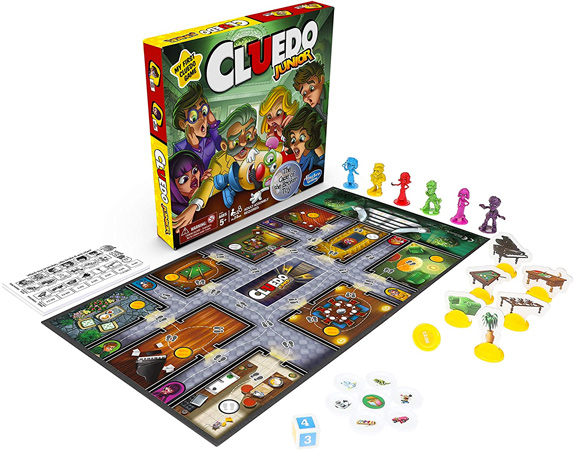 Why we like it: A classic board game which increases critical thinking, problem-solving and logic skills, reimagined for a younger audience.
Cluedo is a great family board game and the Hasbro Cluedo Junior has made a version that's especially tailored to younger children. Removing the violence and murder from the game participants must instead focus on solving who has stolen and eaten cake! This means that it is family friendly, and can be used as part of a family games night or with friends.
Playing with others encourages the development of social skills whilst the game itself focuses on increasing critical thinking, logic and problem-solving skills through careful deduction. This is a game that will last children through until they are mature enough for the original version.
Pros
Tailored to younger children
Increases critical thinking, logic and problem-solving
Encourages social skills
Can be played with family
27.
Monsters Paint Set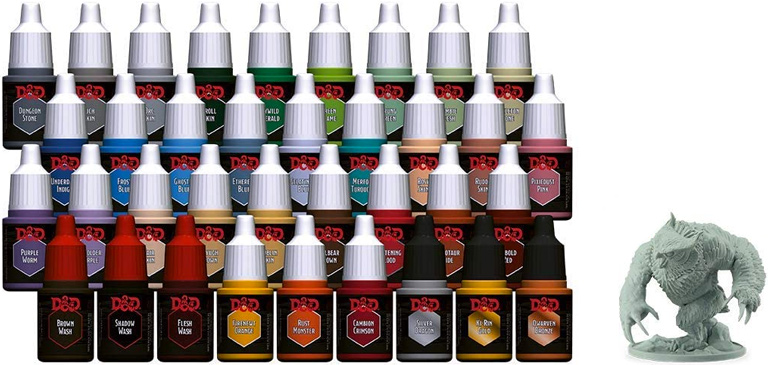 Why we like it: Careful model painting to produce small figures that can be used for imaginative play.
Sold as an expansion set, the Monsters paint set allows children to paint small models to play with. The set includes 36 paints which are non-toxic and safe for children to use. In painting on a small-scale figure, children can not only exercise their creativity but also hone their fine motor skills by focusing on small details and exercising the tiny muscles in their fingers which make significant contributions to writing skills.
6-year-old boys will enjoy the rewarding process of painting their own models and then using them for imaginative small-world play.
Pros
36 paints included
Safe and non-toxic
Improves creativity
Encourages imaginative play
Hones fine-motor skills
28.
Smart Games IQ Puzzler Pro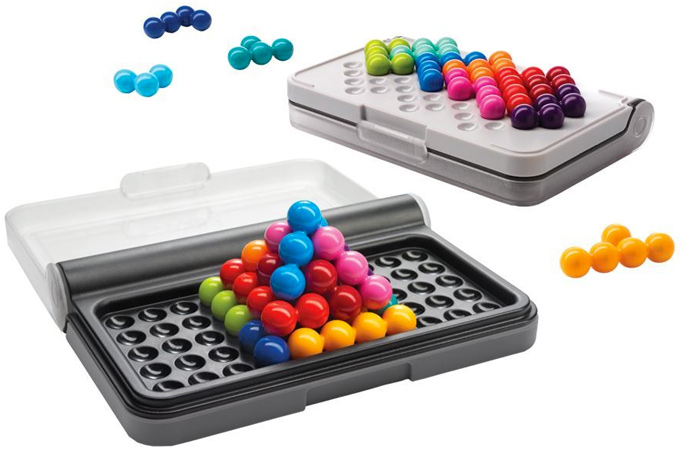 Why we like it: Increase logic skills with this compact set of challenges.
6-year-olds are at a stage where their cognitive abilities are expanding very rapidly, which explains why they interested in anything and everything and have so many questions about life. The Smart Games IQ Puzzler Pro is a set of 101 different logic puzzles and challenges. The challenges become progressively harder so the child can continue to build their skills.
The set provides storage for all the materials needed for the challenges and is compact and portable making it ideal to take along on car journeys or to restaurants to make waiting time less boring!
Pros
101 different challenges
Becomes more challenging
Improves logic and problem-solving skills
Storage for all materials
Compact and portable
Cons
Lots of small pieces, may get lost
29.
Minecraft Core Player Survival Pack Action Figure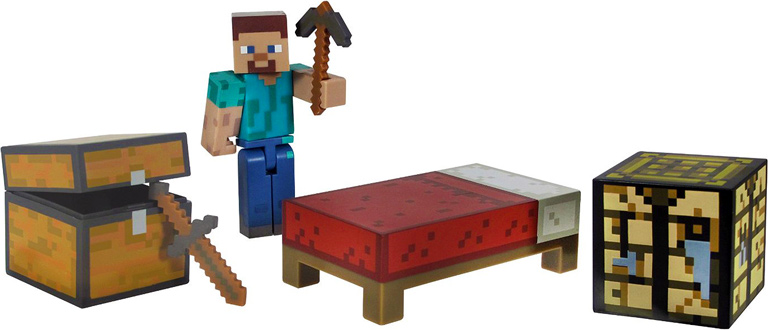 Why we like it: A physical toy based on the popular video game to encourage imaginative play.
Minecraft is incredibly popular with young children and many are fans, either because they play the game themselves or watch others playing it. If you're looking for a gift for a 6-year-old boy who is a fan of the Minecraft computer game, but don't want to buy a digital product, then the Minecraft Core Player Survival Pack Action Figure might be a good bet.
The Minecraft Core Player Survival Pack Action Figure is an action figure and accessories based on the Minecraft game, so it is a physical product that children can play imaginatively with, using storytelling skills to recreate scenes and scenarios from the video game.
Pros
Recreates scenes from a popular video game
Encourages imaginative play
Promotes storytelling skills
Increases social play
Final words
This collection of toys and gifts for 6-year-old boys has a wide and varied selection of products which play into children's different interests and needs. All of them promote different types of development and skills without necessarily being overtly educational.
As you search through this list looking for the perfect gift for the 6-year-old boy you are buying for, hopefully you have been inspired to consider a few different options that you may not have heard of before or thought of gifting.
Need more inspiration?