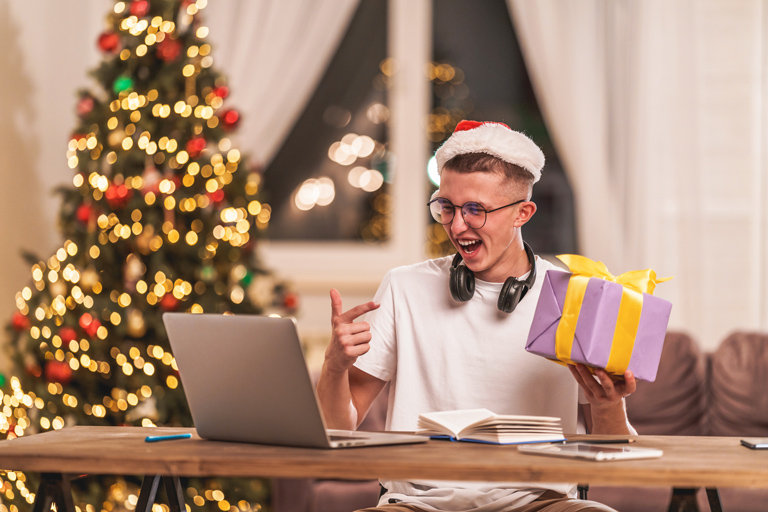 If you've got a 16-year-old boy on your Christmas list this year and you're struggling to choose the right gift, your life is about to get easier. We've pulled together a handful of high-quality, teen-approved gifts that will undoubtedly be a Christmas morning hit.
From innovative tech gadgets that fuel their hobbies to fashionable apparel that mirrors their unique style, every item on this list of 17 trending Christmas gifts for 16-year-old boys is going to be a gift that will make this Christmas one to remember.
1.
Instant Print Digital Camera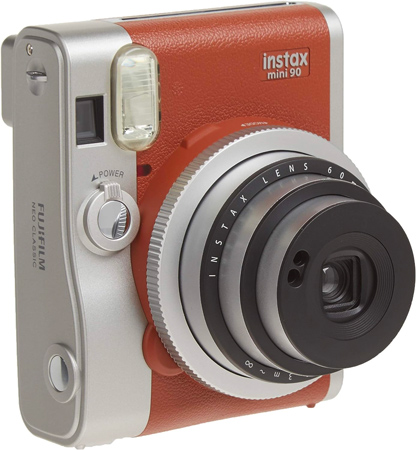 If you're Christmas shopping for a 16-year-old boy who enjoys photography, this instant camera is going to be a Christmas gift that he'll be excited to open. The Fujifilm Instax Mini 90 is designed to look like a vintage camera but functions as a digital camera that instantly prints pictures.
Creative photography is at the forefront of the features of this camera with built-in modes like macro and double exposure. The high-performance flash means even shots in low light will come out looking just the way he intended.
The photos print straight from the camera and come out about the same size as a credit card so they're perfect for keeping in his wallet to remind him of all the good memories he's shared with friends and family.
2.
Professional Art Marker Set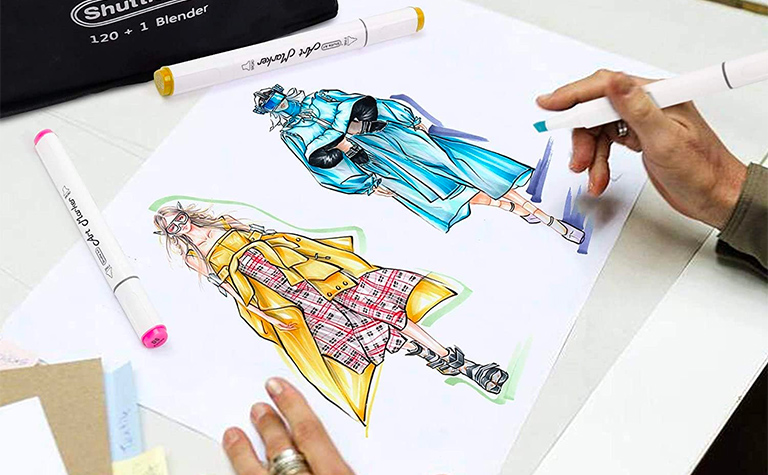 If you're on the hunt for a Christmas gift for a 16-year-old boy who's passionate about art, consider this set of 121 dual-tip art markers. Each marker features a fine tip for precise detailing and a broader tip for filling in larger areas.
The collection encompasses a spectrum of vibrant colors, from soft pastels to deep, rich shades. With alcohol-based inks, these markers offer smooth blending capabilities, allowing him to master the nuances of shading and gradients. Packaged in a convenient carry case, his artistic tools will always remain organized, making it easier for him to dive into his next masterpiece.
3.
DJ Learning Starter Kit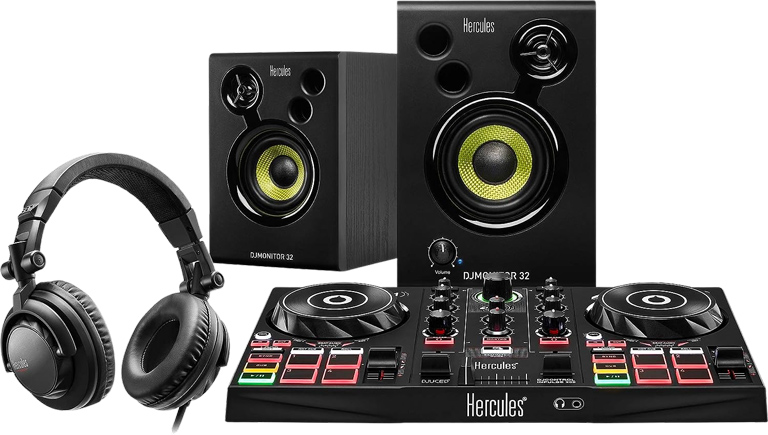 Shopping for a 16-year-old boy with a passion for music? This DJ starter kit would make his heart skip a beat when he sees this under the Christmas tree.
Designed for beginners, the kit combines user-friendly features with advanced tools, allowing him to produce everything from basic mixes to complex soundscapes.
Included with the kit are speakers, noise-canceling headphones and a DJ board with two decks. He'll have all he needs to experiment with various effects, merge tracks and hone the skill of scratching. This gift not only celebrates his love for music but also provides a platform for potential growth, whether as an intense hobby or the early stages of a professional journey into the world of DJing.
4.
Streaming Video Web Camera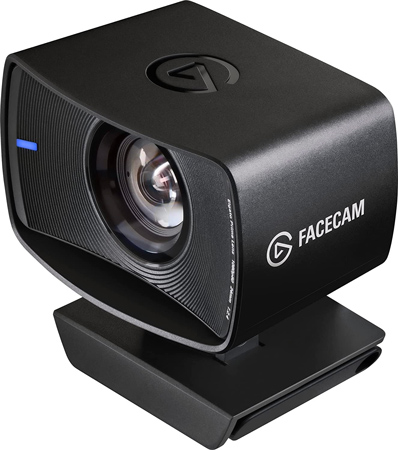 Interacting online is an inevitable hobby of most 16-year-old boys and this Christmas gift is going to make sure he looks good while he's doing it. The Elgato Facecam is the optimal fusion of cutting-edge tech and user-centric design.
Crafted specifically for streaming and video conferencing, it features full HD resolution ensuring crystal-clear image quality. The prime lens coupled with the advanced image sensor guarantees true-to-life colors, which is essential for a teenager looking to make a mark in the digital landscape.
The device's ease of setup ensures even those new to webcams can quickly get started. With the potential to elevate his gaming streams, online classes, or just casual video chats, this gift is going to be a game-changer for his online videos.
5.
Dynamic RGB Gaming Keyboard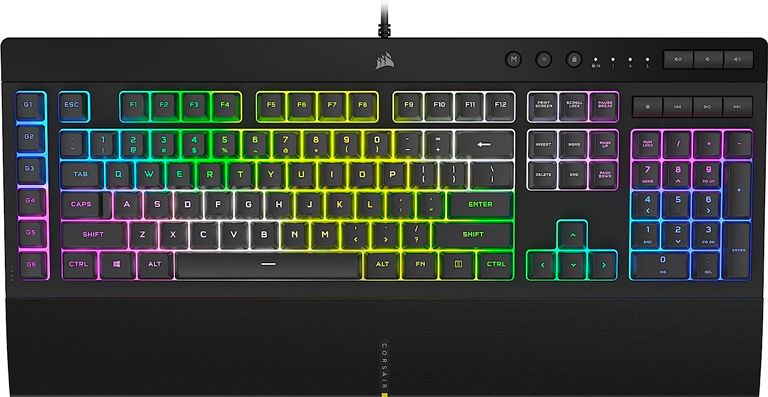 Upgrade the gaming setup for the 16-year-old boy you're Christmas shopping for with this impressive gaming keyboard. Recognized for its dynamic RGB backlighting, it offers immersive lighting effects that sync with his in-game actions. The keyboard features six dedicated macro keys for enhanced gameplay, giving him an edge in competitive matches.
It's also spill-resistant, so no more worrying about spilling his energy drinks on the keyboard and ending his gaming marathons. Quiet and responsive keys ensure that every keystroke is registered without the clattering noise. If gaming is his passion, this gift is going to be an epic win.
6.
Wood Spoon Whittling Kit

This Christmas, inspire the 16-year-old craftsman in your life to dive into the art of wood carving. This Celtic spoon-carving set serves as an ideal introduction, offering all the essentials to kickstart his journey.
Each tool is thoughtfully designed with ergonomics in mind, ensuring a comfortable grip and precise control as he carves. The high-quality carbon steel blades stay sharp, helping him achieve smooth cuts and detailed patterns. Whether he's crafting a unique spoon as a personal project or considering wood carving as a potential hobby, this set equips him with everything he needs.
7.
Portable Ping-Pong Set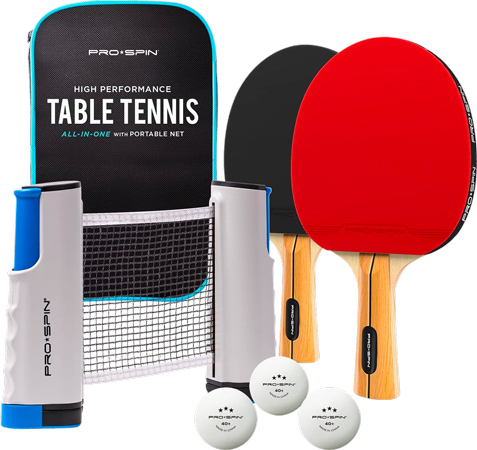 For the 16-year-old boy who thrives on competition and enjoys a fun challenge, this portable ping-pong game would make an exciting Christmas gift.
Expertly designed for both enthusiasts and novices, this set brings the thrill of table tennis directly to any tabletop. Complete with a retractable net, two paddles and three balls, it sets up in seconds, transforming ordinary tables into arenas of exhilarating matches.
The compact design and carrying case means it can be taken to a friend's house, the park, or even on vacation. Perfect for spontaneous matches or planned tournaments with his friends, it promises countless hours of spirited gameplay for the young man who likes to have fun.
8.
Slimline Hydration Running Belt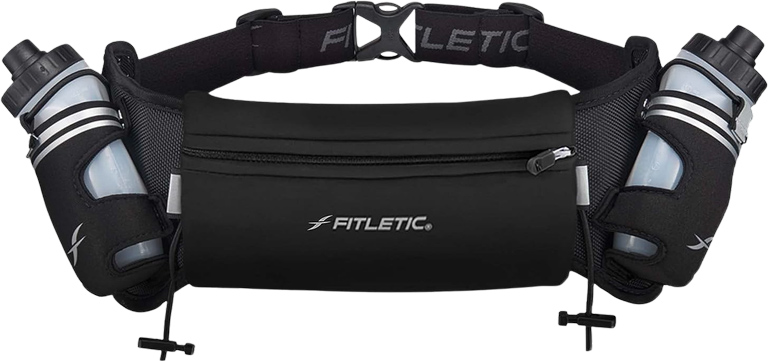 For the 16-year-old boy who's always on the move, this running belt will be a thoughtful gift that he'll get a lot of use out of. Designed specifically for the avid runner or outdoor enthusiast, this belt is an ideal companion for his runs, hikes, or other outdoor adventures.
The belt is not just about convenience, it also prioritizes hydration with two 8oz water bottles that fit snugly into its holsters. Multiple pockets ensure his essentials, like keys, money, or even a smartphone, are secure and accessible.
The adjustable fit ensures comfort, while the silicone grippers keep it from bouncing. Reflective accents enhance visibility for those early morning or late evening jaunts. This gift blends practicality and innovation and it's one he'll surely appreciate.
9.
Waterproof Athletic Slide Shoes

This useful Christmas gift is a great choice for the 16-year-old athlete in your life. These athletic shoes by Nike are designed with ease and comfort in mind. The slim, easy-to-slide-on design makes these shoes perfect for keeping in his gym bag.
Made with a cushioned footbed, they ensure maximum comfort after an intense game or during casual outings. The textured sole offers a firm grip, whether he's walking around a slippery locker room or hitting the beach with friends. After a long game wearing his tight soccer cleats or after repping it out at the gym, he's going to appreciate having these shoes ready to slide into.
10.
Non-Slip Yoga Mat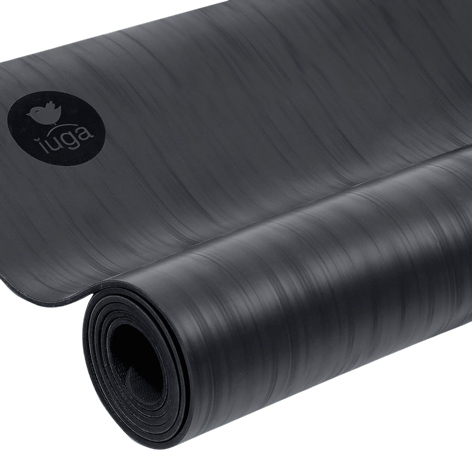 Give a Christmas gift that will support a 16-year-old boy's wellness lifestyle with this non-slip, performance yoga mat. Durable yet lightweight, this extra-large mat is designed to support his poses without adding bulk to his gym kit.
The ultra-non-slip surface ensures a secure footing, whether he's in a challenging plank or a tranquil meditation pose. Constructed from eco-friendly material, the mat also speaks to the environmentally conscious teenager. Plus, the included carrying strap adds to its portability, making it a cinch to bring to classes or impromptu park sessions.
11.
Spicy Designer Cologne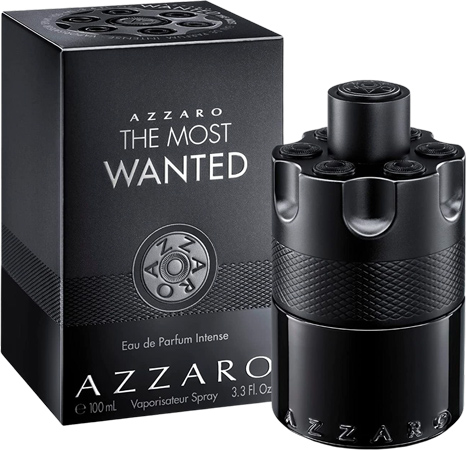 For the 16-year-old boy ready to mark his transition into adulthood, this cologne by Azzaro makes for an impressive Christmas gift. Named, The Most Wanted, this eau de parfum is crafted with a captivating blend of ingredients that speak volumes about confidence and charisma. With top notes that resonate with smokey woods, it dives deeper into a heart of cardamom, embodying a sophisticated yet energetic aura.
Its base notes of amber wood and caramel accord provide a warm, lasting impression that is sure to turn heads. Presented in a unique bottle reminiscent of a revolver cylinder, it symbolizes the lively spirit of youth. He'll feel, and smell, like a whole new man with this Christmas gift.
12.
Vegan Leather Toiletry Bag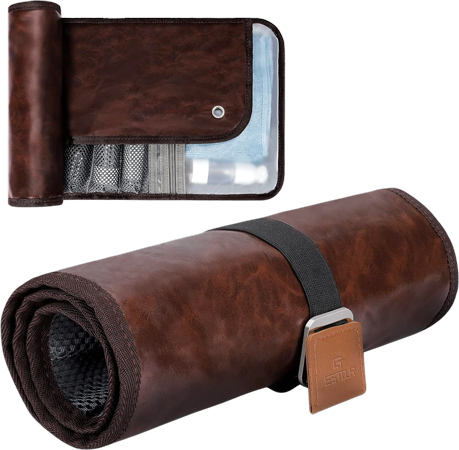 This luxury toiletry bag is an excellent Christmas present idea if you're shopping for a 16-year-old boy gearing up for new adventures, whether it's college, travel, or just heading to the gym.
Elegantly crafted from vegan leather, this toiletry bag exudes a sense of maturity and style. The unique roll design allows it to be rolled out flat, making all the contents easy to reach without digging in a deep pocket like traditional toiletry bags.
It features individual mesh pockets to keep things organized and has a separate waterproof zippered pocket to hold items that might accidentally spill and cause a mess. He'll be proud to use this gift as he continues his journey into manhood.
13.
Designer Sporty Sunglasses
Elevate a 16-year-old's fashion game this Christmas with these classic sunglasses by Oakley. These cool shades not only enhance his style but also promise unparalleled optical clarity.
The matte black frame, paired with the non-polarized black lenses, provides a sleek and contemporary look while also ensuring protection from harmful UV rays. Plus, the iconic Oakley branding on the temples adds an element of prestige to his ensemble. Whether he's hitting the beach, driving around town, or just out with friends, these sunglasses assure him both style and protection.
14.
Double Row Leather Bracelet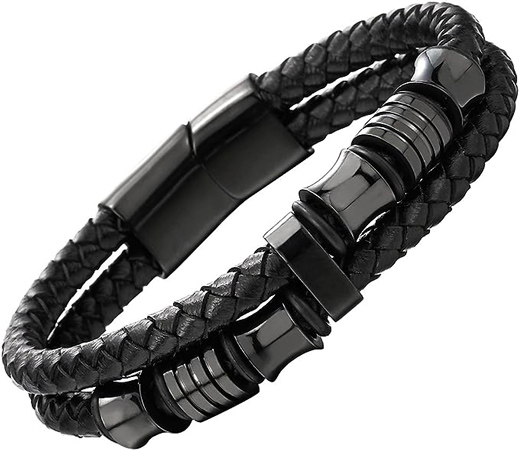 This Christmas, give the gift of edgy style to the 16-year-old on your list. This genuine leather bracelet is both classic and contemporary. The double-row design makes this a statement piece he'll love wearing.
The braided leather rows are accented with sleek black stainless steel elements, making it the epitome of refined masculinity. Made to fit comfortably on various wrist sizes, its adjustable design and magnetic clasp make it both practical and stylish. It's a piece he can sport on regular school days or when catching up with friends on weekends, ensuring he always looks effortlessly put-together.
15.
Tech Accessory Organizer Bag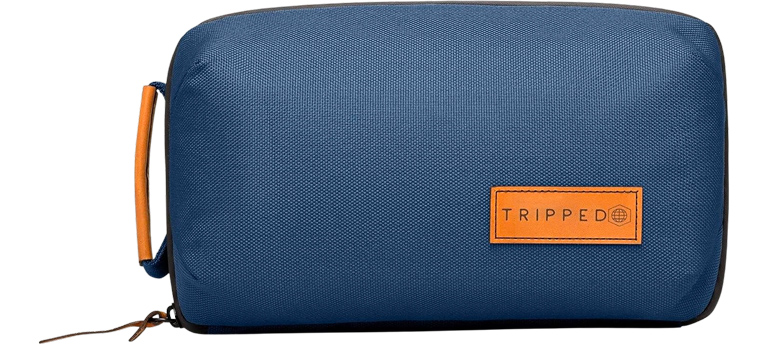 Shopping for a tech-savvy 16-year-old boy? Choose a Christmas present that aligns seamlessly with his digital lifestyle. This stylish tech bag offers an organized solution for storing all of his essential electronics and accessories.
From cables and chargers to USB drives and SD cards, this compact pouch accommodates it all with its multiple compartments and elastic loops. The water-resistant material guards the contents against unexpected spills, ensuring his gadgets stay safe.
It's available in six beautiful colors, including black, navy, green, gray, red and teal. Being lightweight and slim, it's perfect for slipping into a backpack so he can have all his tech accessories with him wherever he goes.
16.
Long Drawstring Workout Shorts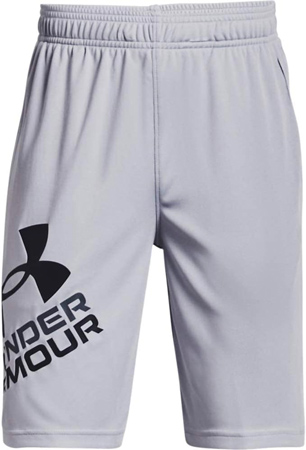 Empower the fitness-driven 16-year-old in your life with a Christmas gift tailored to his active lifestyle. Under Armour's workout shorts are the perfect companion for his rigorous training sessions and casual outings alike. Crafted from lightweight and breathable fabric, these shorts promise optimal comfort and unrestricted movement.
The moisture-wicking technology ensures he remains cool and dry, no matter the intensity of his workouts. Featuring an adjustable drawstring waistband and convenient pockets, they provide both a secure fit and practical storage. The understated design is versatile, pairing well with any athletic or casual wear. If the teen you're shopping for loves to work out or just lounge around in comfort, this is the gift for him.
17.
Funny Star Wars T-shirt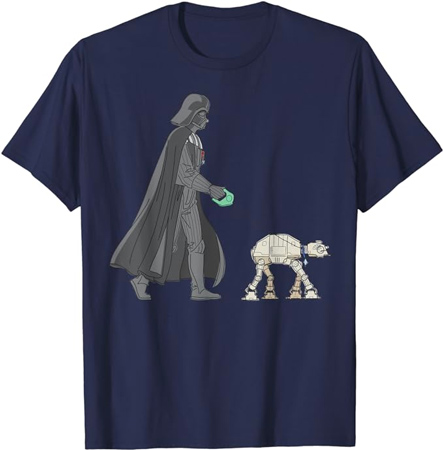 Gift the Star Wars enthusiast in your life some humor this Christmas. This funny t-shirt shows Darth Vader not as the fearsome Sith Lord, but in a light-hearted way, walking the iconic AT-AT like a pet! Made of soft, quality fabric, the shirt ensures all-day comfort while making a hilarious statement.
Its vibrant print retains its quality even after multiple washes. Ideal for casual outings or themed parties, this tee is sure to spark conversations and laughter among fellow fans. Whether he's a die-hard Star Wars admirer or simply enjoys a good laugh, this shirt will undoubtedly become a favorite in his wardrobe.
Need more inspiration?