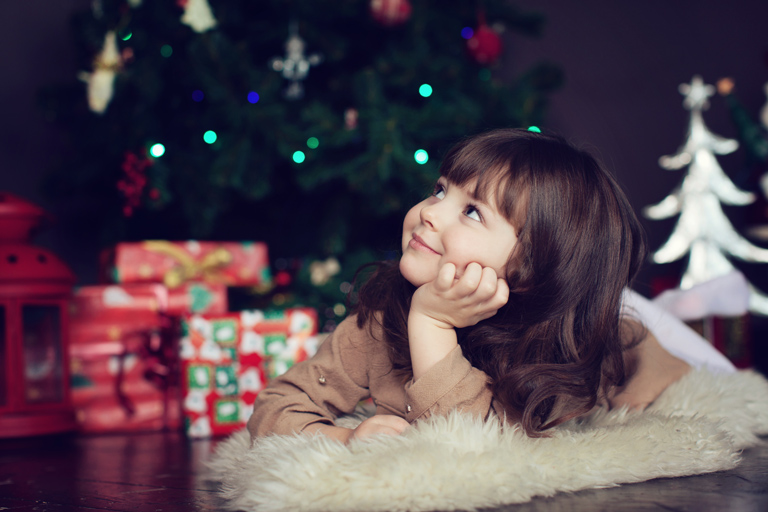 Selecting the ideal Christmas present for a spirited 3-year-old girl is both exciting and challenging, given her ever-evolving interests and boundless energy. At this age, girls are exploring the world, developing their skills and shaping their unique identities.
We've created this list of top 16 Christmas presents for 3-year-old girls so you can choose a gift that aligns with her developmental milestones and inspires her imagination. Whether she's a future doctor, loves role-playing or likes to play dress-up, this guide is full of ideas that will make this Christmas morning one she'll remember.
1.
Wooden Tea Party Set
For the special 3-year-old in your life this Christmas, you won't regret choosing this adorable wooden tea party set. This Montessori-approved set promises to captivate her imagination and develop her social skills. It comes complete with cups, saucers, teapots and cutlery. All the pieces are made from high-quality wood and finished with non-toxic paint.
Not only is this set visually appealing, but it also offers a tactile experience, enhancing her sensory development. Whether she's hosting tea parties with her stuffed animals, friends, or family, she'll engage in role-playing, storytelling, and so much more. In addition to countless hours of fun, the set introduces her to concepts of sharing, etiquette, and interactive play.
2.
Portable Personal Karaoke Machine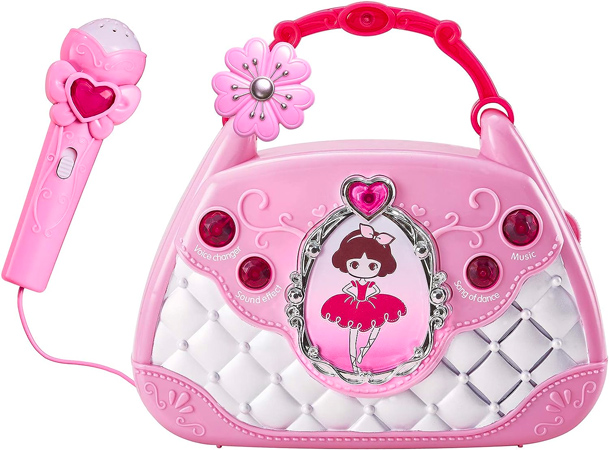 This holiday season, let a 3-year-old girl explore her musical side with this vibrant pink portable karaoke player. More than just a singing toy, it offers a full-fledged musical adventure. With its accompanying microphone, she can belt out her favorite tunes or even experiment with her own songs.
Tailoring her own performances with the different built-in beats and tunes will not only nurture her creative spirit but also bolster her self-esteem. And while she's having a blast singing, she'll be picking up on essential auditory and rhythmic skills, setting the stage for her future as a pop princess.
3.
Unicorn Removable Wall Decals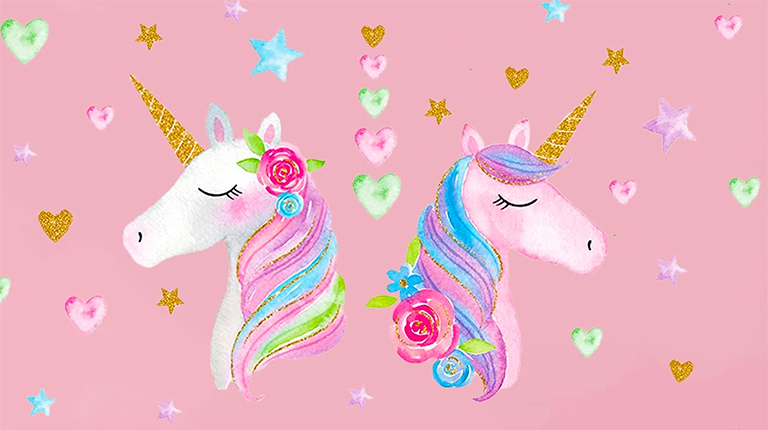 Transform a 3-year-old girl's room into a magical haven with these unicorn wall decals. The set includes unicorns, stars and hearts, making them perfect for a little girl's room. Their vibrant hues and intricate designs capture the spirit of fantasy, allowing her to immerse herself in a world of imagination and wonder right within the comfort of her room.
These decals are a fun way for her to help decorate her own space. Each decal easily adheres to the wall and can be removed without causing permanent damage. With this Christmas gift, she'll be able to channel her inner artist, creating a beautiful wall mural that she'll be proud to see every day.
4.
Table and Chair Set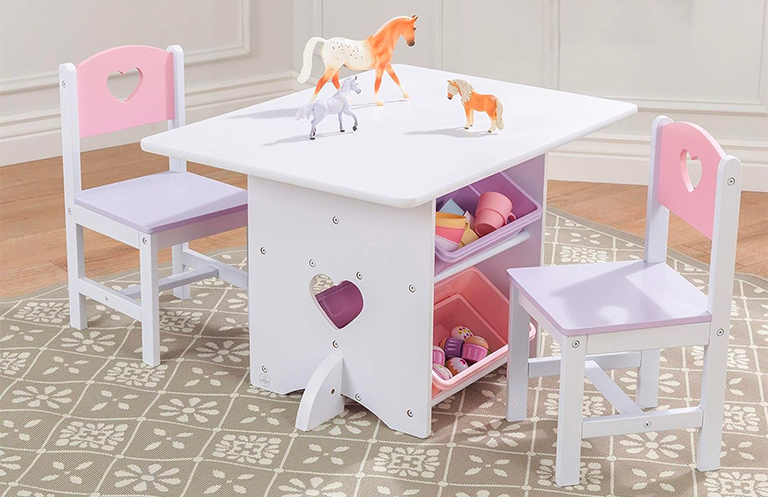 If you're looking for a Christmas gift that will get daily use, any 3-year-old girl is going to love this table and chair set. Perfectly sized for little girls, this will be her new favorite place to color, have tea parties or eat her afternoon snacks.
The table and two matching chairs are made of durable wood and finished in stain-resistant paint that easily wipes clean. Under the table are four plastic bins that are great for storing her toys or arts and crafts supplies. The bins also make clean-up time easier so she can do it all by herself.
5.
Plush Elephant Star Projector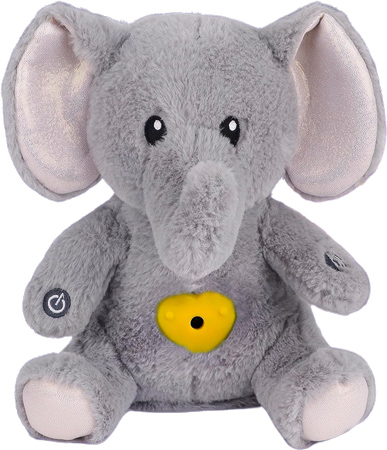 For the 3-year-old girl who loves a touch of magic in her room, this star projector would make a great Christmas gift. At first glance, it looks like a stuffed elephant toy but when it's turned on it transforms her room into a starry wonderland, making bedtime a captivating experience. In addition to projecting stars, it also plays calming lullabies to ensure a restful night's sleep.
This projector can also be an early introduction to the universe, sparking curiosity about stars and space. The added benefit of the soothing lullabies can play a role in establishing a bedtime routine that she actually looks forward to.
6.
Magic Snack Time Doll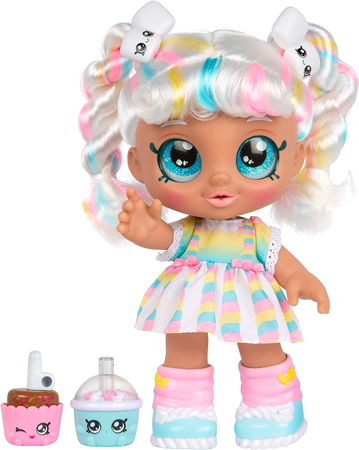 For the 3-year-old girl with a budding imagination, this snack time doll is a splendid Christmas gift option. Dressed in vibrant and fashionable outfits, this doll captures the essence of a bubbly preschooler with her big glittery eyes and colorful hair.
This isn't just a doll for pretend play, she also features a delightful snack time experience. She comes with snack accessories like a bowl of cereal, allowing young ones to feed her and watch as she really eats her magical snacks. This interactive feature not only amplifies playtime fun but also helps in fostering nurturing behavior in children.
The doll's head even wobbles, adding to the fun and making her seem alive. This is a toy she'll love to take care of, feed and play with.
7.
Minnie Mouse Fashion Doll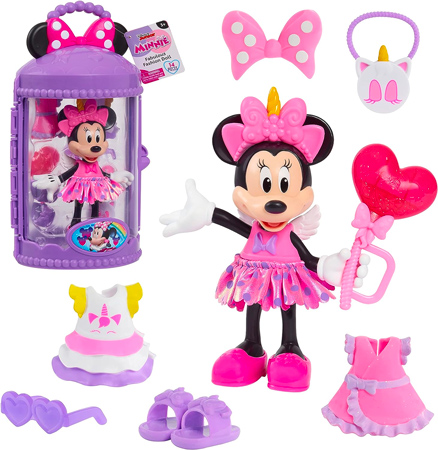 This Christmas, surprise a 3-year-old girl with the gift of endless styling adventures with this Minnie Mouse doll. Dressed in her iconic polka-dot dress, this Minnie Mouse doll comes with additional outfits, allowing her to explore various fashion combinations.
With interchangeable dresses, shoes and bows, young fashionistas can express their unique styling skills, mixing and matching to create the perfect look for Minnie. Not only will this engage her in imaginative play, but it will also help develop her fine motor skills and encourage an interest in fashion. The doll even has movable arms so Minnie can strike a pose as she shows off her new outfit.
8.
Wooden Dollhouse with Furniture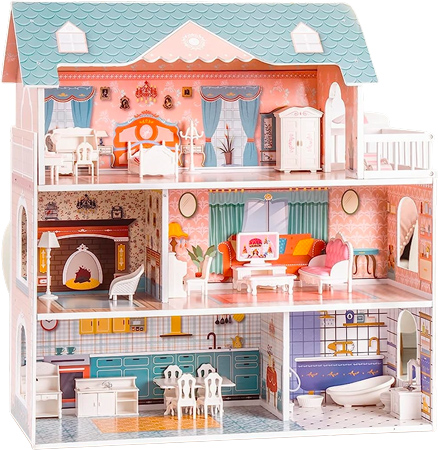 Here's a Christmas gift idea that is guaranteed to make a big impression. Transport the 3-year-old girl you're shopping for into a miniature world of imagination with this amazing dollhouse. Complete with detailed furnishings for each of its three floors, this dollhouse offers young girls a hands-on exploration of interior design. Each room is carefully crafted, allowing her to arrange and rearrange, providing a beautiful stage for the countless stories she's sure to create.
As she engages with this playhouse, not only does she delve deep into imaginative play, but she's developing spatial reasoning and organization skills. The open-sided design encourages group play, fostering communication and sharing with friends or family members.
9.
Medical Cart Play Set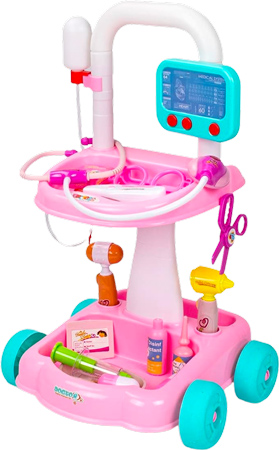 For the imaginative 3-year-old who likes to take care of everyone around her, this pretend medical cart is a Christmas gift she'll love. With its range of realistic medical tools and equipment, she can embrace her inner physician and engage in interactive role-playing. The cart is thoughtfully designed with separate compartments, enabling her to organize her medical instruments when she's done playing.
As she wheels her medical cart around, attending to her patients, she's not just immersed in play, she's also developing empathy, communication skills, and an understanding of the importance of caregiving. The stethoscope, syringe and other tools not only enhance her pretend sessions but introduce her to basic science concepts. This is an adorable set that will provide hours of fun and could encourage her to grow up and become a doctor.
10.
Pretend Play Smartwatch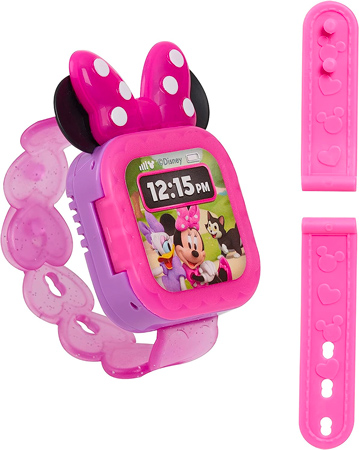 If you're shopping for a 3-year-old girl who loves Minnie Mouse, this pretend smartwatch is going to be her new favorite accessory. Designed with Minnie's signature charm, this watch features vibrant lights and realistic sounds that immerse her in the magical world of Disney. It comes with two watch straps that can be switched to match her outfits.
Opening the watch cover and pressing the buttons to play sounds will help develop her fine motor skills and while it doesn't actually keep time, it is a great introduction to learning about telling time. The pink straps and the watch face that features Minnie's iconic bow and playful polka dots make this the perfect first watch for a young girl who loves all things Minnie Mouse.
11.
Princess Dress-Up Trunk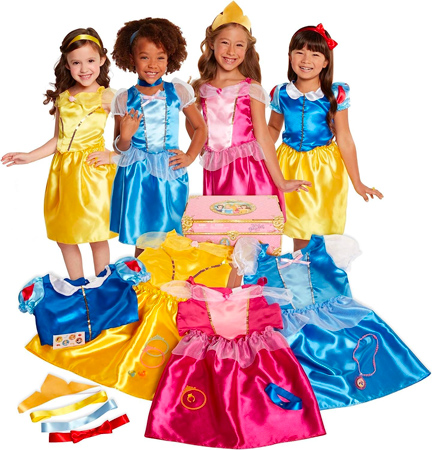 For a 3-year-old girl who dreams of fairy tales and magical kingdoms, this set of princess dresses will have her looking like royalty on Christmas morning. Drawing inspiration from some of Disney's most iconic princesses, this collection captures the enchantment and magic of pretending to be her favorite character. Each of the four dresses mirrors the elegance and charm of princesses like Aurora, Belle, Cinderella, and Snow White.
Included with the set is also an array of accessories like tiaras, necklaces and headbands to complete the outfits. The cute trunk that everything comes in can be used to store her new dresses and accessories or it can be used as a toy trunk. This is definitely a Christmas gift that's fit for a little princess.
12.
Bean Bag Toss Game
Ignite the spirit of friendly competition this Christmas by gifting a 3-year-old girl this fun bean bag toss game. Designed with lively animal illustrations, this game is sure to have her engaged in hours of physical activity.
It can be used inside or outside and folds up small so it's great for taking to the park. One side of the game features a bean bag toss and the other features a ball toss with a colorful target to aim at. The balls are covered in velcro so they easily stick to the target.
Playing these games will not only teach about good sportsmanship but will also improve her hand-eye coordination. Whether she's playing solo, challenging family members, or enjoying a sunny afternoon with friends, this game will provide tons of skill-building fun.
13.
Peel Off Nail Polish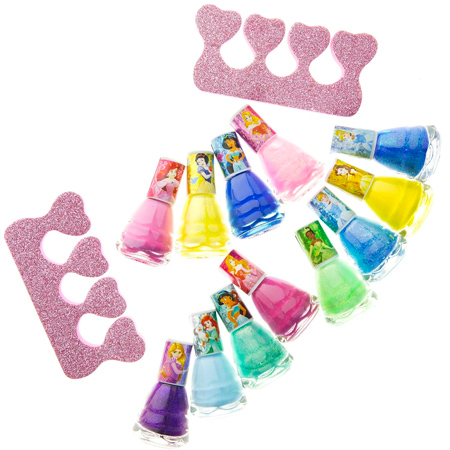 If you're Christmas shopping for a 3-year-old girl who loves to get glammed up, this set of peel-off nail polish is going to have her excited. It includes 12 bottles, each a different color. Each bottle features a different Disney princess, making the selection process even more engaging. The fast-drying, peel-off formula ensures that she can easily switch between colors.
Beyond the fun of decorating her nails, the process fosters creativity, patience and precision. The non-toxic formula prioritizes her safety, allowing her to experiment and play with peace of mind. Whether she's hosting a nail art party with friends or simply exploring her personal style, this nail polish set promises to be a gift she's going to love.
14.
Magnetic Dress Up Dolls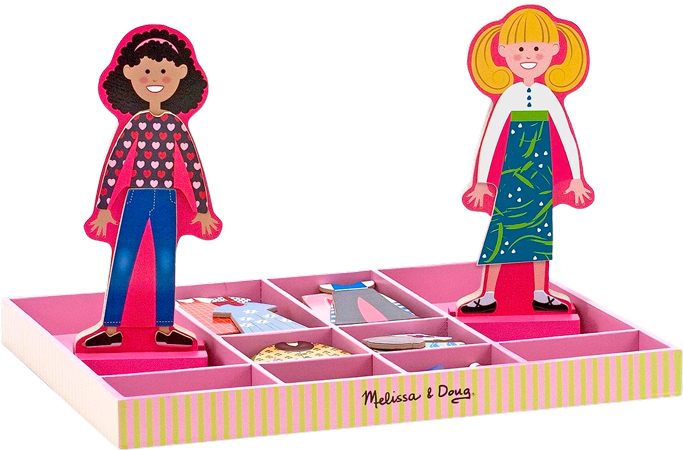 For a 3-year-old girl eager to dive into the world of fashion, this magnetic dress-up doll set would be a wonderful Christmas gift idea. This set opens up a world of imaginative play, as she has the freedom to mix and match outfits on the wooden figures, creating countless stylish combinations. With over 56 magnetic pieces to choose from, including dresses, shoes and tiaras, she can design outfits that resonate with her unique sense of style.
Each piece effortlessly sticks to the wooden doll, ensuring a smooth play experience. Beyond just the fun of dressing up the doll, she's improving her cognitive and motor skills, learning about coordination and nurturing her artistic flair.
15.
Light Up Musical Snow Globe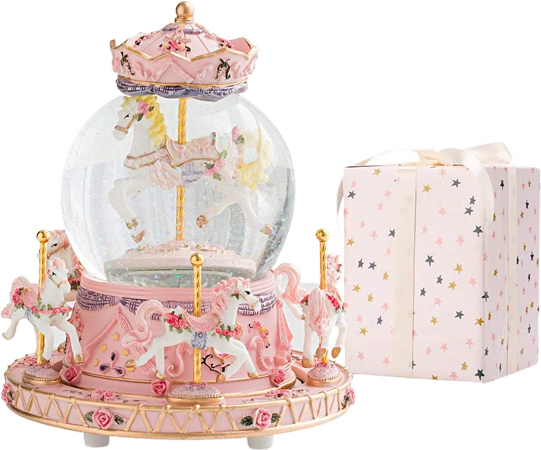 This classic gift would make a magical Christmas present for a lucky 3-year-old girl. This stunning snow globe lights up in colorful lights while it plays music and spins. Nestled within its clear dome is a beautifully crafted carousel horse, standing poised and ready to leap into the imagination. When shaken, the swirling glitter falls around the horse like Christmas snow.
This would look so darling sitting on her nightstand where it can softly play its music to relax her as she drifts off to sleep. This is a gift she'll keep for the rest of her life. It even comes in its own gift box so it's a stress-free gift that will not disappoint.
16.
Realistic Newborn Baby Doll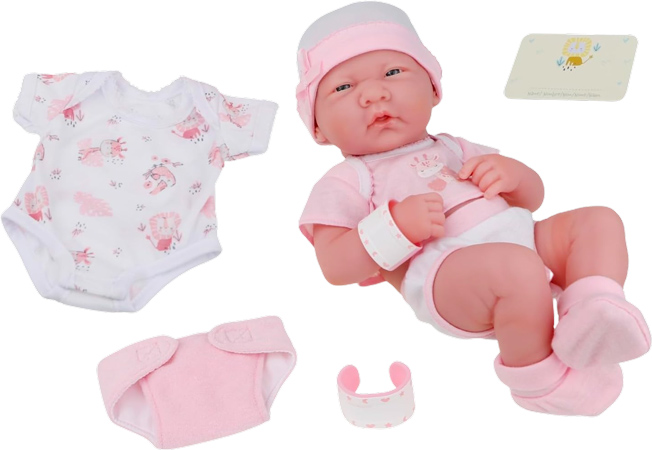 If you're Christmas shopping for a 3-year-old who loves dolls, she is going to love this one. This exquisitely detailed newborn doll is skillfully crafted to resemble a real baby, complete with an innocent gaze and life-like facial features.
She'll be thrilled to hold a baby that feels real, thanks to the soft vinyl skin and movable joints that can be positioned in various realistic poses. Dressed in a charming pink ensemble, the doll also comes with an assortment of accessories, including a diaper, booties, and a hospital bracelet.
Beyond just play, this baby doll helps nurture a young girl's empathy, responsibility and caregiving instincts. There's no doubt she's going to be over the moon when she opens up this gift on Christmas morning.
Need more inspiration?