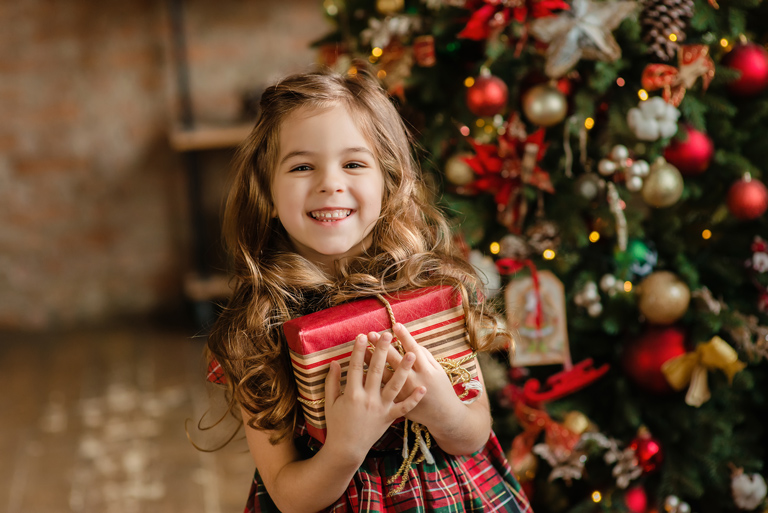 Hitting a wall trying to choose a Christmas gift for a 5-year-old girl? You probably thought you'd just grab any toy off the shelf and call it done but now that it's time to choose, you see there might be a little more to it.
With her interests constantly evolving it's hard to keep up with what she still thinks is cool. That's why we've pulled together this list of 15 winning Christmas gifts for picky 5-year-old girls. Pick up one of these kid-approved presents and you'll be the holiday hero that gave her the gift she can't stop talking about.
1.
Light Up Mermaid Barbie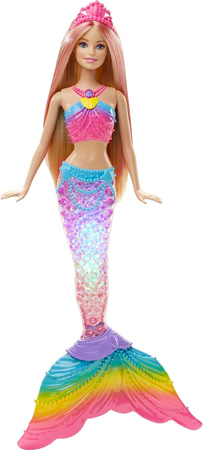 Delight the mermaid-loving 5-year-old girl you know this Christmas with the enchanting Barbie Dreamtopia Mermaid. A delightful feature in her toy collection, this Barbie captivates with a stunning light show contained within her translucent purple tail. The light show springs to life with a simple button press or by immersing Barbie in water.
Adorned with pink highlights in her hair and a royal tiara, Barbie's spellbinding mermaid appearance fuels countless hours of imaginative play. This charming mermaid Barbie, with her vivid details and interactive light show, is poised to transform ordinary playtime into a mesmerizing undersea adventure.
2.
Magnetic Block Tile Set

This Christmas, encourage the creativity of a 5-year-old girl with these enthralling magnetic building blocks by Coodoo. An exciting blend of fun and learning, this set encourages young girls to explore shapes, geometry and architectural design.
Including 30 pieces, the set offers limitless possibilities for construction, allowing her to build anything from shapes to skyscrapers. The pieces attach with ease, thanks to the strong, high-quality magnets, ensuring stable builds and promoting fine motor skills.
This building set is not only compatible with other similar sets for expanded play but is also made of non-toxic plastic, prioritizing her safety. Durable, educational and a whole lot of fun, these magnetic building blocks promise to be a gift that inspires imagination and creativity.
3.
Spill Proof Water Bottle
Liven up the festive season for a 5-year-old girl with the CamelBak unicorn water bottle. This delightful Christmas gift is both functional and fun, designed to bring a sprinkle of magic to every sip. The charming unicorn-themed artwork will transport her into a world of mystical creatures and rainbows. The water bottle is easy for little hands to operate with a simplified straw and bite valve that requires no tipping.
Made from durable, dishwasher-safe materials, it promises to withstand everyday adventures. Its leak-proof design ensures mess-free journeys, while the convenient carry handle makes it perfect for on-the-go. Hydration becomes an exciting experience with this cheerful water bottle, a gift that she will reach for every day with a smile.
4.
Unicorn Plush Toy Backpack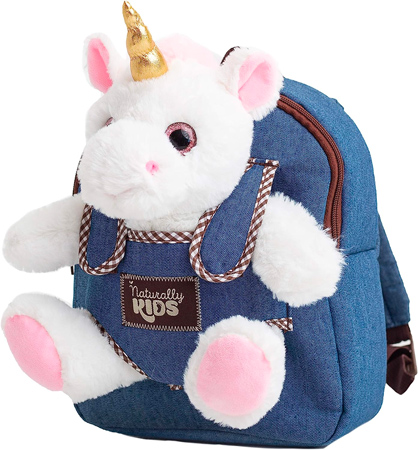 This Christmas, bring a double dose of joy to a 5-year-old girl with this delightful denim mini backpack, accompanied by an irresistibly cute plush unicorn. Tailored to her petite frame, this lightweight backpack will be comfortable for her to carry, all while providing ample room for her essential treasures. The soft, squeezable unicorn plushie with metallic gold horn rides along in a dedicated front pocket, so her new friend can join her on all her adventures.
The backpack and the plushie together are a winning combination that will surely captivate her imagination and make her feel special. This gift is where fashion meets playtime, making it a fun addition to her accessory collection.
5.
Vibrant Training Wheel Bike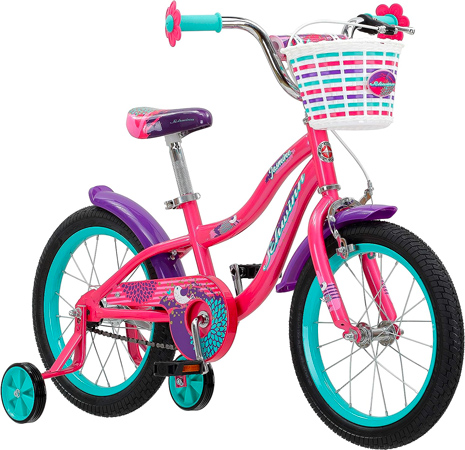 Gift a 5-year-old girl the joy of open-air adventures this Christmas with the Schwinn Jasmine Bike. A marvel in mini transport, this bike is a perfect introduction to two-wheel travel. From its lively color scheme to its beautiful floral details, every inch of this bike radiates charm. It's equipped with easy-to-use coaster brakes and an additional front caliper brake to boost her confidence as she learns.
The removable training wheels provide stability for beginners, gradually preparing her for solo rides. A comfortable, adjustable seat ensures a perfect fit as she grows. With a handy basket for her toys and snacks and a rear rack for bigger items, it's not just a bike—it's her first vehicle of independence.
6.
Rainbow Unicorn Protective Pads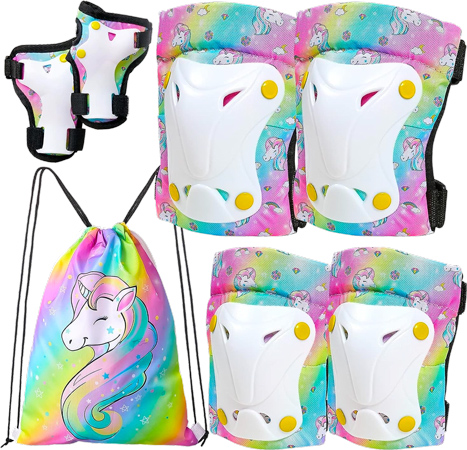 Christmas will become a celebration of newfound confidence for a 5-year-old girl with the Fioday Kids Protective Gear Set. With a design that's as pretty as it is practical, this pink unicorn-adorned gear set is crafted with her adventurous spirit in mind. It includes knee pads, elbow pads and wrist guards, each designed for superior comfort and protection.
This protective gear, adjustable to fit her growing body, will safely accompany her on her thrilling rides and glide, whether she's cycling, skating, or skateboarding. Additionally, the set comes with a useful drawstring bag, making it easy to store and carry her safety accessories wherever her adventure takes her.
7.
Two Piece Cameo Bikini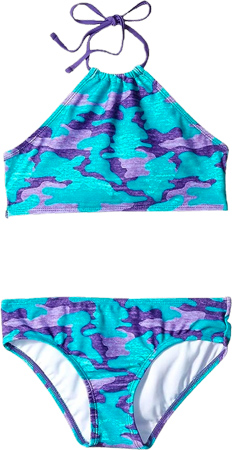 Riding the wave of summer fashion trends is this two-piece swimsuit from Kanu Surf, making a superb Christmas gift for any 5-year-old girl who's ready for warmer weather to come around. This appealing duo makes a splash in shades of teal and blue, reminiscent of calming ocean waves, effortlessly combining fashion with young and vibrant style.
Designed with a halter neck top and comfortable bikini bottoms, it offers a secure fit for all her aquatic adventures. The UPF 50+ rating provides vital protection against harmful sun rays, while the durable, quick-drying fabric ensures ongoing comfort post-swim. Whether she's building sandcastles at the beach or splashing in the pool, this vibrant two-piece bikini will undoubtedly brighten up her summer wardrobe.
8.
Fairy Wing Dress-Up Set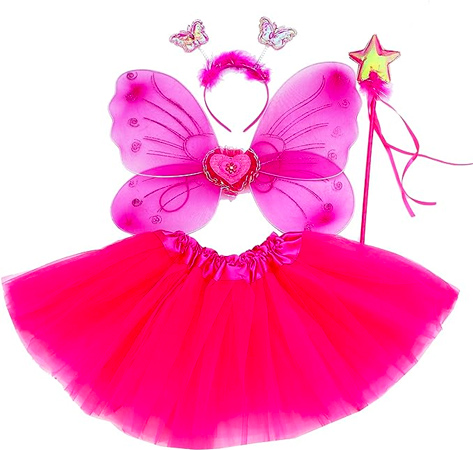 For the imaginative 5-year-old girl in your life, make her Christmas magical with this amazing pink fairy dress-up set by Fun Play. Designed to ignite her imagination and promote creative play, this adorable set includes a pair of fluttering fairy wings, a twinkling magic wand and an enchanting tutu skirt.
Each piece is made with attention to detail, from the intricate butterfly design on the wings to the ribbon detail on the tutu skirt. The lightweight materials used ensure the little fairy you're shopping for can flit and fly comfortably all day. Ideal for themed parties, school events, or just an afternoon of imaginative play, this fairy dress-up set will transform her into a mystical creature from a magical realm.
9.
Unicorn Wall Hanging Organizer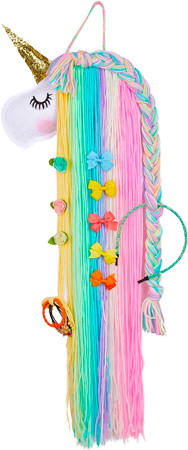 Brighten a 5-year-old girl's room this Christmas with the lovely unicorn wall hanging organizer by Basumee. This unique piece is designed as a colorful unicorn, adding a subtle touch of fantasy to her bedroom decor. While it looks beautiful as a standalone piece of decor, it doubles as a hair accessory organizer. The rainbow-colored mane, which is made by hand using soft yarn, can hold clips, bows, headbands and hair ties, keeping them all organized and easy to find.
The unicorn head is made of stuffed felt and features a dramatic gold horn that is covered in gold sparkles. Hanging is simple with the braided hanging rope which also makes it easy to take off the wall for easy access. If the 5-year-old you're shopping for has more hair accessories than she knows what to do with, this gift is going to solve that problem and look good doing it.
10.
Watercolor Wall Art Canvases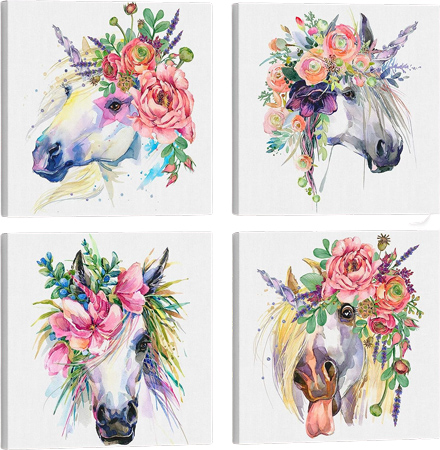 Give a Christmas gift that will make a 5-year-old girl excited to redecorate her room with these eye-catching prints by Something Unicorn. This set includes four canvases, each showcasing different whimsical unicorn-themed designs, including an adorable print with a unicorn pulling a funny face. The unicorns are all wearing flower crowns, bursting with colorful blooms.
The canvases are printed with high-quality, vibrant inks that resist fading, ensuring the art pieces retain their vibrancy over time. They come ready to hang with attached hardware, making them easy to display in any arrangement.
They would look great grouped together in a tiled display over her bed or they can be split up to create matching decor in her bedroom and bathroom. If you're looking for a gift full of imagination and style, these prints are going to make a young girl incredibly happy.
11.
Over Door Toy Organizer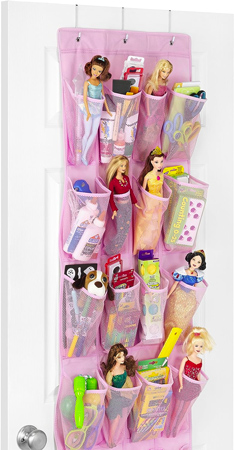 Looking for a practical Christmas gift that will still be exciting for a 5-year-old girl? Give her this over-the-door organizer by Whitmor so she can not only keep her room tidy but also show off all her favorite toys in one place. If she's proud of her toy collection, she doesn't want to store it away in a trunk or basket where she has to go digging for what she wants.
This gift, designed with 24 individual storage spaces with see-through pockets, lets each one of her favorite dolls have some breathing room. It can also hold art supplies, hair accessories, or even her favorite princess slippers. It's made with a sturdy fabric that can withstand the wear and tear of daily use. Even better, it's incredibly easy to install. It simply hangs over the door, saving space in her room and keeping her toys within easy reach for playtime.
12.
Vanity Table and Stool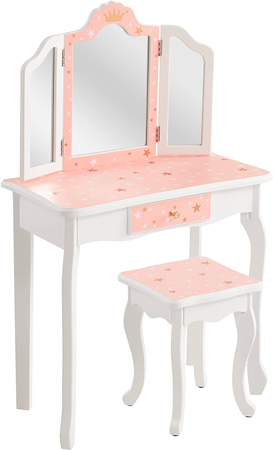 Give a 5-year-old girl the royal treatment this Christmas with this vanity table set. A perfect blend of charm and function, this vanity set lets her get ready like a true princess. The trifold mirror gives her a clear view from all angles, perfect for those pretend dress-up sessions or practicing her lipgloss application.
A single pull-out drawer provides ample space to stash her hairbrush, makeup, jewelry and hair accessories so she'll have everything she needs to get ready for a day out with the family. The matching stool tucks away under the vanity when she's done getting ready so it saves space in her room but easily pulls out when she wants to play in her own dedicated glam station.
13.
LED Unicorn Winged Shoes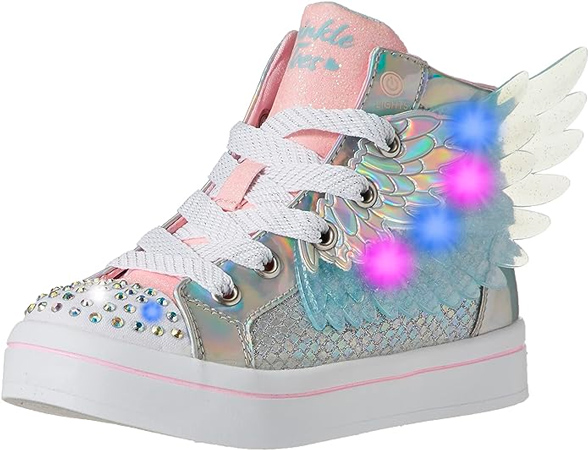 Choose this Christmas gift and you'll have a seriously stylish 5-year-old girl walking around with some extra pep in her step. These shoes by Skechers will be the coolest pair of foot attire in her closet. As if having built-in LED lights and crystal-encrusted toe caps isn't enough, Sketchers went all out and threw in some 3D unicorn wings to make sure this pair of kicks is like nothing she's ever worn before.
They don't just look cool though, they're made for comfort so she can wear them all day long. The cushioned inner sole absorbs shocks while the hightop design provides extra ankle support for outdoor play. If flashy fashion is her thing, shoes don't get any flashier than this.
14.
Huge Capacity Pencil Case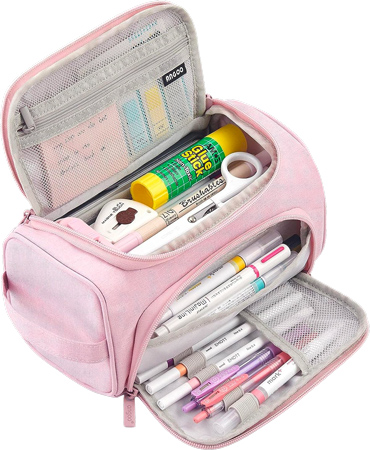 Give this Christmas gift to the artistic 5-year-old girl you know and she'll be thankful that her crayons, pens, pencils and art supplies are all in one place. This pencil case, while compact in size, holds a huge amount of supplies. The main compartment alone can hold up to 100 pencils! In addition to the main compartment, this case features a front zipper compartment that houses elastic dividers to hold her favorite colored pencils, safety scissors or glitter pens.
It's made of machine-washable nylon that's resistant to tears or staining from uncapped markers. Choose between one of the five bright colors, including a pastel pink or a bright purple. This is a Christmas gift that will get used every day and she'll be thankful you thought of it.
15.
Mermaid Silicone Slap Bracelets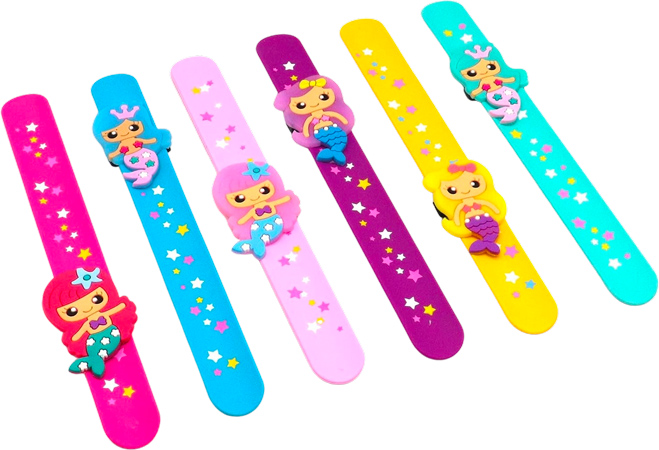 If you're shopping for a 5-year-old girl that loves to wear bright and cheery accessories, this Christmas gift is going to give her a ton of options to play dress up with. This set of slap bracelets includes six mermaid-themed bracelets, each with a different color and design.
The bracelets are made of soft, non-toxic silicone that makes them comfortable to wear and also easy to clean. Putting them on is as easy as slapping the bracelet on her wrist so it automatically wraps to a snug fit. These bracelets would make the perfect stocking stuffer and are sure to be a gift she'll love to show off to her friends.
Need more inspiration?