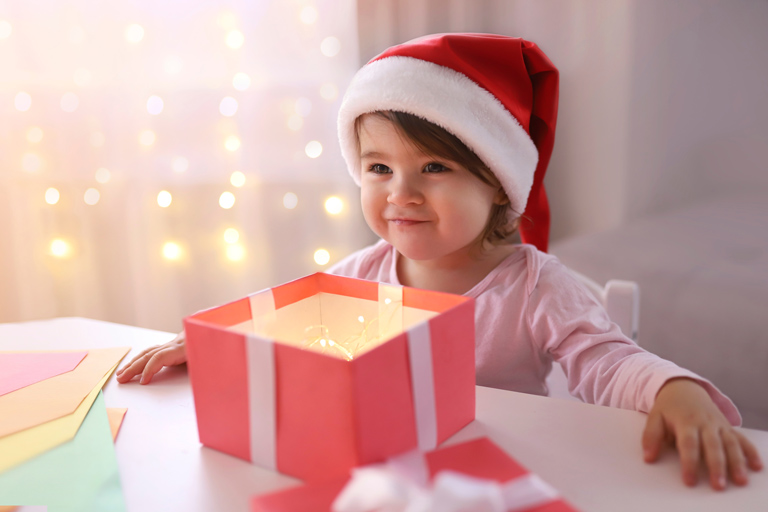 Christmas is a magical time, especially through the eyes of a 1-year-old girl. This is the first Christmas she'll comprehend how exciting it is to open presents and play with toys. That probably puts pressure on making sure the toy you pick is one that's going to provide the fun and development she needs at this special age.
These 15 exciting Christmas gifts for 1-year-old girls were expertly chosen to ensure you pick the right gift to entertain her while helping her along in her developmental journey. Though, the real gift is getting to see the joy on her face as she bangs away on her new toy.
1.
Colorful Mega Blocks Set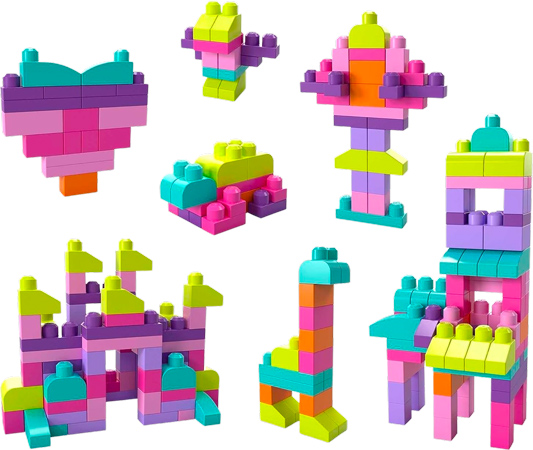 Gifting the right toy to a 1-year-old girl during Christmas is essential, and the Fisher-Price building blocks set is a choice you won't regret. Featuring 80 bright and colorful blocks tailored for her age, this set serves as a launchpad for her imagination. Each block, available in an array of shapes and sizes, allows her to experiment, design and embark on mini-construction adventures.
As she begins to stack and assemble, she'll not only enjoy creative fun but also enhance her hand-eye coordination and fine motor skills. The product's vibrant color palette is designed to appeal to her developing aesthetic sense, while the easy-to-hold block size ensures she can grasp, build and dismantle with ease.
2.
Wooden Sensory Activity Cube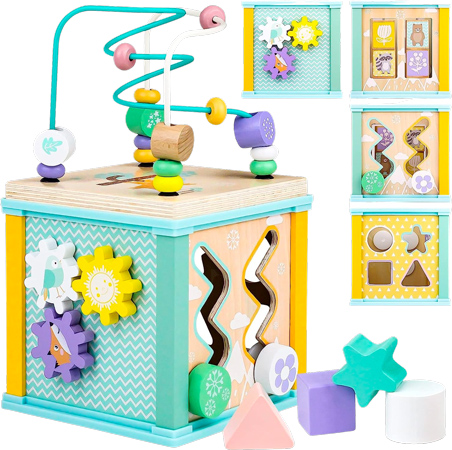 If you're looking for a Christmas gift that will capture the attention of the 1-year-old girl in your life, this toy is packed with tons of fun activities. This wooden activity cube features a different activity on each of the sides, including a bead maze, a rotating puzzle, a slider game, rotating gears and a shape sorter.
Crafted from durable and child-safe materials, this cube is a perfect combination of traditional wooden aesthetics with vibrant colors that stimulate visual development. As she twists, turns and explores each interactive panel, she's not just playing, she's enhancing her fine motor skills, cognitive abilities and hand-eye coordination. This Christmas gift is an ever-changing playground for her inquisitive fingers.
3.
Plush Crocodile Hand Puppet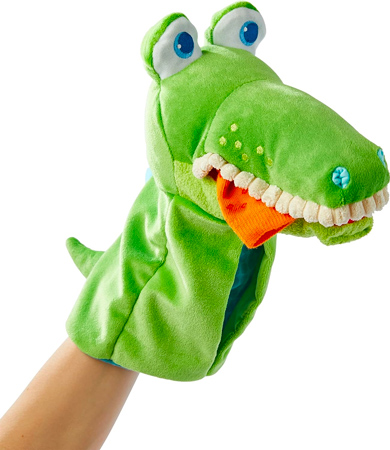 For a 1-year-old girl with a vivid imagination, this hand puppet will be an exciting addition to her playtime repertoire this Christmas. This adorable puppet is designed to look like a friendly crocodile with an inviting open mouth. The puppet's soft, tactile fabric and bright green color make it a visual and sensory treat for little girls.
Her eyes will light up with fascination as her parents animate tales and adventures using this little guy to capture her attention and keep her engaged. It also encourages bonding moments between parent and child, introduces her to the world of stories and stimulates her auditory and visual senses. Imagine the giggles when this little guy is having nom-noms on her belly. She'll get a kick out of this Christmas gift.
4.
Ball Pit Jungle Gym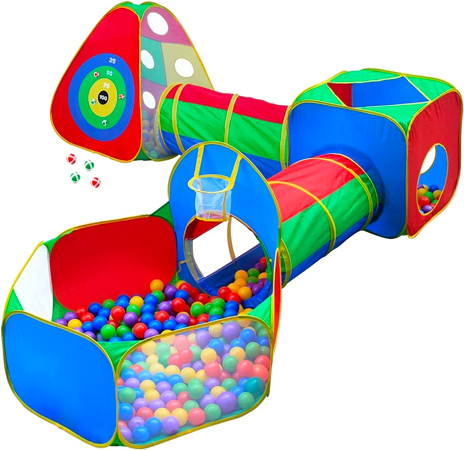 For that 1-year-old explorer in your life, this jungle gym play tent is going to be a Christmas gift home run. There is so much going on in this jungle gym she'll be entertained for hours. It includes a triangle tent, a square tent, a crawl tunnel and even a ball pit with an attached basketball hoop. The pieces can be used individually for mini play stations or they can be connected to create one giant jungle gym.
As she crawls and navigates through this fun-filled toy, she'll be developing her motor skills and coordination. The vibrant colors and soft fabric will keep her engaged while also being safe for her to crawl around in. When playtime is over, it quickly folds for easy storage in the provided bag, making it great for travel. Perfect for both indoor and outdoor use, this tunnel promises hours of explorative joy.
5.
Musical Pretend Vacuum Cleaner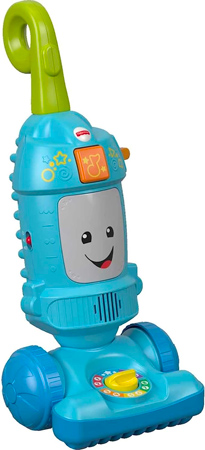 If you know a 1-year-old girl who loves to mimic grown-up chores, here's a Christmas gift that is sure to provide a ton of fun. This toy vacuum by Fisher-Price features sounds just like a real vacuum. When all the vacuuming is done, the sound function can be changed over to play only songs.
The easy-to-grasp handle and interactive buttons help develop her dexterity and hand-eye coordination. It also easily tilts so she has the perfect height for pushing it around. Playing with this vacuum will not only keep her engaged in active fun but will also help improve her balance as she tidies up the house, just like Mom and Dad.
6.
Wooden Pop-Up Pounding Bench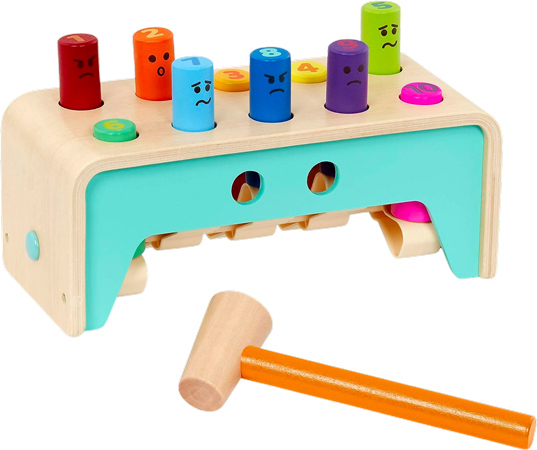 For the little 1-year-old builder in your life, this wooden pounding bench will be the highlight of her Christmas morning. Crafted from high-quality wood, this toy features 10 colorful pegs that can be hammered down, only to pop back up, thanks to a concealed spring mechanism. Each peg is painted in a vibrant hue, capturing her attention and introducing her to basic color differentiation.
As she hammers away, she'll be refining her motor skills and hand-eye coordination. The sturdy wooden mallet is perfectly sized for her tiny hands, offering a comfortable grip. Engaging in this pounding activity will not only entertain her but will also enhance her cognitive development. Every tap and pound is a step closer to mastering a new skill, making this pounding bench a truly wonderful Christmas gift.
7.
Folding Magnetic Drawing Board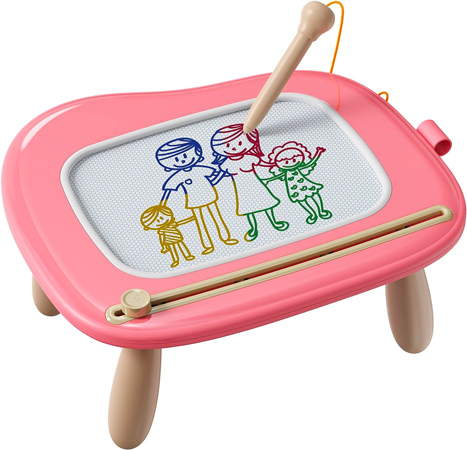 Christmas shopping for a 1-year-old girl who loves to color and scribble? This magnetic drawing board will nurture her artistic creativity without the worry of chewing on crayons or messy clean-ups after art time. This board offers a clean, mess-free canvas for her to sketch and doodle, letting her imagination go wild. It features a vibrant, multi-color drawing screen that will captivate her attention, making each doodle even more special.
The attached pen is perfectly sized for her little hands, ensuring she gets a firm grip. With the simple slide eraser, she can quickly clear the canvas and start her next project. The legs are the perfect height to use as a floor desk but can also be folded down flat for use in a car or while sitting at a table. With this gift, she'll be the best scribbler in town in no time.
8.
Musical Light-Up Unicorn Toy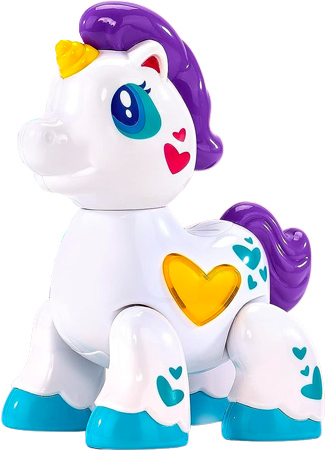 Every 1-year-old girl deserves some magic on Christmas morning and this unicorn toy promises to bring it. Bursting with vibrant colors, it captures the whimsical charm of these mythical creatures. The small size means it's a toy that she can easily handle so it will keep her attention.
When the button on the side of its belly is pushed it will play four different songs as well as light up in four bright colors. Pushing the button will help improve her fine motor skills while also teaching her the concept of cause and effect. It's made of BPA-free plastic that is resistant to drops so it's perfect for little ones that are still working on their balance.
9.
Room Darkening Rainbow Curtains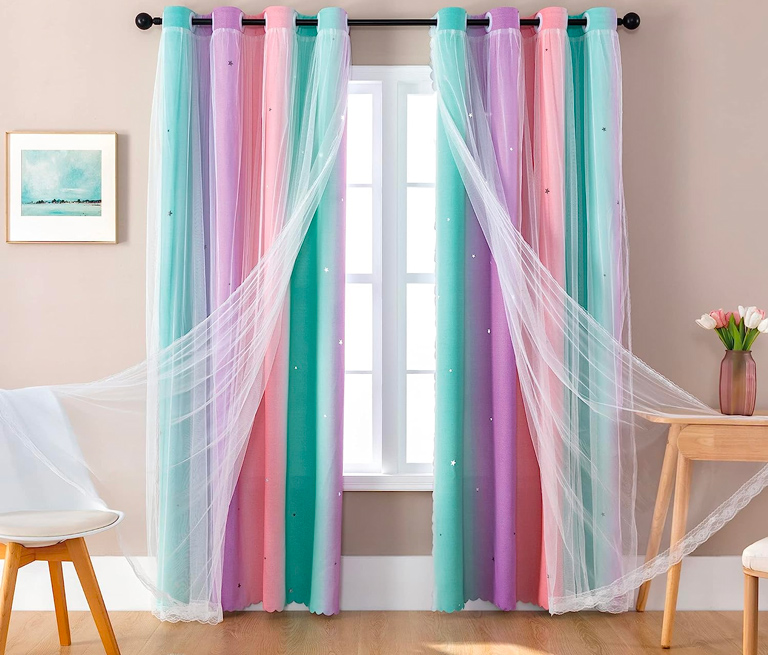 Give a Christmas gift that will transform a 1-year-old girl's room into a fairytale safe haven with this set of room-darkening curtains. Designed in a vertical blend of dreamy colors reminiscent of cotton candy and unicorn tails, they combine style with function. The curtains not only upgrade the design of her bedroom but also ensure she gets a restful nap by blocking out unwanted light.
These curtains are soft to the touch yet durable enough to be machine-washed. Plus, the double-layer design can also help regulate the room temperature and make sure she stays comfortable throughout the changing seasons. These curtains are sure to give her a dream bedroom she'll love, even as she ages.
10.
Minnie Mouse Toy Chest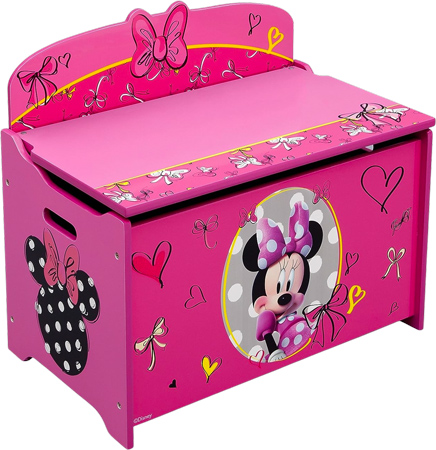 For the 1-year-old girl who adores anything to do with Minnie Mouse, this toy chest will be a dream come true this Christmas. This pink chest, which presents a large image of Minnie Mouse, features a hinged lid that's easy for her to open. The lid also keeps safety in mind as it was designed with a slow-close mechanism, so no worries about little fingers getting slammed under the lid.
Inside is plenty of room to hide all her toys, making clean up after playtime quick and painless. The cutout side handles make it easy for parents to move the toy trunk from her room to wherever the next playtime is. That's great for parents who like to play in the living room but don't want the clutter of toys always in it.
11.
Plush Sherpa Throw Blanket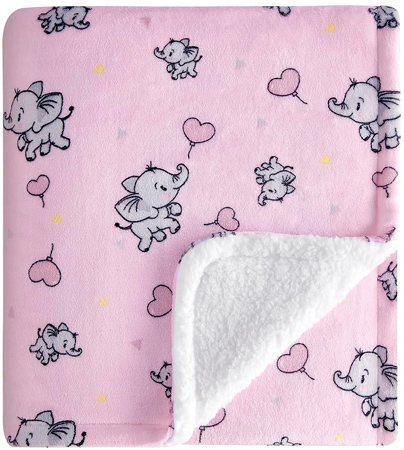 This Christmas morning the little 1-year-old princess you're shopping for is going to love being snuggled up under this adorable plush blanket. The double-layered design ensures optimal coziness and warmth. One side is decorated with baby elephants and heart balloons while the other is lined in a soft, faux sherpa material.
The light pink color is perfect for a 1-year-old girl's room and would be great as an easy-to-grab throw blanket on her bed or chair. This will be her go-to blanket to curl up for nap time with after all the excitement of Christmas morning is over.
12.
Zipper 3D Ear Hoodie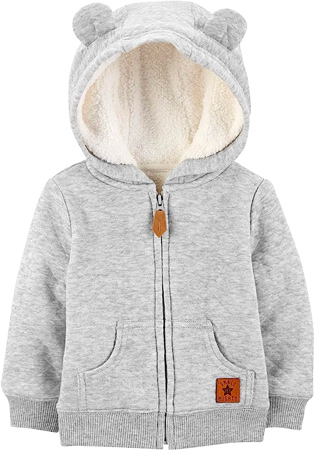 If you're looking for a Christmas gift that will keep a 1-year-old girl warm but still ultra stylish, this Christmas gift won't disappoint. She is going to look beyond adorable in this zip-up hoodie that features 3D ears on the hood.
Made with premium materials, this hoodie promises both breathability and softness, perfect for a toddler's sensitive skin. Its versatile design, featuring a full zip front, makes getting dressed easy. It's also perfect for layering during transitional seasons.
The ribbed cuffs and hem ensure a snug fit, while the pockets are ideal for those tiny hands to hide her favorite treasures. This gift is going to make her look so cute and will surely become a staple in her wardrobe.
13.
Pink Electric Toddler Toothbrush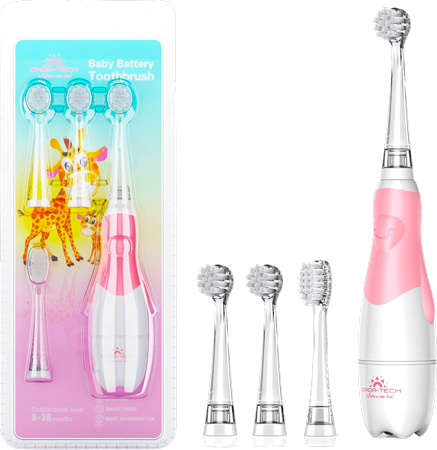 This practical Christmas gift will introduce the 1-year-old you're shopping for to the importance of dental hygiene while still being an exciting gift for her. This pink electric toothbrush is specially designed for toddlers, ensuring a gentle yet effective clean for those emerging teeth.
The oscillating brush head, featuring soft nylon bristles, makes sure every little tooth gets the attention it needs. Designed for little hands, the handle is comfortable for her to hold on her own.
Most importantly, the built-in timer teaches the correct way to brush so she'll grow up knowing how to make sure her smile stays as bright as the day it was when she got her first big girl toothbrush.
14.
Weighted Straw Sippy Cup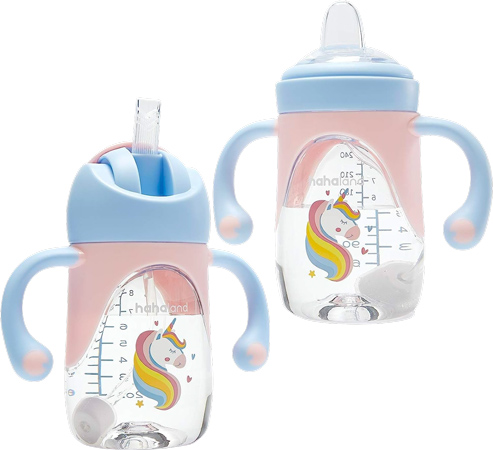 For a 1-year-old who likes the independence of holding and walking around with her own drinks, this no-spill sippy cup is the perfect Christmas gift. Decorated with designs of sweet unicorns with rainbow manes, this cup adds some fun to snack time.
Designed with a no-spill valve, there won't be any chance of spills from accidental drops or shaking. The easy-to-grab handles on each side fit snugly into her little hands making it easy for her to walk around with her milk or juice. Drinking in any position is easy due to the specially designed weighted straw and the anti-choking spout will keep her safe from danger.
The set includes an eight-ounce cup, one drinking spout and two weighted straws. If she's a girl who likes to do things on her own, this is a gift she'll be happy to use every day.
15.
Pink Convertible Cruiser Car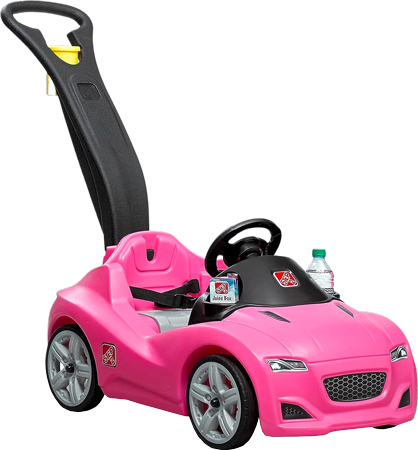 If you're shopping for a 1-year-old who loves the thrill of adventure, this cruiser car is a showstopper Christmas gift. Modeled with realistic design elements, it'll make her feel like she's driving her very own car. The cruiser moves by being pushed via the tall parent handle. It uses the same concept as pushing a stroller, but way cooler.
Any little girl is going to love going to the grocery store in her own pink convertible. It features a holder for her sippy cup, a safety belt and a storage compartment under the hood for her playtime purse. It even has a working horn for those emergency reroutes down the cookie aisle!
Need more inspiration?