Thirteen; the first official year of the dreaded teens! As a child turns 13, they begin a mental shift in their self-perception; no longer do they see themselves as a child but instead, they begin to adopt that "teenager" label. A 13-year-old girl is likely to feel much more independent during this time and will certainly want to have their opinion heard and exercise increasing amounts of control over their body, their environment and their need for privacy.
In some ways, this makes buying a gift easier as they express quite clear interests and you can purchase something that fits in with these. Many 13-year-old girls still desire affirmation from adults and care about what grown-ups think of them so choosing a gift that reflects a 13-year-old's interests and abilities as well as opening up new skills is a great way of showing your approval. We've put together a list of 26 gifts that will appeal to 13-year-old girls so you can find that perfect gift for her.
1.
Polaroid Snap Instant Digital Camera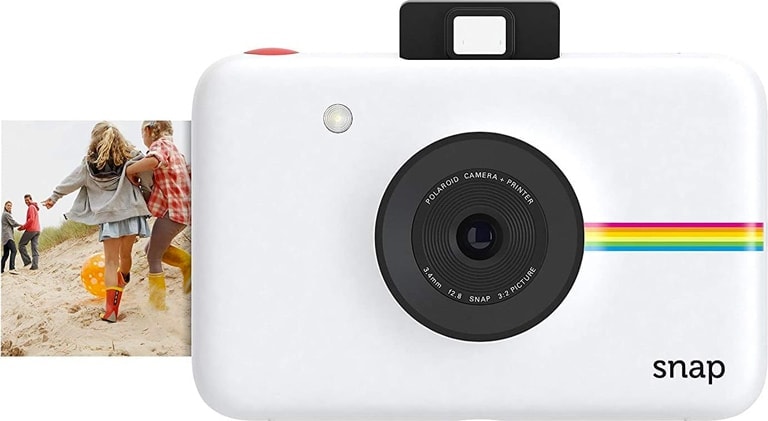 Why we like it: Instant prints of their latest selfie, what 13-year-old girl wouldn't love that!?
Taking selfies seems to be a favorite pastime of many 13-year-old girls and is something that they like to do both independently and with friends. In an age of digital photos, it's actually quite rare that we get photos printed so this gift will have a real novelty factor!
The Polaroid Snap Instant Digital Camera is available in a range of colors and, like the polaroid cameras of old, offers instant print outs. With its slim, compact design and zero-ink technology this polaroid camera has been completely updated for the modern age and will encourage creativity and photography skills in a 13-year-old girl.
Pros
Available in a range of colors
Instant prints
Zero-ink technology
Slim compact design
Encourages creativity
2.
Oculus Go Standalone Virtual Reality Headset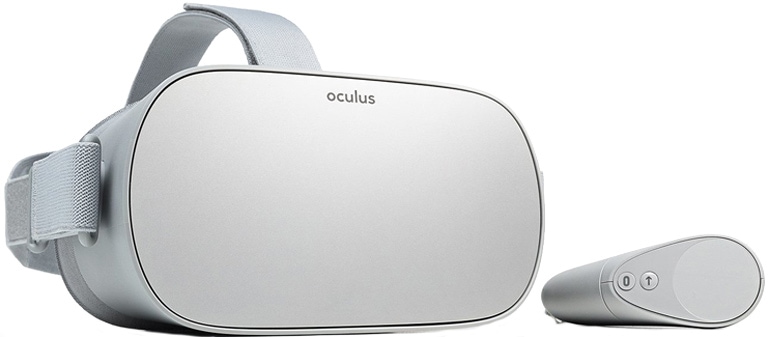 Why we like it: Embrace virtual reality and feel like you're playing for real.
Virtual reality is the next up and coming technology phenomenon and this gift would let a 13-year-old girl get ahead of the curve with this trend. The Oculus Go Standalone Virtual Reality Headset provides a stand-alone virtual reality set which does not require any other device.
With state-of-the-art graphics, and the ability to play games in virtual reality this would be a very well-received gift. On a practical note, it also comes with a storage case so that it can be easily and safely transported.
Pros
State of the art graphics
Meet friends in virtual reality
Stand-alone VR
Compatible with app
Storage case included
3.
Wacom Pro Pen Tablet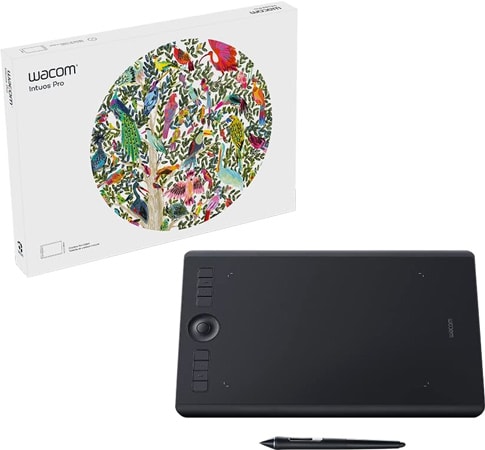 Why we like it: Digital drawing tablet for encouraging creative design technology.
An award-winning digital drawing tablet, the Wacom Pro Pen Tablet would make an ideal gift for an artistic 13-year-old girl. It can be used with a variety of compatible devices with its Bluetooth connectivity and is ideal for producing digital graphic designs.
This is a gift that will really promote creativity, allowing for careful and precise drawing with the maximum precision pen, whilst also improving technology skills. With graphic design skills in serious demand, this is an interest well worth encouraging and investing in.
Pros
Award-winning
Maximum precision pen
Bluetooth connectivity
Encourages creativity
Improves technology skills
4.
BlitzWolf Bluetooth Selfie Stick
Why we like it: Experiment with the best selfie angles and capture memories.
Compatible with most modern smartphones, the BlitzWolf Bluetooth Selfie Stick makes an ideal gift for a 13-year-old girl as most girls this age love using their smartphone camera to capture memories by taking lots and lots of photos! The selfie stick gives an extended reach to capture more of the scenery whilst taking a selfie.
This stick comes with a tripod stand and remote control to make it even easier to create great shots and is extra portable with a really compact fold so it's perfect for parties or travel. This is a gift that is bound to please a 13-year-old girl and get a lot of use.
Pros
Compatible with most modern smartphones
Includes tripod stand
Includes remote control
Compact fold, extra portable
Great for parties or travel
Cons
Requires compatible device
5.
BodyMark Temporary Tattoo Markers
Why we like it: These skin-safe markers allow creative self-expression through temporary body art.
As girls grow into their teenage years, they often enjoy expressing their unique style and personality through fashion, makeup, and accessories. Body art like temporary tattoos is a fun way for a 13-year-old to accessorize. The BodyMark Temporary Tattoo Markers make it easy for teens to unleash their creativity by designing their own temporary tattoos.
The BodyMark markers are specifically designed for drawing directly on the skin. The ink is formulated to go on smoothly, resist smudging, and last for several days. It's easy to remove the temporary tattoos with just soap and water. The markers comply with FDA regulations for use on the skin. With a range of 8 vibrant colors to choose from, girls can create colorful tattoos or more natural skin tone designs. The markers can be used freehand or with stencils to make shaping and filling in designs simple. This is an ideal gift for an artsy girl who likes expressing herself through appearance and fashion.
Pros
Skin-safe, made for use on the body
Vibrant color selection
Smudge-resistant
Easy to remove
Can be used freestyle or with stencils
Cons
Not tested for use on sensitive skin
6.
Vlogging Gimbal for Smartphones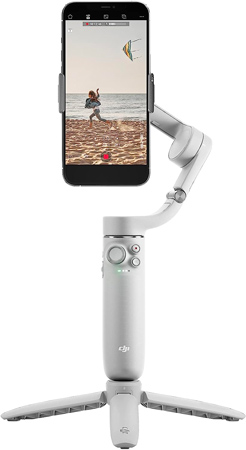 Why we like it:
A high-tech gift for aspiring social media stars that will up the production value of videos and build self-confidence.
Thirteen is the legal age for social media and if you're shopping for a 13-year-old girl, she's probably been counting down the days to it. This gift is going to get her started on her video blogging journey and could make her the next breakout star on Instagram, YouTube and TikTok.
This vlogging gimbal connects with smartphones to turn them into professional-quality video cameras. Videos will be smoother than just handholding a smartphone. It also has built-in tracking for moving subjects and an integrated extension rod for the best selfie with friends. The bottom of the handle has three built-in legs that will extend into a mini table tripod so whether she's handholding her videos or doing a talking head video sitting at her desk, the videos will be a cut above the rest. Imagine how amazing her makeup tutorials for YouTube are going to look with this luxurious gift. This could spark her passion for creative expression through photography and videography.
Pros
Encourages a new skill

Builds self-confidence

Self-expression through video

Compact size
Cons
Social media needs monitoring
7.
Lego Architecture London Skyline Model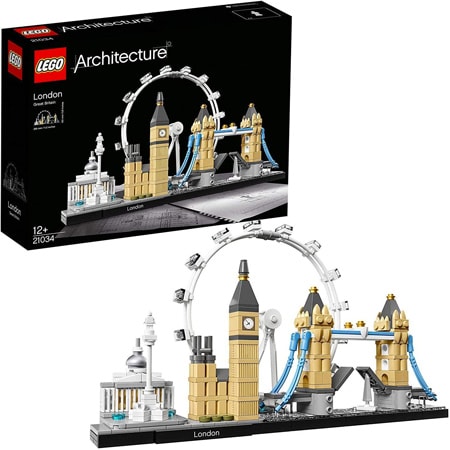 Why we like it: Keep encouraging an interest in Lego with this more complex, architectural build.
Lego is a popular toy throughout childhood and it has many benefits; improving the ability to follow instructions, constructions skills and dexterity. An interest in Lego is something that is good to encourage throughout childhood into the teenage years and even through into adulthood and Lego have created sets to reflect this larger age range.
The Lego Architecture London Skyline Model has 468 pieces so represents a challenging build for a 13-year-old girl but as well as improve dexterity and construction skill it helps to encourage an interest in architecture, featuring replicas of famous features of the London skyline such as Big Ben, the National Gallery, Nelson's Column, Tower Bridge and the London Eye
Pros
Improves construction skills
Encourages interest in architecture
Features many famous landmarks in London
468 pieces
Increases dexterity
8.
ghd All-Rounder Paddle Hair Brush
Why we like it: This paddle brush helps teenage girls detangle, style, and care for their hair.
Around age 13, many girls start taking more interest in hair styling and products as a form of self-expression. The ghd All-Rounder Paddle Brush is a great gift to support her interest in hair care. The broad paddle design makes detangling wet locks after a shower quick and painless. Using this brush while blow drying creates a smooth, sleek finish.
The soft cushion brush is gentle on her scalp and the non-slip handle provides control. This professional-quality brush prevents damage from breakage and static. It's the perfect pairing with ghd hair stylers she may already own. Caring for her hair with the right tools builds confidence. This multi-purpose brush helps her create salon-worthy styles at home.
Pros
Detangles wet hair
Creates smooth blowouts
Gentle on scalp
Prevents breakage
Cons
Works best with ghd stylers
9.
PopSocket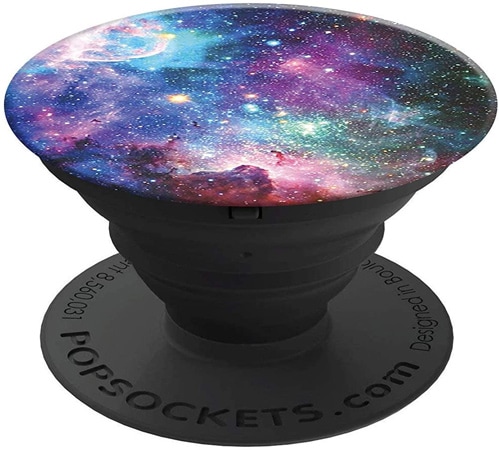 Why we like it: A useful, practical gift which is compatible with most smartphones and devices.
A PopSocket makes a really useful, practical little gift for a 13-year-old girl. Many teenage girls are glued to their smartphones, and a PopSocket is a great accessory for these smartphones and a range of other devices. PopSockets attach to the back of devices and can be used to hold them securely or stand them up.
PopSockets come in a range of designs so you can pick on to suit her sense of style and they have even become quite a fashion item as well as being repositionable. PopSockets are really useful to 13-year-old girls but can also offer peace of mind to parents who worry about dropped phones and shattered screens as they help to prevent accidents and slips.
Pros
Useful gift
Compatible with most smartphones and devices
Repositionable
Can help to prevent accidents with phones
Fashionable item
Cons
Prevents wireless charging
10.
Fjällräven Pocket Bag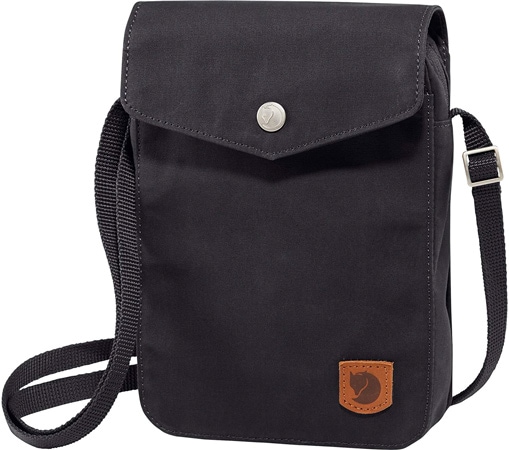 Why we like it: Versatile shoulder bag for a range of uses, making a great practical gift for a 13-year-old.
From a popular brand, the Fjällräven pocket bag, is sure to be a hit with a style-conscious 13-year-old. Sometimes you may be unsure about what to buy for a 13-year-old girl so if you're not 100% sure of her interests it can be a good idea to buy a practical gift that she can get some use out of; this is an ideal practical gift to buy, which she will get a lot of use out of. The bag is very practical, versatile and ideal for traveling.
Made with a durable fabric, the Fjällräven Pocket bag is made to last and comes in a neutral, black color to suit a variety of styles and occasions and coordinate well with a range of outfits
Pros
Versatile
Durable fabric
Ideal for traveling
Stylish brand
Practical
11.
Anker Soundcore 2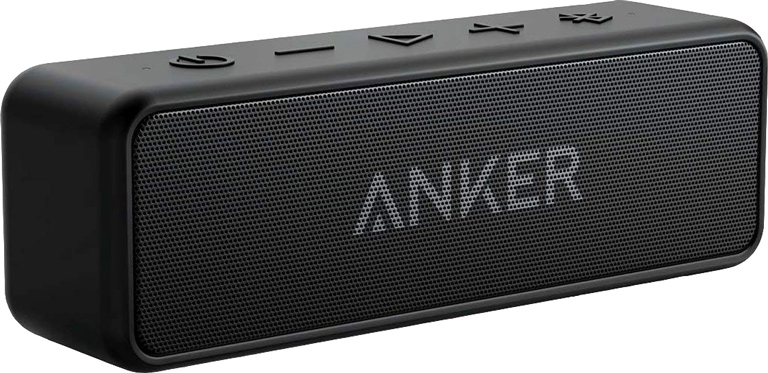 Why we like it: Portable Bluetooth speaker for home, outdoors or travel.
Around age 13, girls may become much more interested in expressing themselves and their interests and music is one way that they may enjoy doing this. The Anker Soundcore 2 is a portable speaker that uses Bluetooth connectivity to connect with compatible devices and play music.
It has a great battery life with up to 24 hours of playtime and is ideal for using indoors or outside which makes it ideal for taking along to the park, or on vacation as well as using around the home. The Anker Soundcore 2 is great value for money and is designed to give an intense bass sound with no distortion at higher volumes.
Pros
Uses Bluetooth connectivity
24-hour playtime
No distortion at higher volumes
Intense bass
Great value
12.
Manicure Cushion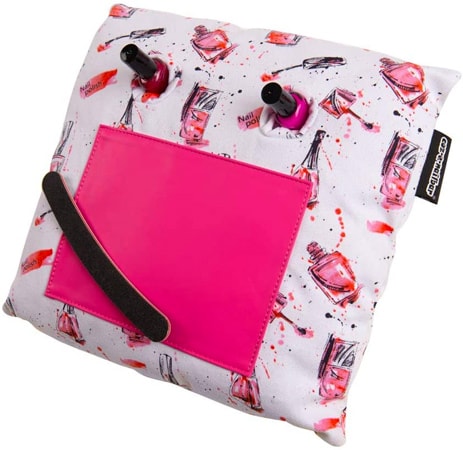 Why we like it: Perfect for pampering and self-care this is a really practical gift.
At age 13 many girls are interested in pampering, beauty and self-care and enjoy painting their nails or giving friends and family manicures. This Manicure Cushion is a practical gift that promotes self-care and a gift that caters to a girl's interest too.
With two pockets for storing polish, the Manicure Cushion helps to protect furniture and clothing against spills and smudges whilst also being a comfortable place to rest hands whilst having nails painted. The manicure cushion is made with a wipe-clean material.
Pros
Practical gift
Promotes self-care
2 pockets for storing polish
Protects furnishings against spills
Wipe clean
Cons
Requires nail-polish and accessories for use
13.
Ravensburger Eiffel Tower 3D Jigsaw Puzzle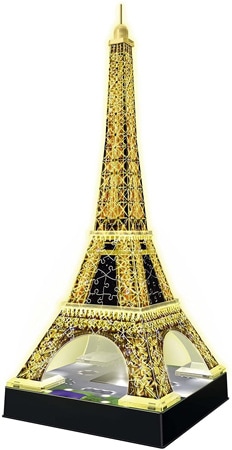 Why we like it: Take jigsaw puzzles to the next level with this 17 inch high 3D model of the Eiffel Tower, complete with LED lighting effects!
Jigsaws are a popular pastime in childhood that can be developed and maintained into adulthood and throughout life. However, as a 13-year-old girl gets older she will need jigsaws that present more challenges and have something a bit novel about them. The Ravensburger Eiffel Tower 3D Jigsaw Puzzle is perfect as it is both challenging and novel.
With 216 pieces that are arranged in numerical order to create the 17 inch high model, this activity will improve construction skills and dexterity. The finished model really does represent the Eiffel Tower as well as making a great addition to a 13-year-old girl's bedroom décor.
Pros
216 pieces
Improves construction skills
17 inch high model
No glue required
Model can be used as decor
14.
Funtime Glitter Light

Why we like it: Create ambiance and a relaxed space with this color changing sensory lamp
13-year-old girls love taking ownership of their space and creating a relaxing environment that also shows something of their personality in their bedrooms is often something they take a great time and care over. This is something that should be encouraged, with all the stresses and turbulence of the teenage years, having a safe place to retreat to is invaluable.
The Funtime Glitter Light is perfect for girls' bedrooms and can run on battery or with a USB cable so it's super practical. The lamp makes a great sensory relaxation item too, with a color changing mode and lots of sparkle and reflection from the moving glitter. This would make a lovely gift for a teenage girl interested in personalizing her bedroom décor.
Pros
Promotes relaxation
Colour changing
Great for girls' bedrooms
Battery or USB power
15.
Travel Makeup Organizer Case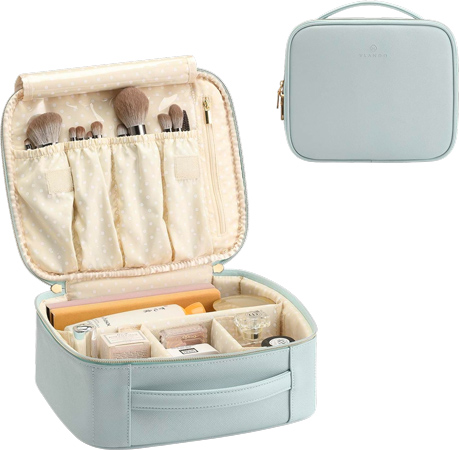 Why we like it:
A grown-up makeup case that young girls can use to organize makeup brushes and beauty accessories.
This gift will give the 13-year-old you're shopping for a place to keep all of her prized makeup and brushes organized and protected from dust and damage. Made by Vlando, this sophisticated travel makeup case can hold a ton of her beauty care items within the eight separate compartments. There are four tray compartments for makeup and skincare items, four elasticated slip pockets for makeup brushes and a zippered pocket for miscellaneous items like tweezers and makeup remover wipes.
The case is available in various pastel shades that are all accented with yellow-gold hardware for a grown-up aesthetic. The outside is crafted using water-resistant and easy-to-clean vegan leather while the inside is lined with a subtle polka-dot satin material that is resistant to staining. This is a great makeup case to help young girls care for and protect the items they own. It teaches responsibility, organization and pride in ownership. It's also perfect for travel and a cute sleepover tote.
Pros
Water-resistant vegan leather

Various organizational compartments

Teaches the value of taking care of belongings

Comes in multiple color options
Cons
Compartment dividers aren't rigid
16.
Deluxe Makeup Starter Set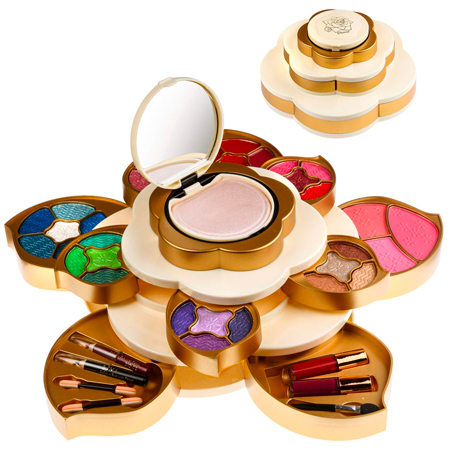 Why we like it:
An extensive makeup set that includes everything to start learning how to apply makeup for self-confidence and self-expression.
This makeup kit by CoralBeau would make a great gift idea for 13-year-old girls who are just starting to express themselves through the art of makeup. It includes a wide range of eyeshadows, lipsticks, glosses, blushes, eyeliners and more. The colors in this set will allow for an array of looks from natural to colorful and funky. This set is teen appropriate as it's highly pigmented, not just makeup for young children. It's a great way for young girls to start learning the skill of makeup application.
The unique palette this set comes in opens up like a flower, revealing everything she will need for her daily looks all in one self-contained package. It's also easy to throw in a backpack for on-the-go makeup looks or for traveling. All the makeup is made with a mineral oil formula that is organic and safe for sensitive skin. It's also waterproof so makeup will look great from school through soccer practice.
Pros
Organic miner oil-based formula

Safe for sensitive skin

Complete makeup set

Beautiful and unique palette
17.
Lego Creator Expert Winter Village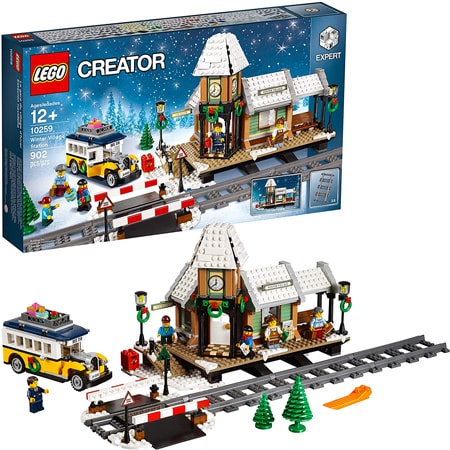 Why we like it: Create a snowy winter scene with this challenging Lego set.
Another Lego set made for older children or adults the Lego Creator Expert Winter village has over 900 pieces that need to be carefully put together in order to create a beautiful, snowy winter scene. Not only does this require careful reading and following of the instructions but it also encourages concentration and perseverance which are skills that will translate into other areas of life.
The Lego Creator Expert Winter village would make a lovely gift around Christmas time, playing into the festive spirit and fitting in with the season. It includes five mini-figures to allow for imaginative play and can also be used alongside any other Lego bricks or sets, meaning that it can be expanded as the user pleases.
Pros
Perfect for Christmas
Includes 5 mini-figures
Over 900 pieces
Improves constructions skills
Compatible with other Lego sets
Cons
Lots of pieces; requires careful storage
18.
Besteam Ultra-Light Sleeping Bag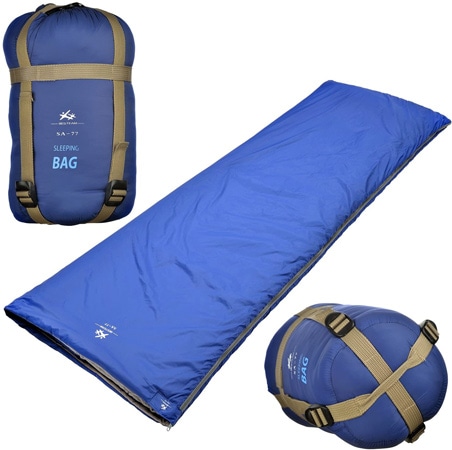 Why we like it: This super-portable sleeping bag is ideal for camping in the great outdoors or for sleepovers indoors.
A sleeping bag is a really useful item for teenagers to have as they start to become more independent and spend nights away from home at sleepovers, school trips or even camping with the family. The Besteam Ultra-Light Sleeping Bag is a really practical present for a 13-year-old that will get plenty of use.
It is available in a range of different colors, so you can choose a sleeping bag in a color which suits her personality and taste. The Besteam Ultra-light Sleeping bag is compact, folding up into a small, easily portable roll and is ultra-light too. It is waterproof, and two can be zipped together to create a double sleeping bag which is a really convenient feature and saves buying separate double bags for when they are needed. This sleeping bag is suitable for spring, summer or autumn camping or using indoors year-round.
Pros
Available in a range of colors
Waterproof
Compact, ultra-light and portable
Suitable for camping or sleepovers
Two can be zipped together to form a double sleeping bag
19.
Clarisonic Mia Prima Facial Cleansing Device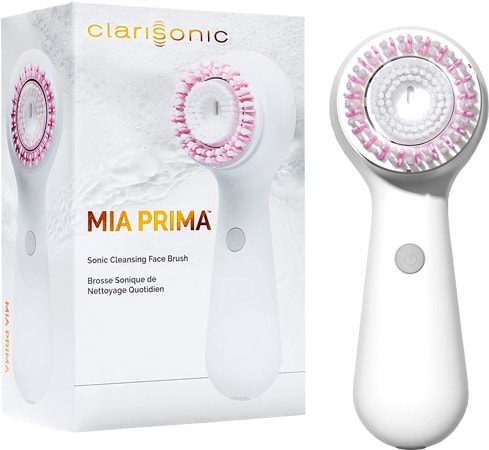 Why we like it: Set her up into a good skincare routine with this high-quality tool.
Teenage skin has its own big reputation, but it doesn't need to! Suitable for all skin types the Clarisonic Mia Prima Facial Cleansing Device makes the ideal gift for a 13-year-old girl to help get a great cleansing routine embedded before the teenage years really kick off.
This cleansing device is gentle on skin whilst also being extremely efficient, helping to get products into the skin to do their job more effectively. The device itself is waterproof so there are no safety worries about using it in the bathroom or even in the shower! It's available in two colors and is very simple to operate.
Pros
2 color options
Simple to operate
Waterproof
Gentle on skin
Helps products work more effectively
Cons
May require different brush attachments
20.
RenFox Microfiber Hair Towel Wrap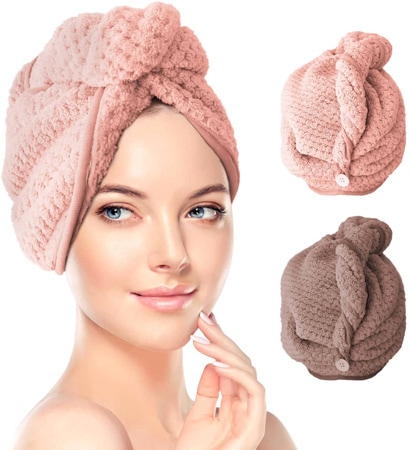 Why we like it: A practical and useful self-care gift which speeds up hair drying and protects hair from damage.
For a beauty conscious 13-year-old girl practical, useful self-care gifts are great! The RenFox Microfiber Hair Towel Wrap is a product that she may not have heard of before or thought to have asked for but it is incredibly useful! This hair wrap is great for putting on out of the shower and helps to absorb water from the hair, speeding up drying time.
With a faster hair-drying time, less damage is done to the hair through heat damage with a hairdryer and precious minutes are saved on busy mornings too. The hair wraps come in a pack of two so one can be used while the other is still drying.
Pros
Useful gift
Self-care gift
Reduces hair drying time
Less damage to hair
2-pack
Cons
One size; may not be a good fit for very long hair
21.
La Bellefée Bath Bombs and Scented Candles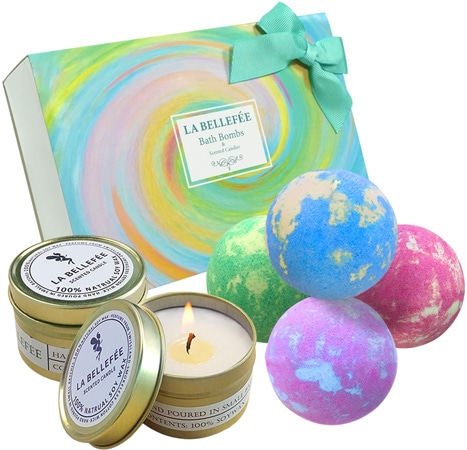 Why we like it: Give a relaxing gift; these bath bombs and candles are perfectly paired to relieve stress and promote relaxation.
Relaxation becomes more and more important as the stresses of the teenage years build; worries about school, friendships, family and self-esteem can make these years difficult for girls but this also presents the opportunity to learn coping techniques and how to relax and unwind. Self-care is a great way to alleviate some of the pressures faced by 13-year-old girls so a gift to support this is likely to be well received.
The La Bellefee Bath Bombs and Scented Candles set is made with 100% natural, organic ingredients so it is kind to the earth as well as to skin. The bath bombs and candle scents have been carefully paired so as not to overwhelm the sense but instead create a relaxing spa-like experience. The bath bombs leave no staining on bathtubs making clean-up really easy too.
Pros
100% natural, organic ingredients
Promotes relaxation
Relieves stress
Spa-like experience
No staining
Cons
Need to check for any allergies
22.
Elegant Portable Jewelry Box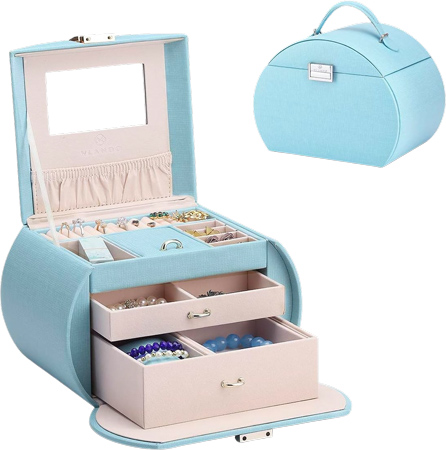 Why we like it:
An elegant jewelry box that will teach responsibility while also being a beautiful piece of room decor.
If you're shopping for a 13-year-old girl who likes to wear jewelry, this gift will provide an attractive storage solution that will protect it from getting broken or lost. This is a mature jewelry box, made for young girls who wear real jewelry, not just playtime jewelry. The medium size is just enough space to organize her favorite rings, necklaces, bracelets and earrings, with each having its own dedicated compartment. The ring tray provides padded rolls that allow her to store 26 rings and the dedicated earring holder holds three pairs of earrings that can be hung on the dividers.
The half-moon design combined with the compact size makes this an eye-pleasing accessory to display on a dresser or bedside table. It's available in multiple colors so whatever room decor she has, there's one that would accent it perfectly. This would be a wonderful gift to give a young girl that will help her develop responsibility and a sense of ownership.
Pros
Compact size for dressers

Teaches responsibility

Various compartments and drawers

Available in an array of colors
23.
LED Photo Fairy Lights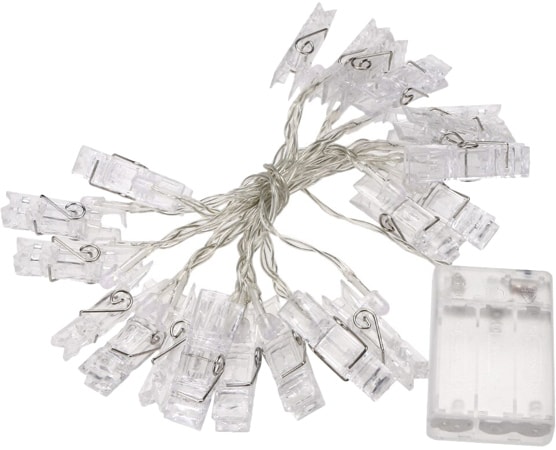 Why we like it: Create ambiance whilst displaying memories.
Perfect for pairing with a polaroid camera, or photo printer gift, these LED photo fairy lights combine two great products into one. Fairy lights are ideal for creating relaxing, cozy ambiance in a bedroom or kids lounge room and this set also allows photos or artwork to be clipped into place for display at the same time.
The LED Photo Fairy Lights are 16 feet long and have space to display up to 40 photos. Displaying photos of friends and family is likely to appeal to 13-year-old girls as they take more ownership over and interest in their physical environment.
Pros
16 ft long
Perfect for the bedroom
Display 40 photos
Cosy, warm white light
24.
Burger Socks Box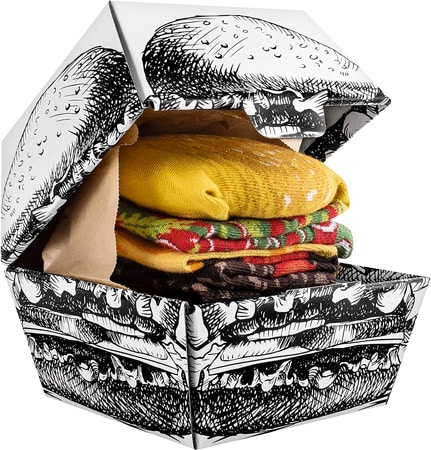 Why we like it: A fun, unique way to give a practical and useful gift.
A lovely way to give a practical and useful gift; the Burger Socks Box is a unique and beautiful present, combining the practicality of socks with the artistry and fun of being presented as a burger! With high-quality colorful socks presented in a tray to look just like burgers, this is sure to delight a 13-year-old girl.
This gift is perfect if you're not too sure of a girl's interests and want to buy her something practical that she will get some use out of but don't want it to seem too boring for her when she opens the gift. Coming from a family-run business the Burger Socks Box makes a great gifting option for both teens and adults.
Pros
Practical, useful gift
Fun presentation
Colourful socks
High-quality materials
Family run business
Cons
Need to know recipients size
25.
Jam Hang Up Shower Bluetooth Speaker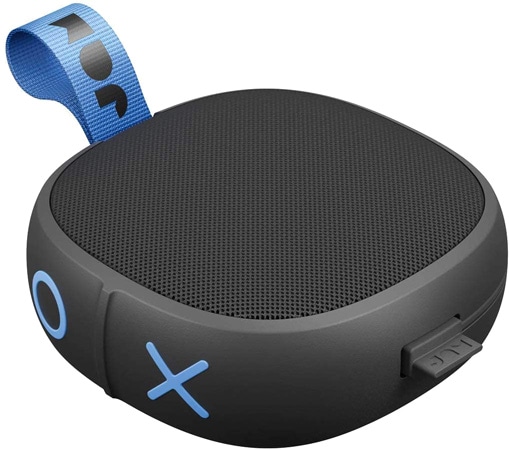 Why we like it: Like singing in the shower? This completely waterproof speaker can be used for music and calls.
The Jam Hang Up Shower Bluetooth Speaker lets you listen to music and receive calls from the comfort of the shower! With crystal clear sound and wireless connectivity to a range of devices, it's a unique gift for a 13-year-old girl who loves listening to music wherever she is!
Listening to music in the shower is a great way to relax and unwind so this is a gift that can help to ease anxiety and teenage stress and it has a stick-pad so it can be conveniently placed and removed both in the bathroom and elsewhere. It's highly portable, so ideal for a range of different uses.
Pros
Completely waterproof
Can be used to take calls
Wireless connectivity
Crystal clear sound
Stick-pad
Cons
Requires compatible devices
26.
Scratch Off World Map Poster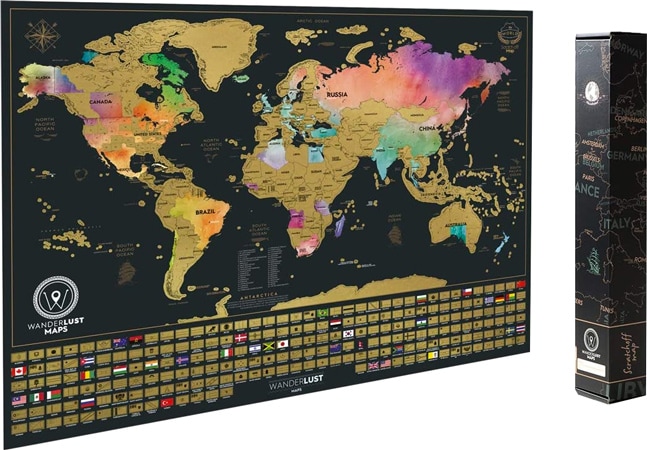 Why we like it: Perfect for an aspiring traveler, she can check off the countries she's visited.
The Scratch Off World Map Poster makes a beautiful gift for a teenage girl. This set includes a map of the world, and a more in-depth map of Europe made with special scratch-off coatings. The idea is that the user can scratch off the coating of the countries they have been to, creating a very visual record of their travels.
This is a gift that could last a lifetime, being used to keep a record of and inspire traveling and trips throughout life. The posters are visually beautiful too, making a great addition to most décor styles. The set includes customizable stickers so a 13-year-old girl can really personalize the posters to suit her own travel aspirations and experiences.
Pros
Encourages interest in travel
Could last throughout lifetime
1 globe map, 1 Europe map
Customizable stickers
Cons
Best for those who travel regularly
Final words
With age 13 marking the beginning of the teenage years you may feel a little overwhelmed and unsure about buying a gift for a girl as she enters this new phase in life and becomes more mature and independent but it is important to remember that children don't morph into different people overnight and many of the elements of her personality will remain.
13-year-old girls still care a lot about what adults, who are important to them, think and so gifts that build on or develop a new interest will likely be welcomed as some kind of affirmation or direction. The gifts listed here will appeal to a range of interests and personalities and represent the opportunity to develop existing skills, and learn ones. We hope that you find something suitable for the 13-year-old girl you have in mind!
Need more inspiration?