Age 4 is a great time; little boys of this age are curious about how things happen and their cognitive development is happening at lightning speed! For this reason, most 4-year-old boys tend to be interested in absolutely everything. Social skills and development also become incredibly important at this age as 4-year-olds are beginning to understand much more of the social world and take an interest in others' opinions, lives and preferences. Around age 4, imitation and play-acting scenarios are typical types of play and many of the gifts on this list will support this kind of play and the development of social skills.
With so many different products and great options on the market, it can be overwhelming to try and choose a gift for a 4-year-old boy. This list showcases a range of different options to help you pick something out.
1.
Theo Klein Bosch Workstation
Why we like it: Perfect for kids who love to role-play, this workbench comes with lots of accessories to inspire imaginative play.
Role-play is a way that 4-year-olds make sense of the social side of the world; they use imitation and acting to experiment with different situations and scenarios, which in turn helps them to develop appropriate ways of interacting and to 'file' away and make sense of their social experiences.
The Theo Klein Bosch Workstation is an ideal toy for role-play as it is based on real Bosch products that the child may have seen a family member, friend or workman using and it comes with 40 accessories to support a whole range of play. This kind of play is perfect for supporting the development of fine-motor skills and dexterity in the fingers, hands and wrists too.
Pros
Based on real Bosch products
Encourages role-play
Increases fine-motor skills and dexterity
40 accessories
Cons
Larger item, requires space to store and play
2.
Playmags 100 Piece Super Set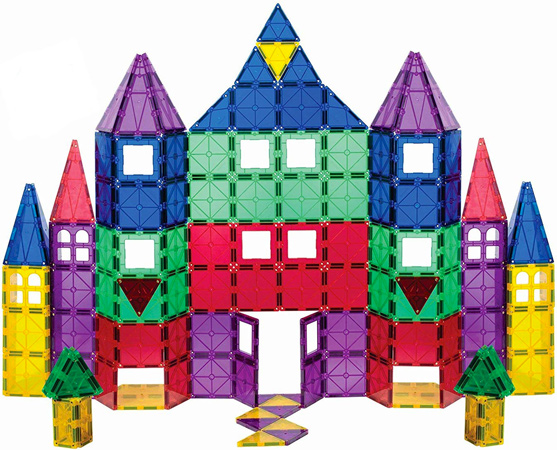 Why we like it: A high-quality construction toy that encourages creativity too.
Playmags are a brilliant resource for any home; they span a wide range of ages and even adults love using them. The Playmags 100 Piece Super Set has a variety of pieces making it easy to bring a wide range of ideas to life. Connecting together using just magnetism, Playmags are a very satisfying construction toy that is also promoting important engineering skills.
Trying to work out how best to build and connect the tiles encourages a basic understanding of physics and the properties of magnetism as well as increasing problem-solving skills when construction doesn't go quite to plan! 4-year-olds will improve their motor skills and control with these high quality, durable tiles which make the perfect gift for those that love construction activities.
Pros
Supports engineering skills
High quality and durable
Encourages creativity
Improves problem-solving skills
Increases motor skills
Cons
Does not come with a storage case
3.
Paw Patrol Ultimate Police Rescue Cruiser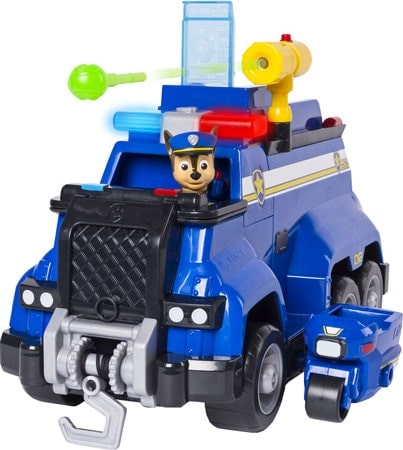 Why we like it: Based on the popular children's cartoon this police cruiser includes all the Paw Patrol characters for plenty of imaginative, story-telling play and fun.
As a cartoon that is very popular with 4-year-old boys, Paw Patrol is a great theme for children's play as it includes a range of social scenarios including 'goodies' and 'baddies' superhero type play. This set is ideal because it includes all of the characters from the series so that nothing needs to be bought separately. Including all the characters ensures that there are plenty of different scenarios that a 4-year-old boy can act out, experimenting with different kinds of interactions between the characters and practicing his speech and language.
The Paw Patrol Rescue Police Cruiser not only features all the characters and encourages imaginative play but also has real working parts to enhance play and increase children's understanding of technology.
Pros
Based on popular children's cartoon
Working parts
Includes all characters
Encourages imaginative play
Improves speech and language skills
4.
Shifu Orboot Globe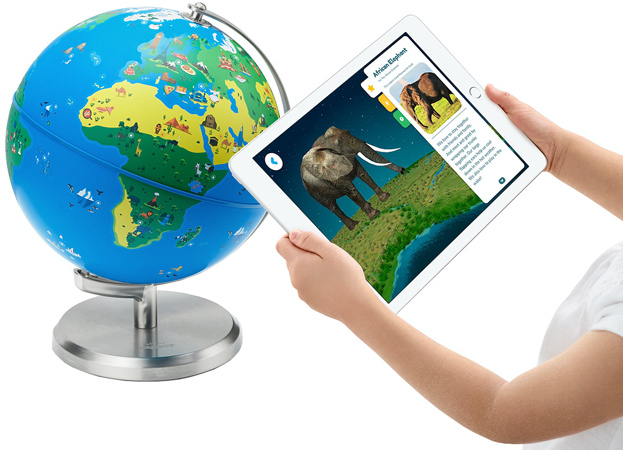 Why we like it: Globes are a great learning resource and this one has the added benefit of augmented reality!
Globes are a fantastic learning resource that will last a child through their school years, adding context to children's learning and realism to their understanding of locations. The Shifu Orboot Globe takes this a step further, adding an extra layer of interest with augmented reality accessed via an app.
As children hold their device up to the globe, they can access a huge range of information improving their technology skills and promoting positive use of technology. The Shifu Orboot Globe is compatible with both iOS and Android devices and helps to build children's interest in geography and their knowledge of the wider world.
Pros
Increases interest in geography
Promotes use of technology
Improves technology skills
Compatible with iOS and Android devices
Helps build knowledge
Cons
Requires compatible device
5.
Hot Wheels 50 Diecast Car Pack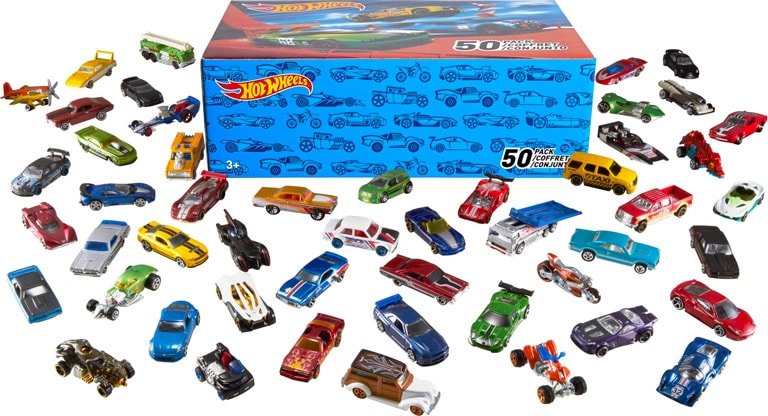 Why we like it: This pack of 50 individually wrapped cars will be thrilling for a 4-year-old boy to receive.
Playing with small cars and vehicles is a popular pastime for plenty of 4-year-old boys and many of them love to amass a collection of cars to show off and share with friends during playdates. The Hot Wheels 50 Diecast car pack is ideal to start off such a collection with a huge range of cars available.
To make this pack even more exciting each car is individually wrapped so a 4-year-old boy will have a wonderful time unwrapping each car individually and seeing which cars he has. These diecast cars are ideal for enhancing imaginative play scenarios, with plenty of realistic details for a child to notice and weave into their storytelling. They also come complete with a storage box to make tidying up a bit easier!
Pros
Enhances imaginative play
Realistic details
Comes with storage box
Individually packaged cars
Cons
Mystery selection of cars; cannot choose which ones you buy
6.
Canicove Teepee Tent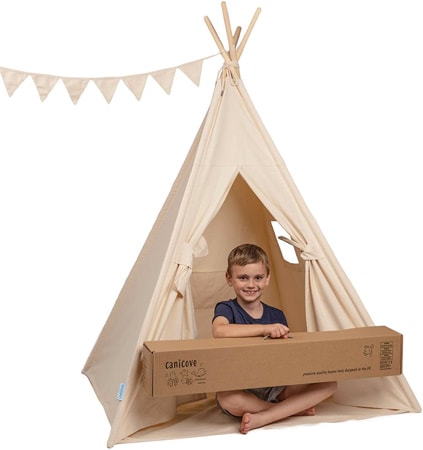 Why we like it: An award-winning teepee tent that makes the perfect hideout for kids!
Dens are popular with 4-year-olds, offering some privacy and secret space in which to play. They also offer imaginative role-play opportunities and can be very open-ended as the den could be a traditional Teepee, a Bat Cave, a secret lair…and so on! All depending on the 4-year-olds imagination.
The Canicove Teepee tent is an award-winning teepee style tent that can be used both indoors and outdoors, making it ideal for play in the bedroom, playroom or garden. With its practical design, it can also be folded away easily for storage.
Pros
Award-winning
Encourages imaginative role play
Ideal for bedrooms and playrooms
Can be folded for storage
Can be used outdoors
Cons
Larger item; requires space to play
7.
Lego Duplo Cargo Train
Why we like it: With a motor and remote control included, classic Lego Duplo just got even more fun!
Even fairly young children are interested in, and surprisingly skilled with, technology so the Lego Duplo Cargo Train makes the perfect gift for a 4-year-old boy who is curious about how things happen and why things work. This set combines all the usual fun of Lego Duplo, with an easy to operate push and go motor. The robust, child-friendly design makes it easy to increase children's interest in and understanding of technology.
The Lego Duplo Cargo Train can also be controlled using an app, increasing technology skills and understanding further and ensuring that the set can be used as the child grows.
Pros
Compatible with other Duplo sets
Robust, child-friendly design
Push and go motor; easy for children to operate
Increases interest in and understanding of technology
Can be controlled with an app
Cons
More expensive than standard Duplo sets
8.
Buzz Lightyear Astronaut Helmet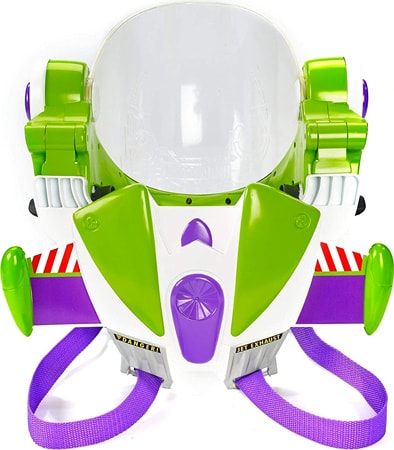 Why we like it: A great dressing-up item, ideal for imaginative role play, based on a popular children's film character.
Dressing up is a popular activity for 4-year-olds and often they have plenty of opportunities to do it with special events at schools, parties, holidays and just general everyday play. In fact, dressing up is an extension of role-playing which helps to develop social skills and empathy as children play and think about how others may feel in different scenarios.
The Buzz Lightyear Astronaut Helmet will appeal to 4-year-old boys who are fans of the popular toy story films and includes multiple special effects like sounds and character phrases.
Pros
Based on popular film character
Encourages imaginative role-play
Multiple special effects
Sounds and character phrases
9.
Micro Scooters Mini Deluxe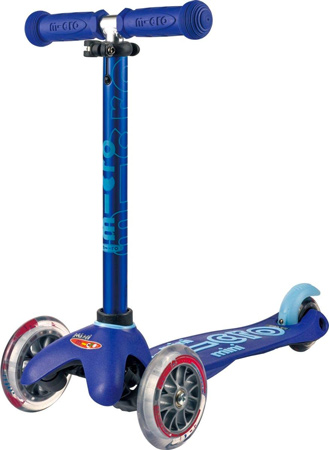 Why we like it: A scooter that is designed to grow with younger children and exciting physical skill to master.
Scooters are popular with children of all ages and by age 4 they can become a really useful mode of transport when the stroller is outgrown but walking is still too slow! The Micro Scooters Mini Deluxe is specially designed for younger children, aged 2-5 years, and has a handle that can be easily adjusted to the right height and plenty of grips on the scooter deck so it's perfect for a 4-year-old boy.
Scooters are a great way to encourage outdoor, physical play to keep children active and healthy, and to help burn off some of that endless energy! Scooting also helps to develop balance, coordination, core strength and control.
Pros
Adjustable handle height
Suitable for ages 2-5
Grips on deck
Encourages outdoor physical play
Develops coordination
Cons
Requires protective equipment, e.g. helmet
10.
Playmobil City Action Firestation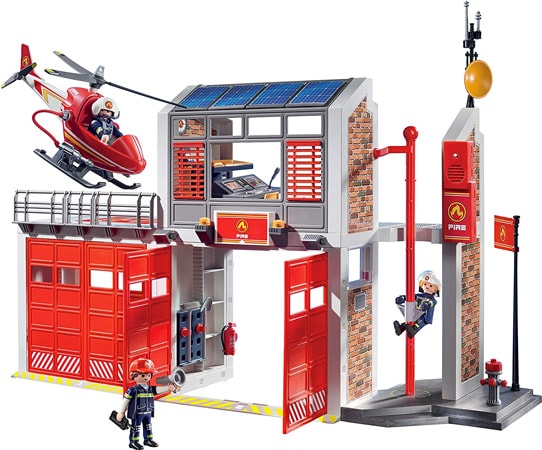 Why we like it: A play-set based on the fire service with exciting sounds and working elements to encourage imaginative role play.
Role-playing based on different occupations and ways of life is an important developmental milestone, showing that a child can comprehend and explore issues beyond what immediately affects them. Role-playing the emergency services and 'people who help us' demonstrates that a child is beginning to understand the wider society in which they live.
The Playmobil City Action Firestation is ideal for this kind of play, including sound effects and working elements it allows children to role-play imaginatively and explore the fire service. This set also improves construction skills as children need to follow instructions to put it together.
Pros
Encourages imaginative role-play
Allows children to explore different occupations
Improves construction skills
Working elements
Sound effects
Cons
Batteries required
Fire engine sold separately
11.
Brio World Travel Switching Set

Why we like it: Great battery powered train set to encourage interest in modes of transport and develop construction skills.
Train tracks are a classic toy, offering a range of benefits for children's development. For example, as children learn to connect pieces, they improve their hand-eye coordination, as they decide on the pieces they need, they develop problem-solving skills and as they plan their creation, they work on their spatial awareness.
The Brio World Travel Switching Set adds interest to train track play with two battery-powered engines based on trains from around the world. This encourages and develops an interest in different modes of transport. The Brio wooden tracks are also compatible with other train track sets.
Pros
Wooden tracks; eco-friendlier toy
Compatible with other track sets
Encourages construction skills
Develops interest in modes of transport
Battery-powered trains; add interest.
12.
Mario Kart Mini Anti-Gravity RC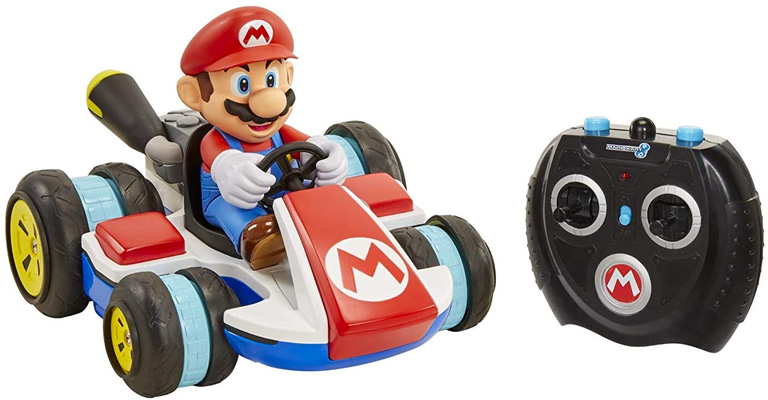 Why we like it: Remote control car that can perform tricks and stunts.
Remote-controlled gadgets are a popular choice for 4-year-old boys who are often interested in technology, how things happen and why things work, as well as enjoying the experience of being in control of an object. The Nintendo Mario Kart 8 Mario Mini RC Racer is a remote-controlled car, perfect for encouraging positive use of technology.
The Nintendo Mario Mini RC Racer is based on the popular Mario Kart characters to add interest to the item and can perform a range of tricks and stunts that are sure to delight most 4-year-old boys.
Pros
Remote-controlled car
Based on popular Mario Kart characters
Can perform tricks and stunts
Encourages use of technology
13.
Galt Toys Super Marble Run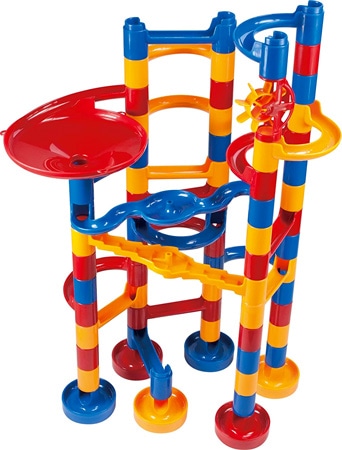 Why we like it: A fantastic way to boost creativity and improve construction skills as well as an understanding of cause, effect and gravity.
Marble runs make excellent open-ended construction toys which can help to boost a child's understanding of cause, effect and gravity. As a 4-year-old uses the easy to connect pieces he will be forced to consider how best to do so in order to allow the marbles free passage down the run.
The Galt Toys Super Marble Run can be added to with other Galt Toys Marble Run sets and includes instructions so that a 4-year-old can follow them and construct a tried-and-tested marble run, as well as coming up with their own designs.
Pros
60 pieces
Designed to slot together easily
Instructions included
Improves understanding of cause, effect and gravity
Boosts creativity
Cons
Marbles need to be stored carefully; choking hazard
14.
Coding Critters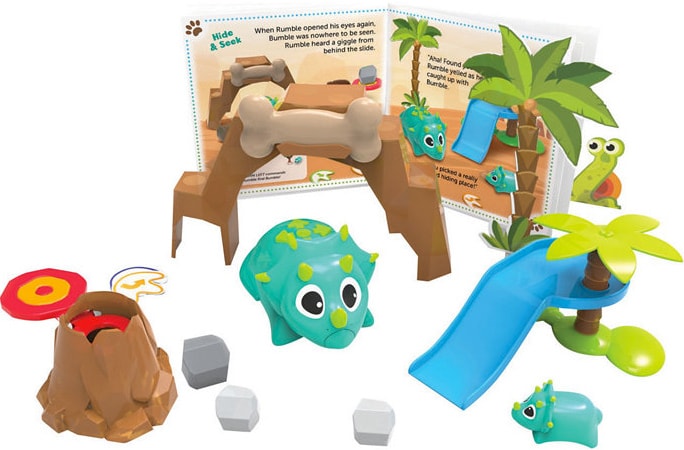 Why we like it: Develop early coding skills with this cute, fun play-set.
Coding skills are highly in demand right now and the earlier children can develop them the better! If children are interested in technology then encouraging that interest and the related skills is certainly a good idea.
The Coding Critters set is a set of cute animals that children can learn to use code and program them to move around. They have plenty of extra activities available for easy download and children can also use 'Play Mode'. In play mode children do not need to program the animals, they can just play with them and pretend to take care of them.
Pros
Develops early coding skills
Encourages use of technology
Play mode; allows children to take care of creatures
Additional downloadable activities
Cons
May require adult help or supervision
15.
Playmobil Porsche 911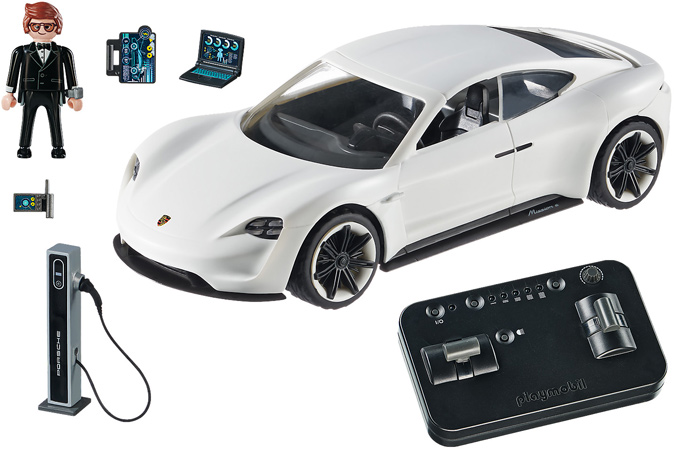 Why we like it: Remote control Porsche car, perfect for Playmobil figures and imaginative play!
Based on the popular classic car, the Playmobil Porsche 911 can also be used with other Playmobil sets to encourage imaginative, social play. The Porsche, figures and accessories can be used to 'act out' scenes and other social scenarios, helping to improve the understanding of social situations.
The Playmobil Porsche 911 comes with all the accessories needed for a race and has light-up elements. This set could make a great starting point for a Playmobil collection or an addition to an already growing one.
Pros
Based on popular Porsche 911 car
Encourages imaginative play
Lights up
Compatible with Playmobil sets
Cons
Requires batteries
Pre-constructed, no construction to do
16.
Hasbro Hungry Hungry Hippo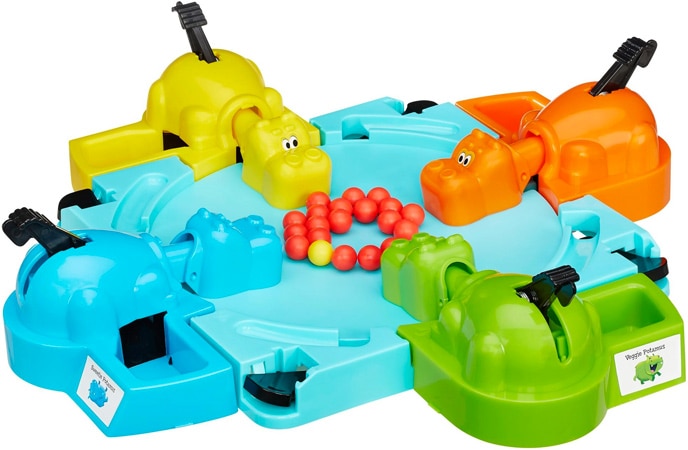 Why we like it: Classic, fun, family game to enhance motor, maths and social skills.
Playing games with family and friends is another great way for children to work on their social skills as they develop the ability to take turns, play fairly, follow the rules and begin to regulate their emotions as they win or lose. It also helps to build some social rapport and is a lovely way for family and friends to bond.
The Hasbro Hungry Hungry Hippo game is ideal for 4-year-olds as it doesn't require lots of strategies or critical thinking and has a fast pace. The game is ideal for improving hand-eye coordination and motor skills as children press the buttons on the hippos to make them snap their mouths open at the right time. Early maths skills are also supported as the balls need to be counted to determine who has won.
Pros
Fun game suitable for the whole family
Improves hand-eye coordination
Develops motor skills
Encourages counting and maths skills
Supports social skills
Cons
Requires additional players
17.
Aquaplay Mountain Lake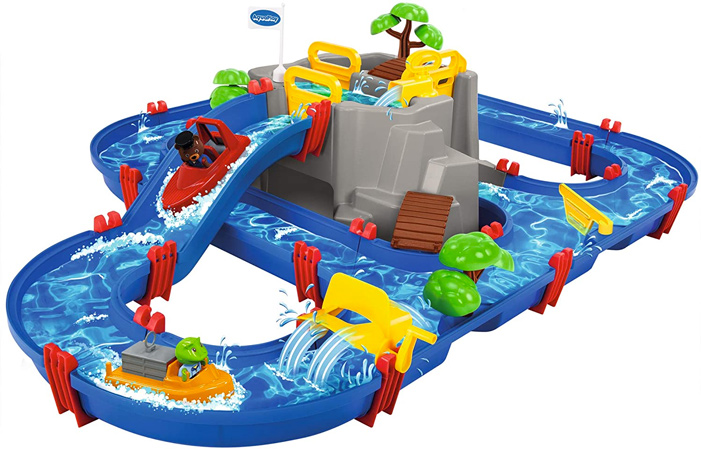 Why we like it: Water canal system for hours of fun encouraging imagination and early maths skills.
Water play forms a popular part of many preschool settings and for good reason! The learning opportunities when playing in water are very rich and playing in water is a sensory play opportunity in and of itself. The Aquaplay Mountain Lake is a water canal system for children to experiment and play with.
This helps to build early engineering and scientific skills as children begin to experiment with and gain an understanding of dams and water wheels. Early maths skills are developed through water play too as children begin to play around with concepts like full and empty. This is an ideal gift for children who love to play outdoors with water.
Pros
Sensory play opportunity
Builds early engineering skills
Encourages imaginative play
Develops early maths skills
Cons
Best played outdoors; requires outdoor space
18.
Hot Wheels Ultimate Garage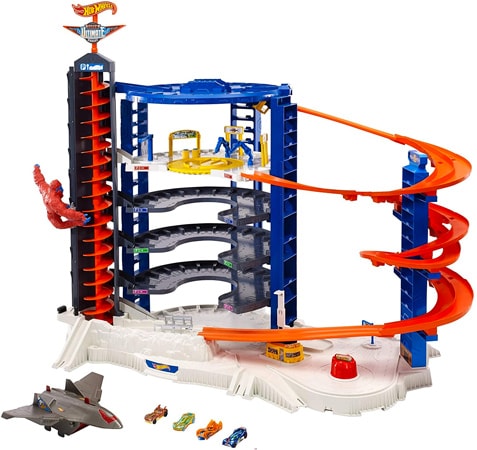 Why we like it: The ultimate garage toy for Hot Wheels fans, will encourage construction and imaginative play.
Part of the popular Hot Wheels range, this set is ideal for imaginative play with toy cars. It has space for over 140 cars and is compatible with other Hot Wheels sets so play can really be extended as much as desired. Imaginative play with cars is another way for children to experiment with different social situations and develop their language as they often use language to narrate what is going on or give speech to different characters in the scene they are creating.
The Hot Wheels Ultimate Garage is over 3 feet tall so would make a really exciting gift for a 4-year-old boy which will help to improve his construction skills too.
Pros
Over 3 ft tall
Space for over 140 cars
Compatible with other Hot Wheels sets
Encourages construction skills
Inspires imaginative play
19.
Brio Builder Creative Set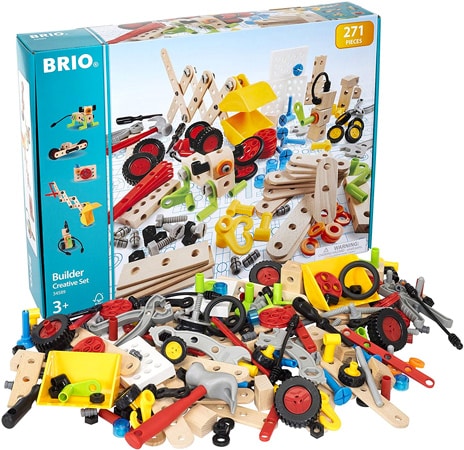 Why we like it: Lovely wooden toy to improve fine motor skills and encourage creative construction.
Open-ended construction toys are ideal for improving children's development, as they allow children to experiment with different ideas, figuring out what works and what doesn't and in turn, developing their problem-solving skills and understanding of basic engineering and construction concepts.
The Brio Builder Creative Set is a lovely, wooden construction set that encourages open-ended play but also comes with instructions to follow if the 4-year-old needs a few ideas to spark off their creativity. Constructing in this way also helps to improve children's fine motor skills by using nuts and bolts.
Pros
Wooden toy; more eco-friendly
Improves fine motor skills
Encourages construction
Instructions to follow
Open-ended play possible
Cons
More expensive than plastic alternatives
20.
Playmobil Wildlife Adventure Tree House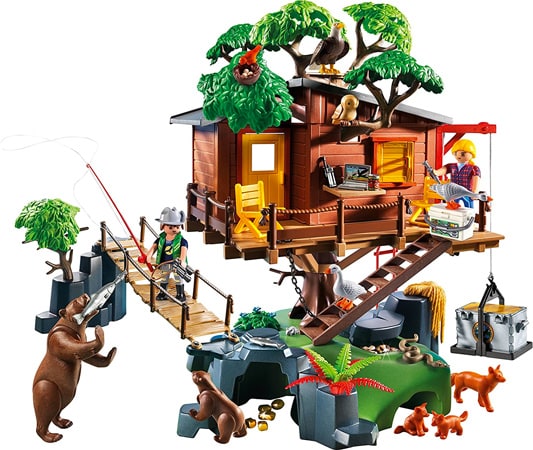 Why we like it: An exciting wildlife adventure Playmobil set for imaginative and social play.
Playmobil is a great resource for promoting children's imaginative and social play at age 4 because at this age they become very interested in a wide range of social scenarios and Playmobil gives them the characters and scenes needed to explore these.
The Playmobil Wildlife Adventure Tree House is ideal for this kind of imaginative play as it has lots of working features and is also compatible with other Playmobil sets so that play can be expanded by joining sets together and introducing characters to play.
Pros
Encourages imagination
Improves social skills
Compatible with other Playmobil sets
Working features
Cons
Small pieces; requires careful storage
21.
Toy Story Ultimate Walking Buzz Lightyear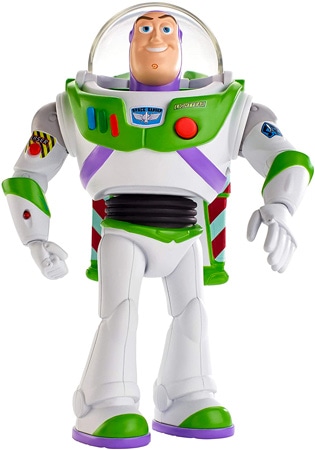 Why we like it: Walking, talking Buzz Lightyear from the popular Toy Story 4 Movie.
Toy Story has become a popular and instantly recognizable enterprise and the most recent Toy Story 4 movie was a big hit, so many 4-year-old boys will be fans of the characters from the Toy Story 4 movie. Buzz Lightyear, as one of the main characters, holds special appeal.
The Toy Story Ultimate Walking Buzz Lightyear is a fun play figure with lights and sounds who walks and talks! Most 4-year-olds will be delighted to hear him repeat popular catchphrases and will have hours of fun creating imaginative play scenarios based around storylines from the films, and their own ideas.
Pros
Popular children's character
Walks and talks
Lights and sounds
Encourages imaginative play
22.
Lego Classic Extra Large Stone Box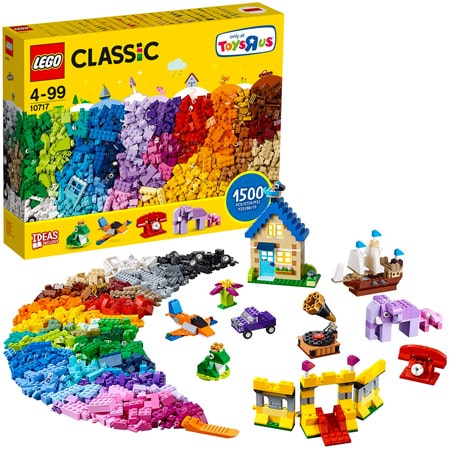 Why we like it: Boost imagination and creativity with this set of over 1500 pieces for open-ended Lego play.
Lego is a real timeless classic when it comes to open-ended construction toys and it really is built to last forever. Many families have Lego from when their adult children were younger, which they pass on to grandchildren or keep in their home for children to play with when they visit; this just shows how long the appeal of Lego will last!
The Lego Classic Extra Large Stone Box features 1500 Lego elements for lots of open-ended play which will boost children's imagination and creativity. The set also includes some construction ideas in case children need some inspiration to get them started.
Pros
1500 Lego elements
Open-ended play
Boosts imagination and creativity
Develops construction skills
Includes construction ideas
Cons
Does not come with storage box
23.
Tomy Pop Up Pirate Game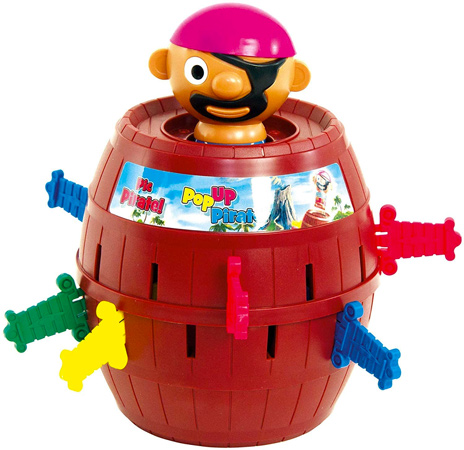 Why we like it: An exciting game that encourages social skills like turn-taking whilst improving motor skills.
The Tomy Pop Up Pirate Game is great to play with all the family as it is suitable for a range of ages, and can be played by up to 4 players at a time. However, it is also perfectly possible for a child to play with the game pieces alone so doesn't always require extra players to be around.
The game requires players to poke little swords into holes in the barrel until eventually one of them triggers the pirate character to pop up. Being able to put the sword pieces into the right holes requires dexterity and helps improve fine motor skills.
Pros
Encourages social skills
Improves motor skills
Up to 4 players
Can be played alone
Great family game
Cons
Requires adult supervision
24.
Puzzle Globe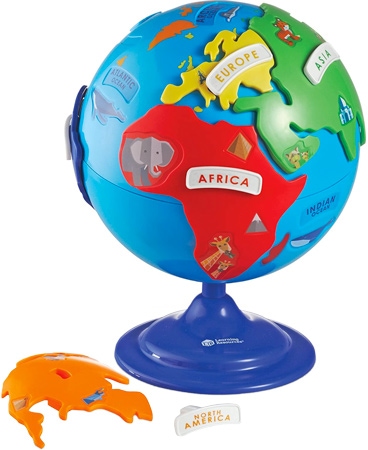 Why we like it: Introduce a child to geography and help them understand the wider context of the world in which they live.
Around about age 4 children are ready to understand their place in the wider world, including the idea of the globe. An early introduction to geography will benefit children as they read stories and learn about festivals from other countries, or even as they travel to go on holiday as it will give them a point of reference in which to understand the new information they are presented with.
The Puzzle globe includes six continent pieces, ocean names and famous landmarks which helps children to learn major geographical concepts. The pieces fit with different shaped pegs which helps to encourage children's shape recognition too.
Pros
Early introduction to geography
Six continent pieces, ocean names, landmarks
Encourages shape recognition
Multi-lingual activity guide included
Cons
Plastic toy; less eco-friendly option
25.
Battat Take-Apart Roadster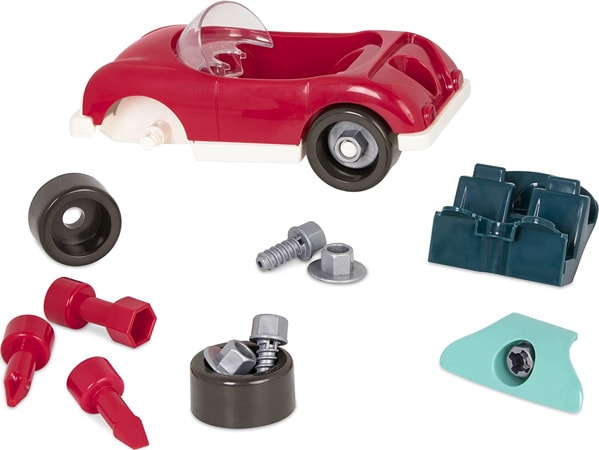 Why we like it: Encourage early engineering skills with this construction toy.
Early engineering skills are all about how things fit together, how they work and also how they can be taken apart. Many children are interested in taking things to pieces, and though parents can find this infuriating it is actually a very normal part of development.
The Battat Take-Apart Roadster is a car that has 18 pieces that can be taken apart and then reconstructed, developing early engineering skills and problem-solving skills. Using the tools included in the set also helps to develop fine motor skills and strength in the fingers, hands and wrists.
Pros
18 car pieces to take apart and reconstruct
Develops early engineering skills
Improves fine motor skills
Made of strong, durable plastic
Cons
All pieces need to be kept together
26.
Hape Playful Piano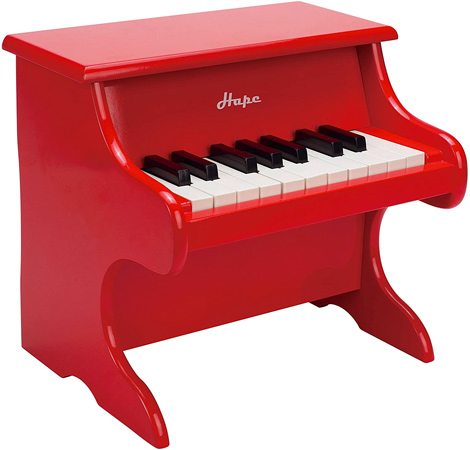 Why we like it: Encourage a budding musician with a realistic-looking piano.
Music is a huge interest for many 4-year-olds who seem to have a natural love for experimenting with different sounds, and it's a great interest to encourage too as enjoying music has a whole host of educational benefits. Children who enjoy, and are regularly exposed to, music have improved listening skills which helps them to differentiate between speech sounds and learn language more readily.
The Hape Playful Piano is a beautiful, lifelike piano to encourage children's musical skills. 4-year-old boys will love playing along, experimenting with sounds and creating their own "tunes". Made from high quality, sustainable materials the Hape Playful Piano is a gift that should last.
Pros
Develops musical skill
Encourages creativity
High-quality materials
Sustainable materials used
27.
Kinetic Sand Folding Sandbox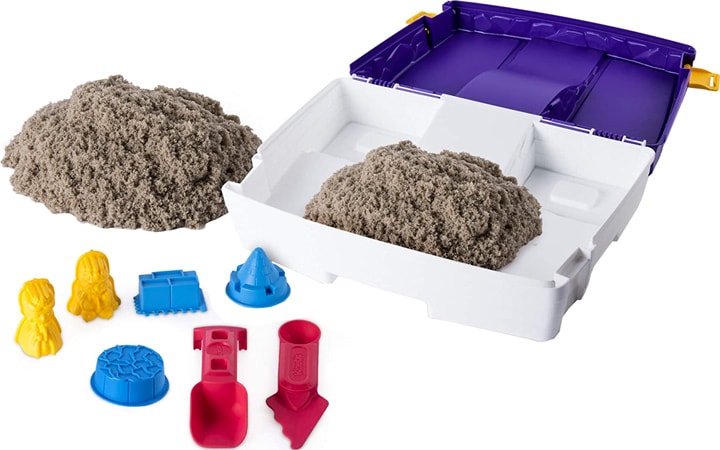 Why we like it: Perfect set for sensory play, simply folds away when finished!
Sensory play is important throughout the early years, and that includes age 4 too. Sensory play allows children to experiment with a whole range of different concepts and learn by being hands-on.
Kinetic sand is sand which can be easily molded and is extremely satisfying to use. The Kinetic Sand Folding Sandbox is ideal as it can simply be folded away when a child is finished playing with it, the box itself is a convenient, built-in storage solution and comes with 7 molds and tools. The kinetic sand itself is non-toxic and hypoallergenic so very safe for children to play with.
Pros
Sensory play opportunity
Convenient, built-in storage
7 molds and tools included
Non-toxic and hypoallergenic
28.
Sonic The Hedgehog Blue Force One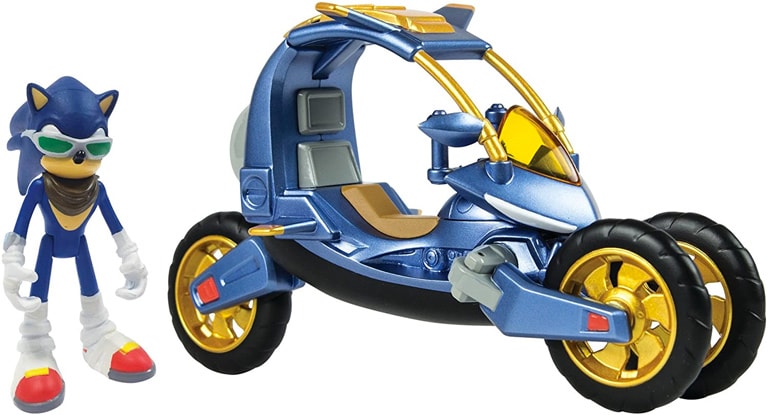 Why we like it: Based on popular Sonic The Hedgehog computer game character to inspire imaginative play.
Toys based on popular characters are ideal for encouraging 4-year-olds to play imaginatively as they give them a familiar base from which to start their imaginative play scenarios and some background information on characters to work with and expand upon.
This Sonic The Hedgehog Blue Force One Toy is based on the popular Sonic The Hedgehog character and includes a sonic figure alongside the vehicle. This transforming toy has 3 different configurations to inspire several different kinds of imaginative play and would make an ideal gift for a 4-year-old boy who is a big fan of Sonic the Hedgehog.
Pros
Based on popular Sonic The Hedgehog character
Inspires imaginative play
Transforming toy; 3 different configurations
Includes Sonic figure
Cons
Plastic toy; less eco friendly
29.
Fat Brain Toys Teeter Popper

Why we like it: A great, unusual option for keeping kids active, healthy and strong.
Keeping kids active is really important for their overall health; physical activity helps to improve cardiovascular health, develop muscles and flexibility but is also plays into children's overall development. Strong muscles and lots of practice with large scale movement improves gross motor skills.
The Fat Brain Toys Teeter Popper is a great open-ended option for children to work on their physical skills. It can be used as a rocker, sitting or standing, as a bridge, slide or balance beam, all of which promote imagination and improve core strength and muscle tone. It is also an unusual toy that many children will not have played with before.
Pros
Builds core strength
Improves balance
Keeps kids physically active
Open-ended toy
Cons
Larger toy; requires some storage space
30.
Intex Giant Gator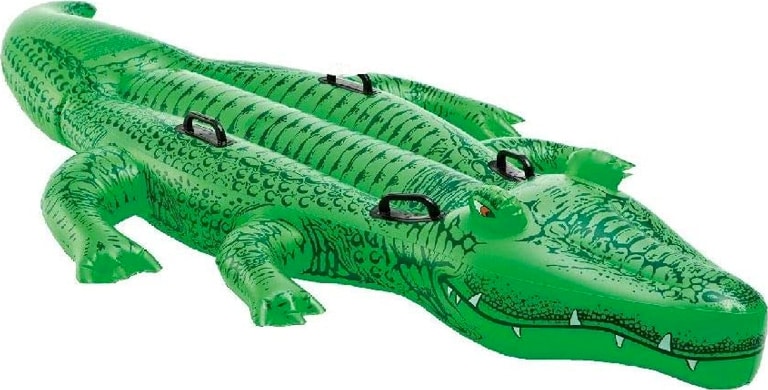 Why we like it: Fashionable animal pool toy to increase confidence in the water and build strength.
Swimming is a great exercise for young children and by 4-years-old many children feel more confident to experiment in the water. Under adult supervision, using this fun, inflatable alligator toy they can build up their physical strength and fitness. The two handles increase the float's stability in the water meaning that it is less likely to tip, further increasing children's confidence. The Giant Gator is ideal for children to ride on whilst in the water.
Swimming also improves children's gross motor skills as they learn to move their bodies through the water, and the Intex Giant Gator also encourages skills like pulling up, balancing, and kicking.
Pros
Easy to inflate
2 handles increase stability in water
Increases child's confidence
Opportunity to build physical skills
Cons
Most useful for a trip to the pool
Requires adult supervision
Final words
4-year-old boys are at a wonderful stage in their development when they are seeking to become more and more independent and want to explore a wide range of toys, crafts and games. They are also full of a real zeal for life which means they often have quite broad interests and lots of them. In some ways, this makes buying a gift for them easier, whilst in other ways, it may become overwhelming with such a wide variety of products on the market! This list of 30 ideas captures a range of quality products available as gifts for 4-year-old-boys so will hopefully help you as you consider what might make a good gift for the 4-year-old boy you need a gift for.
Need more inspiration?