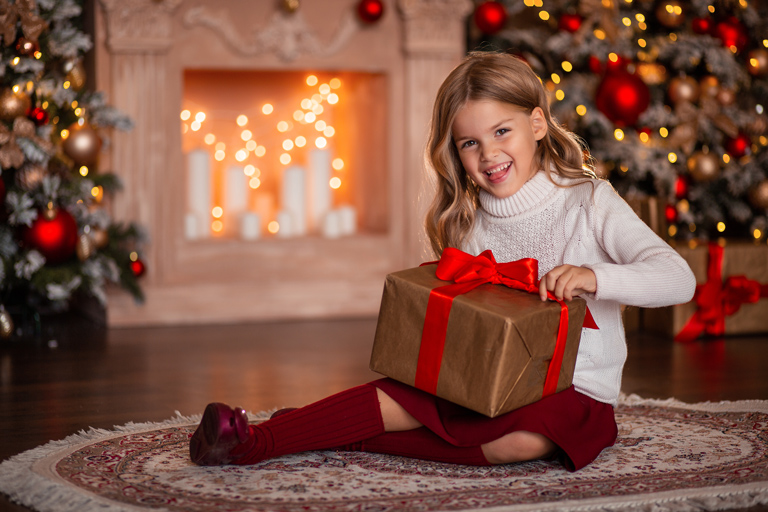 As the holiday season approaches, finding the perfect Christmas gift for a 6-year-old girl can feel like a challenge you're not ready for. It's that special age where curiosity and imagination are in full swing and toy options seem endless. Whether she's a budding artist, a princess at heart or a brave adventurer, you want a gift that is as spirited as she is.
We've done the hard work of digging through the internet to pull together this list of 16 wonderful Christmas gifts for 6-year-old girls to make sure you pick something as perfect as she is.
1.
Multi-Level Princess Doll House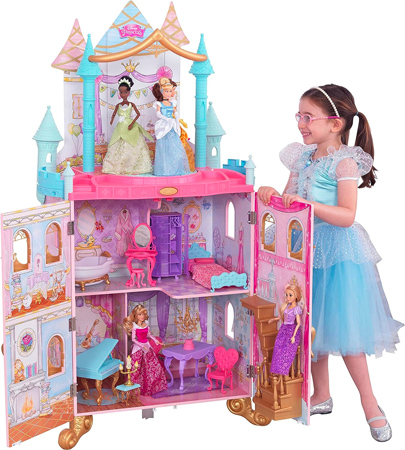 Gift a 6-year-old girl a world of royal fantasy this Christmas with this incredible Disney princess dollhouse by KidKraft. This dollhouse is an architectural marvel spanning three levels and standing over four feet tall. It comes ready to furnish with 20 detailed furniture pieces, including a vanity, lounge chair, grand piano and more.
The walls of each floor are decorated in ornate prints reminiscent of a grand palace fit for royal balls and dinner parties. It even has a rooftop terrace with a spinning dance floor, ready for all her royal dolls to rub tiny elbows and talk about all the cute princes at the party.
It's crafted from high-quality engineered wood, ensuring durability and long-lasting play. If you're searching for a gift that's going to make a huge impression, this is the one you're looking for. It will be the only gift she'll be telling all her friends about.
2.
Crayola Sprinkle Art Set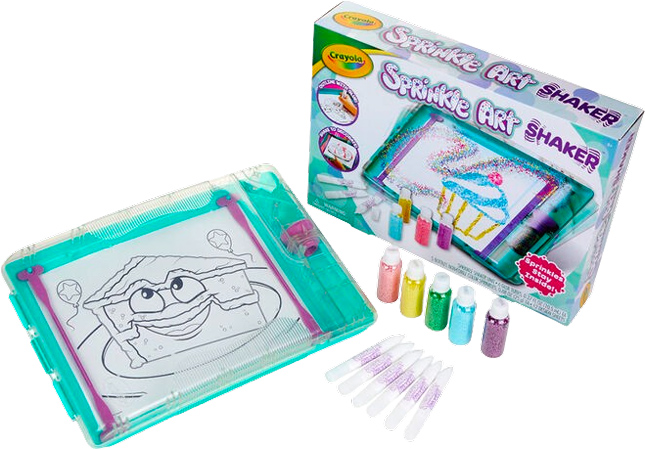 Surprise a 6-year-old girl this Christmas with this unique art set by Crayola. This art set is a new twist on glitter art. Instead of shaking glitter onto paper, which can get messy, this set uses tiny sprinkle beads that can cover her art.
It comes with a shaker, glue, 12 outline sheets, five bottles of non-edible sprinkles in various vibrant colors and a shaker tray. The simple process involves adding glue to the pre-designed sheets inside the shaker tray, filling the shaker with sprinkles and then shaking until the artwork is covered in a dazzling array of colors.
The set is designed to encourage creativity and color recognition, while also improving motor skills as she handles the shaker and sprinkles. It's also a fun way to create textured art that pops off of the paper.
3.
Customizable Fashion Doll Set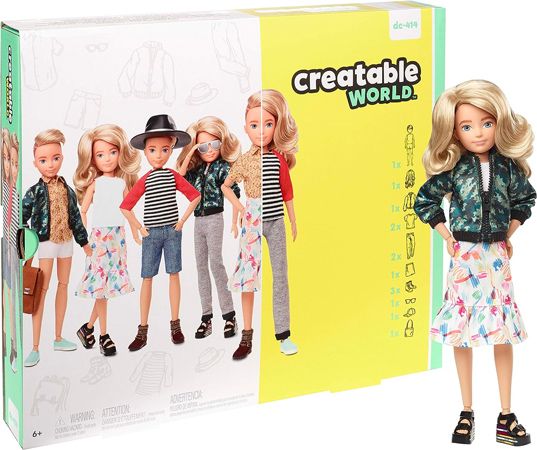 This Christmas, let the magic of imaginative play light up the eyes of a 6-year-old girl with this fashion doll set by Creatable World. Designed to encourage her blossoming interest in fashion, this is a toy she'll be excited to unwrap. The set includes a doll with bendable joints as well as a changeable hairstyle. The large assortment of clothes and accessories can create over 100 different looks. From casual chic to an elegant evening, this doll has an outfit for any occasion.
The hands-on experience of dressing and accessorizing the doll not only engages her in creative play but also encourages her to develop fine motor skills and a strong sense of style and coordination. This is a Christmas gift that promises to be adored by any young fashionista-in-the-making.
4.
DIY Gem Sticker Suncatchers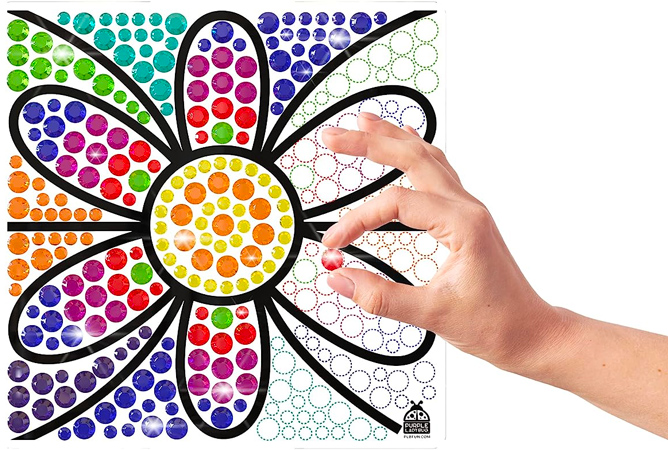 If you're trying to find a Christmas gift for a 6-year-old girl that likes to spend her time creating and being artistic, this gift is going to have her excited. This kit by SunGemmers comes with all the supplies she'll need to create one-of-a-kind suncatchers that she can hang in the windows around her room. Using the included gem stickers that come in beautiful jewel tones, she can decorate either a heart or a flower design.
The templates come preprinted with guides so she knows which size gems to use to complete her suncatcher. She can either use the suggested color guide or she can go wild with her own imagination. The end results are dazzling creations that let the light shine through and bring a personal touch to her room decor.
5.
Assorted Adjustable Ring Set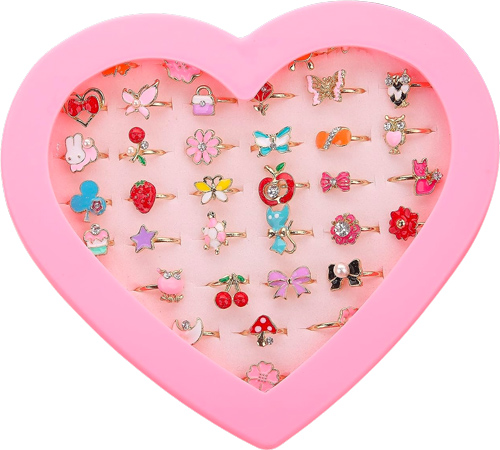 Know a young lady that loves a bit of glitz and glam? This huge set of dress-up rings is going to be a Christmas gift that any 6-year-old girl will be over the moon to unwrap. Made by Fineder, this extensive set includes 36 adjustable rings with designs ranging from fruit to butterflies and animals. Whatever outfit she's trying to accent, she'll definitely find the perfect accessory here.
The set comes packaged in a pink heart-shaped box that doubles as a keepsake jewelry box to keep all her new bling safe from loss or damage. The rings are made from alloy materials that have been tested for kid safety, making them ideal for playtime or for going out to her special playdates.
6.
Paint Marbling Art Kit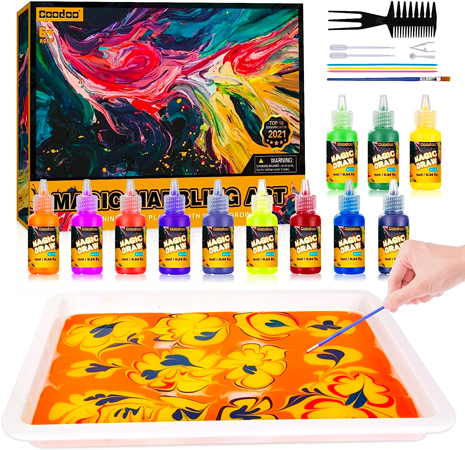 Transform a 6-year-old girl's Christmas into a colorful celebration with this fun paint marbling set by Titoclar. This creative set offers a unique painting experience that blends colors in mesmerizing patterns. It includes 12 non-toxic paint colors and a water tray, providing everything needed to develop her new artistic skill.
Simple to use, she just needs to drip the paints into the filled water tray, swirl to create patterns and then transfer the patterns onto the included papers by laying them onto the water surface. The paints are easy to mix, enabling her to create a wide range of beautiful designs, no two ever being alike. The set not only provides hours of fun but also encourages artistic expression and boosts self-confidence as she creates amazing art to give to her friends and family.
7.
Transparent School Backpack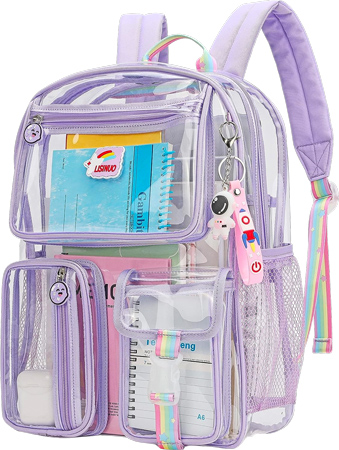 Choose this backpack by Lisinuo as a Christmas present for the 6-year-old girl in your life and you can be sure you've picked a gift she'll be thrilled to use. More than just a boring school backpack, the see-through design of this one adds a fun and modern touch to her school outfits.
Made using durable, waterproof material, this backpack is perfect for carrying her favorite toys, books and art supplies, be it to school, a playdate, or a day trip with family. The clear style lets her showcase her items, adding to the fun of owning this cool bag. It also features comfortable, adjustable straps that easily accommodate her growing frame, ensuring it's a gift she can use for many years.
8.
Lego Dots Desk Organizer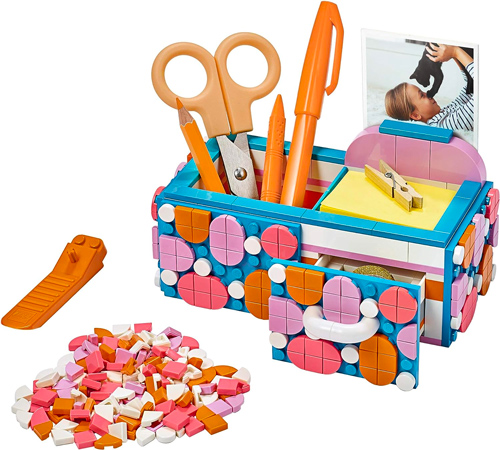 This Christmas, encourage a 6-year-old girl's creative mind with the gift of building her own personalized desk organizer. This Lego set is not just about assembling blocks, it provides her with the hands-on experience of designing and customizing her own desk decorations, taking ownership of her personal space. The set comes with 405 pieces, inclusive of colorful tiles, a tray to keep her things sorted and a booklet filled with design inspirations.
Once completed, the organizer features multiple compartments for storage, an opening drawer and even a photo holder where she can display a family picture or a piece of her own artwork. This is a gift that combines fun, learning and utility, making it a winning Christmas present for a creative young girl.
9.
Polly Pocket Mermaid Set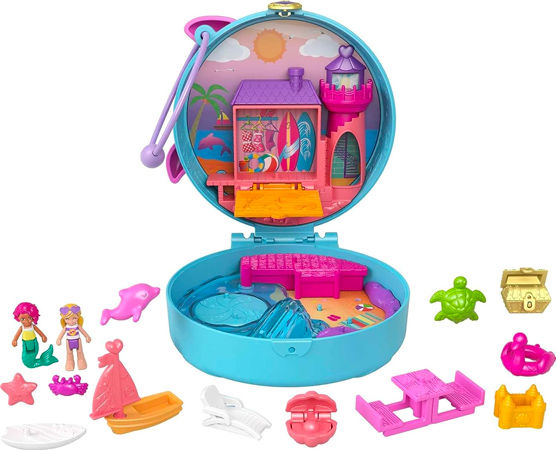 This gift is sure to make a big splash this Christmas morning if you're shopping for a 6-year-old girl who loves Polly Pocket. This beach-themed set is a micro-scale world that opens up to reveal a stunning mermaid cove. Designed with vivid colors and a host of hidden surprises, this toy will make playtime a magical experience.
The set includes two tiny dolls, a dolphin, a boat and a ton of other accessories to inspire creative storytelling. The compact size makes it perfect for on-the-go fun. Whether she's playing at home or taking her mermaid friends with her to school in her backpack, this toy is guaranteed to provide endless hours of imaginative play.
10.
LOL Surprise Doll Toy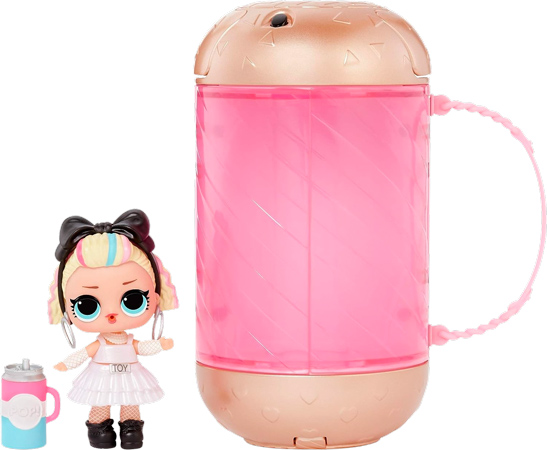 Give a Christmas gift that combines a ton of surprises into one fantastic package with this gift choice. This L.O.L. Surprise doll set will impress any 6-year-old girl with an engaging unboxing experience that just keeps delivering surprises. Nestled inside the reusable carrying case she'll find 15 different surprises waiting for her. It includes a doll, matching doll accessories, confetti and more.
L.O.L. Dolls have captured the hearts of young girls everywhere, with a broad range of options featuring unique dolls and surprises. This fun gift will kick off her collection of tiny dolls so she can show off her growing collection to all her friends at school.
11.
Lightweight Flying Frisbee Rings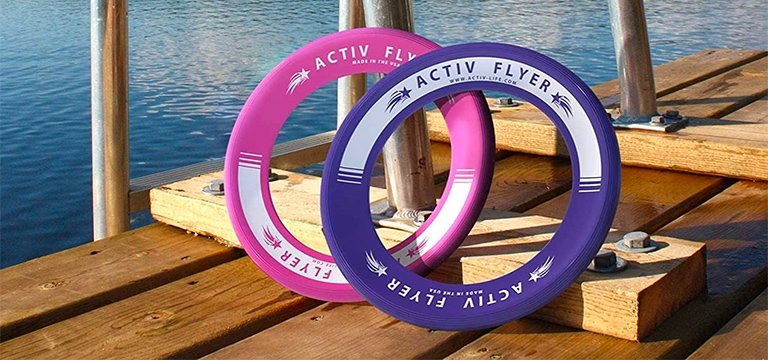 Give a 6-year-old girl a Christmas gift that will get her enjoying more outdoor time with this fun set of flying discs by Activ Life. The set comes with pink and purple discs that are easy to grip and throw, perfectly sized for her little hands.
The discs, which are 80% lighter than traditional frisbees, have a unique design that allows them to fly straight, making games of catch more fun. The lighter weight also means they won't hurt if she accidentally gets hit with one. This is a great toy to play with in the backyard or to take along to beach days or park outings.
12.
Crystal Pixie Flyer Toy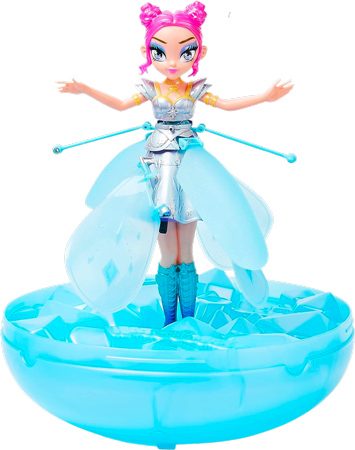 For the 6-year-old girl who dreams of a world filled with magic and fairies, the Pixie Crystal Flyer by Hatchimals is the perfect Christmas gift. This cute pixie adds enchantment to playtime, with her glittering wings and ability to truly fly. The pixie is set into motion with a simple toss into the air or a press of the launch button on her base.
Controlling her flight is as easy as placing a hand underneath her, making her go higher or lower. In case of accidental crashes, the pixie is designed to automatically stop flying, preventing damage. Presented in a beautiful crystal-shaped case that can also be used as a display, this gift is certain to add loads of fun to Christmas morning.
13.
Unicorn Alarm Clock Cube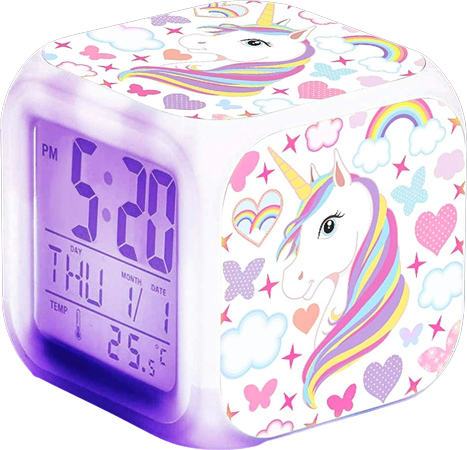 This Christmas, gift a 6-year-old girl the pleasure of waking up to an alarm clock that makes her mornings feel as magical as her dreams. This alarm clock cube by Touch-X is covered in a bright unicorn design with rainbows, hearts and butterflies. Other than being a fun decor item for her nightstand, it also comes packed with a ton of features.
The clear digital face displays the time, day and weather while the easy-to-set alarm will make sure she's up for school on time. This is more than just a fun clock though. The entire cube glows in nine color options so it doubles as a very cool nightlight that she'll love to start and end her days with.
14.
Frozen Slumber Bag Set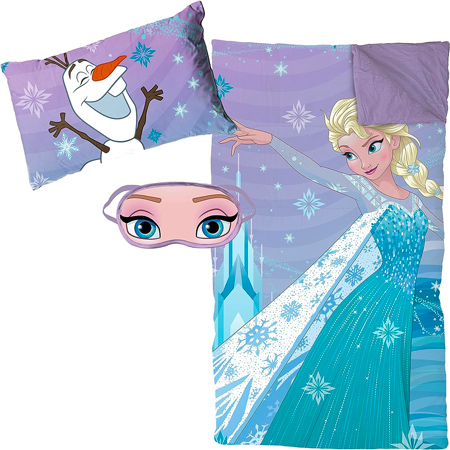 Are you holiday shopping for a 6-year-old kiddo who loves a slumber party with friends? This sleepover set by Disney is a gift she's going to want. The set, featuring Elsa and Olaf from the popular movie Frozen, comes with everything she'll want for a memorable night of girl talk and late-night cartoons at her bestie's house.
It includes a sleeping bag, a pillow and a matching sleeping mask. This versatile set would also be great for nap times at home, cuddles on the couch, or for taking in the car for long days of travel.
15.
Musical Remote Controlled Toy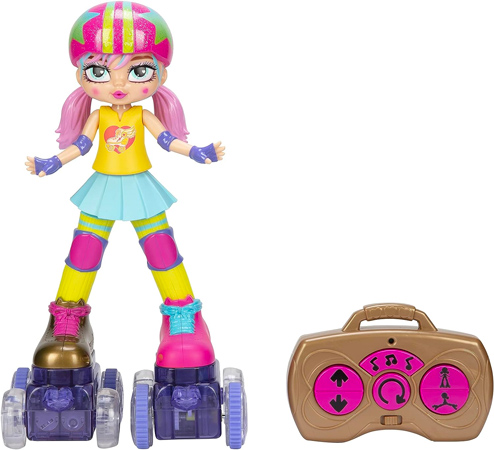 This Christmas, imagine the joy on a 6-year-old girl's face as she unwraps this Rock N Rollerskate doll. Not only is she an awesome doll on light-up roller skates, but she can also be controlled via remote control. Using the remote, Rainbow Riley will go forward, backward and even do 360-degree spins all while lighting up and playing music. Designed with vibrant clothes and cool pink hair, this is a doll that will skate her way into the heart of the young girl you're shopping for.
16.
Kid-Sized Baking Set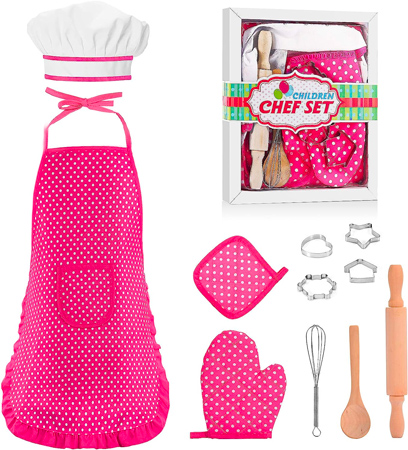 For a 6-year-old girl with a budding love for culinary arts, this kid-sized baking set would make a thoughtful Christmas gift. Designed with little chefs in mind, this comprehensive set includes a variety of tools, from rolling pins and cookie cutters to a whisk, spoons and a spatula. These utensils are scaled down to comfortably fit in her small hands, encouraging her to engage in hands-on kitchen fun with her mom and dad.
The apron and chef hat add an authentic touch, making her feel like the star of her very own cooking show. In addition to stirring up joy and excitement, this set is a gateway to valuable life skills, fostering her independence and confidence in the kitchen.
Need more inspiration?