By age 11 girls are swiftly moving away from childhood and towards the tumultuous teenage years, and you may already be seeing that struggle for independence, so with their new desire for maturity it can be difficult to know what to buy for an 11-year-old girl.
This is an age where girls are beginning to want to be part of the adult world, and no longer want gifts which are obviously toys, though their playful side and desire for fun often remains. This all makes gift buying pretty tricky! So, we've put together a list of gifts that should appeal to both the playful side and the newfound maturity of 11-year-old girls.
1.
Cute Leather Backpack Set
Why we like it: A stylish 3-piece set including a mini backpack, shoulder bag, and card wallet, made of durable PU leather.
This adorable bowknot backpack set is both practical and fashionable. It includes a mini backpack, shoulder bag, and card wallet, so an 11-year-old can mix and match for different activities. The backpack is roomy enough to hold essentials like a phone, iPad, and wallet.
Made of high-quality PU leather with clean stitching and stylish hardware, each piece is built to last through daily wear and tear. The neutral tan color works with any outfit. This set allows 11-year-old girls to stay organized while looking cute and put together. The backpack and shoulder bag work great for school, travel, shopping, or weekends out with friends. The card wallet holds cash, cards, and ID. Together or individually, these pieces make a thoughtful and useful gift set.
Pros
Durable PU leather
3-piece matching set
Lots of functionality
Cute bowknot accents
Perfect size for 11-year-olds
2.
Butterfly and Heart String Art Kit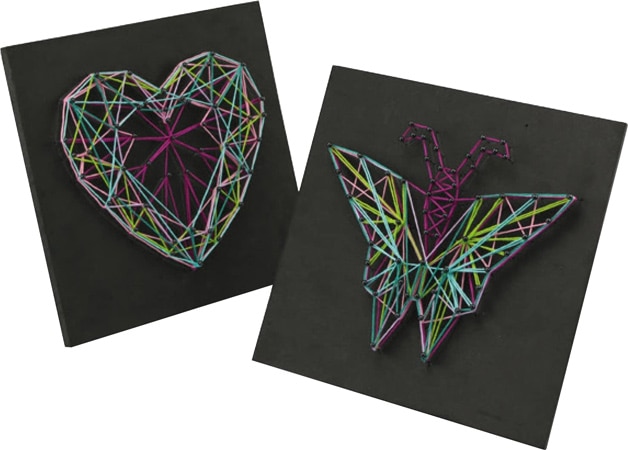 Why we like it: Encourage creative work and concentration with this string craft set.
Although not big fans of toys, many 11-year-olds are still interested in arts and crafts. However, they have often already done most of the traditional craft sets, the Butterfly and Heart String Art Kit offers something a little bit different whilst still providing all the instructions and equipment needed.
Using specialized pins and boards so that hammers and nails aren't necessary the Butterfly and Heart String Art Kit allows an 11-year-old to produce wonderful string art pictures, improving dexterity, concentration and perseverance. This is an ideal project for an 11-year-old to work at independently and produces beautiful results.
Pros
Improves dexterity
Encourages creative work
Promotes concentration and perseverance
No hammer or nails needed
Includes everything needed
Cons
Set includes pins; care required
3.
Digital 3D Printing Pen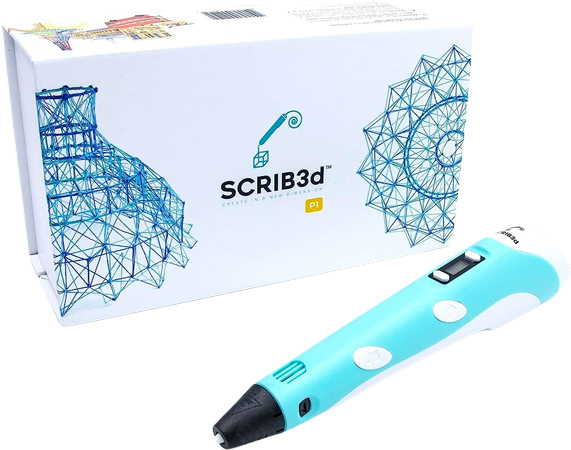 Why we like it:
A fun 3d printing pen that will spark an interest in technology and promote creative thinking in young girls.
Here's a gift that marries crafting, creativity and technology. If you know an 11-year-old girl that deserves something special, this gift is going to have her jaw on the floor. With this 3D printing pen, she can make anything from her own picture frames to keychains or room decor just by drawing it. Just like a 3D printing machine, this pen uses a special filament, much like plastic, to print ideas in real-time.
This cool gift is designed specifically for a younger crowd, so there's no need to be a tech genius or a need to use complicated machinery. It even comes with fun patterns that can be easily made with very little learning curve. A gift like this helps with spatial thinking and encourages a love of both art and technology. You'll be amazed at the creations she'll be able to print all by herself. You'll probably want to try it too!
Pros
Helps with spatial thinking

Fosters interest in technology

Easy to use, just plug and play

Includes filament and stencils
Cons
May require initial adult supervision
4.
Bluetooth Speaker Alarm Clock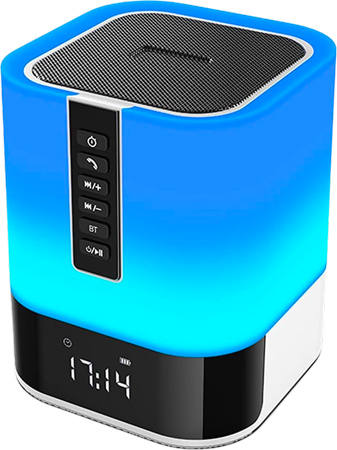 Why we like it:
A color-changing touch lamp that will also play her favorite music wirelessly to make her room a place all the cool kids want to be.
This gift is going to be the coolest alarm clock any 11-year-old girl has ever had. This alarm clock isn't just for getting out of bed though. Yes, it tells time but this is also a nightlight that will make her room glow in one of 48 different neon colors. It will also play her favorite tunes from her phone through Bluetooth connectivity and when calls come in she can even answer hands-free.
When it's not projecting her favorite colors, it also features a warm light that can be set to one of three brightness levels. The brightest level is light enough to use as a reading lamp or as a desk lamp for doing homework. This is a great gift for an 11-year-old that wants to personalize her room with the sounds and colors that make her feel most at home. Plus, she'll never be late to school.
Pros
Touch operation

Five different functions

Choose from 48 colors as a light

360-degree sound projection
Cons
Takes eight hours to charge via USB
5.
SmartLab All Natural Spa Lab Kit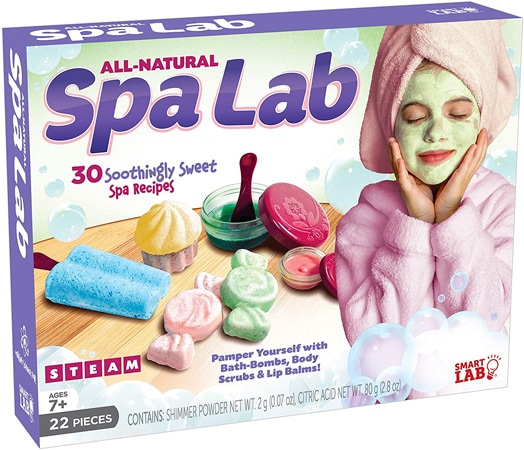 Why we like it: An 11-year-old will love this opportunity to create her own spa products.
Self-care and pamper time are interests that may begin or may develop further, around about age 11 and the SmartLab All Natural Spa Lab Kit is a lovely way to encourage these interests whilst also providing educational opportunities. With this kit, an 11-year-old girl can follow instructions to make her own face masks and bath bombs.
This kit is designed for easy use and storage, but also increases scientific understanding of the properties of different materials and ingredients and promotes experimentation too. With the included recipe book there are plenty of different spa products to choose to make, and this kit will really appeal to an 11-year-old.
Pros
Develops ability to follow instructions
Increases scientific understanding
Encourages self-care and independence
Promotes experimentation
Includes recipe book
Cons
Requires additional ingredients
6.
Swingball Classic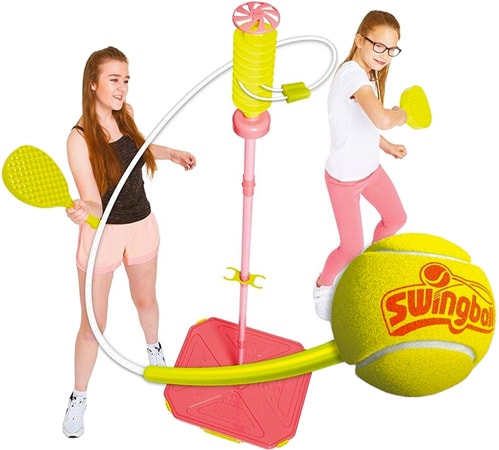 Why we like it: Classic outdoor game to help improve tennis skills and hand-eye coordination.
A classic Swingball set is a great gift for an 11-year-old girl who has access to some outside space. It's easy to set up and can be played independently or with others and it helps to hone hand-eye coordination as well as improving tennis skills.
Keeping active and healthy are important habits for life and a Swingball set will encourage time outdoors and physical activity to help to build this habit. So, if you're looking for a gift for a sporty 11-year-old girl then a Swingball set might be a good idea!
Pros
Improves tennis skills
Promotes hand-eye coordination
Can be played together or independently
Keeps kids active and healthy
Easy to set up
7.
Ravensburger Eiffel Tower Night Edition 3D Jigsaw Puzzle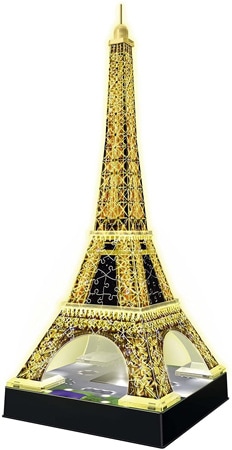 Why we like it: Take jigsaw puzzles to the next level with this 44 cm high 3D model of the Eiffel Tower, complete with LED lighting effects!
Jigsaws are a popular pastime in childhood that can be developed and maintained into adulthood and throughout life. However, as an 11-year-old girl gets older she will need jigsaws that present more challenges and have something a bit novel about them. The Ravensburger Eiffel Tower Night Edition 3D Jigsaw Puzzle is perfect as it is both challenging and novel.
With 216 pieces that are arranged in numerical order to create the 17 inches high model, this activity will improve construction skills and dexterity. The LED lighting effects are a lovely touch, ensuring that the finished model really does represent the Eiffel Tower at night, and making a great addition to an 11-year-old girl's achievement.
Pros
216 pieces
Improves construction skills
17-inch high model
No glue required
LED light-up model
8.
Inflatable Lounger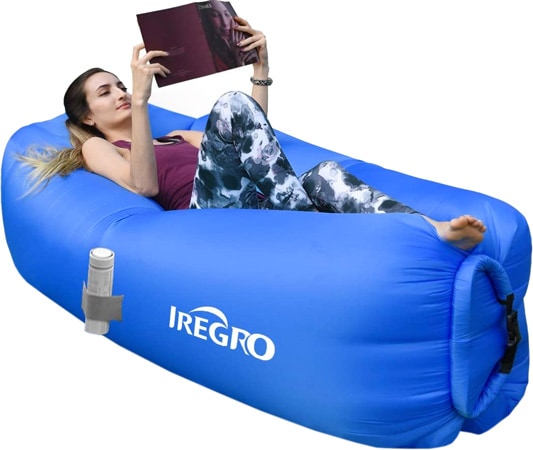 Why we like it: Make sure she can relax and lounge wherever she is with an easy-to-inflate lounger.
Available in a range of colors, this Inflatable Lounger is perfect for taking along on a range of different outdoor activities. Whether it's a trip to the park, or beach, a camping holiday or just some lounging in the garden, the high-quality materials of this lounger ensure that it will stand up to the job.
The inflatable lounger is ideal for encouraging spending time outdoors, as well as being portable for convenience. Unlike other inflatable loungers, this does not require a pump and would make an ideal gift for an 11-year-old girl who enjoys camping or lounging in the sun with a book.
Pros
No pump required
Ideal for beach, park, garden or camping
High-quality materials
Portable
Encourages spending time outdoors
Cons
Not suitable for overnight sleeping
9.
Ceramic Unicorn Money Box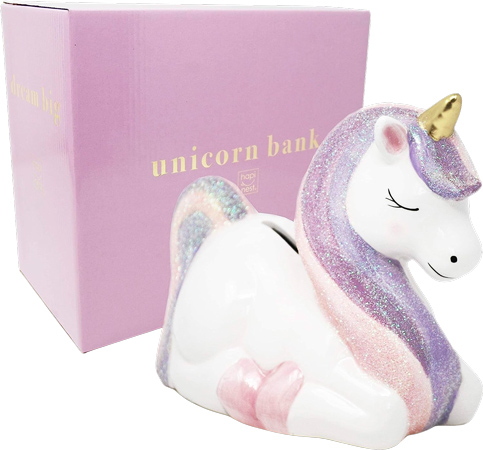 Why we like it:
A glittery unicorn money bank that young girls will love but also teaches the value of financial responsibility.
If you're looking for a gift that will look adorable in an 11-year-old girl's room but also teaches valuable life lessons, this money box is what you're looking for. It's made of ceramic dolomite and designed to look like a sleeping unicorn that's waiting patiently to save all her hard-earned pocket money. It's the cuter, more princess-inspired version of a piggy bank. It features a sparkling pink and purple mane, a metallic gold horn and long painted eyelashes. Each unicorn is hand-painted so it's a unique gift that only she will have.
Giving this money box not only provides young girls with a piece of bedroom decor that reflects their personality and interests, but it's also a chance to teach them about the value of money. Saving money from a young age, even if just coins, can create a valuable habit that can carry into adulthood.
Pros
Hand-painted

Rubber stopper to release money

Teaches the value of money and saving

A beautiful piece of decor she'll love
10.
Ravensburger Minecraft Builders & Biomes Strategy Board Game
Why we like it: Board game based on the popular Minecraft game.
Board games are a great way to improve critical thinking skills but sometimes it can be difficult to drag 11-year-olds away from their screens and devices to play games together. The Ravensburger Minecraft Builders & Biomes Strategy Board Game might be a solution to this! It's based on the popular Minecraft computer game so will capture the interest of an 11-year-old girl whilst helping to build strategy skills.
The game can be played with between 2 and 4 players which helps to build social skills as children learn to take turns, follow rules and communicate appropriately. Every time the game is played it is different, with a range of different scenarios to explore. This would make a great gift for a girl interested in Minecraft.
Pros
Based on the popular Minecraft game
New game scenario each time
Improves critical thinking skills
2-4 players
30-60 minutes of gameplay
11.
Fitbit Ace 2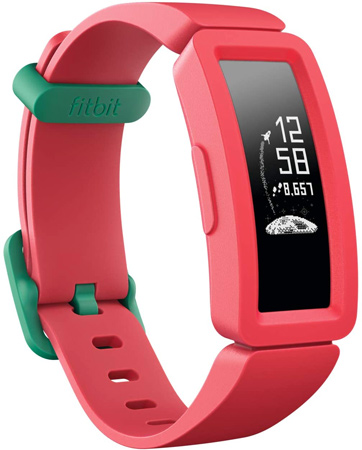 Why we like it: Fitbit tracker designed for kids' lifestyles that helps to build healthy habits.
In wanting more independence and to feel grown up many 11-year-old girls like to imitate the adults in their lives. Many adults now wear fitness trackers and children express an interest in these and their accompanying apps. The Fitbit Ace 2 Activity Tracker for Kids is a fitness tracker designed especially for kids. It has a robust design to withstand any bumps and knocks, is water-resistant up to 160 feet.
The Fitbit Ace 2 Activity Tracker for Kids is a great way to encourage children to stay active and to use technology to develop healthy habits. It also has up to 5 days of battery life so charging isn't a drama!
Pros
Water-resistant up to 160 ft
Up to 5 days of battery life
Encourages healthy habits
Keeps children active
Positive use of technology
Cons
Requires device with Fitbit app for full functionality
12.
Activ Life Best Kid's Frisbee Rings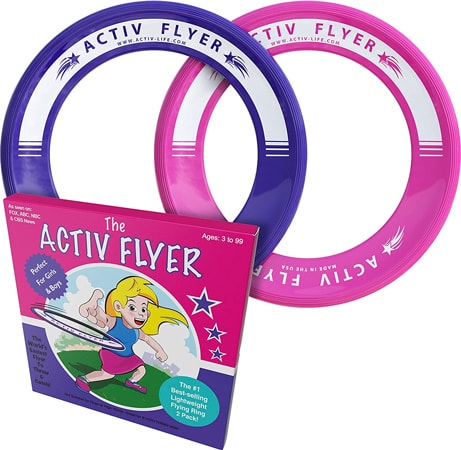 Why we like it: Keep kids active and healthy with these super-light, easy to catch frisbees.
It's important to keep 11-year-olds active and healthy as they head towards the teenage years, and encouraging time outdoors is important too. This is a gift that will help do both as the Activ Life Best Kid's Frisbee Rings encourage plenty of running, jumping, throwing and catching whilst playing outside.
These frisbee rings are 80% lighter than normal frisbees so not only are they much easier to throw and catch but they also fly faster and further! Available in a range of colors so you can choose which you think the 11-year-old girl you're buying a gift for will like best, the frisbees also come in a gift box to make giving them as a gift hassle-free.
Pros
Super-light
Easy to catch
Keeps kids active and healthy
Available in a range of colors
Comes in a gift box
13.
Intex Inflatable Flamingo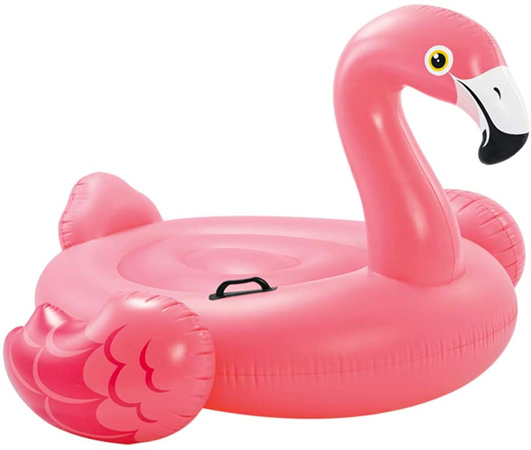 Why we like it: Fashionable Flamingo pool toy to add fun to pool days and increase confidence in the water.
Swimming is a great exercise for young children and by 11-years-old many children feel more confident in the water. Under adult supervision, using this fun, inflatable flamingo toy they can build up their physical strength and fitness. The two handles increase the float's stability in the water meaning that it is less likely to tip, further increasing children's confidence.
As well as being a fun activity, swimming also improves children's gross motor skills as they learn to move their body through the water, and the Intex Inflatable Flamingo also encourages skills like pulling up, balancing, and kicking.
Pros
Easy to inflate
2 handles increase stability in water
Increases child's confidence
Opportunity to build physical skills
Fun, flamingo design
Cons
Most useful for a trip to the pool
Requires adult supervision
14.
Anpro Crochet & Knitting Tools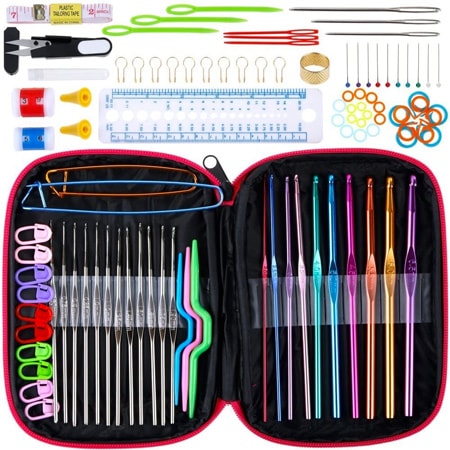 Why we like it: Crochet and Knitting are cool again! So, give the gift of a new hobby or skill with this 100-piece set.
Crochet and knitting are currently experiencing a resurgence of interest as more and more people take them up as hobbies. If the 11-year-old girl you're buying for is creative or enjoys crafting and modeling then this Anpro Crochet & Knitting Tools set would make a great gift to allow her to pick up a new hobby.
Knitting and crochet are both relaxing pastimes with the added benefit of improving dexterity and fine motor skills. With 100 pieces, and a handy storage set this makes the perfect set for beginners; just add some wool and instructional YouTube videos and she'll be on her way to crocheting all sorts of projects.
Pros
100-piece set
Comes with storage case
Improves fine motor skills
Develops a new interest and hobby
Encourages creativity
Cons
Need to learn crochet/knitting techniques
15.
Unicorn Slippers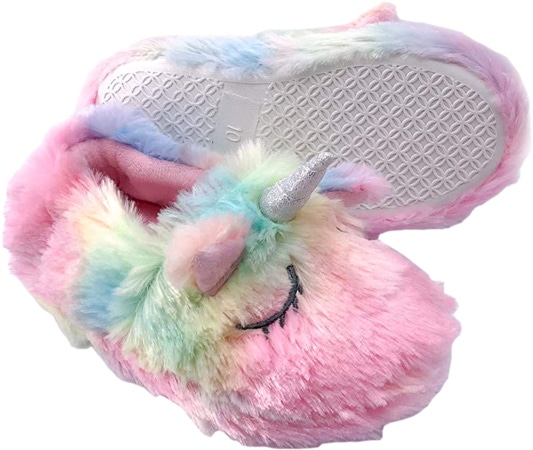 Why we like it: Comfortable, lightweight slippers in a fashionable unicorn design.
A pair of slippers is a great practical gift to give, especially as we head into the cooler months. An 11-year-old will appreciate the fashionable unicorn design of these slippers, as well as the warmth and comfort from the soft, plush materials.
The unicorn slippers are available in a range of sizes so you'll need to find out her shoe size before buying these as a gift. They are a slip-on design but have enclosed heels to ensure that they keep feet warm and don't slip back off! The perfect, cozy gift for an 11-year-old.
Pros
Fashionable unicorn design
Comfortable, lightweight
Available in a range of sizes
Slip-on, with enclosed heels
Cons
Need to know shoe size before buying
16.
3-Digit Combination Book Safe Box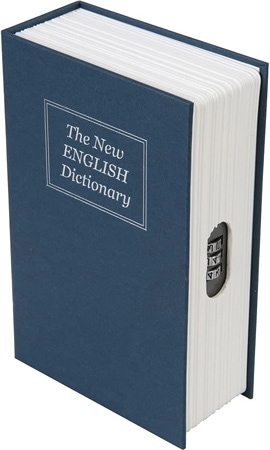 Why we like it: A portable lock-box disguised as a book, ideal for safely storing valuables.
Encouraging children to look after and take responsibility for their own belongings can be a frustrating venture which begins early in childhood and continues all throughout the teenage years. Disguised as a book, the 3-Digit Combination Book Safe Box is the ideal size for smaller valuables like cash or jewelry.
This safe uses a combination code lock, with just 3 digits which should be memorable for an 11-year-old girl. An 11-year-old should be able to easily integrate this small safe into the décor of her bedroom and create somewhere safe to store her own valuables. Encouraging responsibility in this way, as well as providing space for personal possessions helps an 11-year-old girl to develop independence.
Pros
Disguised as a book
Combination lock with 3 digits
Ideal for storing valuables
Encourages responsibility
Cons
Space for smaller valuables only
17.
Adidas Defender III Small Duffel Bag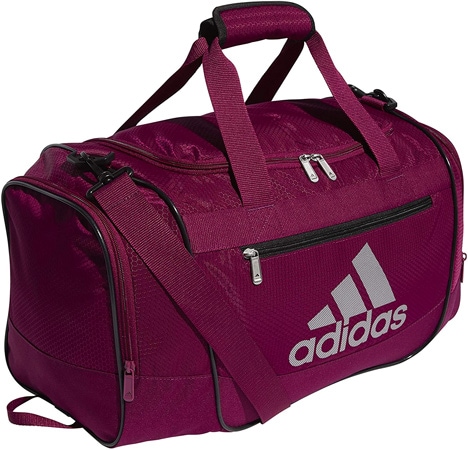 Why we like it: Available in a range of colors this duffel bag makes the ideal practical gift.
Sometimes something practical makes the ideal gift. If you are unsure of what the 11-year-old girl you're buying a gift for is interested in or already has then a gift that is practical and useful may be a good idea. As 11-year-olds become more independent and spend increasing amounts of time at different extra-curricular activities, they also tend to transport increasing amounts of kit and belongings around with them.
The Adidas Defender III Small Duffel Bag is available in a range of colors so you can select one based on her favorite color or personal style. This bag, from popular sports brand Adidas is made with durable materials and has a structured shape so is built to last. It is sure to be a useful gift for an 11-year-old girl with lots of extra-curricular activities.
Pros
Available in a range of colors
Popular sports brand
Structured shape
Built to last
Cons
More expensive than other duffel bags
18.
Slumber Party Sleeping Bag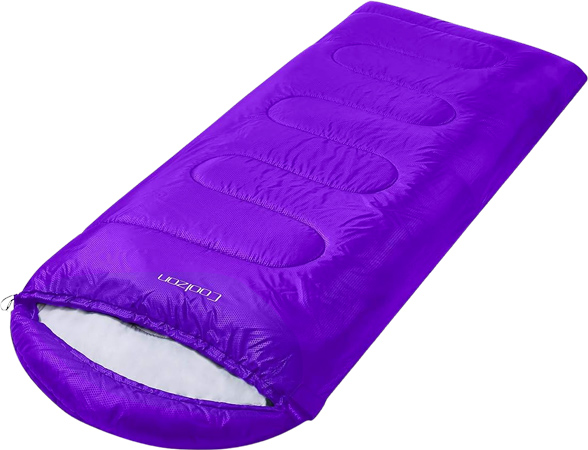 Why we like it:
A grown-up sleeping bag for sleepovers, camp-goers, or for families that like to go camping.
Everyone loves a slumber party, especially 11-year-old girls. This sleeping bag is going to be the perfect take-along for the next overnight get-together in her best friend's room. Or if that sleepover happens to be on a camping trip or in a backyard tent, this one is fit for the job. It's made of 100% cotton on the inside so it naturally keeps in body heat and keeps the cold out. The outer layer of polyester makes it waterproof but still breathable.
Included with the sleeping bag is a compression bag with straps to keep it compact and easy to carry when it's not being used. This would be ideal for young girls that maybe still love unicorns but don't necessarily want to display them everywhere. It's a transitional sleeping bag that will last through the teen years. It's also a great way to show how much fun it is to be out in nature.
Pros
Available in seven different colors

Includes a storage compression bag

Waterproof but still breathable

Great for nature camping and summer camps
Cons
Not for very small children
19.
Canon Zoemini Instant Photo Printer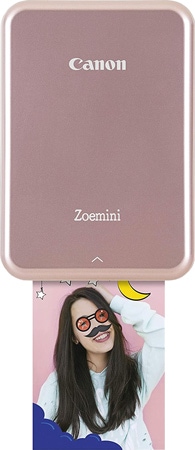 Why we like it: Print your photos on the go!
Most 11-year-old girls love taking photos of their friends and family but these rarely make it off of their devices. You can solve that problem with the Canon Zoemini Instant Photo Printer which is a completely portable, mini photo printer. The printer comes in a lovely rose gold and is compatible with a range of devices.
Not only does this printer give full-color, high-quality prints but its specialized paper doubles up as stickers. The printer is great for encouraging creativity with photography as well as offering a range of print out options. This would make a great gift for a sociable 11-year-old girl.
Pros
Completely portable
Compatible with a range of devices
Color printing
Print onto stickers
Encourages creativity
Cons
Requires specialist paper
20.
GoSports Ladder Toss Game Set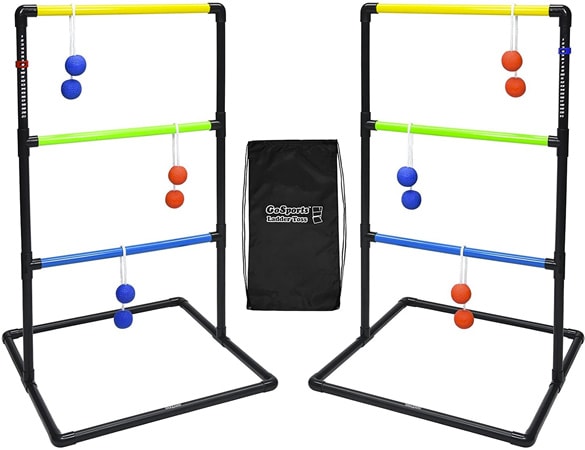 Why we like it: Play with others or independently and improve hand-eye coordination.
The GoSports Ladder Toss Game Set makes a great addition to a family party or event, as it can be enjoyed by people of all ages. 11-year-olds will particularly like the competitive element and the built-in scorekeepers to make sure everyone knows who is winning and plays fairly!
The set can also be used independently for target practice and whilst it is best used outside, it is designed to be suitable for indoor use too. Playing with this set involves plenty of careful aiming so it helps to encourage spatial awareness and hand-eye coordination.
Pros
Fast assembly
Everything included
Can be used indoors or out
Can be played with others or independently
Improves coordination
Cons
Large item, requires space to play
21.
FabLab Luxury Tie-Dye Kit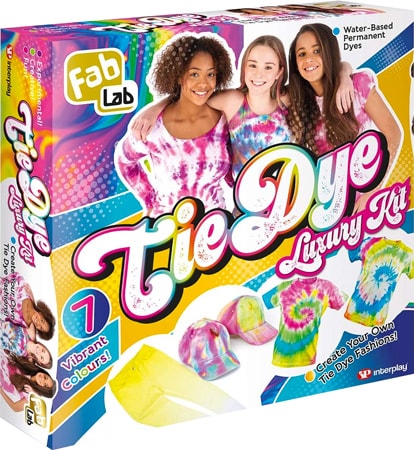 Why we like it: Learn different dye techniques and create a range of different projects.
An 11-year-old girl will love the opportunity to get creative and tie-dye her own clothes. The FabLab Luxury Tie-Dye Kit includes enough dye for several different projects in seven vibrant colors. You can dye t-shirts, hats, hoodies, or whatever you have to hand!
The kit includes instructions so that an 11-year-old girl can develop her skills in following craft instructions and be taught different dyeing techniques. This kit is a great excuse to experiment and encourage creativity with clothing!
Pros
7 vibrant colors
Learn different dye techniques
Easy to use
Enough dye for several projects
Encourages creativity
Cons
Requires careful supervision
22.
Funwares Nachosaurus Dip and Snack Dish Set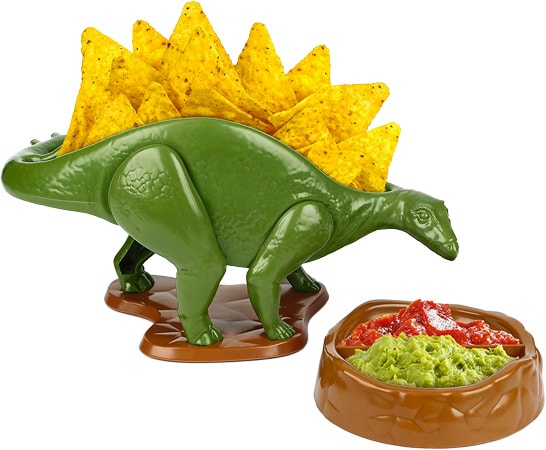 Why we like it: A cute dinosaur to hold snacks and sauce and make snacking even more fun!
A cool, uniquely designed product to make meals and snack extra fun, the Funwares Nachosaurus Dip and Snack Dish Set is a dinosaur-shaped dish with a separate dip tray. Placing tortilla chips in the dish, makes the dinosaur look like a stegosaurus with triangular plates on its back, earning it the name 'Nachosaurus'. Despite the name this set can be used for more than Nachos, sweet treats, nuts or pretzels also fit well in the dish.
The Nachosaurus set is made with food-safe materials, is completely BPA free and can even be washed in the dishwasher! This makes a fun novel gift for an 11-year-old girl.
Pros
Cool, unique design
Food safe materials
BPA free
Perfect for meals or snacks
Great for all ages
Cons
Only fits a small portion size
23.
ProCase Jewelry Box Organiser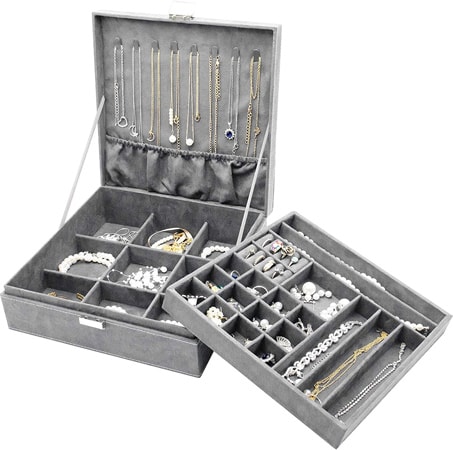 Why we like it: Perfect for gifting alongside jewelry or on its own, this is a great way to keep everything organized.
Keeping everything organized and safe is a priority for jewelry belonging to an 11-year-old girl who may have received nice pieces of jewelry from family and friends, but still needs to build responsibility for caring for her own possessions. Giving everything a place to belong is a great way to help her along the way and the ProCase jewelry Box Organiser is perfect for doing this.
With dual-layer capacity and a variety of compartments, this jewelry box has a soft lining which ensures that jewelry is not damaged. The different compartments and necklace hooks and pouches help to keep everything organized and easy to find so it's simple for her to choose her favorite jewelry pieces to wear and to put everything away neatly at the end of the day!
Pros
Double stackable layers
Necklace hanging hooks and pouches
Easy clasp closure
Encourages organization
Available in different colors
24.
Soundcore Anker Life P2 True Wireless Earbuds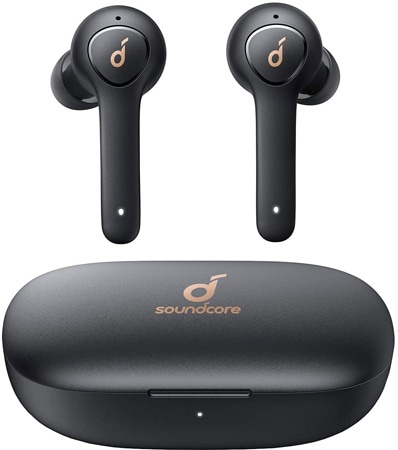 Why we like it: Wireless earbuds offering great sound, long playtime and a fast charge at a reasonable price tag.
Wireless earbuds are changing the way that people listen to music on the go. By removing the need for restrictive wires, they offer a new level of freedom and as technology improves the cost of these is being driven down. The Anker Soundcore Life P2 True Wireless Earbuds represent a very affordable option.
However, affordable does not mean ineffective! In fact, these earbuds have many high-end features such as extremely fast connectivity and 40 hours of playtime. They are also waterproof so ideal for sports or walking in the rain. These are ideal for an 11-year-old girl who enjoys listening to her own music or takes part in lots of sport.
Pros
Reasonably priced
40-hour playtime
Fast charge
Waterproof
Easy to wirelessly pair with devices
25.
Klask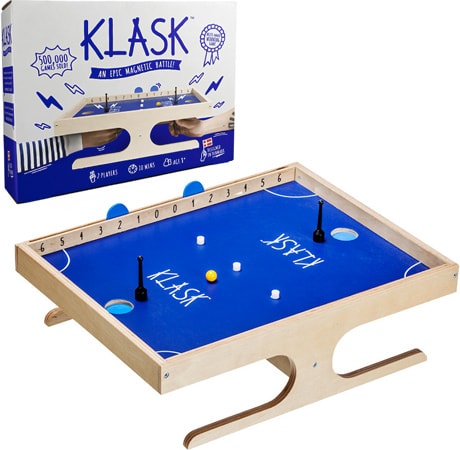 Why we like it: Table football or air hockey? Why not both? This tabletop game is perfect for parties and playing together!
By age 11, girls are often a lot more interested in what adults are doing, seeing themselves as much more mature than younger children, and may begin to express an interest in joining in with adults at social events and family functions. Playing games together is a great way to encourage cooperation and positive interaction with adults.
Klask is a tabletop game that is ideal to take along to parties and events and represents a cross between table football and air hockey. Playing with others gives an 11-year-old the chance to develop her social skills as well as improving hand-eye coordination.
Pros
Award-winning party game
Can be played on any flat surface
Lovely wooden finish
Improves hand-eye coordination
Develops social skills
Cons
Small parts; keep out of reach of younger siblings
26.
Crayola Inspiration Art Case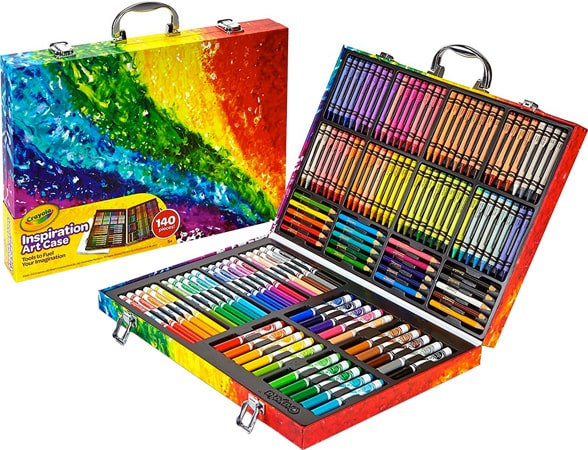 Why we like it: Fuel imagination with an extensive art set.
Perfect for a creative 11-year-old girl the Crayola Inspiration Art Case includes 140 different pieces to encourage artistic skills. As well as crayons, markers and pencils the kit includes some drawing paper to get her started on creating masterpieces or practicing art skills like outlining or shading.
The storage case is perfect for keeping everything neat, tidy and together as well as taking the art set on the move. A portable art case is ideal for taking along to different inspiring locations to draw and sketch as it's easy to pack and carry.
Pros
140 pieces
Encourages creativity
Storage case keeps everything organized
Portable
Cons
Does not include any paints
27.
Spa Luxetique Spa Gift Set
Why we like it: Relax and soothe sore muscles or stressed minds with this lovely rose-scented self-care set.
As an 11-year-old girl gets older she will start to experience more pressure in life, around school, family and friends. Learning to deal with stress in a healthy way, and take care of oneself is an important part of growing up. A relaxing soak in the tub can help to relieve stress and promote better relaxation and sleep, so if this is something that helps the 11-year-old girl you're buying a gift for then it's a great thing to encourage.
The Spa Luxetique Spa Gift Set is a lovely self-care gift for an 11-year-old girl, comprising of 8 different products all made with natural ingredients and containing rose essential oil to leave skin feeling soft and smelling wonderful. The storage tub that they come in reusable, and great for storing all sorts of products in the bathroom or bedroom.
Pros
Self-care gift
Made from natural ingredients
Promotes relaxation
8-piece set
Reusable tub
Cons
Need to check for allergies or skin sensitivity
Final words
As the 11-year-old girl you are buying a gift for grows and matures she is likely to change her interests, possibly several times, but encouraging each phase she is in is important; 11-year-olds still often crave the approval and encouragement of adults. By embracing an 11-year-old's interest and buying them a gift related to this you are showing them that you have paid attention to, and are encouraging their interest as it is right now.
This list has plenty of gift suggestions based on some of the common interests of 11-year-old girls, so you can likely find something that fits with the interests of the 11-year-old you're buying for. However, we have also included plenty of practical gifting items which you can be sure she will get plenty of use from and giving these kinds of gifts also helps to communicate that you view her as more mature and grown-up. We hope that you find the perfect gift for the 11-year-old girl that you are shopping for!
Need more inspiration?