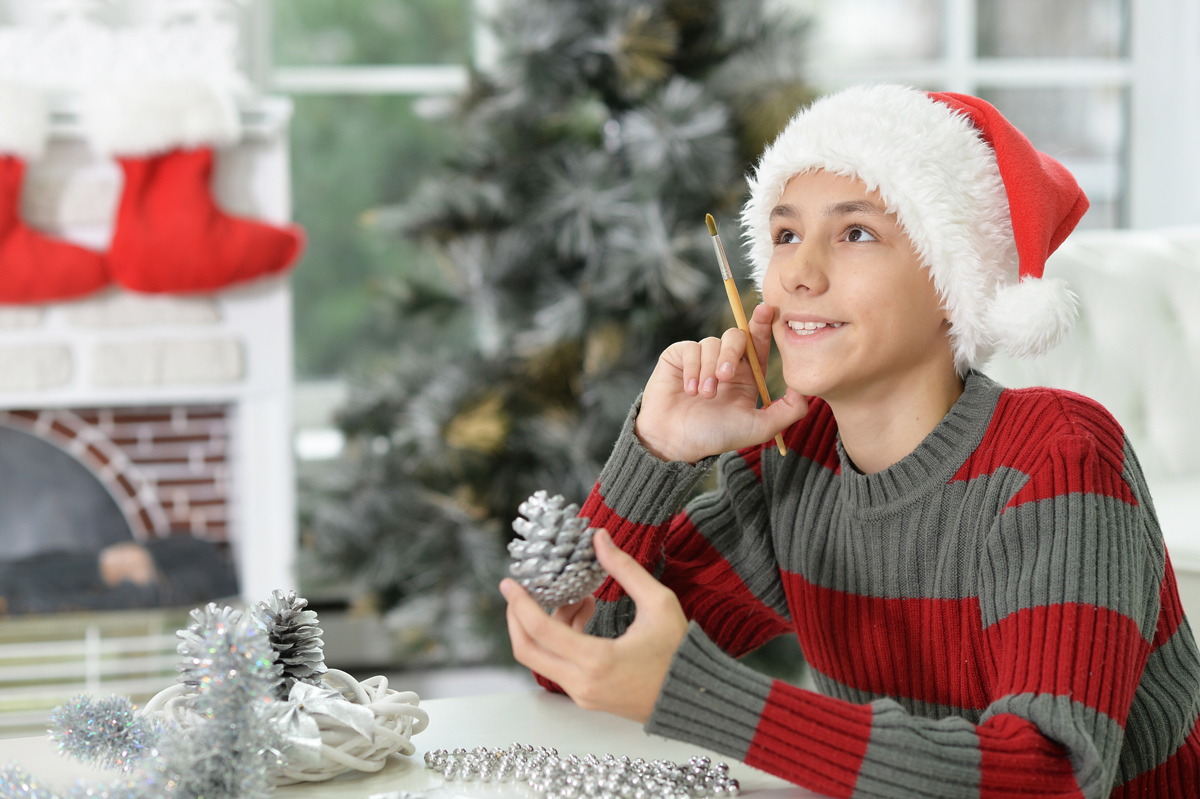 Christmas is a time for giving, but it's also a time for being judged by discerning teens if you didn't get them a gift they deem cool enough. They'll never forget that Christmas you tried to give them socks when they really wanted that awesome new video game.
Make sure you don't make the same mistake twice by choosing one of these 16 cool gifts for even cooler 14-year-old boys. Everything here has been handpicked to make sure what you give them this year earns you all the cool points you deserve.
1.
Rugged Digital Vlog Camera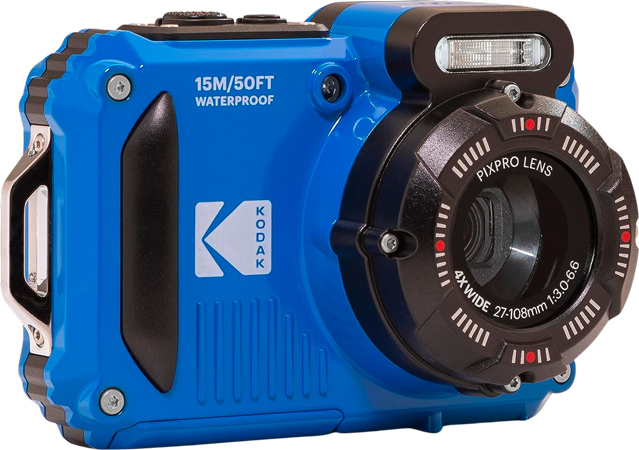 Give the 14-year-old boy on your Christmas list the ability to capture memories with this cool digital camera by Kodak. Designed to keep up with an active lifestyle, this camera is perfect for taking action shots. Not only is this camera waterproof, but the rugged casing makes it shockproof so he won't have to worry about dropping it when he's recording his stunts.
With a 16-megapixel sensor, he'll get crisp, high-resolution photos. The 4x optical zoom ensures he can get close-up shots even from a distance. Plus, with 1080p video recording capability, he can create fun action videos that he can share with all his online friends.
2.
Star Tracking Computerized Telescope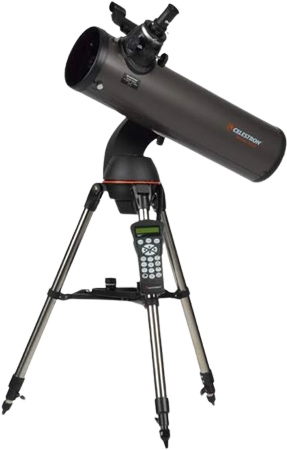 Gifting the 14-year-old boy on your Christmas list this telescope can be the gateway to a universe of discovery. Every young stargazer or aspiring astronomer will be captivated by its powerful capabilities.
This computerized telescope offers a huge database of over 4,000 celestial objects, allowing him to explore the wonders of the night sky in amazing detail. The high-quality optics provide sharp, clear views of distant stars, planets and galaxies.
The automated tracking system makes it easy for him to locate and follow objects as they move across the sky. Whether he's hoping to catch a glimpse of Saturn's rings or the craters on the moon, this telescope promises nights filled with discovery, all from the comfort of his backyard.
3.
Beginner Foldable Mini Drone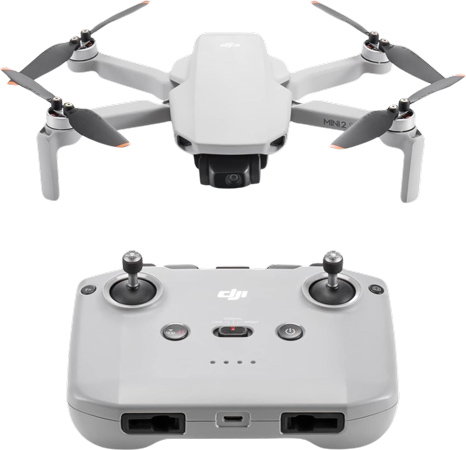 Let the 14-year-old boy in your life take to the skies this Christmas with this high-performance drone. Perfect for aspiring videographers or those just seeking some high-flying fun, this drone captures stunning videos and crisp photos from unique perspectives.
The stable flight features make it easy for him to maneuver, even if he's new to drone piloting. With its durable design and impressive 31-minute flight time, he can explore the skies for longer than most other beginner drones.
The real-time video transmission ensures he gets a bird's-eye view right on his connected phone. Complete with safety features like auto return and emergency landing, this drone combines fun and peace of mind. It's a gift that promises outdoor adventure and a fresh way to see the world around him.
4.
Sporty Trifold Wallet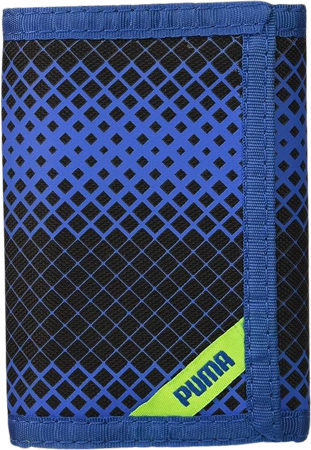 For the 14-year-old boy looking to step up his accessory game, this Puma trifold wallet is the perfect Christmas present choice. Designed with vibrant colors and prominently featuring the Puma logo, it's perfect for young teens who want to show off their sporty style. Its practical interior offers various compartments for cash, cards and IDs, ensuring he's always prepared whether he's out with friends or just keeping all of his pocket money safe.
It even has an exterior zipper compartment for loose change. The compact size is perfect for pockets and ensures easy accessibility. This is a Christmas gift he'll love using every single day, and he'll have you to thank for it.
5.
Quilt Lined Hooded Coat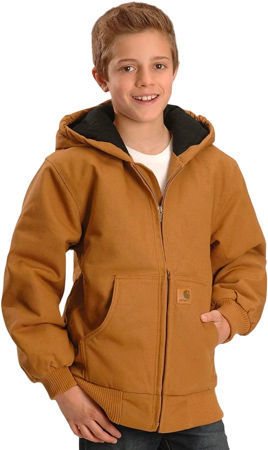 The winter months call for a warm and stylish coat, and this one is just the right pick for the 14-year-old boy on your Christmas list. Made with quality materials, this coat promises to keep him warm while standing up to harsh winter weather.
Available in five colors, including a fun tree-inspired pattern, you can find the right style to suit his personal taste. The quilted lining ensures extra warmth so he can stay comfortable whether he's walking to school or playing outside with friends.
The coat's insulated pockets not only add to its functionality but also ensure that his hands stay warm during those extra frosty days. If the teen you're shopping for appreciates classic style that will never go out of fashion, this coat is the one he wants.
6.
Memory Foam Clog Slippers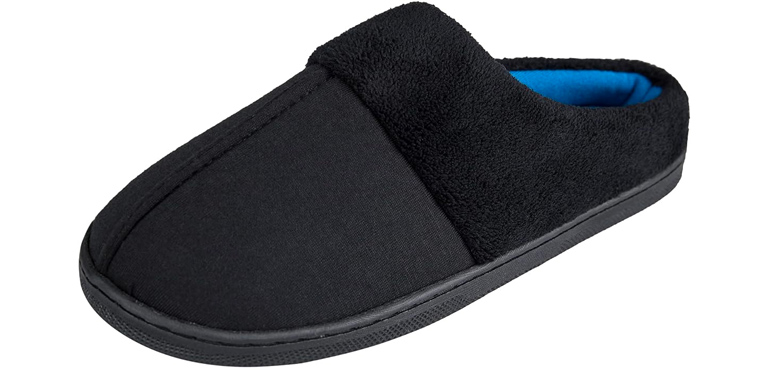 Give the 14-year-old boy on your Christmas list the gift of ultimate comfort with these cozy slippers. Designed with a memory foam inner lining, these slippers offer a soft, cushioned experience, making them perfect for unwinding after a long day or for a relaxed Sunday morning hanging out with the family.
The two-tone design adds a modern and sophisticated touch, ensuring he doesn't have to compromise on style for comfort. Perfect for both indoor and outdoor use, their sturdy rubber soles provide added grip for those quick trips outside. These slippers strike a balance between functionality and fashion, something any teen boy can appreciate.
7.
Wet and Dry Electric Shaver

This Christmas, as the 14-year-old boy in your life begins to enter the world of personal grooming, make sure he's ready with this high-quality face shaver. As he starts to notice those first few whiskers, the Philips Norelco Shaver 3500 will ensure he has a smooth and comfortable shaving experience.
It features a flexible head that glides seamlessly over the contours of his face, minimizing cuts and nicks. The wet and dry functionality means he can choose between a quick dry shave or a refreshing wet shave with gel or foam.
With long battery life and an easy-to-clean design, it's both practical and efficient. This is a gift that will be a reliable grooming tool he can rely on even as he continues to grow.
8.
Active Noise Canceling Headphones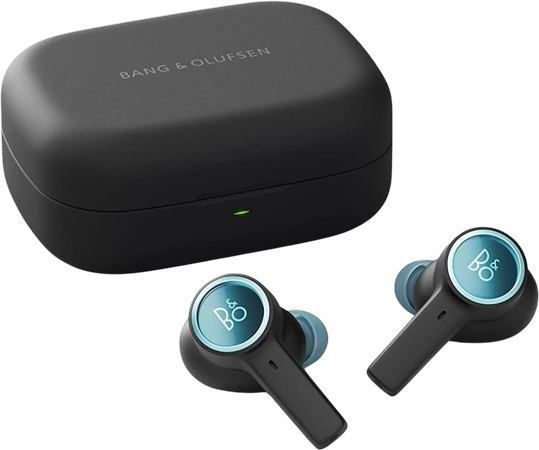 Give the gift of an immersive audio experience this Christmas with these high-quality, noise-canceling headphones by Bang & Olufsen. This would make a superb gift for music lovers, gamers, or those who prioritize clarity when it comes to their audio quality.
These headphones ensure he hears every note, beat, or game detail without the distraction of background noise. The wireless earbuds offer an ergonomic fit, ensuring comfort during extended listening sessions, which can last up to 20 hours on a single charge.
The touch interface is intuitive, allowing him to easily adjust volume, change tracks, or take calls without any hassle or fumbling. The sleek design combined with top-notch sound quality makes these headphones a gift that any 14-year-old boy would be thrilled to open on Christmas morning.
9.
Portable Lightweight Battery Charger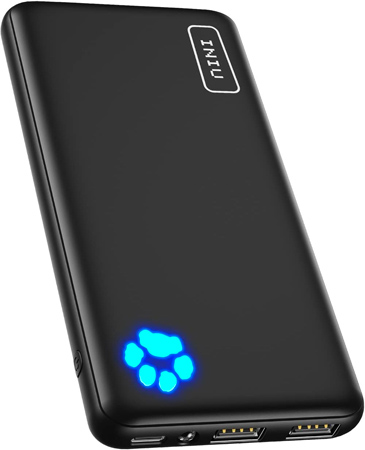 For a 14-year-old boy who's always on the go, this powerful battery is a must-have this Christmas. Ensuring his devices remain charged during long days out or during travel, it boasts a capacity of 10,000 mAh, giving multiple charges to his smartphone or other devices.
The battery features a high-speed charging technology that powers up devices in the shortest time possible. Remarkably thin in design, it's convenient to slip into a pocket or backpack, making it easy for him to carry around.
The dual USB ports allow him to charge two devices simultaneously, adding to its practicality. Designed for durability, this battery can handle the hustle and bustle of a teen's active life, making it a gift he'll use and appreciate every day.
10.
Music Reactive PlayStation Light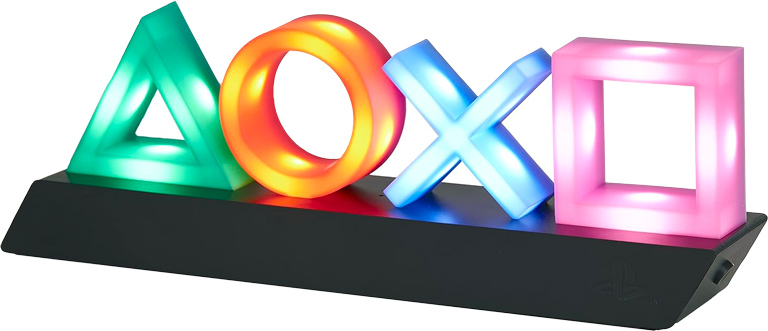 Surprise the 14-year-old boy on your Christmas list with an eye-catching addition to his bedroom. This music-reactive light is designed based on the PlayStation icons. When he plays his favorite music, the light dynamically reacts to the beats and sounds, creating an immersive ambiance.
It can cycle through a range of colors, or he can select his favorite one to set the mood. Easy to use and powered by battery or USB, he won't be tethered to only using it by an outlet. It can be put on a shelf or displayed on his desk. This gift is a cool piece of decor that expresses his passion for gaming.
11.
Sunrise Digital Alarm Clock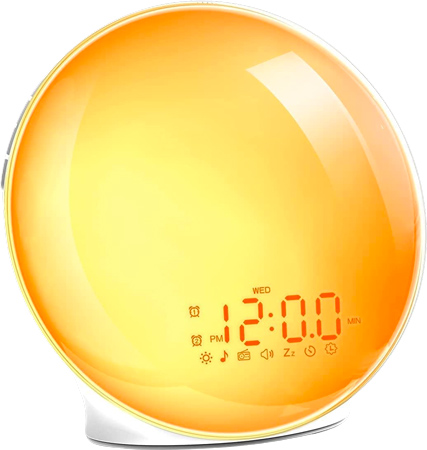 Help the 14-year-old boy on your Christmas list start his mornings right with this innovative sunrise alarm clock. Mimicking the gradual brightness of a natural sunrise, this clock gently wakes him from sleep, promoting a more natural and refreshing morning routine.
Instead of the jarring sound of traditional alarms, he'll wake up to a soft glow that becomes increasingly brighter, signaling it's time to rise and shine. It also functions as a sound machine with eight sounds of nature he can play to drift off to sleep at night. He'll appreciate how much more relaxing his days start and end with the cool gift.
12.
Adjustable Reflective Running Vest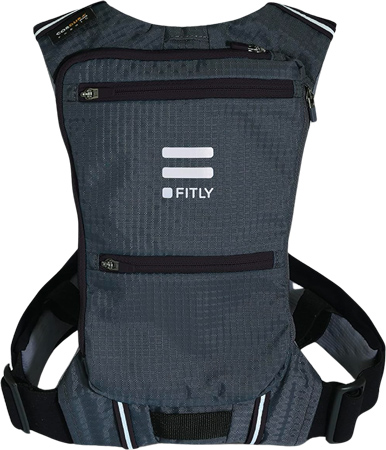 For the 14-year-old boy who loves to go running, this Christmas present is sure to be a hit. Running becomes safer and more efficient with this adjustable running vest.
It's designed to snugly fit his body, ensuring he won't be bogged down by loose or shifting gear. The built-in pockets provide convenient storage for essentials like his phone, keys or money.
Depending on the model you choose, it can even house a water flask and drinking straw to stay hydrated on long runs. It also features reflective strips to improve visibility, offering an added layer of safety during dimly lit runs. Whether he's training for his first race or simply enjoying a casual sprint around the neighborhood, this vest ensures he's equipped and protected every step of the way.
13.
High Contrast Soccer Ball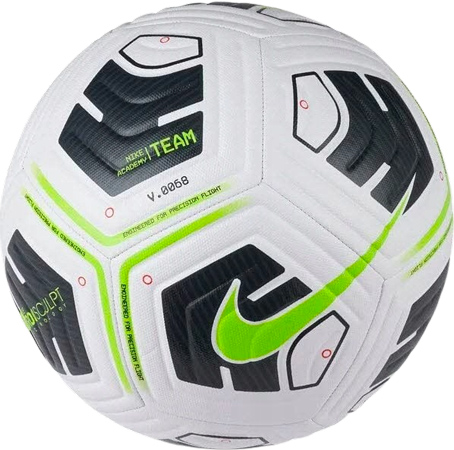 Choose this gift if the 14-year-old you're Christmas shopping for fancies himself the next Cristiano Ronaldo. This top-quality soccer ball by Nike is designed for both skill training and gameplay. The molded grooves ensure the ball has a consistent spin in the air, meaning it can go further and be aimed with more accuracy.
Made with durable materials, it's built to withstand rigorous play, whether he's practicing his goal-shooting skills in the backyard or engaging in a competitive match with friends. The white, black and neon green design not only looks cool but also makes it easier to track on the field. If soccer is his passion, this ball won't disappoint.
14.
Triple Insulated Water Bottle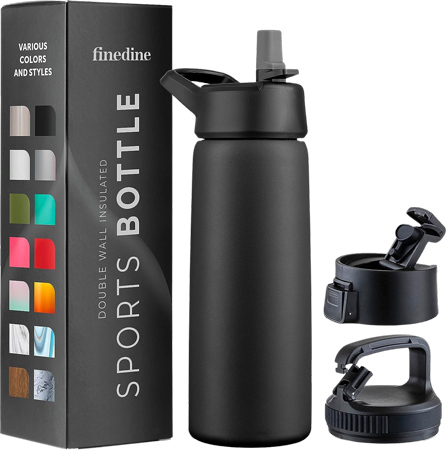 Gifting the 14-year-old boy on your Christmas list with this stainless steel water bottle will make sure he stays hydrated and refreshed in any situation. The triple-insulated walls keep his beverages hot for up to 12 hours or cold for an impressive 24 hours.
It also comes with three different lids, ensuring he has the right option for whichever activity he's doing. It's available in four different sizes and a plethora of vibrant colors to choose from. Stylish and functional, this water bottle will quickly become an essential item in his everyday bag.
15.
Stylish Lunch Cooler Tote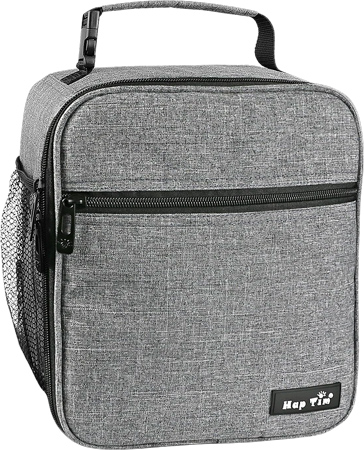 Gift the 14-year-old boy on your Christmas list this stylish lunch tote to make sure his meals stay organized and ready to enjoy. The thick aluminum liner keeps his lunch fresh all day long.
It's also eco-friendly and easily wipes so it will quickly be ready for the next day of school. It features a removable buckle that allows him to attach the tote to his backpack straps so he won't have to worry about it taking up space within his backpack. If he's a teen who has outgrown his superhero lunch box phase and wants a more mature option, this is a great-looking tote he'll be proud to carry.
16.
USB Charging Large Backpack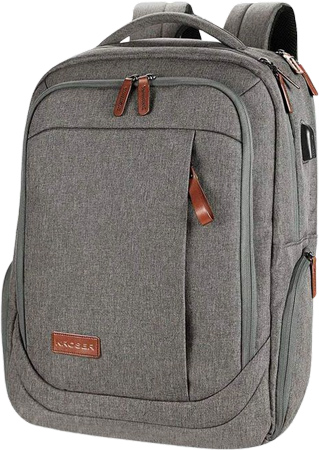 Surprise the 14-year-old boy on your Christmas list with a backpack that combines functionality with timeless style. Designed to accommodate a laptop up to 17 inches, it's perfect for school, travel, or any adventure he's up for. With its integrated USB charging port, he can conveniently charge his devices on the go, ensuring he's always connected.
The water-repellent finish provides added protection, ensuring his belongings stay dry in unexpected rain showers. It's available in a beautiful charcoal grey or a lovely light grey. This classic design promises longevity, ensuring it remains a favorite accessory for many years to come.
17.
Magnetic Fidget Toy Pen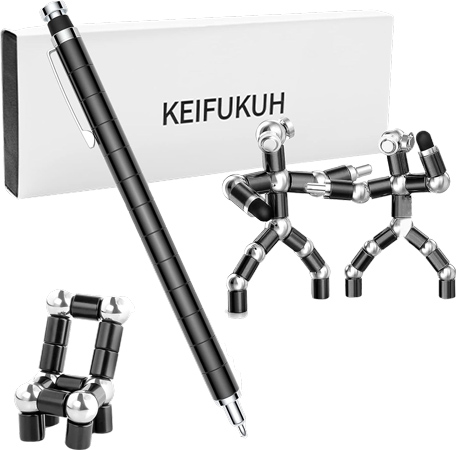 If the 14-year-old boy on your Christmas list always feels like he needs to keep his hands busy, this is the gift to get him. This amazing pen also serves as a magnetic fidget toy. The 26 individual pieces can be reshaped into different configurations, sticking together with the strong magnets.
When it's time to take notes he can reassemble it into a smooth writing gel pen. He's never had a pen this cool before and he's going to love it. So will all his friends!
Need more inspiration?