Being 10 is a time of change and transition; children of this age are beginning to welcome the approach of adolescence and are firmly in the 'tween' age bracket. Self-identity and self-esteem become much more important around this age as children develop more of a sense of who they are and how they fit into the world. For some children this age there will be a transition from one school to another, for others, they will begin to experience different social settings in clubs and extra-curricular activities. Social interaction is increasingly important at this stage and children will become more skilled socially; being more able to navigate conflict, control their emotions and negotiate solutions with peers.
If you're searching for a gift for a 10-year-old girl, this list may help you to find something special. We've put together a range of options, catering to different interests and skills;
1.
Instax Square Instant Camera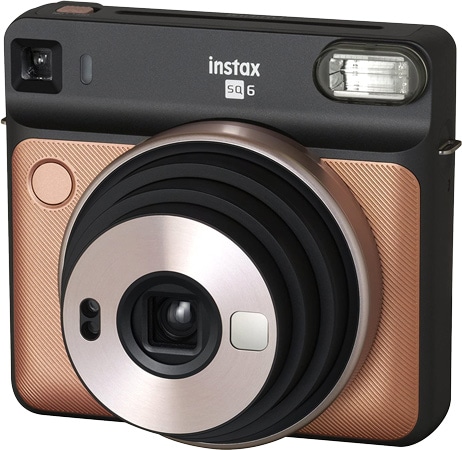 Why we like it: Perfect for quick selfies with friends or encouraging a budding photographer.
Instax is fast becoming a very trendy item to own; in an age of digital photography, it seems that the simplicity of taking a photo and having it print out instantly holds great appeal. With this in mind, this would make a great gift for a 10-year-old girl whether she's interested in photography or simply enjoys snapping quick selfies with friends (there's actually an in-built selfie mode for that!)
The Instax Square Instant camera is available in a range of colors so you can choose the one which suits her style and personality best. Photography is a great interest and skill to encourage, and the reward and challenge of an instant print out is a great motivating factor in getting that perfect shot.
Pros
Available in a range of colors
5 shooting modes
In-built flash
Encourages creativity
Great for using with friends
2.
Anki Cozmo Robot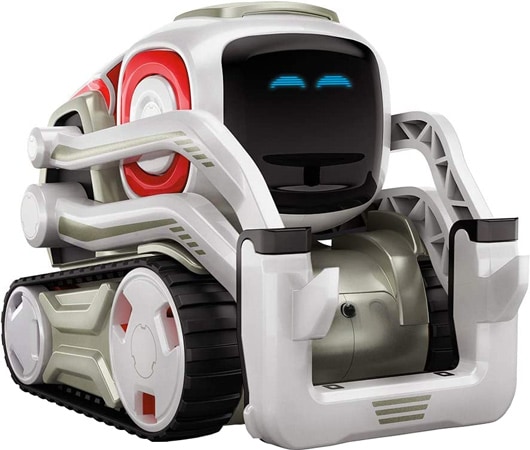 Why we like it: Improve coding skills with a life-like robot friend.
10-year-old girls are very familiar with tech toys, having grown up around fast-developing digital technology they are able to use new tech relatively easily and most cutting-edge technology. This is a great interest to encourage as the world demands more and more advanced technological skills for everyday life as well as in industry and careers. Coding skills, in particular, are in demand and the Anki Cozmo Robot is an easy way to encourage children to work on those skills, without it feeling like extra school work!
The Anki Cozmo Robot is a fun, life-like robot friend with the ability to play interactive games and explore. Using the app on a compatible device, children can learn to write code for the robot, who is durable enough to stand up to a few bumps and bruises as it is used in play.
Pros
Encourages an interest in technology
Improves coding skills
Durable and secure
Plays games
Available in standard or collector's edition
Cons
Expensive
Requires compatible device
3.
Doodle Butterfly Pillowcase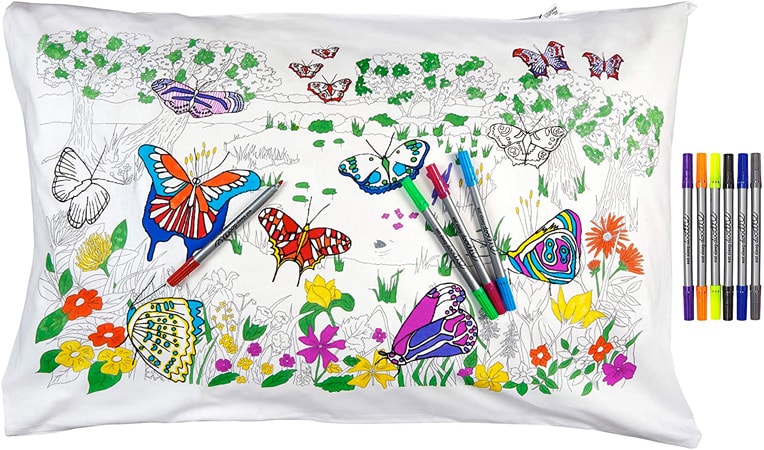 Why we like it: A reusable coloring activity and a great way to keep kids busy.
At this age, many girls use their bedroom décor as a way of expressing their own interests and personality, and it is therefore very important to their self-esteem and self-identity. Encouraging children to make their bedroom a cozy, personalized space is a good idea as it gives them somewhere to spend time with friends or to retreat to at the end of a busy day.
The Doodle Butterfly Pillowcase is perfect for allowing a 10-year-old girl some ownership over her space; it's a pillowcase that you can color and design yourself. One side has an intricate and beautiful design that can be colored in with washable pens whilst the other side has a simple grid template, encouraging girls to draw their own and improve their art and design skills. Made in eco-friendly cotton it is completely washable and reusable; simply run it through a warm wash in the machine and you can start all over again.
Pros
Reusable
Washable pens
Encourages art and design skills
Grid template on the reverse
Eco-friendly cotton
Cons
Ink may smudge if used to sleep on
4.
Razor E90 Electric Scooter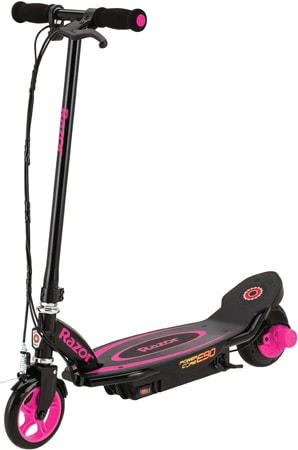 Why we like it: A speedy electric scooter to encourage spending time outdoors.
Scooters are a classic toy and mode of transport throughout childhood and encourage children to spend time outdoors and keep physically active. Whilst electric scooters don't require children to physically propel themselves forward, they do require balance which in turn develops the core muscles. Core strength is important for a range of other activities, including handwriting!
The Razor Power Core E90 Electric scooter is a maintenance-free electric scooter with up to 80 minutes of ride time from a single charge and speeds up to 10 mph. It is the ideal next step from a traditional scooter and gives a 10-year-old girl a new way to get around and some more independence.
Pros
Up to 80 minutes ride time
Maintenance-free
Up to 10 mph
Improves physical skills
Encourages outdoor play
Cons
Max rider weight of 119 lbs
5.
Nancy B's Science Club Microscope & Activity Journal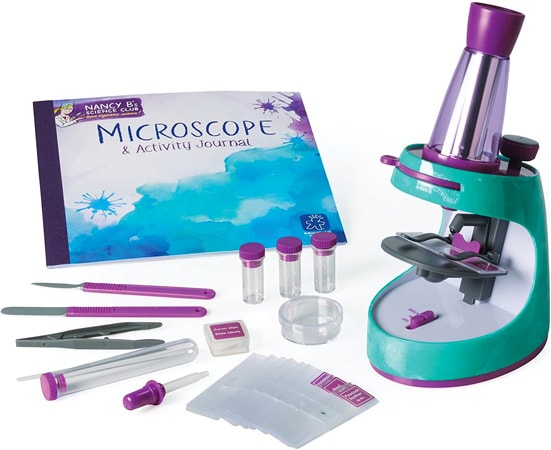 Why we like it: Bring science to life and encourage emerging skills with a real, working microscope.
We need more females in scientific industries so why not encourage her interest in science early on? At 10-years-old most girls are still very interested in the world around them and notice smaller details of the environment. This gift will help to encourage and develop those skills and interests.
The Nancy B's Science Club Microscope and Activity Journal is perfect for 10-year-old girls, encouraging scientific investigation through the suggested activities and developing data recording skills with the included 22-page journal. This makes an ideal fun, but educational, gift for a 10-year-old.
Pros
Encourage scientific investigation
Develops understanding
Includes suggested activities
Includes 22-page journal
6.
Cooking and Baking Set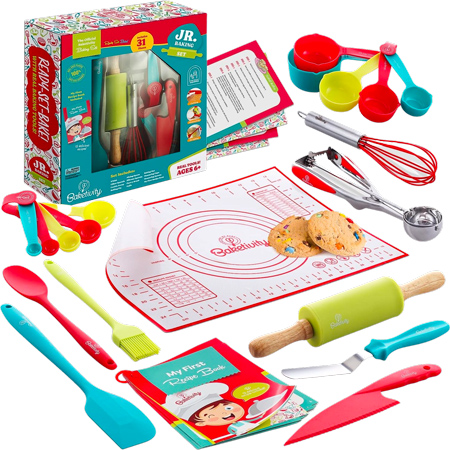 Why we like it:
A functional baking set that will inspire interest in culinary arts and cultivate a sense of personal accomplishment.
This gift is going to inspire any 10-year-old girl to start whipping up delicious treats in the kitchen with the family. It's not just a toy, it's a full-functioning set, just made for smaller hands. It includes a rolling pin, metal dough scooper, measuring cups, silicone spatulas and a baking mat with easy-to-read measurements. It even includes a nylon knife that is safe for young ones to use on their own without supervision.
Not only are all the tools safe for young girls to use on their own, but they're also safe for the dishwasher and BPA-free, so no need to worry about harmful chemicals. This is a spectacular gift that will help girls start developing hobbies that will foster a greater sense of independence and self-accomplishment. It's also a great way for parents or grandparents that love to bake to spend quality time together in the kitchen.
Pros
Sense of self-fulfillment through baking

Develops a new skill and hobby

Encourages shared family time

Complete set modified for young ones
Cons
Oven use requires supervision
7.
Sweet Animal Socks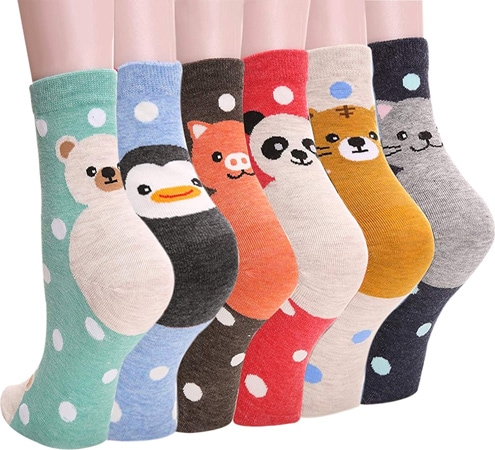 Why we like it: Cute and practical these socks come in a range of designs and one size fits most.
A cute, practical gift for a 10-year-old girl, some stylish socks are something that she will certainly get some practical use out of and these Sweet Animal Socks will appeal to girls who love animals or cute designs.
Available in a range of designs you can choose the animal you think she will like best to make the gift slightly more personal but as one size fits most there's no need to find out her shoe size or try to guess! These socks are made with high quality blended cotton so are super comfortable to wear and are sure to be a hit with most 10-year-olds.
Pros
Practical, useful gift
High quality combed blend cotton
Available in a range of designs
One size fits most
Cons
Animal design to rear of sock, not seen by wearer
8.
Cinematic Light Up Box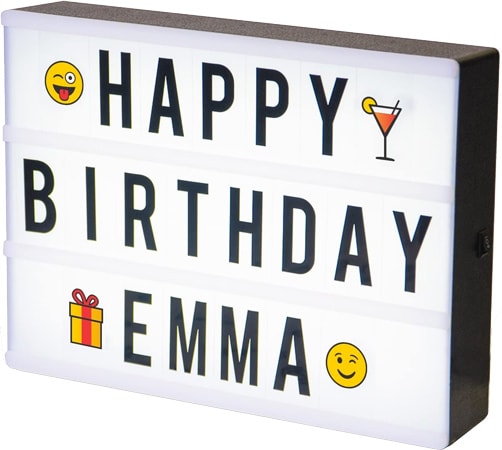 Why we like it: With 205 letters and emojis you can spell out whatever you like!
As she seeks to create her own, personalized space many 10-year-old girls may want special quotes printed or made into posters. The trouble with this is that their favorite quotes and sayings change all the time, so you may not want to keep investing in new prints.
This Cinematic Light Box is the perfect alternative to prints and posters as it can be changed as frequently as she likes, and is great for spelling out happy birthday messages or welcome to sleepovers and parties. Ideal as room décor it comes with 205 letters and emojis so there's no limit on what you can display!
Pros
Perfect as room décor
Includes 205 letters and emojis
USB or battery power
A4 size
2-year guarantee
9.
PlayShifu Shifu Orboot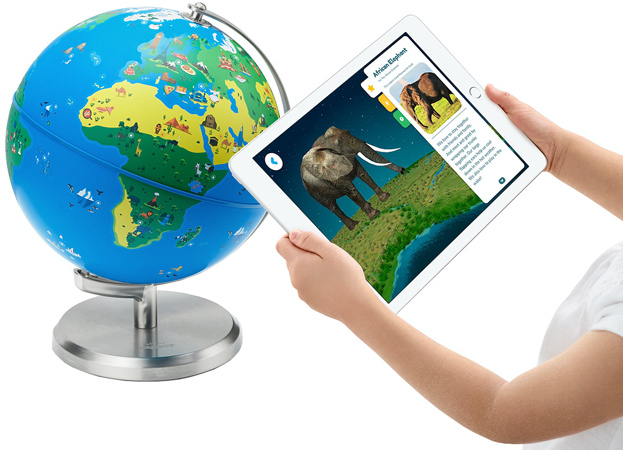 Why we like it: Globes are a great learning resource and this one has the added benefit of augmented reality!
Globes are a fantastic learning resource that will last a child through their school years, adding context to children's learning and realism to their understanding of locations. The Shifu Orboot takes this a step further, adding an extra layer of interest with augmented reality access via an app.
As children hold their device up to the globe, they are able to access a huge range of information improving their technology skills and promoting positive use of technology. The Shifu Orboot is compatible with both iOS and Android devices and helps to build children's interest in geography and their knowledge of the wider world.
Pros
Increase interest in geography
Promote use of technology
Improve technology skills
Compatible with iOS and Android devices
Helps build knowledge
Cons
Requires compatible device
10.
GirlZone Nail Art Studio Kit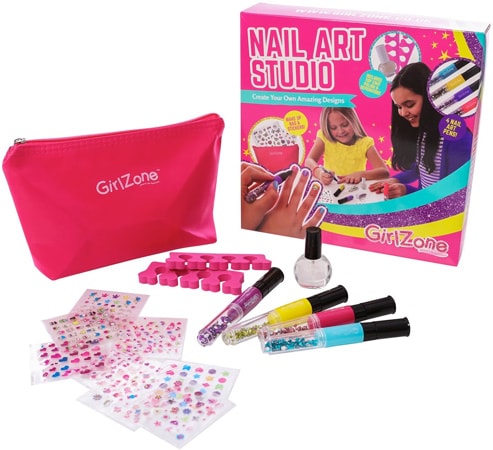 Why we like it: Create beautiful nail art designs, with all the tools included.
Nail art is popular with 10-year-old girls as it appeals to their creativity as well as a budding interest in beauty and fashion. It's also a great bonding, social activity as girls can take turns to paint each other's nails and chat along the way.
Improving hand-eye coordination and fine motor skills is an excellent by-product of using the GirlZone Nail Art Studio Kit which comes with everything girls need to create a range of beautiful and intricate nail art designs.
Pros
3-in-1 nail art pens
8 sheets of stickers included
Encourages creativity
Great social activity
Improve hand-eye coordination
Cons
Nail polish may need to be removed for school
11.
Lego Friends Heartlake Mia's Camper Van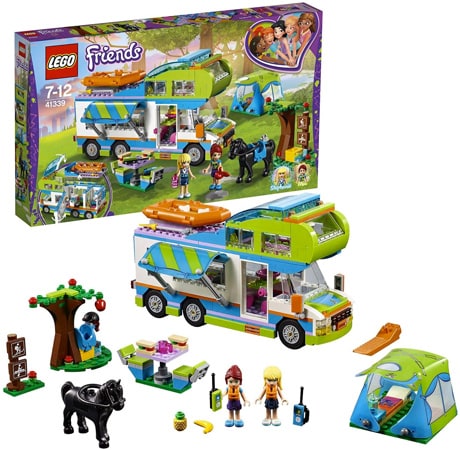 Why we like it: Perfect for imaginative role play this challenging build will also improve construction skills.
Playing with Lego continues to offer a whole range of benefits throughout childhood. With 488 pieces this Lego Friends Heartlake Mia's Camper Van set is ideal for 10-year-old girls as it will be a sufficiently challenging build to improve their ability to follow instructions as well as their physical construction skills. Building with these more complex Lego sets requires fine motor skills and dexterity, ideal for building up strength in small finger muscles to improve pen control and handwriting.
Compatible with other Lego sets so that play can be extended the Lego Friends Heartlake Mia's Camper Van set includes mini-figures from the Lego Friends range to encourage imaginative social play, perfect for 10-year-old girls.
Pros
488 pieces; sufficiently challenging for 10-year-olds
Encourages imaginative play
Improves construction skill
Includes Lego Friends mini-figures
Compatible with other Lego sets
Cons
Small pieces, requires careful storage
12.
Nintendo Switch Lite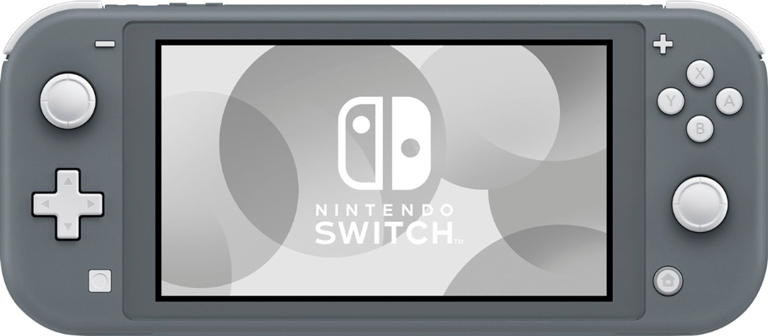 Why we like it: Popular gaming device that is portable and designed to be used on the go.
A cheaper alternative to the Nintendo Switch, the Nintendo Switch Lite offers the same popular gaming capabilities, portability and great battery life. The difference is that it does not support output to a TV and is therefore a handheld-only device.
This will be perfect for a 10-year-old girl, offering the ability to play on the go. Whilst we often think of playing video games as a just play, they actually offer plenty of learning benefits too. Alongside increasing skills associated with technology, playing video games can increase physical dexterity in the thumb and fingers, improve hand-eye coordination and reaction times and develop critical thinking skills.
Pros
3-7 hours battery life
Portable
Popular gaming device
Increases technology skills
Cons
Does not support output to TV
13.
Pandora Butterfly Silver Bracelet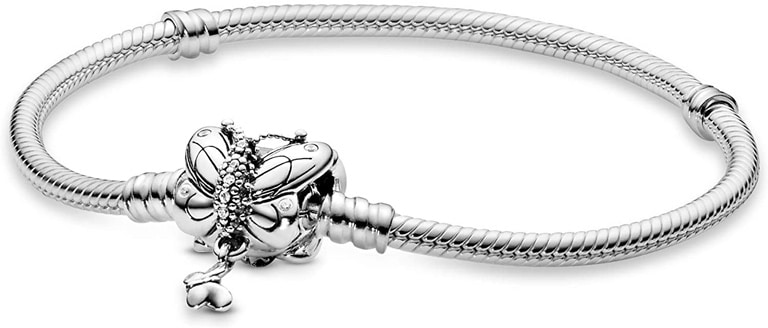 Why we like it: Pandora bracelets have become a real modern classic and this is the perfect starter set.
Pandora bracelets are a modern alternative to a traditional charm bracelet and therefore make an excellent gift. They are now well-known and very popular and offer a really stylish way to save special memories. With a range of beads and charms available this is a gift that can be added to as time goes by, at special occasions in a 10-year-old girl's life.
The Pandora Butterfly silver bracelet is made of sterling silver so is suitable for sensitive skin and is available in different sizes so that it fits well. This is a great starter set for a 10-year-old girl who wants a piece of special, meaningful jewelry for years to come.
Pros
Modern classic
Available in different sizes
Can be added to, range of charms available
Sterling silver
Cons
Slightly more expensive piece for a 10-year-old
14.
Stiga Sports Football Rebounder Goal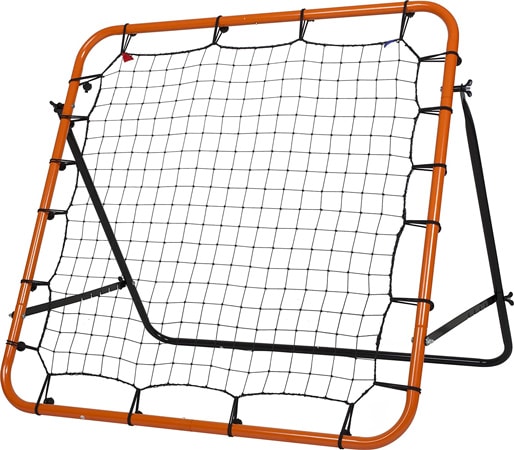 Why we like it: Ideal for football practice without the team, this is great for independent play
It's not always possible or practical to practice sports with a team, but it can be a drag to keep retrieving a ball when you're playing alone. The Stiga Sports Football Rebounder Goal offers a solution to this problem as the ball is rebounded back to the player so that they can carry on seamlessly.
This is an ideal gift for a 10-year-old sports fan and will help to keep her physically active and healthy as well as building up sport-specific skills, like shooting on target and ball control. There are two sizes available so you can choose which is most suitable, so this is a great way to offer independent football practice at home.
Pros
Can be used alone
Perfect for football practice
Keeps kids active and healthy
Improves coordination
2 sizes available
15.
Jansport Big Student Backpack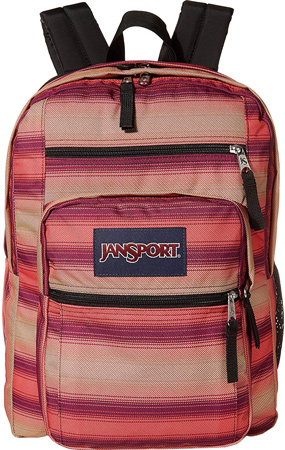 Why we like it: Perfect for carrying school books or sport kit this makes a great practical gift.
Sometimes when a girl has such a wide range of different interests and hobbies it can be difficult to know what to buy as a gift, or you may be unsure about what she already has at home. In situations like this many people prefer to buy a gift that is practical and useful so that they can be sure it won't go to waste.
The Jansport Big Student backpack is certainly practical and useful and is sure to get plenty of use by a 10-year-old girl for school, sports or extracurricular activities. Its large size fits lots of kits and it offers ergonomic carrying with adjustable sizing to support spinal health.
Pros
Practical, useful gift
Large size fits lots in
Available in different colors
Ergonomic carrying to support spinal health
Cons
More expensive than other backpacks
16.
Faber-Castell Polychromos Color Pencils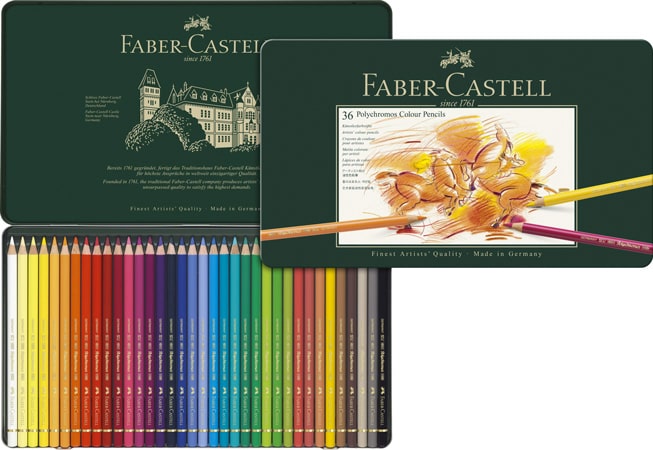 Why we like it: A great gift for encouraging a budding artist, this is a lovely set of high-quality pencils.
If the 10-year-old girl you're buying a gift for is interested in art and loves drawing then this set of pencils might make the perfect gift. You can choose from a range of quantities to get a set that will be just right for the girl you're buying for.
The pencils themselves are high-quality, professional-grade pencils and come in a range of vivid colors. They come in a storage tin so she can keep them safe as well as neat and tidy. Encouraging artistic skill and interest is a great way to show that you support and appreciate a 10-year-old girl's personality and individual interests.
Pros
Available in a range of quantities
Encourages artistic skill
Professional grade pencils
Vivid colors
Comes in storage tin
17.
Vlando Wooden jewelry Box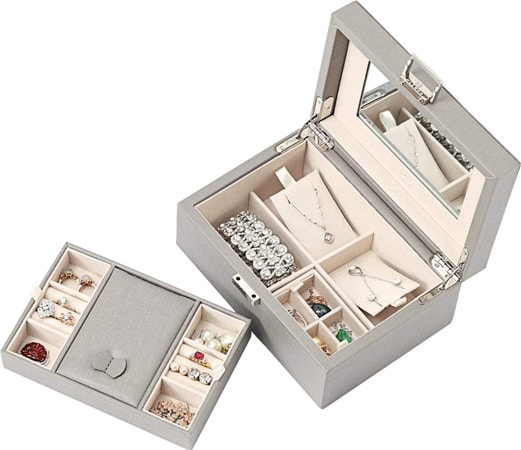 Why we like it: Perfect for storing a range of different jewelry pieces this box makes a great gift for a 10-year-old girl.
A jewelry box might not be an obvious gift for a 10-year old girl but it is sure to be both useful and appreciated. By age 10 most girls have a small collection of jewelry that they have been gifted and they need somewhere safe to store it to prevent it from getting lost or damaged.
The Vlando Wooden jewelry Box has specialized compartments for different types of jewelry, secret storage spaces to hide away very important pieces and a large mirror to check how pieces look whilst worn. The jewelry box is made with durably materials so should last many years, and giving this as a gift will encourage a 10-year-old girl to take responsibility for looking after her belongings.
Pros
Large mirror
Specialized compartments
Encourages responsibility
Secret storage space
Made with durable materials
18.
Vegan Leather Mini Backpack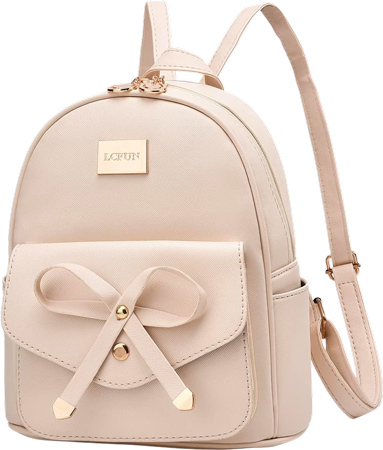 Why we like it:
A fashionable and sophisticated mini backpack that will stay age appropriate for many years.
Get a gift that will be approved by any fashion-obsessed 10-year-old girl. Plus, it's one she won't quickly grow out of. This vegan leather backpack is perfect for any young girl that likes to take all her favorite things with her wherever she goes, whether it's to play with her friends or off to a day at school. It's made of cruelty-free and highly durable materials that easily wipe clean so it's resistant to daily wear and tear and playground approved.
The style of this backpack is age-appropriate, featuring an ultra-feminine bow embellishment and a compact size. Though, the classic off-white color and contrasting rose gold hardware give it a grown-up look she can wear for years. For little fashionistas that like to express their individuality through fashion, this gift will be a hit. Any 10-year-old girl is going to love showing this gift off to all her friends at school.
Pros
Cruelty-free, Vegan materials

Wipes clean, Highly durable

Large enough to hold essentials

Adjustable strap for comfort
Cons
Too small for school books
19.
Beginner Microscope with Slides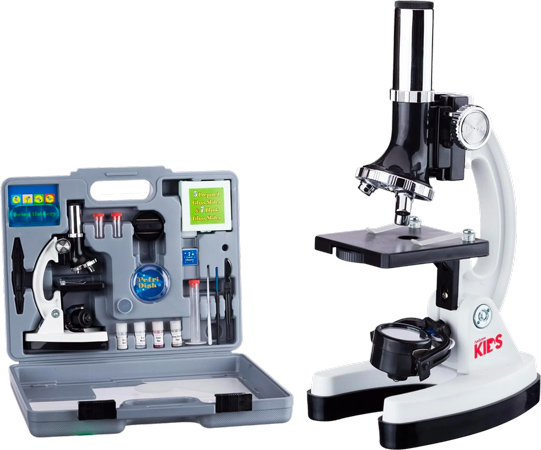 Why we like it:
A working microscope to show young girls the amazing world of science while encouraging their curiosity and problem-solving skills.
For 10-year-old girls that love science and have a curiosity about the world around us, this beginner's microscope is the gift you are looking for. The microscope isn't just a toy. It's an actual working microscope that reaches a magnification of 20x. It's powerful enough to observe the smallest details in whatever it is that has their curiosity.
Included with the kit are blank slides to hold specimens, tweezers, an eye dropper, a petri dish, collecting vials and so much more. It even includes brine shrimp eggs and a shrimp hatchery. Everything from examining leaves to insects is possible with this gift. Not only will young girls be amazed at how things look at a 20x magnification, but it will also encourage an interest in science, math and technology. The entire kit is stored in the included hard case to keep everything safe and organized. It runs off of batteries but they are included so it's ready right out of the box.
Pros
Encourages curiosity

Fosters interest in science

Includes a hard case

Includes batteries
20.
SainSmart Jr. Kids Bow and Arrows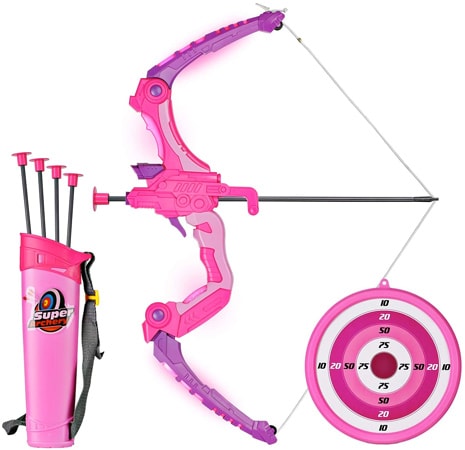 Why we like it: Improve physical skills and hand-eye coordination with a child-friendly archery set.
This archery set is specially designed for kids so they can have all the benefits of archery without the danger! Your mind may not jump to an archery set when thinking of a gift for a 10-year-old girl but this set is a unique gift offering a whole range of benefits.
The SainSmart Jr. Bow and Arrows will encourage physical skills such as hand-eye coordination, balance and spatial awareness, and is suitable to be played with independently or with others making it an ideal sport for an only child or a child who likes to play by themselves. The set even comes with a gift box making it really simple to give as a gift.
Pros
Improves hand-eye coordination
Encourages physical skill
Suitable for independent play
Child friendly and safe
Comes with gift box
21.
ThinkFun Rush Hour Traffic Jam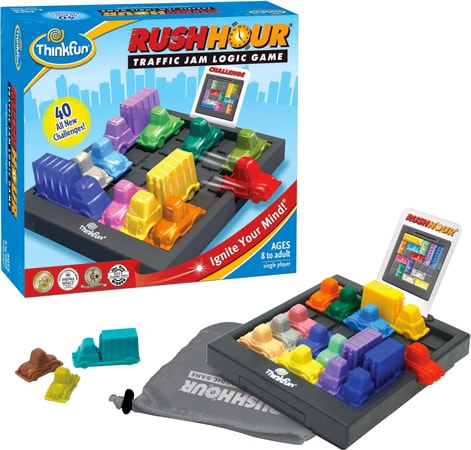 Why we like it: A classic logic game to improve critical thinking and social skills.
Critical thinking skills are important for all sorts of academic work as children grow including mathematics and science. Being able to develop critical thinking skills through play is ideal for 10-year-olds as their brains are still wired to learn best through playing. The ThinkFun Rush Hour Traffic Jam game is ideal for improving critical thinking skills whilst also being an extremely fun game.
The game can be played with others or independently and has a series of multi-level challenges from beginner to expert so as you improve at the game it gets harder to keep it challenging and stimulating.
Pros
Improves logic and critical thinking skills
Builds social skills
Multi-level challenges; beginner-expert
Can be played with others or independently
Cons
Plastic parts, not environmentally friendly
22.
RockJam Keyboard Piano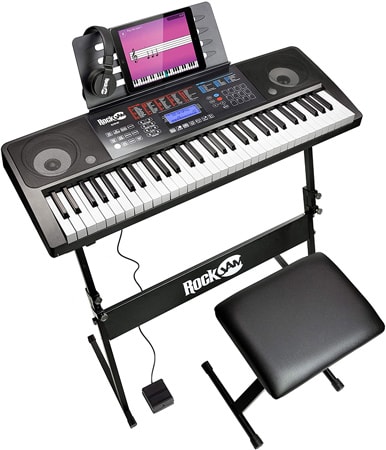 Why we like it: The perfect gift for kids interested in music, allowing them to develop real skills.
Music is a skill for life, it has cognitive benefits but also improves stress levels and is a great social skill to have too. If the 10-year-old you're buying a gift for is interested in music or has started to learn to play the piano or the keyboard then this RockJam Keyboard Piano would make a fantastic gift for them.
This keyboard is compact and portable and comes with a stand, seat and headphones making it ideal for piano practice. There are 200 set rhythms, 200 tones and 30 demo songs with the ability for the user to record and play back their own work too.
Pros
Encourages interest in music
Perfect for piano practice
Portable, compact design
200 rhythms, 200 tones, 30 demo songs
Includes stand, seat and headphones
Cons
Larger item, requires space
23.
Fitbit Ace 2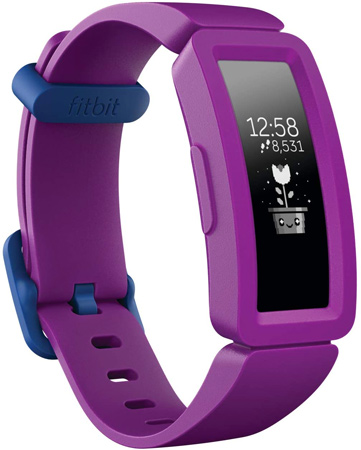 Why we like it: Fitbit tracker designed for kids' lifestyles that helps to build healthy habits.
In wanting more independence and to feel grown-up many 10-year-old girls like to imitate the adults in their lives. Many adults now wear fitness trackers and children express an interest in these and their accompanying apps. The Fitbit Ace 2 Activity Tracker for Kids is a fitness tracker designed especially for kids. It has a robust design to withstand any bumps and knocks, is water-resistant up to 160 feet.
The Fitbit Ace 2 Activity Tracker for Kids is a great way to encourage children to stay active and to use technology to develop healthy habits. It also has up to 5 days of battery life so charging isn't a drama!
Pros
Water-resistant up to 160 ft
Up to 5 days of battery life
Encourages healthy habits
Keeps children active
Positive use of technology
Cons
Requires device with Fitbit app for full functionality
24.
Sequined Butterfly Lined Journal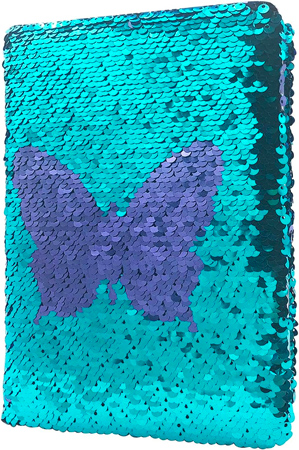 Why we like it:
A unique reversible sequined journal that gives little girls a place to collect their thoughts and express themselves without judgment.
Give the 10-year-old girl you're shopping for a place to collect her private thoughts and jot down her feelings with this sequined journal. The outside of the journal is covered in blue sequins and features a purple butterfly. When the sequins are brushed to the side, the colors reverse and the butterfly turns blue with a purple background. Inside hides 160 wide-lined pages waiting to be filled with thoughts for her eyes only.
This journal would be a great gift to encourage self-reflection and encourage an interest in writing. It can also help develop emotional health as she learns to put her feelings into words. Or, if writing isn't her preferred form of expression, this would make a great doodle journal for all her sketches. The convenient size makes it large enough to comfortably write in but small enough to stash in a backpack so she can always have it with her when inspiration strikes.
Pros
Promotes self-expression

Improves writing skills

Reversible design

Convenient size
25.
Ravensburger Delighted Dogs XXL 300pc Jigsaw Puzzle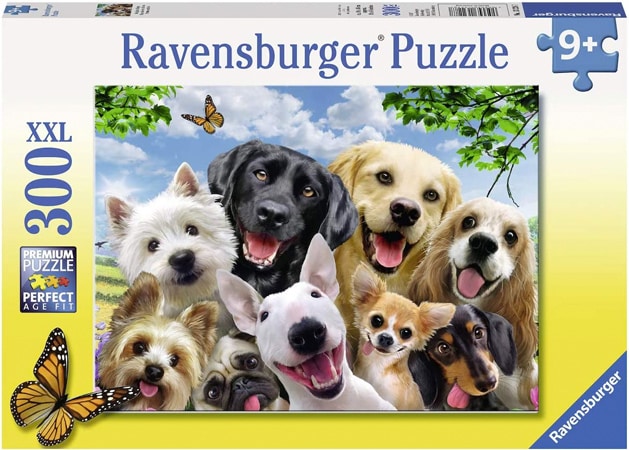 Why we like it: A challenging jigsaw puzzle for dog-lovers.
Lots of 10-year-old girls are really animal lovers and will find the dogs featured in the design of this jigsaw absolutely adorable. The Ravensburger Delighted Dogs XXL 300pc Jigsaw Puzzle is exactly as it is described; an extra-large jigsaw puzzle with 300 pieces and a lovely dog design. It is sufficiently challenging for 10-year-olds, improving their construction skills and dexterity as they put it together.
The puzzle, from Ravensburger, has thick, high-quality cardboard pieces to make putting it together easy and satisfying. The glare-free puzzle surface makes it easy to see the design, to make the puzzle building experience just that bit smoother which will help a 10-year-old girl.
Pros
300 pieces; sufficiently challenging for 10-year-olds
Ideal for girls who love animals
Extra thick cardboard
Glare-free puzzle surface
Cons
Lots of pieces; requires careful storage
26.
Cool Maker Go Glam Nail Stamper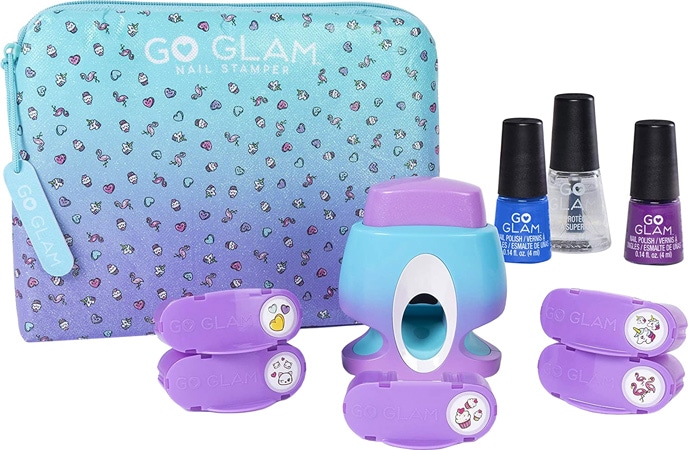 Why we like it: Perfect for a 10-year-old girl who loves beauty items this nail stamper encourages creativity and fine motor skills.
Many 10-year-old girls are very interested in make-up, beauty and anything typically 'girlie' so this Go Glam Nail Stamper will definitely appeal to them. The nail stamper allows girls to create salon-worthy designs with just the press of a button, stamping the nail with beautiful patterns. It works on any size of nails so grown-ups can get involved too!
The Go Glam Nail Stamper set is easy to operate and comes with kid-safe nail polish so there's no need to worry about children using anything potentially harmful. This set would make a great gift for a 10-year-old who loves anything to do with beauty.
Pros
Suitable for any size nail
5 designs included
Easy to operate
Kid-safe nail polish
27.
Big Game Hunters Mega Hi-Tower in a Bag
Why we like it: Oversized block balancing game, perfect for parties and family events.
The Big Game Hunters Mega Hi-Tower in a Bag is a fun, family game best played outdoors. This block balancing game is perfect for parties and family events as it's suitable, and good fun for, both adults and children alike.
Similar to the popular game Jenga players must build a tower and then take turns to carefully remove pieces without knocking the whole tower down. This is a real challenge with the large set and encourages children to use muscles throughout the body to keep their hands steady as they remove each block. Being able to build up to 7.5 feet high this game is challenging and exciting and comes with its own storage bag.
Pros
Popular game
Perfect for parties and family events
Build up to 7.5 ft high
Great for adults and kids
Comes with storage bag
28.
Toroidz Flow Rings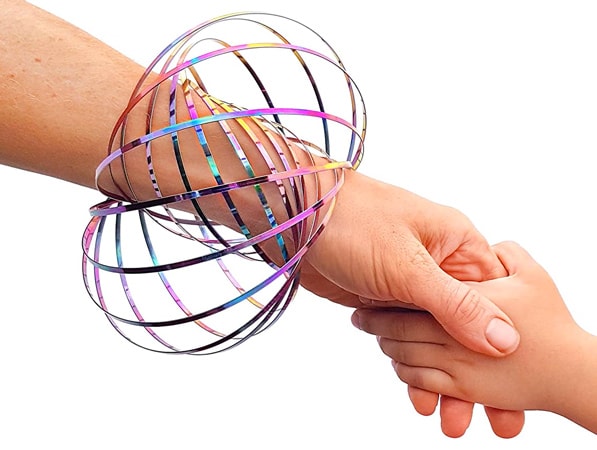 Why we like it: Relaxing and stress-busting, this also improves physical skills.
It is difficult to explain exactly what Toroidz Flow Rings are but 10-year-olds will love them! Similar to fidget spinners the flow rings are designed as a relaxing, stressbusting activities but can also be used for performing tricks. They are ideal for both adults and children and come with their own velvet carry pouches.
Fun and easy to use, the flow rings can be placed on the wrist where they begin to move, or 'flow' up and down the arm. The user can then take hold of their other hand and direct the rings onto their other arm or use solid cylindrical items like broom handles to send the rings flowing another way. Strangely satisfying this is a unique gift that will mesmerize a 10-year-old girl.
Pros
Comes with velvet carry pouch
Fun and easy
Improves physical skills
Great for adults and kids
Relaxing, stress-busting activity
Cons
Must be careful not to tangle
29.
Melissa & Doug Suspend Family Game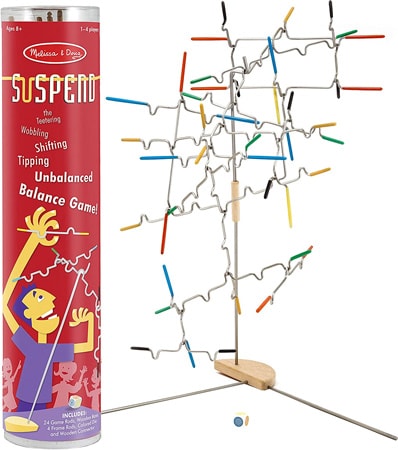 Why we like it: Ideal to play as a family this game helps to improve hand-eye coordination.
Melissa and Doug have specially designed a series of games to be played as a family and the Suspend Family Game is part of this range. It is easy to play and improves hand-eye coordination as players seek to suspend pieces without unbalancing others.
Playing games as a family is a fantastic way to encourage closer family bonds and keep communication flowing as you head towards the teenage years so the Melissa & Doug Suspend Family Game is a perfect addition to a family games night with a 10-year-old girl.
Pros
Easy to play
Improve hand-eye coordination
Encourages social skills
Great for the whole family
Cons
Younger children may need the junior version
30.
Lacoste Classic Watch with Silicone Strap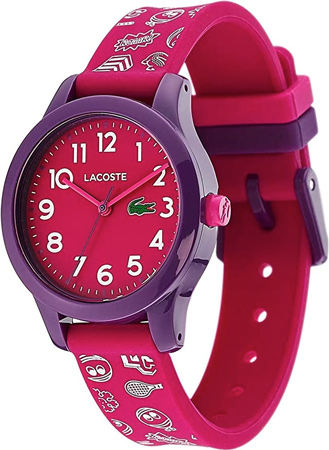 Why we like it: A classic, stylish watch which is perfect as a gift.
At age 10 many girls are actually extremely fashion conscious and may want to express themselves through their clothing style and personal image. A watch makes a lovely, special gift for a girl who is starting to become more interested in their image and style.
The Lacoste Classic Quartz watch has a classic, clean and sporty design and is made with high-quality materials. Water-resistance means that it can stand up to being worn by a 10-year-old and it comes with a gift box and 2-year warranty, making it an ideal gift.
Pros
Sporty, classic design
High-quality materials
Water-resistant
Complete with gift box
2-year warranty
Final words
10-year-olds in general, and 10-year-old girls in particular, are at an interesting point in their development and are not always the easiest to buy gifts for as they can seem to slip between the cracks; being too old for traditional childhood "toys" but too young for more teenage or adult gifts like gift cards. However, this stage of development is also a great opportunity to expose children to different interests and activities and to help them to develop their childhood interests further or build brand-new ones.
This list encompasses a range of different interests and opportunities to help inspire you in your search for the perfect gift for a 10-year-old girl. We hope that you have found something that will suit the 10-year-old you are buying a gift for!
Need more inspiration?