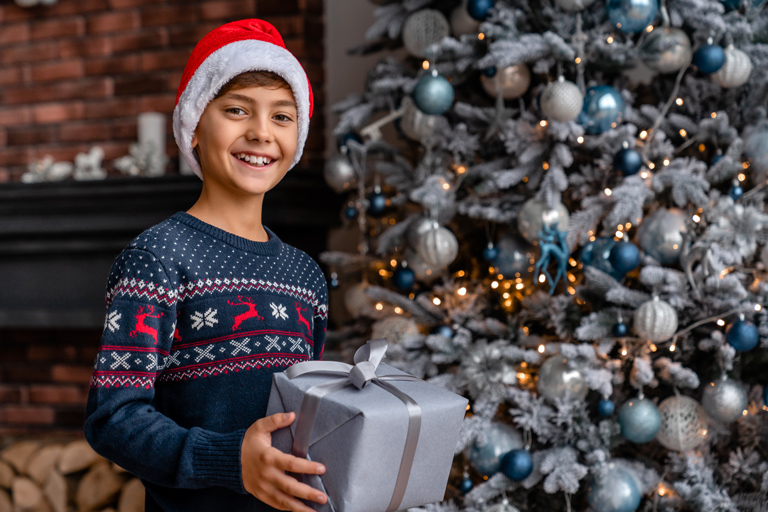 Choosing a Christmas gift for a 10-year-old boy is all about opening yourself up to his world of fun, learning and adventure. At this lively age, boys are diving into hobbies, making friends and discovering what makes them most excited.
Our handpicked list of 15 Christmas gifts 10-year-old boys will love unwrapping is designed to bring together a mix of playful games, cool gadgets and stylish gear. Each gift on this list has been chosen to match the vibrant energy and curiosity of a young kiddo. You're about to discover some cool gifts that will not only entertain him but also foster his learning, encourage his creativity and ignite his passions.
1.
Star Wars Paper Airplanes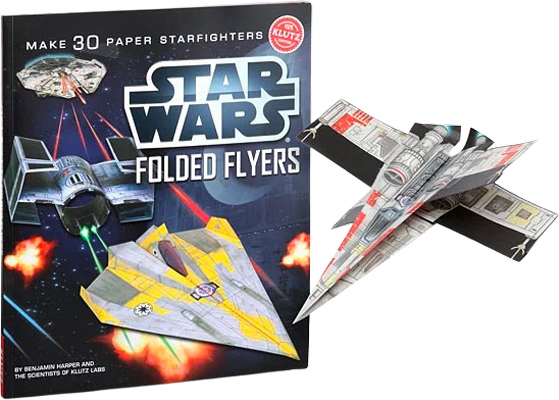 For Christmas, give the 10-year-old boy on your Christmas list a gift that will have him flying high with excitement. This Star Wars activity book will teach him how to create six different Starfighters from the Star Wars series, including recognizable ships like the Millennium Falcon and the Jedi Starfighter. Made with sturdy paper with pre-printed designs, these planes are great for both play and display.
Building these paper Starfighters encourages hands-on creativity and offers a fun activity for him to engage in. Whether he's looking to have paper plane battles or just wants to show off his Star Wars creations, this book offers a unique way to interact with the Star Wars universe. The book contains 30 sheets of paper so he can practice folding the perfect flying vessel that will impress all his friends. This gift is sure to be a soaring success.
2.
Rolling Remote-Controlled Car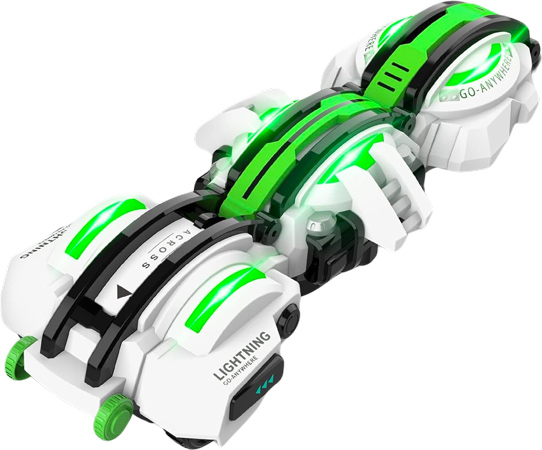 Give a 10-year-old boy the thrill of speed this Christmas with this remote-controlled car. This is unlike any remote-controlled car he's played with before. The unique three-part body allows it to curl up into a ball. It can even roll down stairs! With its vibrant color design and flashing LED lights, it stands out both in daylight and the dark.
The car's responsive controls ensure he can master tight turns, speedy straightaways and everything in between. The durable build ensures it can handle the rough and tumble of energetic play sessions, even when it crashes at the impressive 15 km/h speed. Whether he's racing against friends or simply enjoying solo play, this remote-controlled car is sure to deliver hours of entertainment. He'll be eager to take this Christmas gift for a spin as soon as he unwraps it.
3.
Wooden Ring Toss Game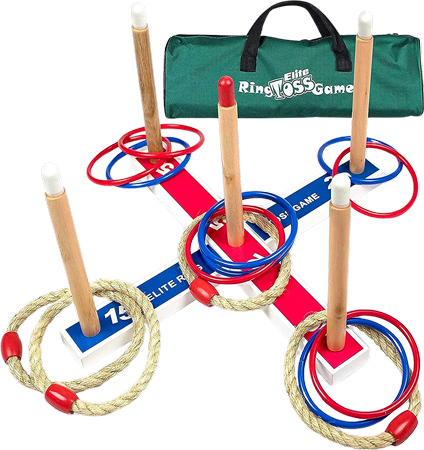 Gift the joy of outdoor play and family bonding this Christmas with a classic ring toss game that any competition-loving 10-year-old boy is going to want. Everyone in the family, from the youngest to the oldest, can join in on the fun, making it perfect for gatherings or just simple backyard playtime.
The game comes with five plastic rings, five rope rings, five wooden pegs and a sturdy wooden base marked with score indicators. Beyond the fun of friendly competition, each throw becomes a test of precision and skill. It's an excellent way for him to spend time outside, take a break from screens and develop his hand-eye coordination.
4.
Game Controller Night Light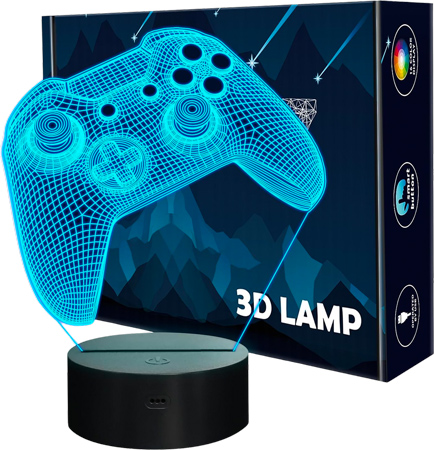 For the 10-year-old boy who loves gaming, this video game controller night light is the ideal Christmas gift to have under the tree this year. Designed to look like a 3D video game controller, the light provides a visual treat, setting the mood for gaming-inspired ambiance. With the 16 light colors, he can switch the lighting to match his room's decor or his current mood. The included remote makes transitions between different colors and lighting modes as easy as pressing a button.
The soft, comforting glow from this night light is perfect for creating a cozy atmosphere during bedtime or for hanging out in his room with his friends. This is the type of gift that bridges the world of gaming with everyday practicality. It will for sure be his new favorite piece of game-inspired room decor.
5.
Thermal Blackout Gaming Curtains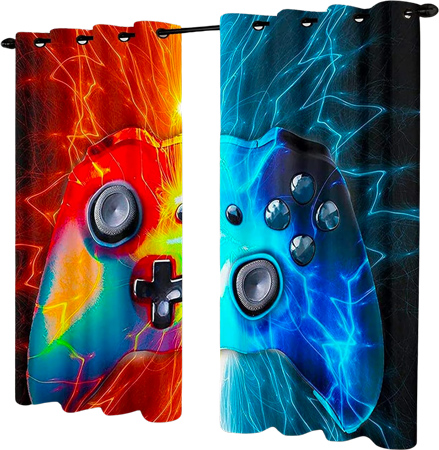 This Christmas, elevate a 10-year-old boy's room with curtains that speak to his passion for gaming. Featuring a vibrant, colorful video game controller print, these curtains are a visual delight for any young gamer.
Not only do these high-quality curtains make a huge visual impact, but the thermal design also helps regulate the temperature in his room. He'll stay cool during hot summers and toasty warm during chilly winters. They're also thick enough to double as blackout curtains so he can play his games without the distraction of bright sunlight in his room. The polyester material makes them both durable and machine washable so they're the perfect set of curtains for a young boy. These curtains are a work of art he'll be glad to hang in his room.
6.
RGB Digital Alarm Clock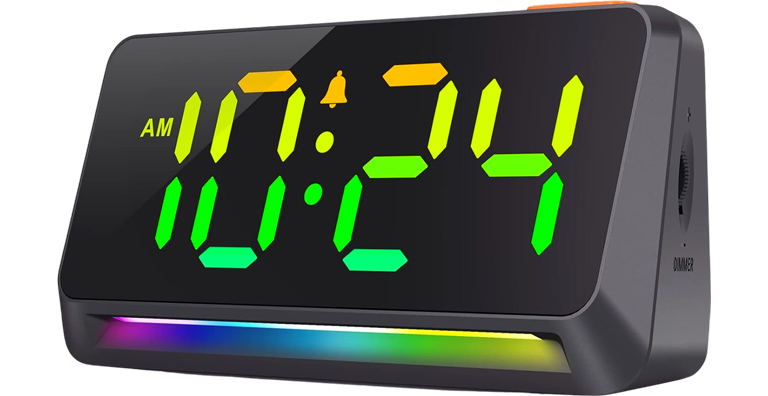 Brighten up the morning routine of a 10-year-old boy this Christmas with an alarm clock that's both functional and beautiful. This RGB digital alarm clock isn't your ordinary timepiece. Apart from displaying time clearly and brightly, it offers a radiant display with a spectrum of RGB colors that can shift, creating a mesmerizing visual effect on his bedside table.
The alarm clock is designed to be loud enough to wake even the heaviest of sleepers, ensuring he's up and ready for the school day ahead. The modern design easily integrates with any room decor, making it a stylish addition to his space. Whether he uses it as a night light, a mood setter, or simply as an alarm clock, it's a Christmas gift that's both a functional and fun piece of decor.
7.
Laundry and Toy Basket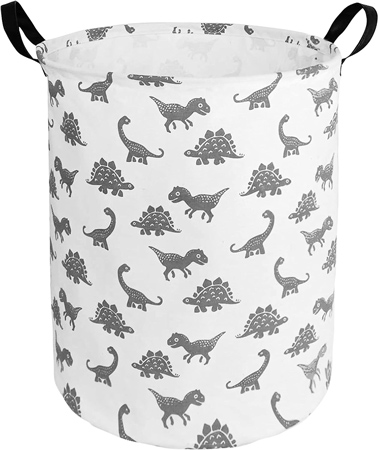 Gift the 10-year-old boy in your life an easy organization solution this Christmas with this versatile, collapsible storage basket. Featuring a playful dinosaur print, this storage basket will easily become his favorite way to tidy up. Whether he's rounding up scattered toys after playtime or hauling laundry, this basket is up to the task. Less time cleaning his room means more time playing out with his friends.
The lightweight design makes it easy for him to drag around, and when not in use, it collapses flat for convenient storage. The waterproof interior lining ensures durability and easy cleaning, a feature parents will appreciate.
8.
Sporty Polarized Sunglasses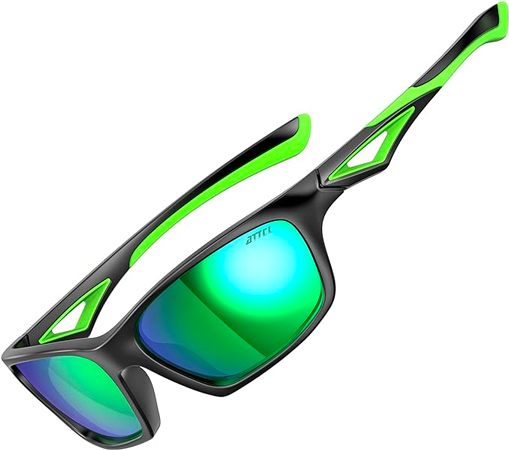 For the 10-year-old boy with an eye for style, these sporty sunglasses are the Christmas gift he'll want. The modern and sporty frame design ensures he makes a statement during playdates or family outings while the polarized lenses enhance clarity, reduce glare and protect against the harmful effects of UV rays.
The lightweight and face-hugging fit ensures the sunglasses sit comfortably without slipping, even during active adventures. These sunglasses not only amplify his cool status but also offer essential eye protection. They're available in three color options, but if he's a boy with bold tastes, the black and neon green pair will deliver the style upgrade he's looking for.
9.
Classic Full-Zip Hoodie Sweatshirt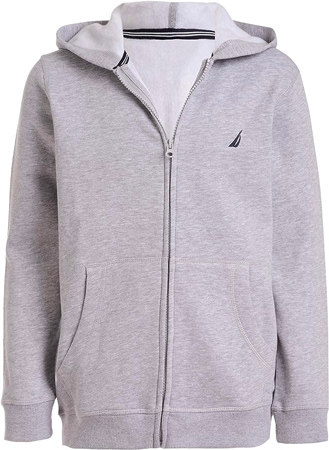 This Christmas, gift a 10-year-old boy the perfect blend of comfort and style with this zip-up hoodie sweatshirt by Nautica. This classic, high-quality hoodie is sure to be his go-to choice for both casual outings and outdoor play sessions.
The inside is lined with a premium-quality fleece material which provides extra warmth during chilly days while remaining breathable for all-day wear. The full zip-up feature provides convenience, allowing for fashionable layering or easy removal during active playtime. The ribbed cuffs and hem ensure a snug fit, retaining warmth and providing a tailored look. Durable and machine washable, this hoodie is both a trendy and practical addition to his cool-weather wardrobe.
10.
Recycled Polyester Lego Backpack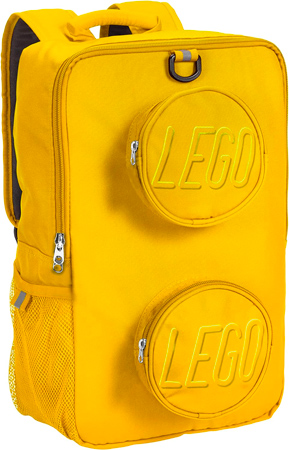 If you're shopping for a 10-year-old boy who is a Lego enthusiast, this backpack is an emblem of his favorite pastime and a Christmas gift he'll love. The bold and vibrant design features the iconic Lego brick, making it an instant head-turner in school corridors and during playtime adventures. With a spacious interior and dedicated compartments, he can easily organize his books, stationery, lunch box and personal items.
Designed with comfort in mind, the padded shoulder straps and back panel ensure all-day comfort while carrying all his school gear. It also features 360-degree reflective details, including a standout reflective brick on the shoulder strap, increasing visibility during low-light conditions. The durable material is not only easy to wipe clean but is also made of recycled polyester so it makes a great eco gift for the environmentally conscious family. He's going to be turning heads when all his friends see this awesome backpack.
11.
Wire Balance Game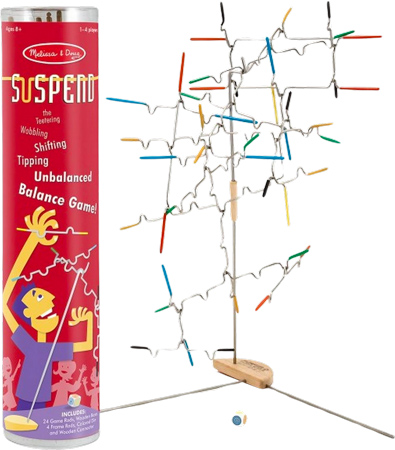 This Christmas, challenge the 10-year-old boy in your life with a game of precision and balance. This wire balancing game is all about stacking and positioning the metal rods on top of each other, ensuring they don't topple over. It's a test of patience, strategy, and a steady hand.
Each rod adds a layer of complexity as he determines the best way to balance them, making every game unique and engaging. It's an excellent way for him to enhance his problem-solving skills and hand-eye coordination. Whether playing solo or turning it into a competitive game with friends and family, it promises hours of focused fun.
12.
National Geographic Microscope Kit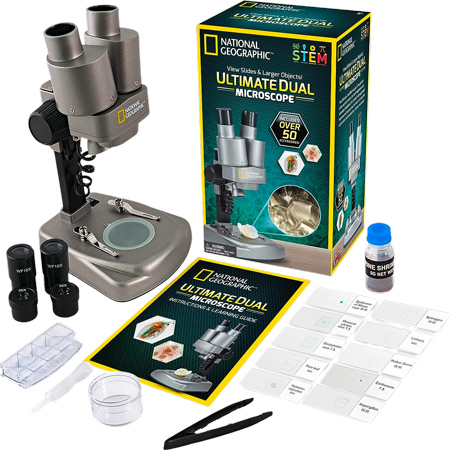 Surprise the 10-year-old boy in your life this Christmas with an incredible tool for discovery. This microscope by National Geographic is designed for budding scientists. It provides both a lower and upper LED illumination, ensuring optimal clarity when observing a variety of specimens.
The set includes over 50 accessories, enabling him to deep dive into the microscopic world of the unseen. With the capability to magnify objects up to 50 times, he can explore everything from plant cells to insect wings in exceptional detail. It comes with preloaded slides to explore as well as 10 blank slides to create his own specimens. Easy to use and versatile, this microscope not only fuels his curiosity but also provides foundational knowledge in biology. This amazing gift could be the spark that ignites a lifelong love for science.
13.
Marble Maze Starter Set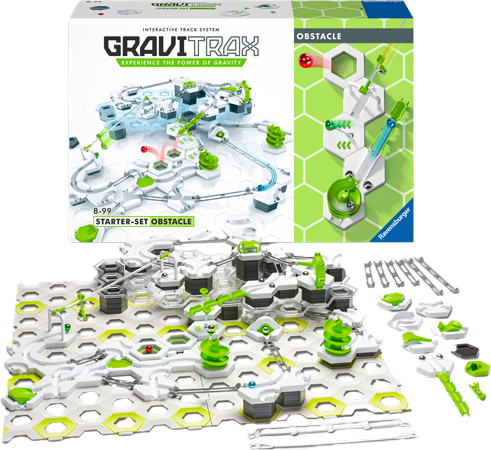 This Christmas, give a 10-year-old boy the gift of engineering and creativity with a marble maze starter set. This innovative toy offers an exciting introduction to the world of kinetic physics, allowing him to design and construct his own race tracks. With a multitude of tiles, levels, tracks, and other features, he can create intricate mazes that will challenge his problem-solving skills and ingenuity.
As the marbles race through the tracks he's designed, he'll witness firsthand the effects of gravity, magnetism and kinetics. Each setup leads to a new discovery, encouraging him to think critically and experiment. Easy to assemble but challenging to master, this maze set not only promises hours of entertainment but also a hands-on approach to learning. It's the perfect balance between fun and education, making it a standout Christmas gift for a curious young mind.
14.
Deluxe Art Kit with Case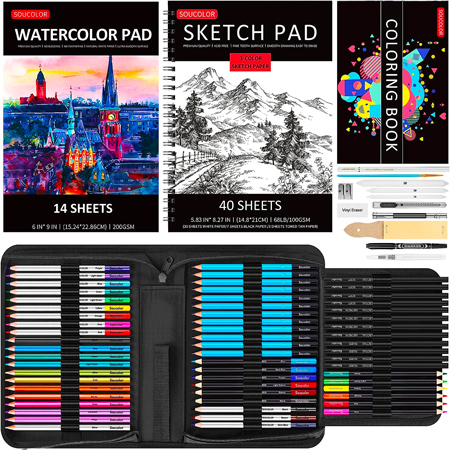 If you're Christmas shopping for a 10-year-old boy who finds inspiration in creating art, he's going to appreciate this deluxe art kit. This massive set is a treasure trove of high-quality art supplies. It includes everything from graphite-colored pencils to watercolor, charcoal and metallic pencils. It also includes miscellanies art supplies, multiple sketchpads and a coloring book.
Whether he's sketching a masterpiece or doodling his latest ideas, this kit ensures he has the right tools at his fingertips. The materials are neatly organized in a sturdy case, making it convenient for him to take his art anywhere. Encouraging artistic exploration and self-expression, this set will be a cherished gift, allowing him to create countless masterpieces to display around the house.
15.
DIY Science Experiment Kit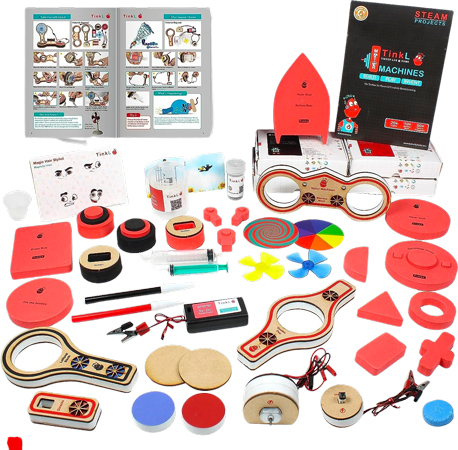 This Christmas, introduce the wonders of science with a gift perfect for the 10-year-old boy who's eager to discover and learn. This DIY science experiment kit is a gateway to hands-on exploration, allowing him to understand fun and exciting scientific concepts. Offering experiments that range from building motor boats to understanding the principles of magnetism and vacuums, the kit ensures a diverse learning experience.
Every experiment is designed to engage his curiosity and challenge his analytical skills, making science both fun and informative. This is a Christmas surprise that will provide a ton of fun while also developing a strong foundation in various scientific disciplines. This is the gift you're looking for if you know an inquisitive 10-year-old who deserves something special.
Need more inspiration?