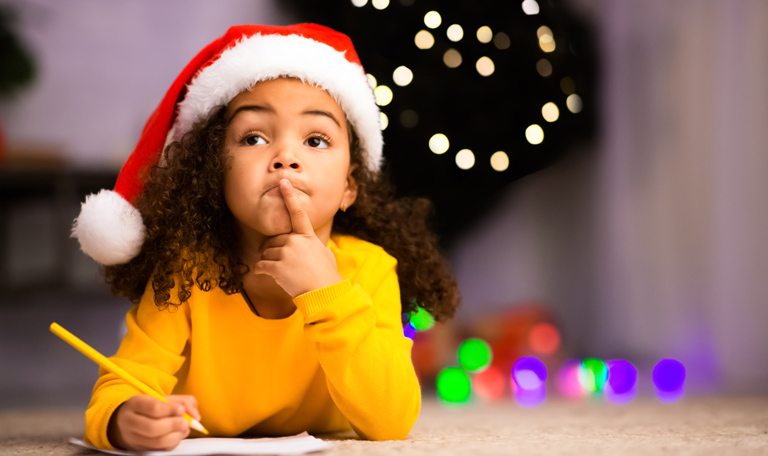 If you're Christmas shopping for a 7-year-old girl and feeling lost for inspiration, you're about to get a big dose of relief. Not only will it comfort you to know you're not alone in your holiday shopping conundrum, but we want you to know your worries are over because we've done the hard work for you.
This list of 16 epic Christmas gifts for deserving 7-year-old girls is packed with ideas that have been handpicked based on their appeal and popularity among young girls. Whether she's still into princesses or she's developing her artistic talents, there's definitely something here she wants.
1.
Frozen Pink Analog Watch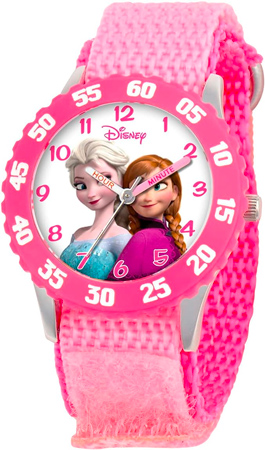 If there's a 7-year-old girl on your Christmas list who adores Elsa and Anna from Frozen, this officially licensed Disney watch might be just the thing you're shopping for. Imagine her excitement when she sees her favorite characters on the easy-to-read watch face. The comfortable pink nylon band guarantees a snug and secure fit, perfect for tiny wrists that are still growing. Plus, the large numbers on the analog display will help in her journey of learning to read time.
Crafted with a durable case that is water resistant up to 30 meters, it's designed to survive playtimes and adventures, even in the rain. This amazing Christmas gift merges learning life skills with fashion that any young girl will love.
2.
Ladybug Floating Crystal Necklace
This Christmas, amaze the 7-year-old girl in your life with this unique, blinged-out crystal ladybug necklace by Superchic. This adorable accessory features a ladybug-shaped pendant covered with sparkling black and red crystals, adding a touch of youthful style to her favorite outfits.
The body of the ladybug is filled with loose red and white crystals that seemingly float between the sides of the clear case. The whole look is pulled together with the delicate but durable chain that comes with an extender, perfect for altering the length as she grows or for wearing it as a layering piece with other necklaces. There's no doubt when she unwraps this gift she's going to love it. Now and for many years to come.
3.
JoJo Siwa Sunglasses Set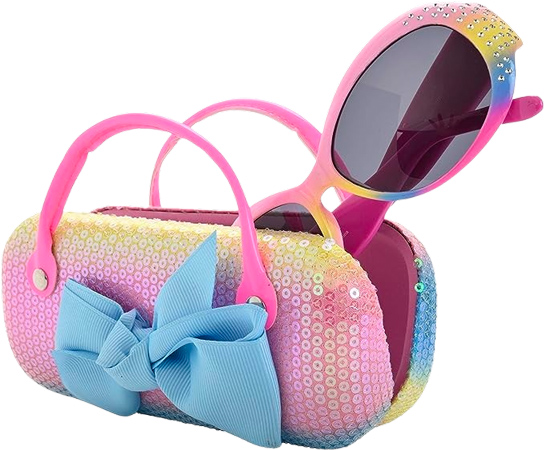 Make this Christmas morning even more exciting for the lucky 7-year-old girl on your Christmas list with these super cool sunglasses by JoJo Siwa. With the cat eye shape, the gradient rainbow colors and tons of tiny crystal accents, these sunglasses are oozing style. She'll be walking around looking like she's been dressed by JoJo herself.
These sunglasses not only look fabulous, but they also protect her eyes from harmful UV rays whiles she's spending time outside with her friends. When she's not sporting her new sunnies, she can carry them in the matching sunglasses case that features hard walls for protection and pink handles for on-the-go adventures.
4.
Interactive Unicorn Crossbody Purse
If you're Christmas shopping for a 7-year-old fashion icon in the making, this unicorn purse is going to make her a happy young lady. Made by Purse Pets, this bag is more than just a fashion accessory to hold all her daily essentials. It's a fun blend of fashion and an interactive toy.
The crossbody purse features 25 sound effects and reactions, including blinking eyes, fashion show songs and even snoring sounds while it sleeps after a long day of shopping. The pastel pink vegan leather is accented with trendy gold hardware and a sparkling gold unicorn horn, making it a stand-out piece of fashion that will let the world know she's a girl that knows style but still likes to have fun.
5.
Zipper Classic Fleece Jacket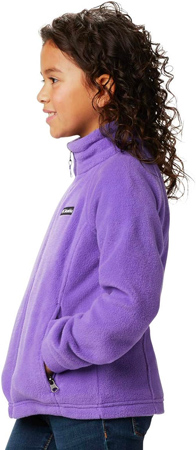 For this year's Christmas, give a thoughtful gift that adds both style and warmth to a 7-year-old's wardrobe. The Columbia zip-up jacket is a versatile wardrobe staple that can be worn throughout the year. During colder months, it serves as the perfect layering piece under winter coats. In springtime, it's a great lightweight jacket for keeping the chill at bay during playtime outside with friends.
Made from soft and cozy fleece, this jacket is not only comfortable but also easy to care for, as it can be machine-washed. The wide array of vibrant colors available means you'll have no problem finding the ideal one to match her unique personal style.
6.
Soft Hooded Princess Towel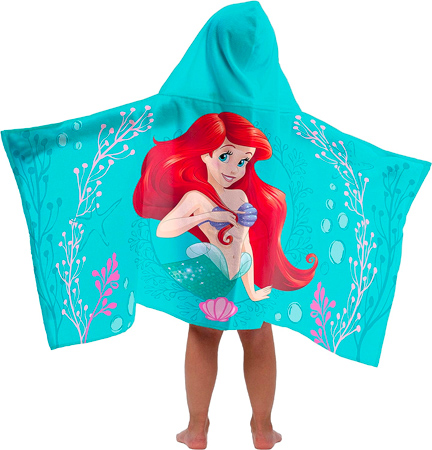 Choose this Christmas gift if you're looking for something that a princess-loving 7-year-old girl is going to appreciate every single day. This towel by Jay Franco, featuring Disney's Little Mermaid, will keep the bath time fun going even after she steps out of the water.
Crafted from a soft and absorbent cotton material, this towel is ideal for wrapping her up after her nighttime bathing routine or for use after a dip in the pool. The attached hood adds warmth while also giving her a way to dry her hair faster. Being machine washable and fast drying means she'll never have to go a day without her new favorite princess towel.
7.
Disney Princess Insulated Tumbler
Whether she's relaxing at home or out shopping with mom and dad, this tumbler is the perfect Christmas present to keep a 7-year-old girl sipping her favorite drinks in style. Featuring an entire girl squad of Disney princesses, this is going to be the only cup she's reaching for when it's time for milk and cookies. The double wall insulated construction will keep her water icy cold or her hot coco toasty warm for hours.
The spill-proof lid stops accidents from happening and the BPA-free plastic means there won't be any worries about glass breakage if it's dropped, a necessary feature for active kiddos. Parents will love it for the durability and ease of cleaning, and she'll love it for the princess design that makes every sip feel like she's in her own fairytale.
8.
Custom Bird Feeder Kit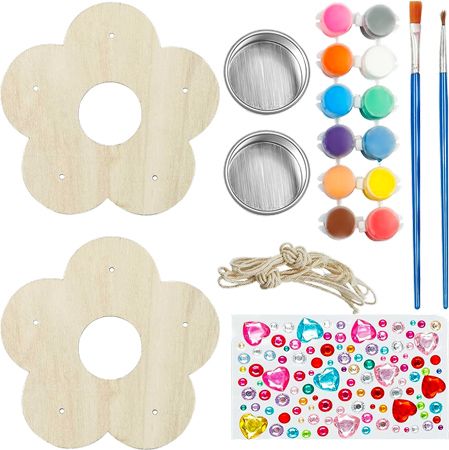 Give the gift of creativity and nature exploration with this DIY bird feeder kit by Gooidea. This delightful Christmas present is perfect for any 7-year-old girl who loves birds and enjoys hands-on projects. The kit includes everything she needs to build two custom bird feeders. It's a fun activity that engages her imagination and helps her connect with nature.
With easy-to-follow instructions, she can assemble these feeders herself, making it a rewarding and educational experience. Once completed, she can hang the feeders in her garden or backyard, attracting various colorful birds to her outdoor space. It's a wonderful way to develop her love for wildlife and create lasting memories of joyful moments spent with her new feathered friends.
9.
Wireless Interactive Dance Mat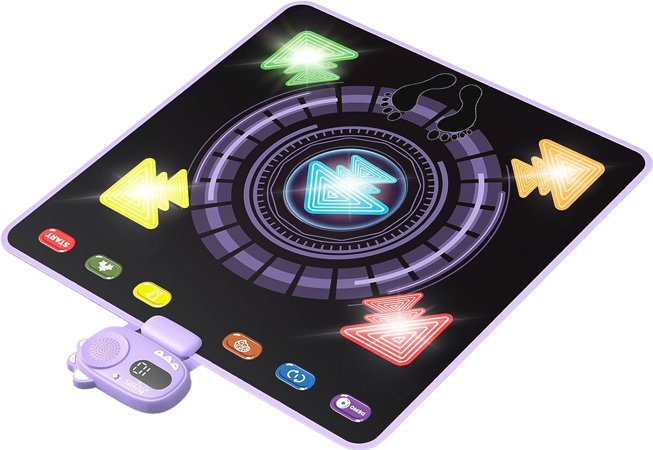 Turn Christmas morning into a dance party with this wireless dance mat by Joyjoz. If the 7-year-old girl you're shopping for loves to dance, this gift will have her beaming with excitement to bust some new moves. The interactive mat comes preloaded with 20 popular songs but can be connected to the internet to expand the music library. As the lights on the pad flash, she has to follow the patterns with her feet, creating fun dance routines while also improving coordination and rhythmic skill.
The mat can be set to 4 modes, each with a different difficulty level so she can keep challenging herself to dance longer and faster. When she's all danced out, she can even remove the speaker and use it as a standalone music player to listen to her favorite tunes while she's relaxing in the backyard recovering from her intense dance session.
10.
Color Changing Hatchimals Aquarium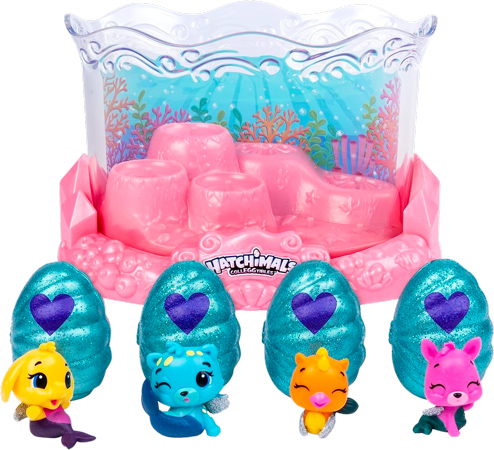 If you're looking for a magical Christmas gift for a 7-year-old girl, this Hatchimals underwater aquarium set will provide an enchanting surprise she's going to love. The set includes a see-through water tank that can be filled with tap water and eight collectible Hatchimals, each a unique style and color.
Once she cracks open her Hatchimal eggs she can submerge her new little friends in the tank to witness a magical color transformation, symbolizing their successful transition to underwater life. Beyond the joy of discovery and the excitement of color transformation, this tabletop underwater world encourages hands-on interaction and imaginative play, sparking curiosity and creativity.
11.
Fairytale Fantasy Barbie Set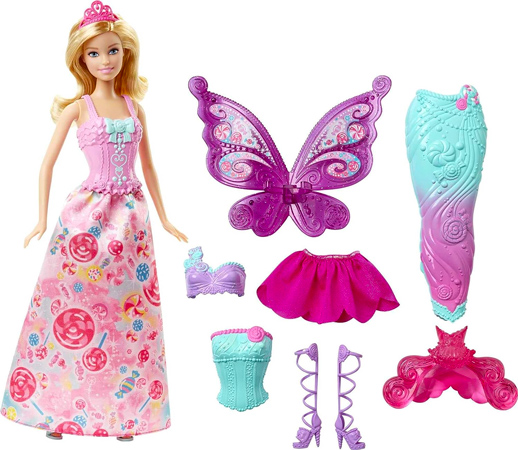 This Christmas gift is the perfect choice if the 7-year-old girl in your life enjoys playing dress-up with her Barbie dolls. This amazing Barbie comes with 18 fantasy-inspired looks. From one minute to the next, she can transform from a candy-inspired princess to a winged fairy or a magical deep-sea mermaid.
This set comes packed with a multitude of fashion pieces, such as interchangeable tops, skirts of varying lengths, a fabulous pair of purple high heels and a detachable pink tiara. If you're shopping for a young girl who's captivated by mermaids, princesses, fairies and the magic of make-believe, this Christmas gift couldn't be more fitting.
12.
Light-Up Art Board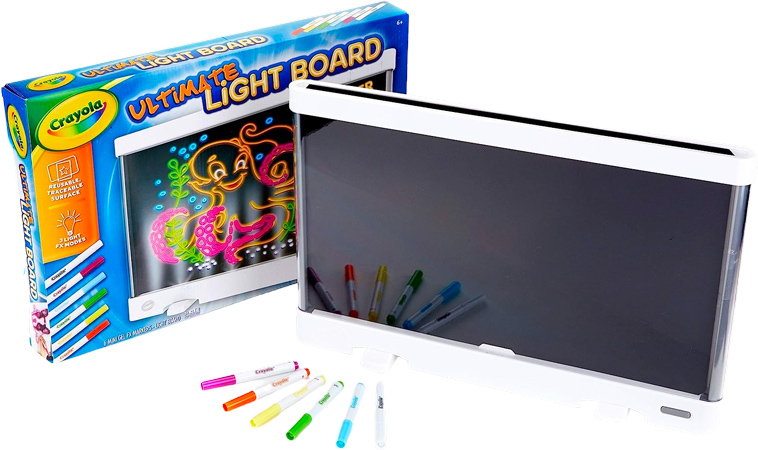 Make this Christmas a memorable one for the 7-year-old girl you're shopping for with this light-up art board by Crayola. This innovative drawing tablet comes equipped with built-in LED lights that brighten up creations, adding a delightful twist to every masterpiece. The set includes six vibrant mini gel FX markers specifically designed to glow on the light board's surface.
The board is easily reusable by simply wiping it down, creating a fresh canvas for the next time inspiration strikes. It even features a handy storage slot to keep the markers organized so all her creative tools will be within quick reach. It's designed for easy portability and is powered by replaceable batteries, so creativity isn't confined to just her at-home art studio.
13.
Squishy Glitter Sand Set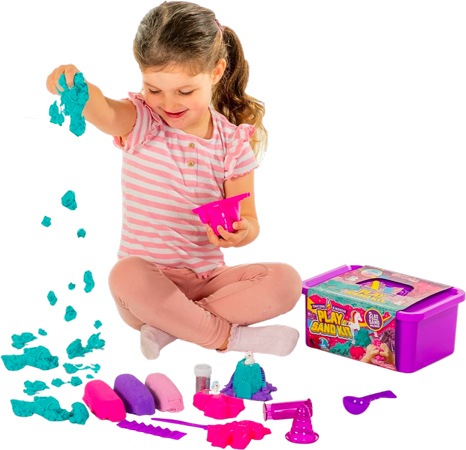 For a 7-year-old girl who enjoys tactile and creative play, the GirlZone play sand set is a wonderful Christmas gift idea. The set includes over two pounds of moldable sand that is designed to hold together in whatever shapes it's squished into. It also includes seven tools to mold, flatten, cut, scoop and squeeze fun shapes and designs. The three included colors can be used on their own or they can be mixed to create her own custom colors.
This toy is all the fun of playing with sand indoors but without the mess of it getting all over the floor. Plus, squishing the sand is wildly satisfying, even for adults. It's a toy the entire family can enjoy together.
14.
Plaster Unicorn Painting Kit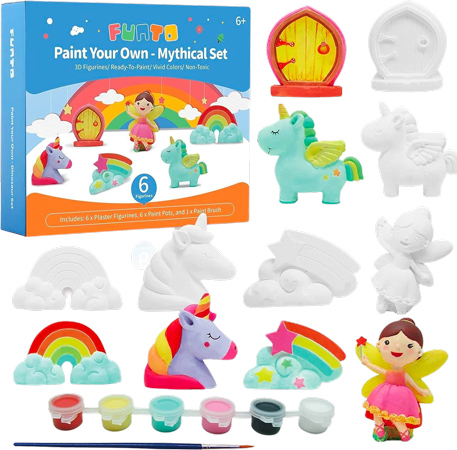 This Christmas gift is the one to choose if you're looking for something a 7-year-old art enthusiast will love. This unicorn painting kit by Funto promotes creativity and hands-on engagement. It includes six plaster figurines that are ready to be painted in a rainbow of colors. The six high-quality, non-toxic paints are made to stick to the plaster but be easily washed off surfaces that don't need a new paint job, like the dining room table or the kitchen floor.
The figurines range from unicorns to rainbows and fairies, offering a fun selection of mythical-inspired decor she can use to personalize her room or to give to her grandparents as unique gifts that will be cherished for a lifetime.
15.
Removable Wall Decor Stickers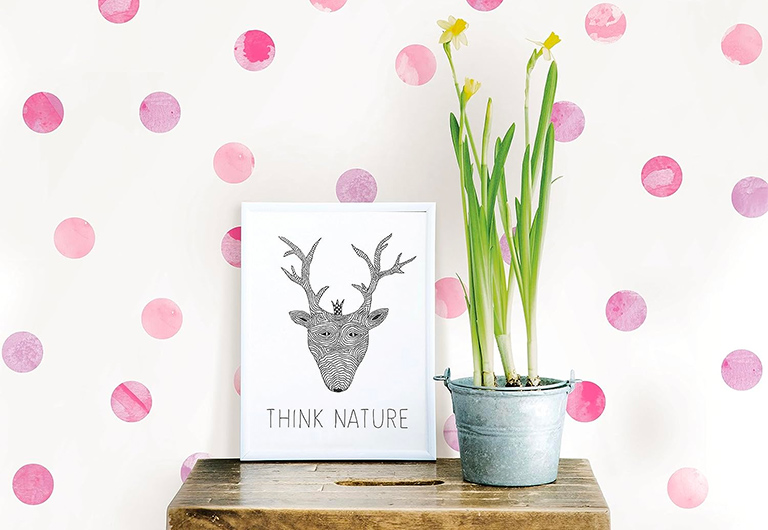 Give the gift of an instant bedroom update with these wall decals by Wall Pops. These adhesive stickers, designed as beautiful watercolor polka dots, offer an effortless way for a 7-year-old girl to customize her room. Made from non-toxic materials that are resistant to color fading, these decals are safe for children and leave no sticky residue on the wall, ensuring clean removal and repositioning.
The pack includes 59 individual dots which can be arranged freely to create unique patterns. With their pastel-colored design, these decals can enhance the aesthetic of any room while providing a fun, creative decorating project she can do all on her own.
16.
12 Megapixel Digital Camera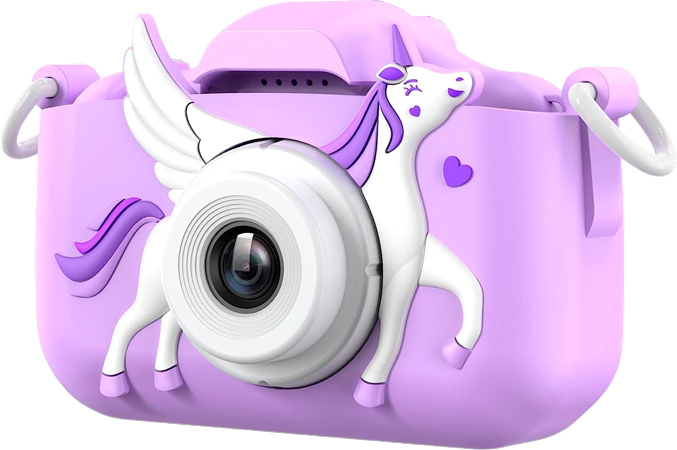 For the young budding photographer, the Slothcloud digital camera makes a thoughtful Christmas gift. Designed with the needs of a 7-year-old girl in mind, this camera is easy to operate and is durable enough to withstand heavy use and accidental drops. The silicone cover is not only shockproof but also features a huge unicorn design that spans the front of the camera.
The 12-megapixel photo resolution guarantees she'll snap clear, vivid pictures and the 32 GB SD storage capacity means she can capture up to 5,000 memories. As an added bonus, when she's not using this to take fun pictures of friends and family, she can use it as a portable gaming device with built-in puzzle games.
Need more inspiration?