By age 6 little girls tend to have very much formed their personality and will have well-established interests. If they have a special occasion coming up, such as a birthday or a holiday, they are quite likely to have a wish list, or at least a few ideas about what they would like; but if they don't then there's no need to worry, 6-year-old girls are generally happy to give most things a try!
We've put together a list of the 28 best toys and gifts for 6-year-old girls to help you make your selection. The list is varied to span a wide range of personalities and interests so there's sure to be something suitable for the 6-year-old girl you're buying for.
1.
Light-Up Dancing Unicorn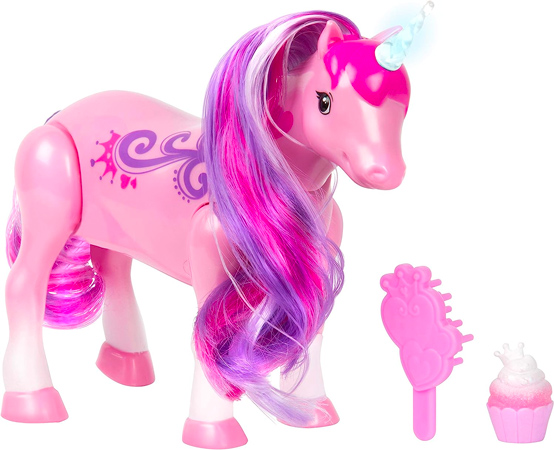 Why we like it:
An interactive unicorn toy that will inspire hours of fun and imagination as it dances and lights up to music.
This dancing unicorn by Little Live Pets is the toy that's missing from any six-year-old girl's toy chest if she loves magical unicorns and all things pink. With interactive features and cute accessories, this gift will keep her entertained for hours in a world of imagination.
This petite unicorn toy is made of durable and easy-to-clean plastic that has been decorated with colorful swirls and heart patterns. The standout feature of this horned horse though is the light-up component that activates by pressing the heart button on the stomach. When the horn is lit, it plays music and dances by moving both the neck and all four legs. It also plays trotting and neighing sounds. Included with the unicorn is a little cupcake for feeding and a brush to groom the pink mane and tail. Batteries are included so it's ready to go right out of the box. Little girls will love playing make-believe with this fun gift.
Pros
Stimulates imagination

Lights up

Dances to music

Includes batteries
2.
Osmo Genius Starter Kit for iPad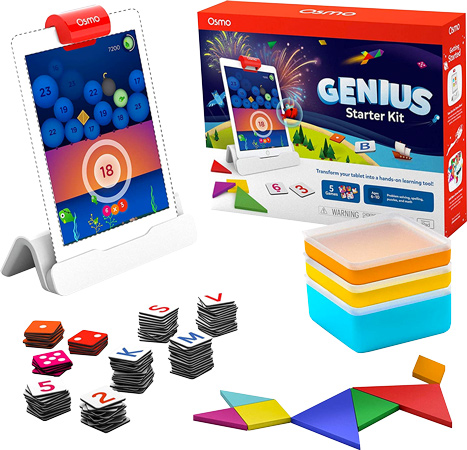 Why we like it: Promotes a positive kind of screen time with plenty of educational games that support logic and problem solving.
Screen time can become a source of stress for parents as 6-year-olds love all of the opportunities for entertainment that technology brings. If the 6-year-old you're buying for has an iPad or access to an iPad then the Osmo Genius may be a good gift for them!
The Osmo Genius Starter Kit is a set of materials which can be used in conjunction with an app on the iPad. The materials are physical things that can be picked up and manipulated and interact with the games on screen. The games and materials are all educational promoting STEM subject knowledge and skills such as logic, problem solving and innovation. If you're looking for something educational that a 6-year-old will be excited by then the Osmo Genius Starter Kit might just be the perfect gift.
Pros
Builds on children's interest in technology
Real, hands-on learning
Teaches numbers, letters, words and math
Promotes logic and problem-solving skills
3.
Multi Voice Changer Megaphone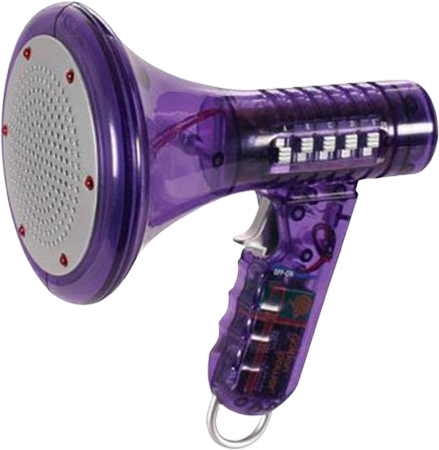 Why we like it:
An entertaining gift for young girls to play with that the family can also enjoy.
People of all ages love to play with voice changers, including the six-year-old girl you're shopping for. This megaphone voice changer would make a fun gift to keep her entertained, both indoors and outdoors. It features 10 pre-programmed voice modifiers and a slider to change the frequency, providing hundreds of voice alterations. It's a great way to teach young children about the science of voice synthesizing.
In addition to the fun of changing and amplifying voices, it also has built-in LEDs that light up when the trigger is squeezed. This would be a perfect gift for outdoor sports games to cheer on friends, or for singing fun songs in silly voices. It runs off of a nine-volt battery but does come with one included so it's ready to go right out of the package. This is a gift that will provide hours of fun and entertainment, either alone or with the entire family.
Pros
Teaches about voice synthesizing

Produces hundreds of sound variations

Encourages self-confidence

Provides fun for all ages
4.
Lego Friends Mia's House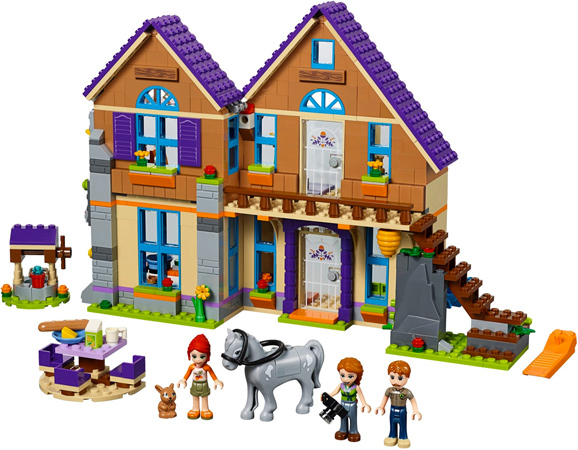 Why we like it: Part of the Lego friends range, this set prompts different play-scenarios and develops social skills.
Lego Friends Mia's house comes with 3 figures to enhance play and is a two-story house with all the features of a home as well as some exciting extras; Mia's house has a climbing wall and an outdoor horse grooming area reflecting the character's love of outdoor activities. The set is complex enough to provide significant challenge to a 6-year-old constructing it, so they will really have to apply their logic, construction skills and perseverance.
The Lego Friends Mia's House set will allow children to role play imaginative scenarios based on the characters from the Lego Friends range, as well as drawing on their own experiences of home and family life.
Pros
Lego friends set fits with other Lego
Durable, built to last
Promotes social skills
Develops imaginative play
Encourages construction skills
Cons
Lots of small parts requiring careful storage
5.
Hudora All Stars Basketball Stand

Why we like it: Encourages physical, outdoor play keeping children fit and healthy and allows them to develop an interest in sports.
The Hudora All Stars Basketball Stand is a basketball hoop that comes complete with a stand and pole meaning that wall-mounting is not required and that the basketball stand can be stored away and taken out when needed. As well as developing an interest in sports, specifically basketball or netball, the Hudora All Stars Basketball stand will get a 6-year-old playing outdoors and keep them active, fit and healthy.
Basketball, and other similar sports help to develop all round co-ordination but specifically hand-eye coordination which enhances the skills used for writing. If the 6-year-old you're buying for loves sports then this is a great way to help her pursue her passion.
Pros
Encourages outdoor play
Develops interest in sports
Promotes physical activity keeping children fit and healthy
Improves hand-eye coordination
Does not require wall-mounting
Cons
Requires significant outdoor space
6.
Hudora Big Wheel 205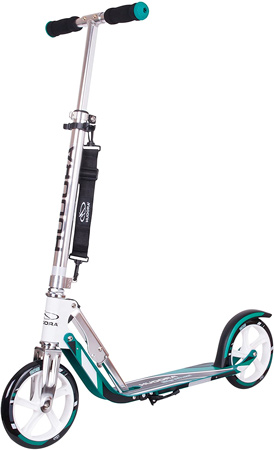 Why we like it: Scooters are really popular with 6-year-olds and this high-quality model will encourage their physical skills and increase fitness.
6-year-olds love scooters! Whether it's riding them around an outdoor space at home, riding them at the park or riding them to school they are popular as both a play item and a mode of transportation. The Hudora Big Wheel 205 is a robust, high-quality model built for safety; the larger front wheel makes it more stable, and the rear-wheel friction brake is easy to operate.
Scooters are also a great way to prompt outdoor play and increase fitness as well as physical skills. Learning to balance increase core strength and stability whilst steering requires hand-eye coordination. The Hudora Big Wheel 205 is also very easy to fold, store or carry making it an ideal gift even if there's not much storage space available.
Pros
Adjustable handlebar height-grows with child
User weight up to 100 kg, won't be outgrown
Folds down for easy carrying and storage
Encourages physical skills
Increases fitness
Cons
Protective equipment required, e.g. helmet
7.
Barbie Dreamhouse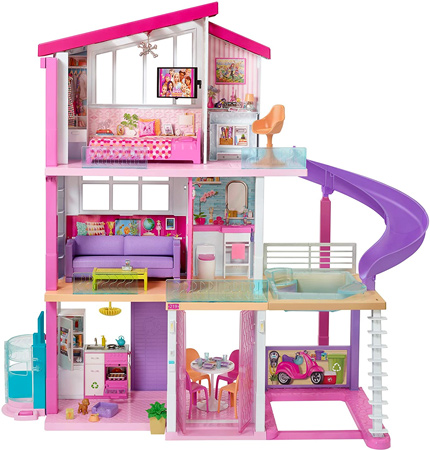 Why we like it: A doll house, compatible with other Barbies sets which will encourage imagination, story-telling and role play.
The Barbie Dreamhouse has been the toy of dreams for a few generations now; though its design has definitely evolved along the way! The Barbie Dreamhouse now features a working lift, a terrace complete with swimming pool and water slide, and all kinds of lights and sounds. The Barbie Dreamhouse is a gift which has a real wow factor and would impress any 6-year-old girl receiving it!
Compatible with other Barbie sets, and coming with over 60 different accessories there are endless ways to play so the Dreamhouse will really spark a 6-year-old girl's creativity and imagination allowing her to act out plenty of different scenarios and enhance her storytelling ability.
Pros
Compatible with other Barbie toys
Lights and sounds to add realism
Encourage imaginative role play
Develops story-telling skills
Over 60 accessories included
Cons
Large item which require space to play and store
Requires batteries
8.
Intex Inflatable Flamingo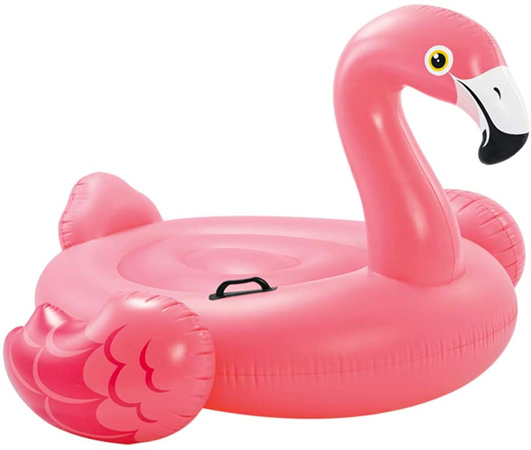 Why we like it: A Flamingo pool toy to increase confidence in the water and build strength.
Swimming is a great exercise for young children and at 6-years-old many children are beginning to feel more confident in the water. Under adult supervision, using this fun, inflatable flamingo toy they can build up their physical strength and fitness. The 2 handles increase the float's stability in the water meaning that it is less likely to tip, further increasing children's confidence.
Swimming also improves children's gross motor skills as they learn to move their body through the water, and the Intex Inflatable Flamingo also encourages skills like pulling up, balancing, and kicking.
Pros
Easy to inflate
2 handles increase stability in water
Increases child's confidence
Opportunity to build physical skills
Fun, flamingo design
Cons
Most useful for a trip to the pool
Requires adult supervision
9.
FurReal Friends Cubby The Curious Bear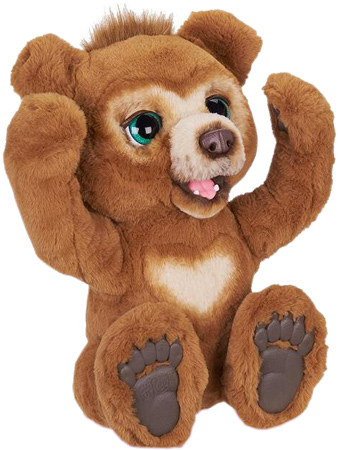 Why we like it: A cute, fuzzy bear with lifelike features who encourages imaginative roleplay and nurturing behavior.
FurReal Friends Cubby The Curious Bear is an interactive plush toy that looks just like a real baby bear. He has soft fur and extremely lifelike expressions likes to play and interact with the child. He can be fed and groomed, promoting imaginative role-play and pro-social, nurturing behavior. 6-year-olds love to imitate parents and play at parenting and Cubby provides them with an opportunity to do this.
Cubby the Curious Bear also has a nighttime mode where he plays soft, calming music and make sleepy sounds to encourage the child to cuddle him whilst they sleep. This makes Cubby an ideal gift for a 6-year-old girl who loves nurturing play with dolls or younger children.
Pros
Soft fur and lifelike expressions
Promotes nurturing behavior
Has a day-time and night-time mode
Encourages imaginative role-play
Cons
Requires batteries
Small accessories
10.
Monopoly Junior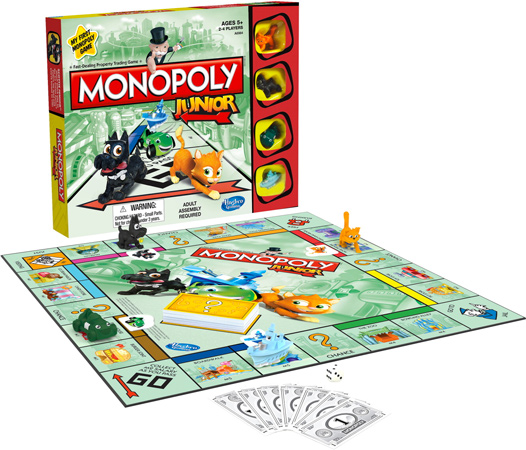 Why we like it: An introduction to the classic family board game, Monopoly Junior will build a range of skills whilst letting the child join in with a game for the whole family.
Monopoly is a classic board game often played by family and friends at occasions and events such as Christmas. The adult version is a little too complicated for a 6-year-old to understand though they often want to be involved in what everyone else is doing. Monopoly Junior is an ideal way to introduce a child to the game, developing their mathematical and problem-solving skills as well as all the social skills that come along with playing games such as taking turns, sharing, playing fairly and following the rules.
Pros
Improves mathematical and problem-solving skills
Encourages social skills; turn taking, sharing
Introduces child to Monopoly
Allows child to join in with the whole family
Cons
Requires additional players
11.
VTech Kidizoom Duo DX Children's Camera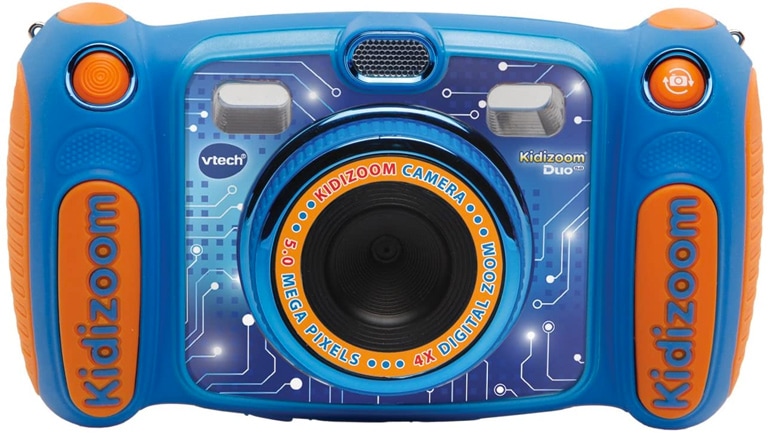 Why we like it: A kid-proof camera which encourages using technology creatively.
6-year-olds are already competent users of technology, having grown up with it around them. Most can use technology with ease and enjoy doing so; the VTech Kidizoom Duo DX Children's Camera is a digital camera designed for kids; it has a robust 'kid proof' design with a tough rubber-like casing to avoid damage if dropped, yet still retains the ability to take high-quality videos and photos. By age 6 some children will also become interested in photography, and film-making and will relish the opportunity to take their own photos and begin to create their own mini-movies.
The VTech Kidizoom camera also includes fun, learning games that will keep a 6-year-old busy any time you need to wait somewhere. The dual camera means that they can also experiment with selfies, and add stickers and funny props to the photos that they take.
Pros
Robust 'kid-proof' design- does not break easily!
Takes high-quality videos and photos
Includes learning games
Promotes creativity and expression
Enhances technology skills
Cons
Batteries required
Child may need help exporting photos/ videos to computer
12.
Braun Mega Hairstyling Set
Why we like it: Some little girls love to play hairdressers, this set gives them working tools without the dangers of heat.
At age 6 many little girls love playing hairdressers but are definitely not ready for the responsibility of hairdryers or straighteners! The Braun Mega Hairstyling Set has working accessories such as a battery powered hairdryer that blows real air and a water spray bottle that can be filled with water and sprayed. The straighteners are just for play, and the hairdryer does not produce heat meaning that the set is perfectly safe for 6-year-olds to play with independently.
The Braun Mega Hairstyling Set promotes imitation and imaginative role play and when played alongside others allows social skills to develop. It also allows the 6-year-old girl to practice brushing and styling her own hair which will increase her self-care skills.
Pros
Promotes imaginative play
Encourages imitation and social skills
Real air-blowing function
Increases self-care skills
13.
Lego Friends Frozen 2 Castle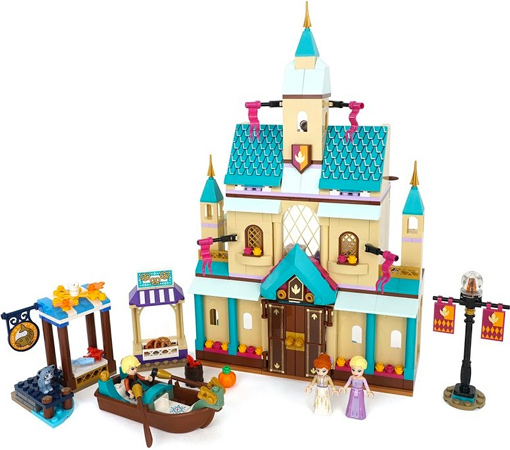 Why we like it: Based on the popular Disney Frozen movies this set encourages construction, fine-motor, imaginative and role-play skills.
Frozen, and now Frozen 2, is still incredibly popular with 6-year-old and this Lego set based upon the Castle from the Frozen 2 movie is the ideal way to build upon their interest. The Lego Friends Frozen 2 Castle comes with 3 mini character dolls and some animal figures too so that children can recreate the storylines they have seen in the movie or create their own.
The Lego elements of this set come with full instructions so that 6-year-olds can follow them step by step and the castle itself has a modular design so that it doesn't need to be constructed piece by piece but can be put together in layers which can then be separated for different kinds of play. This means that the construction element provides sufficient challenge and develops fine-motor skills whilst not being overwhelming, and allowing a 6-year-old sufficient independence.
Pros
Modular design-easy to put together and take apart
Compatible with other Lego sets
Based on popular movie characters
Encourages imaginative role play
Improves construction and fine-motor skills
Cons
Small pieces requiring careful storage
14.
Ice Cream Shop Set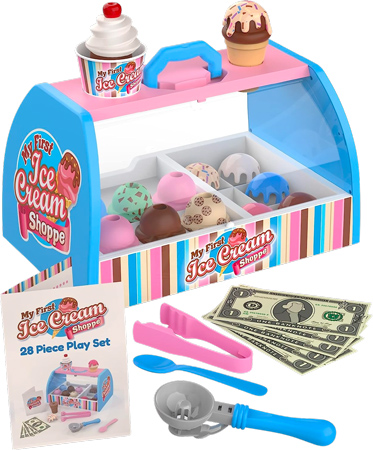 Why we like it:
A sweet gift for little girls that will teach counting and math skills while inspiring her imagination.
Give a gift that will let a six-year-old girl open up her own pretend ice cream shop with this cute gift. Made by Mindsprout, this set is designed to encourage imaginative play. It includes 28 pieces, including eight different ice cream flavors, six toppings, whip cream, cones, a cup, an ice cream scooper, tongs and a spoon. It even includes little cherries to finish off the delicious sundays.
Other than being a fun toy to play with, this toy also teaches counting skills with the included play money. Little girls can practice addition and subtraction as she sells her sweet treats and has to take payment. All the pieces are made of durable plastic that can easily be cleaned and disinfected. When it's time for the ice cream shop to close up, everything in the set stores in the ice cream counter that doubles as a carrying case. Little girls who love ice cream are going to love this gift.
Pros
Teaches counting and math

Inspires the imagination

Stores in a carrying case
15.
Barbie Dreamplane Playset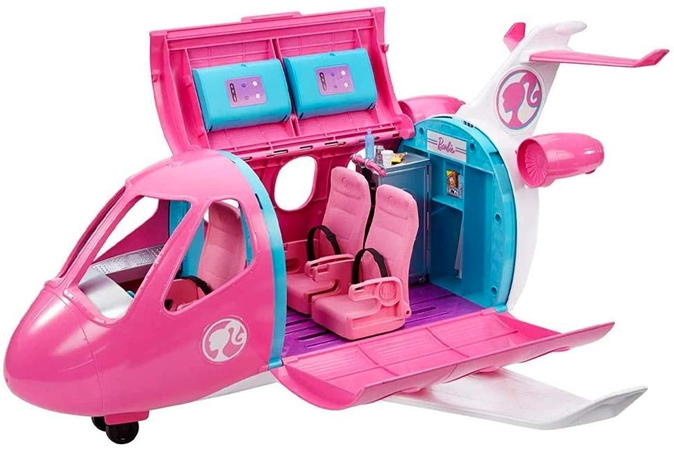 Why we like it: The chance to role-play going on holiday with the Barbie Dreamplane Playset, encouraging narration and story-telling skills.
Barbies are an incredibly popular toy with 6-year-old girls because of the wide range of different sets available. The Barbie Dreamplane set is a barbie-sized plane with all the accessories you'd expect and can be used with dolls from any other set.
Role-playing going on holiday allows the 6-year-old to improve their narration and story-telling skills as well as recalling and retelling events from their own experience. Barbies are a popular toy to play with alongside other children and with space for 2 passengers and a pilot the Barbie Dreamplane Playset encourages this kind of social play.
Pros
Compatible with other Barbie sets
Encourages imagination and role-play
Improves narration and storytelling skills
Promotes social play
Accessories included
Cons
Accessories are small pieces requiring careful storage
16.
Lego Friends Mia's Tree House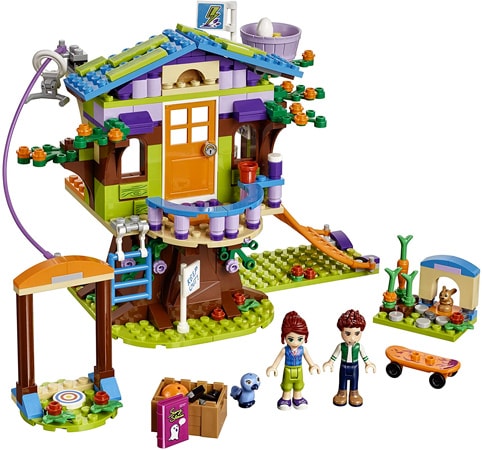 Why we like it: Lego friends sets really appeal to those that like to play imaginatively and socially, whilst also developing construction skills and logic.
Lego holds a long-lasting appeal and will be played with through the generations meaning that it represents a good investment to a family. Not only is it durable, but it is also open ended and can be used in conjunction with any other Lego sets available which really expands the range of play scenarios available.
6-year-old girls tend to love the Lego friends range because it promotes the social, imaginative play that they are so fond of. The 'Lego friends' are a set of girls who all have their own interests and personalities and 6-year-olds tend to be very interested in learning about others so this holds great appeal. The Tree House set is suitably complex so will encourage a 6-year-old to follow the instructions and persevere; it features a zip wire, an attic with opening roof, and a climbing net.
Pros
Long lasting appeal
Improves construction skills, logic and perseverance
Child learns to follow instruction manual
Includes 5 mini-figures to play with
Expansion packs available
Cons
Lots of very small pieces; needs storage to avoid lost parts
17.
Guess Who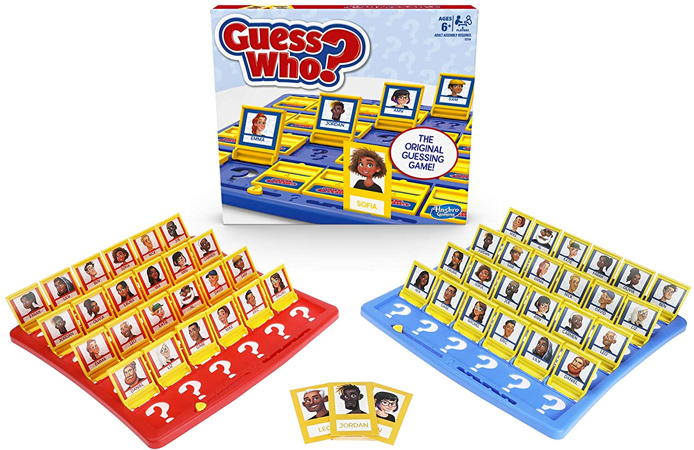 Why we like it: Interactive board game that improves speech, language and logic skills.
Guess Who is a classic family board game and around about 6 years old children will be able to begin to join in with it. Guess Who requires players to use a process of elimination to determine the character that the other player has selected, this requires logic and problem-solving skills. It also improves children's speech and language skills as they ask questions to find out information about the other players characters, and think carefully about how to gain the most useful information.
Playing board games with others also requires that children learn the etiquette and rules of playing games and promotes pro-social skills such as turn-taking, winning and losing gracefully, and following the rules.
Pros
Involves another player; social play
Promotes social skills; turn-taking
Improves speech and language skills
Increases logic skills
18.
Playmobil City Life Furnished School Building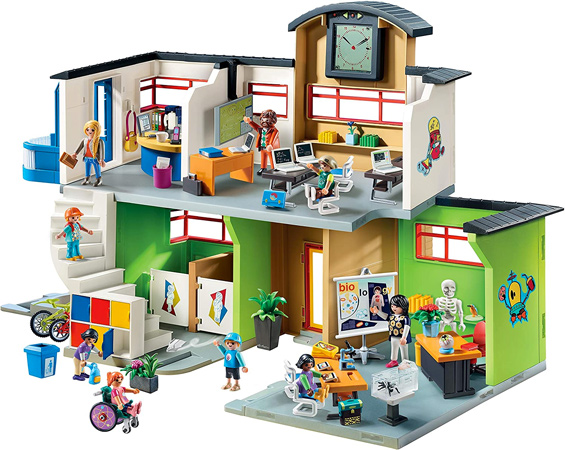 Why we like it: Can be used in conjunction with other Playmobil sets to encourage imaginative story-telling and play.
Whilst children love to play imaginatively, they also enjoy playing with what they know and basing imaginative play in real-life scenarios. The Playmobil City Life Furnished School Building allows them to do just that! Set over two floors with stairs, a lift, and all the furniture and accessories you'd expect to find in a real school, children can apply their real-life knowledge of school and the school day to their play.
Playing imaginatively in this way not only develops creativity but also enhances speech and language skills as children often use language to tell the story or explain the scenarios. Social-skills are also improved as children explore a range of different social situations.
Pros
Can be combined with other Playmobil sets
Encourages story-telling and narration skills
Increases imaginative play
Age appropriate size
Accessories and figures included
Cons
Larger item; requires space to play and store
19.
Unicorn Musical Jewelry Box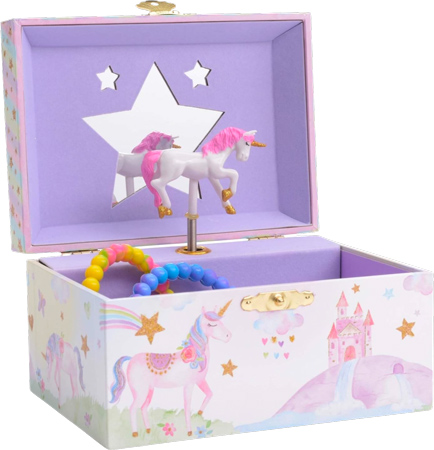 Why we like it:
A grown-up gift that will teach a young girl about responsibility and taking care of all her playtime jewelry.
If you're shopping for a six-year-old girl that loves to play with her jewelry, this gift will give her a place to keep it all organized and safe from getting lost or damaged. The box is covered in a dreamy motif of unicorns, castles and stars. Inside the box is a rotating unicorn that spins to the tune of The Beautiful Dreamer. The pastel colors make this a pretty piece of decor for her dresser or nightstand.
This gift would be great as a little girl's first jewelry box. A gift to make her feel grown up as she has her own place to keep all the items that she holds dearest. Whether it's her necklaces, bracelets, rings or special trinkets, the velvety interior and hinged closing clasp will keep everything inside safe. The interior of the lid also features a star-shaped mirror where she can check her accessories before she heads out with her friends and family.
Pros
Teaches responsibility

Keeps rooms organized

Plays music with a rotating unicorn

Made of sturdy wood
Cons
Small size- Young girls only
20.
Unicorn Slime Kit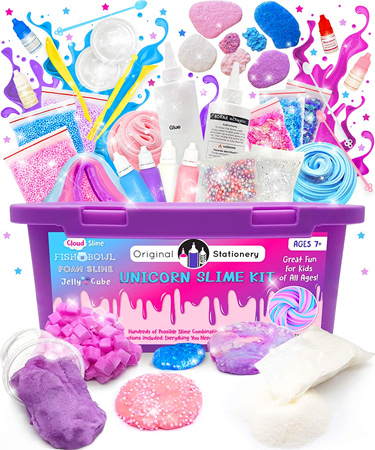 Why we like it: 6-year-olds love unicorns and slime! This kit brings both together with everything you need to make a variety of unicorn themed slimes.
Following instructions and recipes is an important skill for 6-year-olds to master and this Unicorn Slime Kit allows them to do that; the end result of Unicorn themed slime should be enough to motivate the child to persevere and concentrate carefully. There are online instructional videos as well as written instructions so different kinds of learners are catered to.
Slime is a lovely opportunity for sensory play and also increases children's scientific understanding as they see how different ingredients and materials combine to create something new with different properties.
Pros
Everything needed to make slime provided
Access to online instructional videos
Increases children's scientific understanding
Sensory play opportunities
21.
Lego Friends Heartlake Pizzeria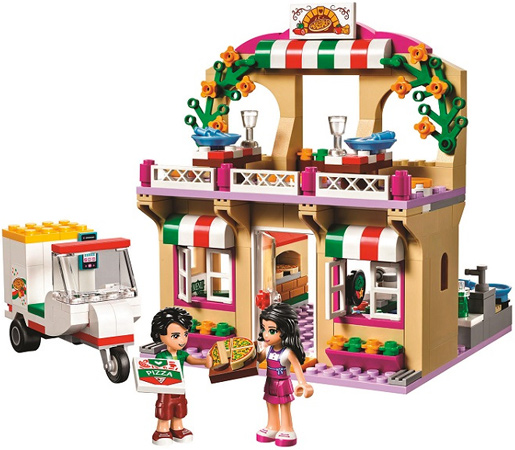 Why we like it: A Lego Friends set to encourage construction, social and imaginative play as they build and manage a pizzeria.
A pizzeria set for imaginative restaurant-based role play, the Lego Friends Heartlake Pizzeria will encourage creative social play as 6-year-old girls love to act out and experiment with different social scenarios. The set includes 2 mini figures to play with as well as plenty of accessories like pizza boxes and a scooter to make deliveries!
The Lego Friends Heartlake Pizzeria set also provides sufficient challenge for a 6-year-old girl's construction skills with 289 pieces to be put together. This will improve fine motor skills, dexterity and strength in the fingers as well as the ability to read and follow the instruction booklet and the perseverance required.
Pros
Compatible with other Lego sets
Encourages restaurant themed role play
Promotes imagination and social skills
Improves construction and fine motor skills
Cons
Small pieces requiring careful storage
22.
Barbie Hug n Dolls Horses and Accessories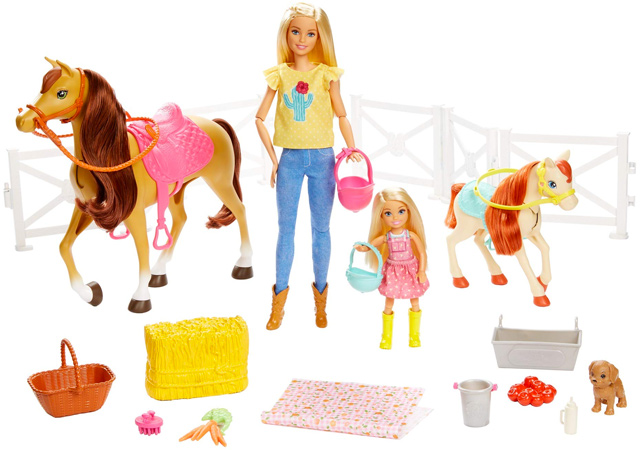 Why we like it: A great way to extend children's interest in horses, encouraging nurturing behavior and imaginative role play.
The Barbie Hug n Dolls Horses and Accessories set is perfect for any 6-year-old girl, but especially for those who have, or are developing an interest in horses. The set has 2 dolls, 2 horses and plenty of accessories so the child can act out all of the aspects of looking after and riding horses. This kind of imaginative play encourages caring, nurturing behavior which will translate into real life social skills.
Being compatible with other Barbie sets means that it's easy for friends to bring along their Barbies and join in so play can really be extended, and playing co-operatively together also enhances communication and story-telling abilities.
Pros
Extends interest in and understanding of horse care
Promotes imaginative play and storytelling
Encourages nurturing behavior
Comes with plenty of accessories
Compatible with other Barbie sets and figures
Cons
Small pieces requiring careful storage
23.
Make Your Own Soap Set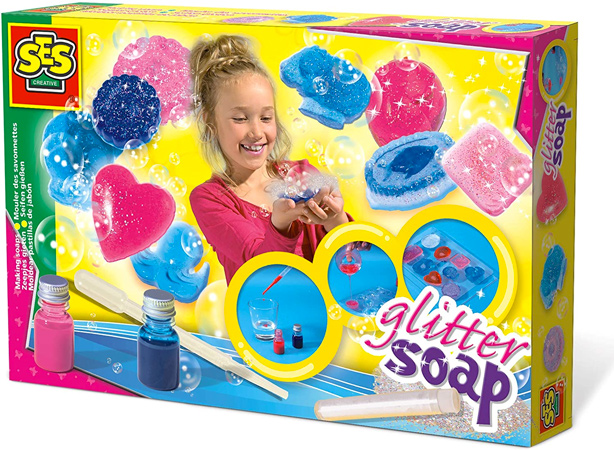 Why we like it: 6-year-olds love craft sets and this one is unique; allowing a child to design and make their very own soap.
Craft sets are a great way to keep 6-year-olds entertained as they are now old enough to follow the instructions and enjoy the process of making a final product. The Make Your Own Soap Set does exactly as it says and gives the child the opportunity to design and make their very own soap. This particular set includes body-safe glitter to really delight any 6-year-old!
The process of combining the ingredients will require some help as some parts need melting, but watching the process of combining different materials and seeing their properties change will increase children's scientific understanding, and making their own soap will have them wanting to hop into the bath or shower to test it out
Pros
Children develop scientific understanding
Colours can be mixed for a wide range of effects
Develops creativity
Children learn to follow a set of instructions
Cons
Requires close adult supervision
24.
Unicorn Eclipse Pro Bristle Dartboard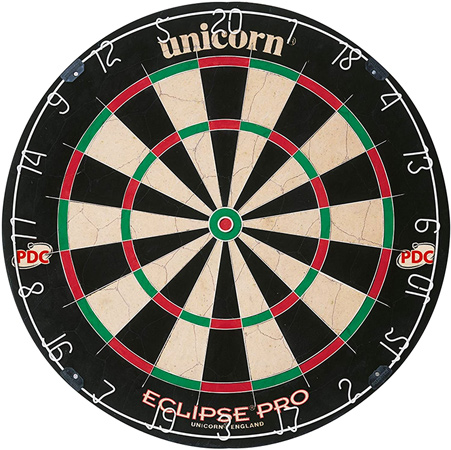 Why we like it: A genuine dartboard which can be used by the family, increases hand-eye co-ordination and mathematical skill.
It may not be an obvious choice for a 6-year-old girl but playing darts can actually have a lot of benefits! Not only is it a game that can be played as a family, increasing interaction and time together, but it also allows for the development of important hand-eye co-ordination skills which in turn can improve handwriting!
The Unicorn Eclipse Pro Bristle Dartboard is a championship quality board, so is built to last and stand up to regular usage. It will need to be wall mounted but can be used indoors for family games, building the skills of turn, taking, winning and losing and playing by the rules as well as building awareness of scoring, and improving mathematical skills.
Pros
Championship quality board
Increases hand-eye co-ordination
Can be used indoors
Can be played as a family
Improves mathematical skills
Cons
Sharp points require careful storage and adult supervision
Needs wall-mounting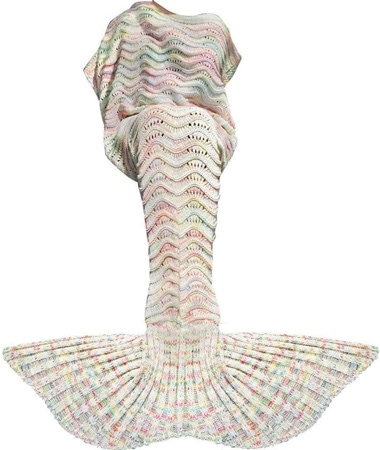 Why we like it: A snuggly blanket that also looks like a mermaid tail is sure to delight any 6-year-old who needs a blanket to snuggle up on the sofa with.
Blankets are actually very popular with 6-year-olds who love the chance to get all snuggled up to watch a movie or have a slumber party. The blanket is designed to be worn as a mermaid tail, being pulled up over the legs; kind of sensory input can be important to children as they become better at self-regulating and gaining control of their emotions.
The Mermaid blanket is made with eco-friendly material but is still durable and high-quality. It is made to fit children age 3-8 when worn as a mermaid's tail. It can also double up as a 'dressing up' costume for imaginative role-play.
Pros
Fits children age 3-8
Durable, high quality blanket
Eco-friendly material
Caters to children's interests
26.
Hasbro Jenga Classic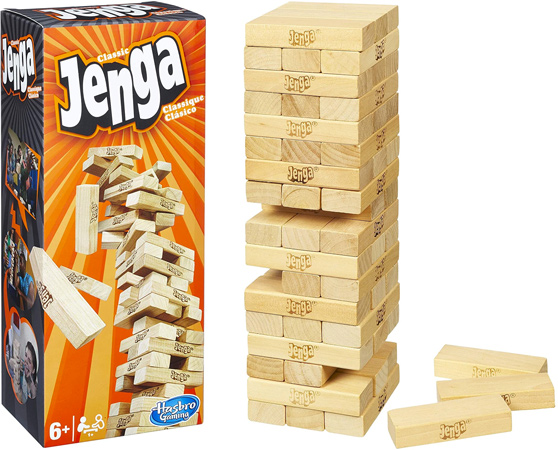 Why we like it: A classic game which increases spatial awareness, hand-eye co-ordination and control.
Jenga is a classic game that can be played with the whole family. Made of wood it is an extremely durable and timeless toy that can be used to play the game intended or for different kinds of construction-based play.
Hasbro Jenga classic involves stacking the wooden blocks into a tower and then players take turns to carefully remove one block at a time, the player who knocks the tower down loses. The game requires plenty of special awareness, and hand-eye co-ordination as well as control and patience. Game playing as a family helps to improve children's social skills as they learn to take turns and play fairly, and Jenga, in particular, can help develop self-regulation as it is extremely frustrating when the tower falls and this gives children the opportunity to practice appropriate reactions!
Pros
Durable wooden toy
Can be used in a variety of ways
Increases spatial awareness and hand-eye cordination
Improves social skills and self regulation
27.
Pomsies Patches Plush Interactive Toys
Why we like it: A cute interactive toy which encourages nurturing behavior and can also be worn as a fashion accessory this is sure to be a hit with a 6-year-old girl!
Using interactive technology, the Pomsies Patches Plush Interactive toys need looking after, they can be played with, petted and talked to and will respond to all of these actions. This promotes kind, caring and nurturing behavior which can then be used in everyday life with younger children or peers. 6-year-olds are intuitively very nurturing and caring and will love the opportunity to look after these cute interactive toys which resemble a big ball of fluff with a tail!
As well as prompting caring role-play the Pomsies Patches Plush Interactive toys can also be worn as fun fashion accessories, clipping onto bags, wrists, ankles, even hair so this gift is sure to be a big hit with any 6-year-old girl.
Pros
Interactive technology
Includes dance games to keep children physically active
Encourages nurturing behavior
Promotes imaginative role play
Can also be used as a fashion accessory
28.
Hasbro Cluedo Junior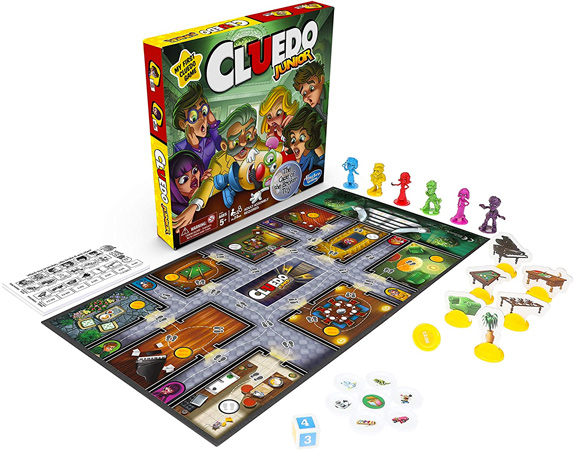 Why we like it: An age appropriate take on a classic board game which increases critical thinking, problem solving and logic skills.
Cluedo is a great family board game and the Hasbro Cluedo Junior has made a version that's especially tailored to younger children. Removing the violence and murder from the game participants must instead focus on solving who has stolen and eaten cake! This means that it is family friendly, and can be used as part of a family games night or with friends.
Playing with others encourages the development of social skills whilst the game itself focuses on increasing critical thinking, logic and problem-solving skills through careful deduction. This is a game that will last children through until they are mature enough for the original version.
Pros
Tailored to younger children
Increases critical thinking, logic and problem-solving
Encourages social skills
Can be played with family
Final words
When it comes to buying a gift for a 6-year-old girl there really are a lot of options. Trying to select something that she will like, will be used and she doesn't already have can be overwhelming. The ideas listed here may give you some pointers in picking out a gift by presenting options you hadn't considered or didn't know about.
Many of the options are educational and improve important skills for school whilst not seeming like obvious schoolwork, so they are bound to be a hit with parents and children alike. We hope that this list has been helpful, and that you have been able to select the perfect gift for the 6-year-old girl you're buying for!
Need more inspiration?