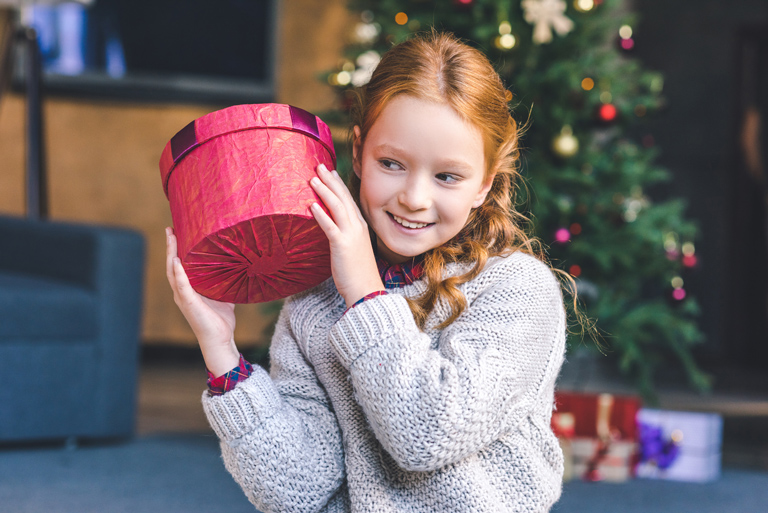 With Christmas on the horizon, you're probably starting to feel the pressure of working your way through your gift list. You've probably been making mental notes throughout the year of ideas for the perfect present for a 9-year-old girl, but now that it's time to start clicking the buy button, you're doubting if what you've chosen is going to be something she wants. We're here to erase the doubt.
This list of 16 exciting Christmas presents to impress 9-year-old girls has been expertly vetted to only include gifts that are going to deliver surprise, delight and pure holiday joy.
1.
Window Art Suncatcher Activity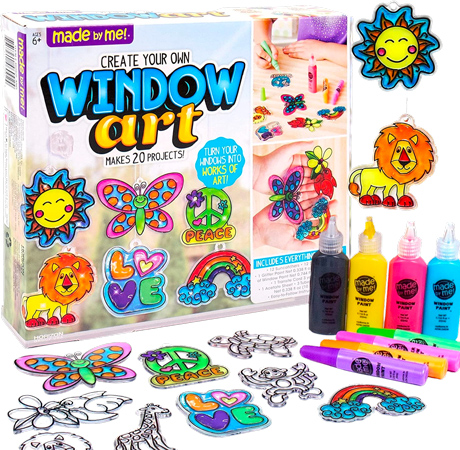 Here's a thoughtful Christmas gift for a creative 9-year-old girl. This window art activity kit is created by the company Made By Me, a leading name in creative kits for young children. This kit will allow the lucky girl you're shopping for to create her own suncatchers for her bedroom window. They're much like stained glass art but without the dangers of glass.
The kit includes 20 designs made of transparent plastic, plus special paints designed specifically for glass so light can pass through. Once she's done decorating her pieces, they can be hung using the included suction cups. These suncatchers are going to look stunning hung in her window as they cast colorful light around her room.
2.
Unicorn Crystal Growing Terrarium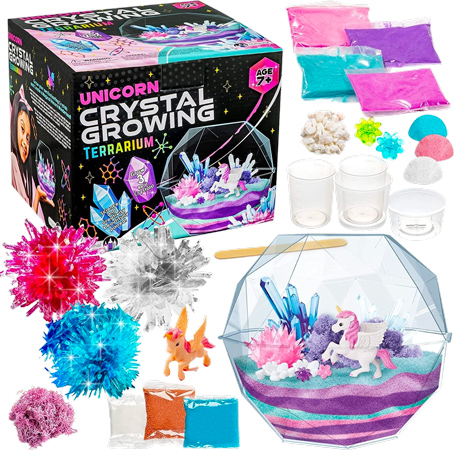 There is so much going on in this exciting Christmas present, there's no way a 9-year-old girl isn't going to be beside herself with anticipation. It's a terrarium, a sand art kit, a unicorn toy and it even lets her grow her own crystals. That's right, an actual crystal growing kit where she can cultivate her own sparkling gems to display in the terrarium on her dresser or desk.
This great science-themed gift will teach her the magic of chemistry and crystal formation while also letting her express her creativity and love for unicorns.
3.
Glittery Temporary Tattoo Kit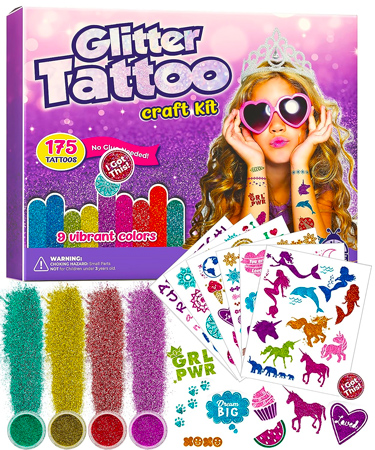 If you're hunting for a Christmas present for a 9-year-old trendsetter who doesn't believe "too much glitter" is a thing, this gift needs to be in her stocking this year. This massive set of instant body art includes 175 designs that can be easily applied with water. Once the tattoos are in place she can use the included glitter and glitter brushes to add shimmering sparkles to her new body bling.
The glitter comes in nine vibrant colors that will look amazing all over her arms, legs and the house. Sure, it's glitter and it's going to get everywhere but it will be so worth it. There's a reason this toy has been featured on NBC, CBS, USA Today and Fox News. Because everything is better covered in glitter!
4.
Deluxe Spirograph Art Set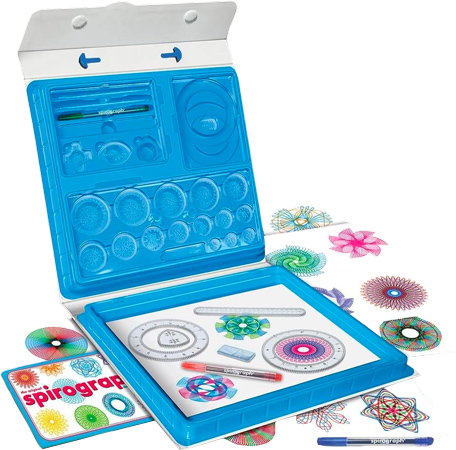 Take it old school with this classic Christmas present. If the 9-year-old you're shopping for likes to create unique art, this Spirograph set is going to provide hours of fun and artistic expression while also incorporating mathematics. The included plastic wheels feature holes that are designed to allow pen tips to pass through so as she rotates the wheels on the paper it draws amazing geometric shapes.
The kit includes a plethora of wheels in different sizes and shapes, two drawing rings, paper and three colored pens. Originally designed in 1965, this toy has stayed relevant generation after generation and will undoubtedly be a worthy gift to give to the deserving girl you're shopping for.
5.
Girl-Inspired Coloring Book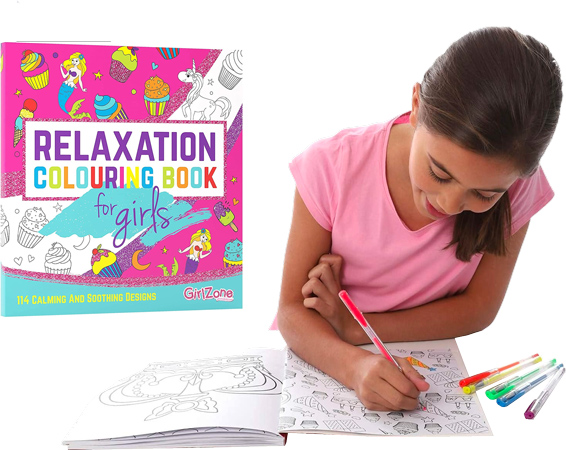 Coloring books are never a bad Christmas present idea but this one will make a 9-year-old girl extra excited to break out the crayons and colored pencils. Inside this book by GirlZone are 114 fun illustrations that any young artist won't be able to resist filling in with color. Designs like unicorns, mermaids, cupcakes, ice cream and all things girly fill the pages of this huge book.
Coloring is more than just an artistic pastime. It's also a proven stress reliever and a great alternative to screen time activities. Pair this gift with a high-quality set of markers or crayons and you've got a gift that's going to be a big hit.
6.
Crafting Art Supply Set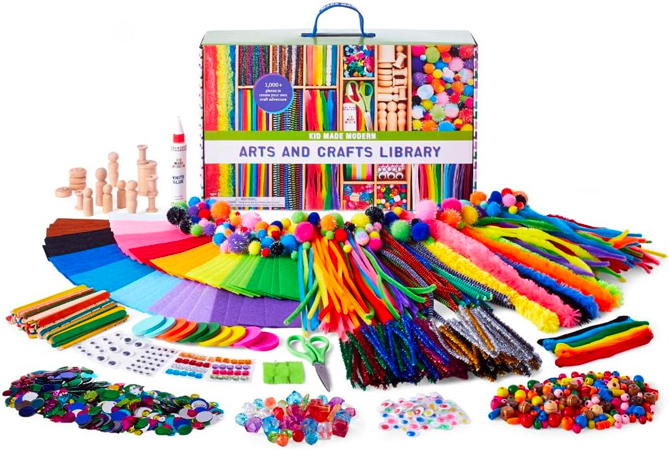 This Christmas, gift the artistic 9-year-old girl in your life this massive crafting kit by Kid Made Modern. This comprehensive kit is an artist's dream, filled with over 1,000 premium art supplies, including felt, beads, sequins, pipe cleaners, pompoms and more. The kit's diverse mix of materials allows her to create endless art projects.
Whether she's decorating picture frames, bedazzling notebooks or just adding her personal flair to her own fashion accessories, she's going to have a blast with this gift. After all, there's nothing a bit of glue, some fuzzy pompoms and some blingy stick-on gems can't make more fabulous.
7.
Plush Unicorn Notebook Set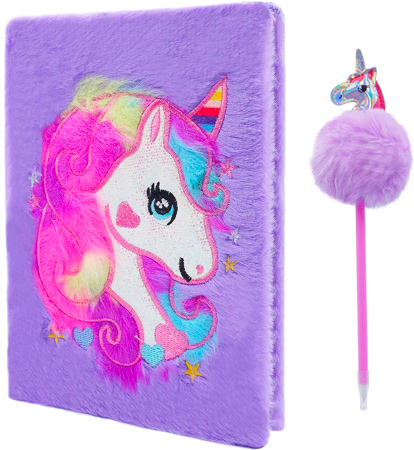 Choose a Christmas gift that will give the 9-year-old girl on your list a safe place to keep all her secrets, goals and personal doodles with this adorable unicorn journal set. The set comes with a 5×7 journal that holds 160 pages of wide-lined paper and a smooth-writing ballpoint pen that is accented with a furry purple pompom and holographic unicorn pen topper.
The purple cover of the journal is covered in soft faux fur that features a smiling unicorn with a flowing, colorful mane and rainbow horn. This thoughtful gift is a wonderful way to encourage a young girl to freely express herself through writing.
8.
Custom Wood Jewelry Box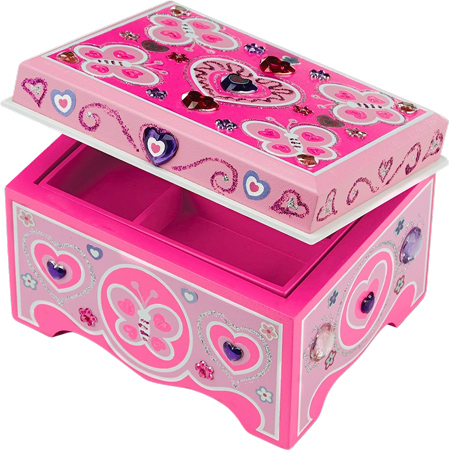 This Christmas gift will let the 9-year-old girl on your shopping list create her own custom jewelry box. If creativity and art projects are something she's into, she's going to love customizing this wooden box so she has somewhere to keep all her most important treasures.
The high-quality box provides an already attractive starting point with pink tones and butterfly and heart designs. It will get a total glam up though when she starts adding her own personal touches with the included gem stickers, foil stickers and glitter glue. Not only will this gift become her own personal treasure box, it will be a one-of-a-kind piece of vanity decor that she'll be proud she made all by herself.
9.
Lego Customizable Message Board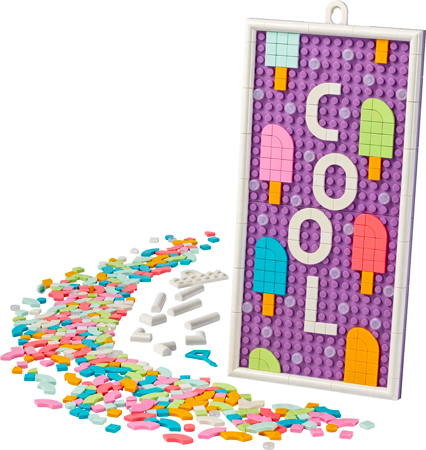 If there's a 9-year-old girl on your Christmas list who loves to build things, this Lego set will surely excite her. Unlike other Lego sets she's familiar with, this one comes with a twist. It includes three blank message boards, a large rectangle and two smaller squares. The Lego pieces feature flat surfaces and clever shapes that can be arranged to form letters, offering a cool way for her to create fun messages for her room.
From her name to favorite quotes or friendly signs that keep unsolicited visitors out of her room, she can express herself in a unique a colorful way. This gift combines the fun of Legos with the flexibility of customizable room decor.
10.
Professional Aluminum Trick Yo-Yo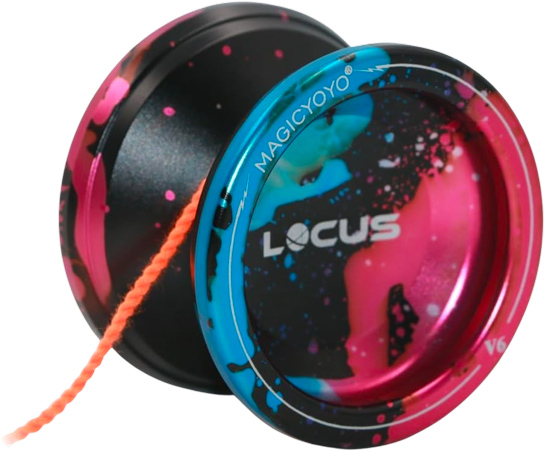 Christmas morning is going to be full of fun tricks with this cool gift. If you're looking for something that will wow a 9-year-old girl who enjoys skill-based toys, this professional yo-yo is a fantastic choice. Yes, it's a professional yo-yo, as in there are actual worldwide competitions for people that have devoted themselves to the art of yo-yo. And now she can be one of them!
This yo-yo is more than a nostalgic return to a classic pastime. It's a tool for honing coordination, patience and precision. The durable aluminum body and butterfly shape are designed for optimal performance which means longer spins and easier catches during tricks. As a bonus, the package comes with five extra strings, a glove and a bag, making it a complete kit for a budding yo-yo enthusiast.
11.
Stuffed Animal Display Hammock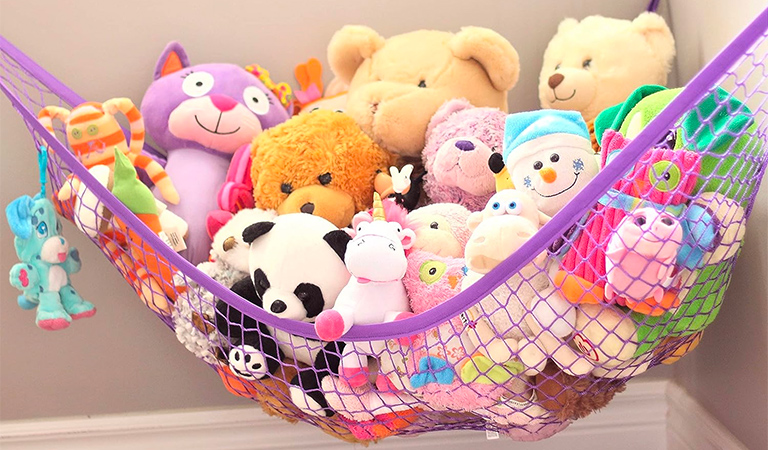 This Christmas, give the gift of an organized space with this handy hammock by Mini Owls. It's perfect for the 9-year-old girl who has an impressive plush toy collection she doesn't want to shove away in boxes or drawers. With this gift, she can proudly display all her favorite stuffed animals while freeing up valuable floor or bed space. Made from durable netting with strong elastic edges, it can securely hold dozens of soft toys with ease.
The hammock's design not only helps with clutter but also turns her beloved toy collection into a piece of room decor. This storage solution promotes cleanliness, organization and room personalization, making it a useful Christmas gift she'll appreciate.
12.
Easy Grab Book Rack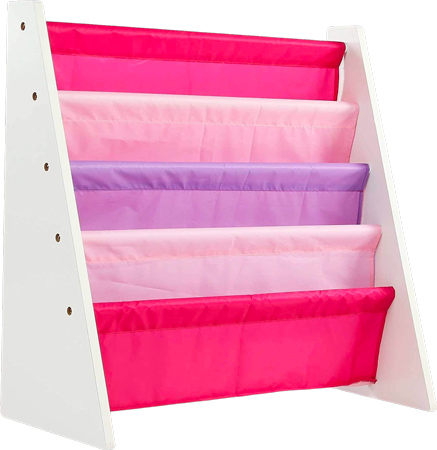 Choose a Christmas gift that will support a 9-year-old girl's love of reading with this easy-grab book rack by Humble Crew. This book rack is designed to keep all her favorite reading material within easy reach. It can be placed on the floor in her reading nook or styled on a desk or tabletop so there's no need to climb tall bookshelves when she wants to kick back with her favorite book.
With its four deep, fabric sling sleeves, it offers ample storage and ensures that book titles remain visible for easy selection. The pink and purple color combination also makes it perfect for a room that embraces a young and feminine decor theme.
13.
Unicorn Bean Bag Cover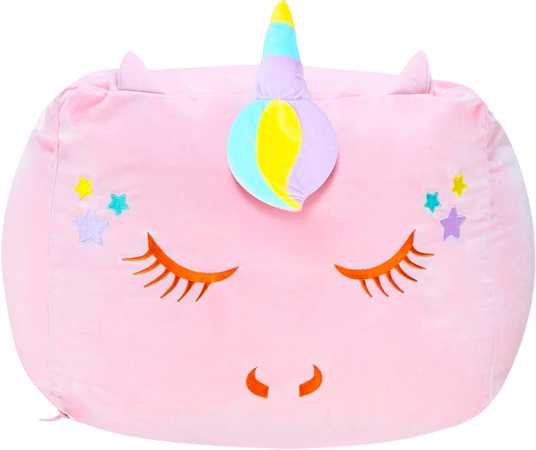 Gift the 9-year-old girl on your list the perfect mix of comfort and function this Christmas with this unicorn bean bag chair cover. This gift serves multiple purposes. Not only does it give her a comfortable place to read or work on her coloring books, but it also serves as a unique way to store plush toys or blankets.
The cover, which looks like a sleeping unicorn and features 3D ears and a horn, can be stuffed with whatever soft fillings she wants to create a relaxing chair that's just as charming as it is practical. The cover is made of a soft, velvet-like material that is easily machine washed and is resistant to color fading so it's great for a bedroom or playroom that gets daily use.
14.
Glowing Star Fleece Blanket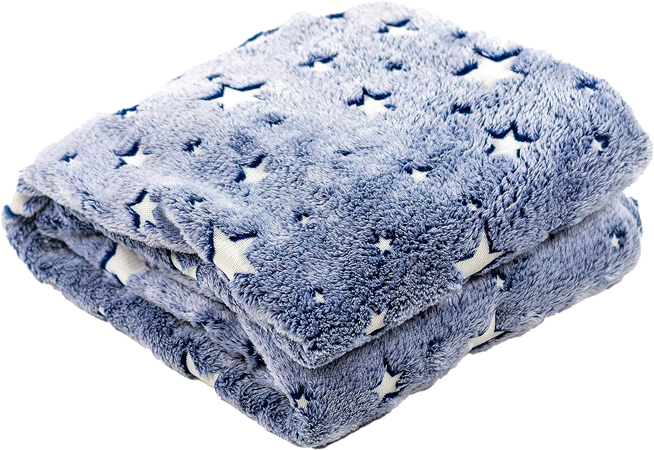 This Christmas, add a hint of cosmic charm to the bedroom of the 9-year-old girl on your list with this glow-in-the-dark fleece blanket by Modern Made. Providing comfort and encouraging an appreciation for awe-inspiring night skies, this cool blanket is decorated with a galaxy design that glows brilliantly in the dark. It creates a personal starry sky for her to cuddle up with and gives literal meaning to the term sleeping under the stars.
Made of premium-grade, breathable fleece, it ensures an unmatched cozy experience, perfect for snuggling up for a good read or a movie marathon. The generous size means it's great for a sleepover or for use as a regular bed blanket. Machine-washable and durable, this blanket will stand up to many nights of use while maintaining its glowing appeal and plush softness.
15.
Electronic Money Savings Box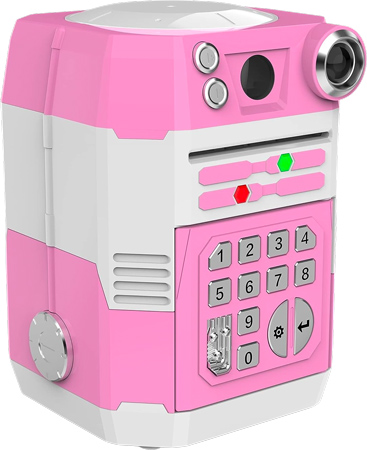 For the 9-year-old girl on your Christmas list who's starting to understand and appreciate the value of money, choose this cute electronic piggy bank by Wantfly. It's not just a place to store pocket money, but an engaging tool that can help develop good saving habits.
This modern take on a traditional piggy bank features a coin slot, a bill slot and a customizable keypad that will lock and unlock the door to ensure her life savings stay safe inside. It also has a palm scanner that will open the door just by waving her hand. The pink and white color scheme makes this the type of savings box she'll proudly display on her shelf, waiting for the day when she can afford that special doll she's been working so hard to save up for.
16.
Pink Waterproof School Backpack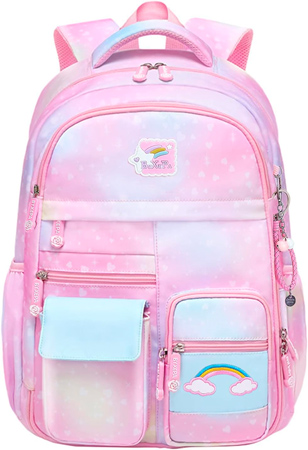 If you're trying to find something a 9-year-old girl will love and use every day, she will definitely get a ton of mileage out of this gift. This kid-sized backpack is designed specifically for young girls. It's not only durable enough to stand up to daily use in school and rough play on the playground, but it's also very fashionable.
The pink and baby blue Oxford cloth material is accented with a subtle heart pattern that makes this a sweet accessory for her to carry all her essentials. There are pockets galore in this bag, including a unique zip-open front compartment that can hide her journal, notebooks, pencils and whatever other tools she'll need quick access to. The padded back prevents books from poking into her back and the adjustable straps distribute weight evenly so she can carry her new favorite backpack without strain or discomfort.
Need more inspiration?