Around about age 8 most children experience a physical, emotional and mental growth spurt or 'leap forward'. The physical growth spurt means that they may become more skillful in sporting activities, which may lead to an increased interest in sports. At this age coordination and fine motor skills also improve which makes many artistic activities much more enjoyable and complex construction sets more appealing.
We've put together a list of the top 27 best toys and gift ideas for 8-year-old boys to help you in the search for a gift. There is plenty of variety included in the list so that you can pick something to suit the boy's personality, whilst all of the options focus on building skills that are important for 8-year-olds.
1.
Fjällräven Re-Kånken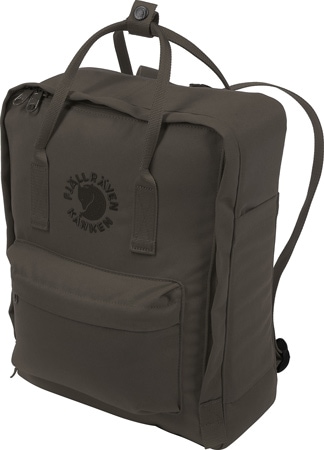 Why we like it: Lightweight, durable backpack available in a range of colous to suit their look and personality.
A backpack makes an ideal, practical gift for an 8-year-old boy as around this age they begin to develop their own hobbies and interests and spend more time out of the house. An 8-year-old boy may need a backpack for school, and then may need one for school sports kit, any extra-curricular sports or activities and will usually like to have one to take along to friend's houses too. So even if the boy you're buying for already has a backpack, another will probably still come in useful!
The Fjällraven Re-Kånken Unisex Backpack is a popular, stylish backpack brand with useful built-in features such as cushioned pockets, lightweight, durable fabric and adjustable shoulder straps. It's available in a range of colous so you can choose one to suit his look and personality!
Pros
Cushioned pockets
Available in a range of colous
Adjustable shoulder straps
Lightweight durable fabric
Cons
More expensive than other backpacks
2.
Gravity Marble Brain Game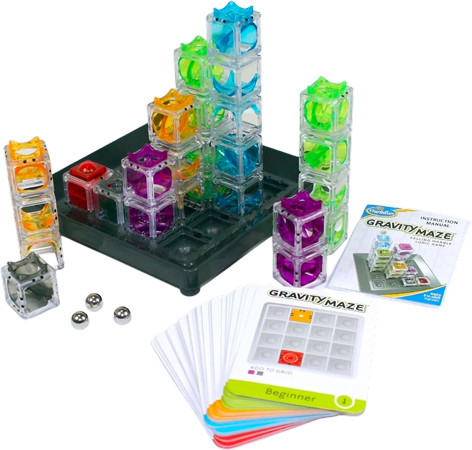 Why we like it: A 3D brain-teaser game that will challenge young boys to use critical thinking and strategy to get the ball through the maze.
Engage young minds with this marble maze by ThinkFun, a captivating toy designed to entertain and challenge eight-year-old boys. With its unique and innovative concept, this game is a terrific gift that promotes critical thinking and problem-solving skills. The game features a gravity-powered maze, where players strategically place the cubes to create a path for the marble to reach the end. Experimenting with different configurations develops spatial reasoning abilities and logical thinking. Each attempt becomes a puzzle-solving adventure, stimulating cognitive development while having fun.
Crafted with high-quality materials, this brain game ensures durability and long-lasting enjoyment. It even includes challenge cards with varying difficulty levels, providing endless opportunities for growth and learning. By engaging in this hands-on activity, children enhance their problem-solving skills, boost their confidence and learn perseverance. Surprise a young boy with this brain game and watch as he becomes immersed in a world of logic and excitement.
Pros
Includes 60 challenge cards

Improves cognitive development

Promotes critical thinking and problem-solving

Great for family game nights or parties
Cons
Towers stacked too high will topple
3.
Lego Gadgets
Why we like it: This Lego kit sparks creativity and STEM learning as kids build 11 cool machines like a claw, catapult and more.
With 58 Lego elements and papercraft instructions, kids can construct fun gadgets while learning how real-world engineering works. Step-by-step instructions make it perfect for ages 7-12. Additional challenges encourage experimenting and tinkering.
This hands-on Lego set is a great gift for 8 year old boys as it allows them to bring engineering concepts to life. Building the unique projects improves spatial skills, creativity, and problem-solving. The variety of gadget options provides hours of play potential.
Pros
Builds 11 different interactive gadgets
Sparks STEM and engineering interest
Enhances spatial and problem-solving skills
Promotes creativity and experimentation
Cons
Paper instructions may rip with repeated use
4.
UNO Minecraft
Why we like it: The classic UNO card game with a Minecraft theme is perfect for fans of the popular video game.
Most 8-year-old boys who love Minecraft will be thrilled to receive this special edition of the classic UNO card game. It features Minecraft designs on the cards and storage tin, bringing their favorite video game characters into a fun family game night.
UNO helps improve math skills, strategy and social interaction. The gameplay is familiar, with players matching numbers and colors to discard piles, but this deck adds an exciting Minecraft twist. It includes the unique Creeper card that forces opponents to draw three cards. It's a great way for a Minecraft obsessed 8-year-old to engage with family and friends.
Pros
Minecraft theme
Familiar UNO gameplay
Improves math and strategy
2-10 players
Great for family game night
Cons
Not compatible with regular UNO decks
5.
Stiga Sports Football Rebounder Goal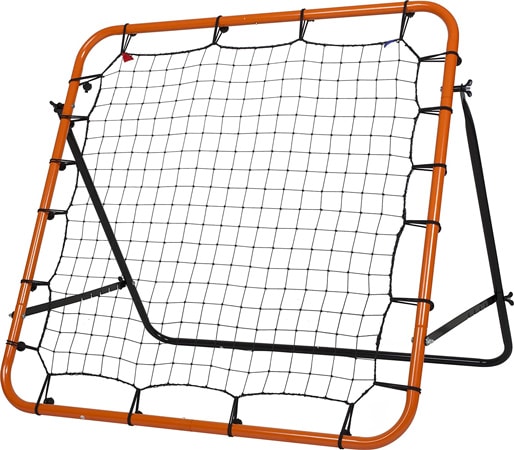 Why we like it: Encourage an interest in Sports and keep kids active with this rebounder.
As children develop more physical skills, they often become more interested in organized sports, and encouraging this interest is a good idea as habits formed in childhood will often last into later life so setting children up with a healthy relationship with sport and exercise now will pay dividends later.
The Stiga Sports Football Rebounder Goal is available in two different sizes and its angle can be adjusted to suit the kind of play or practice required. It is a great way to practice football skills alone or with friends, improving reaction times, accuracy and coordination. This also folds away for easy storage.
Pros
Two sizes available
Adjustable angle
Can be played with alone or with others
Folds for easy storage
6.
Anker SoundCore Mini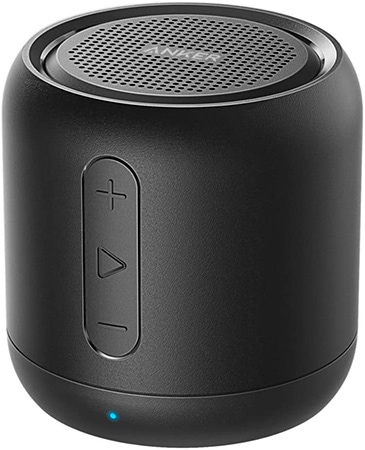 Why we like it: Portable Bluetooth speaker for home, outdoors or travel.
At age 8 boys may be becoming interested in music and beginning to have favorite bands or styles. The Anker Soundcore Mini is a portable speaker that uses Bluetooth connectivity to connect with compatible devices and play music.
It has a great battery life with up to 15 hours of play-time and is ideal for using indoors or outside which makes it ideal for taking along to the park, or on vacation as well as using around the home. The Anker Soundcore Mini is great value for money and is designed to give an intense bass sound with no distortion at higher volumes.
Pros
Uses Bluetooth connectivity
15-hour play-time
No distortion at higher volumes
Intense bass
Great value
Cons
Requires compatible device
7.
ThinkFun Rush Hour Traffic Jam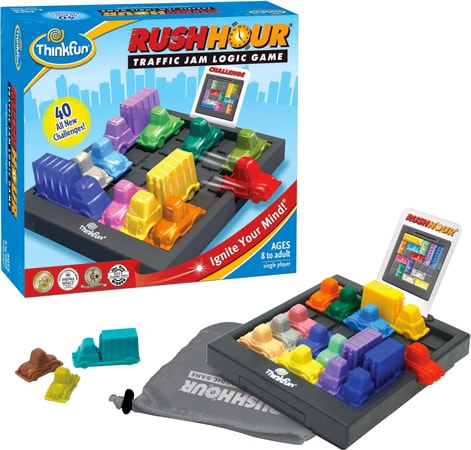 Why we like it: A single-player logic game to develop critical thinking skills.
8-year-old boys are not often known for sitting still and working on their logic skills but actually, around this age, huge brain development and changes are taking place and 8-year-olds are much more able to develop logic skills.
The ThinkFun Rush Hour Traffic Jam is a board game that can be played alone, so if the 8-year-old you're buying for is an only child, or doesn't have siblings close in age, that is not a problem. This game is ideal for developing critical thinking skills, concentration and perseverance.
Pros
Improves logic skills
40 challenges; beginner to expert
Develops critical thinking skills
Single-player game
Cons
Cannot be played with others
8.
Lacoste Analogue Classic Kids Quartz Watch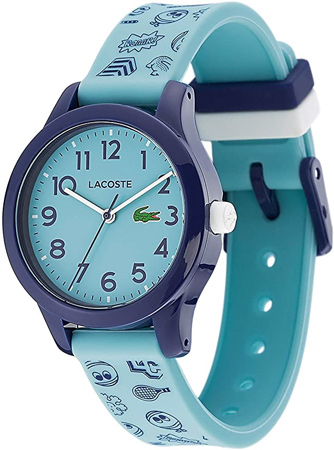 Why we like it: Celebrate becoming eight years old with a classic, stylish watch.
At age 8 some boys are surprisingly fashion-conscious and may want to express themselves through their style. A watch makes a lovely, special gift for a boy who is starting to become more interested in their image.
The Lacoste Analogue Classic Quartz watch has a classic, clean and sporty design and is made with high-quality materials. Water-resistance means that it can stand up to being worn by an 8-year-old and it comes with a gift box and 2-year warranty, making it an ideal gift.
Pros
Sporty, classic design
High-quality materials
Water-resistant
Complete with gift box
2-year warranty
9.
Lego Technic Bash Racing Car Toy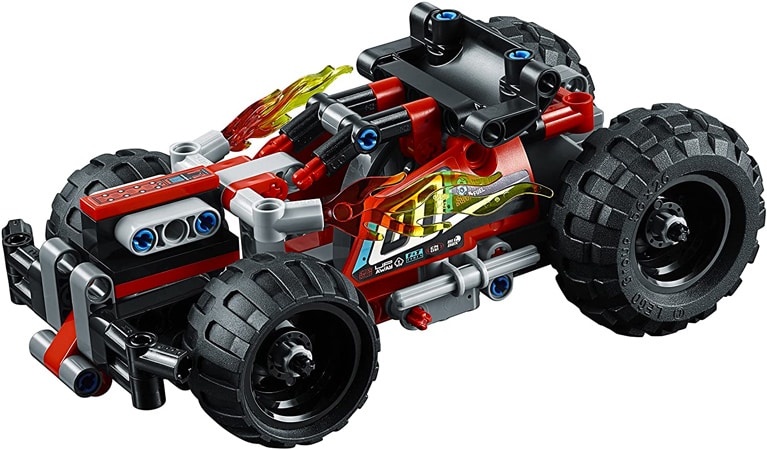 Why we like it: Use Lego to build a car with a powerful pull-back motor.
Lego continues to be a popular interest and pastime throughout childhood and well into the teenage years and adulthood for many boys and at age 8 fine-motor skills are developed enough that children can tackle some of the more complicated sets available in the Lego Technic range.
The Lego Technic Bash racing Car Toy set is a great way to improve construction skills and comes with full instructions so an 8-year-old can even have a try at tackling the project himself, developing plenty of skills as he reads and follows the instructions methodically. This set features a pull-back motor to add interest, and an element of engineering, to the project.
Pros
Pull-back motor
Improves construction skills
Full instructions included
Compatible with other Lego sets for construction
10.
Electronic Bullseye Ball Game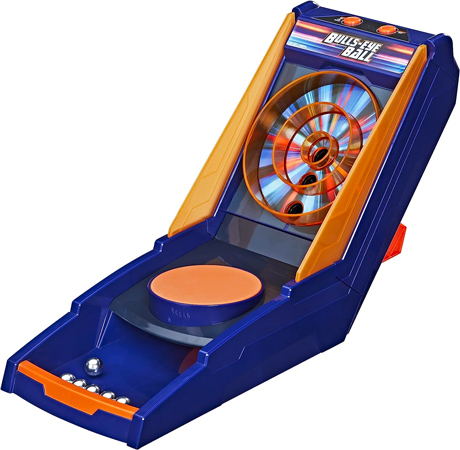 Why we like it:
A tabletop ball game that improves hand-eye coordination and improves concentration as boys compete to get the balls in the targets.
Get ready for an exciting game of precision and skill with this electronic ball game by Hasbro Gaming. Designed to excite and enthrall eight-year-old boys, this interactive game brings the exhilaration of a carnival right into the living room. With its talking electronic scoring system and challenging gameplay, this toy offers numerous benefits for child development.
It enhances hand-eye coordination, fine motor skills and concentration as players aim to bounce the metal balls from the shooting pad into the holes. When points are made the score is celebrated by the built-in sound and flashing lights. This gift would be great to play with friends or equally fun for solo play. It can be set to five different difficulty levels so it will keep boys engaged in fun while they improve their aim and accuracy. The game's compact and portable design allows for easy setup and storage so it's great to bring out at family gatherings for some fun family competition.
Pros
Improves strategic thinking

Enhances fine motor skills

Multiple game modes

Audible scorekeeping and flashing lights
Cons
Requires batteries-Not included
11.
Minecraft Dirt Block Bi-Fold Wallet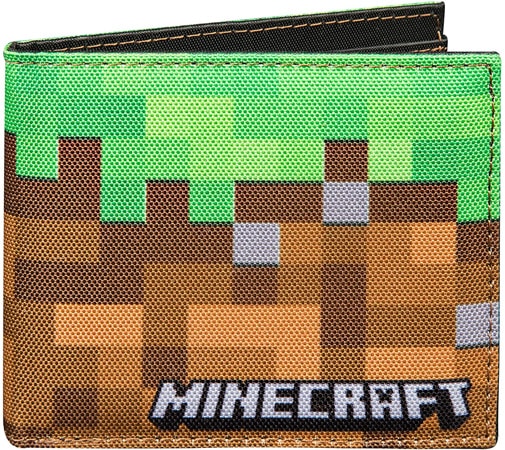 Why we like it: A practical gift based on the popular Minecraft computer game.
If you're not too sure what kind of toys or activities an 8-year-old would like then you may be considering a practical gift. Practical gifts are a good idea as instead of an unwanted toy, hopefully, the 8-year-old you're buying for will receive an item that they can put to use in their daily life.
The Minecraft Dirt Block Bi-Fold Wallet is a wallet made with durable materials to stand up to the rigors of being used by an 8-year-old. It is based on the popular Minecraft game, which many 8-year-olds are fans of, and encourages children to take responsibility for their own belongings by giving them a sense of ownership.
Pros
Practical gift
Made with durable materials
Based on popular Minecraft game
Encourages responsibility for own belongings
Cons
No zipped section for coins
12.
Nintendo Switch Lite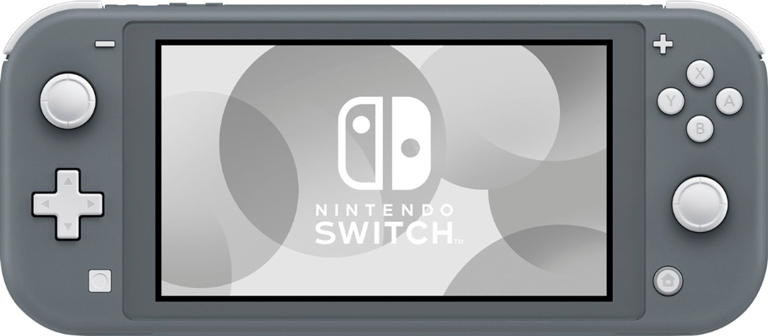 Why we like it: Popular gaming device that is portable and designed to be used on the go.
A cheaper alternative to the Nintendo Switch, the Nintendo Switch Lite offers the same popular gaming capabilities, portability and great battery life. The difference is that it does not support output to a TV and is therefore a handheld-only device.
For many 8-year-olds this will be perfect, offering the ability to play on the go. We often think of playing video games as a simple leisure pursuit but they offer plenty of learning benefits too. Alongside increasing skills associated with technology, playing video games can increase physical dexterity in the thumb and fingers, improve hand-eye coordination and reaction times and develop critical thinking skills.
Pros
3-7 hours battery life
Portable
Popular gaming device
Increases technology skills
Cons
Does not support output to TV
13.
Tobar Giant Retro Space Hopper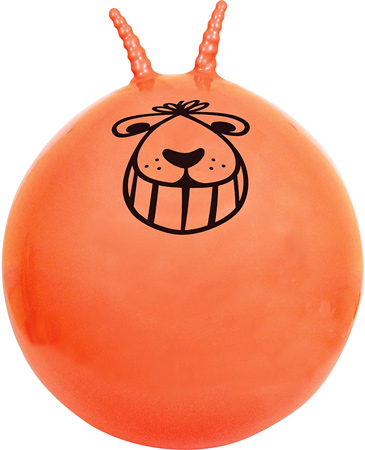 Why we like it: Retro toy for lots of bouncing fun, designed to keep older children active.
Keeping children active is very important as it contributes to their overall health. Not only does physical activity keep hearts healthy but it also builds strong bones and muscles and contributes to overall coordination, strength and flexibility.
The Tobar Giant Retro Space Hopper is a fun way to keep children active by changing up the kind of activity they participate in. Bouncing on a space hopper is ideal for building a strong core and improving balance. This space hopper is designed for older children and adults and made with robust materials certified to EU and UK safety standards.
Pros
Designed for use by older children and adults
Retro design
Foot pump included
Keeps kids active
Certified to EU and UK standards
Cons
Larger item; needs storage space
14.
Hasbro Gaming Simon Optix Game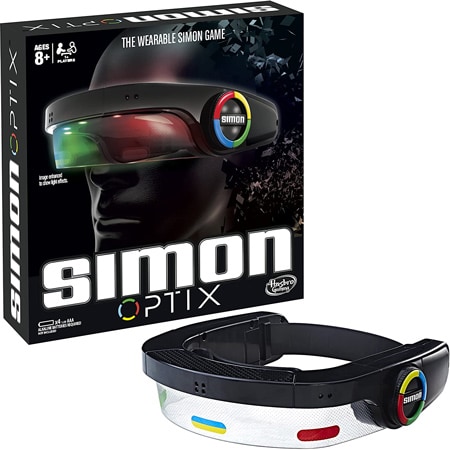 Why we like it: A modern take on a classic memory game.
Simon is a classic memory game, requiring the player to remember colous in a sequence and getting progressively harder as the game progresses. This is a game that can be played independently, or as a challenge with friends and obviously focuses on improving memory skills.
For an 8-year-old that likes to challenge themselves, or take on challenges with others the Hasbro Gamin Simon Optix Game would make a great gift! This is a modern take on the Simon game and involves the player wearing a helmet which shows them coloued lights, this novelty factor will make the game very appealing to many 8-year-old boys.
Pros
Modern take on a classic game
Improves memory skills
Can be played independently
Challenge friends with additional headset
Cons
Requires batteries
Additional headset sold separately
15.
Lego Hidden Side Paranormal Intercept Bus 3000
Why we like it: Lego, a technology toy and augmented reality game all rolled into one.
Lego aims to be a brand that grows up with children and have introduced many different ranges to help maintain interest, one of these is the 'Hidden Side' range which incorporates modern technology into classic Lego. The Hidden Side range of Lego uses a downloadable app to add augmented reality to Lego creations.
The Lego Hidden Side Paranormal Intercept Bus 3000 is great for imaginative play and includes full instructions for building it as well as how to use the AR game. It's for improving an 8-year-old's construction skills and developing an interest in new technologies.
Pros
Downloadable app to bring AR game to life
Full instructions included
Encourages interest in technology
Improves construction skills
Great for imaginative play
Cons
Requires compatible device
16.
Trick Ball Bounce Board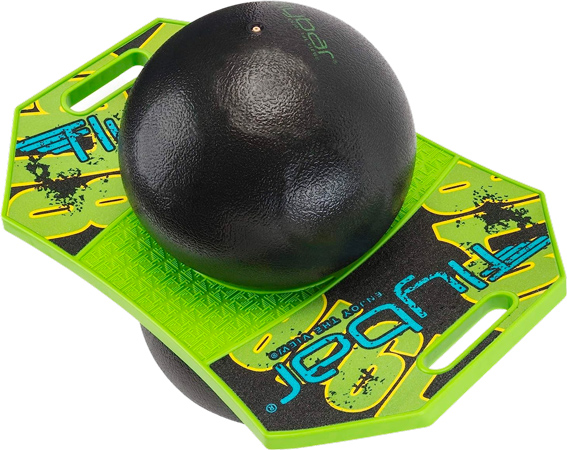 Why we like it:
A modern take on a pogo stick that will help boys engage in physical activity while having fun and learning new tricks.
If you've been scouring the internet for a cool toy that will impress an energetic and daring eight-year-old boy, this trick board by Flybar is exactly what you've been looking for. This unique bounce board is like a cross between a skateboard and a pogo stick. Instead of wheels on a skateboard though, this board balances on a rubber ball. Daring boys can stand on the deck board and grip the ball between their feet as they bounce, jump, spin and learn tricks. The ball is made with thick rubber that is designed to withstand rough play and the deck is coated in an anti-slip grip tape so this toy is made with safety in mind.
Playing with this toy offers numerous benefits for a young boy's development. Boys can enhance their coordination, agility and motor skills by mastering tricks and perfecting their balance. It also encourages them to engage their imaginations and creativity while inventing new tricks and stunts.
Pros
Encourages physical activity

Improves balance and coordination

Grip coating for safety

Free replacement for ball
Cons
Helmet and pads not included
17.
Ravensburger Graffiti Sneakers 3D Jigsaw Puzzle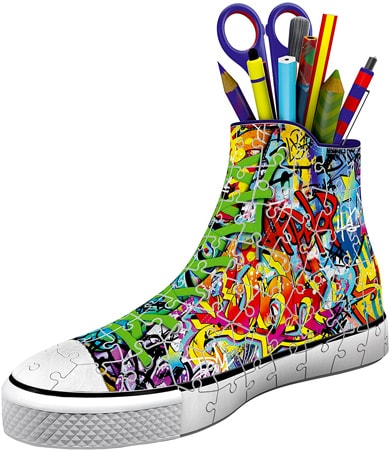 Why we like it: A 3D puzzle that can be used as a cool room accessory.
Jigsaw puzzles are a great way to improve spatial awareness, hand-eye coordination and fine-motor skills as children judge where pieces belong and carefully fit them together. By 8-years-old a child is likely to be ready for some additional challenge when it comes to a jigsaw puzzle.
The Ravensburger Graffiti Sneakers 3D Jigsaw Puzzle may be just the gift to provide that extra challenge; it is a 108-piece 3D puzzle that can be carefully constructed without requiring glue. When the puzzle is complete it can be used as a storage pot for pens or similar, making it a cool room accessory.
Pros
3D puzzle
108 pieces
Can be used as a storage pot
No glue required
Improves spatial awareness
Cons
Complicated build; may require adult help
18.
Hot Wheels Track Builder Unlimited Triple Loop Kit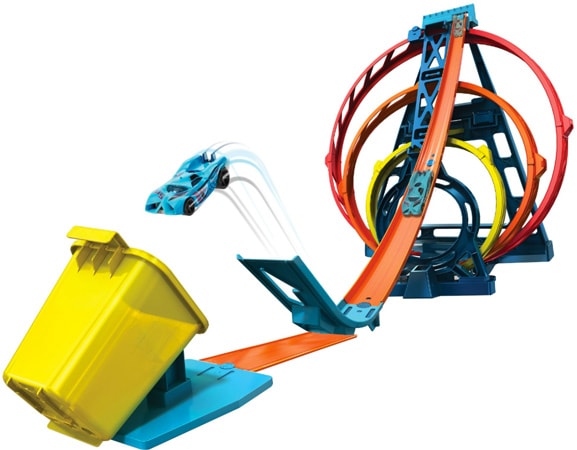 Why we like it: Awesome Hot Wheels set with the first-ever triple loop stunt.
The Hot Wheels range is enduringly popular amongst children who love playing with small diecast cars, and this set is compatible with all other Hot Wheels sets making it ideal for large-scale imaginative play and construction.
The Hot Wheels Track Builder Unlimited Triple Loop Kit features the first-ever triple loop stunt which improves children's understanding of cause and effect and develops an interest in engineering and how things work. 8-year-old boys will love using this set with their collection of toy cars and will find the triple loop stunt really exciting, experimenting with how to achieve the best results.
Pros
First-ever triple loop stunt
Compatible with other Hot Wheels set
Open-ended construction
Improves understanding of cause and effect
Develops an interest in engineering
Cons
Plastic toy; less eco-friendly option
19.
Nike Pitch Team Football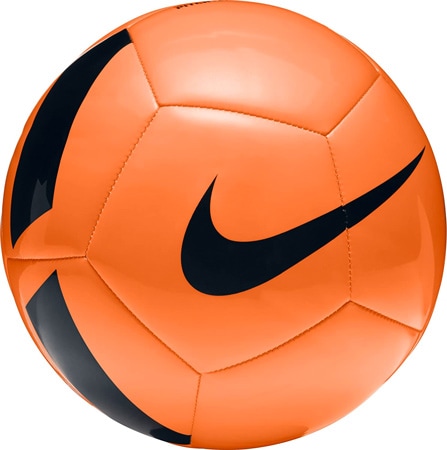 Why we like it: Develop an interest in sport with this ball, available in 3 different sizes.
If the 8-year-old boy you're buying a gift for enjoys playing football then buying a ball might seem a bit too obvious but it is likely to be well received! Boys love to have a selection of different footballs to choose from, and different styles and sizes are better for different conditions.
The Nike Pitch Team Football is available in 3 different sizes so you can select which one you think the 8-year-old you're buying for will like best. With a durable casing, this ball is suitable for indoor and outdoor use and will help children to stay active and healthy and improve an 8-year-old boy's football and physical skills.
Pros
Durable casing
Available in 3 different sizes
Keeps kids active and healthy
Improves physical skills
Cons
No pump supplied; requires inflation
20.
Inflatable Sport Punching Bag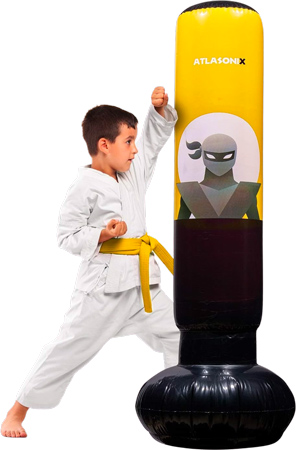 Why we like it:
An easy-to-inflate and portable punching bag that will improve hand-eye coordination and balance while increasing physical activity.
Whether the eight-year-old you're shopping for is into material arts or just likes to pretend to fight, this inflatable punching bag is going to be an exciting surprise he'll love. Constructed with sturdy materials, it's made to withstand hard-hitting punches and kicks, making it a safe and engaging outlet for releasing energy and building strength.
Physical activity is crucial for a child's development, and this punching bag encourages active play while improving motor skills, coordination and balance. It also promotes hand-eye coordination as boys aim and punch the target, enhancing their focus and accuracy. The bag is made of thick, nontoxic plastic that is easy to inflate with a pump, though keep in mind the pump is not included. The base is designed to be filled with sand to offer stability during playtime. This would be great for indoor and outdoor use and promises to deliver some high-energy, calorie-burning fun any eight-year-old will enjoy.
Pros
High-energy physical activity

Improves coordination and balance

Great for martial arts or sports training

Includes puncture repair kit

Great for indoor and outdoor play
Cons
Does not include an air pump
21.
Melissa & Doug Suspend Family Game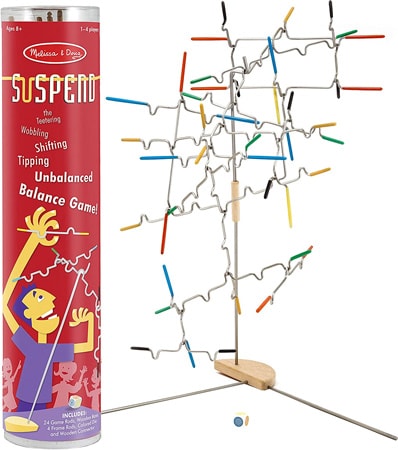 Why we like it: A great family game to improve hand-eye coordination and social skills.
Playing games as a family or with friends is a great way to improve an 8-year-old's social skills. 8-year-olds are generally becoming much more sociable, but also may be beginning to have conflicts within their relationships so building robust social skills is important at this stage of development. Playing games together gives children the chance to learn important skills like turn-taking, emotional regulation and fair play.
The Melissa & Doug Suspend Family Game is perfect for playing together and helps to develop hand-eye coordination as it involves the careful balancing of rods.
Pros
Family game
Improves social skills
Develops hand-eye coordination
1-4 players
Cons
Lots of pieces; store carefully
22.
Ray-Ban Junior Wayfarer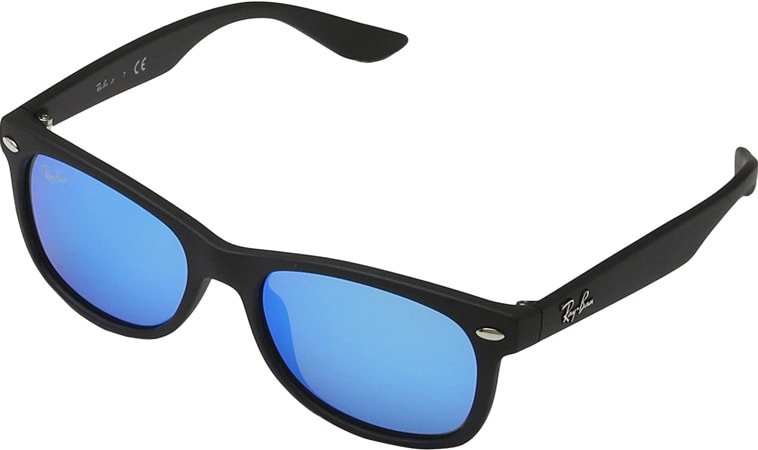 Why we like it: Stylish and practical gift with a protective case to keep sunglasses safe.
For a style-conscious 8-year-old a nice pair of sunglasses would make a luxurious and practical gift. Instead of toys which may or may not be used a pair of sunglasses is practical and will certainly be used on vacation or throughout the summer.
The Ray-Ban Junior Wayfarer sunglasses are available in a range of colous so that you can choose a pair that will suit the 8-year-old boy you're buying for. They have UV protection to keep eyes protected from the sun's rays and come with a protective case so that they can be kept safe when on the go.
Pros
Stylish sunglasses brand
Comes with a protective case
Available in a range of colous
UV-protection
Cons
More expensive brand of sunglasses
23.
ThinkFun Gravity Maze Marble Run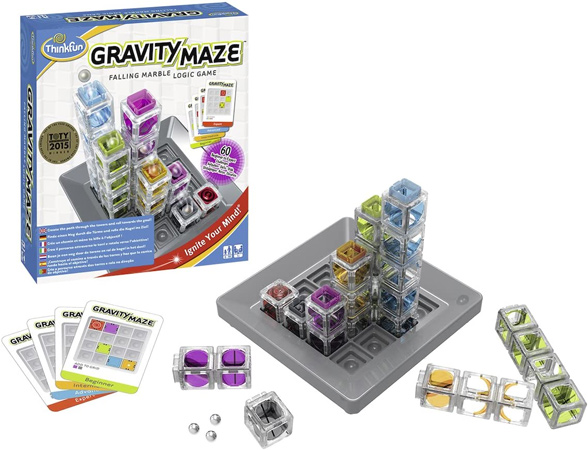 Why we like it: A challenging game that can be played together as a family encouraging critical thinking skills.
The ThinkFun Gravity Maze Game is a challenging board game that can be played with family or friends. It is designed to become more challenging as the game progresses so, to begin with, it is extremely accessible but becomes progressively more difficult so that players can build up their skills as they play.
Figuring out how to ideally play the Gravity Maze Game helps to improve critical thinking skills and develops an understanding of physics as well as encouraging problem-solving skills. Playing together with family or friends can also help children to work on their social skills, learning to take turns, remain calm under pressure and express frustration appropriately.
Pros
Can be played with others
Challenging
Improve critical thinking skills
Develops understanding of physics
Encourages problem-solving skills
Cons
Small parts; careful storage needed
24.
K'Nex 35 Model Building Set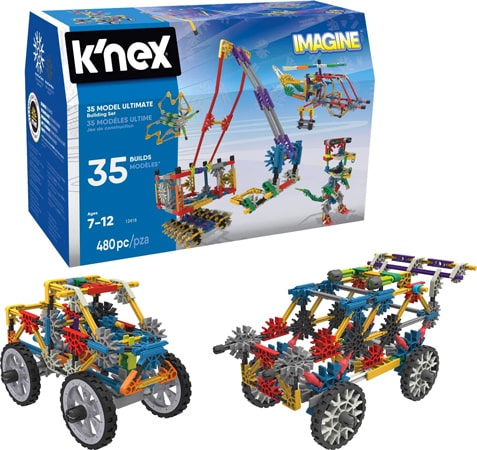 Why we like it: Great open-ended construction set with plenty of ideas to get started.
K'Nex is an amazing open-ended construction resource that helps to develop a whole range of skills for children. As children design and make their own constructions they employ a range of skills including planning, problem-solving and critical thinking, and also use physical fine-motor skills to connect the pieces which build up strength in the fingers, hands and wrists.
The K'Nex 35 Model Building Set has 475 pieces that can be used to create the building ideas included or to create your own ideas. The set includes a storage box which is great for keeping everything together and is compatible with most other K'Nex sets.
Pros
475 pieces
Open-ended construction
Improves fine motor skills
Comes with storage box
Building ideas included
Cons
Plastic toy; less eco-friendly option
25.
Tomy Screwball Scramble Classic Game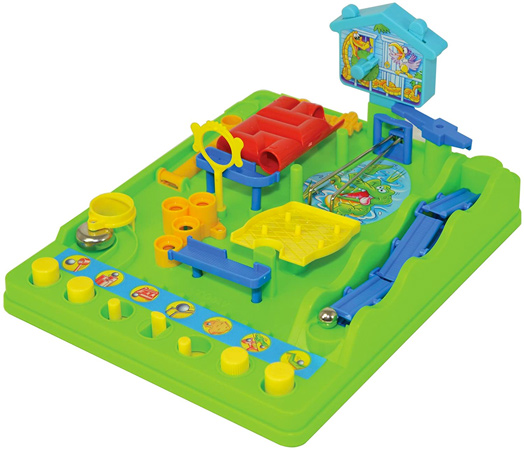 Why we like it: Great family game to improve motor skills and coordination.
A classic family game that can be played alone or with others, the Tomy Screwball Scramble Classic encourages coordination and improves fine motor skills as the child navigates small balls through a range of different obstacles.
The Tomy Screwball Scramble also encourages all of the social skills that we see associated with playing board games, like learning to follow the rules, take turns and win and lose graciously with appropriate emotional self-regulation. A great gift to keep an 8-year-old busy whilst continuing to develop his fine motor skills and dexterity.
Pros
Family game
Improves motor skills
Encourages coordination
Can be played alone or with others
Cons
Small balls, choking hazard to younger children
26.
Intex Seahawk 2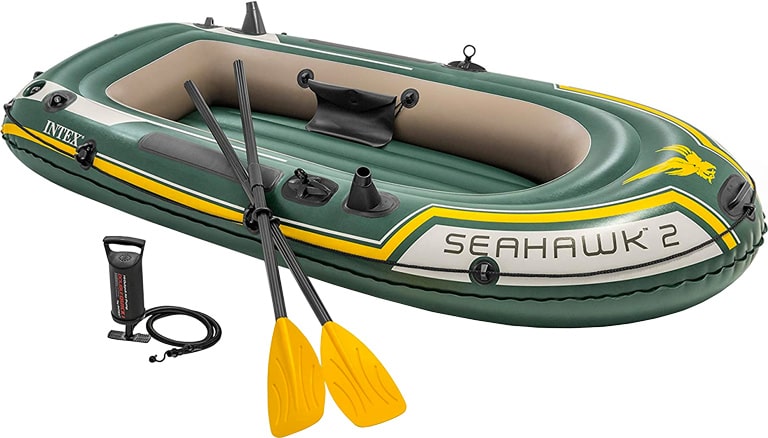 Why we like it: Great inflatable boat with paddles to increase confidence and physical skills in water.
Water sports require plenty of confidence in the water, but at age 8 many children are able to swim and feel very confident in the water, so start seeking out that next water-based adventure and thrill. The Seahawk 2 is a 2-person boat with a 200-kilogram weight limit and includes the pump and paddles needed.
This boat promotes outdoor, physical play helping children to stay active and be healthy whilst continuing to build their confidence and physical skill in water. A great gift for an 8-year-old boy who is starting to explore water sports!
Pros
Includes pump and paddles
Designed for 2 people (200 kg capacity)
Increases water confidence
Encourages outdoor play
Promotes physical activity
Cons
Requires water to use (pool, beach, etc)
27.
Ravensburger Disney Lion King 1000 Jigsaw Puzzle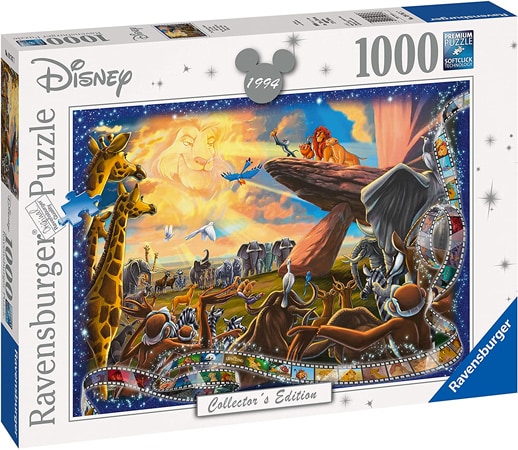 Why we like it: 1000-piece puzzle based on popular Disney movies and characters to challenge an 8-year-old and improve their construction skills.
Jigsaw puzzles can become a lifelong interest with many adults enjoying the challenge of complex jigsaw puzzles. This Ravensburger Disney Lion King Jigsaw Puzzle has 1000 pieces so it should be sufficiently challenging for an 8-year-old boy to fit together.
Based on the popular Disney films and characters the pictures should be somewhat familiar to help with construction, and every piece of the jigsaw has a unique shape so that it cannot be fitted together incorrectly. This self-limiting design makes this an ideal gift for an 8-year-old boy who is moving into more complex construction projects and jigsaw puzzles.
Pros
1000 pieces
Based on popular Disney films and characters
Every piece a unique shape; self-limiting design
Improves spatial awareness
Develops construction skills
Final words
As you search for the perfect gift for an 8-year-old boy you are likely to be bombarded with a whole range of options, making it difficult to know what's best. Add to that the increasing maturity of 8-year-olds and their wide-ranging interests and it can be difficult to know what's best.
The products here span a wide range of interests, personalities and maturity levels so that you can select something suited to the 8-year-old you are buying a gift for. All of these gifts help to develop skills that are important in this stage of life and development so you can rest assured that whichever you pick has value to an 8-year-old's skill development. We hope we have given you plenty of ideas and that you can find a gift suitable for the 8-year-old you have in mind!
Need more inspiration?