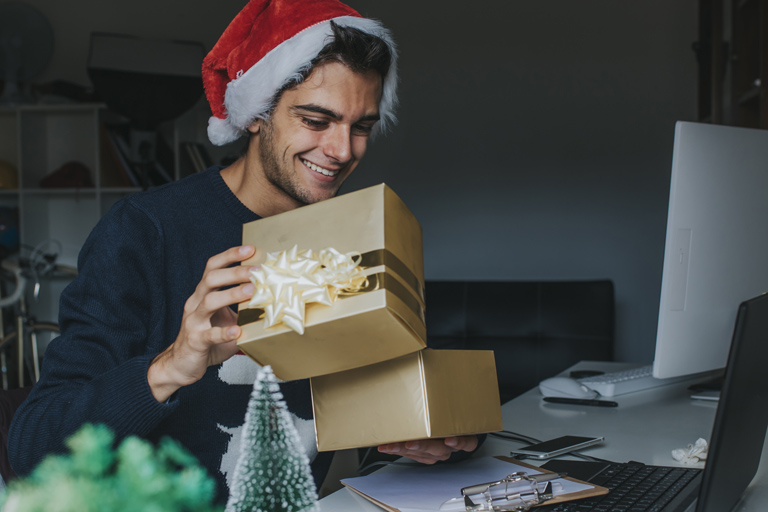 Christmas season is upon us and you're shopping for a 17-year-old boy who's on the cusp of adulthood. Gone are the days of buying toys. Now he's into more sophisticated interests and the task of finding the perfect gift that won't break the bank has fallen you. Which is probably what brought you here.
We're here to remove the stress of choosing a gift that will make this Christmas the best one yet. Choose any of these 17 impressive Christmas gifts for 17-year-old boys and you can be sure it's your gift that he'll remember as the one that truly stood out.
1.
Insulated Coffee Travel Tumbler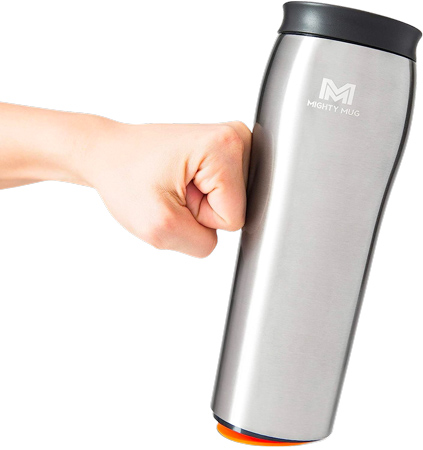 For the 17-year-old boy who's always on the move, this coffee travel tumbler would make an impeccable Christmas gift choice. Expertly crafted with Smartgrip technology, this tumbler ensures that accidental knocks won't send it toppling over, a brilliant solution for those busy mornings or crowded study sessions.
With double-wall vacuum insulation, his drink remains hot or cold for up to 24 hours, perfect for everything from morning coffee to afternoon iced tea. Its sleek stainless-steel design, combined with a rust-resistant finish, ensures that it doesn't just perform well but looks sophisticated too.
The 360-degree drinkable lid ensures ease of sipping from any side. This is the ideal pick for any teenage boy who appreciates efficiency and style.
2.
Luxury Leather Desk Set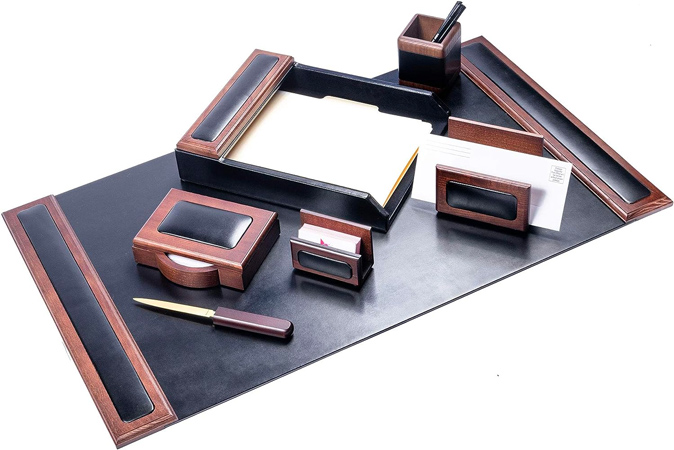 If you're shopping for a 17-year-old boy who values the blend of tradition and modernity, this walnut and leather desk set is the Christmas gift he never knew he needed. Exuding sheer sophistication, this seven-piece ensemble showcases a beautiful blend of top-grain leather paired gracefully with walnut side rails.
Every item in this set, from the spacious desk pad to the sleek letter opener, is designed to elevate his workspace, whether it's for studying or gaming. The deep hues of the walnut paired with the luxury of the leather seamlessly integrate into any room's decor, promising longevity and style.
3.
Voice Recorder Ballpoint Pen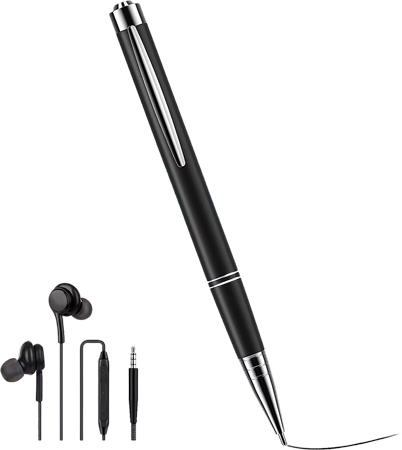 For the 17-year-old boy who's always on the go and needs to capture ideas, conversations, or lectures at a moment's notice, this voice recorder pen is a Christmas gift that marries innovation with utility. Crafted with a modern design, this pen functions not only as a smooth writing instrument but also as a high-quality voice recorder.
With a powerful noise reduction feature, it ensures crystal clear recordings every time. The pen's impressive 64 GB storage can hold hours of recordings and its USB connectivity allows easy transfers to a computer.
Discreet and functional, it's ideal for interviews, meetings, or simply noting down spur-of-the-moment inspirations. This holiday season, empower him with the dual capability of jotting and recording in one sleek device.
4.
Bamboo Wireless Charging Station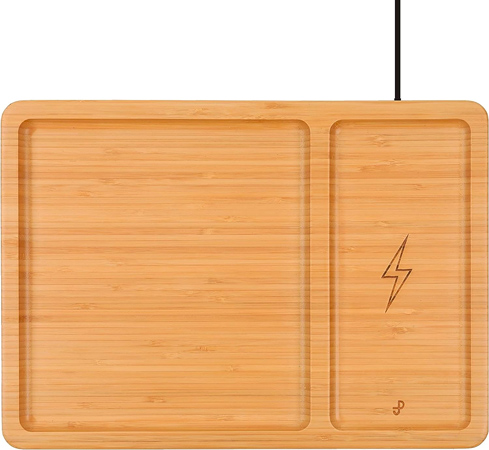 Give a Christmas gift that any 17-year-old boy who loves tech will appreciate. Beautifully crafted from eco-friendly bamboo, this charging station seamlessly integrates nature with technology.
Its design allows for efficient cable management, ensuring the desk remains clutter-free while charging multiple devices. The wireless charging pad is compatible with most smartphones, providing a rapid charge without the hassle of tangled cords.
The additional compartment can hold essentials such as pens, earbuds, or watches, keeping everything organized. With this classy charging station, you're choosing a gift that blends sophistication and modern tech while making daily charging routines both elegant and efficient.
5.
Adjustable Hands-Free Book Stand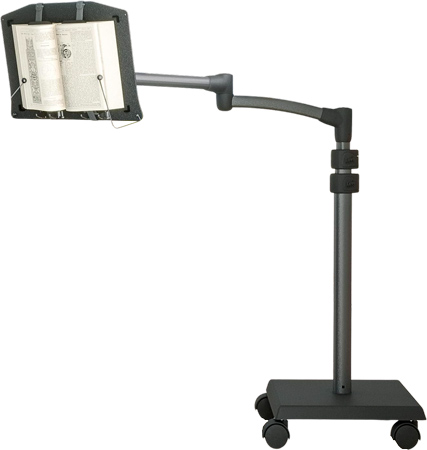 This Christmas, surprise the 17-year-old bookworm with a gift that enhances his reading experience. Designed to support everything from hefty textbooks to lighter paperbacks, this hands-free book stand ensures comfortable reading sessions without the strain of holding a book for prolonged periods.
The adjustable page holders accommodate various book thicknesses, securing pages in place and preventing them from flipping. The variable height and viewing angle mean he can go hands-free in a chair, standing, or even in the bath.
Whether he's diving deep into academic research or simply enjoying a novel, this stand will become his favorite reading companion. He'll definitely be taking this gift with him when he goes off to college.
6.
Adaptive Noise Cancelation Earbuds
Step up the audio game for a 17-year-old boy who values impeccable sound quality when listening to his music with this Christmas gift. These wireless earbuds from Bowers & Wilkins ensure clear trebles, deep bass and an overall balanced sound profile. With active noise cancellation that adapts to his surroundings, they become an oasis of calm in bustling environments, letting him focus on his favorite tracks.
They also feature six built-in microphones for enhanced sound and clarity while making calls. With a comfortable fit for extended use and a durable charging case for on-the-go convenience, these earbuds are a premium choice for audio enthusiasts this festive season.
7.
LED 3D Titanic Puzzle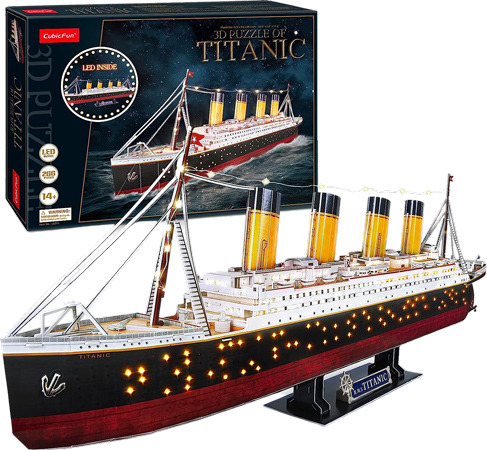 Gift a journey back in time this Christmas with this 3D puzzle that brings the legendary Titanic to life. Perfect for any 17-year-old boy who loves history and puzzles, this intricate puzzle boasts an astonishing level of detail, capturing the grandeur of the iconic ship.
With 193 pieces, it presents both a fun challenge and an educational experience, teaching patience and precision. This puzzle has a twist though as it's designed with 85 LED lights that will glow throughout each deck. Once it's assembled, it would be an impressive showcase piece on his bookshelf to add to the collection of his other puzzle conquests.
8.
Star Wars Lego Set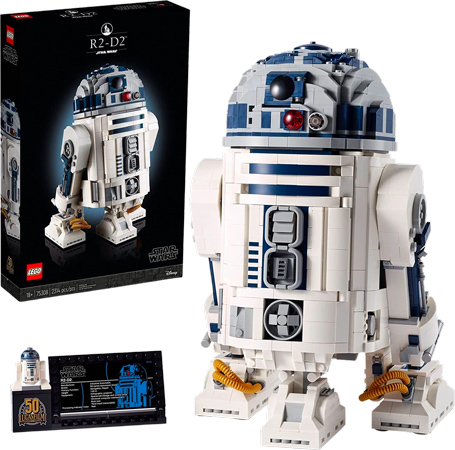 If you're Christmas shopping for a 17-year-old boy who can't stop talking about how much he loves Star Wars, this is the gift he wants. This Lego set builds an impressive representation of R2-D2. The elaborate detail of this droid will have him excited to display it as part of his Star Wars memorabilia collection. It even comes with its own display stand.
The set includes 2,314 pieces and provides a host of authentic features, such as a retractable mid-leg, rotating head, a periscope that can be pulled up and a hidden lightsaber in the head. This is a collectible piece and a fantastic gift option for any Star Wars aficionado.
9.
Mechanical Globe Tracking Watch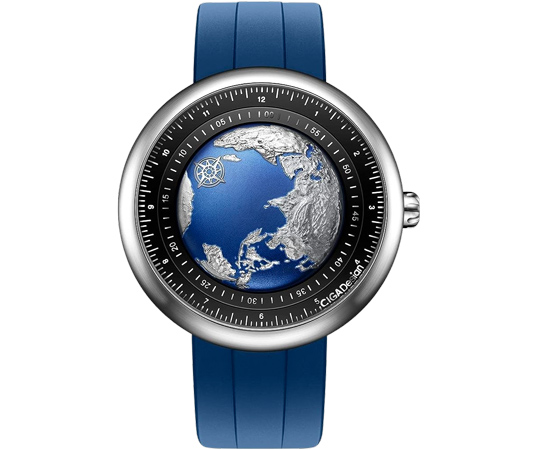 For Christmas, elevate the style of any 17-year-old boy with this stunning timepiece that exudes sophistication and contemporary style. This mechanical automatic watch is a harmonious blend of form and function, merging classic elegance with innovative design elements.
Look through the scratch-resistant sapphire crystal face and witness the earth shift as time changes. Inspired by how the earth revolves, this watch is unlike anything he has in his collection. Driven by a reliable automatic movement, the watch ensures timekeeping is as accurate as it is visually mesmerizing.
The sleek Fluororubber strap complements the bold, black dial, creating a striking aesthetic that stands out on any wrist. If you're looking to splurge, this gift is worth it.
10.
Leather Slip-On Shoes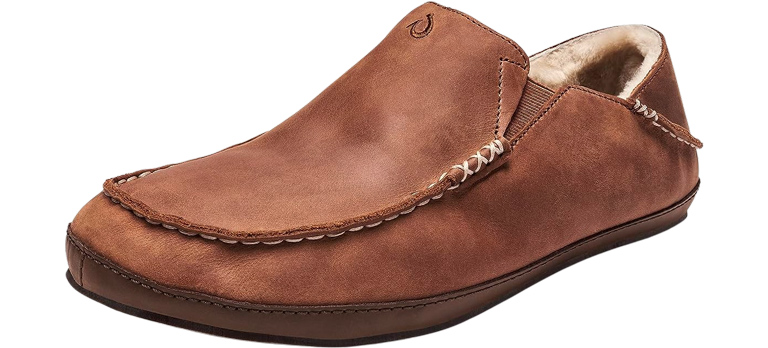 This is a Christmas gift any style-loving, comfort-craving, 17-year-old boy is going to love. These slip-on shoes look effortlessly sophisticated. The uppers are made of top-quality nubuck leather and the interior is lined with a soft, moisture-wicking material that will keep his feet comfortable from school to nights out with friends.
The amazing design of these shoes allows the heel to be folded down so they can be worn as a full shoe or as a slip-on. The waxed leather and thick rubber soles make these shoes ideal for all weather conditions, as they are water resistant and will prevent him from slipping in rainy weather. If casual but classy is how he describes his style, these shoes belong in his closet.
11.
Designer Leather Belt Set
Give the gift of style this Christmas with this gorgeous belt designed for the trend-setting 17-year-old boy. Made from premium leather, the luxurious look and feel are obvious. The oversized, silver Michael Kors logo buckle acts as a hallmark of its distinguished design.
The belt comes packaged as a set so he can assemble the belt with or without the buckle. On the leather belt is a subtle repeating logo pattern that makes sure everyone around him knows he takes his style seriously. Whether it's an upscale event or a casual day at school, this belt seamlessly complements any attire, ensuring he's always in vogue.
12.
RFID Vegan Leather Wallet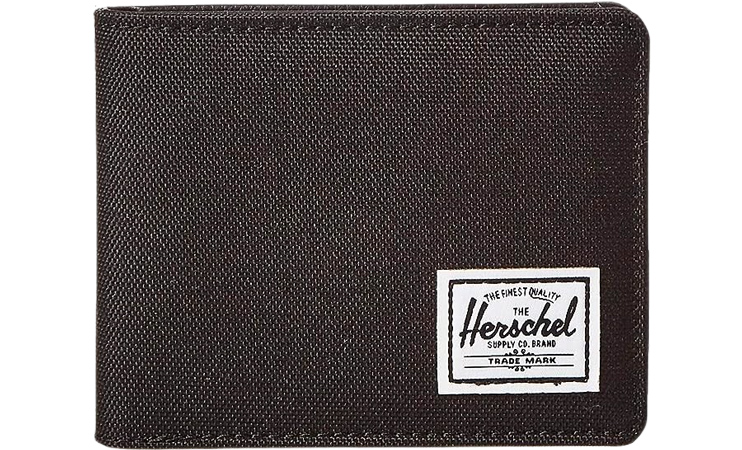 Here's a practical Christmas gift idea that a 17-year-old boy will use every day. This classically designed wallet is a made made out of a heavy-duty blend of polyester and vegan leather. Its sleek design exudes maturity while maintaining a youthful edge. The wallet offers multiple card slots, ensuring he can keep his essentials organized.
The RFID blocking feature adds an extra layer of security against unwanted card scans while the slim profile ensures it fits comfortably in his pocket. This is a gift that balances style, functionality and security and one he'll be using for many years to come.
13.
Stylish USB Smart Backpack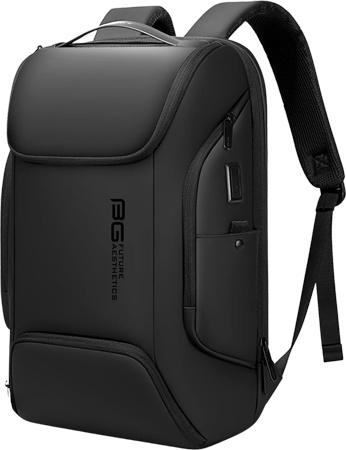 For the tech-savvy 17-year-old boy, here's something he'll appreciate on Christmas morning. This USB-enabled backpack seamlessly combines technology and style. Designed for both daily commutes and longer journeys, it comes with a dedicated external USB charging port. He can conveniently charge his devices on-the-go, ensuring he's always connected.
Beyond the tech features, the backpack also boasts multiple compartments, perfect for organizing gadgets, books and essentials. It even holds a 15.6-inch laptop, a feature many smart backpacks don't provide. The modern and minimalist design, paired with functionality, ensures he stays ahead in both tech and trend.
14.
Water Bottle with Sleeve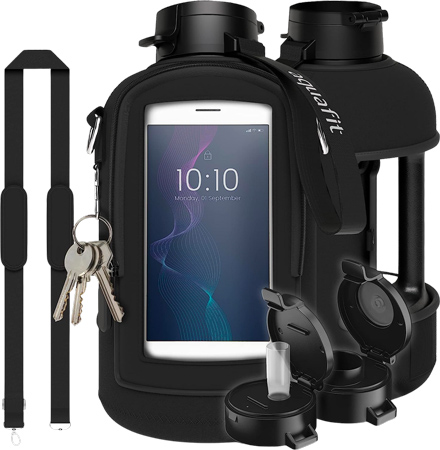 This Christmas morning, surprise the 17-year-old boy in your life with a gift that champions both health and style. This water bottle, snugly housed in a protective neoprene sleeve, is perfect for keeping him hydrated, whether he's working out, studying, or just out and about. Holding a generous gallon, it ensures he has enough water for the day ahead.
The sleeve with a carrying strap doesn't just keep drinks cool and offer convenience, but it also holds his phone to free up pocket space. The phone sleeve cover is touch-sensitive, meaning he can text and make calls without having to take it out. This is the gift of healthy living and any health-conscious young man will appreciate that.
15.
Pop-Up Camping Tent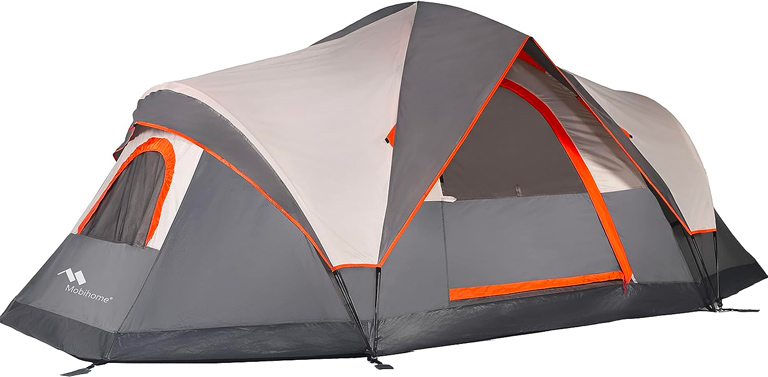 If you're Christmas shopping for a 17-year-old boy who loves to have outdoor adventures, he'd be disappointed if he didn't find something this cool under the tree this year. This pop-up tent will take the hassle out of his outdoor setup so he can spend less time fumbling with poles and more time soaking in nature.
Designed for multiple-season use, this tent offers excellent waterproof capabilities, ensuring he stays dry during unexpected showers. The mesh panels act as ventilation, keeping the interior fresh and bug-free. With enough space to comfortably accommodate three people, it's perfect for solo trips or with a couple of friends.
16.
High Accuracy Metal Detector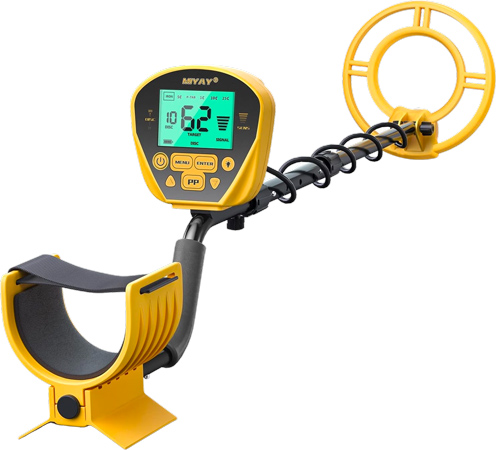 Give a Christmas gift that will turn the 17-year-old boy you know into an actual treasure hunter with this metal detector. This detector boasts high-accuracy detection capabilities, enhanced by its pinpoint function, ensuring precision in every hunt. The user-friendly LCD display provides clear information about potential treasures beneath, making all his searches more engaging.
With adjustable sensitivity levels, he can tailor his treasure-hunting experience to various terrains. The waterproof search coil allows him to venture into damp grounds or shallow waters, expanding the reach of his exploration. This is the gift of finding a very cool new hobby. Does it get any cooler than being a real-life treasure hunter?
17.
Pro Classic Electric Guitar

For the aspiring rockstar on your shopping list, this Christmas gift won't disappoint. This high-quality guitar is suitable for all levels, from beginner to pro. The classic electric guitar shape is beautifully accented by the vintage-style hardware and high-contrast body.
Equipped with a coil split system, it offers a versatile range of tones, from classic and clean to gritty rock. The smooth maple neck and ebony fingerboard give this guitar a distinct look while the balanced design means he can play for longer without discomfort. If the 17-year-old guy you're shopping for has musical aspirations, he'll think this Christmas gift rocks.
Need more inspiration?