At age 17 a girl is right on the precipice of adulthood and whilst many 17-year-old girls are excited about their future, others are actually pretty scared about entering the adult world and all that entails. This is an age where friends and family can be quiet, steadying influences whilst the world seems all in flux.
Buying a gift for a 17-year-old girl can be a daunting prospect as you consider what it is that she may want, like or need. If you know the girl well then you're likely to have some idea of her main interests and can select a gift related to those. If you don't know her as well then a practical, useful gift might be a good idea. Here we've brought together a selection of products that 17-year-old girls will be happy to receive to help you in your hunt for the perfect gift.
1.
Temporary Body Art Markers
Why we like it:
A creative gift that allows girls to experiment with self-expression through body art without permanent decisions.
This gift will allow the 17-year-old young woman on your gift list to experiment with body art without any permanent decisions or future regrets. These pens, made by Bic, are specially designed to be used as body art markers. Teens can fully express their individuality with custom art they can wear on their bodies. When it's time for school or just time to change the design, the art washes in the shower.
The set includes eight colored brush tip pens plus four design stencils. The non-toxic ink is quick-drying and made to last longer than standard pen ink. While washing with soap and water does remove the art, it is stated it could take more than one wash, which is probably what you want from a body art pen. It's made to last but easy to come off with a light scrub. This cool gift will showcase her personal style, individuality and artistic talent just like a tattoo… minus the regrets.
Pros
Nontoxic ink

Includes multiple colors

Washes off with soap and water

Fun with temporary body art
2.
Colouring Book for Teens: Anti-Stress Designs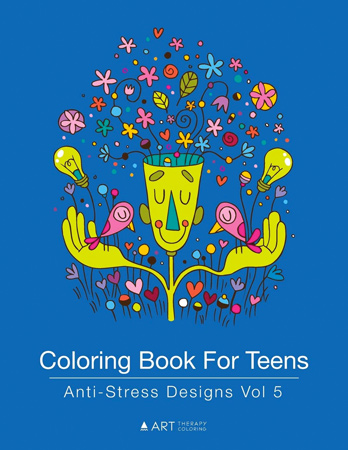 Adult coloring is a craze that has really caught on, and with good reason; it's incredibly relaxing and with heightened stress levels across the board everyone could use the opportunity to relax. This Coloring Book for Teens with Anti Stress Designs has been specially designed to help promote relaxation and lower stress levels.
The designs are complex yet uplifting and offer the user the opportunity to engage in mindfulness as they color the 35 pages of images, geometric patterns and mandalas. The paper is suitable for both coloring with pencils and with gel or felt tip pens and you can feel good as you color knowing that 10% of the profits are going directly to charity.
Pros
35 pages
Great for mindfulness
Designed to reduce stress
Suitable for pencils, gel pens, felt tips
10% of profits go to charity
Cons
No pencils or pens included in set
3.
Joby GorillaPod Mobile Vlogging Kit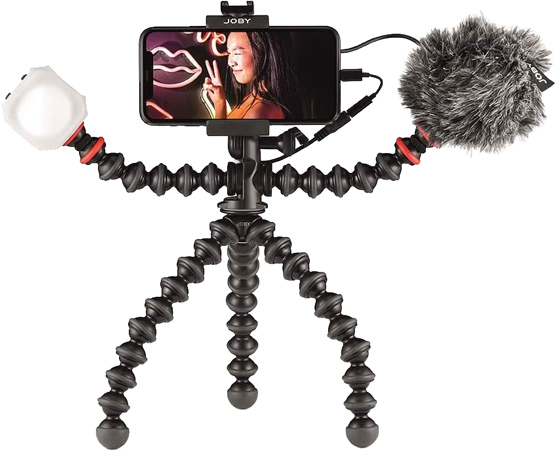 Why we like it: Get all the essentials to set up a professional-looking vlogging channel.
Vlogging is big business and all aspiring vloggers need is their smartphone and this set. The Joby GorillaPod Mobile Vlogging Kit includes everything needed to create a beautiful, sleek and professional-looking vlog. It's lightweight and portable making it ideal for vlogging on the go and combines 3 products for the ultimate in functionality and ease of use.
The kit includes a secure grip stand for a camera or smartphone, which can be held out to get a wider angle and better shot as well as a Wavo Mobile Microphone to pick up crisp, clear sound both indoors and out. There's also a mini LED light to help you create the perfect look and ambiance for the vlog you're creating. This kit would make a great gift for a 17-year-old girl who has been vlogging to preserve memories or for business, or for a girl just starting out.
Pros
Safe secure grip for phone or camera
Can shoot in landscape or portrait
Clear, crisp audio
Mini LED light- dimmable and Bluetooth controlled
Ideal for beginners or more advanced users
Cons
Requires compatible device
4.
Barefoot Dreams CozyChic Throw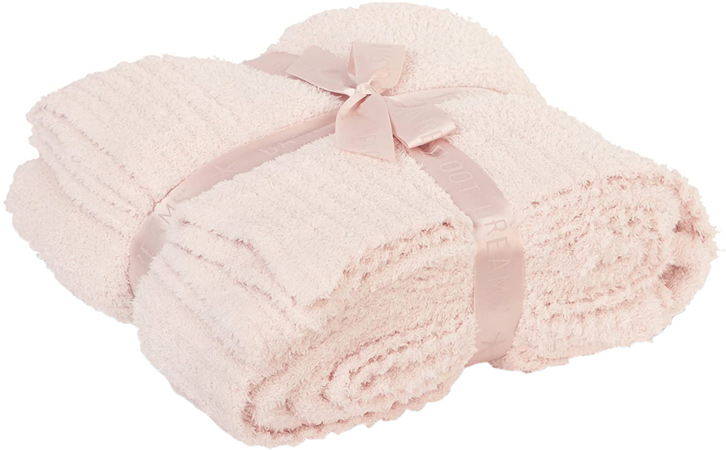 Why we like it: Luxury blanket for the ultimate in comfort.
The Barefoot Dreams CozyChic Throw is almost as famous as it's fans! Having been featured on several TV shows including Oprah's Favorite Things Holiday Show this throw has received rave reviews. It is available in 9 different colors so you can choose the one most suitable for the 17-year-old girl you're treating.
This is a really luxurious gift perfect for relaxing at home. The throw is world-renowned for being soft, cozy and comfortable yet can be machined and washed on a cool setting to make it practical too. This is a gift that will provide great comfort when a 17-year-old girl takes it with her when she leaves home and gets her own space.
Pros
Celebrity endorsed
Available in 9 colors
Luxurious microfibre
Machine washable
5.
Waterproof Portable Bluetooth Speaker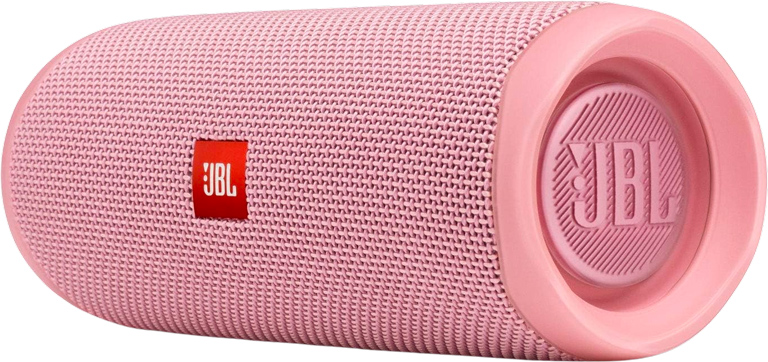 Why we like it:
A compact and waterproof speaker built for outdoor use and on-the-go music with friends.
Get the party started with this impressive gift. Whether the 17-year-old girl you're shopping for is into top pop hits or edgy rock, her favorite band is going to sound amazing coming out of this portable speaker by JBL. This speaker is designed for on-the-go use. Its durable construction can withstand being thrown at the bottom of a backpack or sports bag without fear of damage. It's even waterproof for use during rainy sports practices or summer vacation days by the pool.
It comes in multiple fun colors, including bubble gum pink, perfect for girls that love all things pink. If one speaker just isn't enough, it also features the capability to connect multiple speakers through Bluetooth for a true surround sound experience. From quiet tunes for getting her study on to pumping bass to kick off the dance party with friends, this speaker is going to be a gift she loves.
Pros
Bluetooth connectivity enabled

Waterproof up to three feet

Available in multiple vibrant colors

12-hour playback playtime
Cons
Does not float as advertised
6.
Lonely Planet's Ultimate Travel List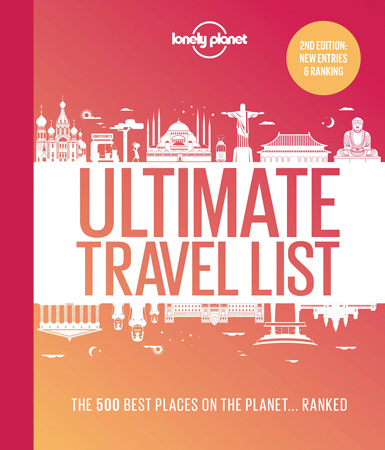 Why we like it: Inspire an interest in traveling the world.
Travel is one of the greatest gifts we give ourselves, exploring new cultures, environments and ways of life. This book is sure to inspire a teen to want to travel the world and with the end of school coming up, and the chance for a gap year this would be both timely and relevant for her to consider. The Lonely Planet's Ultimate Travel List book has been put together by a global family of writers, editors and industry experts. There are 500 entries and over 200 of these are new for this book. The book features plenty of inspiring photos and commentary giving little-known, inside information about these incredible locations.
Lonely Planet are leading experts in the field of travel, having published books, online guides and magazines since 1973. This particular book features deserts, UNESCO world heritage sites, beaches, cities, markets and more to help a 17-year-old girl create her very own travel wishlist.
Pros
Inspires travel
Put together by international team
500 entries
From expert travel company Lonely Planet
7.
BaByliss Travel 2000 W Hairdryer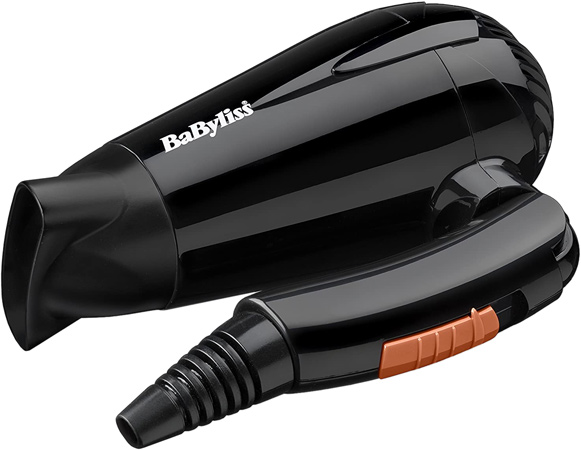 Why we like it: Fast drying, perfect for travel hairdryer from a popular haircare brand.
A travel hairdryer is a gift that will last for years to come and the Babyliss Travel 2000 W Hair dryer is the ultimate in travel hairdryers. From popular hair-care brand Babyliss, it is powerful with up to 2000W for fast drying results.
Its dual voltage makes it suitable for use anywhere around the world, including in the USA. Whilst some dryers struggle to deliver powerful results when using the dual voltage system, this hair dryer delivers great results no matter where you are in the world. Lightweight and easy to use, with a compact folding handle, this dryer is perfect for traveling. It's a great gift for a 17-year-old girl who could use it for trips and travel for years into the future.
Pros
Dual voltage
Ideal for travel
Popular haircare brand
Specially designed for fast drying
Lightweight
Cons
No diffuser attachment for curly hair
8.
Ultimate Ears BOOM 3 Wireless Bluetooth Speaker

Why we like it: Wireless speaker with 360-degree sound.
Wireless speakers are the ideal way to listen to music, podcasts or audiobooks in your own space and the Ultimate Ears BOOM 3 Wireless Bluetooth Speaker is a great option for those looking for high-quality sounds and function at a reasonable price point. It's compatible with a range of devices like smartphones, tablets and laptops using Bluetooth connectivity and can be used for hands-free calls too so long as the phone's operating system supports this.
For a 17-year-old girl, this speaker is ideal for using in the bedroom to listen to her own favorite music and the magic button on top of the speaker can be programmed to play Apple music. Spotify or Deezer playlists without even needing to press play on your device! The 360-degree sound ensures that audio is always crisp, clear and high-quality so nothing is missed. It's robust enough to stand up to a teenage lifestyle; it can be completely submerged in water for up to 30 minutes so spills are no problem at all!
Pros
Available in a range of colors
Wireless
360-degree sound
Waterproof
15 hours of playtime
Cons
Requires compatible device
9.
Instax Square SQ1 Instant Camera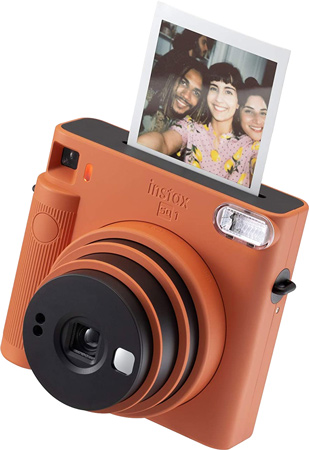 Why we like it: Popular Instax brand camera with a built-in selfie mode.
Instax cameras are becoming incredibly popular amongst teenagers, and teenage girls in particular and it's not hard to see why. In an age of digital photos, it's rare that we actually get photos printed but most teenage girls love having photos of friends and family in their space. The Instax Square SQ1 Instant Camera provides a hassle-free solution; simply point, shoot and print. Its automatic exposure ensures a high-quality shot so it's perfect for novice photographers.
This model of Instax camera has a built-in selfie lens and mirror, helping you to get the perfect shot every time. It's fun, sociable and rewarding so great for family events, parties or even school. A 17-year-old girl would love to receive this camera as a gift, allowing her to record memories easily and instantly.
Pros
Available in 3 colors
Popular brand
Built-in selfie mode
Instant photo prints
10.
Bose Frames Audio Sunglasses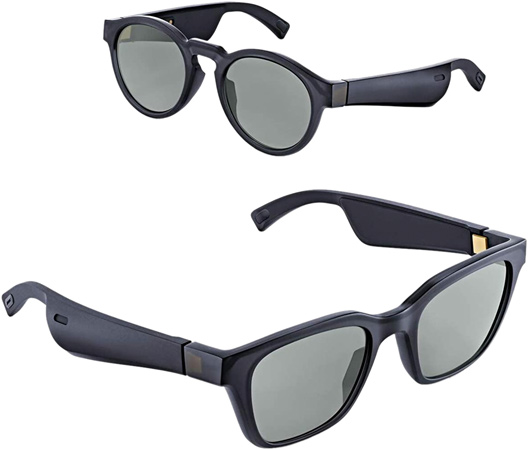 Why we like it: Sunglasses that allow you to listen to music without the bulk of headphones.
Listening to music is a popular hobby for teenage girls who often want to listen to their favorite songs as they go about their day. However, it's not always practical or even safe to wear headphones as they can distract you from paying attention to your surroundings. The Bose Frames Audio Sunglasses help to minimize this risk. As well as being a particularly cool gadget, these sunglasses with built-in Bose speakers provide open-ear audio so that you can stay aware of the surroundings whilst enjoying your music.
Others hear practically nothing as you enjoy a rich, clear sound. What's more, they are actually nice sunglasses too with a classic angular shape and lenses that block up to 99% of UVA and UVB rays. These sunglasses utilize Bluetooth connectivity for easy wireless pairing and even feature an integrated microphone so you can take calls and access your phone's virtual assistant.
Pros
Open ear audio allows for awareness of surroundings
Classic angular shape
99% of UVA/B rays blocked
Integrated microphone
Personalized settings with Bose App
Cons
Requires compatible device
11.
The North Face Women's Etip Gloves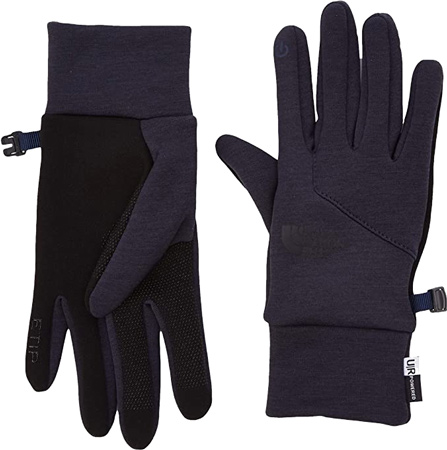 Why we like it: Weatherproof gloves that still let you use your phone.
A good pair of gloves is a great practical gift for a 17-year-old girl whether she's into outdoor sports or just spends a decent amount of time walking from one place to another. From high-quality outdoor brand The North Face Women's Etip gloves are made with four-way stretch fleece to retain dexterity and allow your hands to rest in a natural position, whilst also being completely weatherproof.
They come in women-specific, one size fits all with 5 Dimensional Fit so they're really comfortable to wear and the X-Static® fingertips give a precise grip as well as allowing fingers to use devices like phones, MP3 players or smartwatches. No more fiddling around, holding gloves between your teeth to send a text!
Pros
Different colors available
Works with touchscreens
Full dexterity
Completely windproof
Water resistant coating
12.
Belkin Boost Up Wireless Charging Dock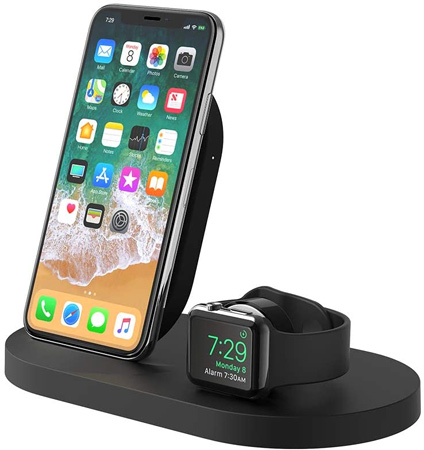 Why we like it: Ditch the tangle of wires on the nightstand and power up efficiently.
The tangle of wires on the nightstand, the fussing to find the right charger cable, fiddling around trying to plug in; all of this is a thing of the past with the Belkin Boost Up Wireless Charging Dock. This sleek device allows you to charge devices simply by placing them on the dock. No wires or plugging in required! Perfect for bringing a bit of order to a teenager's bedroom.
This all-in-one Apple charging solution is designed for iPhone, Apple Watch and Air Pods and supports a range of different series of these devices. The dock supports Nightstand Mode for the Apple Watch to enable the alarm clock feature as it charges. It can also charge any device with Qi charging technology without the need to remove phone cases.
Pros
Wireless charging
Designed for iPhone, Apple Watch, Air Pods
Supports Nightstand mode
Can charge any device with Qi technology
No need to remove phone cases
Cons
Devices need Qi technology in order to be charged
13.
Just the Ticket: Ticket Stub Organizer

Why we like it: Preserve memories with this display book for ticket stubs.
So many of us have a little collection of ticket stubs from special concerts, shows, trips, or sporting events tucked away for memories sake, and so many of us don't do anything with them! Instead, they stay gathering dust and taking up space, or eventually get lost or thrown out. With the Just the Ticket: Ticket Stub Organizer you can preserve up to 80 tickets as well as your own notes.
There's a handy pocket inside the back cover to tuck away bigger items like programs, wristbands or other keepsakes, so this makes the ideal gift for a 17-year-old girl to keep hold of as she goes off to university or college. Tickets are protected with archival quality sheets, and the lined pages are completely acid-free to last beyond your own lifetime, so you can create your very own piece of history.
Pros
Preserve memories with this display book for ticket stubs
Takes up to 80 ticket stubs
Space for own notes
Durable 2 ring binder
Expandable pocket at back
14.
Apexel 10-in-1 Phone Camera Lens Kit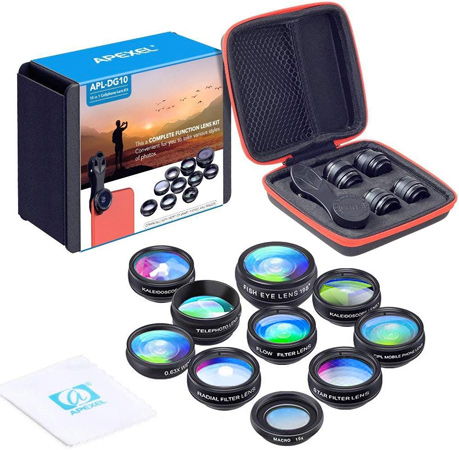 Why we like it: Shoot artwork quality photos with your phone.
Our phone cameras just keep getting better and better, so why not go along with that and simply add a lens to get that high-quality, artwork worthy shot using just your phone? The Apexel 10-in-1 Phone Camera Lens Kit includes a wide angle lens, macro lens, Fisheye lens, telephoto lens, kaleidoscopes, and a range of filters. Its unique clamp design is compatible with most smartphone and mobile devices and it even comes with a portable storage bag.
This makes an ideal gift for a 17-year-old girl who loves taking photos with her smartphone and is perhaps beginning to express an interest in photography as it bridges the gap between smartphones and higher quality cameras.
Pros
Develops interest in photography
Fits most smartphones
Includes a wide angle lens, macro lens, Fisheye lens, telephoto lens, kaleidoscopes, and filters
Portable storage bag
Cons
Requires compatible device
15.
Beauty Mirror with Approach Sensor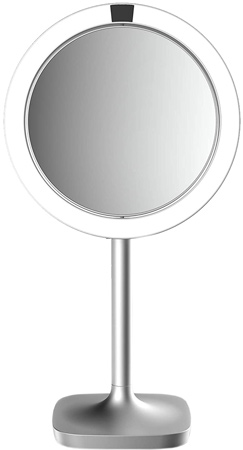 Why we like it: A double-sided, bright LED mirror with a swivel mechanism, perfect for applying make-up.
Perfect for a teenager's bedroom, the Beauty Mirror with Approach Sensor is a double-sided, bright LED mirror with a swivel mechanism. It is cordless and rechargeable with a clean, clear reflection in its distortion-free glass.
This mirror is motion-activated and illuminates as you approach it, making it super convenient to use for getting ready for the day and applying makeup. The 7x magnification feature is helpful too for detailed work. This mirror would make a practical, useful gift for most teenage girls and especially for those interested in hair or make-up.
Pros
Ideal for the bedroom
Double-sided
Distortion-free glass
Wireless
Motion-activated
16.
Timeless Crystal Trilogy Necklace
Why we like it:
A keepsake necklace with an important message about remembering the past, being in the present and looking forward to the future as an adult.
This would make a truly special gift for a 17-year-old girl that she will keep for the rest of her life. This luxury crystal necklace is designed with three solitaire stones that represent the past, present and future. It's the perfect message to remind her that she's transitioning into an adult and has the rest of her life ahead of her.
The three stones are high-quality Swarovski crystals that are resistant to clouding as standard cubic zirconia does. Given proper care, they'll continue to sparkle for many years to come. The rhodium-plated chain is dainty and perfectly complements the simplicity of the necklace design. This necklace would elevate the look of any outfit she is wearing. Whether she's off to college or starting her internship, this is the accessory that is going to make her feel grown up and remind her of the bright future she has to look forward to.
Pros
A gift with meaning

Rhodium plated- won't discolor

Comes in a luxury gift box

Keepsake into adulthood
Cons
Suggested removal for bathing
17.
Panda Luxury Memory Foam Bamboo Pillow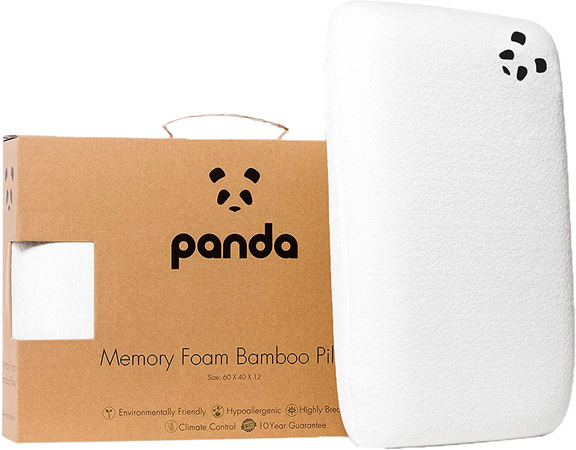 Why we like it: Promote comfort and relaxation with this luxurious memory foam bamboo pillow.
17-year-old girls are leading increasingly stressed and strained lives and need the opportunity to relax and unwind as often as possible the panda luxury memory foam bamboo pillow is a triple layer molded memory foam pillow to provide the ultimate comfort and support. It's hypoallergenic, Perfect for dust allergy sufferers and an anti-bacterial Panda bamboo pillowcase is included.
With a silky smooth touch, this pillow features temperature regulating technology to help keep the pillow cool in the summer and warm in the winter, whilst the cover is easy to remove and wash. Top-quality materials and three-layer construction means that the pillow is soft and comfortable to use but firm enough to provide the support needed for the perfect night sleep. At age 17 sleep is at a premium! so this makes the ideal gift for a 17-year-old girl. There's a 10 years manufacturer guarantee and a 30-night trial so you can buy with confidence.
Pros
Hypoallergenic
Antibacterial pillowcase included
Temperature regulating technology
Soft support
10-year manufacturer guarantee
Cons
Pillowcase in one color only
18.
Kodak Step Instant Printer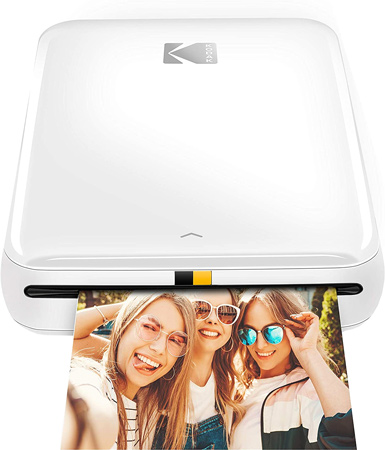 Why we like it: Get photos off your phone and instantly printed.
We live in an increasingly digital age and that has implications for the number of photos we print. 17-year-old girls love to preserve memories by printing off photos of their loved ones to display in their bedrooms or personal spaces but all too often photos get stuck on our phones and we do nothing with them. The Kodak Step Instant Printer is a solution to this allowing you to print pictures instantly straight from your phone, tablet or device.
This printer uses state of the art zero ink technology so there's no need to buy ink cartridges, toners or ribbons. Instead, it delivers high-quality, instant prints that are resistant to moisture and smudges. The free app allows you to easily edit photos adding filters, stickers or text, and the printer film has a sticky back so you can peel it off and stick it anywhere; this is bound to be a hit with 17-year-old girls!
Pros
Available in a variety of colors
Instant prints
Stick prints anywhere
Zero-ink technology
Free editing app
Cons
Need to buy specialized film
19.
Kindle Oasis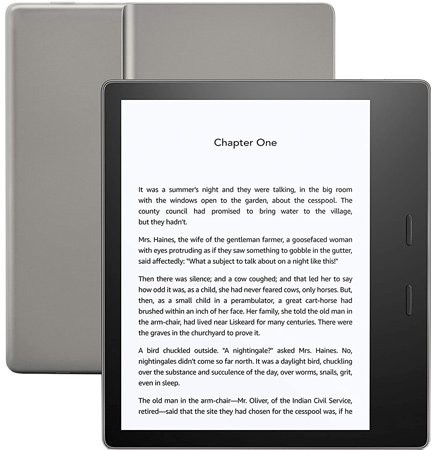 Why we like it: Reading in the bath? No problem! Relax with a long soak and a good book.
Who doesn't love to read in the pool or in the bath? well now you can with this completely waterproof Kindle. The Kindle Oasis is thin, light and has an ergonomic design so it's easy to turn pages quickly. It looks just like printed paper but you can also adjust the light to shift the screen shade from white to amber so you can customize your reading display. Reading is a great way for 17-year-old girls to relax and to gain knowledge so this is something that we should encourage and the Kindle Oasis is a fantastic way to do this.
With instant access to millions of books, newspapers and audiobooks the world is your oyster, and this device is also designed to work with Audible so you can pair it with Bluetooth headphones or speakers to switch seamlessly between reading and listening. There's no need to worry about getting pages wet or breaking an electronic device, the Kindle Oasis is built to protect against immersion in 6.5 feet of water for up to 60 minutes, so a little splash in the bath is nothing to worry about!
Pros
Encourages relaxation
Thin, light, ergonomic design
Protected against immersion in water
Access to millions of books
Works with audible
Cons
Requires Amazon account to buy books
20.
Hydro Flask Hibiscus

Why we like it: A hydration hero the hydro flask encourages healthy water intake.
We all need to drink more water and this includes teenagers it is especially important for teenagers to hydrate their bodies adequately. Many teenagers do not get the sleep they need so hydration is the next best thing the hydro flask is a double-walled vacuum-insulated drinks flask which keeps drinks cold for up to 24 hours and hot for up to 12 hours making it a great option for taking on the go to encourage healthy hydration habits throughout the day.
It's made with food-grade stainless steel and its strong durable design is perfect for a teenagers lifestyle And since this flask is available in a range of sizes you can choose the one that will suit the teenager you're buying a gift for most.
Pros
Available in a range of sizes
BPA and phthalate free
Durable design
Keeps drinks cold 24 hours and hot 12 hours
Encourages healthy hydration habits
Cons
Need to tip to drink. No straw or similar
21.
Converse Cross Body Mini Bag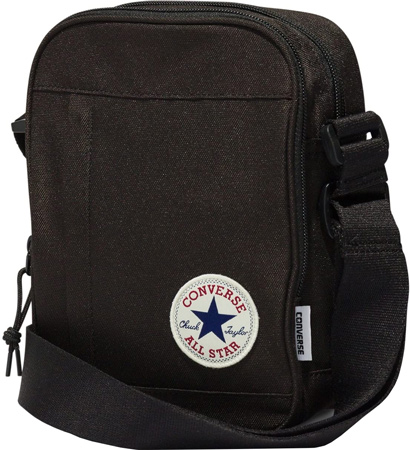 Why we like it: Practical, convenient bag from a popular brand.
Converse is a popular and instantly recognizable brand. How many 17-year-old girls own a pair of shoes from converse so why not treat them to a matching bag too? With an adjustable shoulder strap and plenty of room inside, this bag is convenient for taking to school, out with friends or wherever she's going.
There are plenty of pockets, all zipped for the ultimate security and convenience, and the smaller size of the bag means that it's easy to carry. It comes in black canvas so matches any outfit and is suitable for most occasions this makes a great practical, convenient bag and a great gift for a 17-year-old girl!
Pros
Popular brand
Adjustable shoulder strap
Zipped pockets
Neutral color
Practical bag
22.
Kawaii Tarot: A 78-Card Deck of Magic and Cute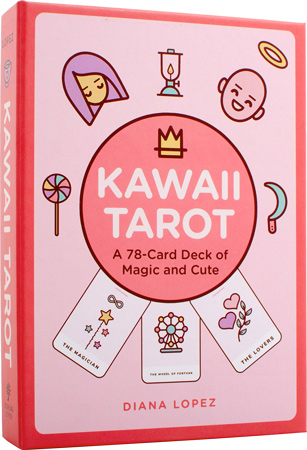 Why we like it: Cute tarot cards, perfect for beginners.
Many 17-year-old girls are beginning to explore the spiritual aspects of life and enjoy experimenting with things like tarot cards this set is made with the adorable Japanese art style, kawaii, popularised by comics, TV fashion and more. This makes it a cute, girlie set ideal for beginners.
The 78 card deck comes with an accessible guidebook to help you interpret your tarot readings and the sweet pastel colored design will appeal to most 17-year-old girls. If the girl you're buying for is interested in spirituality or all things Japanese then this is the gift for her.
Pros
Kawaii style designs
Encourage exploration of spirituality
Ideal for beginners
Accessible guidebook
Cons
May not be suitable for some religions
23.
This Works Deep Sleep Pillow Spray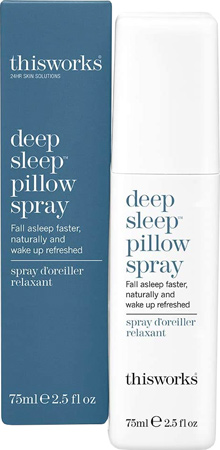 Why we like it: Help her get the rest, relaxation and recharge she needs with this luxurious pillow spray.
Sleep is so important for teenagers who are growing physically and cognitively but many teenagers don't get the rest that they need and sleep problems are increasingly common amongst teens. Why not give the gift of relaxation with This Works Deep Sleep Pillow Spray?
This spray combines lavender, chamomile and vetivert to relieve anxiety, Calm the mind and improve sleep quality so you wake up feeling refreshed and ready to face the day. This Works is a popular skincare brand and they have made this pillow spray to encourage deeper sleep which in turn helps improve skin overnight skin is repaired so this helps to promote regeneration for clearer, brighter and healthier-looking skin. Made with 100% pure essential oils and no sulfates, phthalates, synthetic colors, parabens or petroleum, this is a very 'clean' product perfect for teens.
Pros
Helps promote healthy sleep patterns
Lavender chamomile and vetivert scent
Relieves anxiety
Improves skin
Made with 100% pure essential oils
Cons
Need to check for allergies
24.
Renpho Foot Massager with Heat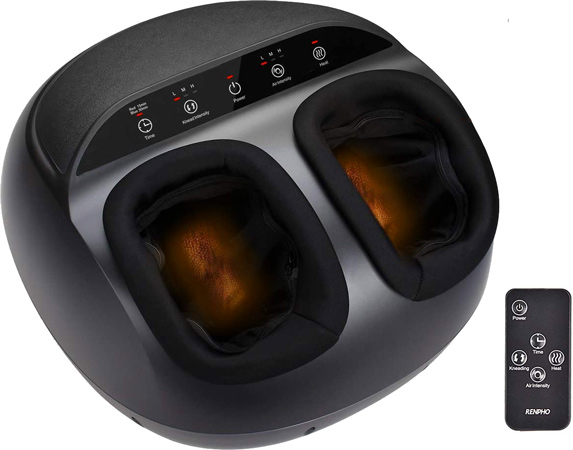 Why we like it: Whole-body relaxation through foot massage.
When stress accumulates the body doesn't function as well as it should and neither does the brain so it's really important to release stress regularly massage is a great way to do this and foot massage, in particular, has benefits to the whole body. The Renpho Foot Massager with Heat can help to relieve pain improve blood flow reduce stress and promote better sleep.
The ergonomic design gives a full comfortable massage just like a professional there are three kneading intensities and three air pressure levels which can be adjusted to your own preference the heat function is particularly soothing and can be controlled independently of the other settings. With the remote control, there's no need to bend to adjust the settings and a 12-month warranty means that you can buy with confidence.
Pros
Relieves stress and improves sleep
Ergonomic design
Three kneading intensities, 3 air pressure levels
Remote control
12-month warranty
Cons
May not be suitable for some health conditions
25.
Designer Zippered Wristlet Wallet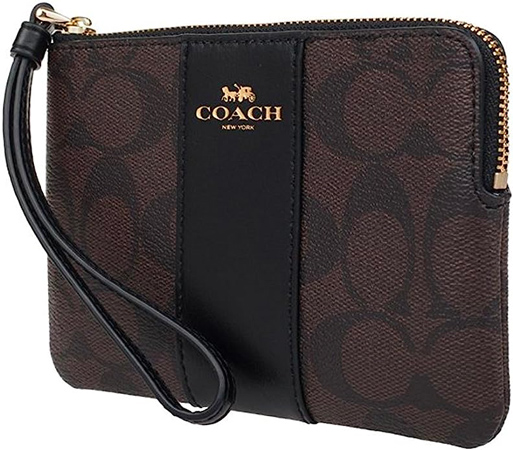 Why we like it:
A beautiful, high-quality designer wallet that will stay fashionable as she matures into her adult years.
Give a gift that any 17-year-old girl is going to be proud to show off to her friends. This lavish gift is going to make her feel sophisticated and grown up every time she pulls out her wallet. Made by Coach, this designer wallet is made of top-grade leather that is printed in an ultra-feminine pink and floral pattern. It features a removable wristlet strap for easy carrying and a wide zippered compartment to carry loose change, cards, ids and cash.
Not only does this wallet exude style, but the vibrant pattern will also be age-appropriate as she matures into her twenties and beyond. This is a great alternative to larger wallets, perfect for a 17-year-old who only likes to carry the necessities she needs. Whether she's using it as a standalone wristlet or as a wallet in her backpack, this lux accessory is going to have all her friends admiring her fun and colorful style.
Pros
Genuine leather construction

Removable wristlet strap

Available in various cheerful patterns

Inspires a fun personal style
Cons
Does not include a gift box
26.
Oxo Sweep & Swipe Laptop Cleaner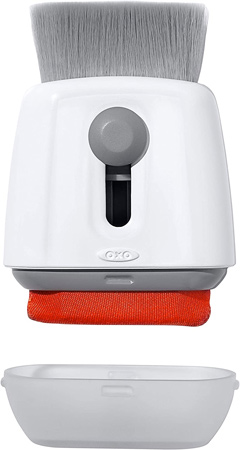 Why we like it: Great little practical gift for keeping gadgets clean.
If you're looking for a small practical gift or stocking stuffer then the Oxo Sweep And Swipe Laptop Cleaner is just the ticket. This double-sided tool cleans laptops tablets and smartphones safely the microfiber pad helps to remove smudges or fingerprints from screens whilst the soft brush is suitable for sweeping away dust and dirt from keyboards.
As 17-year-old girls are renowned for having a lot of gadgets this is the perfect tool to help keep them clean. There's no need to use water or harsh chemicals so everything is extremely safe and Oxo offer great customer service so you can buy confidently!
Pros
Practical gift
Double-sided tool
No water or chemicals
Safe cleaning
Great customer service
27.
TP-Link Kasa Smart Bulb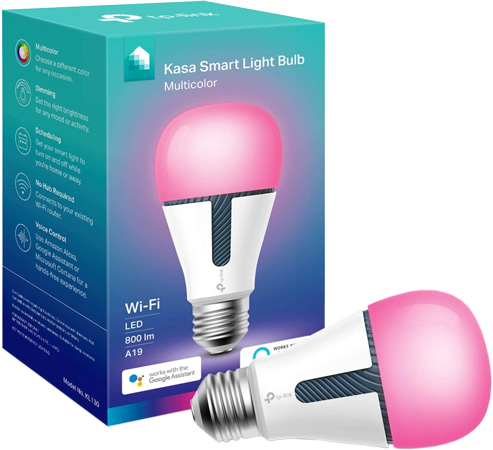 Why we like it: Create ambiance with this smart lightbulb.
At 17 years old most girls enjoy having that own space and creating their own retreat the TP Link Kasa Smart Bulb is compatible with Amazon Alexa and Google Assistant and can be controlled completely using your voice. It works with any Wi-Fi router without the need for a separate hub and is great for changing the ambiance of a space.
With a wide range of colors and dimming settings you can set the mood you want, it's easy to set schedules to switch lights on and off automatically and you can also use your tablet or smartphone to control the lights wherever you are, even when you're not at home! This bulb offers endless lighting possibilities, is easy to install and makes a great gift for a 17-year-old girl who loves her own space.
Pros
Compatible with amazon Alexa and Google assistant
Voice-controlled
Works with any wi-fi router
Creates ambiance
Control lights went away from home
Cons
Requires compatible devices
28.
Repel Windproof Double Vented Umbrella
Why we like it: Perfect, practical gift with a lifetime guarantee.
It might sound silly, but a good umbrella is something that you tend to hold onto for years to come so the Repel Windproof Double Vented Umbrella makes the perfect practical gift for a 17-year-old girl as she gets ready to join the adult world. With a lifetime guarantee, the company is obviously confident that you will love and use this umbrella for years and years and that it will be effective protection against all kinds of weather; they promise it will stand up to rain, wind sleet and snow.
With an automatic open and close function this umbrella can easily be operated using just one hand which makes it extremely convenient. This umbrella has been featured on TV programs and rated as the best umbrella in 2019. Designed with nine resin-reinforced fiberglass ribs, as opposed to the standard six or eight this umbrella, is much more able to withstand powerful gusts of wind without turning inside out. What's more, this umbrella is designed to not only protect from the elements but to repel them the outside of the umbrella has superior repellence, so it's waterproof, weatherproof and instantly dry making this the perfect all-round umbrella.
Pros
Practical gift
Lifetime guarantee
Automatic open and close
Featured on TV
Windproof
29.
Beautify Acrylic Jewelry Organizer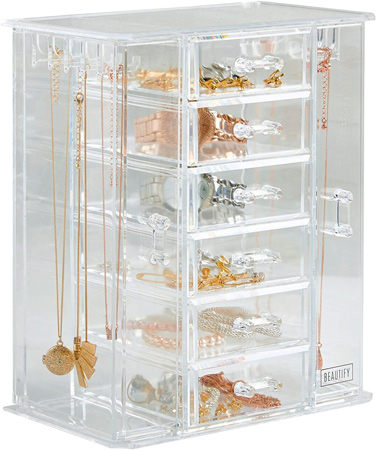 Why we like it: A practical and attractive way to store jewelry.
By age 17, most girls have amassed a collection of jewelry, but teenagers aren't renowned for their organizational skills! When jewelry is left unorganized or in a tangled mess in a drawer you risk damage to the items. The Beautify Acrylic Jewelry Organizer is a practical and attractive solution; it's a great way to store jewelry such as necklaces rings and earrings.
There are six spacious draws with a special lining, two side compartments and nine hanging hooks. An expanding design means that there's plenty of room for an entire jewelry collection to be organized it's made from high-quality clear acrylic and there's no assembly required so you can start using it straight away Its compact design means that it doesn't take up too much space in the bedroom and it can be used for both jewelry and other items such as hair clips perfumes or makeup brushes.
Pros
Organizing solution
6 drawers, 2 side compartments and hanging hooks
High-quality clear acrylic
Compact design
30.
Foreo UFO Smart Mask Treatment Device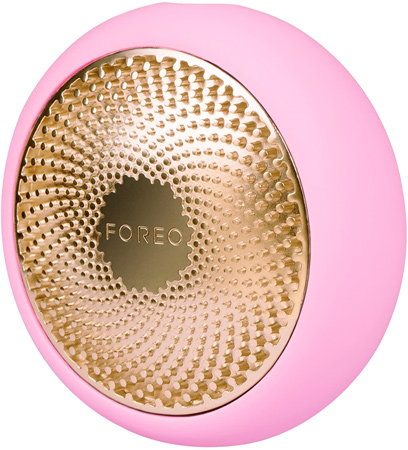 Why we like it: Make your skincare work smarter not harder.
Teenage skin needs a little extra TLC and the Foreo UFO Smart Mask Treatment Device Is a great way to get skincare treatments to work smarter not harder. It's designed to work with sheet masks from Foreo and is app controlled to make each different mask the most effective. This allows you to access an advanced and professional treatment from the comfort of your own home.
The smart mask treatment device makes use of LED light therapy heating cooling and T Sonic pulsations. This improves skin health by increasing blood circulation and drawing out impurities as well as reducing the appearance of pause and combating inflammation The T Sonic pulsations provide a soothing facial massage and increase the effectiveness of skincare products. Using the smart mask treatment device you can cut the time needed for a sheet mask treatment from 20 minutes to 90 seconds, ideal for busy 17-year-olds!
Pros
Suitable for teenage skin
Improves skin health
Soothing facial massage
Cuts time needed for treatment
Cons
Compatible face masks required
Final words
By age 17 most girls are a lot calmer than they were during the early teenage years; there are fewer hormonal shifts and they have an increased sense of control over their world and their lives. However, this means that they often have increased responsibilities and pressures, so they will still rely on adult support, whether that's practical or emotional, to get through the next few years and join the adult world.
When you are buying a gift for a 17-year-old girl you might consider what she will need, both in the long term and the short term. So, it may be that you buy her products to help her get a good night's sleep now, or you buy something that will be useful and practical as she is propelled towards adulthood. We've brought together a collection of great gifts for 17-year-old girls based on the stage of life that they are at and the issues they may be experiencing, as well as popular interests and pastimes. We hope that you are able to find the perfect gift for the 17-year-old girl you are buying for!
Need more inspiration?