By the time a little girl reaches one year old she has already developed rapidly from a tiny, dependent baby to an almost-toddler with lots of personality! So, if you're looking for a gift for a 1-year-old girl this list of 29 ideas may be useful. We've included toys and gifts that will appeal to a wide range of personalities and support different kinds of development, so there's sure to be something to suit the little girl you're buying for.
1.
Fisher-Price Smart Stages Puppy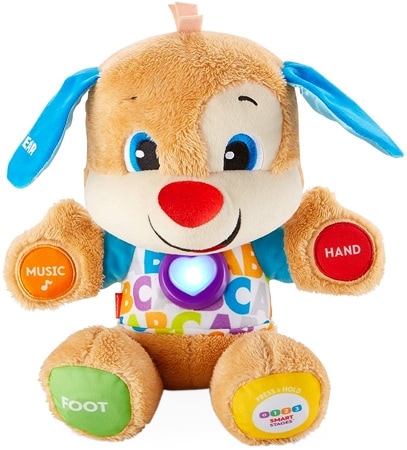 Why we like it: A cute and cuddly puppy toy that also promotes speech, language and learning.
The Fisher-Price Smart Stages Puppy is a cute, cuddly puppy toy with plenty of interactive buttons. His hands, feet, ears and heart can all be pressed to achieve different effects which will increase children's understanding of cause, effect and technology.
The Smart Stages Puppy is also very educational, and will last over a few years as it teaches words, colors, letter and numbers at the press of its buttons. This also promotes listening and attention skills and speech and language development, and can be tailored to the child's age and developmental stage as the Smart Stages Puppy has 3 different 'levels' of learning that can be selected. This level system means that the Smart Stages Puppy is a toy that will last a child a good number of years.
Pros
Soft and cuddly toy
Educational- teaches words, colors, letters and numbers
Increases understanding of cause and effect
Promotes speech and language development
2.
Interactive Toddler Baking Set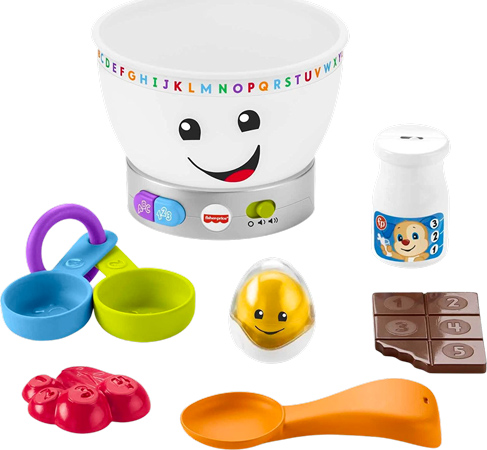 Why we like it: An interactive way for young children to learn and develop important skills while engaging in imaginative play.
The Laugh & Learn Magic Mixing Bowl by Fisher-Price is a great gift idea for a one-year-old girl if you're looking for something that will be both entertaining and educational. The set includes toddler versions of classic baking tools, including a mixing bowl, measuring cups and a spoon. It even includes ingredients like milk, cherries, a chocolate bar and an adorable egg that doubles as a rattle.
Playing with the Magic Mixing Bowl can help improve hand-eye coordination, dexterity, and problem-solving skills as they pretend to crack open the egg and mix ingredients together. The mixing bowl also lights up and plays fun sounds and music, ensuring every playtime is a fun and engaging experience. Imaginative play is important for a child's development and this toy will make sure the lucky little girl baking with this set is serving up the most delicious imaginary cupcakes on the playground.
Pros
Familiarizes with cause and effect

Improves fine motor skills

Encourages creative play

Everything stores inside the bowl
Cons
Requires batteries

Limited age range (6-36 months)
3.
Lego Duplo Classic Brick Box Building Set

Why we like it: Provides open-ended play promoting imagination and construction skills, Duplo is timeless and built to last.
Duplo doesn't seem to lose its appeal through the ages and is really built to last; many grandparents keep hold of their children's sets for when the grandchildren come to play and it holds just as much interest now as it did then. This set of 85 pieces has some building ideas, but is also open-ended enough to allow children to design and build their own constructions too.
At 1 year old most babies are interested in construction, and are beginning to develop the strength and dexterity needed in their hands to use toys like Duplo. This is a gift that will really last, and can be connected with other Lego Duplo sets throughout the years.
Pros
Timeless favourite- loved by generations, not a fad
Open-ended- promotes imaginative play
Develops strength and dexterity in hands
Convenient storage box
Cons
Made of plastic
Young toddlers may need some help
4.
Fisher-Price My Potty Friend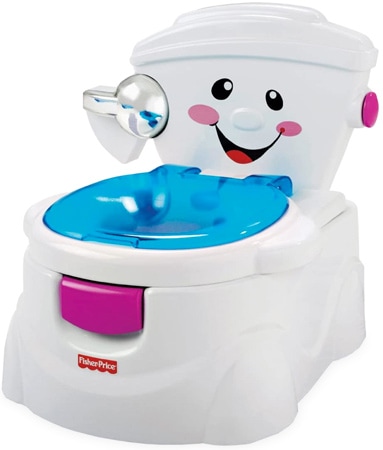 Why we like it: Some one-year-olds may be ready to begin the potty-training process; this product helps with their physical development and includes fun sounds and music to encourage the process along
Once their child turns one some parents may begin to think about potty training, or their little girl may begin to show an interest in what the big toilet is used for. The Fisher-Price My Potty Friend is a smaller version of a real toilet with many of the same features; a moving flush handle and a place to hold toilet paper so is a novel way to begin toilet training. There are fun lights, sounds and music which reward 'success' and the bowl is removable which makes clean up much easier.
Even if the little girl you're buying for isn't quite ready to potty train yet she can still spend time getting used to the idea and the potty, and this one will really appeal to young toddlers!
Pros
Begins the process of toilet training
Resembles a real toilet
Seat and lid can be attached to the toilet
Fun sounds to reward success
Cons
Many 1-year-olds will not be ready to potty-train
Requires batteries
5.
Mamoi Baby Swing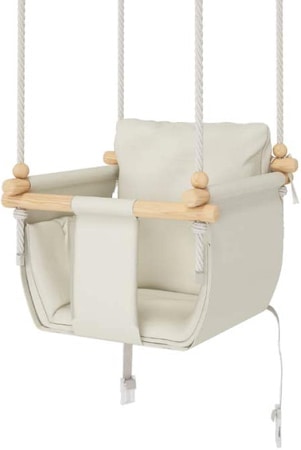 Why we like it: Safe swing seat that can be used indoors, provides sensory input and increases core strength.
The Mamoi Baby Swing is an indoor fabric swing that can be hung from structurally sound ceilings so that the baby can enjoy swings, just like at the park, from the comfort of home! This is ideal if you live in an area with adverse weather, or simply can't get out every day. Swings are a firm childhood favourite even with fairly young children and the adjustable nature of this swing means that safety is paramount.
The swinging action activates the vestibular system in children, which helps them to develop balance and coordination, and is also a soothing sensory input helping children to calm down when needed. The motion provided by a swing also promotes the development of a strong core as the child learns to sit up and contend with the varying forces on their body by activating their core muscles. The Mamoi Baby Swing is made using eco-friendly materials so is kind to the planet and can be used until around 3 years of age meaning that it will last a few years.
Pros
Can be used indoors
Made from eco materials
Can be used up to 3 years
Adjustable fastenings make it safe for children of different sizes
Cons
Requires adult supervision at all times
Needs appropriate space to hang
6.
Fascol 7 in 1 Kids Trike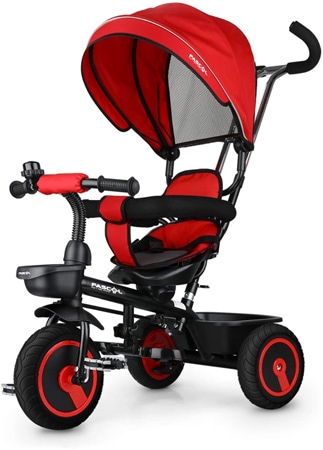 Why we like it: A great, versatile trike toy that will develop with the child. Increases physical strength and skill.
Trikes are a popular present for a first birthday as they provide a new way for babies to see the world. Most 1-year-olds enjoy going for a walk in the stroller and seeing the sights and the sounds of the neighborhood, and a trike provides a new, more independent way to do this.
The Fascol 7 in 1 trike is extremely versatile and adaptable and can be used all the way up until 5 years of age making it a long-lasting gift. To begin with a safety frame ensures that a young toddler is held safely whilst being pushed along, but soon they can place their feet on the pedals and feel the motion, or begin to steer a little, all of this is fantastic for their physical development. This model then converts into a full trike for older children. With a full sunshade, foam grip handles and rear basket this trike has all the conveniences of a stroller too.
Pros
Long lasting- can be adapted for older children
Adjustable safety features to cater for different sized children
Convenience of a stroller
Promotes physical activity and outdoor time
Cons
Requires adult to push in younger stages
Need storage space- doesn't fold
7.
Hape Country Critters Play Cube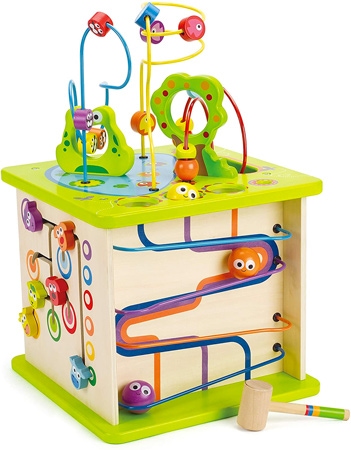 Why we like it: Promotes problem solving, logic, dexterity, fine motor skills and exploration as well as encouraging child to play in a standing position, increasing balance and strength.
The Hape Country Critters Play Cube is a beautiful wooden toy with plenty of levers, shapes, beads and mazes to encourage children to use their hands to move all of these components, thereby increasing their dexterity and fine motor skills which lay the foundations for writing much later on. Children will develop and improve their problem-solving skills as they work out how to move items around the cube.
The height and stability of the play cube also encourage younger toddlers to pull to stand, increasing their balance and strength in their legs ready for walking. With plenty of different components to explore and experiment with this is a gift that will last a little girl a while.
Pros
Made of wood
Promotes logic
Improves children's dexterity and fine motor skills
Encourages standing play
Does not require batteries
Cons
Fairly large item- requires storage space
8.
Fisher-Price Bounce and Spin Zebra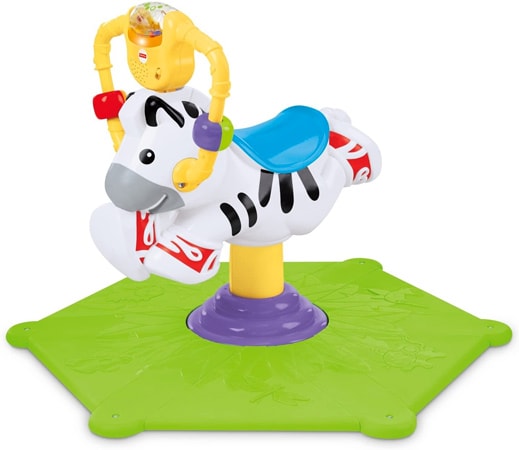 Why we like it: Bouncing fun whilst promoting balance, core strength and coordination this will delight any 1-year-old girl!
The Fisher-Price Bounce and Spin Zebra is likely to be an instant hit that will give a 1-year-old hours of fun. A modern take on a rocking horse, the Bounce and Spin Zebra is a toy that the child can ride on top off and it bounces up and down as well as spinning 360 degrees, helping to develop strength in the core and leg. As children bounce and spin, they are rewarded with lights, sounds and music, stimulating their auditory and visual senses, making this a great all-round sensory experience.
Pros
Improves gross motor skills
Increases strength in the legs
Can be easily cleaned
Stimulates auditory and visual senses
Cons
Requires batteries
Needs space to play
9.
Baby Einstein Toddler Jams Musical Toy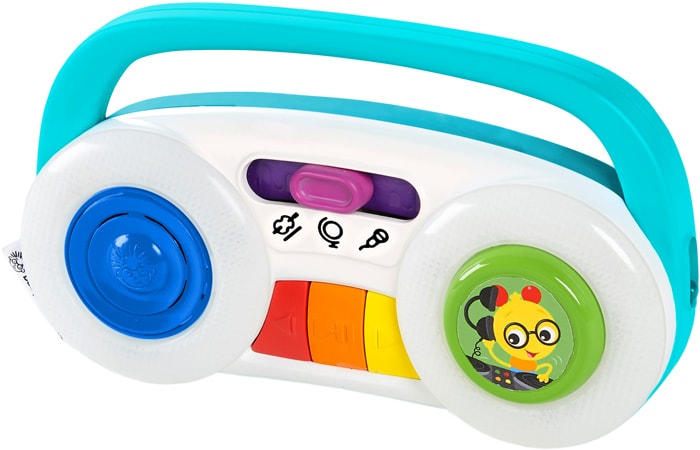 Why we like it: Babies love music and dancing and this toy provides a variety of music, lights and sounds to stimulate the auditory system.
The Baby Einstein Toddler Jams Musical Toy taps into babies' natural love of music and dancing by providing a variety of musical styles at the touch of a button. As children learn how to use buttons, they develop their understanding of cause and effect and how technology works. The Baby Einstein Toddler Jams Musical Toy is also reasonably sized and portable meaning that it's easy to take along on a playdate, car ride or to grandma's house to keep a little one entertained. If the 1-year-old you're gifting loves music and dancing then this is sure to be a hit.
Pros
Portable
Develops auditory system
Enjoyable- different types of music
Encourages exploration of technology
Volume control
10.
Princess Pop-Up Tent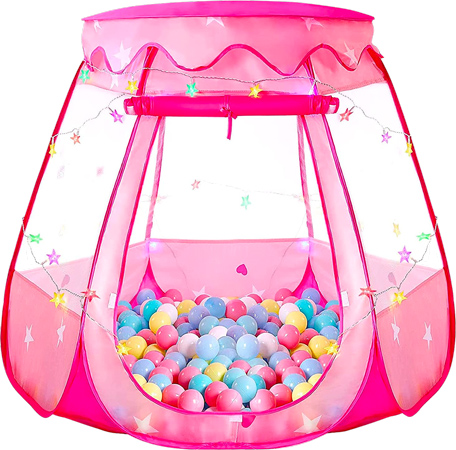 Why we like it:
An entertaining safe haven for toddlers designed to be a ball pit but equally fun as a light-up tent.
This fun gift is going to make any one-year-old little princess happy. Children love having a secure retreat that feels uniquely theirs and this tent will undoubtedly become her new beloved hideaway. Parents will love it too due to the convenience of the instant pop-up feature, making it the ideal companion for outdoor playtime or traveling playdates.
It's made of a highly durable polyester that can be easily wiped clean and is designed using anti-scratch velcro for added safety. The removable sunroof, mesh windows and crawl door make it easy to keep an eye on the inside while the built-in LED lights make this a dazzling delight for toddlers. It's not just a tent though. Make this tent really special by adding the colorful balls it was designed to hold. You do, however, need to buy the balls separately. It'll be worth it though!
Pros
Encourages independent play

Improves gross motor skills

Durable and cleanable polyester

Folds flat into a travel case
Cons
Balls sold separately

Lights require batteries
11.
VTech Hop-A-Roo Kangaroo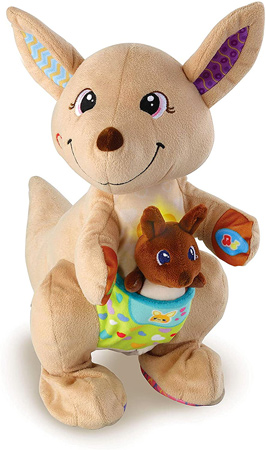 Why we like it: A cute plush musical toy that encourages baby's movement and physical skills.
The VTech Hop-A-Roo Kangaroo is a plush toy mother kangaroo with a cute little joey who fits in her pouch! This in itself will encourage imaginative play, and dexterity as children learn to take the joey out, and put the joey back in to the pouch. The Hop-A-Roo Kangaroo stimulates auditory and musical learning through speech, songs and kissing noises and can also hop across the floor just like a real kangaroo! This movement feature will not only delight children but will also encourage them to develop their physical strength and skills as they crawl, shuffle or toddle after the Hop-A-Roo. This is a great gift for encouraging a 1-year-old's movement.
Pros
Encourages movement and physical development
Opportunities for imaginative role-play
Stimulates auditory and musical learning
Eco-friendly recyclable packaging available
Cons
Requires batteries
Works better on hard-flooring than carpet
12.
Trihorse Wooden Marble Run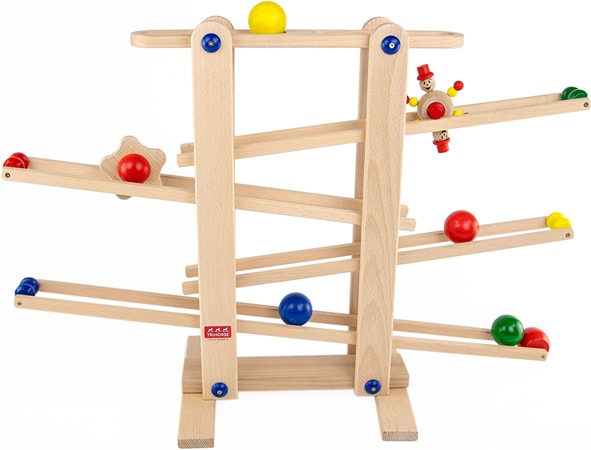 Why we like it: Beautiful wooden toy that engages imagination, motor skills and understanding of cause and effect.
Marble runs are a brilliant toy that promote all sorts of different learning and development; obviously a traditional marble run is not going to be suitable for a 1-year-old due to the choking hazard of the marbles, but the Trihorse Wooden Marble Run solves this problem! The marble run itself is made of wood, which makes it much eco-friendlier and more timeless than a plastic alternative and is pre-constructed for the child as 1-year-olds would likely struggle to set up a working run.
Instead of using marbles the Trihorse Wooden Marble Run uses riding toys, that fit onto and progress down the run without posing any kind of choking hazard to the child, they are also a better size for little hands to manipulate. The Trihorse Wooden Marble Run is a great way for children to learn about cause and effect and how the world works as they learn to place the toys at the top of the run and track their progress down.
Pros
Uses riding toys instead of marbles- safe for young children
Pre-constructed run- easy to use
Develops understanding of cause and effect
Promotes motor skills
Made of wood- eco-friendly and long-lasting
Cons
Larger toy requiring storage space
13.
Amy & Benton Piano Keyboard Toy for Kids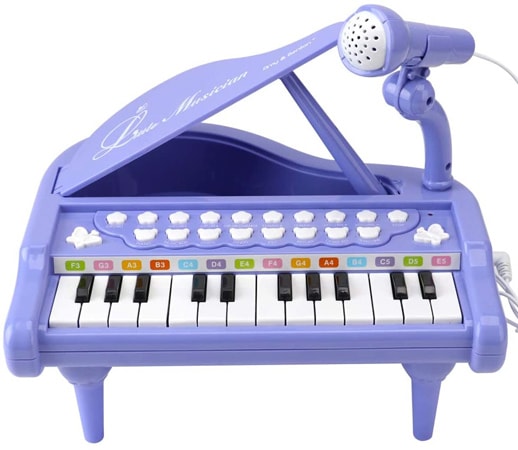 Why we like it: Perfect for a budding musician, this toy uses music and sounds to engage the auditory system and promote listening and learning.
Lots of children like music, and many of them like to make their own music, the Amy & Benton Piano Keyboard looks like a real piano keyboard which builds familiarity with real instruments. Young children will enjoy experimenting with cause and effect by pressing the keys and buttons and listening to the different notes and sounds produced. This also develops hand-eye coordination as they learn to direct their hands and fingers to particular buttons or keys to repeat a favourite sound.
As children get older the Amy & Benton Piano continues to offer plenty of learning opportunities as it offers the sounds of 8 percussion instruments, 4 musical instruments, different volumes and rhythms and a record and play function. This is a gift that will last a child many years and grow with them as their musical ability develops.
Pros
Looks like a real piano
Promotes listening skills
Develops understanding of cause and effect
Enhances hand-eye coordination
Different activities make it suitable for varying ages
Cons
Requires assembly
Requires batteries
14.
Lego Duplo My First Alphabet Truck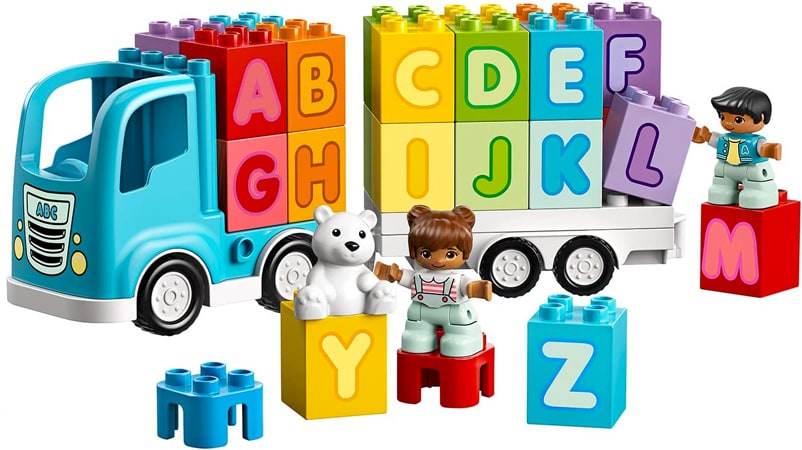 Why we like it: Classic Lego Duplo combined with a vehicle and the opportunity to look at letters of the alphabet!
Whilst it's unlikely that a 1-year-old is going to be learning the alphabet any time soon, early exposure to letter shapes and discussion of their sounds is not going to set them back at all! The Lego Duplo My First Alphabet Truck makes a great gift for a 1-year-old as it combines Lego Duplo, with a vehicle. At age one most children are interested in pushing and pulling vehicles, and constructing and building towers and both of these enhance their physical strength and skill. The blocks from this set can also be combined with any other Lego Duplo the child has which means that play can be even more open ended.
Pros
Duplo is timeless and durable
Promotes physical skills
Early letter recognition opportunities
Can be used with other Lego Duplo sets
Cons
Doesn't come with a storage box
15.
Brio My First Railway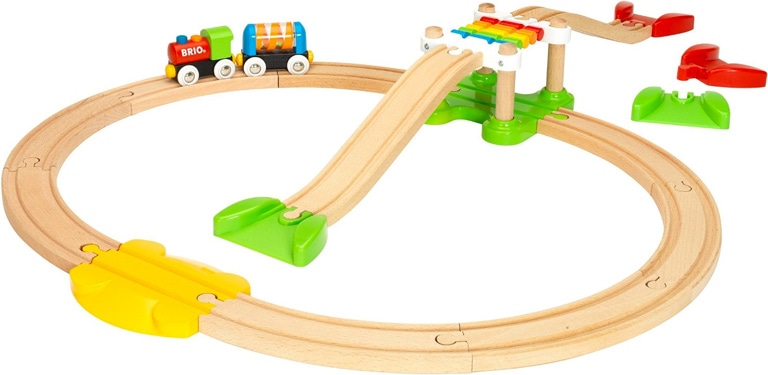 Why we like it: Classic train track toy which encourages construction, dexterity, coordination and imaginative play.
Train tracks are a classic children's toy and with good reason! They offer plenty of different learning opportunities and can be very open-ended; there is not just one way to put a track together so children can experiment with their construction skills and imaginations to develop their own track structures. Putting track together requires accuracy and patience as well as good fine motor skills and dexterity, and pushing trains along the track promotes physical skills and strengths like squatting, crawling or shuffling and balance.
Train tracks are the kind of toy that will be played with again and again and used in different ways as children get older so they represent a good investment; this Brio set also connects to other wooden train tracks so can be used with other sets the child may have or get later on.
Pros
Classic, timeless toy
Promotes construction skills
Enhances physical skills and dexterity
Encourages imaginative play
Connects with other wooden train-tracks
Cons
Will require adult help to begin with
16.
Selonis Soft Ball Pit Pool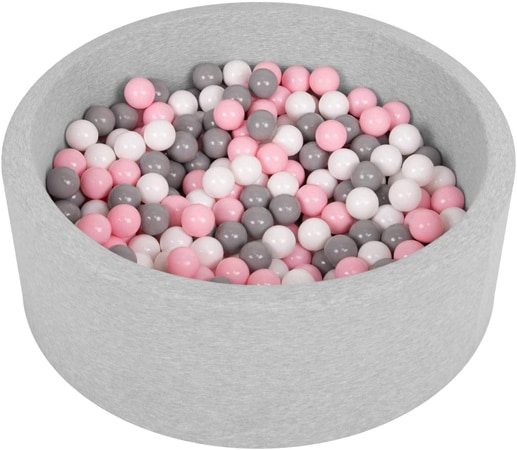 Why we like it: Like having a soft-play center in the comfort of your own home! Ball pits are great fun for children and develop their physical skills too.
Kids love ball pits! But often the 'at-home' versions are brightly colored, flimsy and just plain unsightly which is why the Selonis Soft Ball Pit Pool is such a welcome change for parents! Its soft fabric sides are safe for small children whilst also being sturdy enough to stand up to the rigors of being climbed and jumped all over, and are tastefully colored to fit in with modern home décor. The covers are removable and washable too meaning that it's pretty easy to keep the Ball Pit Pool clean.
Children will have hours of fun, jumping, climbing and burying themselves in the pool, and this all promotes the development of their physical skills and strength; for example, sitting in the ball pool on an uneven surface requires much more engagement from core muscles and balance than sitting on a flat surface.
Pros
Great fun for children of varying ages
Increases physical skill and strength
Removable, washable covers
Soft and safe for small children
Stylish and modern, fits in with home decorations
17.
VTech Play & Learn Activity Table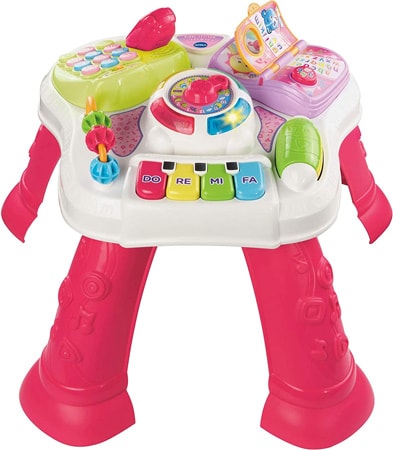 Why we like it: Great interactive and educational toy that encourages children to stand to play.
At 1-year-old you may be looking to encourage children to stand up more to increase the strength in their core and their legs ready for walking, this VTech Play & Learn Activity is a great way to give them the encouragement they need to do just that. It is a low table, absolutely covered with interactive elements and buttons that will develop a child's understanding of cause and effect as they press each button and learn what it does.
The table is also educational in that it teaches colors, numbers and shapes through speech and music, this will help with a 1-year-old's speech and language development as they listen to and imitate sounds and words. This also means that it will last for a few years as the child develops an understanding of the concepts of shape, number, color and so on.
Pros
Encourages children to stand to play
Develops understanding of cause and effect
Stimulates auditory sense
Educational- teaches colors, numbers, shapes etc.
Cons
Requires batteries
Large toy which requires space
18.
Safety 1st Wooden Step Stool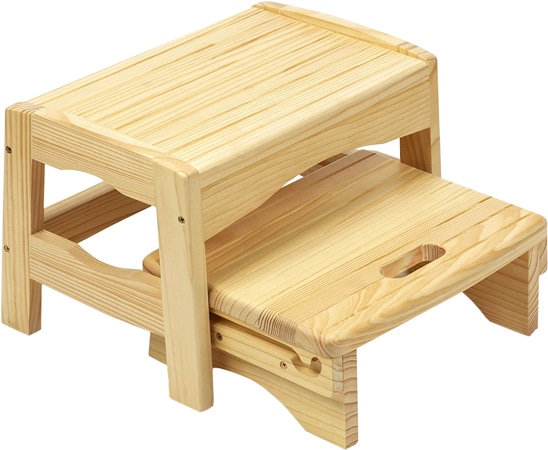 Why we like it: A beautiful step stool that can be used to help with brushing teeth, washing hands, toilet training, or to reach toys and books from higher shelves.
Around about the one-year mark babies start to express their need for independence, and may protest about adult help with getting dressed, brushing teeth and washing hands. It's best just to go with it and encourage their independence in self-care whilst also helping to make sure that their basic hygiene needs are taken care of. The Safety 1st Wooden Step Stool is a safe way to allow your child more independence in hand-washing, tooth brushing and later, toilet training. It has 2 platforms which can be used independently or as steps up onto a safe surface.
The Wooden Step Stool is much more visually pleasing than plastic alternatives and may fit in better with the home décor. As well as being used in the bathroom for self-care tasks it could also be used as a step to reach higher toy or book shelves in the playroom or bedroom. This makes a practical and useful gift that will last a child many years.
Pros
Choice of two heights
Made of wood- eco-friendly
Increases independence
Promotes physical skills and self care
Cons
Slightly more difficult to clean than plastic
19.
Sophie la girafe Baby Teething Toy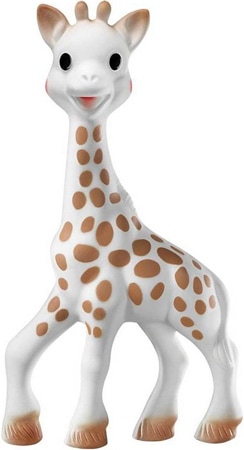 Why we like it: A teething toy that is popular with babies and parents around the world!
Sophie la girafe has become synonymous with teething toys. This teething toy is incredibly popular globally and id made from 100% natural rubber and painted with food-safe paints to ensure that it is both durable, and safe to be chewed on. Whilst a 1-year-old may have begun cutting teeth already they generally will continue to do so up until around age 2 and a half and the teeth that come later on can cause more discomfort than the earlier ones, so Sophie will represent a good investment for a 1-year-old. Sophie la girafe has a distinctive squeaking noise when she is squeezed which helps children to understand cause and effect as they repeat actions to achieve the desired effect.
Pros
Promotes sensory development
May help with teething pain
Made from natural rubber
Cons
Cannot be submerged in water
20.
Bobby Car Next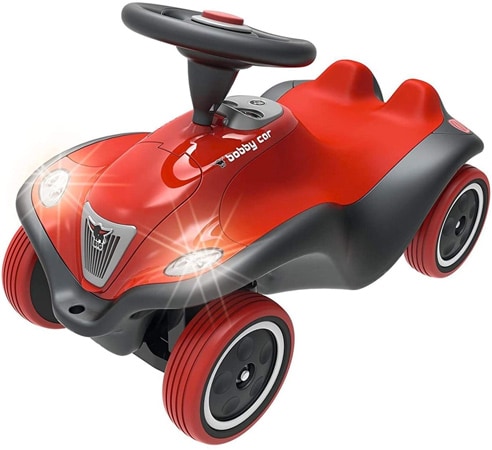 Why we like it: Promotes physical strength, development and balance and helps children stay active whilst enjoying playing with lights and sounds.
For some reason we don't seem to have moved on from the stereotype that boys like cars, so, often, little girls are not bought toys like the Bobby Car but they love them! By 1 year of age most children are good at bearing weight on their legs, have the core strength to balance and are beginning to, or in the process of learning to walk, ride on toys help to strengthen leg muscles further as children need to push their own weight and the weight of the toy.
The Bobby Car is built to last, with a high weight limit of 100 lbs and built in knee recesses to accommodate older children, so this is a gift that will last well beyond age 1. Lights and a horn provide added entertainment and teach little ones how to operate simple technology, switching them on and off.
Pros
Built to last
Neutral colors- could be passed down to younger siblings
Promotes physical development
Lights turn off automatically- doesn't run batteries down
Cons
Requires batteries
Requires close adult supervision
21.
VTech Baby Laptop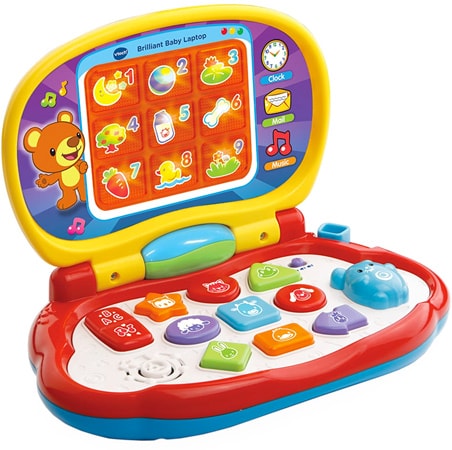 Why we like it: Baby's very own laptop! Helps with hand-eye coordination, cause and effect and speech and language learning.
Babies love technology! The VTech Baby Laptop may be a solution to sticky hands all over TV remote controls, smartphones and their parents' laptops, by giving baby a laptop of their very own. The Baby Laptop is designed especially for younger children with large, chunky buttons which suit little hands, a carry-along handle and a robust design this toy should last several years.
There are 3 modes of play available so that the toy can be adjusted to suit the child's developmental needs. Modes of play available are animals, shapes and music, so older children can focus on learning the names of shapes whilst younger children can simply enjoy the music. The toy has plenty of words and phrases, encouraging listening skills and speech and language development, all of which depend upon the pressing of buttons so the child will also develop their understanding of cause and effect and hone their hand-eye coordination. As a gift the VTech Baby Laptop has plenty to offer!
Pros
Increases understanding of technology
3 different modes available
Larger buttons suit little hands
Develops hand-eye coordination
Encourages speech and language development
Cons
Speaks English only
Requires batteries
22.
Zuru Pets Alive Rainbow Boppi The Booty Shakin' Llama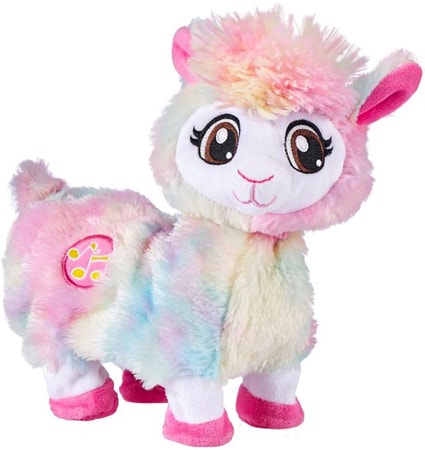 Why we like it: A cute llama that plays music and dances around at the touch of a button, 1-year-olds will love learning how to get the music to play.
Llamas seemed to have really grown in popularity over the last few years and this cute, rainbow version will certainly be welcomed by any 1-year-old girl. Not only is it brightly colored, and cute, but it also has soft, fuzzy fur that little hands will love to stroke. The Zuru Pets Alive Rainbow Boppi the Booty Shakin' Llama does just as you might expect; bops around and shakes its booty!
With a variety of songs and dance moves which start by pressing the button, a 1-year-old will soon learn exactly how the Llama works and delight themselves by pressing the button and watching her dance over and over again. As the child seeks to dance along to the music they improve their listening skills as well as their gross motor skills. The Booty Shakin' Llama is sure to provide plenty of laughter to the whole family.
Pros
Promotes movement and physical skill development
Enhances understanding of cause and effect
Stimulates auditory and visual senses
Fuzzy fur also provides calming sensory input
23.
Jewelkeeper Girl's Musical Jewellery Storage Box with Spinning Unicorn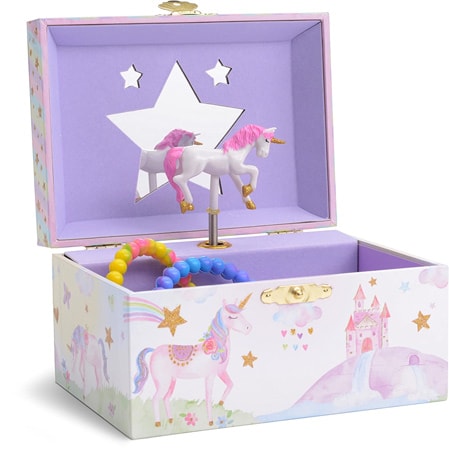 Why we like it: A special box to store jewelry, keepsakes and special treasures with an attractive unicorn design and music that plays when the box is opened.
Around about age 1 many little girls are given pretty items of jewelry that can be worn as children, or are intended to be kept for later. Giving the gift of a jewelry box means that she will have somewhere to store her jewelry, as well as all the other treasures that little girls seem to collect.
The Jewelkeeper Girl's Musical Jewellery Storage Box with Spinning Unicorn has the added benefit of an attractive unicorn design, a spinning unicorn and music that plays when the box is opened, so it is not a purely practical gift but will also delight the little girl in question. Fairly quickly she will understand how to open and close the box to start and stop the music and as she gets older she will begin to take notice of and understand the wind up key mechanism that allows the music to play.
Pros
Useful storage for gifted jewelry or special treasures
Attractive unicorn design
Plays music
Enhances understanding of cause and effect
Comes with a gift box, so no wrapping required
Cons
May encourage little ones to play with sentimental items of jewelry
24.
Green Toys Dump Truck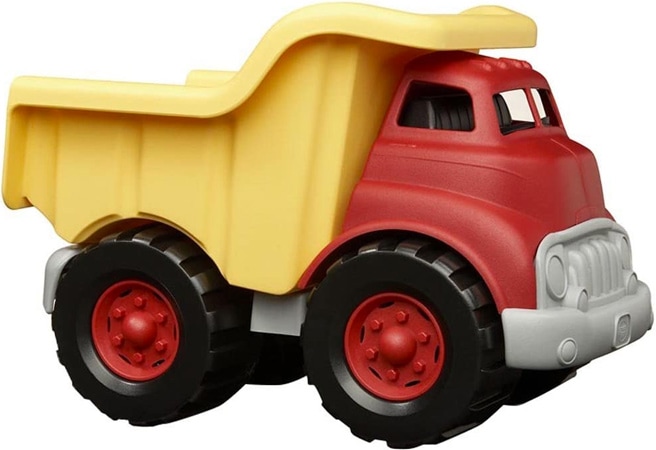 Why we like it: A sturdy, built to last and eco-friendly toy which promotes imaginative play and physical skill.
Green Toys are synonymous with quality, their toys are favored by nurseries and daycares because they are robust, sturdy and completely non-toxic. Made with recycled plastic they represent an eco-friendlier solution to traditional plastic toys, and contain no BPA, PVC, phthalates or external coatings. In fact, the plastic they are made from is certified for contact with food so is completely safe if a 1-year-old decides to chew on any part of the vehicle! The dumper truck itself will provide imaginative fun as the child learns to push and pull it along and fill and empty the dumper; improving their physical skills and dexterity as they do so.
Pros
Child proof; made to last
Eco-friendly- made with recycled plastic
Promotes imaginative play
Working dumper promotes physical skill and dexterity
Encourages movement as child pushes and pulls
Cons
Slightly more expensive than non-recycled plastic
25.
Wooden Interactive Activity Cube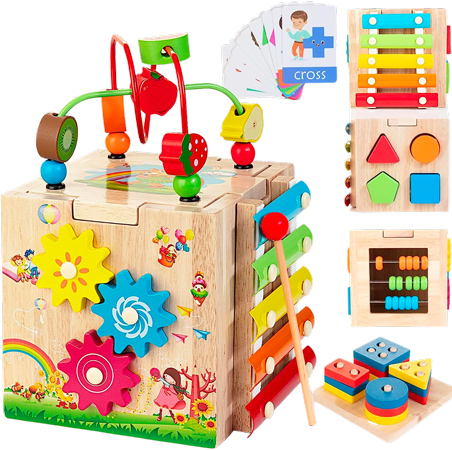 Why we like it:
An eco-friendly toy based on the popular Montessori method that offers eight different learning activities.
Promote learning and development through hands-on play with this play cube by Bravmate. This Montessori toy, which is based on the Montessori method of education that encourages self-learning for practical life skills, is made of durable and eco-friendly wood. It's designed as a cube that can break apart into eight individual play stations, each with a different activity. Activities include a bead maze, an abacus, spinning gears, a shape sorter, a xylophone and a learning clock. Plenty of activities to keep learning time engaging.
This fun toy will help a child work on their counting skills, colors, pattern recognition and fine motor skills. When it's not being used the toy can be put together as a complete cube that also doubles as a box for storing all the toy accessories, so it's a completely self-contained toy that's great for cleanup or even for travel.
Pros
Promotes self-learning

Develops fine motor skills

Great for travel and fast clean up
Cons
Small parts that could be a choking hazard
26.
B. Toys One Two Squeeze Baby Blocks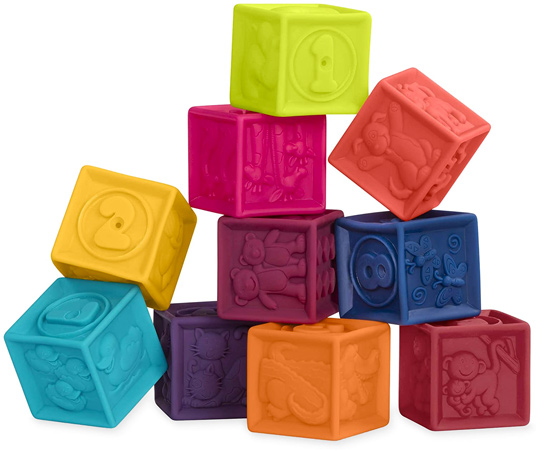 Why we like it: A beautiful set of squeezy blocks which can be used in a variety of ways for open ended play, construction and learning.
B. Toys are another eco-friendly brand focusing on producing toys with a lower environmental impact which are especially safe for young children to use. The B. Toys One Two Squeeze Baby Blocks are just that, extremely safe, as they are made from a rubbery plastic, they reduce the risk of injury or damage when thrown or knocked down and also BPA-free and non-toxic.
They are purposefully produced in more muted colors that we traditionally see in baby toys as some research suggests that lots of very bright colors may actually be over-stimulating to babies and toddlers. These blocks can be used to construct walls and towers and combined with other toys for open-ended structural play. They also feature animals, colors, shapes and numbers so that as children grow they can begin to learn some of these.
Pros
Soft blocks- no risk of injury
BPA free and non-toxic
Made in muted colors so as not to over stimulate
Educational- teaches colors, numbers and animals
Comes with a storage bag
Cons
May be outgrown faster than more traditional blocks
27.
Musical Floor Piano Mat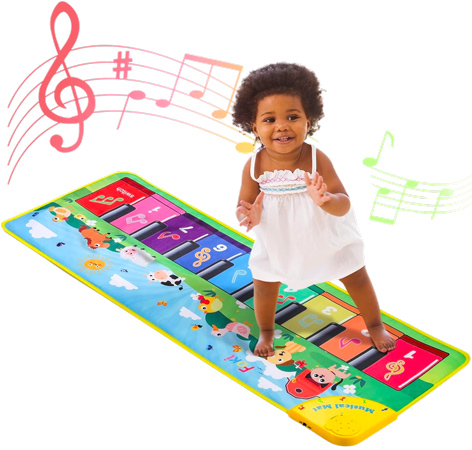 Why we like it:
An easily transportable toy that encourages self-expression through music while developing coordination and creative thinking.
Spark a passion for music at a young age with this delightful toy for toddlers. This touch play music piano is made of durable, nontoxic and nonslip material that can easily be unfolded and placed anywhere a little one wants to start creating their own music. It not only acts as a fun floor piano, but it also plays various melodies and funny animal sounds.
The design of the piano does more than just help children express themselves musically, it also helps develop sensory skills and helps them to recognize numbers and colors. It will improve hand-eye-foot coordination, fine motor skills and inspire creative thinking. It runs off of three AAA batteries that are not included but once you overlook that, this is a gift that is going to give any young child hours of fun and laughter. It will, quite literally, be music to your ears.
Pros
Encourages musical interest

Develops eye-hand-foot coordination

Will be entertaining for many ages

Promotes creativity and self-expression
Cons
Requires batteries- not included
28.
Fisher-Price Laugh & Learn Smart Stages Chair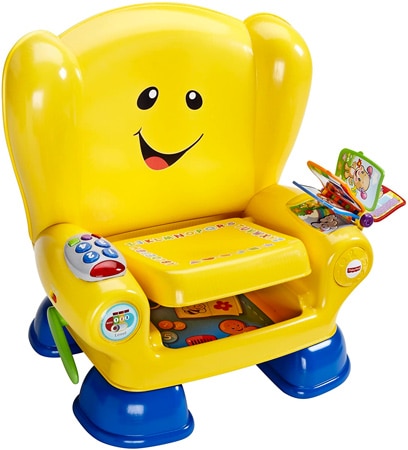 Why we like it: Their very own chair to sit in which also encourages learning tailored to their age and stage of development.
Around age 1, children are mastering pulling to stand, balancing, and walking and another skill they need to master is being able to sit on a chair. This may sound very basic to adults but the balance, stability and core strength required to get into, sit and then get out of a chair is something that needs to be developed.
The Fisher Price Laugh & Learn Smart Stages Chair is just the right size for small children and having a space of their own will encourage them to practice all these physical skills. Alongside the physical benefits of this chair it also offers the opportunity for children to engage with technology and understand cause and effect as there are buttons to press and elements to interact with. The chair can be programmed by entering the child's age so that the educational elements suit their stage of development.
Pros
Increases child's physical skills
Educational- teaches colors, shapes, numbers etc.
Interactive- encourages understanding of technology
Tailored to child's age and stage of development
Cons
Requires batteries
Larger item which requires storage space
29.
Fisher-Price Brilliant Basics Rock-a-Stack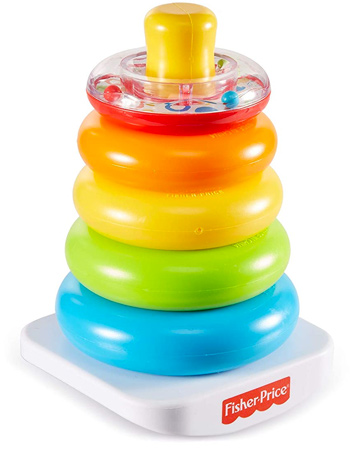 Why we like it: Classic stacking toy with different colored rings, and a rattle to introduce the concept of sizes and improve hand-eye coordination.
Stacking rings are a classic baby toy and plenty of variations are available on the market, the Fisher-Price Brilliant Basics Rock-a-Stack has a set of different colored, different sized rings that can be stacked onto a base. This increases hand-eye coordination and introduces the concept of sizes. The sensory properties of the toy include the different colors of the rings, the different sizes of the rings and the top ring which can be used as a rattle in its own right, or enjoyed as part of the set.
Pros
Increases hand-eye coordination
Introduces the concept of sizes
Visually stimulating
Sensory properties- rattle noises
Final words
1-year-olds are natural explorers with lots of energy and curiosity so they need plenty of stimulation in the day. The toys and products suggested here are all useful for providing different types of learning opportunities to help your child's development across the board as well as tapping into common interests and ways of learning.
If you are looking to give a 1-year-old-girl a gift that will be loved and well-used for years to come, as well as helping to promote different aspects of learning then the suggestions here should give you a few different options. Good luck as you select the perfect gift for the 1-year-old in your life!
Need more inspiration?