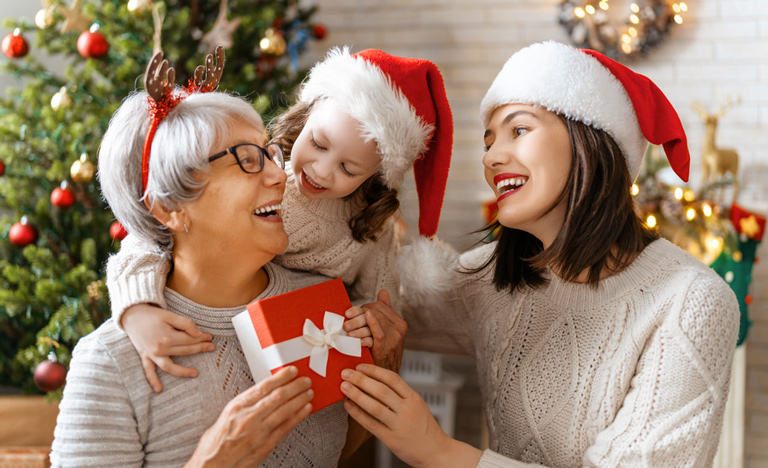 When it comes to Christmas shopping for our family, especially our moms, there's always a touch of dread thinking you might get the wrong gift. What if it's something mom won't use or doesn't like? Don't panic! The perfect gift for your mom is just a few clicks away.
This list of 29 Christmas gifts great enough for your mom has done all of the hard shopping work for you. From home decor to luxury jewelry, it's all right here. Get your mom something that's going to make this Christmas one she'll never forget. You can sit back, relax and look forward to the joy on her face when she unwraps that perfect gift you picked out all on your own.
1.
Handmade Wooden Bookends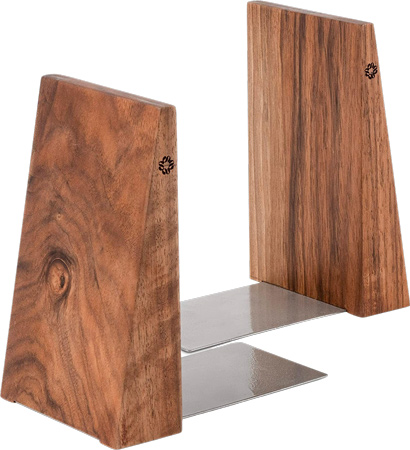 Get mom these stylish handmade book ends for Christmas so she has a better way to store and display her favorite reads. The triangular design keeps the look minimal while the smooth walnut wood gives a pop of earthy sophistication to her decor. Due to their slim footprint, they'd be the perfect bookends for displaying cookbooks on the kitchen counter. Wherever she uses them, she'll love having these handmade pieces of decor in her home.
2.
Kitchen Mat Set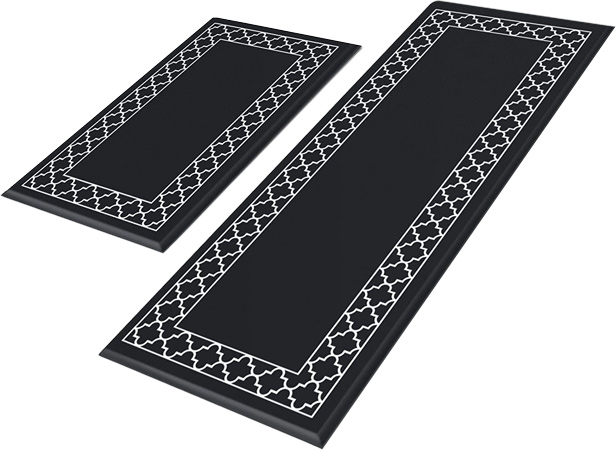 If mom likes to spend a lot of time in the kitchen, these padded floor mats would make a great Christmas gift. Not only are they stylish but the anti-fatigue padding will rid her of sore feet while she's whipping up her family recipes. The tops of the mats are waterproof and are easily wiped clean with a damp cloth while the bottoms are lined in an anti-slip rubber coating for added safety. They come in various stylish colors and each set comes with two mats, a small mat and a runner. Mom's feet will be so happy you chose this gift.
3.
Vintage Apron Set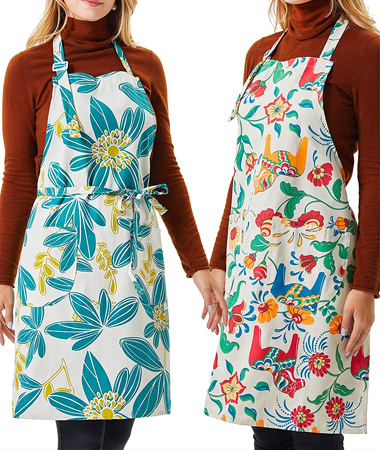 Help mom look as good as her cooking tastes with this set of vintage-inspired aprons. This set of three aprons comes in three different colorful patterns. They are made of high-quality linen that is easily machine washable. The adjustable neck strap and tie waist make sure mom gets a custom fit so she's comfortable and her clothes stay protected. Other than being functional, you should get these for mom this Christmas because they are just so darn cute.
4.
Cast Iron Trivet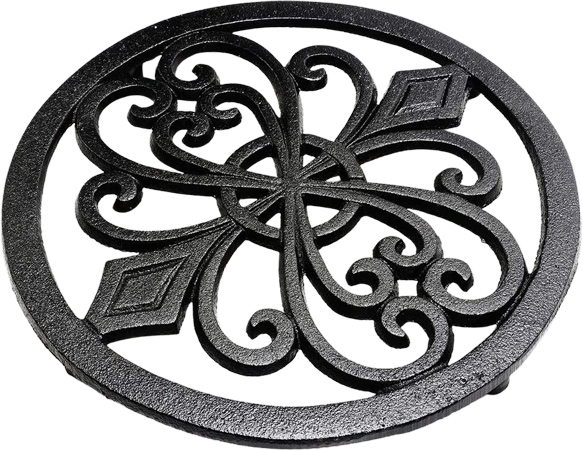 This cast iron trivet will not only help save mom's counters from damage, but it's also a beautiful piece of kitchen decor. The trivet is made of solid cast iron so it's extremely solid and durable. It comes in either a round or square option, each with intricate filigree swirls. When not being used to hold hot pots and dishes it looks great propped up against the backsplash to add a touch of design to the kitchen counter. Mom will love this useful Christmas gift.
5.
Large Charcuterie Board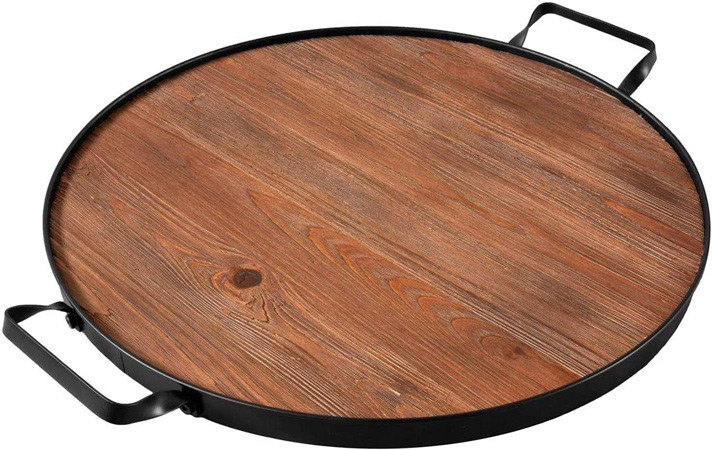 If your mom loves to entertain or have parties, this Christmas gift is sure to impress her guests. This oversized charcuterie board is large enough to hold all the finger foods, cheeses and crackers for her big event. It's designed to look like the top of a wine barrel and features sturdy iron handles for transport. When not being used to entertain, it would also make a very on-trend table centerpiece.
6.
Sculpted Mother Figurine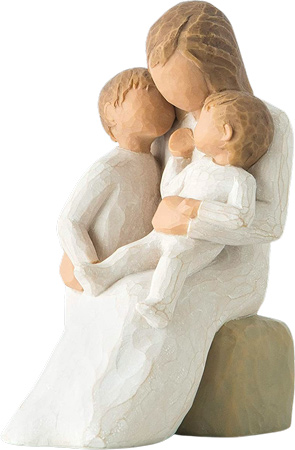 Give mom this sweet wooden sculpture this Christmas to remind her how great of a mother she is. The figurine is made from the cast of the original carving that was created by the artist Susan Lordi. Each piece is hand-painted making this a true collector's piece. It would look great sitting on an end table or bookshelf to always remind her how much she is loved.
7.
Preserved Rose Sculpture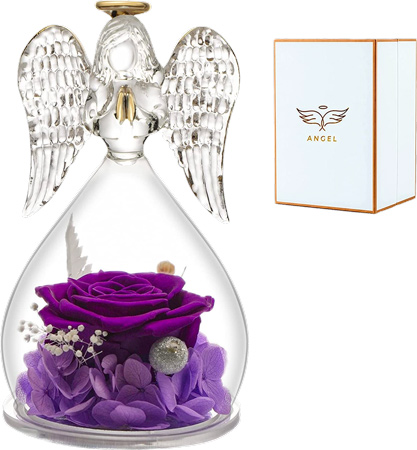 Mothers are angels, and yours is no exception. This delicate glass sculpture would make a great Christmas gift she'll proudly keep on display. Inside the angel is a genuine rose, professionally preserved to keep its color and shape for many years. The rose comes in five different color options including an unusual but stunning royal blue. If you're looking for a gift that has sentimental meaning, this is the one you're looking for.
8.
Smiling Succulent Pots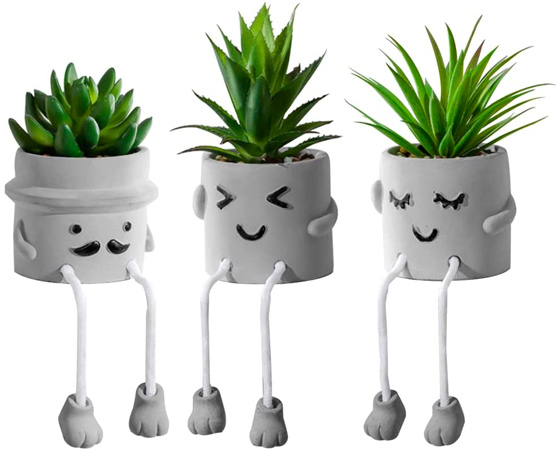 These faux succulents that come in adorable planters would make an excellent gift for mom this Christmas. The set comes with three different life-like succulents. The unique pots, with their rope legs and happy faces will get tons of compliments. Put a smile on mom's face with this fun gift.
9.
Bone Picture Frame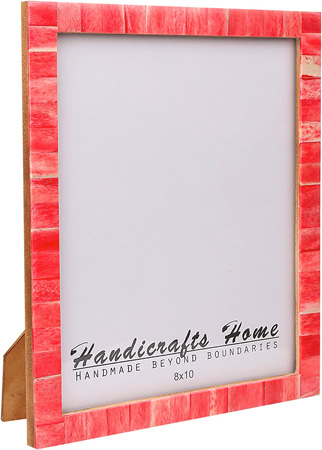 Give mom a family photo in this gorgeous picture frame. This handmade frame is made with stained bone inlay and comes in a variety of fun colors to choose from. It's suitable for hanging on the wall but also comes with a stand on the back for displaying it on a shelf or table. This modern frame will stand out and be sure to draw attention to her favorite snapshot in time. This Christmas gift will be one mom will love to look at every day.
10.
Boho Throw Blanket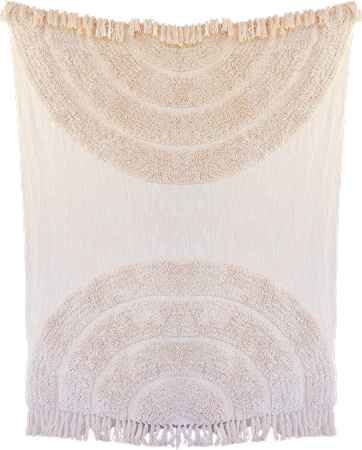 For a Christmas gift that mom is going to use all year round, this boho-inspired blanket will look good draped over mom's favorite chair. Handmade using only pure cotton, this stylish blanket with shaggy tufting is going to be the perfect blanket to take a nap with or just read a good book. The neutral color makes it a versatile piece of decor she can use wherever she wants.
11.
Memory Body Pillow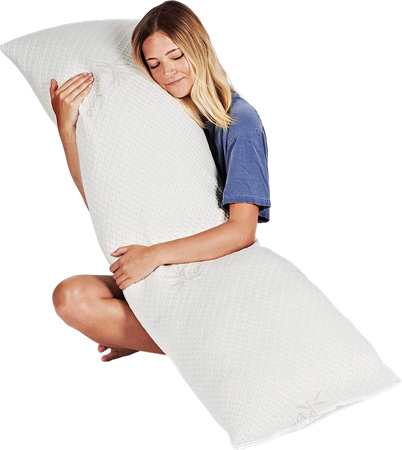 This Christmas mom is going to get the best sleep of her life with this memory foam body pillow. The extra-large pillow is made to conform to her body to align her sleep posture for deeper and more restful sleep. It also features a cooling fabric cover that will make sure mom stays comfortable all night long. Sleeping with this will have mom waking up refreshed and ready for the day.
12.
Faux Fur Rug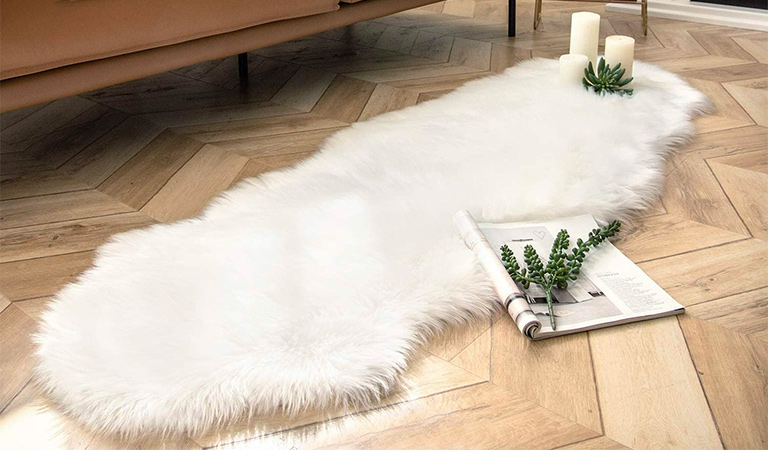 Add some style to mom's house this Christmas with this faux fur rug. The faux sheepskin is made of a machine washable material that looks like an expensive flokati rug but without harming any animals. It's not only great for using as a rug though. This gift will look good draped over an accent chair, an ottoman or even as a runner at the end of her bed. It comes in a ton of different sizes so whichever room she wants to use it in, there's a perfect size just waiting to spruce up her home.
13.
Garden Tool Set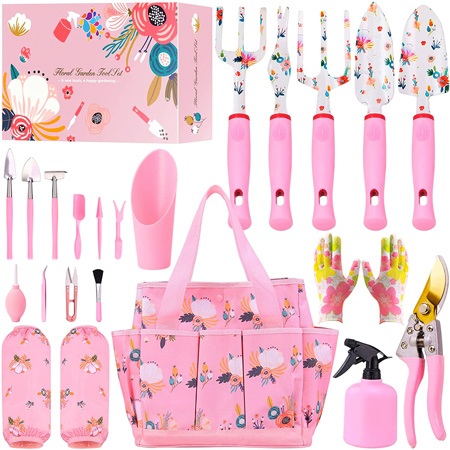 If mom is into gardening, this Christmas gift is going to have her excited to go dig in the garden. This heavy-duty set comes complete with just about everything she's going to need to have the best plant beds in the neighborhood. It comes with 21 pieces, including everything from tools to gloves, sleeves and a spray bottle. The set comes in a carrying tote that features outer pockets to keep tools handy for quick access. The pink floral design makes this set ultra-feminine and so cute. It's definitely a mom-worthy Christmas gift.
14.
Colorful Wind Chimes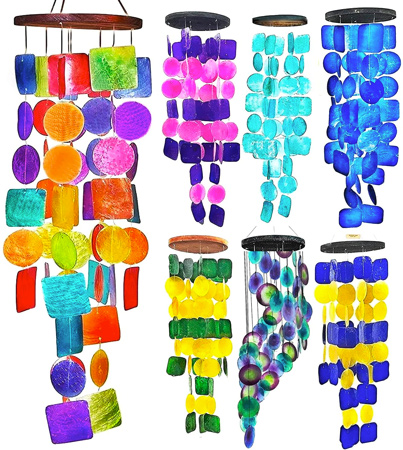 Get mom something beautiful for the garden this Christmas with these whimsical wind chimes. The chimes are made of sea shell glass and bamboo. The shells are semi-transparent so they let the light shine through, highlighting the vibrant and beautiful rainbow of colors. These would look lovely hanging on mom's porch or on a hook next to her flower beds. It will be a welcomed addition to her already impressive garden.
15.
Crystal Flower Vase

This Christmas gift is one that mom will keep forever. This vase is made of hand-cut and mouth-blown European crystal. The precision cutting in the crystal bounces light creating a beautiful sparkle. It's the ideal size for a minimal bouquet of her favorite blooms. It's understated elegance that will be her new go-to vase every time you buy her flowers. Mom deserves it.
16.
Crystal Pendant Necklace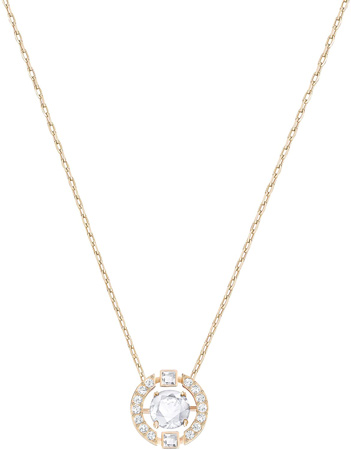 If mom likes things that come in small packages, surprise her this Christmas with this stunning crystal necklace. This necklace is truly something special with its seemingly floating Swarovski crystal solitaire that is surrounded by two rows of pave crystals and two emerald cut crystals. The pendant hangs from a dainty rose gold plated chain that would compliment any outfit mom is wearing. Mom will get lots of compliments on this special Christmas gift.
17.
Ornate Jewelry Box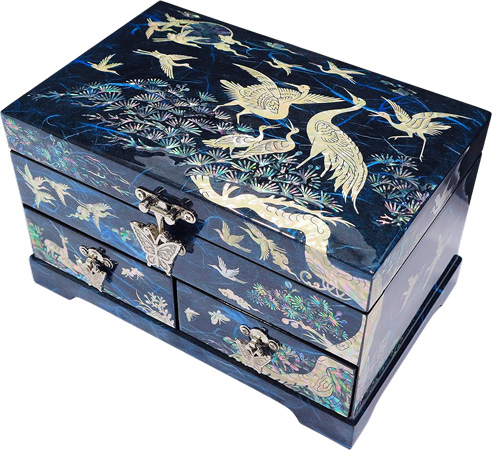 Give mom a jewelry box for Christmas that's just as elegant as the jewelry she'll use it for. This jewelry box is made with mother of pearl inlays and lacquered for a high gloss shine. The box features a hinged lid that opens to reveal red velvet-lined storage compartments to hold her smaller items and the bottom layer houses two pull-out drawers to store larger items like watches and bracelets. The drawer pulls and lid clasp are adorned with delicate butterflies that complement the elaborate artwork of the box. This is going to look good on mom's dresser.
18.
Formal Tea Set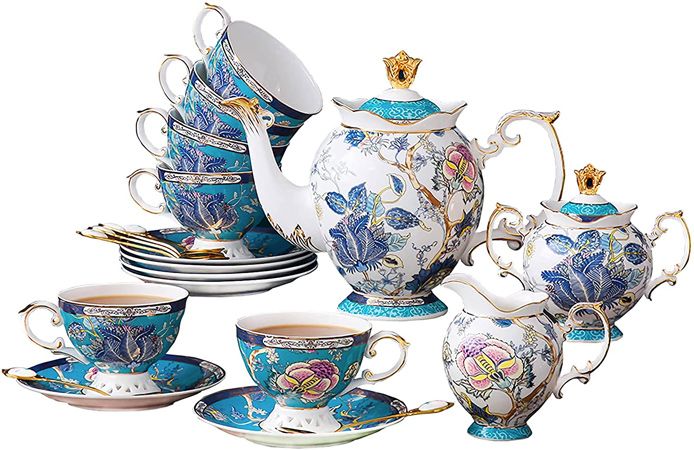 If your mom loves tea, this porcelain tea set is a Christmas gift that is sure to make a big impression. Not only is the design of this set incredibly intricate but the colors make this set unique and a thing of beauty. The bold teals, pinks, and yellows give this traditional set a modern twist. The set comes with 21 pieces, including 6 cups, 6 saucers, 6 teaspoons, a teapot, a cream bowl and a sugar bowl. Next time your mom's friends come over for tea, they won't be able to stop complimenting her on her exquisite tea set.
19.
Glass Coffee Mug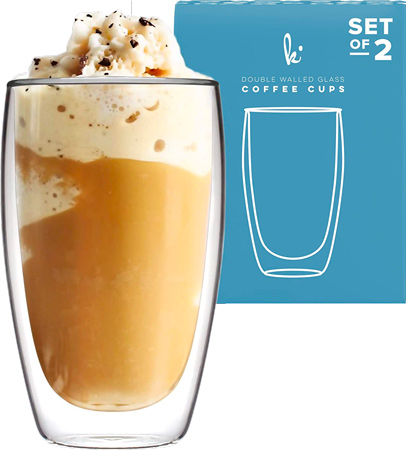 Does mom like coffee? Give her this modern coffee mug set for Christmas and she'll be sipping her brew in style. The unique design of these mugs will make them stand out among all her traditional ceramic mugs. These mugs, which come in a set of two, are made of double-walled borosilicate glass. The thermal walls not only keep the contents hot but also keep the outside cool so she can hold it without burning her fingers. They would also make great water or cocktail glasses. Mom will love having these cool glasses next time she makes her favorite beverage.
20.
Bath Table Caddy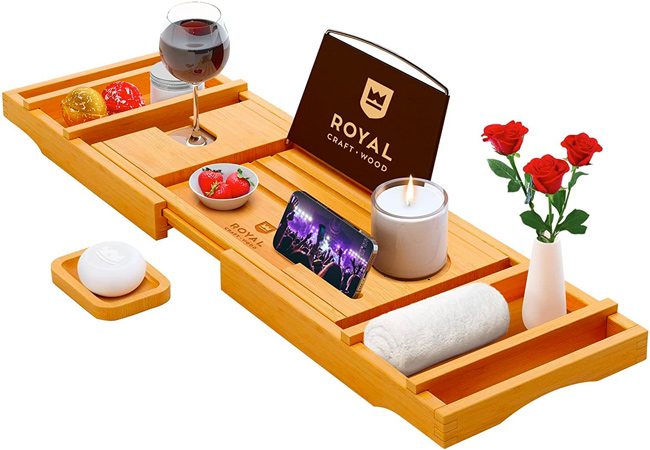 Mom deserves as much relaxation time as she can get. Help her turn her bath into her own personal sanctuary with this Christmas gift. This bath tray is made of bamboo that has been coated to make it waterproof. It adjusts to fit across her bathtub so she has a place to rest her tablet, candle and even a wine glass. Next time mom wants to take a few moments to herself, she can do it in the most luxurious way.
21.
Bath Spa Set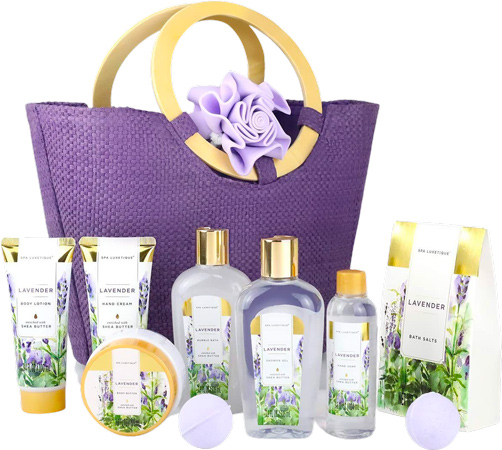 This gift basket is definitely a gift mom is going to love getting for Christmas. The set comes with ten different body products that all come packaged in a stylish purple tote bag that mom can use as a shopping or beach tote. The set includes two bath bombs, bath salt, a bath puff, hand soap, shower gel, body lotion, hand lotion and body butter. All the products are made with natural ingredients and scented with a relaxing lavender essential oil. Mom is going to feel like a million bucks with this Christmas gift.
22.
Satin Bath Robe

This sophisticated kimono robe would look great on mom this Christmas morning. The long robe is made of premium satin so it's soft on the skin and machine washable. It comes in many different colors and patterns to choose from so you can pick one that best suits mom's style. Your mom is going to love lounging around in this lux gift.
23.
Fluffy Knit Cardigan

This fluffy, circle cardigan is going to be mom's favorite sweater. The ultra-soft material makes it warm enough to wear on chilly days or to use while relaxing around the house. The fashionable high-low hem provides a twist on the classic cardigan and looks equally great with a pair of jeans as it does with lounge pants in the house. The Christmas gift will be a treat for mom.
24.
Fuzzy Socks Set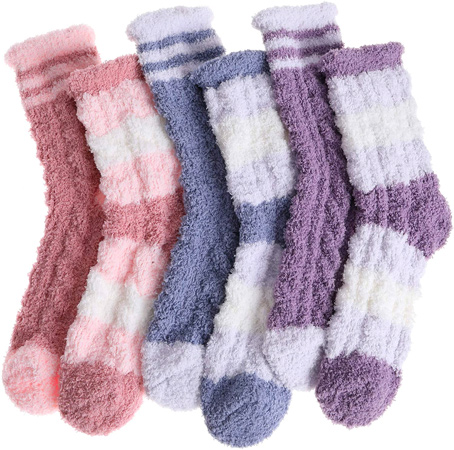 We can never have enough fuzzy socks and mom is going to love adding these to her sock drawer. The set comes with three pairs, each a different color. The pattern on these socks is what makes them unique. The left and right socks have a complimentary striped pattern instead of an exact match. They're funky, cool and most importantly, so comfy! Put some socks in mom's stocking this Christmas with this gift.
25.
Leather Tote Bag
This Christmas mom is getting her new favorite bag. This bag is the perfect everyday carry-all. It goes with everything, it carries practically everything and she'll never have a reason to switch bags. It's made of genuine leather and features a magnetic snap closure for safety while still giving quick access to the main compartment. Inside the main compartment are various zipper pockets and card slots to keep everything organized. It comes in various colors but you can never go wrong with a classic black tote, especially one that looks this good.
26.
Hand-Painted Purse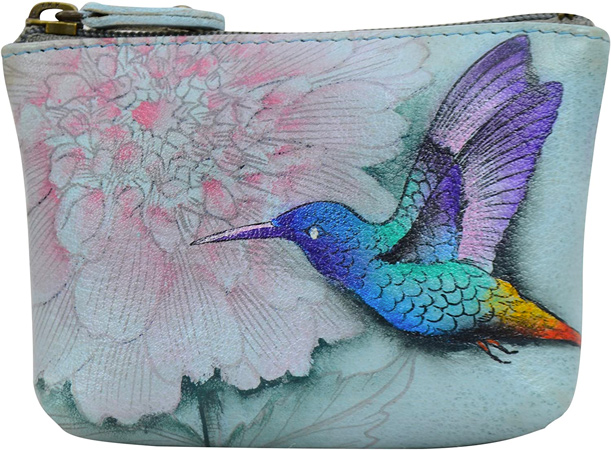 Mom's never had a coin purse this beautiful before, that's for sure. This coin purse is made of high-quality leather that has been hand-painted by artists. There are so many designs to choose from but there is something really stunning about the colors in the hummingbird design. It's not just a work of art though. The zip closure keeps loose change secure inside and it's also large enough to hold a few credit cards and ID if she wants to just go minimalist for the day. Mom will definitely want to show off this unique Christmas present.
27.
Electric Manicure Drill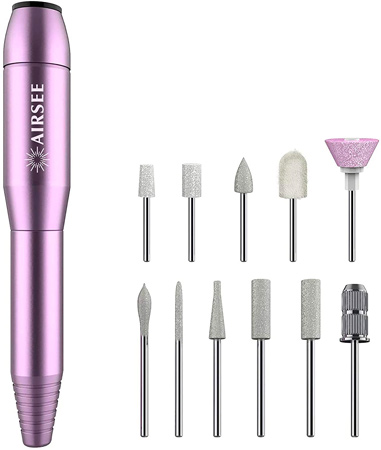 Give this electric manicure drill to mom this Christmas so she can give herself a professional-level manicure whenever she needs it. The portable set comes with eleven interchangeable drill bits and also includes extra sanding bands. If mom likes to always have her nails looking on point, this gift is for her.
28.
Massaging Foot Spa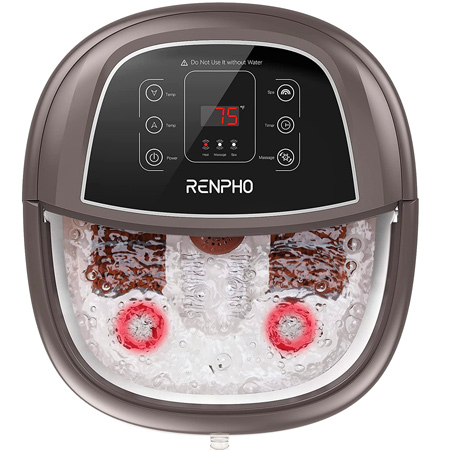 Give mom a reason to get off her feet with this thoughtful Christmas present. This massaging foot spa uses water jets, heat and massage rollers to relieve tension and stress. The massager features three different relaxation modes and can be set to run for up to 60 blissful minutes. Mom is going to love relaxing at the end of the day with this gift.
29.
Heated Eye Massager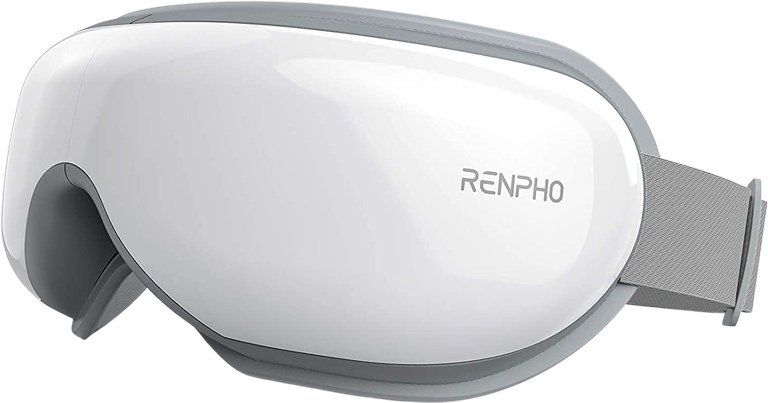 If you're looking for a Christmas gift for mom that is really going to change her life, this heated eye massager has so many benefits she'll be sure to use it every day. Not only does the massager help her relax, it also helps reduce eyestrain, improve sleep, reduce eye dryness and get rid of eye puffiness. It also comes with built-in speakers to play her relaxing spa tracks via Bluetooth. It's great for using at home but also compact enough to take on trips or to the office to have a few peaceful minutes to recharge her mind.