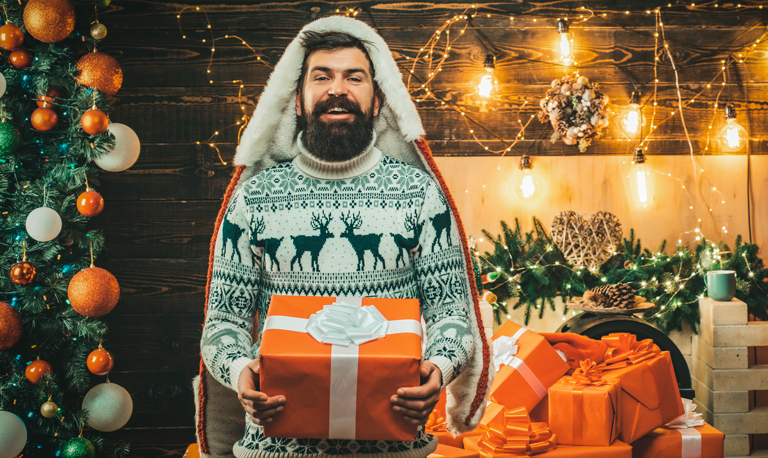 A dad that's as great as yours is worthy of a Christmas present that will show him how much you love him. Don't buckle under the pressure of this year's Christmas shopping. This list of 29 Christmas gifts to get for your dad is going to make sure you get him a gift that he'll be excited to put to use.
Whether your dad is looking to improve his cooking skills, decorate the house, get a better workout or even pick up a new hobby, this list is going to give you a ton of great ideas to make your dad happy this Christmas morning. Such a cool guy deserves an equally cool gift.
1.
BBQ Tool Caddy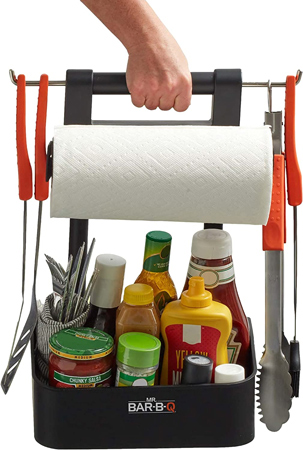 If your dad loves to BBQ, this Christmas gift is going to have him excited to organize all his BBQ tools. This tool caddy is like a mobile BBQ station that can easily move wherever he goes.
It doesn't just hold his tools, though. The bottom of the caddy also offers plenty of room for your dad to store all his favorite condiments, marinades and spices. If your dad takes his BBQ game seriously, this is the perfect gift for the grill master that already has it all.
2.
Stuffed Burger Press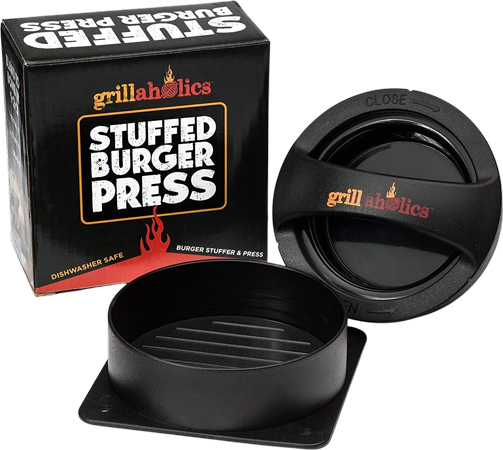 For a burger that is going to have your dad impressed with himself, this stuffed burger press needs to be under his Christmas tree this year. Not only does this press consistently give him the perfect sized and shaped burgers, it allows him to mix other ingredients into the patties for a truly customized and gourmet burger that won't fall apart while it's cooking. A perfect burger is a thing of beauty and this gift is going to deliver every time.
3.
Gourmet Spice Box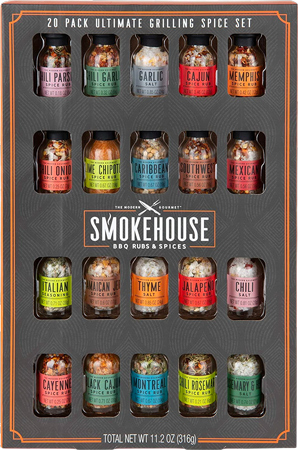 Your dad can get creative at the grill with this Christmas gift. This huge set of 20 delicious spices and rubs is going to make your dad's next rack of ribs something that would make Gordon Ramsey proud.
Included in the set are the fundamentals that every cook needs in their arsenal but it also includes some more complex rubs such as Caribbean, Mexican, Memphis and Chipotle. Yum. It's a gift for you too because you get to eat all his new creations.
4.
BBQ Accessory Set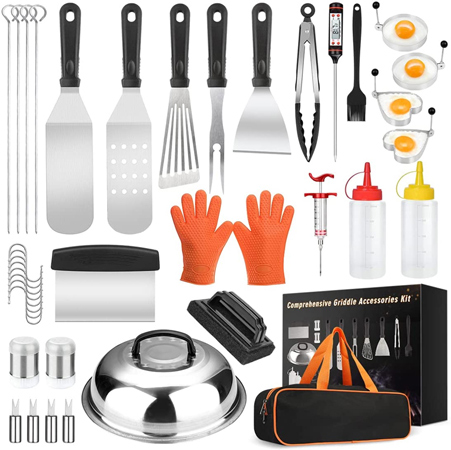 Give dad a reason to get rid of all his old, rusty BBQ tools with this huge grill accessory set. The set comes with 39 pieces and includes everything he could need to take his grilling skills to the next level.
It includes way more than just the compulsory stainless steel tools most kits come with. He'll also get condiment bottles, a marinade injector, a digital thermometer, heat-resistant gloves and so much more. When he's not using his tools, which won't be often, they all pack up in the included carrying case. Dad is going to love this gift.
5.
Camping Chair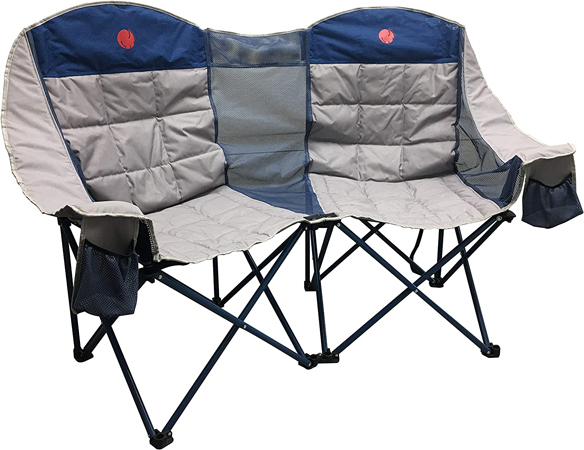 Does your dad love to go camping or go to the beach? This Christmas gift is going to be his new favorite piece of outdoor gear. This camping chair not only seats two adults, but the unique design with slightly angled seats also allows for more elbow room between people.
It's built to accommodate up to 600 pounds and features extra padded seats. When it's time to move it, the chair easily collapses and can be carried like a backpack. It will be ready to go to whatever event your dad wants to enjoy in comfort.
6.
Insulated Cooler Backpack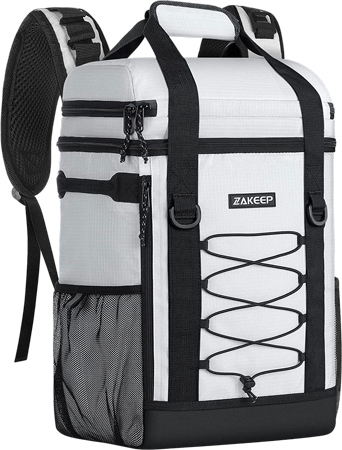 Make sure your dad is never caught outside without a cold drink with this Christmas gift. This spacious cooler backpack can hold up to 36 cans with room left over for ice and snacks. It even has outside pockets that are designed to hold up to four full-sized bottles of wine. This is a great gift if your dad is the outdoorsy type. His next camping or fishing trip will be a lot more fun with this Christmas gift.
7.
Kitchen Utensil Set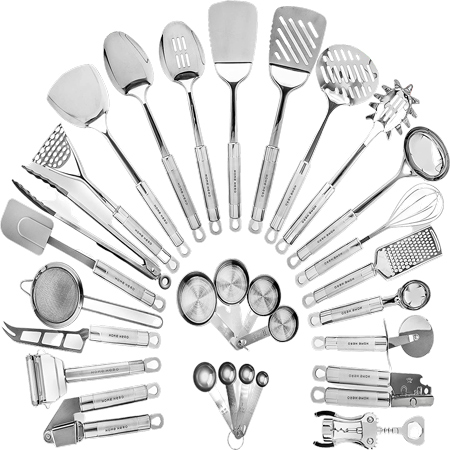 If your dad loves to flex his cooking skills, this huge utensil set is going to make him very happy this Christmas. The set includes 29 pieces, all made of high-quality stainless steel that is dishwasher safe and guaranteed not to rust. With the number of tools included in this set, he'll be able to get rid of all his mismatched, old or broken kitchen tools and instantly give his kitchen gear a much-needed upgrade.
8.
Wood Pizza Peel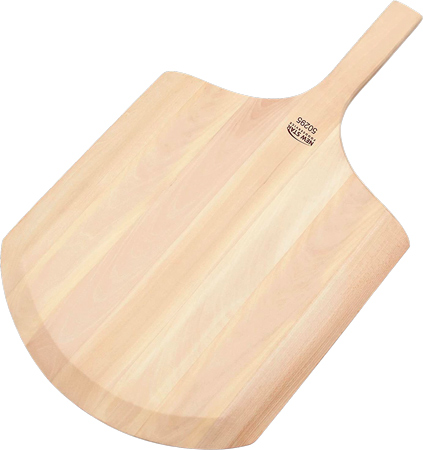 This Christmas gift is going to have dad whipping up picture-perfect pizza like a pro. Made of solid basswood, this restaurant-quality pizza peel is made to last a lifetime. The special construction ensures oils won't seep into the wood, causing damage to the peel. It comes in a variety of different sizes to choose from, depending on how large of a pizza your dad likes to make. Though, let's be honest, when it comes to pizza, the bigger the better. Am I right?
9.
Kitchen Knife Set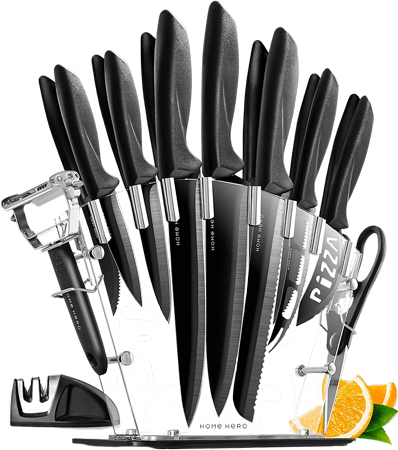 If you're looking for a Christmas gift that is going to get a ton of daily use, this is the gift you're looking for. The set comes with 13 professional chef knives, a pair of kitchen scissors, a peeler and a modern knife block that is made from high-clarity acrylic.
The blades of the knives are made of black, scratch-resistant stainless steel that is dishwasher safe. This attractive kitchen knife set is going to look amazing on display in your dad's kitchen.
10.
Knife Sharpening Block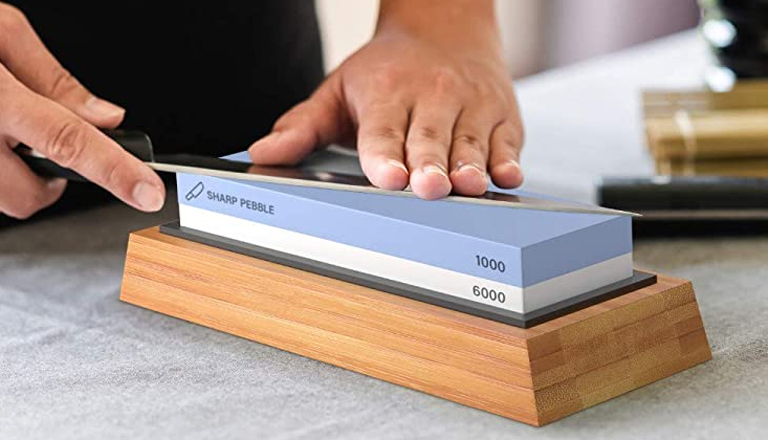 Help your dad keep his kitchen knives sharp with this Christmas gift. This professional whetstone by Sharp Pebble features two grit levels to make sure the blades of his knives stay as sharp as the day he got them. The stone sits on a heavy, nonslip bamboo base that will prevent it from moving around and causing injuries while he is sharpening. It can also be used to sharpen his shed tools. Your dad will appreciate always having tools that are up for the task at hand.
11.
Food Dehydrator Machine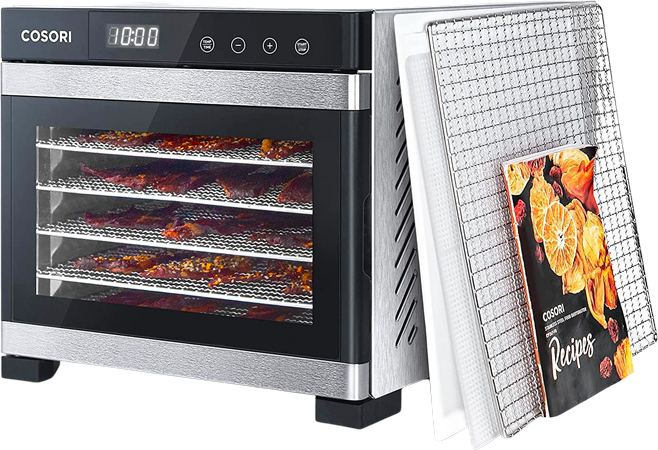 This is a cool gift idea for your dad this Christmas. If he's not already into the fun world of dehydrating, this gift is going to give him a new hobby to fall in love with. This heavy-duty dehydrating machine will allow him to dry herbs, fruits, vegetables and even meats. Homemade beef jerky is always a winner. Or if he only eats fish, tuna jerky. Hey, don't knock it until you try it.
This gift will not only give him a way to make scrumptious snacks, but it's also a great way to preserve food. He's going to be obsessed.
12.
Digital Wall Clock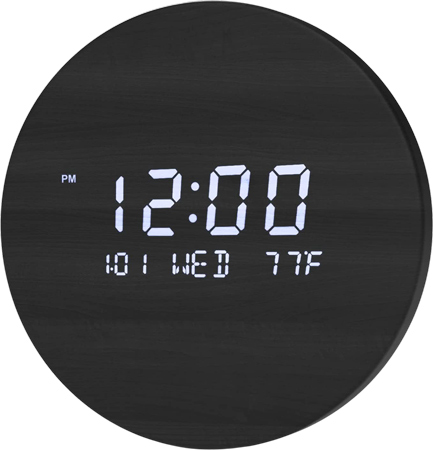 Whether it's for the kitchen or his man cave, this attractive digital wall clock is going to be a Christmas gift he'll be happy to get. The clock offers a large display with a date and temperature reading and features automatic brightness adjustment.
The minimalist design that comes in faux black wood or faux blonde wood makes it a seamless fit into whatever his decor style is. It's also rechargeable via the fast-charging USB and will run for up to 20 days on a single charge. He'll never have to change batteries in his clock again. That's a perk he'll appreciate.
13.
Sculptural Whiskey Decanter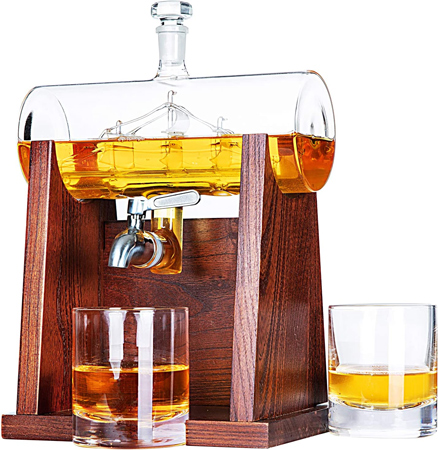 If whiskey is your dad's preferred drink at the end of a busy Christmas day, this unique decanter is going to add a splash of class to his bar area. The decanter is made of lead-free crystal glass that sits on a solid wood base.
Inside the decanter is a delicate glass sculpture of a ship, which makes this decanter something to marvel at. It holds 42 ounces of whiskey that can be poured via the convenient spigot. This gift deserves to be displayed.
14.
Crystal Whiskey Glasses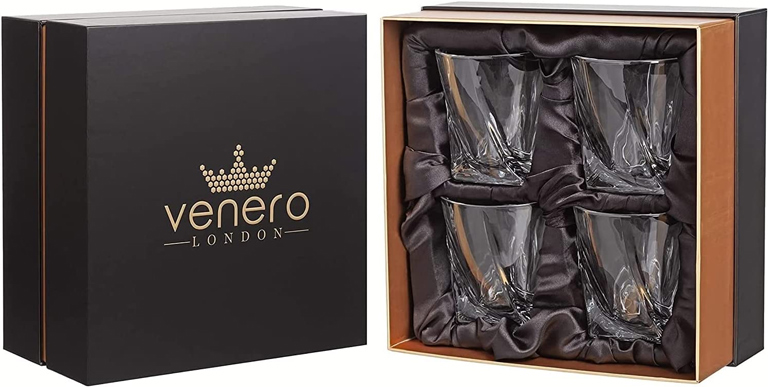 This set of crystal whiskey glasses is a great Christmas gift idea for your dad. The set comes with four glasses that are designed with thick walls to help retain the temperature of the drink. The unique twisted design not only looks cool, it offers a more comfortable grip on the glass.
They come beautifully presented in a satin-lined gift box so all you need to do is stick a bow on it and sit back and enjoy the look on your dad's face when he opens his new favorite nightcap glasses.
15.
Slim Laptop Backpack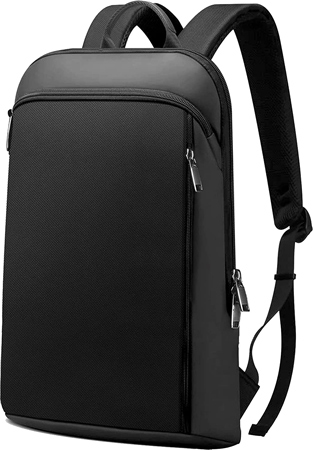 If your dad needs to take his laptop with him, this minimalist backpack is a Christmas gift he'll be happy to sport wherever he goes.
While the bag is designed to hold a 15-inch laptop, it's still incredibly thin and compact. It's the perfect bag to take just the essentials with him to the office but can also unzip to expand to a full-sized backpack if he needs to travel or wants to use it as a gym bag. Your dad will love this good-looking and versatile backpack.
16.
Car Seat Caddy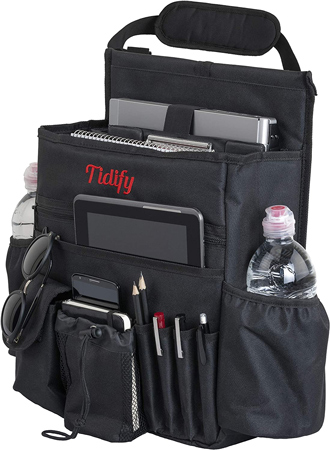 Help your dad stay organized in his car with this car seat caddy. If your dad's job keeps him on the road or going from meeting to meeting, this Christmas gift is going to keep his work gear organized and within easy reach while he's out and about. No more shuffling through a mess on the passenger seat. It's like a mobile office that can be packed and ready to go whenever he needs to hit the road.
17.
Classy Designer Watch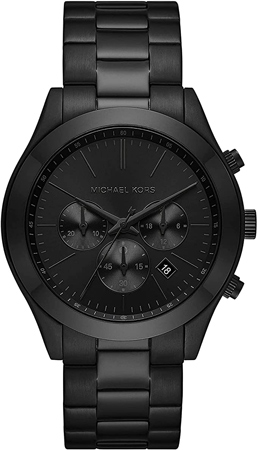 This amazing timepiece oozes class and sophistication and your dad is going to be ecstatic when he unwraps this Christmas gift. This designer watch by Michael Kors is made of all-black stainless steel. Even the numbers in the black 44mm face are black on black. It's such a sleek-looking watch. If your dad loves watches or needs a style upgrade, you won't go wrong with this gift.
18.
Leather Jewelry Box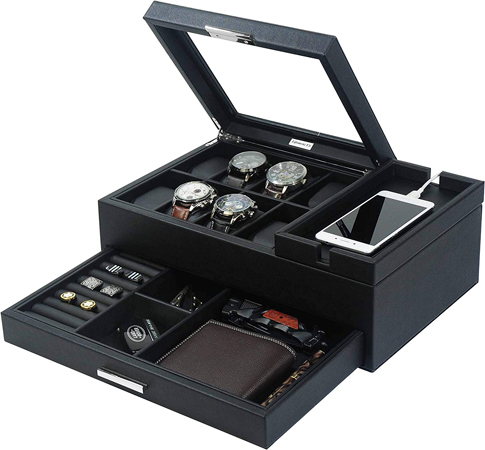 Give your dad a better way to organize his nightstand with this Christmas gift idea. This luxurious jewelry box will hold all of his expensive watches, cufflinks, bracelets and other small jewelry pieces.
The top of the case features a glass window so he can keep his watch collection on display. The box is made of black vegan leather that is accented with chrome hardware. It's a beautiful case that is worthy of holding all of his prized jewelry.
19.
Leather Bifold Wallet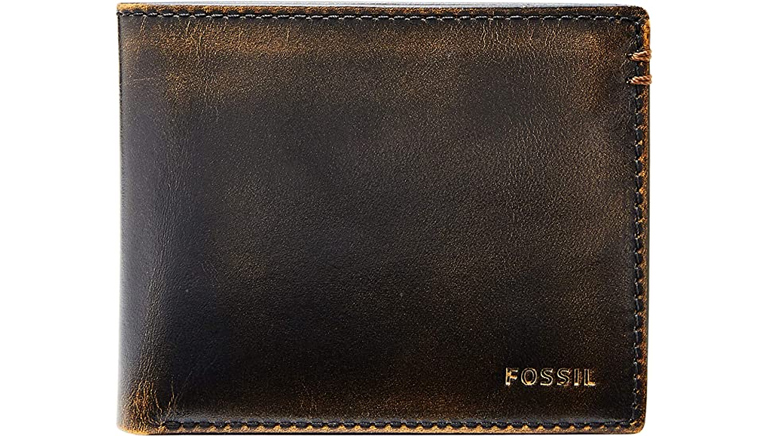 If your dad's wallet is looking a little worn out, here's a Christmas gift that he'll be thanking you for. This high-quality wallet is made of 100% raw cowhide. It's designed using RFID technology so thieves won't be able to scan and steal his credit card information. The inside offers six card slots and a flip-out ID slot. The leather is pre-aged for a classy, vintage vibe that will never go out of style.
20.
Leather Duffel Bag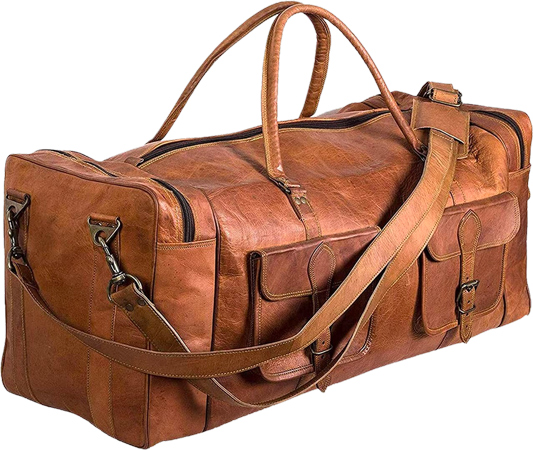 If your dad appreciates a classic look, this leather duffel bag will help your dad show off his style while he travels for business or goes to the gym. The inside of this oversized bag has plenty of room to pack enough clothes for a weekend getaway.
Outside features two designated shoe compartments and multiple pockets for small items that need easy access. The top grain leather will not only make this Christmas gift last for years of travel, but leather of this quality will look even better the more he breaks it in.
21.
Comfortable Shoes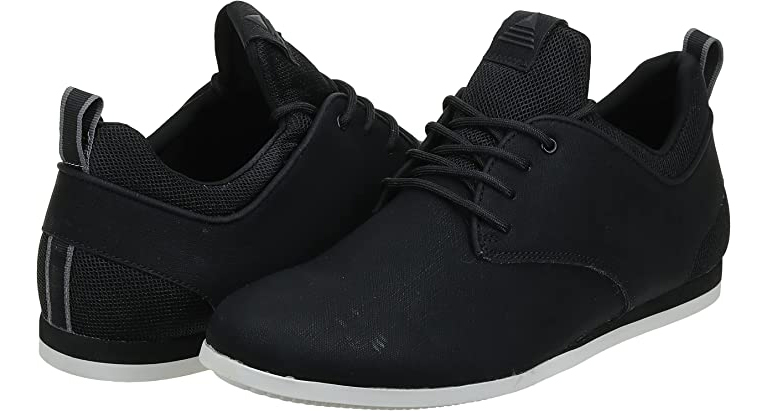 Help your dad inject some style into his wardrobe with this Christmas gift. These shoes by Aldo are a cross between a comfortable sneaker and a dress shoe that is appropriate for the office or a nice evening out.
The black outers are made of a breathable, manmade material while the contrasting white sole is made of a slip-resistant rubber. Whether your dad wears these with shorts, jeans or a pair of slacks, he's going to look good every step of the day.
22.
Warm Puffer Jacket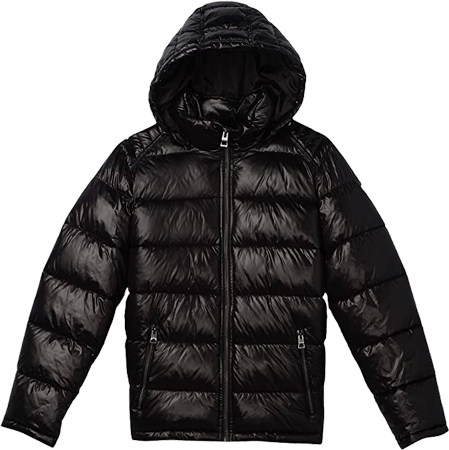 This trendy puffer jacket is going to make sure your dad stays warm this holiday season. The jacket, made by Guess, is machine washable and features a removable hood. The puffer style will offer plenty of warmth while the slightly fitted cut that hits at the hip will keep him looking stylish and put together. If your dad is in the market for a new coat, this is the Christmas gift for him.
23.
Luxury Grooming Set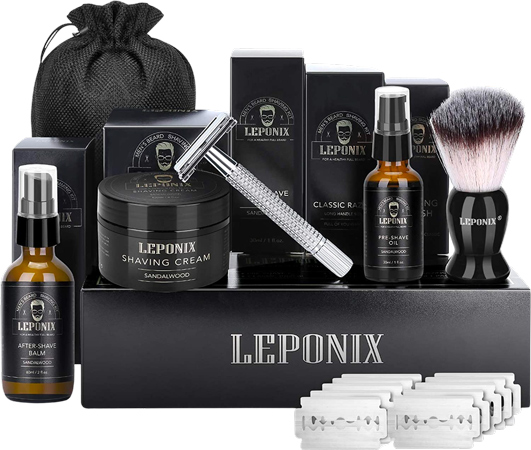 Here's a Christmas gift that is perfect for your dad if he wants to look and feel his best. This deluxe set comes with seven shaving essentials, including a high-quality razor, blade replacements and shaving balms, oils and creams that are scented with natural sandalwood fragrance oils. Your dad is going to look and smell amazing with this gift idea.
24.
Compact Adjustable Kettlebell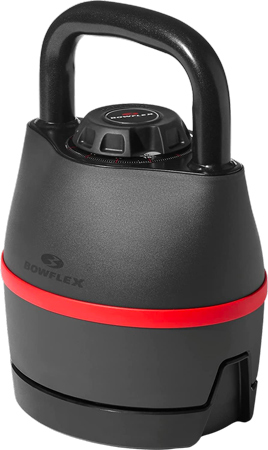 If your dad is into working out and staying in shape, this gift is going to be a real treat for him. Instead of having to buy and store multiple kettlebells, this all-in-one set by Bowflex is going to make sure he gets a gym-quality workout without even having to leave the house.
The clever design of this piece of equipment adjusts in weight with the click of a dial and replaces six kettlebells. His workouts are about to get even more intense with this gift.
25.
Protein Mixing Bottle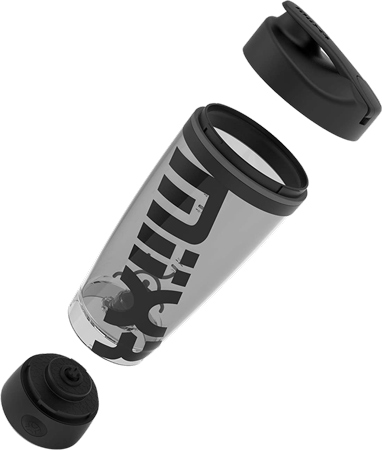 Give your dad the gift of never having to drink another chunky protein shake after his gym session. This automatic blending bottle would be a perfect Christmas gift for your dad. The bottle runs off of AA batteries that power the patented blending blades. It's all the mixing power of a kitchen blender but small enough to pop into his gym bag. He'll love it.
26.
Canvas Tool Bag
If your dad loves his tools, give him a good-looking way to store them and keep them safe from damage. This heavy-duty canvas tool bag opens via the steel-hinged mouth to reveal 13 organization pockets.
The bag can be transported using the adjustable and detachable shoulder strap or with the reinforced leather top handles. For an alternative to a hard-case toolbox, this bag won't disappoint. It's a Christmas gift fit for the serious handyman.
27.
Shower Head Speaker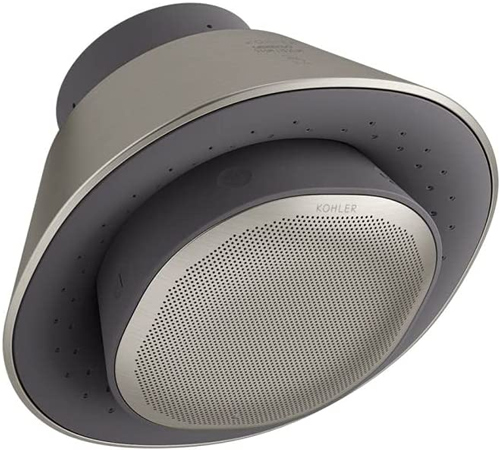 This Christmas gift idea takes the concept of a shower speaker to a new level. This shower head has a speaker built right into the center of it. The speaker attaches to the shower head via magnets so it can easily be removed for charging.
The speaker will connect directly to your dad's phone via Bluetooth so he can listen to his favorite music, audiobooks or podcasts while he gets ready for the day. He'll wonder how he ever showered without this awesome gift.
28.
3D Printing Machine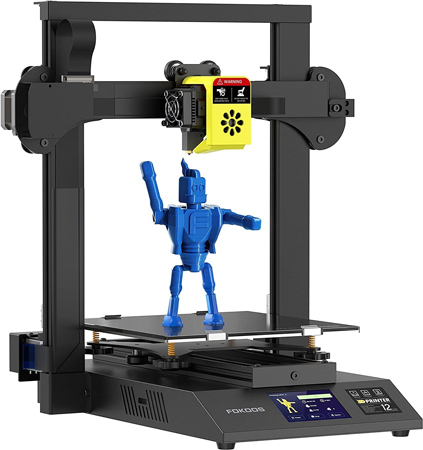 Make your dad feel like a kid again this Christmas when he opens this 3D printer. This thing is incredible. He can print anything from figurines to useful things around the house. Photographers even use these printers to print lens caps and photography accessories.
Does your dad need a new tool rack? No problem, now he can print his own! There are tons of sites where he can download pre-made designs to print. No doubt this will be the gift he keeps talking about.
29.
Professional Poker Set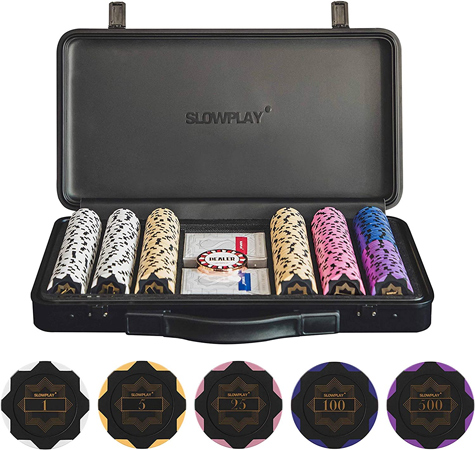 With this Christmas gift, your dad is going to have the best poker nights in the neighborhood. This massive set comes with 300 chips that have been crafted with an iron core for a professional weight of 14 grams. The beautiful design of the chips was inspired by the Art Deco era of the 1920s.
The set also includes two sets of plastic cards, a high-quality dealer chip and an attractive carrying case. With this gift, everyone is going to be asking when your dad's next game night is.
Need more inspiration?