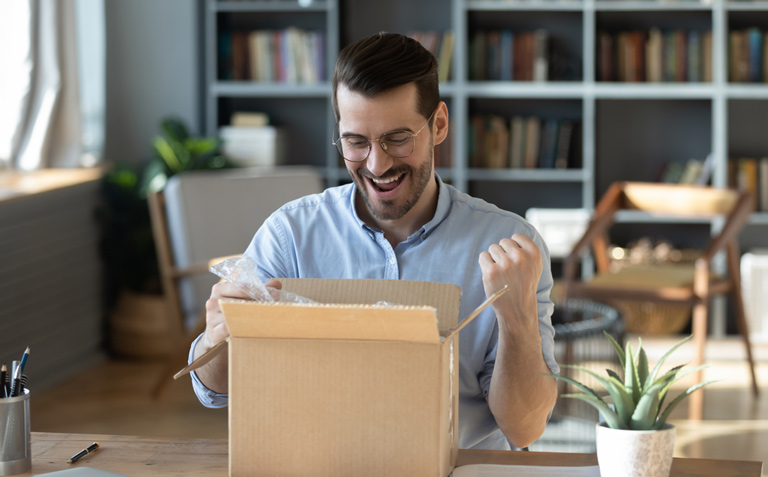 If you're struggling to come up with a gift idea that's worthy of how amazing your dad is, you've found your solution in this vetted list. Here we've compiled 29 of the best, most creative and all-around dad-approved goodies and gadgets that will show him how much you love and appreciate him.
From cooking and grilling to sports and fashion, this thorough list will take the stress out of shopping so you can just look forward to the best part… the look on his face when he opens the perfect gift!
1.
Hot Sauce Set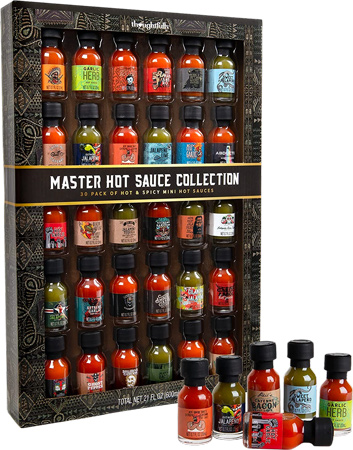 For the dad that loves a little spice with his dinner, this hot sauce set is sure to be a pleaser. With 30 different hot sauce flavors ranging from mild and delicious all the way to almost too hot to handle, there's the perfect hot sauce waiting to top off that juicy steak he just cooked up on the grill. They can also be used to make unique chicken wing or chili recipes that will be a hit at the next family BBQ.
2.
Beef Jerky Kit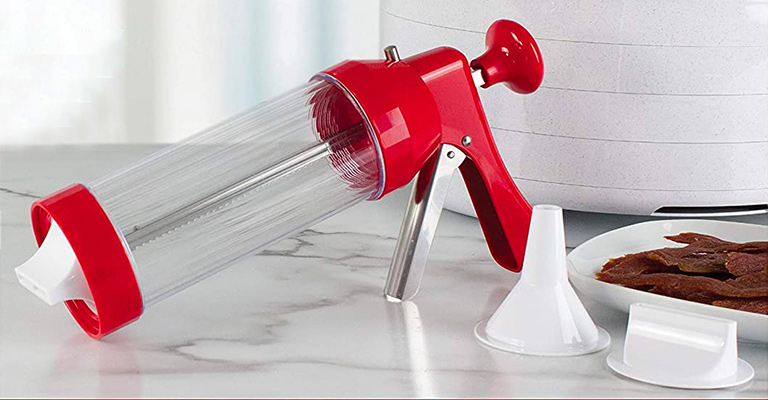 The only thing better than beef jerky is homemade beef jerky! Now dad can make his own gourmet jerky from home without needing a bulky and expensive dehydrator. This beef jerky making kit includes a jerky-making gun that comes with three attachments and enough flavor seasoning and cure for up to four pounds of meat. Just another tool dad can use to prove he makes the best meat in the neighborhood.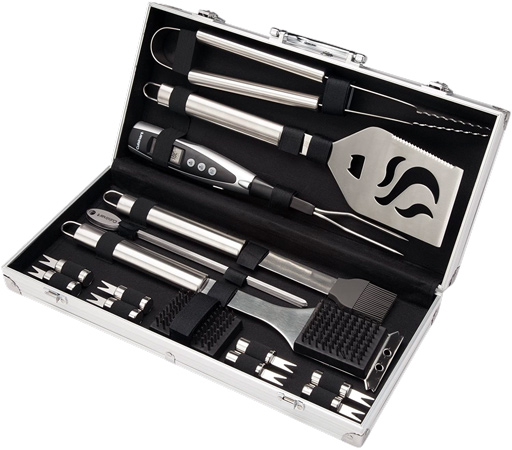 Help dad up his grill game with this deluxe set of grill tools by Cuisinart. This complete set comes with 20 essentials tools, including a chef's spatula, skewers, corn holders, digital temperature fork, tongs and so much more. Pretty much everything but the meat comes in this chef-worth kit that all packs away into the included aluminum carrying case. It will definitely make an impression when he opens it.
4.
Meat Claws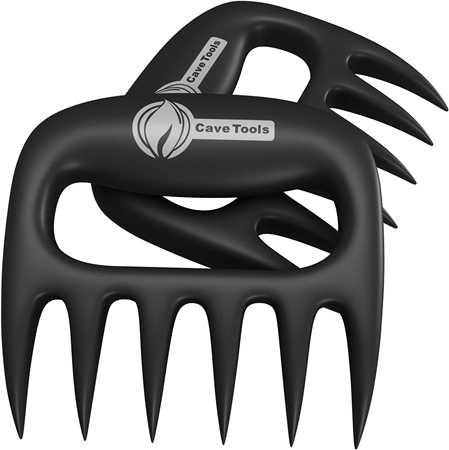 For the meat-loving dad, these meat claws are a gift that will find use both in the kitchen and on the grill. This set of claws makes it easy to shred pork, brisket and chicken without needing to use a fork and knife, which makes them safer and faster. They also come with a free downloadable recipe book of all things BBQ and shredded meat.
5.
Chef Apron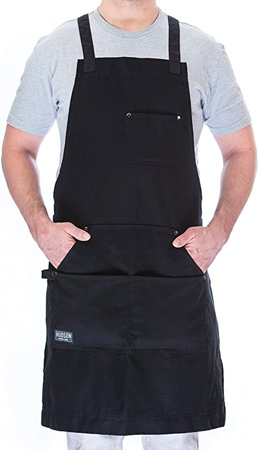 This chef apron will make dad look the part while he's grilling at the next family BBQ. The apron is handcrafted using only 100% soft cotton, which makes it long-lasting, machine washable and cooling while cooking next to the hot grill. It has multiple large pockets in the front that can hold grilling utensils, his cell phone or any other necessities he needs while grilling up the best steak you'll ever eat. It's a classic and stylish design that will be his go-to apron whenever he's in the mood to cook.
6.
Yeti Mug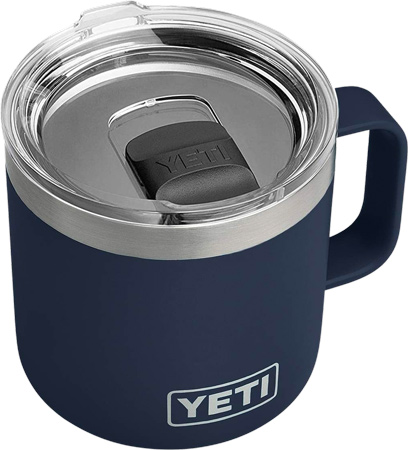 This 14 oz Yeti rambler mug will get tons of use both indoors and outdoors. The double-wall vacuum insulated mug will keep drinks cold or hot for hours. It's perfect for drinking his morning coffee or for keeping his mixed drinks ice cold while tailgating or hanging out in the backyard. The lid has a unique MagSlider closure that will stop spillage and also increase the insulation time.
7.
Dry Bag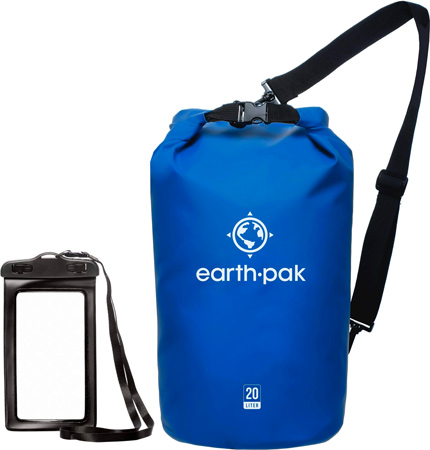 This dry bag is a great gift for the outdoorsy dad that likes to bring along all the essentials for a fun day out. Whether it's for a day at the beach or a day out on the boat fishing, this bag is going to keep all his stuff dry all day long. The roll-top closure makes it so watertight it can even be floated in water without anything inside getting wet. It comes in eight different colors and five different sizes so finding the perfect one for dad will be a breeze.
8.
Backpack Cooler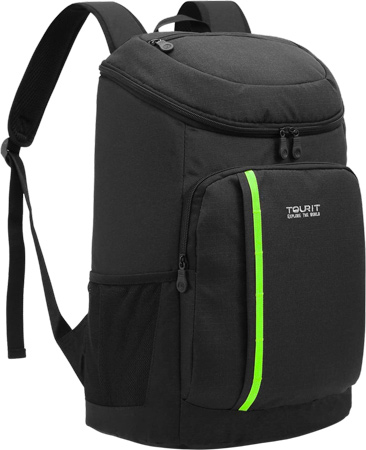 What about some cold beers while he's out on that fishing boat? This cooler backpack by Tourit is the solution. The large capacity cooler comes in six different colors, all compact and lightweight enough for easy travel with maximum storage. The backpack can hold up to 30 cans while still affording room for other essentials like utensils, keys, wallet or sunscreen. It's great for fishing days, beach days, hiking or even road trips. Dad will be happy this cooler will be at his side on his next excursion.
9.
Solar Power Bank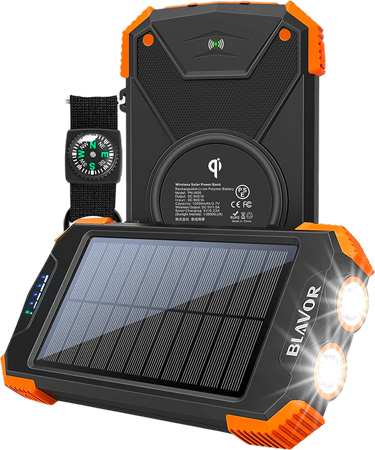 Give the gift of power on the go that will keep all of dad's gadgets up and running without needing to plug it into an outlet. This solar-powered power bank provides 10,000 mAh of power for all his charging needs. It can be charged via a traditional wall outlet then topped off by the power of solar while out hiking or camping. It also comes with a powerful built-in flashlight and detachable compass. Being water, shock and dust-proof it's a rugged sidekick to keep dad prepared while he's on his outdoor adventures.
10.
Whiskey Set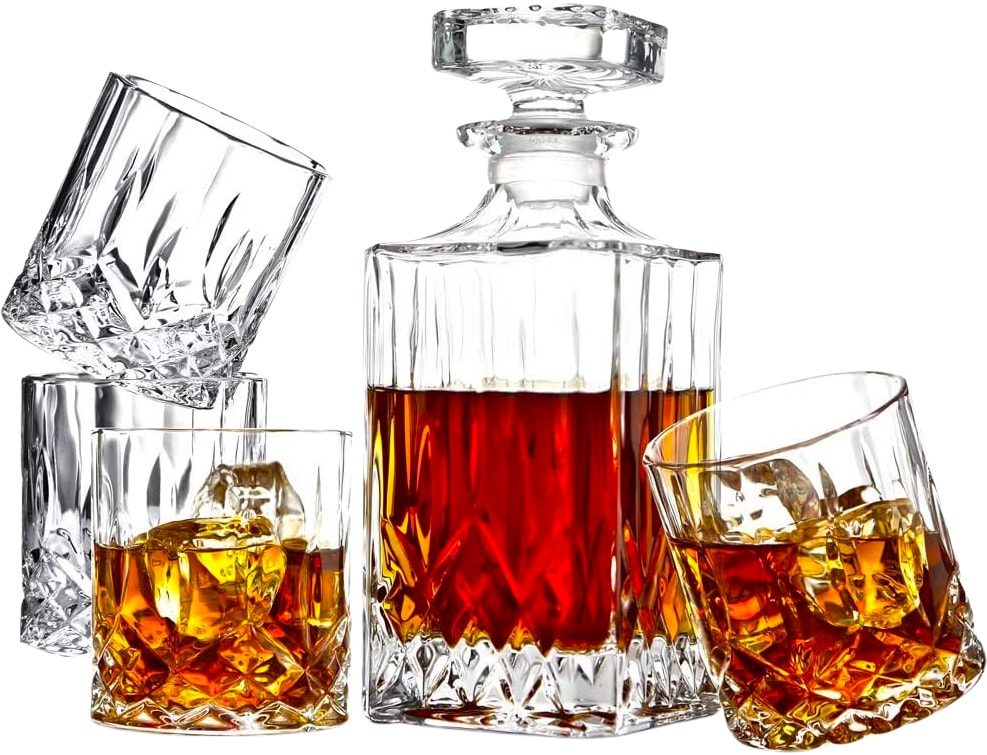 For the classy dad (or grandparents) that enjoys his nightcap from the comfort of home, this Italian crystal whiskey set will be a beautiful addition to his bar cabinet. The set includes a 35 oz decanter and 4 matching 11 oz whiskey glasses. Whether dad is a scotch, bourbon, vodka or whiskey drinker, drinking out of these classic diamond cut glasses will make it all that more special.
11.
Whiskey Ice Ball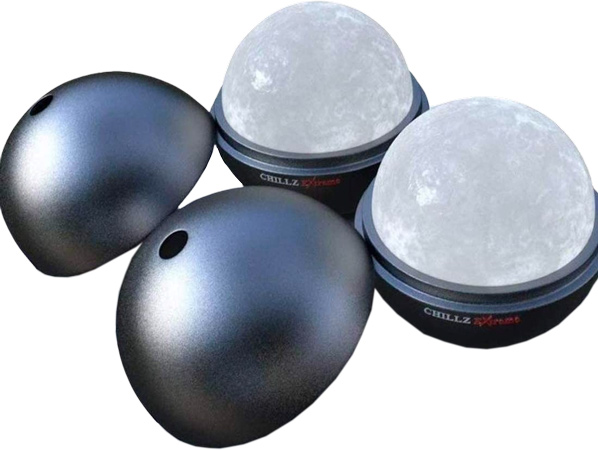 Need ice with that whiskey? Go big or go home with this set of whiskey ice ball molds. Each mold makes a 2.5-inch ice ball that is proven to improve the drinking experience due to a slower melting time than traditional ice. Once something that could only be experienced at high-end bars, now dad can make his own ice balls at home. Just fill the silicone molds with water and place them in the freezer so they'll be ready for the next big poker night.
12.
Beer Chillers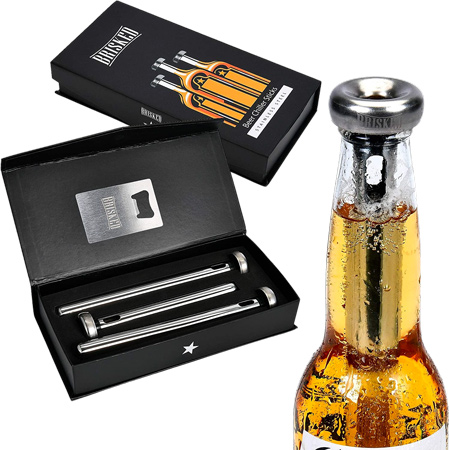 Make sure dad's beer always stays cold with these fun beer chiller sticks. The set includes three chillers that are made of stainless steel and designed to slide into glass beer bottles. Unlike adding ice to keep a beer cold (because who does that?!) these useful chillers won't water down the beer. Just freeze them until they're needed and then slide them into the bottle to keep dad's beer perfectly chilled and tasting how it should. He will thank you.
13.
Beer Can Crusher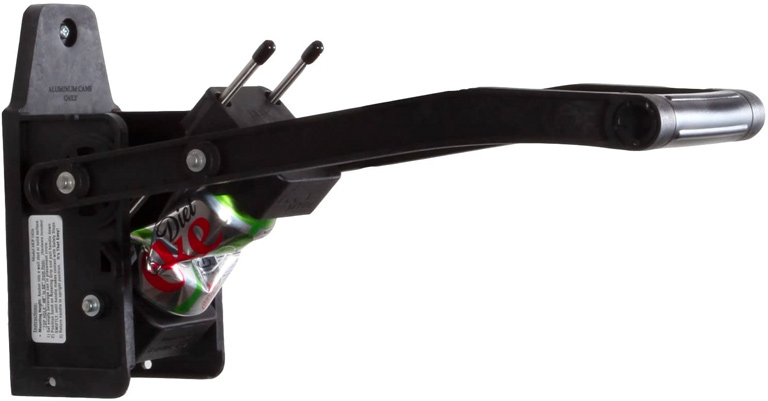 For the eco-conscious dad, this beer can crusher will make the perfect addition to the garage or man cave. The can crusher can be mounted on the wall so it stays out of the way until it's needed. This crusher makes crushing cans faster, easier and safer than doing it by hand. Plus once all the cans are crushed they take up significantly less space in the garage than uncrushed cans. It saves space and saves time. Efficiency dad will appreciate.
14.
Beer Can Glasses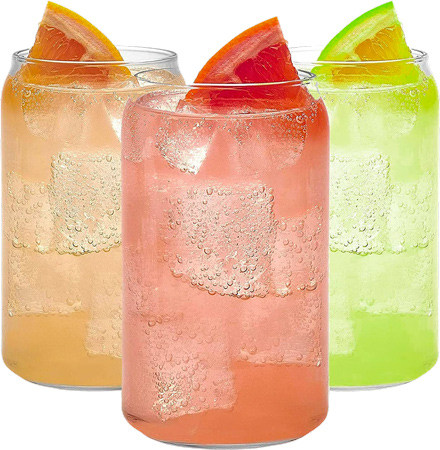 Classy drinking glasses with a manly twist. These unique drinking glasses that come in a set of six are designed to look like beer cans. Each glass holds 16 oz of whatever it is that will quench dad's thirst. Made of high-quality glass, they are durable and dishwasher safe. They're a fun twist on a classic drinking glass that will be sure to make a statement.
15.
Men's Slippers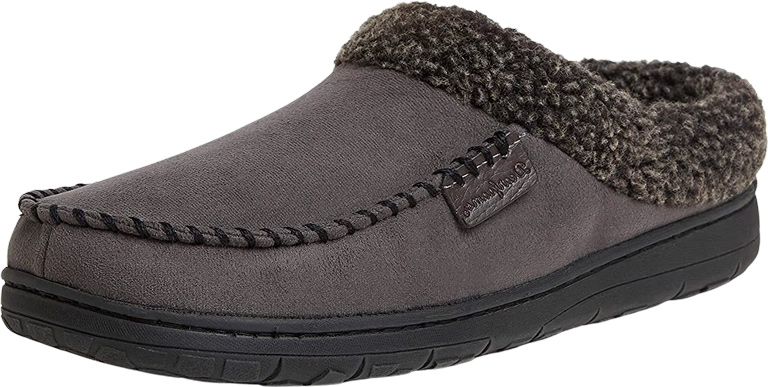 Everyone loves a pair of comfortable house slippers and these microfiber suede clogs are a stylish option that dad will be sure to love. The slip-on design makes them easy to get on and off while the faux fur lining makes them oh so comfortable. They come in six different classic colors and their modern design keeps dad on-trend, even while just kicking around the house.
16.
Pizza Socks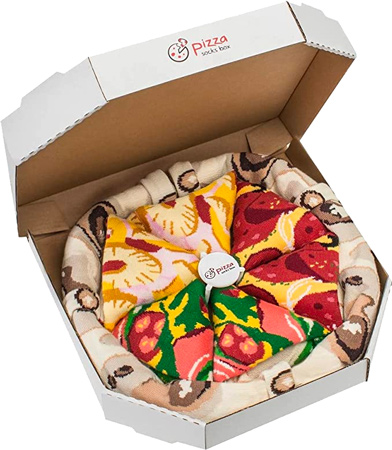 These pizza socks are so cute and will be sure to put a smile on dad's face when he opens them. The socks are patterned with pizza topping designs and then rolled up into a pizza box to actually look like real pizza. This gift comes with a set of four pairs of fun socks. The patterns include peppers, Hawaiian, pepperoni and pizza crust. This is the gift he never knew he wanted but won't be able to stop talking about.
17.
Luxury Man Soap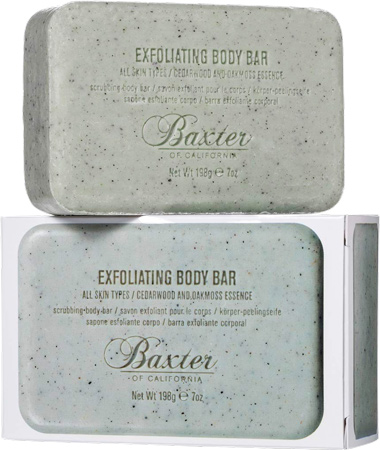 Give dad something to pamper himself with. This exfoliating man soap bar has a subtle masculine scent of cedar wood and oak moss that he's sure to love. The soap is safe to use on the face and body and is ideal for all skin types. Help dad feel and smell great after every shower with this soap made specifically for men. This could also fit perfect as a gift for your brother.
18.
Beard Grooming Kit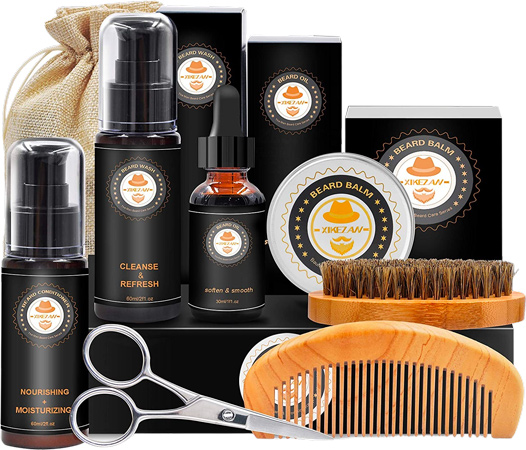 For the dad with the beard that always looks groomed, this luxury beard grooming kit comes with everything he could think of to keep it looking on point. The kit comes with shampoo, conditioner, nourishing oil, sculpting palm and tons of other goodies to keep his beard healthy and hydrated, all made from 100% natural ingredients. This ultimate kit also comes with a reusable storage bag and downloadable e-book all about growing and maintaining the best-looking beard in town.
19.
Flashlight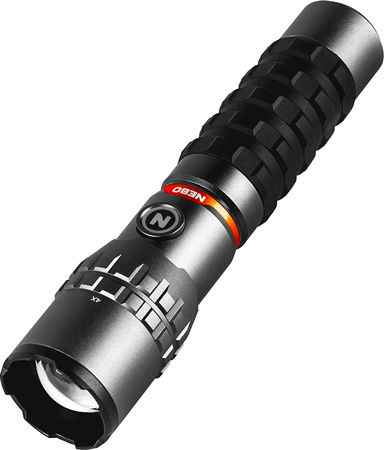 Every dad needs a flashlight that will last a lifetime, and this one by Nebo will do just that. Made of anodized aircraft-grade aluminum, it's impact and water-resistant. It features four light modes with programable memory settings and a magnetic base so whatever it is dad is working on, this flashlight is ready for the job. The included battery is rechargeable via USB-C which makes it handy to recharge via a wall outlet or a portable battery pack for jobs on the go. It's the last flashlight dad will ever need.
20.
Fossil Watch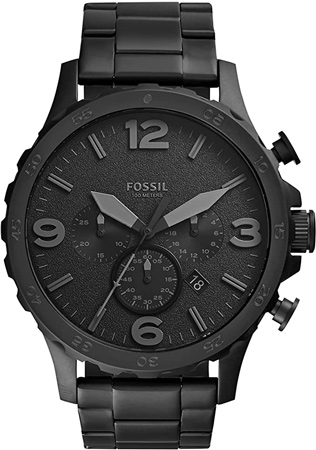 This fashionable chronograph watch by Fossil will be a welcomed gift for the watch-wearing dad that appreciates understated elegance. The black stainless steel case and oversized, military-inspired bezel makes this watch a statement piece while still being classic enough to compliment any style. It's also water-resistant up to 50 meters so he won't have to worry about taking it off for pool days or rainy weather. It's low maintenance and boasts a lot of style, just like dad.
21.
Leather Tray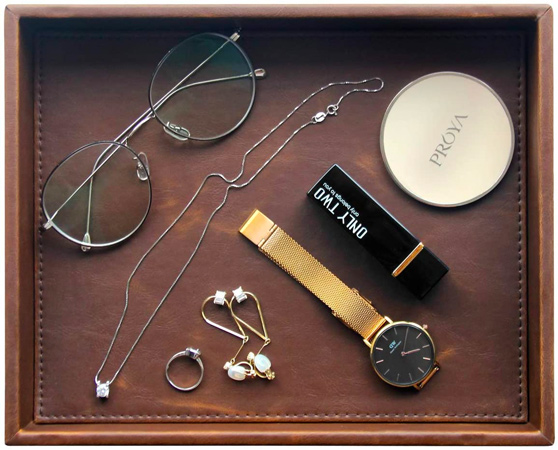 This classy vegan leather valet tray is not only functional but beautiful enough to leave out on the nightstand. It's the perfect catchall tray for dad to store his sunglasses, keys, jewelry, watch or anything else he wants to keep handy but still organized. The tray comes in either black or brown and is constructed of real wood and faux leather which makes it waterproof and durable. It's a great gift for the dad that likes to stay organized.
22.
Rugged Tool Bag
This heavy-duty tool bag by Dewalt is perfect for the dad who likes to stay organized but still wants quick access to all of his tools. The large interior compartment holds everything he needs while the unique pop-open design makes getting to them quick and easy. And with a total of 33 pockets, everything has a place so all his tools will stay organized and within reach. If you're shopping for a dad that loves his tools, this tool bag is handyman approved.
23.
24 Karat Gold Pen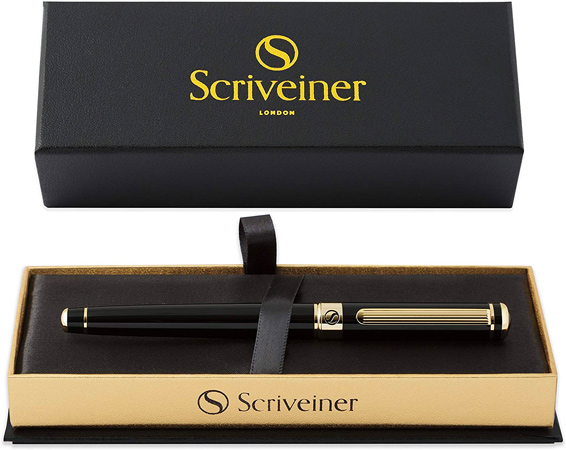 A pen that exudes almost as much class as dad does. This luxurious rollerball pen by Scriveiner is a beautiful gift that will serve him daily. The pen is constructed in a sleek black lacquer body with 24 karat gold accents. Not only does it look like something James Bond would write with, it's also designed with the Schmidt liquid ink system so writing feels like it's gliding across the paper. It's a gift dad will keep forever.
24.
Watch Roll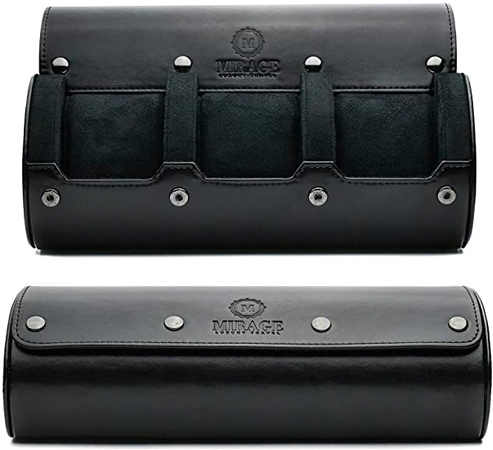 Does dad need somewhere to store his favorite watches when he travels? This watch roll case in classic faux black leather takes the traditional travel case to a whole new level. Its chic design is not only attractive but the included sliding storage pillows inside allow for custom configurations to suit his specific needs. The cushioned dividers also prevent the watches from touching each other so scuffs and damage while traveling won't be an issue. Whether he's using it for travel or just keeping his watches safe at home, this luxury case will make him happy.
25.
Leather Belt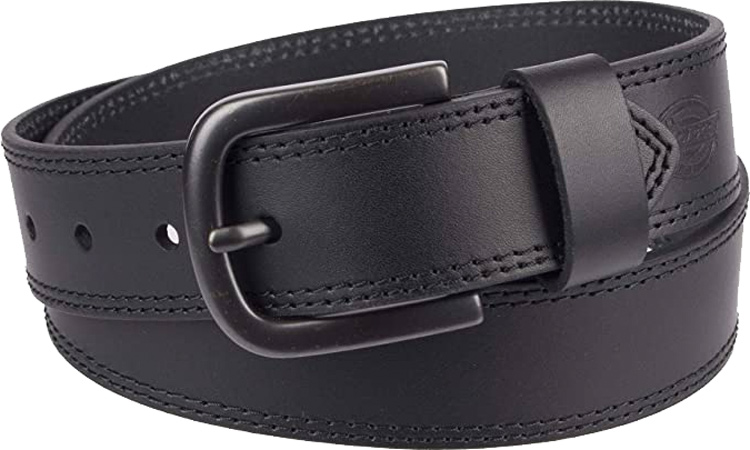 A classic gift that any dad will get endless use out of. This 100% genuine leather belt by Dickies will add style to jeans, khakis, pants and shorts. The casual design in matte black makes it versatile enough for daily use, no matter what the occasion.
26.
Leather Wallet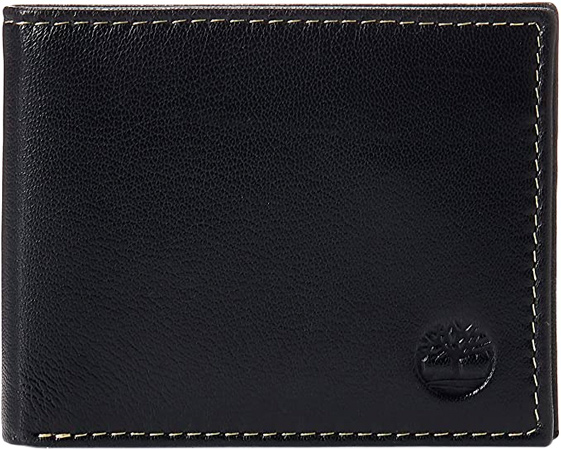 Dad will be sure to love this classic wallet. Made of 100% genuine leather it's durable enough for daily use and the buttery soft texture makes it easy to slide in and out of pockets. The bifold closure opens to reveal eight large card slots, enough room for all his cards and IDs. Though it's spacious enough to hold everything he needs, the minimal design keeps it low profile so keeping it in his back pocket won't cause annoyance or discomfort.
27.
Portable Putting Range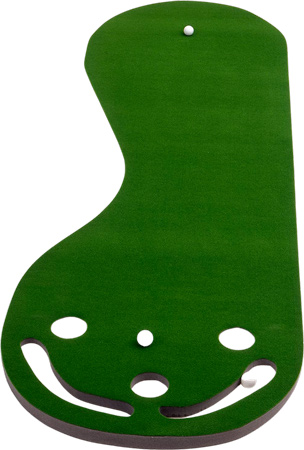 Bring the golf course to dad with this portable putting green. Now dad can practice putting in the convenience of the backyard, or even the living room! Measuring three feet by nine feet and made of light PET resin, it's easy to set up for practice and then store away when not in use. It even has built-in sand trap cutouts to stop missed shots from rolling off the mini green. All his friends will be impressed with his new short game skills. For more gift ideas for the golf-loving father, check out our post on golf gifts for men.
28.
Man Candle
This five-ounce candle made for men has a masculine scent of whiskey and tobacco. The classic amber glass vessel with a natural cork top makes the candle a seamless fit for any home decor. Each candle is hand-poured and burns for 35 luxurious hours. Dad's house will smell divine!
29.
Trunk Organizer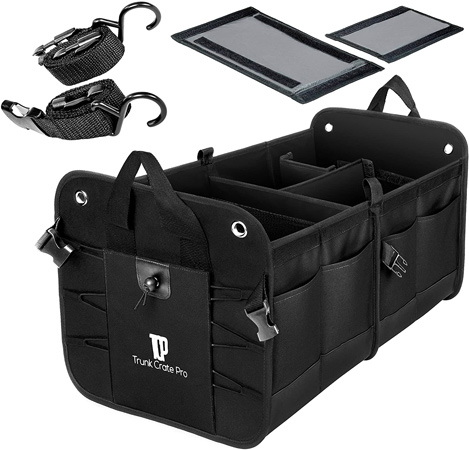 Help dad keep his car organized with this heavy-duty trunk organizer. As one of the largest available trunk organizers on the market, there is plenty of room to store all the necessities he needs in the car. Made of premium Oxford Polyester material it is built to withstand heavy usage, abrasions and is even water-resistant so it easily wipes clean. The three compartments with removable subdividers allow for storage customization and the foldable frame makes it collapsible so it's easy to store when not in use. Dad's trunk is about to get a makeover.
Need more inspiration?