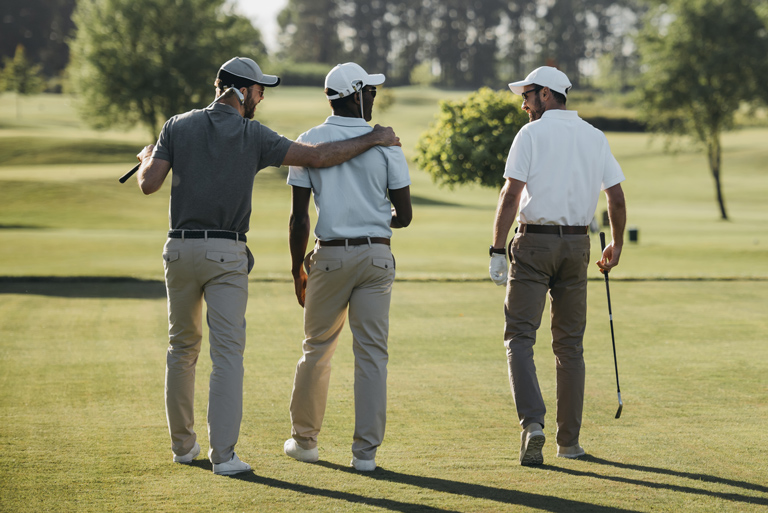 If you've got a golfing buddy in need of a great gift, you've landed where you're supposed to be. This list of 30 gifts for men who love golf is the ultimate guide on what to get him. We've covered tech gear, golf equipment, fashion and even fun golf-inspired decor.
Shop worry-free knowing the perfect gift for the serious golfer is here on this list. Giving your friend any one of these gifts will impress him almost as much as your golf swing does. Though, with all this gear to help him improve his scores, you might need to worry about him outplaying you during your next game. (Maybe get yourself a gift too so that doesn't happen.)
1.
Range View Finder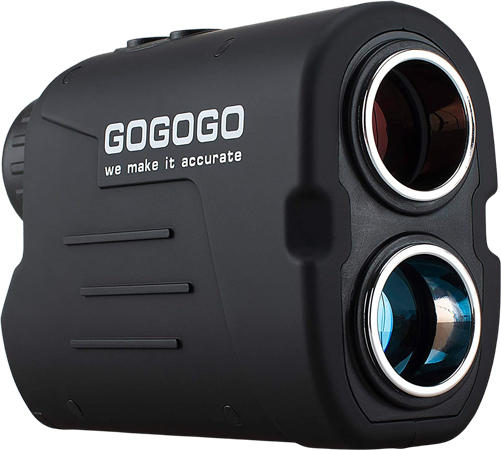 Help your golf buddy improve his golf game with this laser rangefinder. The rangefinder will measure the exact distance between the ball and the flagpole. It will also measure the distance of drives to track how much further he is driving the ball. The slope mode, which takes into account elevation in the course, can be turned off to make this rangefinder legal for professional tournaments. This gift blends tech with your friend's favorite game.
2.
Smart Golf Watch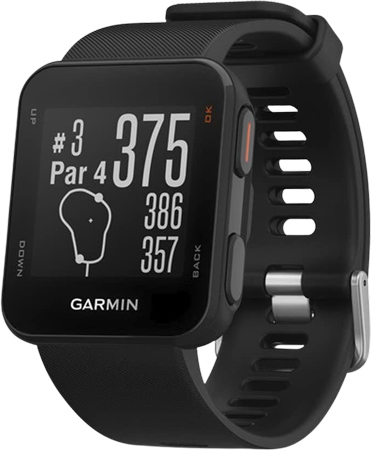 Here's a piece of tech that will help him play, and track, the best game of his life. The GPS smartwatch is explicitly designed for golfers. It is preloaded with information of over 41 000 golf courses around the world which allows it to provide specific yardage of the front, back and middle of the green. He can even use it to keep track of his scores as he's playing. Any golfer would love to get this as a gift from you.
3.
Golf Cart Speaker

With this gift your friend will be able to listen to his favorite songs while he's driving around the course. This waterproof, portable speaker mounts to his golf cart. Although extremely compact in size, it boasts a loud, crystal clear sound with amplified bass. The swivel on the mount allows your friend to aim it any direction so he'll always have uninterrupted sound. The 12-hour battery life will provide enough tunes for more than just his 18 holes. He'll be pumped with this gift.
4.
Golf Trunk Organizer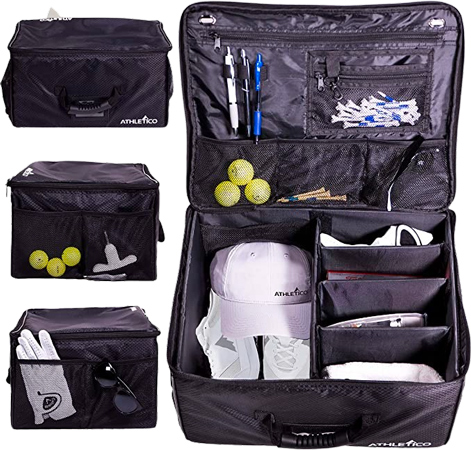 Golf equipment is expensive. Don't let your friend toss their gear haphazardly in their trunk. Help them stay organized and protect their gear with this golf trunk organizer by Athletico. The collapsible organizer pops up into shape when it's ready to be used. It features multiple storage compartments that can be configured for his specific needs with the removable dividers. The reinforced walls are water and tear-resistant so it's made to stand up to sharp objects like golf tees or divot tools. Your friend will definitely appreciate this gift.
5.
Golf Cooler Bag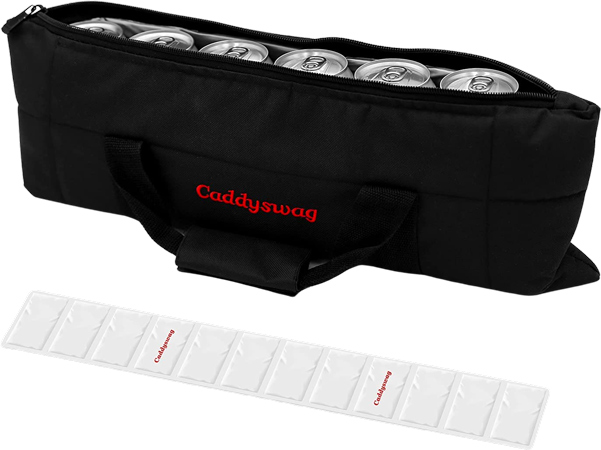 Is it really even golf if it doesn't involve a cold beer? Make sure your friend always has a cool one on hand with this discreet beer cooler bag. The bag is designed to hold up to six beers and will keep them cold for the entire 18 holes. The cooler will fit into any standard golf bag without causing any bulk or getting in the way of gear. Don't make your friend carry a separate cooler on the course. This gift is made for golfers.
6.
Golf Bag Pint Glass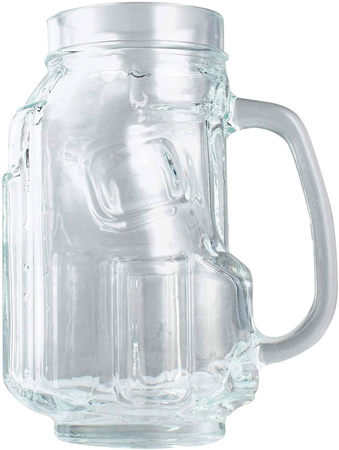 This clever beer mug is perfect for the 19th hole. It's made of thick, dishwasher-safe glass and is shaped like an actual golf bag. It holds a full 16 ounces of frothy goodness that your friend will enjoy at the end of his game. You can buy him a few to make a set or just gift him one that you've filled with his favorite sweet treats and golf-related trinkets, like golf tees or a rolled-up golf towel. He'll appreciate the thought that went into this golf gift.
7.
Golf Liquor Flask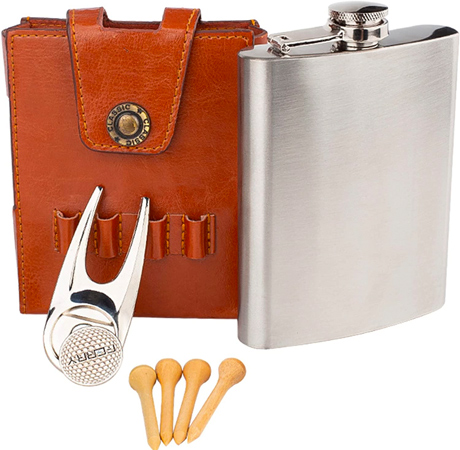 If your friend enjoys something a little stiffer than beer on the golf course, this gift is perfect for him. Not only will it hold seven ounces of his favorite liquor or cocktail, it also holds multiple golf accessories. It comes with four wooden golf tees, a divot tool and a ball marker disc, all of which are stored in the attractive vegan leather case that covers the flask. He can either carry it in his pocket or clip it to his bag. You won't go wrong with this gift.
8.
Ball Whiskey Chillers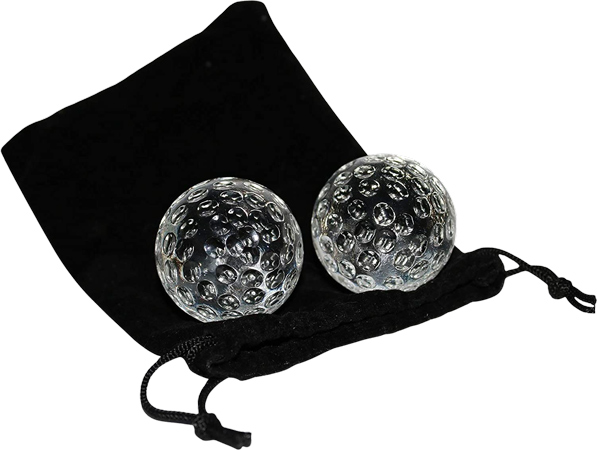 This is a really cool gift any whiskey-swigging, club-swinging golfer is going to love. This set of glass whiskey stones looks like a pair of crystal golf balls. They can be kept in the freezer and used in place of ice so his expensive whiskey, scotch or vodka doesn't get watered down and ruined. The set comes ready to be gifted in the included velvet gift pouch. Pair this a gift with a bottle of booze and you've got the perfect no-fuss present for your friend or dad that he'll be sure to love.
9.
Cart Drink Server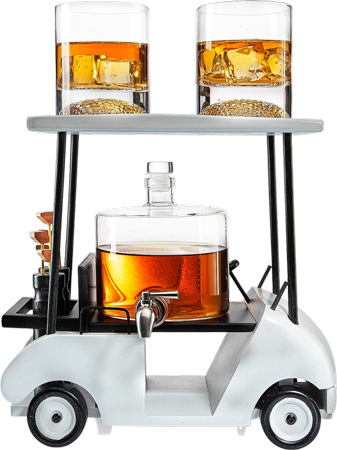 Help your friend dress up his home bar area with this unique and super cool drink dispenser. The set comes with a glass decanter with a pouring spout for his liquor and two matching glasses that feature golf ball-inspired bottoms. The set all fits in the golf cart shaped display that is sure to get tons of compliments when his golf buddies come over for a post-game drink.
10.
Golfball Water Bottle

Your friend is going to need to stay hydrated on the course so why not help him do it with this golf ball inspired water bottle? It comes in multiple sizes, so whether he wants a smaller one that fits into his golf bag or a larger one to sit on his golf cart, there is a size that will suit his needs. The bottle features triple insulated stainless steel walls that will keep his beverage cold for up to 48 hours, even in the hot sun.
11.
Golf Ball Cleaner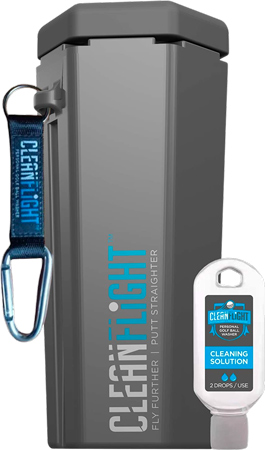 Having a clean golf ball is proven to help it go further and straighter, which can help your golf buddy improve his scores. This premium golf ball washer is the perfect bit of kit for him to carry with him on the course. It's small enough that it can be clipped to the outside of his golf bag. Next time he needs to clean his balls, don't make him do it on his shirt. With this gift, he can do it as the pros do.
12.
Portable Putting Trainer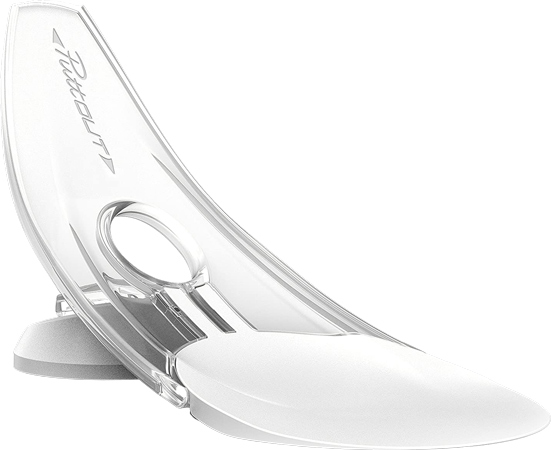 If your friend wants to hone his skills from the comfort of home, this portable putting trainer is going to be a gift that will make him happy. It simulates putting into a hole on the green and has been designed to return good putts and reject ones that would have been a miss. The very small design means he can pull it out whenever or wherever he wants to get some practice in. It's even small enough to fit in his golf bag.
13.
Golf Swing Trainer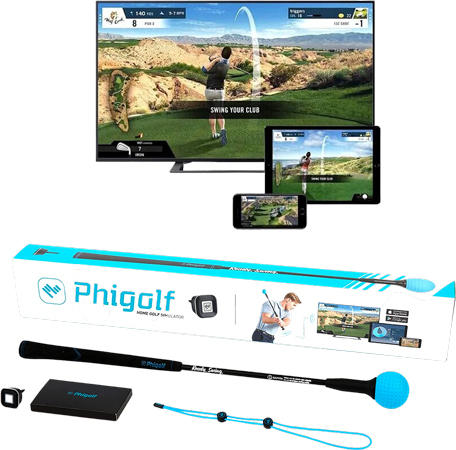 Sure, your friend can practice his swing with a club but there's no measurable feedback that will let him know how to improve. This gift is the solution to that. This golf swing trainer contains a seasoner that connects to a phone or TV via Bluetooth that will simulate an actual golf course. Your friend can either practice alone or can play a virtual game with other players via the online network. If your friend wants to play more golf, this gift allows him to play whenever he wants without even having to drive to the course.
14.
Golf Chipping Practice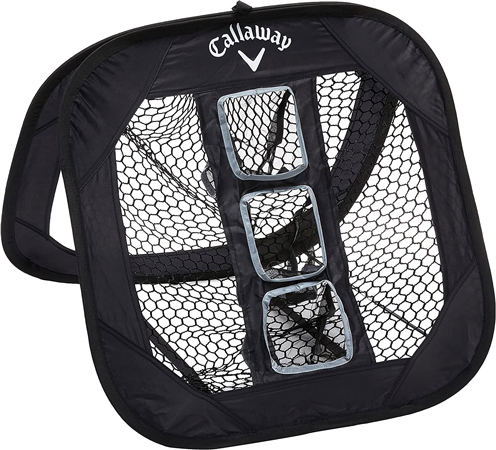 This golf chipping net is perfect for your friend's backyard. This collapsible net takes up hardly any space and allows him to chip and lob balls into the various levels of pockets so he can improve his game. When it's not being used, it folds down in a matter of seconds for easy storage. A better score will be in his future because you got him this gift.
15.
Weighted Elbow Brace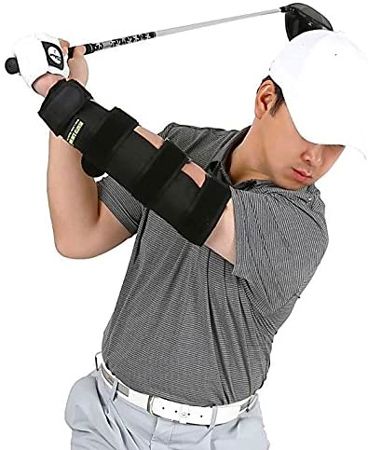 If your golf pal is serious about his game, he probably owns a few pieces of equipment that help him practice from home. Though, he probably doesn't have this one. This weighted elbow brace will help him improve his swing by distributing weight to help him swing harder while correctly rotating his shoulders and straightening his arm in the backswing. This trainer will take his swing to the next level.
16.
Golf Club Covers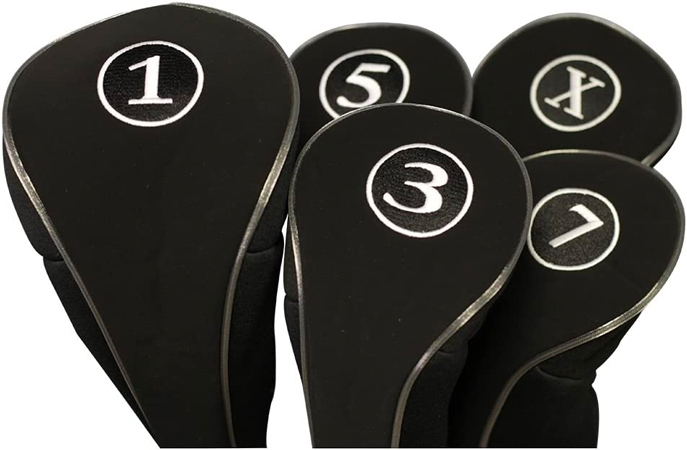 Help your friend protect his clubs from scratches and chips with these golf club covers. The thick and stretchy neoprene material is soft enough that it won't damage expensive clubs while the minimalist black and white design keeps his set looking classy. The set includes five different covers, each featuring a durable zipper to secure them to the club. Your friend will appreciate knowing his equipment is protected.
17.
Metallic Golf Balls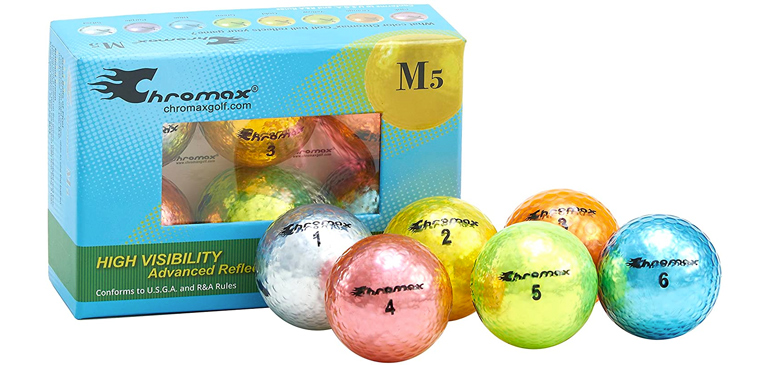 This gift might not necessarily improve his scores but he'll have the coolest balls on the course. These chrome-colored balls are covered in a patented durable coating that is highly reflective. Being reflective will help him locate his balls on the course. The balls come in a set of six and are available in multiple bright colors to choose from. All colors conform to USGA and R&A rules so they are compliant for when he plays in his next tournament.
18.
Golf Ball Retriever

Help your friend pick up his golf balls without causing back strain. This ball retriever can pick up balls with the tube without having to constantly bend over. It holds up to 60 balls so it's great for picking up all the balls in the backyard from the putting and chipping practice he's been doing. Your friend, and his back, will appreciate this gift.
19.
Weatherproof Cart Cover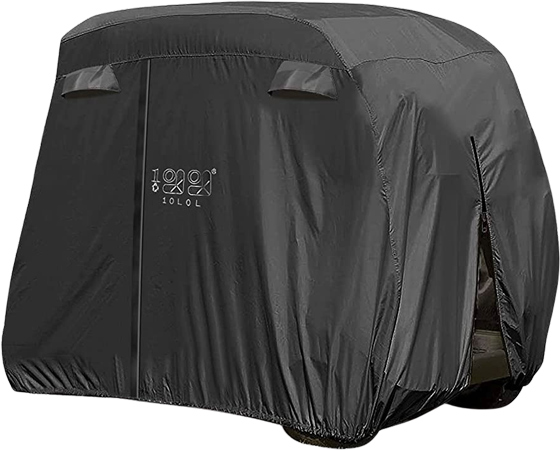 Help your friend keep their golf cart in pristine condition with this heavy-duty cart cover. The cover is made of a high-density polyester that has been weather sealed with waterproof tape around all the stitching which means his cart and everything in it is going to stay dry. Using the cover also protects the paint job from damaging UV rays. This practical gift could help your friend save a lof of money by preventing damage to his cart. How could he not appreciate a gift like that?
20.
Cooling Neck Fan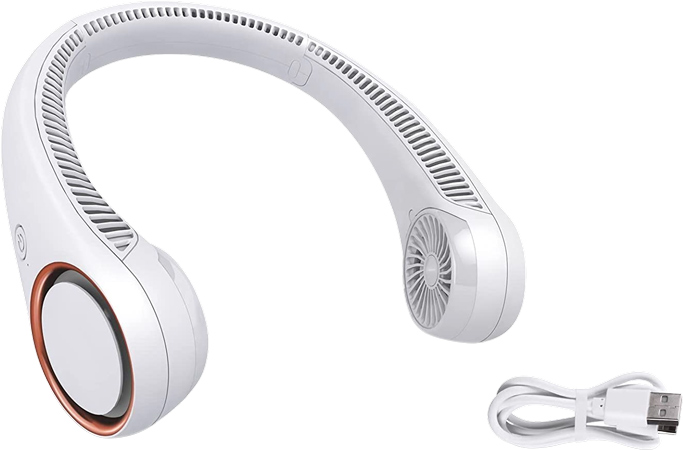 Help your friend stay cool while he's playing his rounds with this portable neck fan. With this gift he'll be able to enjoy the perks of a portable air conditioner without having to hold a fan. He'll still have both hands free to swing his clubs. The fan features three speeds and has an impressive 78 air vents. That's a lot of wind power. The battery will last up to 16 hours and can also be easily recharged via USB from a portable battery pack. Your friend will be able to spend more time on the course, despite how hot it is outside.
21.
Score Card Holder
This luxury scorecard holder would make a perfect gift for any golfer. It's made of premium, top-grain leather with a microfiber-lined interior. It's made to fit most standard-sized scorecards, which are securely held into place with four elastic corners. It also has an elastic holder on the side for his golf pencil. Your friend is going to look good when he pulls this out to record his hole-in-one.
22.
Breathable Golf Gloves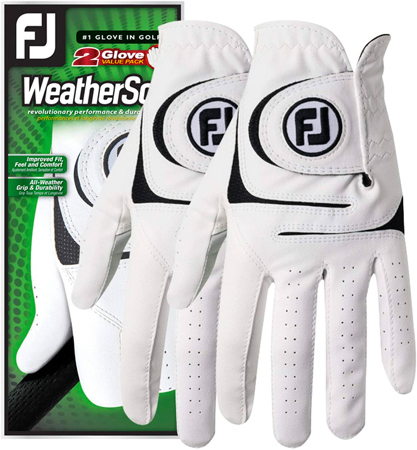 Every golfer needs a good glove to help his grip. Get your golf buddy this pair of advanced performance gloves so he'll not only look good swinging, he'll probably improve his score. The gloves not only have a leather thumb and palm patch for extra durability, they also have a mesh panel across the knuckles for breathability and comfort.
23.
Stylish Golf Visor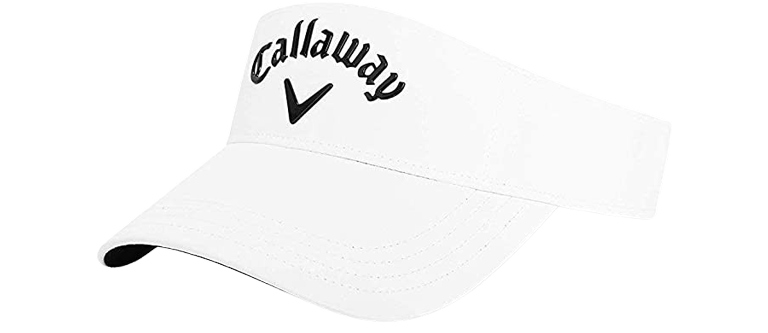 This golf visor is not only a fashionable golf accessory, it's going to help your friend keep the sun out of his eyes while he's playing. The inside features a moisture-wicking sweatband so it will also keep sweat from interfering with his vision while he's swinging. Every golfer loves a visor and this one is definitely gift-worthy.
24.
Polarized Sport Sunglasses

Protect your friend's eyes while he's playing in the bright sun with these stylish polarized sunglasses. The lenses feature nine layers of UV protection which is not only safer for his eyes than unpolarized glasses, but he'll also avoid headaches from squatting and eyestrain. The sporty design and lightweight plastic frames make these the ideal glasses to wear for long golf games.
25.
Fashionable Golf Shoes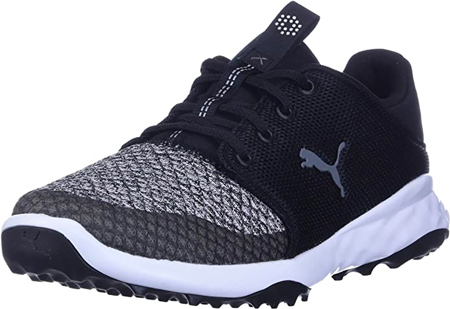 These golf shoes by Puma will have your friend looking dapper and feeling comfortable on the course. They're made of a cotton and polyester blend with a performance mesh outer so they're designed to be breathable. They also feature a fusion foam sole to make sure he won't suffer from foot fatigue while walking his 18 holes. They're a great-looking pair of shoes for the serious sportsman.
26.
Golf Shoe Tote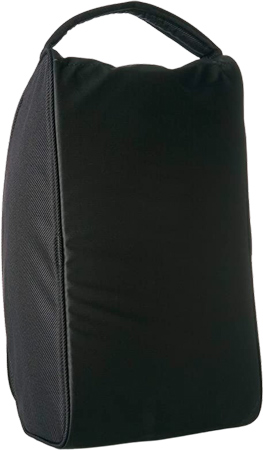 This golf shoe tote by Nike is the ideal way for your minimalist friend to store and transport his golf shoes. The integrated handle makes carrying it on its own easy and convenient but the compact size also makes it the perfect tote to be able to toss it in a suitcase or gym bag to protect his clothes from dirty shoes. This is a great gift if your friend is more into running as well.
27.
Golf Bag Traveler

If your friend likes to travel to play the world's best courses, this gift is for him. This travel bag is like a suitcase designed specifically to protect his golf bag and clubs. It's made of rugged polyester with thick padding that is designed to withstand traveling in cargo on an airline. With this gift, your friend won't be worrying about his clubs when he travels. He can just concentrate on enjoying his golf trip.
28.
Golf Globe Game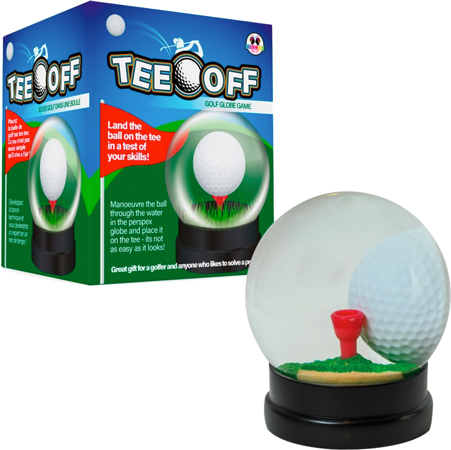 If your friend needs a fun way to avoid being productive at work, get him this snow globe game for his desk. The game can provide hours of fun as he tries to land the golf ball on the tee. When he's not playing, it will look good sitting on his desk to let the world know he's a golfer at heart.
29.
Golf Pen Holder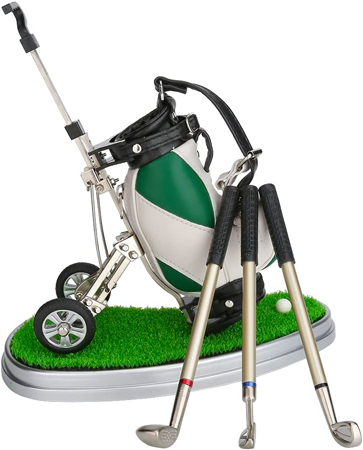 This adorable pen holder that looks like a golf bag is great for your friend to use at home or the office. The golf clubs in the bag are actually three different color pens. Even with the golf club pens in the bag, there is still plenty of space to hold his other favorite writing tools. Every time he needs to write something he'll remember who gave him such a great gift.
30.
Golf Cart Clock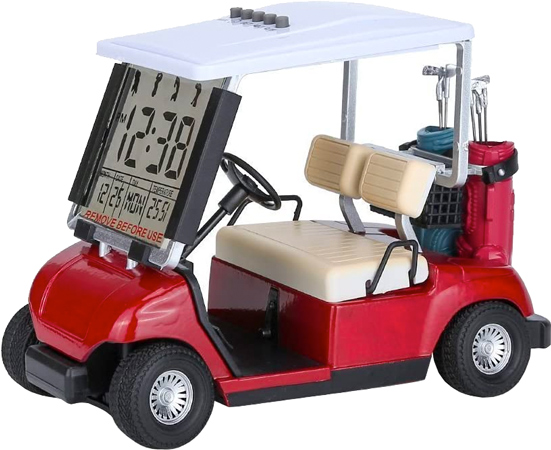 Your friend will never miss a tee time with this cleverly designed alarm desk clock. The clock, which looks like a golf cart, features a large, easy-to-read digital display. Not only does it display the time, it also shows the month, date, day of the week and indoor and outdoor temperatures. He'll love looking at this on his desk. What time is it? Time for golf, obviously!
Need more inspiration?