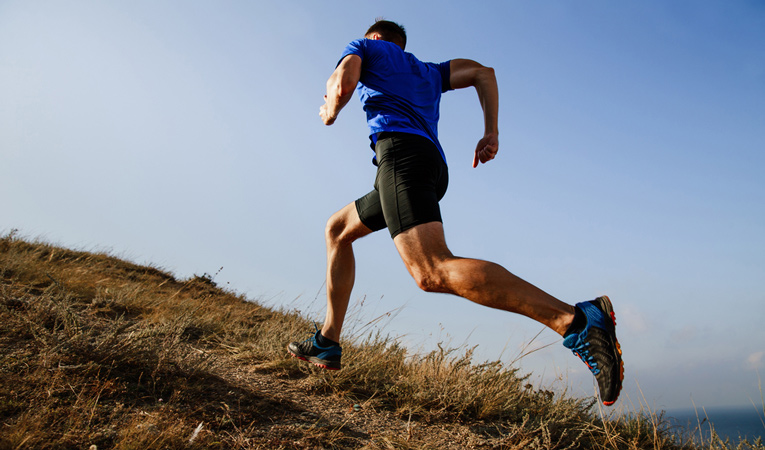 Runners are passionate about their sport, and like any sport, there are tons of accessories and equipment that can make running safer, more enjoyable and just overall more stylish. Whether you buy them that one special gift or put together a runner's gift basket, there's something here for every level of runner that will keep you running through their mind.
If you're looking for the perfect gift for your favorite running partner, here's a list of 30 ideas that any runner would be happy to receive.
1.
Adanac 3000 Digital Stopwatch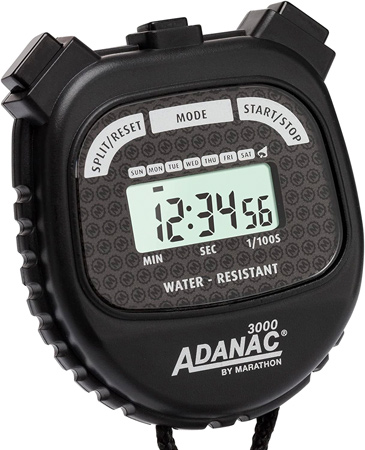 Whether you're training on your own or with your running group, this digital stopwatch will help you beat your personal bests. Designed with a large, easy-to-read face and impressively accurate timekeeping of 1/100th of a second, this stopwatch will keep you pushing yourself to your limits. Available in 7 different colors you'll be sure to find a stopwatch to showcase your personal style while you train like the dedicated athlete you are.
2.
SABRE Multi Purpose Personal Alarm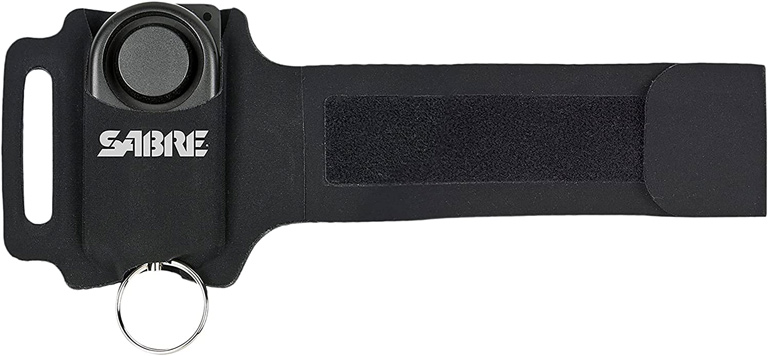 Running with a partner or in a group is always the safest way to run, though that's not always an option. Make sure you feel safe when you're running solo with this personal alarm. The lightweight alarm can either be worn on your wrist or bicep so it's always easily accessible when you need it. At 130db the siren can be heard for approximately four city blocks so it will be sure to attract attention if you find yourself injured or in danger.
3.
Night Runner 270 Shoe Lights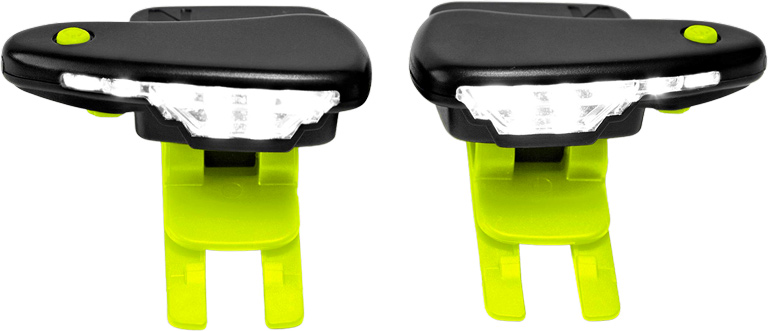 Running at night is sometimes our favorite time to run. It's quiet, relaxing and peaceful. Though it's not always safe when there's the possibility of traffic or uneven terrain to trip over. Make sure you're seen with these lightweight shoe lights. They easily snap onto the top of your shoes and provide 270 degrees of light so you can see where you're running. They're also completely water-resistant so you can run at night, rain or (moon) shine.
4.
Aduro Sport Weighted Vest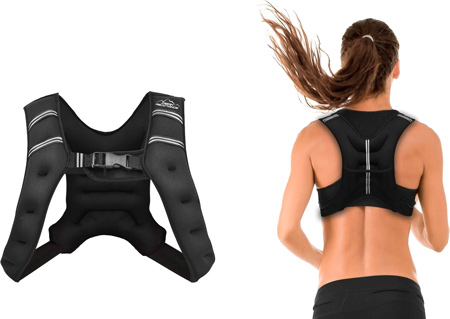 Adding weight to your run not only helps burn more calories but can help improve your posture and running times. This low-profile vest comes in six different weight options from six pounds up to thirty pounds. Designed to fit securely and evenly distribute the added weight during your run, you can be sure that your comfort won't be sacrificed while stepping up your resistance game.
5.
Thinksport SPF 50+ Mineral Sunscreen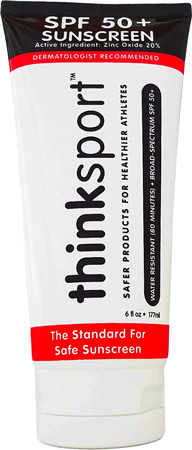 Make sure your skin stays protected on your long runs in the sun with this water-resistant, SPF 50+ sunscreen made specifically for athletes. Made free of any harmful chemicals this nongreasy, fast-absorbing lotion will offer you long-wearing protection so you can safely enjoy your run in the sun.
6.
Squirrel's Nut Butter Anti Chafe Salve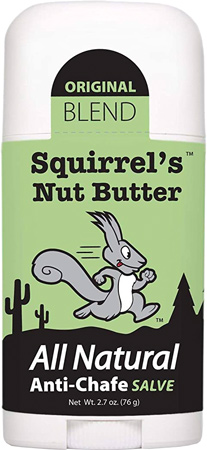 Any runner who runs for distance understands chafe. Whether it's your thighs rubbing together or your arms pumping against your sides, chafe happens. Or at least, it used to. This anti-chafe salve comes in a convenient stick applicator that you can roll on like a deodorant. It's made of all-natural ingredients and won't leave any unpleasant sticky residue. Just smooth gliding for your entire run.
7.
ECO-FUSED Deodorizing Balls for Sneakers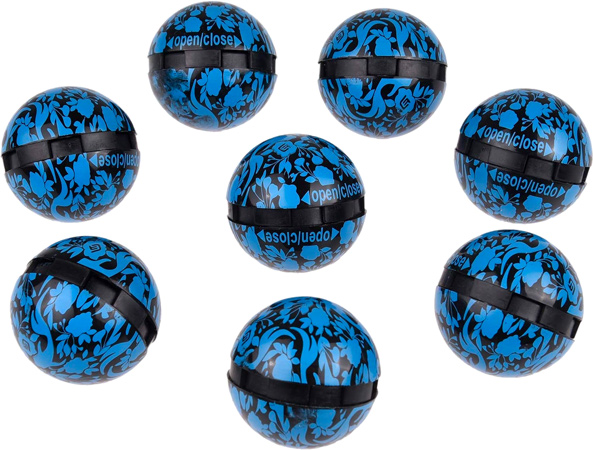 Nothing says dedicated runner like a pair of sweaty shoes. Not that there's anything wrong with that. Wear them with pride! But for the times they're not on your feet you can use these eco-friendly, reusable deodorizing balls to neutralize odors. Sold in sets of eight there's enough for your shoes, gym locker and training bag. Your friends and family will thank you.
8.
Renpho Powerful Portable Massage Gun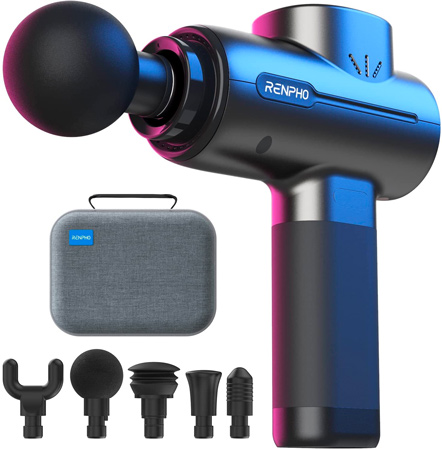 Anything to help you recover faster from your run to be able to get back on the road is surely welcome. This incredibly powerful deep tissue messaging gun offers five different settings to penetrate deep into muscles. The massager is run off of rechargeable battery power with a C port charger so it's the perfect travel companion for business trips and vacations (Because yes, even on vacation we still love to run!). This product is efficient for all types of activities such as skiing, biking, hiking and more.
9.
Muscle Massage Hand Roller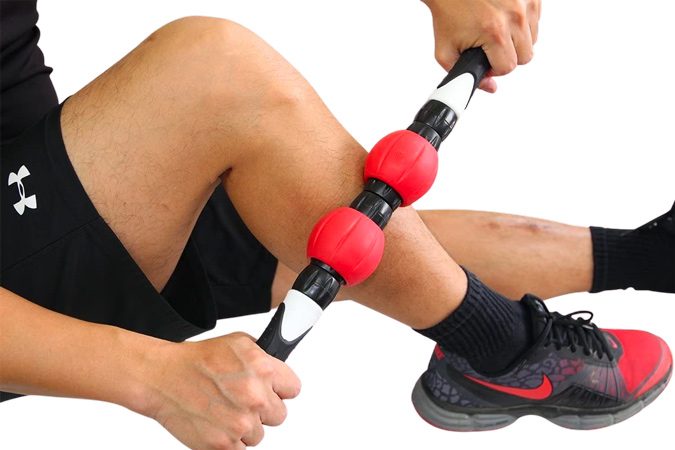 This premium muscle massager activates trigger points to help your muscles recover faster with pressure you can control. Due to its unique adjustable ring, it can be fit to message legs, thighs, hips and back. Unlike other, more cumbersome manual massagers, this personal roller is compact enough for travel and easy storage. Use it for recovery or just for personal care, because it feels so darn good.
10.
Hands-Free Dog Leash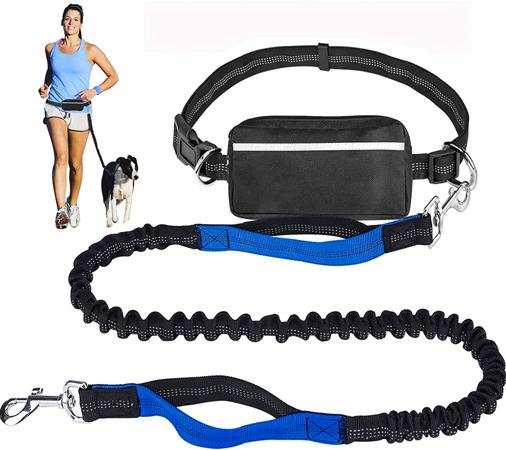 For all the dog moms and dads, now you can run hands-free with your favorite running partner. The shock-absorbing bungee leash is adjustable in length up to 69 inches and is designed to absorb the stress from any sudden changes in your furry friend's direction. (Because, you know, squirrels!) The leash attaches to an adjustable nylon waist belt that holds plenty of poo bags and any other bits and pieces you need on your run. They really thought of everything. Enjoy your run without having to hold your leash. Just you and your four-legged friend on the open road. Get inspired and find the perfect gift for your dog-loving friend or family member with our guide.
11.
Adidas Unisex Stadium II Team Shoe Bag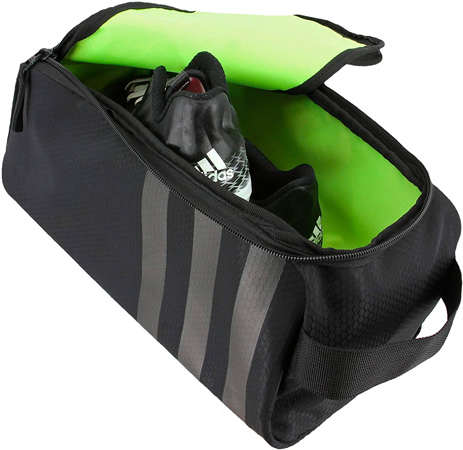 Store your shoes in your gym bag or suitcase in functional style. This fully lined, ventilated shoe bag will keep your road shoes off of your clean clothing. With enough space for your shoes and any other small accessories you use for running this is the perfect running gift for any traveler that likes to take their shoes wherever they go.
12.
Under Armour Mini Athletic Headbands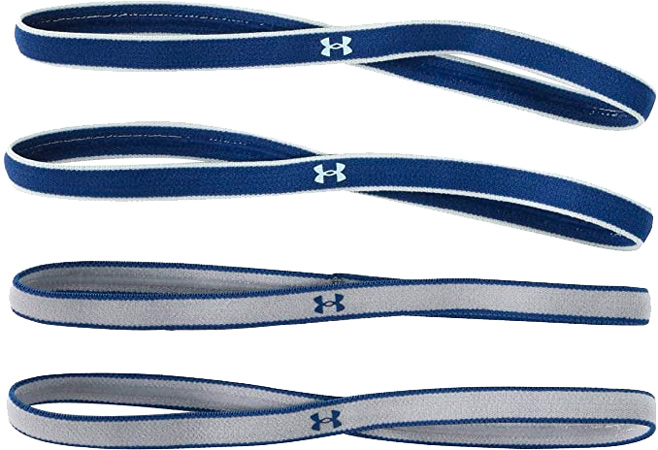 These soft, stretchy elastic headbands are perfect for keeping the hair out of your face when running. They come in a set of six and are available in tons of stylish colors to choose from. These are the perfect accessory for the runner that likes to keep things minimal but still highly functional.
13.
Halo Headband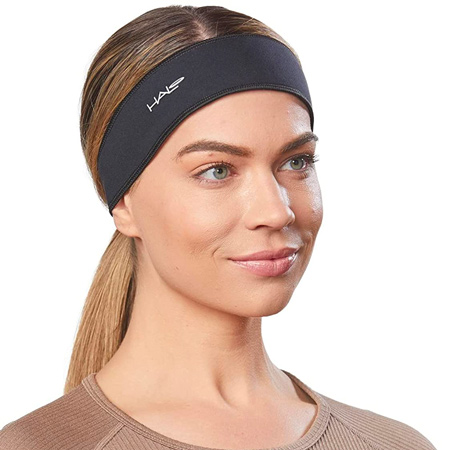 This pull on headband is the perfect solution to combat excessive sweating when you run. Not only does the headband absorb sweat and neutralize odor, the patented silicone insets actually pull sweat away from the eyes and face. The soft, stretchable fabric makes it comfortable to wear for long runs and the anatomical design that's made to fit around your ears makes it nonslip so it will stay where you want it for your entire run.
14.
Lock Laces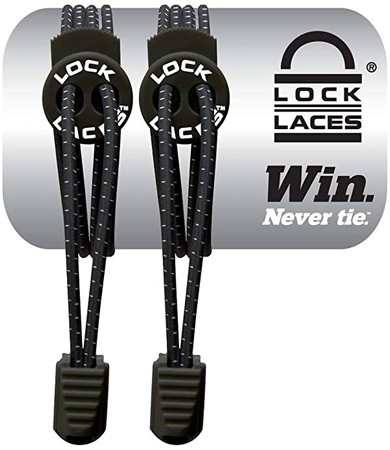 These one size fits all shoelaces eliminate the need to lace up before you hit the pavement. Originally designed for triathletes, these laces have been field-tested as the perfect running shoe accessory. Not only do they save time not having to lace up your shoes, they also put an end to those annoying shoelaces coming untied while you're running. Plus the added compression of the elasticated bands helps reduce discomfort in your shoes by making sure they are a perfectly snug fit. With 13 available colors, you'll be sure to find the perfect match for your running shoes.
15.
Belt-free Personal Magnetic Storage Pouch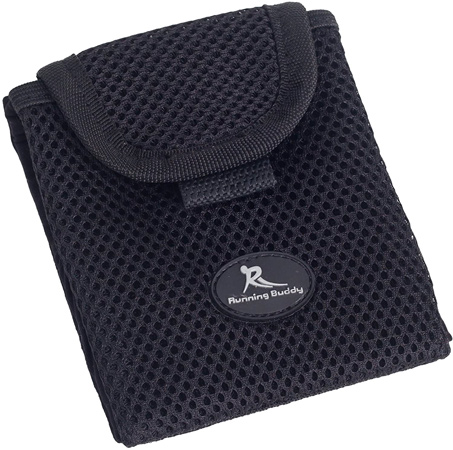 For all the little things we need to carry on a run, like keys or our phone, this is the perfect option that will still keep things minimal. With magnetic closures that clip onto any waistband, this storage pouch offers a secure hold that won't bounce during your run. It's made of premium quality dry-fit material that will keep you and your belongings dry.
16.
Gymboss Charge Interval Timer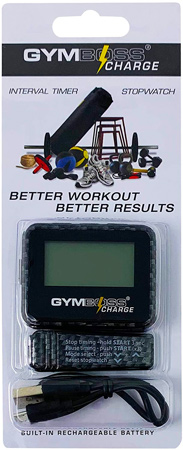 This interval trainer is the perfect companion for any runner that does high-intensity training. Gone are the days of having to set a timer on your watch or your phone. You can set up the length of each interval and how many reps you want to do. Once your rep is complete the timer will beep and vibrate to let you know that it's a low-intensity period. It's lightweight and easy to carry on either a lanyard or the detachable belt clip. It's like having a personal trainer with you to keep you motivated.
17.
AMZ CHEF Slow Masticating Juice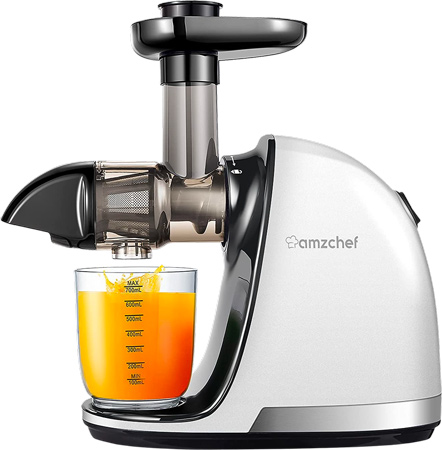 Any runner knows that what we fuel our bodies with makes a difference in our performance. This juicer is the perfect way to load up on all the healthy nutrients from pure, raw fruit and vegetables. This masticating juicer is proven to be healthier than centrifugal juicers, as the slow "chewing" motion of the masticating juicer doesn't heat the nutrients in the juice. With so many delicious recipes there's sure to be the perfect pre-run juice that will keep the body in optimal shape.
18.
Cooling Towels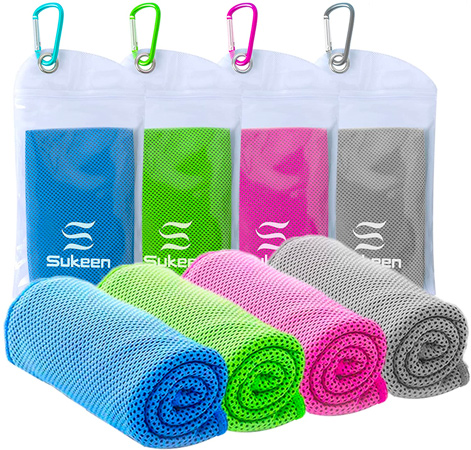 Looking for the perfect way to cool down after an intense run? This four-pack of highly absorbent cooling towels is the perfect way to refresh. Made of breathable mesh that's easily machine washable, these towels keep their chill for up to three hours! Activating the cooling is as easy as soaking it in water, wringing it out and snapping it. Instant cooling. They also come in a convenient carrying pouch with a carabiner clip so you can attach it to your gym bag and take it with you whenever you know you'll need to cool down and refresh.
19.
Bright LED Running Headlamp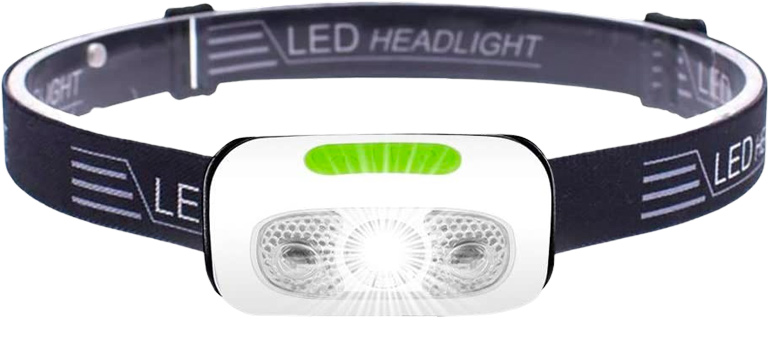 Let there be light! And lots of it. This little headlamp delivers some major lumens to light your way. On the highest of the five modes, this running light will light up to 500ft in front of you. It takes just four hours to fully charge and lasts an impressive seven hours on full power and fifteen hours on the low mode. It's so lightweight, weighing in at only 1.48 ounces, you won't even notice you're wearing it. It's also waterproof so running in the rain will never be an issue.
20.
Copper Compression Calf Sleeves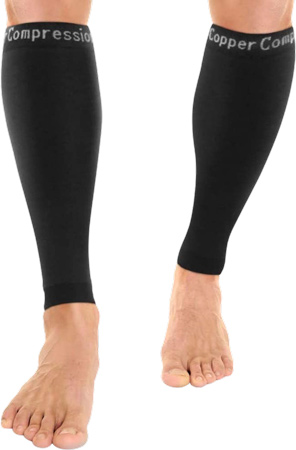 These compression sleeves are infused with actual copper for optimal antimicrobial capabilities. The copper also helps them retain their shape and tension after washing. Wearing calf compression sleeves not only helps with recovery from certain injuries like shin splints or tendonitis, they also help to prevent any future injuries while training. The pressure from the calf sleeves increases circulation while you're running so they also cut down on recovery time. Less downtime, more run time.
21.
Anti-Blister Running Socks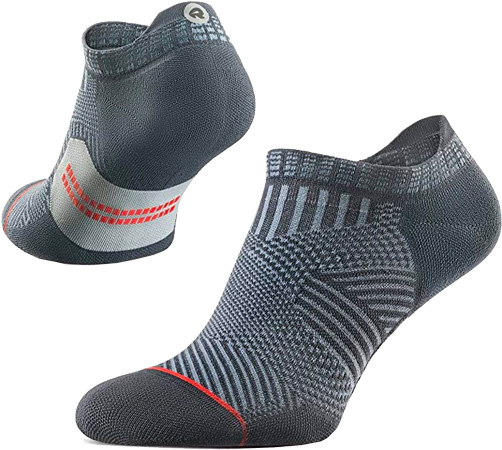 Nothing ruins a run like chafing socks. Don't risk painful blistering by wearing these anti-blister running socks. Made of recycled material these socks are designed with seamless toes and performance cushioning zones to make sure they stay comfortable every step of your run. They were also awarded "Editor's Choice" by Runners World, a very high mark of approval. You won't go wrong gifting these socks.
22.
Hydration Pack Backpack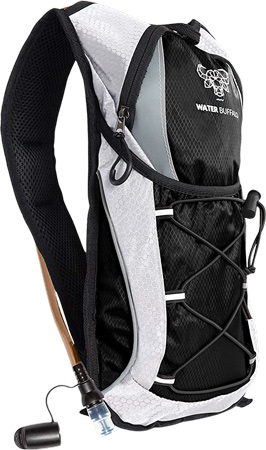 Now you can stay hands-free and hydrated on your run with this stylish and rugged hydration backpack. This backpack has a two-liter capacity that will keep your water cold for up to five hours. With the padded and ventilated straps, you can run in comfort knowing you have everything you need to keep on pushing longer.
23.
Heart Rate Monitor Chest Strap

Tracking your heart rate isn't just for knowing what intensity you're running at. It's also useful to help you pace yourself for longer runs so you don't burn out too quickly. This Polar heart rate monitor has been long recommended as one of the most accurate monitors for runners and is widely used by professional athletes for training. One of the top benefits of the polar chest strap though is you don't need to carry yet another device to record your results. It easily connects to most smartwatches and fitness apps. Just attach the comfortable strap around your chest, connect it to your watch or phone, lace up and start moving.
24.
Reflective Running Belt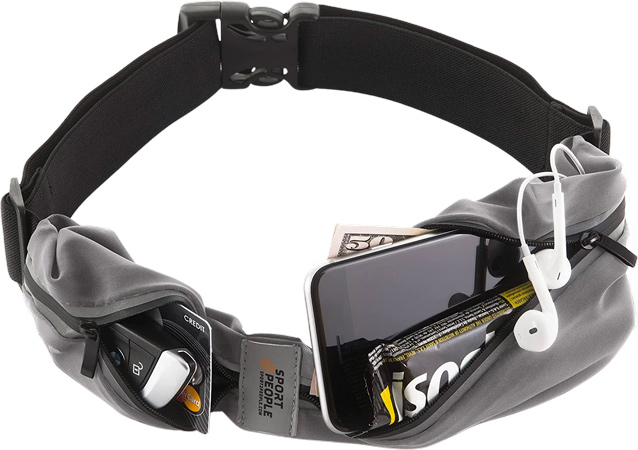 For those of us that like to take a little extra with us on the run, this reflective running belt holds a ton while still staying low profile and bounce free. The high quality material is weather-resistant so it will keep all your essentials dry during rain or snow. It even has a discreet opening for your headphones so you can listen to your favorite playlist while still keeping your phone secure.
25.
Vapur Solid Flexible Water Bottle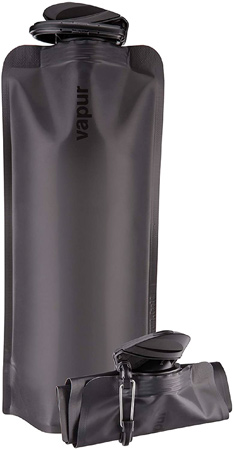 We all know how important it is to stay hydrated during and after our run but who wants to run with a bulky water bottle? This flexible water bottle is the perfect solution to bring water with you but then collapse and tuck it away when you're done with it. It's so light, only 1.5 ounces, you won't even notice it in your pocket when you're running. This convenient, one liter bottle is made of three-ply BPA and phthalate-free reusable plastic that's dishwasher safe and freezable if you want to double it up as an icepack for cool down or recovery. Stay hydrated while also staying hands-free when you're done with it.
26.
Bose Sport Earbuds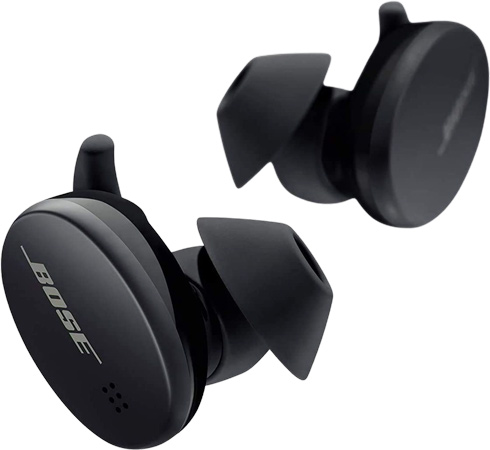 Nothing beats the feeling of running while listening to your favorite playlist to pump you up. The only thing that could possibly make it better is listening with the high-quality performance of Bose. These wireless sport earbuds are weather and sweat-resistant and are designed to stay in your ears no matter how vigorously you're training. With up to five hours of playtime you can be sure they will last the length of your run. Need some help finding the perfect present for the music lover? Our guide has you covered for that too.
27.
iHealth Nexus Body Fat Scale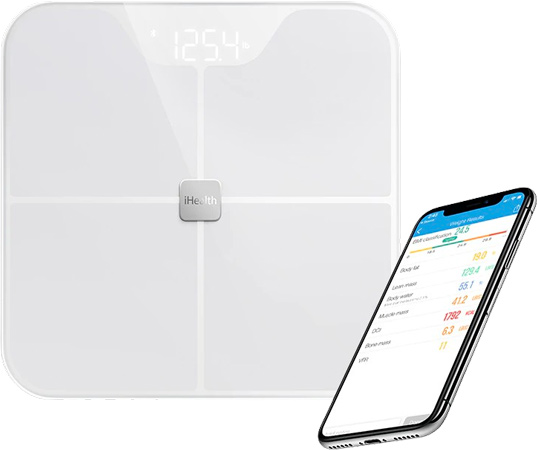 Here's a scale that does so much more than track your weight. Now you can track your muscle gains, body water and bone mass too. This full body composition scale by iHealth Nexus syncs with multiple apps to track your progress so you can compare gains and losses from previous weeks. And with the capability of syncing up to eight users, it's great for the whole family of runners. You track your time, you track your heart rate, this will help you track everything else.
28.
LED Safety Light
Stay safe while running in low visibility conditions with these lightweight, clip-on running lights. With three different flashing modes and five bright colors to choose from you'll be impossible to miss in the dark. You can either clip the lights onto your clothes or use the included elastic bands to attach them to your arms, wrists or ankles. And with 100 hours of battery life, you won't have to worry about recharging before every run. Enjoy your runs without risking your safety.
29.
Carbon Fiber Orthotic Inserts Insole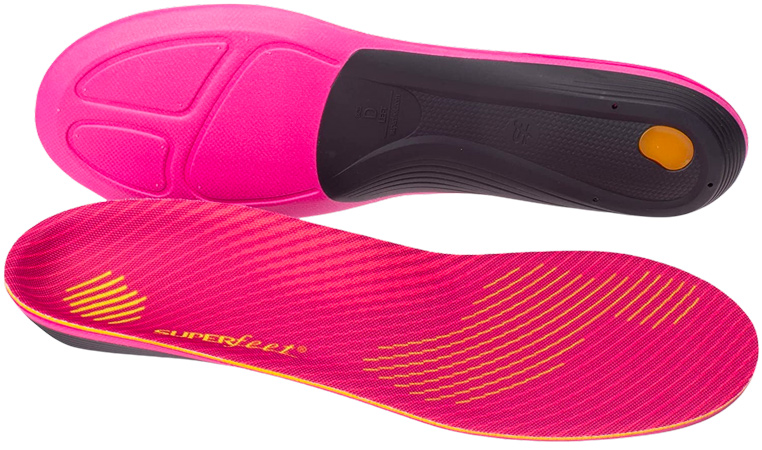 Running shoes are a very personal thing. In a perfect world we could all have our running shoes custom made to fit our insteps. Though for those of us that can't, these orthotic running shoe inserts provide a superior level of comfort that will absorb shock and provide long-lasting support for up to 500 miles. Easily customizable by trimming, these foam-cushioned inserts stick to the inside of your shoe to make it easier to keep on pushing for that one extra mile.
30.
Pure Magnesium Flakes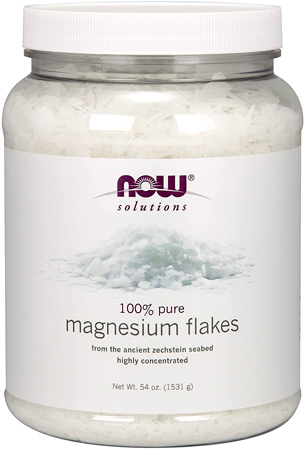 Muscle recovery is important to keep your body in optimal shape for your runs. Add a cup of these highly concentrated, 100% pure magnesium flakes to your bath to speed up recovery time and relax after your run. Magnesium also helps with softer skin and better sleep so you can wake up refreshed and ready to beat your personal bests.
Need more inspiration?