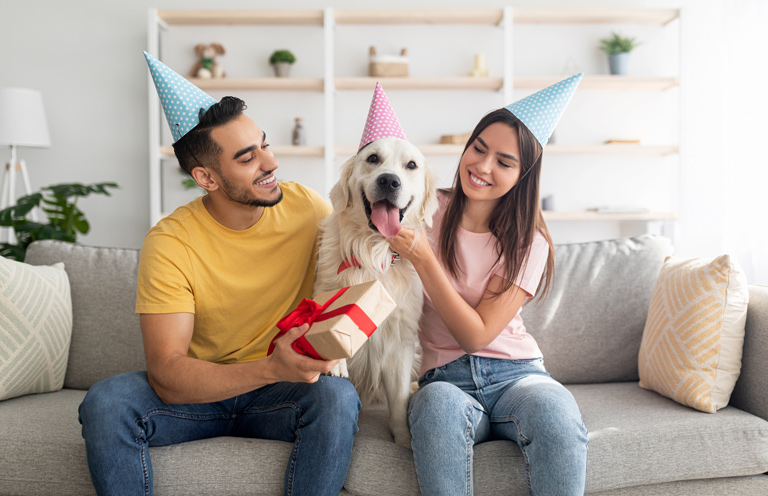 We all have that one friend that loves dogs more than people, and why wouldn't they? Dogs are always there for us when we need them, they comfort us, play with us and love us unconditionally. Dog lovers are proud of their furry friends and want the world to know it. So why not get them the perfect gift that says you support their obsession with their four-legged bestie?
This list of 29 gifts for dog parents will help you find something that will make them and their special friend happy. Everything from dog-loving home decor to the perfect dog toy is covered right here. Make the dog lover in your life happy. If they had a tail, it'd be wagging.
1.
Dog Tea Infuser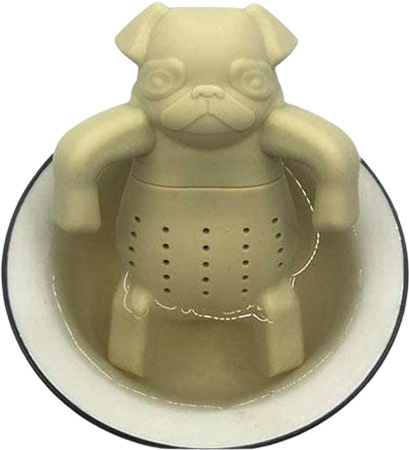 If your dog-loving friend likes drinking loose tea, this tea infuser is a gift they'll be happy to add to their tea-making station. The pug-shaped infuser is made to hold their favorite tea mixtures. It's made of food-grade silicone that is BPA-free so it won't leach chemicals into their healthy teas. Every time they make their favorite cup, these adorable little guys will put a smile on their face. If you have a tea lover in mind, our guide for tea enthusiasts might be just the thing you're looking for.
2.
Funny Dog Mug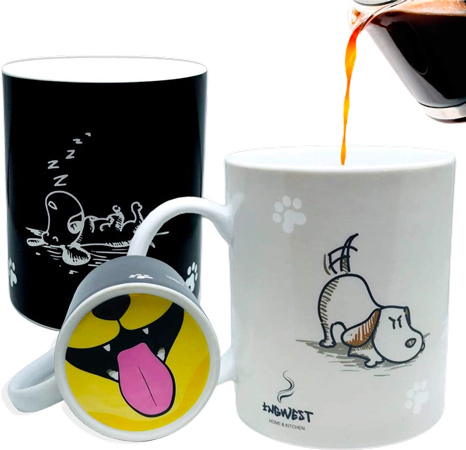 This fun dog coffee mug is perfect for your caffeine-loving friend. This heat-sensitive coffee mug changes color and design when they pour their favorite hot beverage. Not only is it fun to watch it change color, it also helps them know when their tea or coffee has gone cold. The mug starts out as black with a sleeping dog image and transitions to white with a cute puppy that's ready to play. The bottom even features a funny dog face. It's like a real-life Instagram filter every time they take a sip.
3.
Coffee Table Book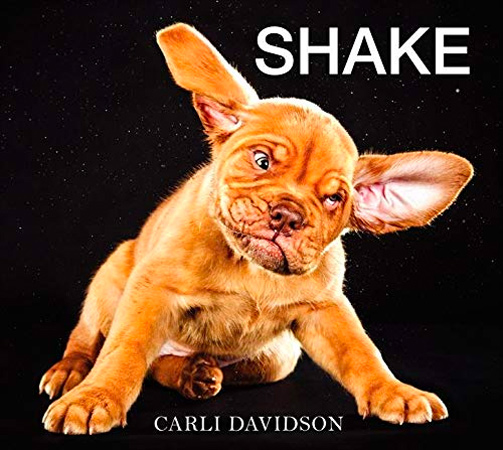 This creative idea for a gift is sure to make any pet parent smile every time they see it. The book features 144 pages of high-quality dog images by photographer Carli Davidson. Not just any dog pictures though. This book is all about freezing funny moments in time while a dog is shaking. Drool and all! This is the perfect coffee table book for anyone that loves dogs. If you're on the hunt for more gifts for coffee lovers, click here for some great ideas.
4.
Soy Pet Candle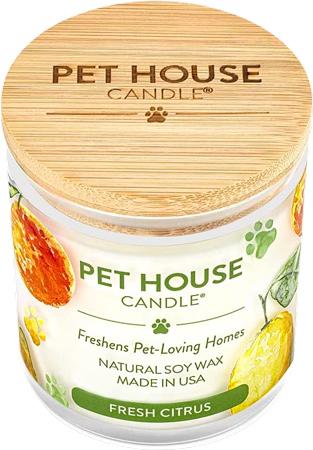 Any dog owner can agree that while we love having our furry companions, we don't always love the smell that comes along with the territory. (How does giving them a bath make them smell temporarily worse? Wet dog… pass!) This all-natural soy candle is specifically made for pet owners so it's long-lasting and non-toxic for animals. The special blend of fragrances is designed to instantly eliminate pet odors and leave the room smelling fresh. Any dog owner is going to appreciate this gift.
5.
Dog Wine Glasses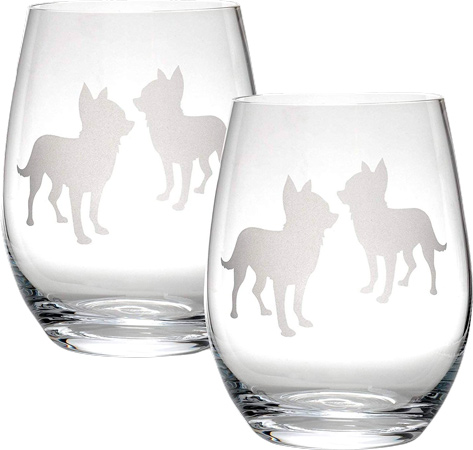 These hand-etched wine glasses will add fun to every glass of wine your dog lover friend pours. The set comes with two stemless glasses and comes in thirteen different breed options. The glasses are made from lead-free crystal and sturdy enough to be washed in a dishwasher. They are made for wine but also make great water or juice glasses. This is the gift for someone that can never get enough dog stuff in their life. Let's raise a glass to our furry best friends.
6.
Paw Print Bottle

Make sure your dog parent friend always has their favorite refreshment at hand with this huge, 40-ounce wide-mouth water bottle. The bottle is made of triple-insulated stainless steel that will keep drinks cold for up to 84 hours. The beautiful watercolor design with subtle paw prints makes this bottle the perfect gift for any dog lover.
7.
Sticky Note Dispenser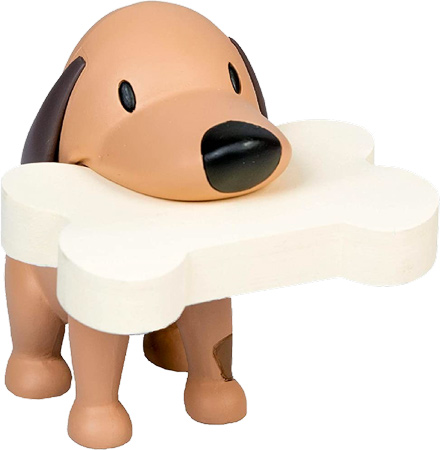 This fun sticky note dispenser is going to brighten up the desk of anyone that loves dogs. The set comes with a dog figurine dispenser and a bone-shaped sticky notepad that is held in its mouth. This little guy will be standing by to make sure your friend never forgets another task or appointment again. When not being used as a sticky note dispenser, they can also use it to hold sunglasses or reading glasses. They will love having this quirky gift on their desk or countertop.
8.
Classy Picture Frame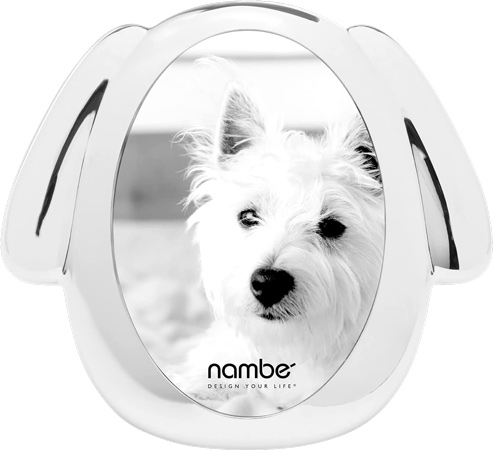 For a really special way to hold their favorite picture of their fur baby, this classy frame is a contemporary alternative to kitschy frames that don't look like high-end decor. This beautiful frame is made of silver-plated metal with a high polish finish and genuine glass cover. The subtle dog face design holds a 3×5 picture and stands on any tabletop with the kickstand back. This is a frame that is worthy of displaying their favorite puppy pic.
9.
Dog Treat Camera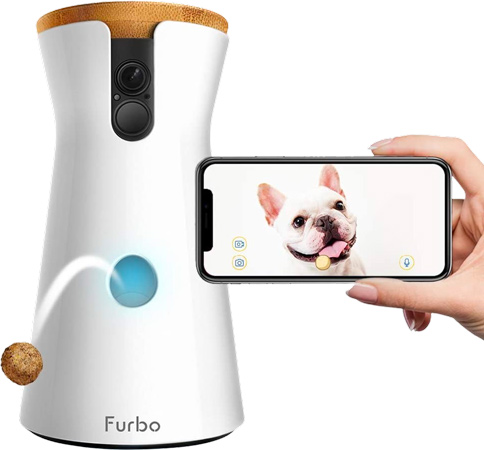 Give the gift of peace of mind every time your friend is away from their dog. This high-definition camera not only lets them see their pet when they're out of the house but also lets them interact with them. The camera device can toss up to 100 preloaded treats to their dog and speak through the two-way chat speaker. All communication and interaction is done via the app that is compatible with both iOS and Android. This gift is perfect for the dog mom or dad that just doesn't want to stay away from their best friend.
10.
Metal Wall Art

This minimalist piece of art will look great in the home of any dog enthusiast. The unique design is made out of one line of metal that has been bent into the shape of an adorable sleeping dog. It's lightweight enough that it's easily hung by just two nails so it won't cause excessive damage to walls. If your friend wants to tell everyone that comes into their home how much they love dogs, this gift will do just that.
11.
Dog Tail Hooks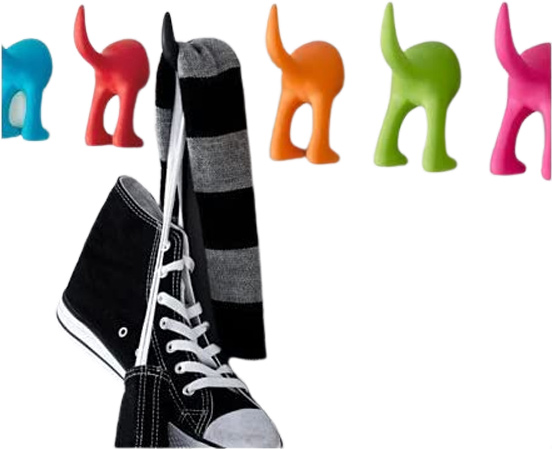 If your friend needs somewhere to hang their keys, coat or dog leash, these funny hooks are sure to be a gift they'll love. The funny hooks look like the backsides of dogs with their raised tails playing the part of the hook. The quirky design will add a bit of fun to their decor while serving their purpose. They come in a set of three and are made of soft black rubber so they won't scuff the wall or cause any injuries if they are bumped into. This is a cute twist on an otherwise boring hook.
12.
Paw Solar Lights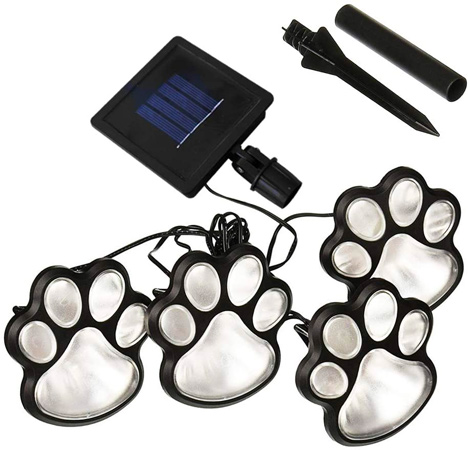 This out-of-the-box idea for a gift will be sure to light them up. These paw print solar lights will look so cute illuminating their garden path or driveway. Each set includes four large paws that are attached to the solar panel spike. Throughout the day the panel will charge the batteries so come nighttime the lights will let all the neighbors know that a proud dog parent lives there.
13.
Disney Dog Tote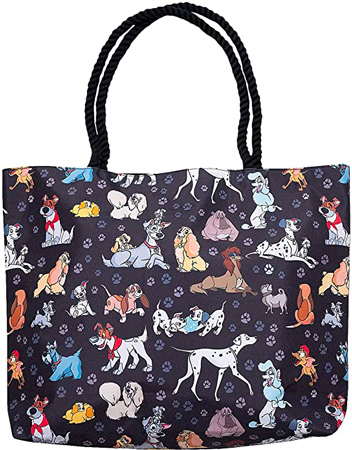 This tote bag will express your friend's love of dogs through all the familiar dog faces of Disney. It features dog characters from all the classic Disney cartoons we remember growing up with. The material easily wipes clean so it's great for everyday use as a shopping bag or beach tote. This gift is sure to get a lot of compliments.
14.
Dog Toy Basket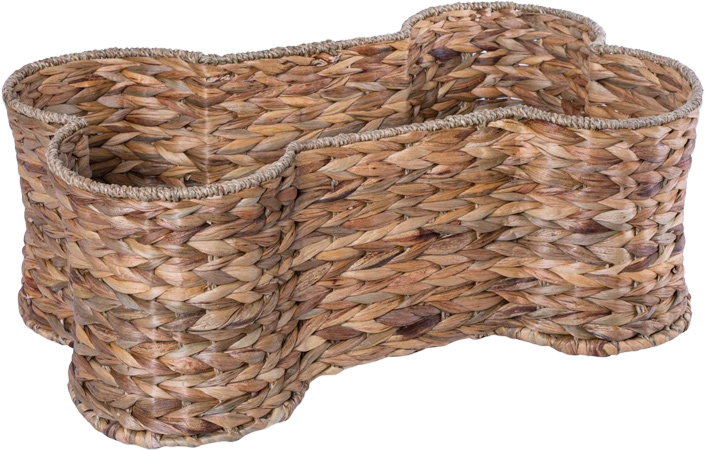 Any pet parent knows that when it comes to toys all over the house, dogs are almost as bad as children. They leave them everywhere and don't want to play with that specific toy until they see you trying to put it away. Give your friend a dog toy basket that still looks good enough to leave out in the living room. This bone-shaped storage basket is made of a natural woven hyacinth material and is available in multiple sizes. It's easily cleaned with a damp cloth and features an open-top design so their dog can pull out their own toys. Now if only they could learn to put them back.
15.
Dog Travel Bag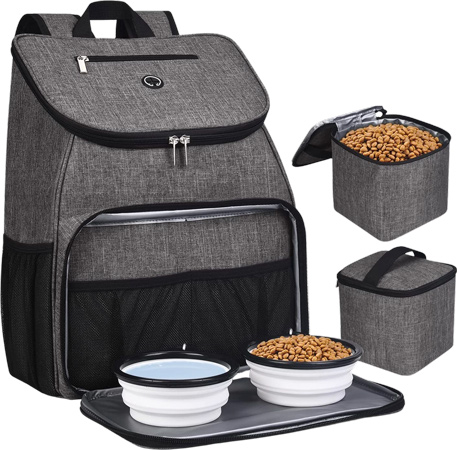 If your friend likes to take their dog everywhere with them, this dog travel bag is a gift for them. The backpack is a stylish alternative to shoving all the dog's food and toys in plastic bags when they go on road trips. It keeps everything organized and within easy reach. The set includes the backpack, two food baskets with food-safe lining and two collapsible bowls for food and water. The large zippered compartment holds the food baskets and still leaves plenty of room for dog toys, waste bags and even their dog's special blanket.
16.
Car Seat Cover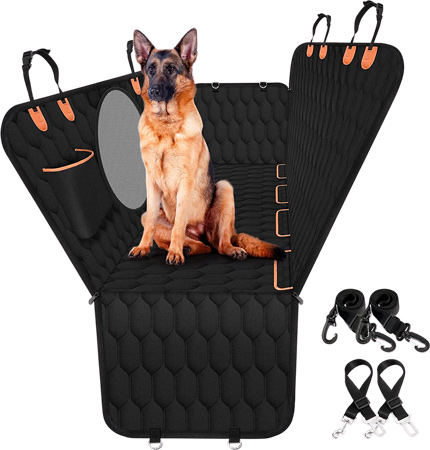 For trips in the car, this seat cover does more than just protect the seats and doors from fur shedding and damage from sharp claws. It will turn the backseat into a comfortable open-top crate that will keep your friend and their dog safe while driving. The mesh panel stops the dog from being able to jump into the front seats but still allows the dog to be able to see. The backseat hammock is also equipped with two seatbelts made specifically for pets. Their dog is going to love cruising around in this level of comfort.
17.
Dog Leash Belt
With this gift, your friend can enjoy a hands-free walk or jog with their best friend. It's made of strong ripstop nylon and features a heavy-duty metal clasp with 360-degree rotation so it's won't get tangled. It's designed to allow the leash to expand for their dog to run slightly ahead and then retract so there is no extra leash to trip on. It also includes an attached fanny pack to hold treats and waste bags.
18.
Dog GPS Tracker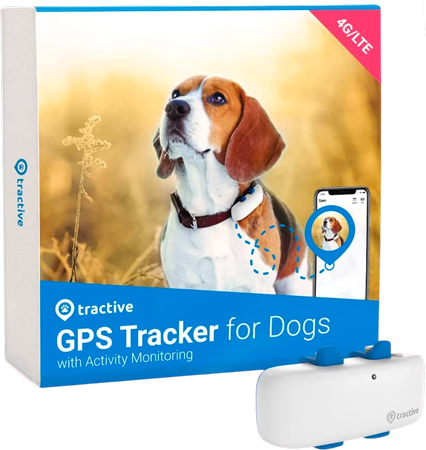 Make sure the dog lover in your life never has to worry about where their best friend is with this GPS tracker made for dogs. The lightweight and waterproof tracker easily clips onto any collar to monitor where their dog is via their phone. It also doubles as a fitness tracker to make sure their dog gets enough exercise. A healthy dog means a happy dog parent.
19.
Stylish Elevated Bowls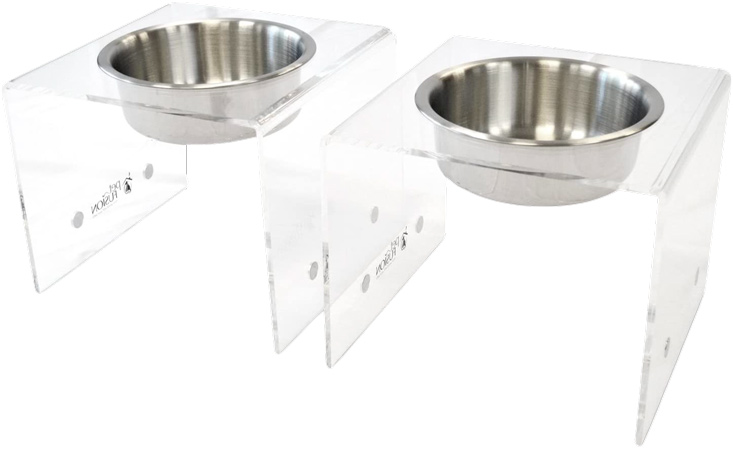 These modern, elevated dog feeding bowls would look great in your friend's home. They are made of clear lucite acrylic so they are not only easy to clean but also add a stylish twist to typical feeding bowls. Raised bowls help dogs slow down their eating and help digestion so this gift will make both your friend and their dog happy.
20.
Automatic Ball Launcher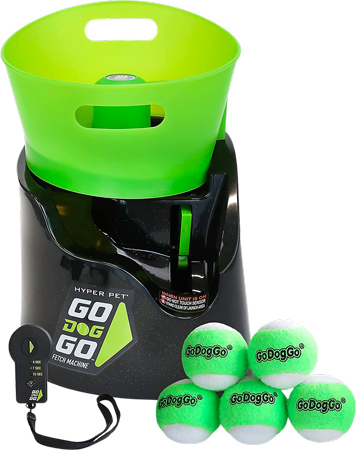 Give your friend's arm a rest with this automatic ball launcher for dogs that love to play fetch. This clever contraption throws standard-sized tennis balls for their dog to retrieve. The wide mouth return bucket makes it easy for the dog to reload its own balls. It can be set to launch at different time intervals and distances or can be controlled manually with the included remote control. This will be an appreciated gift for that friend that has a dog that never seems to want to stop playing.
21.
Calming Dog Bed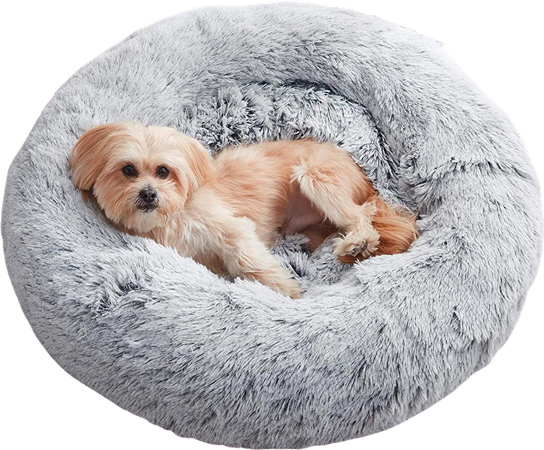 For the comfiest sleep their dog has ever had, this gift is the one you're looking for. This plush bed is made of soft faux fur and is filled with eco-friendly cotton. The extra-thick padding relieves joint and muscle pain in pets while the circular design wraps them in a soft cuddle that eases stress and promotes a calmer, deeper sleep. It also looks like a luxurious fur throw blanket so it's going to look good in your friend's home.
22.
Heavy Duty Chew Toys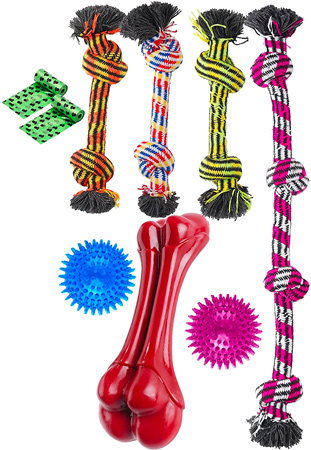 If the dog is happy, your friend will be. This gift of extra durable chew toys is great to keep their dog entertained and not chewing on what they shouldn't be chewing on. The set comes with nine toys that have been specifically designed for heavy chewers. Your friend will appreciate this if they're fed up with constantly having to buy toys only for them to be destroyed in an hour.
23.
Pet Hair Remover Tool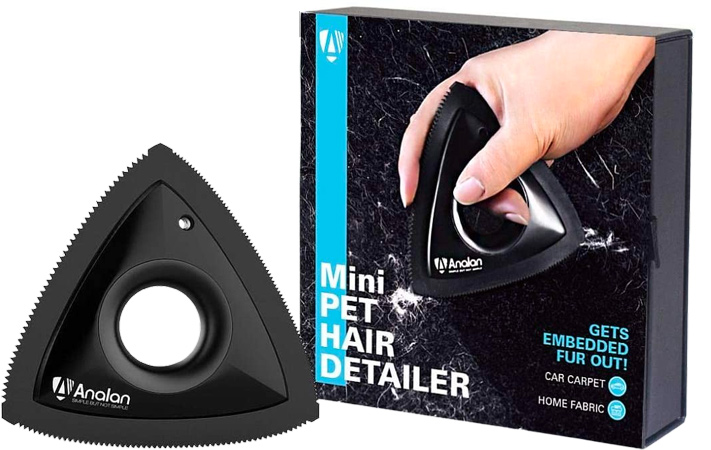 Dog enthusiasts love dogs, but not so much the shedding all over the couch. This portable tool is great to keep in a coffee table drawer or a glove compartment in the car so it will always be handy to remove stubborn pet hair. It features three edges with different levels of comb teeth to remove hair. The ergonomic grip makes it easy to handle while the triangular shape makes getting into corners a nonissue. For a quick fur fix, this gift will be appreciated.
24.
Pet Hair Vacuum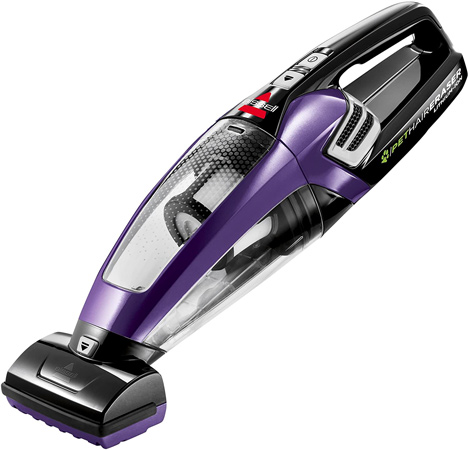 For heavy-duty fur removal, this pet hair vacuum by Bissell is a gift your dog-loving friend will want to have in the house. This handheld vacuum is designed just for pet owners. It offers triple filtration for fur and dander removal and comes with interchangeable tools that are specialized for pet hair. With this gift, your friend can share the couch with their dog and wear black again. All the loving, none of the shedding annoyances. This product is also ideal for someone who owns a cat.
25.
Portable Paw Cleaner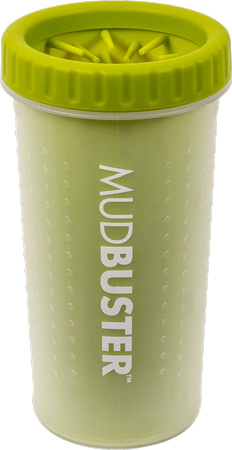 This portable paw cleaner is going to make sure your friend's car stays mud-free after a day out hiking. It easily fits in a backpack so it's always on hand to clean those dirty little paws with ease. Just add a bit of water and the gentle silicone bristles inside will remove dirt and mud better than toweling. Now your friend can hike with their four-legged buddy, rain or shine.
26.
LED Dog Collar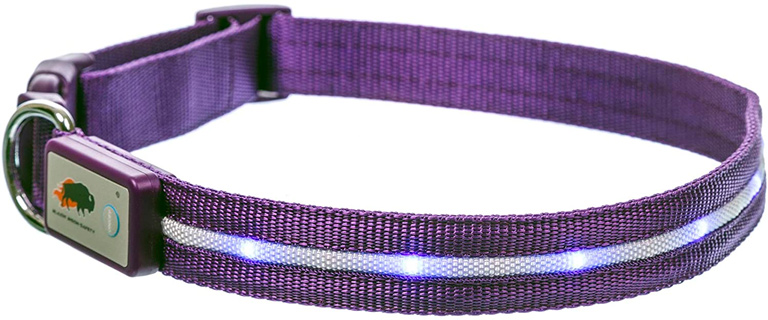 Make sure your friend's dog is always safe when outside at night with this LED dog collar. The super bright light runs the entire circumference of the collar and provides visibility for up to one 1000 feet away. It features multiple modes, including a fast blink for high visibility around cars. The lights last for up to eight hours on a single charge and can be worn in any weather, including heavy rain.
27.
Dog Grooming Clippers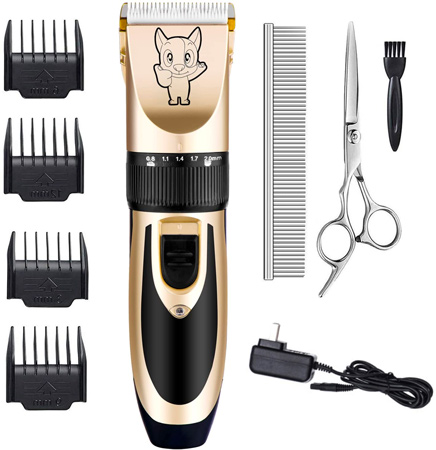 For the ultimate dog makeover from home, this dog grooming kit is a must-have for any dog parent that likes to keep their fur baby looking their best. The clipper is designed with a high-speed but quiet motor to keep pet stress to a minimum. The set comes with four attachable guard combs so it's suitable for any fur length and thickness. Make sure your friend always has the best-looking dog on the block with this great gift idea.
28.
Dog Cooling Mat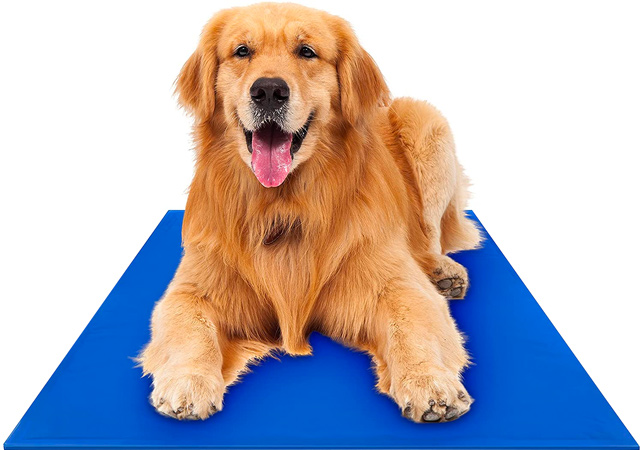 This gift will help your friend's dog stay cool on hot days or on long car trips. The non-toxic, pressure-activated gel inside starts cooling as soon as the dog lays on it and will keep cooling for up to three hours. No need to put it in a refrigerator. It automatically recharges itself after 20 minutes of not being used. It's easily transportable and folds up for easy storage when not in use. It's a cool gift for dog lovers.
29.
Talking Dog Buttons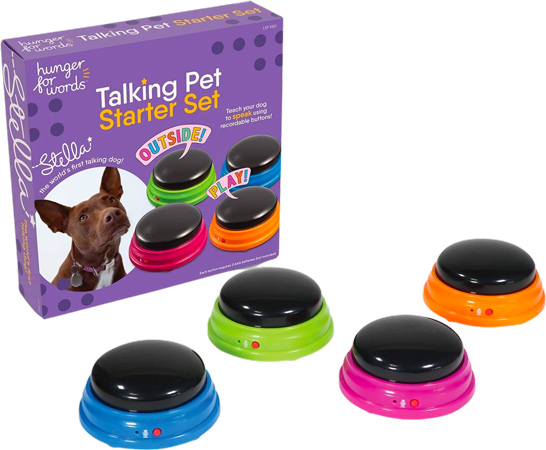 Here's a fun gift idea for dog parents. How about teaching them to talk? This set of four buttons can store custom recorded messages, like, "go for a walk," or "water please," so every time their dog pushes the button they know exactly what they want. Obviously some training will be involved but what a fun and useful way to spend time with their best friend? Not to mention, that will be one heck of a party trick when their dog can communicate exactly what it wants!
Related Posts