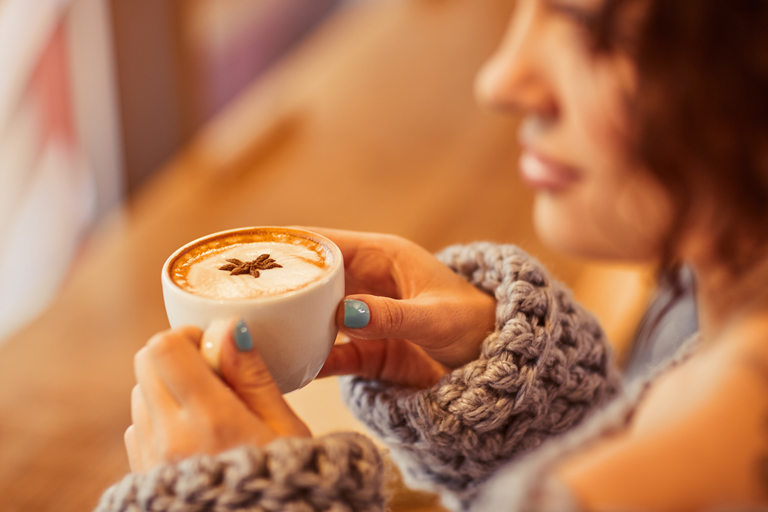 If you're shopping for a gift that is impressive enough to give to your coffee-loving friend, life is about to get easier for you. Don't bother wasting time searching the internet looking for underwhelming ideas. We've done the groundwork for you and come up with some really cool gifts that will delight your friend.
This list of 27 hot gifts for coffee lovers covers everything from gadgets to art, decor and more. If coffee is their passion, the perfect gift is somewhere on this list. So pour yourself a hot cup of java and have fun shopping for a gift that will have your friend buzzing even more than the 10 cups of coffee they drink a day.
1.
Temperature Controlled Mug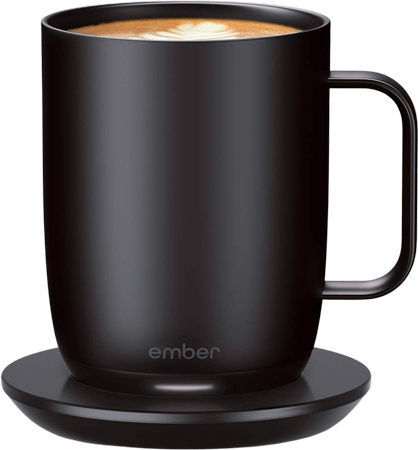 What's better than a hot cup of coffee? One that stays at the perfect temperature for as long as you want it to. This high-end gift is going to make any coffee lover happy. The 14-ounce mug can be controlled via the app to choose the exact temperature of the coffee. It's the perfect coffee mug for anyone who likes to drink coffee at their desk. No more worries about getting distracted and letting coffee go cold.
2.
Insulated Travel Mug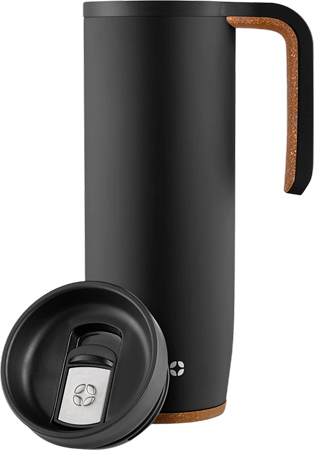 For drinking coffee on the go, this gift is going to be a crowd-pleaser. The insulated walls will keep drinks cold for up to 24 hours or hot for up to five hours. The magnetic slide closure stops leaks from happening while in transit.
It holds a huge 18 ounces but has been designed to be taller rather than wide so it will easily fit in any standard cup holder. Your friend will never have to stress about not having their favorite caffeinated drink on hand with this gift.
3.
Self Stirring Mug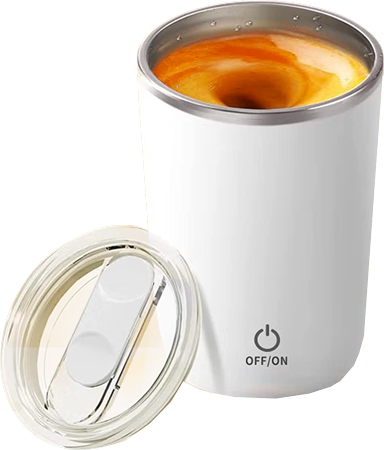 This gift will save your friend from having to do all that cumbersome stirring. If they take their coffee with cream and sugar, this is the perfect coffee gadget for them. With a click of a button, this mug will stir its contents until they are evenly dispersed. This is especially useful if your friend adds powders to their coffee. No more unpleasant chunks, just deliciously smooth coffee.
4.
Ceramic Mug Set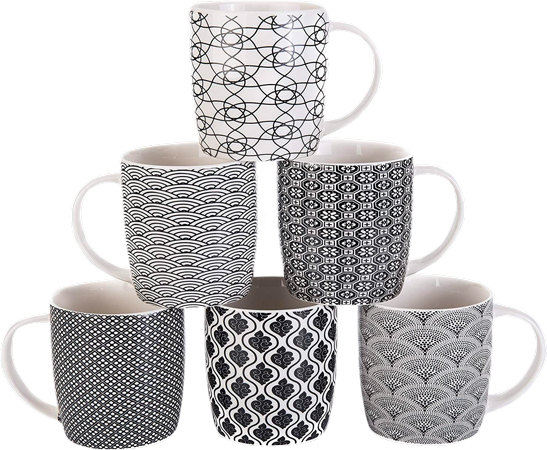 This attractive set of ceramic mugs is going to look great in your friend's kitchen. The set includes six 11.5-ounce mugs, each with a different black and white geometric pattern. If your friend appreciates modern decor, they'll love drinking their morning coffee out of these mugs. They're also dishwasher and microwave safe so they're low maintenance.
5.
Cold Coffee Glasses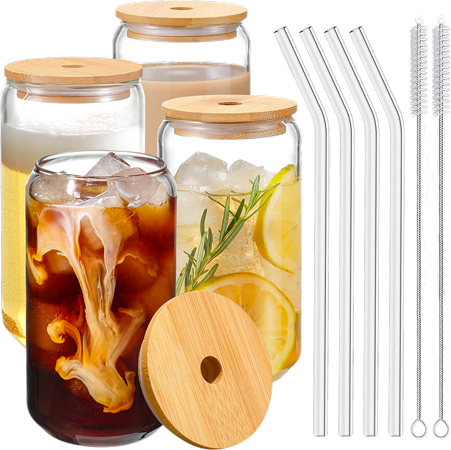 If your friend enjoys iced coffee, this is a gift they'll love. This set of glasses includes four can-shaped glasses, four bamboo lids with straw openings and four glass straws. The thick glass is designed to withstand temperature changes so your friend won't have to worry about shattered glass when adding ice to the hot coffee. They're also safe for popping in the dishwasher so clean-up is a breeze.
6.
Coffee Making System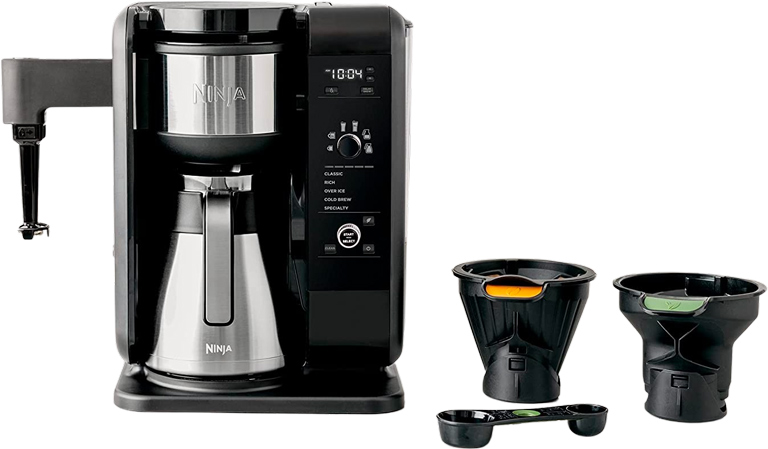 This coffee maker is going to make an exciting gift for your coffee-loving friend. It's not just a coffee maker, it's an entire system for all their brewing needs. This coffee maker can make both tea and coffee in six different sizes and five different styles, including classic, rich, iced, cold and a specialty setting.
It also comes with a 10-cup insulated carafe that will keep beverages piping hot for up to two hours. This gift is going to be your friend's favorite go-to whenever they need their caffeine fix.
7.
Portable Espresso Maker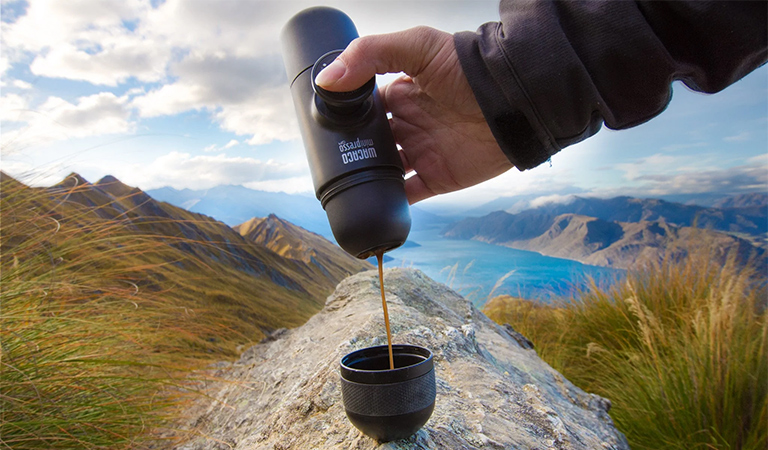 With this gift idea your friend will be able to enjoy delicious espresso wherever they are. All they need to do is add boiling water to the integrated water reservoir and manually pump the water through the ground coffee in the filter.
It's great for someone that works in an office or likes to spend time outdoors. The compact size makes it easy to throw in a purse or a backpack. They'll love that because of you, they'll always have access to authentic espresso whenever they want it.
8.
Steel French Press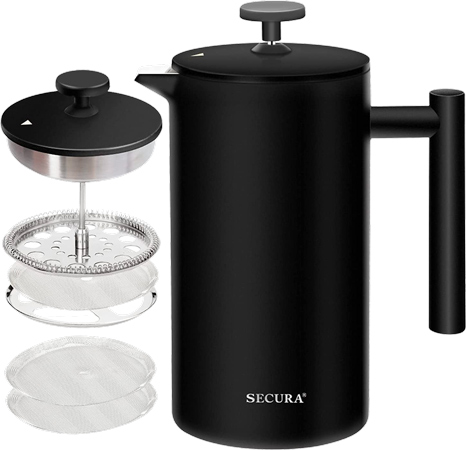 This large French press is perfect if your friend appreciates the simplicity of making coffee without the need for an electric machine. Making coffee in a French press not only makes it convenient for brewing while away from an outlet, but it also gives greater control over the taste of the coffee.
This particular press has the added benefit of being made of high-quality stainless steel, unlike traditional presses that are made of glass. This not only makes it more transportable but also keeps the coffee hot for longer.
Another feature unique to this press is the stainless steel filter that has been designed with three layers of mesh so it will stop even the smallest of grounds from ending up in the coffee.
9.
Pour-Over Coffee Maker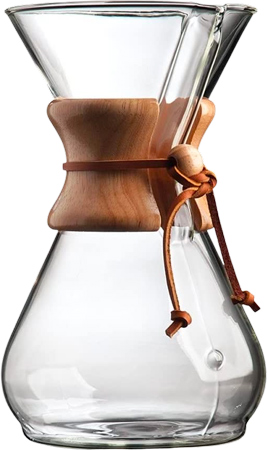 For a low-tech but high-quality cup of coffee, this pour-over coffee maker is the perfect gift for any coffee aficionado. Not only does it function as a carafe that can be refrigerated and reheated, it serves as the actual coffee maker itself.
The glass filter containing the ground coffee is placed over the top of the carafe and hot water is poured through the grounds to drip coffee into the carafe chamber. The result is a delectable cup of coffee with a pure and rich flavor.
10.
Syphon Coffee Maker

This unique coffee maker would make a wonderful gift if your friend likes to invite guests over for coffee. Unlike typical coffee makers that are usually kept out of sight of guests, this one is meant to be displayed on the table. The tabletop brewer can make up to five cups of coffee at a time.
It's constructed of high-quality glass that is suspended over an alcohol burner to heat the coffee as it's brewing. Not only will your friend be getting great-tasting coffee with this gift, but they'll also be getting a really cool conversation starter for their next get-together.
11.
Coffee Bean Grinder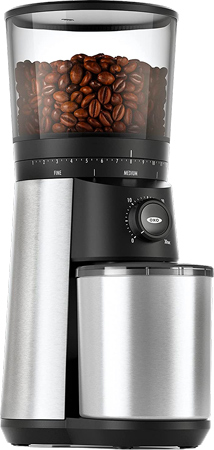 This gift will make sure your coffee-loving friend will have the perfect size grounds for whatever type of coffee they're making. The electric grinder features 38 settings with a memory function that stores the last setting that was used.
The hopper holds .75 pounds of coffee beans and will keep them fresh until your friend is ready for their next cup of coffee. If your friend is serious about coffee, they'll be grateful for a gift like this one.
12.
Grinder Cleaning Kit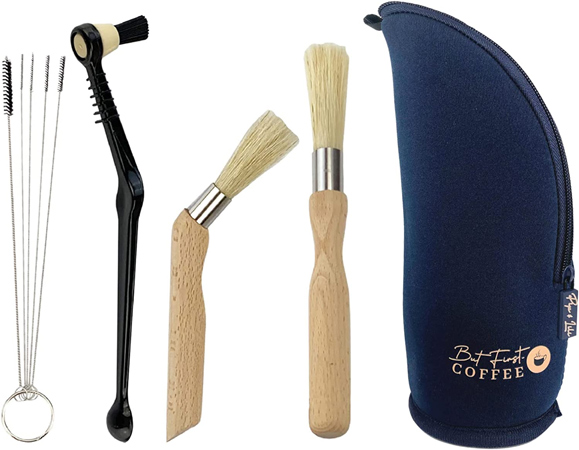 High-end coffee grinders should not be cleaned with water, which your friend probably already knows. That's why they'll appreciate getting this professional quality cleaning kit. The set comes with eight different brushes that are designed specifically for cleaning burr grinders.
Keeping their machine clean will not only ensure they get the perfect size grounds every time, but it will also prolong the life of their expensive grinder. When not being used, the set can be safely stored in the included neoprene bag.
13.
Freshness Coffee Canister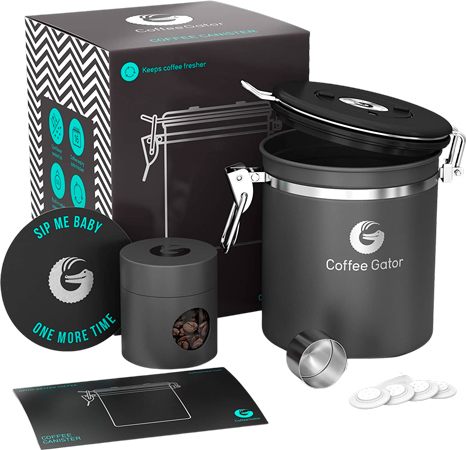 Help your friend keep their coffee beans fresh for longer with this practical gift. This canister by Coffee Gator is made of high-quality stainless steel with an airtight lid. The lid features a built-in date tracker and a carbon dioxide release valve to protect the coffee from losing its flavor.
It also comes with a mini travel canister that would be perfect for taking their favorite coffee to the office with them. The sleek and modern design of the canister makes it stylish enough to leave out on the counter so it will always be within easy reach when it's time for their morning coffee.
14.
Electric Milk Frother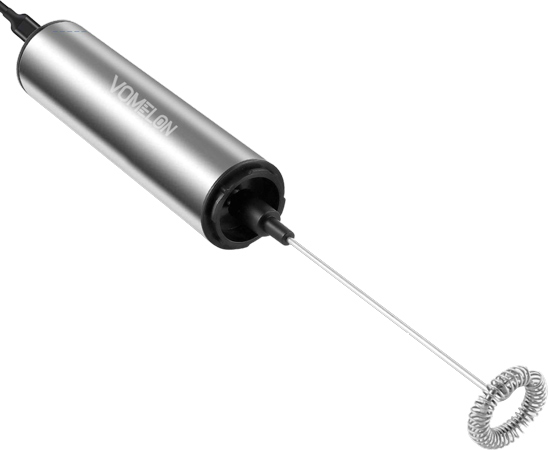 A frothy cappuccino at home is easy with this gift idea. This portable milk frother offers two speeds to whip warm milk into a thick foam. The body is made of food-grade stainless steel and can be quickly charged via USB. The frother comes with two whisks that can be easily detached and washed in the dishwasher.
It's great for at-home use but the included cap to cover the whisk also makes it convenient to toss in a bag and take with them when they leave the house. Your friend will never have to overpay for a frothy cappuccino again.
15.
Espresso Coffee Stirrer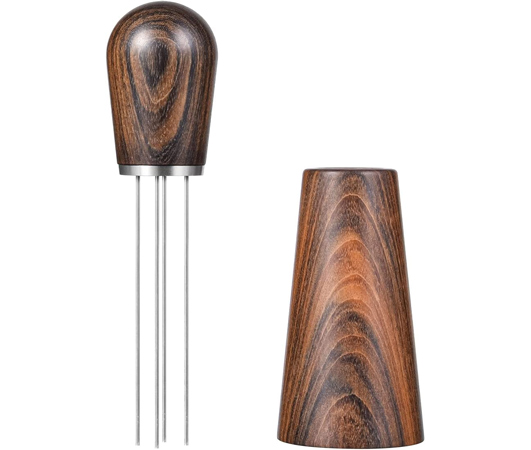 If your friend is a serious at-home barista, this gift will take their espresso-making skills to the next level. This stirrer helps to break up clumps and evenly distribute the dry coffee grinds in the portafilter to ensure higher quality and richer-tasting espressos. This is the type of gift that's made to stay out on display next to the espresso maker.
The outside is made of solid sandalwood that features a beautiful wood grain. This gift will be sure to make an impression and one they'll keep forever.
16.
Coffee Pod Holder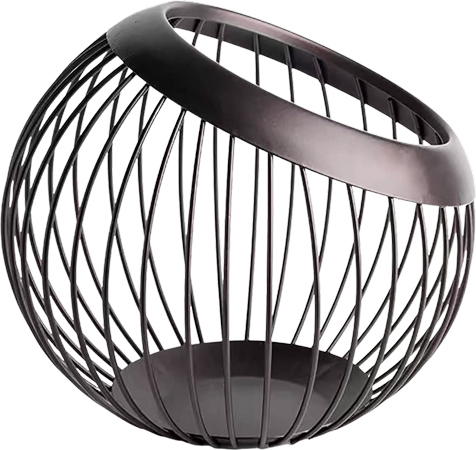 For a stylish way to store coffee pods, this is a gift your friend will be happy to have in their kitchen. Unlike other storage systems that are made to fit specific pods from a single brand, this catch-all basket can fit various sizes at the same time. It can be used for coffee pods, sugar packets or single-serve creamers.
This would be a beautiful addition to their coffee bar or left out as a piece of decor next to their coffee maker.
17.
Thermal Coffee Carafe
This versatile coffee carafe is a gift that your friend will find useful in a lot of different ways. It holds 74 ounces of coffee and will keep it hot for 12 hours. The lid features a lever pump that can be pressed to pour the coffee from the spout.
If your friend likes to entertain guests, this will make sure everyone's cup stays full without having to keep running the coffee maker. The top carrying handle also makes it the ideal companion for taking to the office or for outdoor events like sports games, camping or tailgating.
18.
Cream and Sugar Set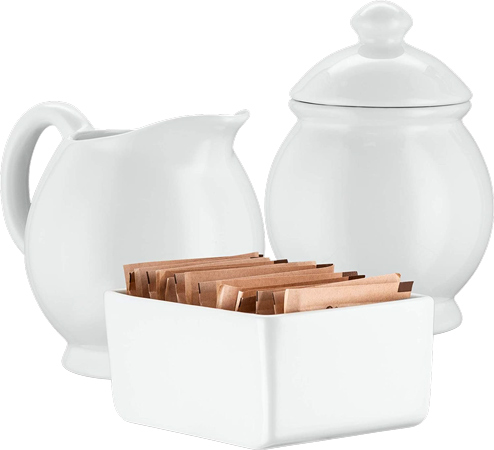 If your friend likes classic decor as much as they like their coffee, this gift is exactly what they need. The coffee set includes a cream pitcher, a sugar bowl with a lid and a sugar packet dish. The white ceramic design with clean lines makes these pieces a seamless fit with any type of decor. They'll be a classy touch next time they have their friends over for a coffee and a catch-up.
19.
Coffee Serving Tray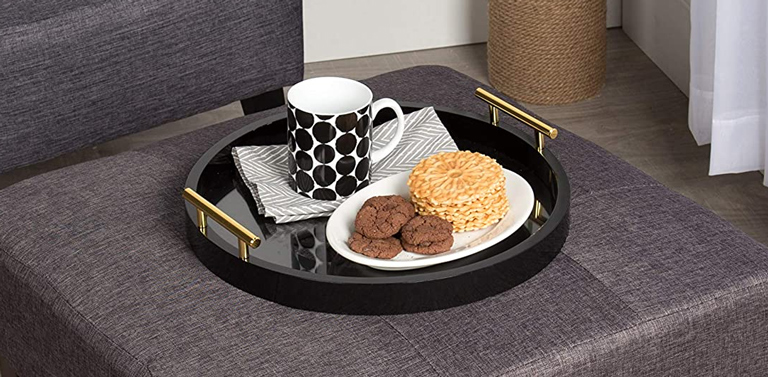 This serving tray is an elegant way to bring coffee to the table when serving guests. The high-gloss black design is accented with modern gold handles. The bottom of the tray is especially beautiful with the geometric cutouts under the clear glass base.
When it's not being used to serve coffee it can be used to create a mini coffee station on the counter. This touch of glam will make a special gift for your coffee-drinking friend.
20.
Wooden Mug Tree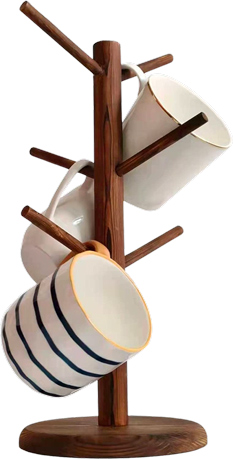 Give a gift that your friend can use to show off all their favorite coffee mugs. This mug tree is made of genuine wood and provides six sturdy hooks.
It's ideal for organizing mugs that your friend wants to leave on display and keep within quick reach. The minimalist and rustic design makes this an attractive piece of decor that's worthy of any coffee lover's kitchen counter or coffee station.
21.
Coffee Station Table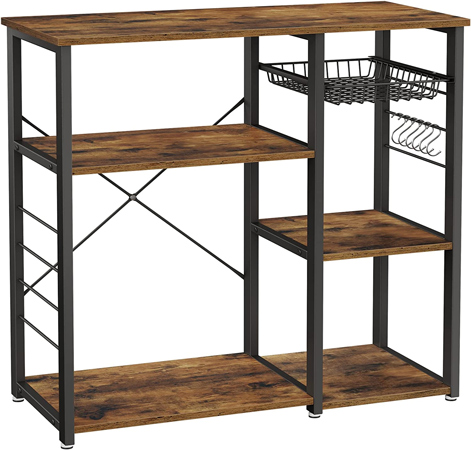 For the ultimate coffee bar, this table with open shelving will give your friend a space for all their coffee-making gear. The top is large enough to hold most coffee or espresso makers while the shelves can store mugs, creamers, trays and other coffee-making accessories.
Having a dedicated coffee station is very on-trend. If your friend is passionate about coffee, they're going to want this set up in their kitchen.
22.
Mug Rack Shelf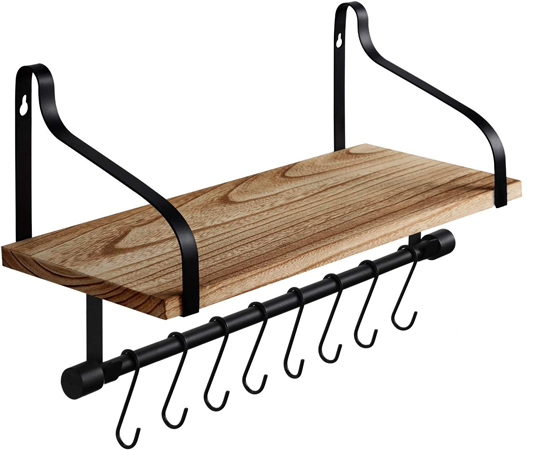 If your friend wants to get their mugs off the counter but still likes them to be within arms reach, this wall-mounted shelf is a great gift idea. It will look gorgeous mounted over their coffee station. The top provides storage space for coffee canisters or other decor while the bottom bar holds eight removable hooks for hanging mugs.
The shelf is made of solid paulownia wood that has been finished with a torch to bring out the natural wood grain. It's the perfect way to add more usable space to their coffee bar.
23.
Coffee Syrup Dispensers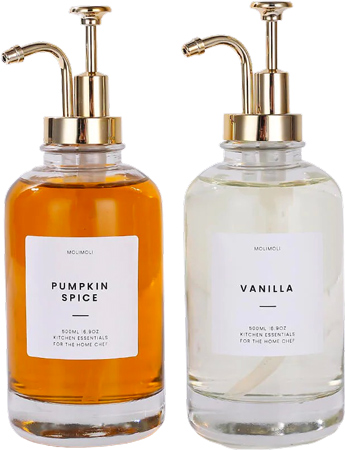 Your friend can get fancy with their coffee recipes with this cool gift. This set of glass dispensers is a trendy and classy way to store coffee syrups. The set includes two bottles, each with a vintage-inspired pump that provides two milliliters of syrup per pump.
Included with the bottles is a funnel for easy filling and optional labels. Or, your friend can get creative and create their own labels that match their style aesthetic. If your friend likes flavored coffee, this gift will sweeten their day.
24.
Coffee Bar Organizer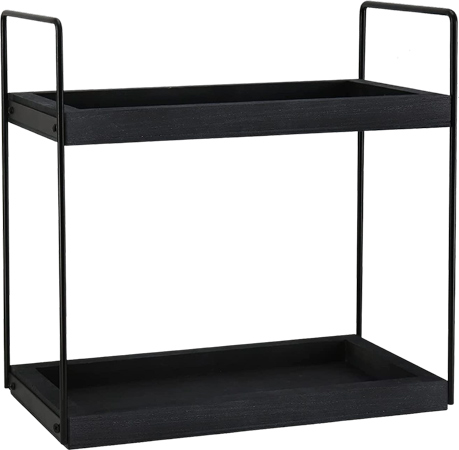 This gift will help your friend organize their coffee area while providing extra space for storing their essential coffee-making tools. The frame is made of black stainless steel while the two shelves are made of black wood.
It could be used on a standalone coffee bar or can be used on the kitchen counter. For a friend that loves collecting coffee-related decor and accessories, they'll appreciate a useful gift like this.
25.
Coffee Art Shakers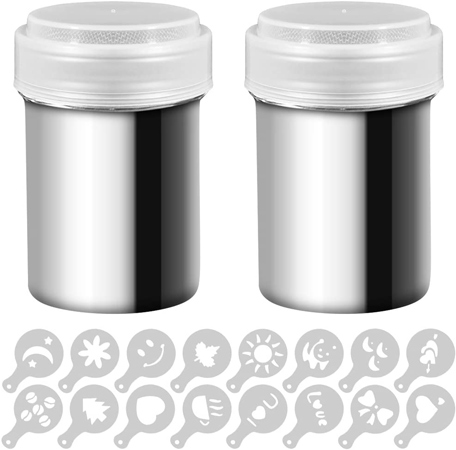 Your friend will be impressing everyone with their fancy coffee decorating skills with this gift idea. This set of stainless steel shakers comes with two shakers and 16 different plastic stencils.
Powders such as chocolate, confectionary sugar or cinnamon can be shaken over the stencils to leave fun designs on top of the coffee. The shakers also include dust-proof and moisture-resistant covers to keep the powders dry and fresh until the next time inspiration strikes.
26.
Barista Canvas Apron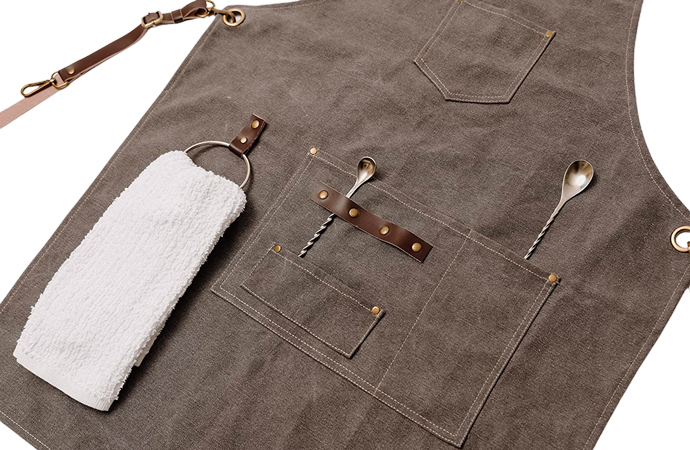 This gift is going to have your friend looking, and feeling, like an expert barista. This professional quality apron is made of durable cotton canvas that is resistant to tears and stains. It's also machine washable so it's perfect for use in the kitchen.
The front features multiple pockets to hold small barista tools and even has a metal loop that's made to hang a bar towel. Your friend is going to love wearing this while they're brewing up their brag-worthy espressos.
27.
Quirky Coffee Art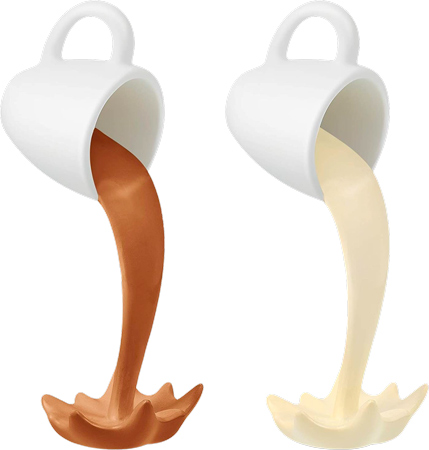 Here's a fun gift idea that will surprise your coffee-obsessed friend. This set of resin sculptures looks like coffee being spilled from a cup that is suspended in the air. The set includes two pieces that come in a variety of color combination options.
These would look amazing as a quirky piece of decor on a coffee bar, kitchen counter, bookshelf or even on their desk at the office. It's a gift that will let your friend show the world how much they really love coffee.
Need more inspiration?