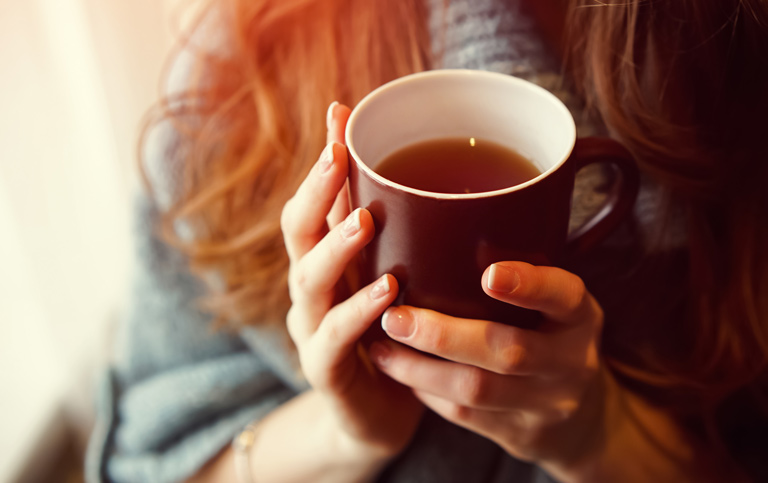 The age-old beverage has always been a symbol of class and sophistication. The English breakfast tea got very popular due to its association with the British empire. Drinking tea has been celebrated in other parts of the world for thousands of years.
The warm, comforting cup of freshly simmered tea does wonders to our hearts, bodies, and souls. Some of us indulge in a tea frenzy quite often. We have given tea a piece of our hearts.
Any tea lover is always interested in exploring different kinds of tea and tea-related products, which is why this is a perfect gifting list for your friends. Keep on reading to find out what to get to your tea fanatic friends as a present.
1.
Cast Iron Teapot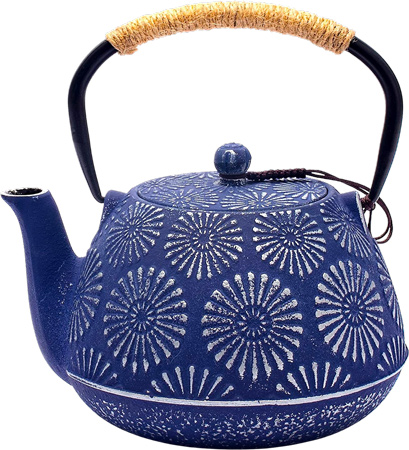 Make simmering tea a premium experience for them with this cast iron teapot. This Sakura pattern teapot has been manufactured from premium iron that makes heating water convenient, and the heat preservation allows you to have a warm cup of tea anytime. The anti-heat rope on the handle is conveniently placed so the teapot can be lifted without burning your hands. The insides of the kettle are rust and corrosion free with easy cleanup. This cast iron teapot has a capacity of 40 ounces and is perfect for making hot beverages. The Sakura pattern makes it appealing and excellent for gifting.
2.
Birth Month Flower Mug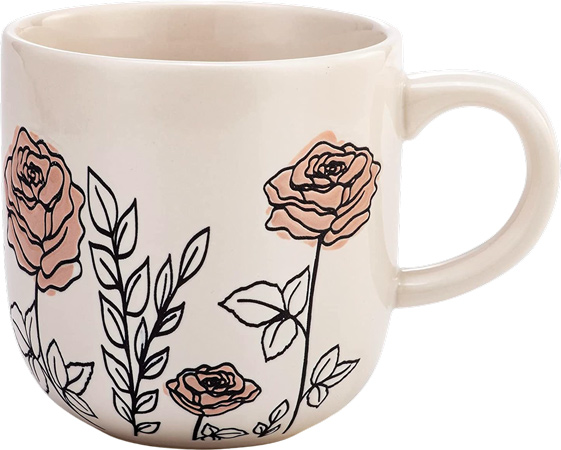 Beautiful mugs make the tea drinking experience all the more pleasant. A mug representing their birth month flower will be a thoughtful and heartfelt present. These mugs are formed from ceramic stoneware with a cream finish; ideal for enjoying a good cup of warm tea. This cup holds 10 ounces and is microwaveable and dishwasher safe. The stoneware cup makes a perfect gift for birthdays, holidays, and housewarming parties. Each time they take a sip of their tea, they will be reminded of you.
3.
The Body Shop Japanese Matcha Tea Face Mask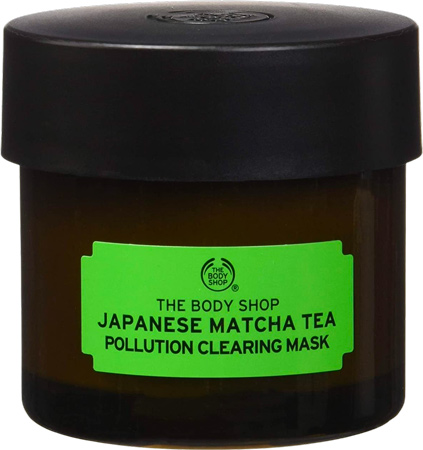 Matcha tea not only tastes good but has various health benefits. Get this Body Shop matcha tea face mask for your tea lover friend. The matcha tea, dandelion extract, and aloe vera in this vegan face mask moisturize and hydrate skin. These ingredients work together to give this mask soothing, exfoliating and purifying properties. When applied for a prolonged period, it gives the appearance of younger, more radiant skin. Why wait any longer? Why not get them this mask and incorporate tea into their skincare as well?
4.
Cute Animal Tea Infusers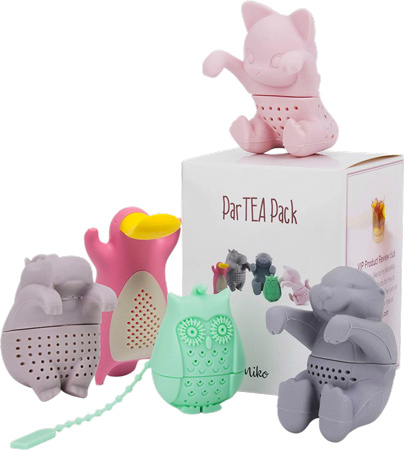 Tea enthusiasts would appreciate anything that makes the whole process more fun. It's cute that these tea infusers come in animal shapes. These infusers are made out of silicone and make sure there are no tea leaves in your tea. Just pop the bottom, fill in with your favorite tea leaves, and put it into a cup with hot water. These infusers come in a multicolor pack of five animal shapes and are dishwasher safe. An adorable gift for people you adore.
5.
Ceramic Tea Infuser Cup with Lid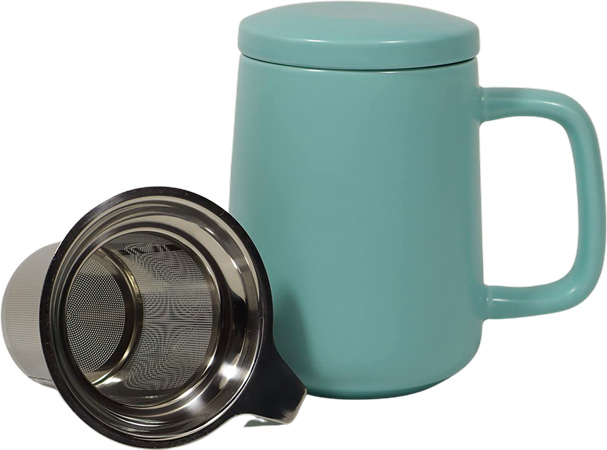 For people who love a good cup of tea and prefer more sophisticated infusers, the ceramic tea infuser cup is an ideal gift for them. These cups are made from lead and cadmium-free ceramic and come with a built-in infuser that can be taken out for easy cleaning. Thanks to the cups 16 ounces capacity they are perfect for daily tea, coffee, and even milk and cereal. Their minimalist design with a large handle gives them a beautiful and suave outlook. They come with a gorgeous box that makes them a great gift.
6.
Marble Coasters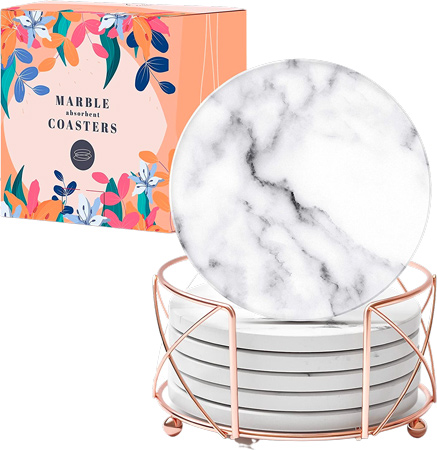 If your tea lover friends vouch that there is no such thing as excessive tea drinking, their furniture would disagree. Nobody likes tea stains all over their apartment, and coasters can be a big help. Marble coasters are very trendy, modern, and functional. These coasters are finished from ceramic that absorbs the fluids, and the cork beneath them makes them scratch-free. They look great on your coffee tables or countertops and prevent stains; keeping furniture neat and clean. These coasters come in a pack of six with an elegant gold holder to keep them organized. A free interior designing eBook also comes with a purchase. Get these stunning coasters for your friends today!
7.
Black Tea Scented Candles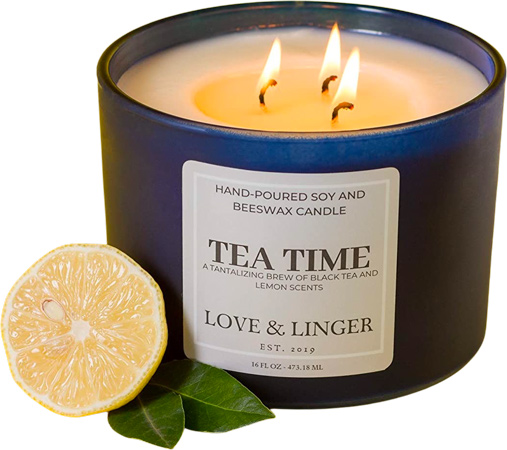 No evening tea is complete without lighting a soothing candle. A candle with alluring scents that remind you of summer is a must-have, which is why these black tea-scented candles make a perfect gift. The black and hints of lemon give it a rich, luxurious scent. This huge candle is 16 ounces with three wicks, designed to fill large rooms with enchanting incense. These candles are housed in a frosted glass jar with a gold lid, making them a stunning decor piece. To make gifting them more fun, they also come with an elegant gifting box.
8.
Bubble Tea Cup Plushie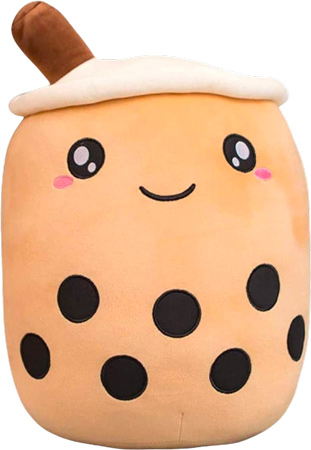 The rich milky bubble tea is a much-prefered beverage around the world. The frothy and sweet drink with the richness of tapioca pearls makes it stand out. Get your friends this cute boba plushie as a reminder of their favorite drink. As the plushie is fashioned from non-toxic, eco-friendly cotton; It is suitable for all skin types. It can be useful as a functional pillow and an ornament. This is an exceptional present for all boba tea enthusiasts.
9.
Reusable Boba Cup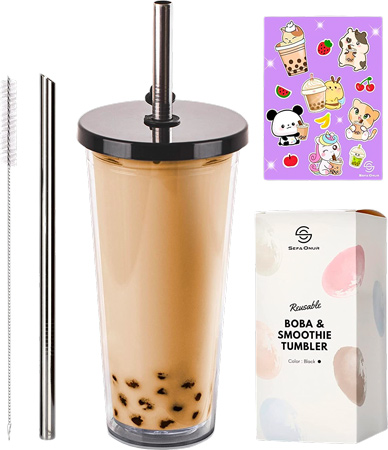 If you have friends who indulge in boba drinking a lot, but all those plastic cups are not doing anything for the planet, get them a reusable boba cup as a present. These sleek reusable cups come with a reusable lid to make them spill-proof, and the double-wall insulation prevents your drink from sweating, keeping your hands dry. These cups also come with a stainless-steel straw and a cleaning brush, making them a perfect gift for all boba lovers. The capacity of these boba cups is around 24 ounces and can also be used for other beverages.
10.
TEAliSe Boba Tea Kit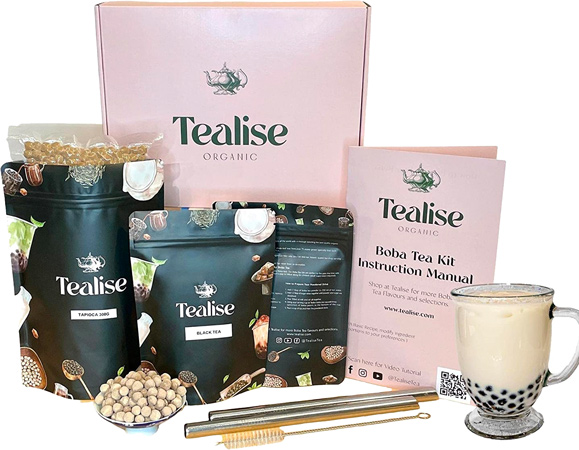 Boba Tea is a delicacy enjoyed around the world. A fun do-it-yourself boba-making kit will be an excellent present for your boba lover friends. The TEAliSe boba tea kit includes two packs of black loose tea leaves at 50 g each, two jumbo boba straws and a cleaner, and 300 g of black tapioca pearls. These kits provide a fun experience, and you get boba at the end, how can it get any better than this. Surprise the boba lovers around you with these entertaining DIY kits.
11.
Tea Shirt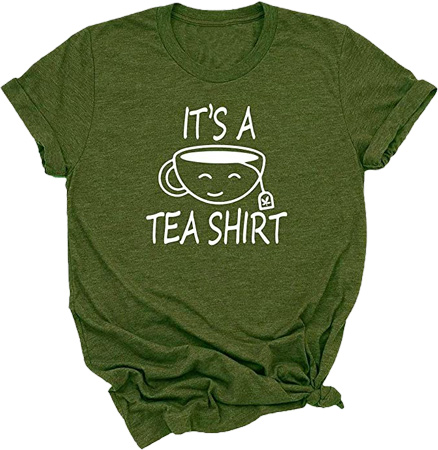 Cheer for their love of tea and get them a tea-shirt. The lovable graphic t-shirts make an immaculate present for tea drinkers. These t-shirts are made from 65% cotton and 35% polyester; making them breathable and comfortable to wear. Whether it is their birthday, Christmas, or a Sunday tea party, get them these adorable t-shirts and make them happy. This funny and geeky tea-shirt will be cherished by every tea lover.
12.
Tea By Mood Gift Set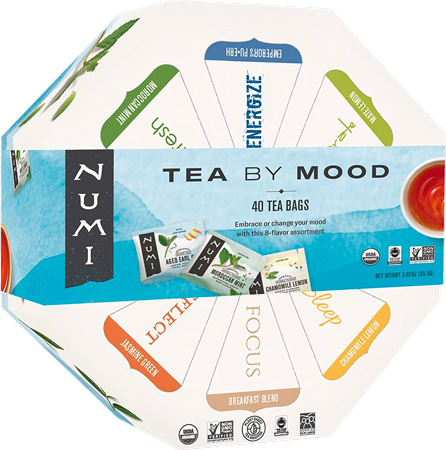 Who does not love variety when it comes to tea? If you are looking for a fitting gift for your tea aficionado friends, the Numi's tea by mood gift set is just the thing for you. This premium selection pack comes with 40 tea bags of eight different types of tea. They will select what tea they are in the mood for, and voila!, they will have a warm cup of their favorite tea. This gift set includes premium, organic tea leaves made from 100% real fruits, flowers, and spices.
13.
Pure Zen Tea Tumbler with Infuser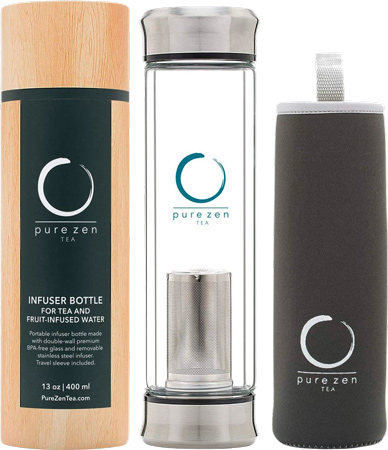 Do you know someone who loves warm freshly simmered tea but is always on the go to enjoy it while it's still hot? The Pure Zen Tea's travel tea mug with a built-in infuser will make their lives a little less tragic. These tumblers are made from double-walled borosilicate glass with stainless steel infuser and lids and can be used for teas or fruit-infused water. This Tumbler also comes with a sleeve to protect your drink while you are on the go. Perfect when it's not possible to enjoy the tea at home.
14.
COSORI Electric Gooseneck Kettle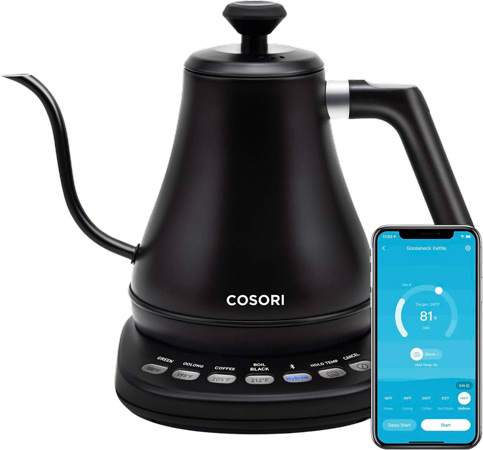 Technology has taken the world by storm, and it continues to make our lives easier. What happens when technology and tea simmering come together, we get an electric kettle!, and not just any kettle, the COSORI electric gooseneck kettle. This kettle is a stellar gift as the features it provides will make your tea lover friends bid farewell to their normal kettles. This kettle is synced with a mobile app that allows you to adjust the kettle's temperature and schedule when you want the water to boil. The elongated spout design makes pouring easy. The kettle itself is constructed from food-grain stainless steel. This kettle is sure to replace your friend's rusty old kettle in no time.
15.
Marce Japanese Matcha Tea Set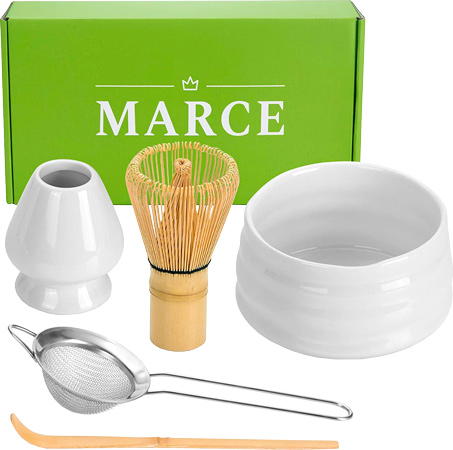 For friends who love matcha a little too much, a matcha tea set will be a brilliant surprise for them. The matcha tea set by Marce includes a matcha tea bowl, whisk, matcha tea sifter, a scoop, and a whisk holder. This tea set is specifically designed to elevate the tea-drinking experience. The bamboo Chasen whisk, unlike metal whisks, does not leave the tea tasting bitter. These products are lead-free and perfect for gifting to tea fans who deserve to feel special.
16.
Tea Sampler Gift Set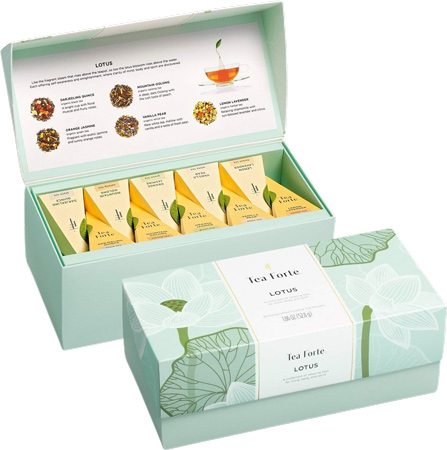 Assorted gift sets are famous among tea fanatics. One such set by Tea Forte will be appreciated by all your tea lover friends. The lotus relaxing tea presentation box comes with 20 assorted tea bags of premium tea leaves. This pack includes Vanilla Pear, Orange Jasmine, Mountain Oolong, Darjeeling Quince, and Lemon Lavender tea infusers. This delicious gifting set carries a gourmet selection of organic teas. Tea Forte's gifting set comes in a beautiful embossed and patterned box with a satin ribbon, great for presents.
17.
The Perfect Afternoon Tea Recipe Book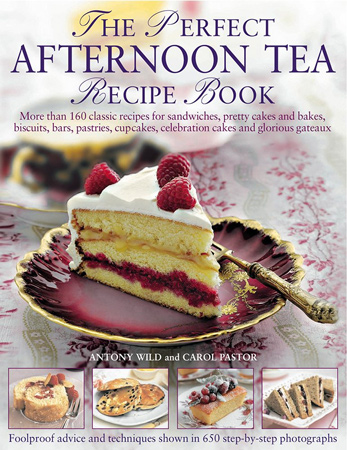 Everyone has a thing for a vast spread at tea time. Be it Hatter's tea party in Alice in the Wonderland or a vintage British tea spread, we all got inspired to try scrumptious tea time recipes. For that baker friend who is equally obsessed with tea; "The Perfect Afternoon Tea Recipe Book" by Antony Wild and Carol Pastor has over 160 exquisite recipes for sandwiches, cakes, cookies, pastries, etc. Get this for your friends and make these incredible recipes with them. An apt gift to bond and strengthen relations through tea and cooking!
18.
Bubble Tea Cat T-shirt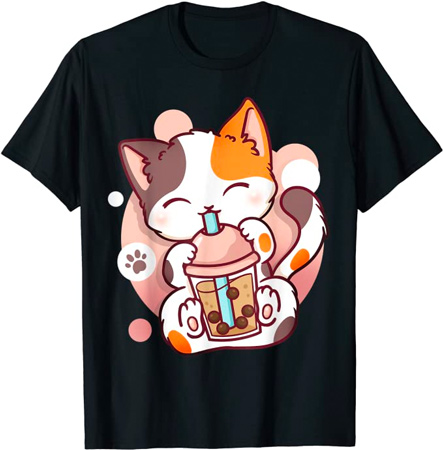 For those who love cats as much as their tea, a bubble tea cat t-shirt would be the best present. It would aptly describe their sentiments for both things. This lightweight breathable graphic t-shirt is very comfortable to wear, and the design makes it too cute to resist. Get it for your friend and surprise them today!
19.
Tub Tea Natural & Organic Bath Salts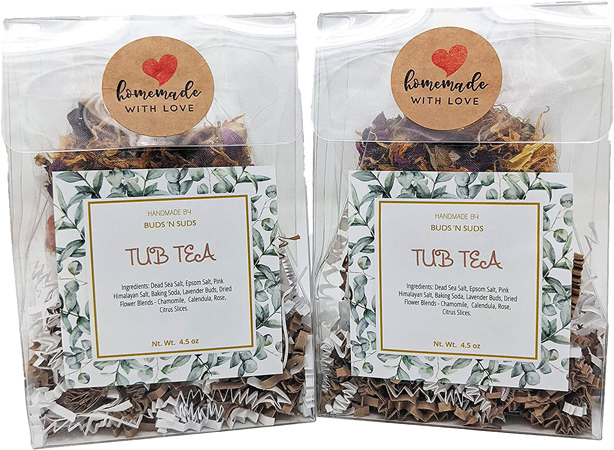 Tea leaves make a great beverage but soaking in them has also been proven to elevate mood and relaxation. The Buds N Suds Herbal Bath Bags come with a blend of dead sea salt, Epsom salt, and pink Himalayan salt. These bath bags also contain dried flowers like Wild Flowers, Lavender Buds, Chamomile, Calendula, & Rose. One soak in these therapeutic bath teas will leave you refreshed, and stress will wash away from your body. These bath bags are incredible for gifting as the tea fragrance is calming, ideal for all tea lovers.
20.
A La Maison White Tea Liquid Hand Soap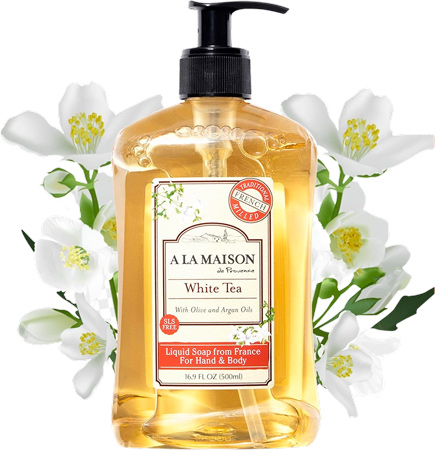 Premium quality soaps are hard to come around, especially those with rich organic ingredients. The A La Maison white tea liquid hand soap has rejuvenating essential oils, vitamin E, and healing ingredients leaving the hands soft and moisturized. These soaps are excellent for sensitive skin. Their luxury hand soap is free of SLS, parabens, and phthalates. The white tea scent makes them a fitting gift for tea admirers who enjoy premium soaps.
21.
Tea Leaf Reading Kit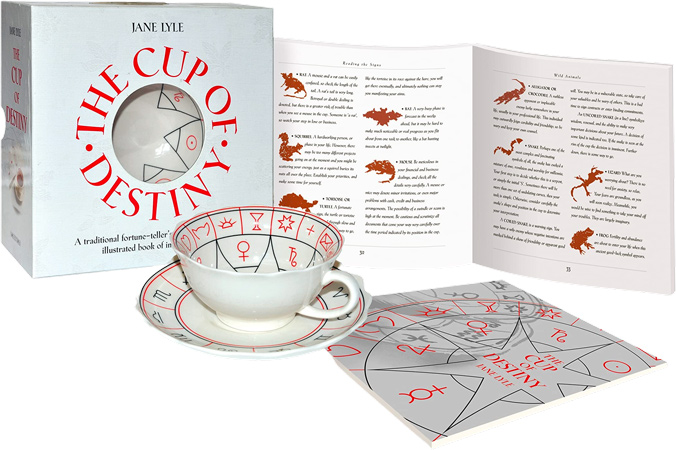 Tea and prophecies go hand in hand. Everyone loves a good activity during tea time. Get your tea enthusiast friends a tea leaf reading kit. The Cup of Destiny uncovers the ancient method's secrets and allows people to make predictions. This set comes with an actual cup, saucer, and an illustrated book explaining how to interpret the symbols and meaning of over 200 patterns you are likely to see during the session. Just drink a cup of tea with them and see what destiny has planned for you.
22.
Westin White Tea Bath Bomb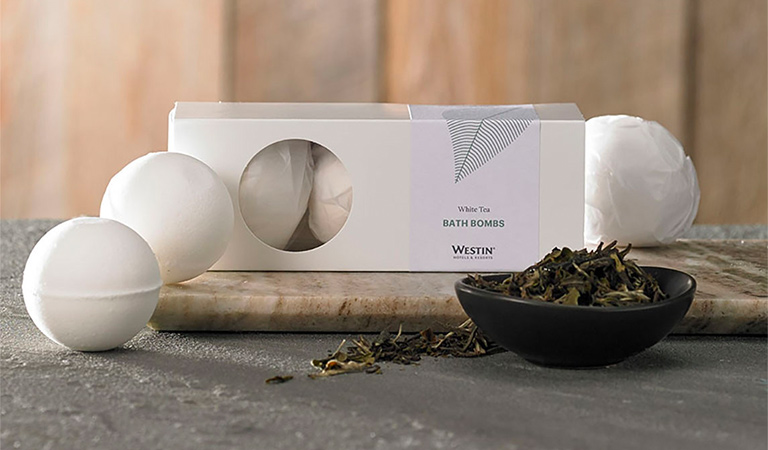 If your friends are dying to go on a vacation but holidays are nowhere in sight, get them the Westin White Tea Bath Bombs as a present. These bath bombs will give them the experience of Westin Hotels & Resorts from the comfort of their house. These bath bombs contain mango butter, safflower oil, and cocoa butter that rejuvenate the skin. The Westin bath bomb's signature white tea scent is cherished by everyone who takes their tea seriously. The calming, soothing fragrance makes these bath bombs a perfect gift for a DIY spa.
23.
Pink Stork Sleep Tea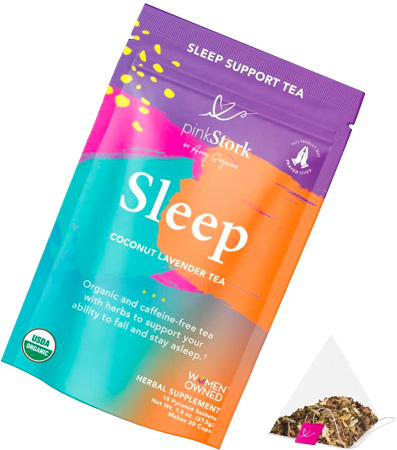 If you know people who have trouble falling asleep and sleeping pills are a big no-no, get them the "Pink Stork" sleep tea. This tea is formulated by a certified herbalist and designed to make people sleep better and wake up without lethargy. This tea is caffeine-free and contains organic herbs like Lavender, Oatstraw, and Lemon Balm. These sachets are biodegradable, and each sachet makes two cups. This woman-owned brand vows to help people maintain a healthy sleep cycle. Get this for friends and help them with their worsening sleep schedule.
24.
Green Tea Gummy Chews
Give your tea devotee friends something to snack on while still giving them a taste of their favorite tea. The AriZona Fruit Snacks are gluten-free gummy chews infused with green tea; excellent for snacking. These bite-sized chews have 90 calories per serving and are a great source of vitamin C. This preservative-free snack is great for munching and the green tea lover would certainly be appreciated by your friends.
25.
Elephant Tea Mug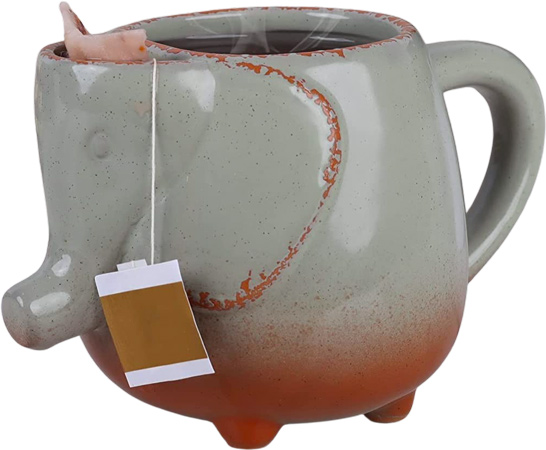 Cute mugs with clever details and designs are a big hit among the tea lovers' community. One such mug is the Servette Home's Elephant Tea Mug. This ceramic mug comes in the shape of an elephant with a special niche to store your teabag. The tail makes the handle of the mug for a comfortable grip. This adorable mug is both microwave and dishwasher safe. This ceramic mug would be a perfect gift for your tea devotee friend with a love for elephant decor.
Need more inspiration?