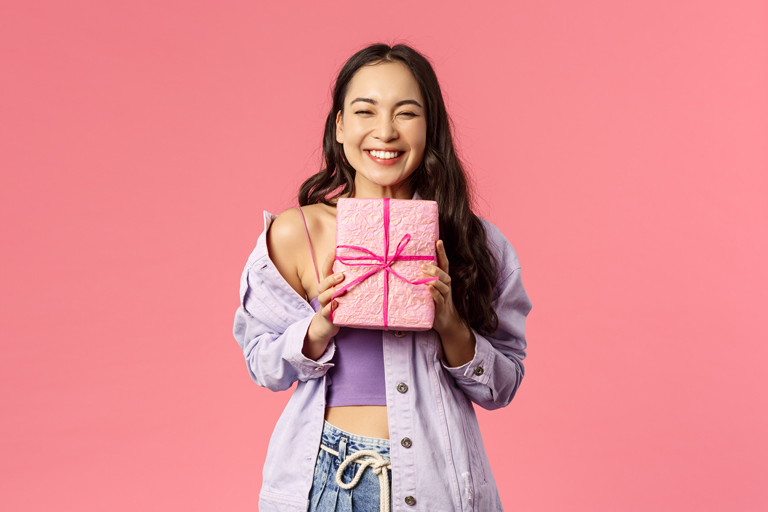 If you're shopping for a heartwarming gift for your girlfriend that's so cute, so adorable, so unique that it will leave her in a state of "awwww" (not just awe) then you are right where you need to be. We've done the research so you can give the favorite woman in your life something that she is going to love.
This list of 27 cute gifts for your girlfriend is packed with ideas that are going to make her flip over just how cute they are. From adorable animal-inspired and quirky home decor to sweet gifts that will carry sentimental meaning, you can be sure we've covered it here. Shop with confidence knowing your girlfriend will love what you're about to give her.
1.

Silicone Bear Trivet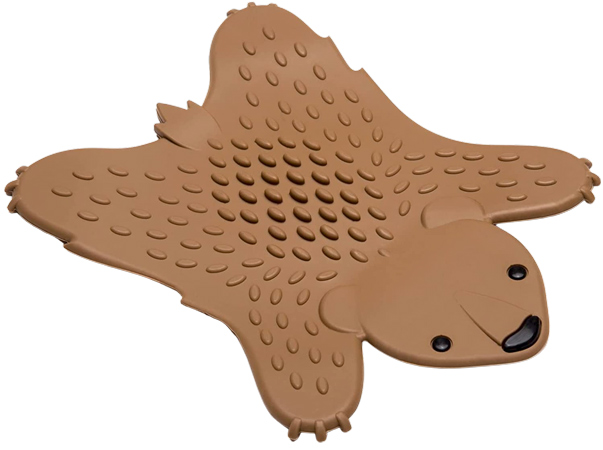 Every kitchen needs at least one high-quality trivet to protect the counters from damage, but that doesn't mean it has to be a typical boring one. This trivet is made of BPA-free silicone that is highly resistant to heat so it won't melt or warp. The silicone material makes it flexible and slip resistant so it's safe for holding scalding pots. It's shaped like a polar bear that's just waiting to sprawl out on your girlfriend's countertops. This delightful trivet is going to make her smile whenever she's cooking in the kitchen.
2.

Ceramic Appetizer Plates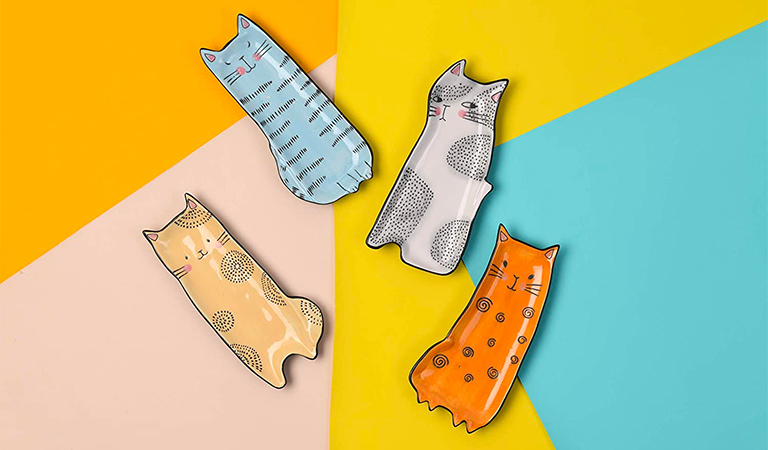 These adorable appetizer plates will help your girlfriend add some fun to her next dinner party. The set comes with four ceramic plates, white, yellow, orange, and blue that have all been hand-painted and shaped like cartoon cats. They have been glazed for extra durability so they are not only dishwasher safe but they can also be used in the microwave. They'd be perfect for small snacks, nuts or olives or she could even use them as trinket trays around the house.
3.

Cactus Mug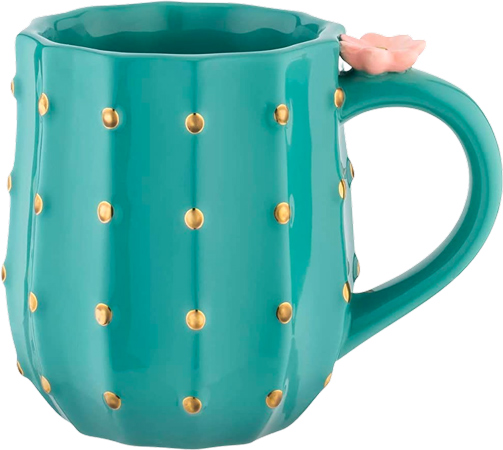 Give your girlfriend the cutest coffee cup she's ever used with this gift idea. This unique, ten-ounce mug is made of durable, glazed ceramic that is shaped like a cactus. It even features cactus spikes that are made out of 3D gold dots and a single pink cactus flower that sits on the handle. If your girlfriend likes to depend on a bit of caffeine to get her through the day, this charming mug will be a welcomed gift.
4.

Whimsical Tea Infuser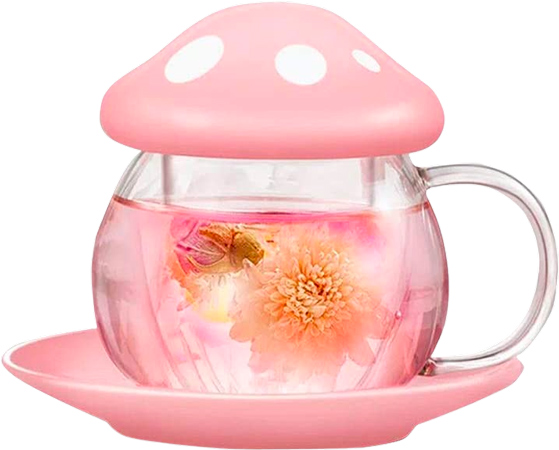 For individual cups of loose tea, this fun little pot is going to make her smile every time she uses it. It's designed to look like a little mushroom, with the mushroom cap being the removable lid to make the tea. The pot is made of highly durable and dishwasher-safe silica glass and includes a removable glass tea filter for mixing loose tea. It also comes with a matching insulated ceramic tray that can either be used under the pot to keep it off of furniture or can double as a place to put biscuits or whatever else your girlfriend enjoys with her whimsical cup of tea.
5.

Enamel Whistling Teapot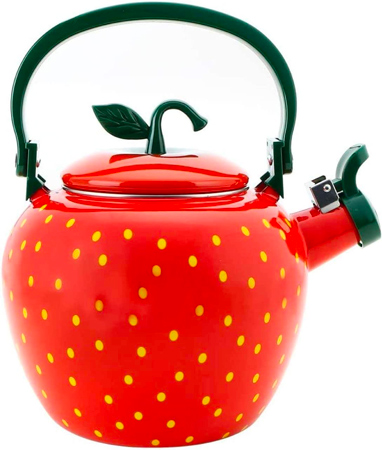 If the lucky lady you are shopping for has a fun personality and likes her home to reflect that, this teapot is exactly what her kitchen is missing. The pot, made of heavy stainless steel with a durable enamel coating, is painted to look like a strawberry. It even comes with a vine-style lid pot. The pot holds over two quarts of water so it holds enough for her and her friends next time they come over for a cup of tea and a catch-up. Teapots don't come cuter than this little beauty.
6.

Salt and Pepper Shakers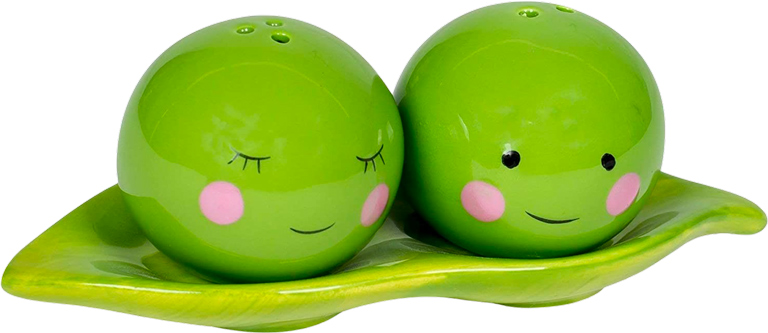 How cute are these salt and pepper shakers? They are the sweetest little two peas in a pod. (Just like the two of you!) The matching shakers feature two hand-painted faces with blushing pink cheeks. Integrated into the bottoms of the shakers are magnets that stop them from rolling off the included ceramic tray that looks like half of the pea pod. This set will look so good left out on the counter or dining room table. Because let's face it, they are just too darn cute to hide away in the cupboard.
7.

Wine Bottle Holder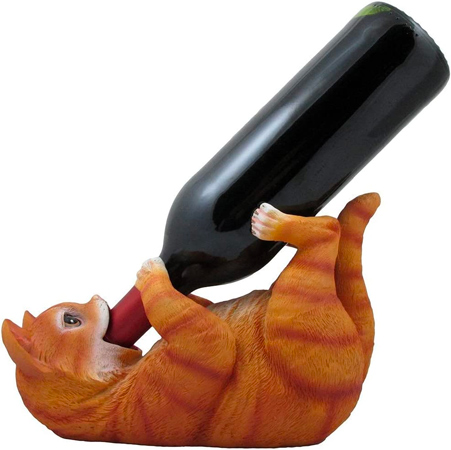 Whether your girlfriend likes wine, cats, or both, this gift is cuteness overload. This wine bottle holder that looks like a cheeky tabby cat trying to guzzle the bottle, is made of cold cast resin so it won't chip and is made to last. The resin construction also makes it a solid piece of counter decor that is heavy enough to balance the bottle without having to worry about it tipping over. This boozy little kitty will keep your girlfriend's wine bottle ready for her next glass of vino.
8.

Wooden Spoon Set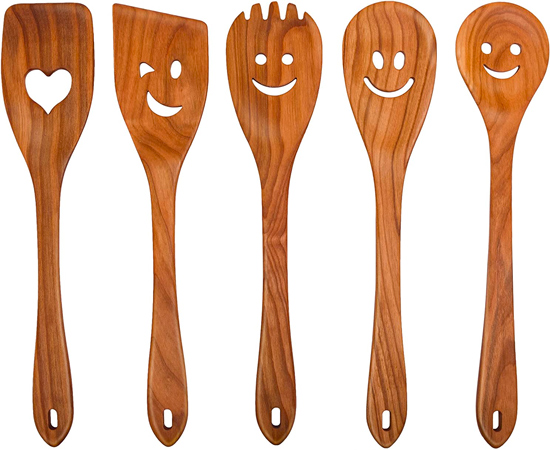 If being in the kitchen makes your girlfriend happy, she needs some kitchen utensils that are happy to be there too. This set of smiling wood tools includes everything she needs to add some extra happiness to every pot she's stirring. All five pieces are made of solid cherry wood and have been sealed so they won't splinter and are safe for food use. They would also be perfect as salad servers or for just leaving out on display in a utensil jar as a happy bit of rustic kitchen decor.
9.

Crystal Honey Pot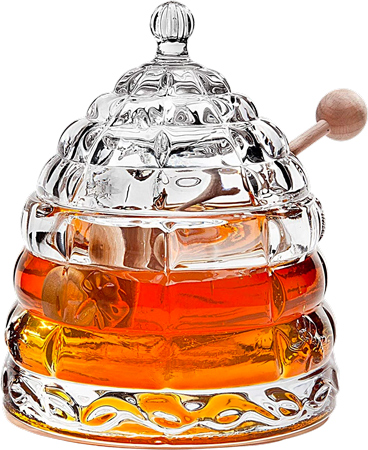 This cute little honey pot is the perfect mix of function and quirkiness. The pot is made of lead-free glass and is shaped like a beehive. The top of the hive is removable for easy access to the sticky goodness inside. The set also includes a solid wood honey dipper that is specifically made to make dizzyingly honey easier. If your girlfriend has a sweet tooth for cute decor, this gift is going to be a winner.
10.

Letter-board Picture Frame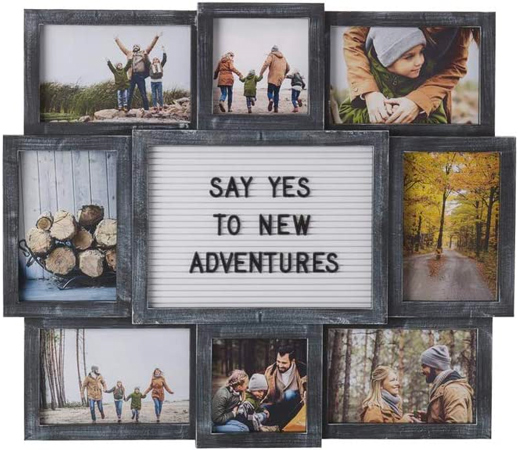 Give your girlfriend this gift so she has a stylish but creative way to show off her favorite pictures of family and friends. The frame holds a collage of eight of her best memories. The individual frame sizes come in a mix of 6×4, 4×6 and 4×4. In the center of the pictures is a customizable letter board where your girlfriend can display her own cute messages with the included letters and numbers. Take this gift up a notch by filling the frames and adding your own personal message that lets her know how much you love having her in your life.
11.

Preserved Red Rose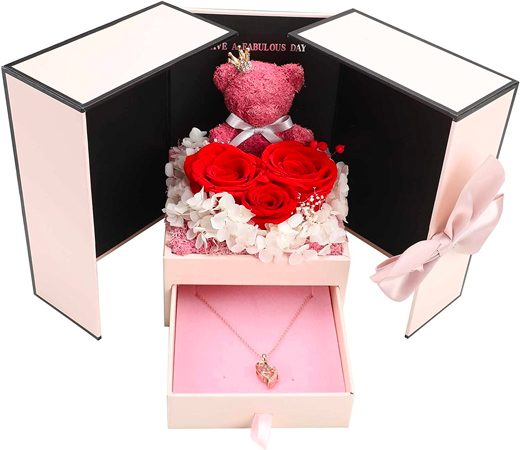 This sweet gift has so much going on she won't know where to look as she opens it. The gift already comes wrapped in a luxury presentation box that opens to reveal a small teddy bear made of real moss that has been dyed pink. The bear sits on top of three preserved red roses and white hydrangeas. Hidden inside the bottom of the box is a heart pendant necklace made of rose gold plated brass and features a center gem that says "I Love You" in one hundred different languages. This gift will have her lost for words.
12.

Rose Teddy Bear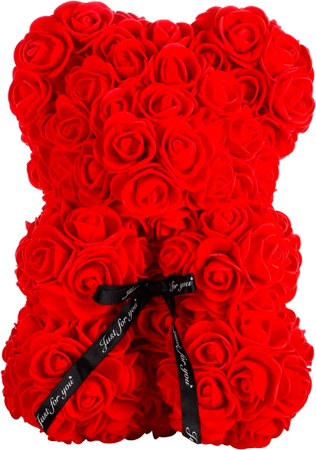 This precious teddy bear is like giving your girlfriend a stuffed animal and flowers at the same time. This gift will look adorable on her favorite chair or sitting on her bed as a piece of decor that will remind her how much you adore her. The bear comes in five different color options, each beautifully presented in a clear gift box. This plush toy is like nothing she's seen before and she's going to love it.
13.

Ruched Hobo Purse
If your girlfriend loves fashion, this purse is going to get a ton of compliments every time she wears it. The purse is made of eco-friendly, vegan leather that comes is a slew of bright and trendy colors. The top handle features a bold ruching design that makes this purse stand out as a unique and fashion forward statement. The inside compartment is securely sealed with hidden magnetic snap closures so all of her daily gear will stay safe and protected. If your girlfriend appreciates standing out, this bag will definitely get the job done.
14.

Cute Face Planter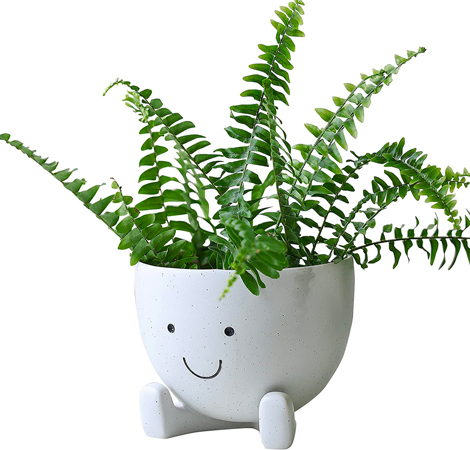 Give your girlfriend a plant that will not only make her smile, but one that's going to smile back at her. This planter is hand-made with a durable resin that won't leach harmful chemicals into the soil. It also has a predrilled drainage hole that will stop the soil from getting oversaturated so the plant will stay healthy. The pot has been hand-painted with a smiling face and comes complete with two little legs with feet. At four inches tall it's the perfect little pot for a mini succulent that can sit on her desk at home or at the office.
15.

Designer Keychain Wallet
This gift will help your girlfriend stay organized while still letting the world know she's got personality for days. This little keychain wallet by Lilly Pulitzer comes in a variety of fun and tropical-inspired motifs to choose from. The center compartment is accessed via the zipper which makes it the ideal space to not only store credit cards, but also loose change or business cards. The outside features a plastic-protected window for her ID card so it will be easy to get to if she needs it. It's a great wallet to carry on its own or can be attached to her purse via the included key ring.
16.

Luxury Compact Mirror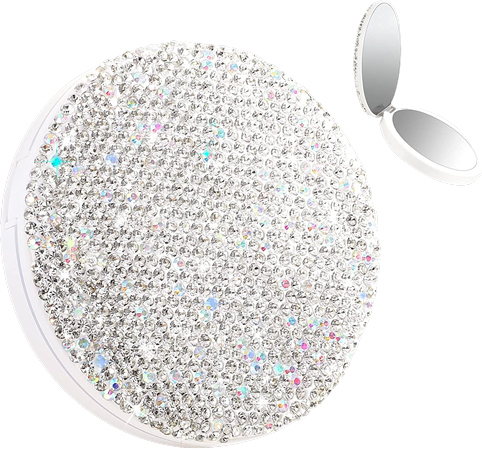 This gift is one that she's going to want to keep with her wherever she goes. This super blinged-out compact mirror not only features dual mirrors, one with magnification, but it also has a USB rechargeable LED light that will make touchups even easier. The mirror is larger than most standard pocket mirrors so it's ideal for doing a full face of makeup but still small enough to hide away in her purse. This is a gift for the glam girl that can't get enough sparkle in her life.
17.

Cat Face Slippers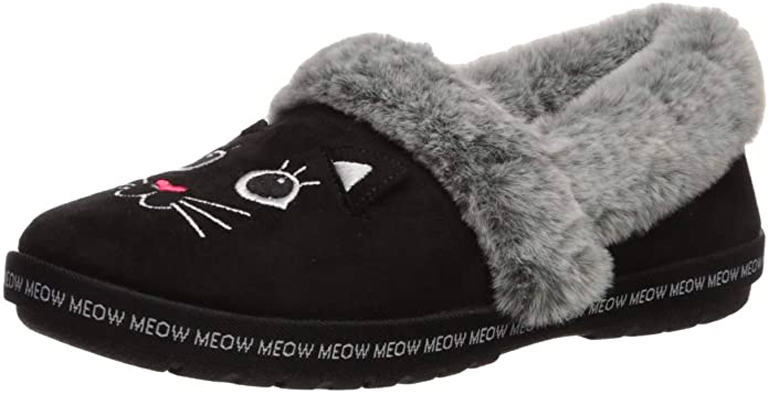 You can never go wrong with gifting a great pair of slippers and this pair is just waiting to be your girlfriend's new faves. These sweet slippers feature a stitched kitten face with a little pink nose. The outside of the slippers are made of a black suede-like material while the inside features a grey faux fur lining. The inside of the sole is made with comfortable memory foam for long-wearing comfort. They are great house slippers but can also be worn outside due to the hard rubber sole and thick tread grips. These slippers will have your girlfriend purring with happiness.
18.

Sloth Ring Holder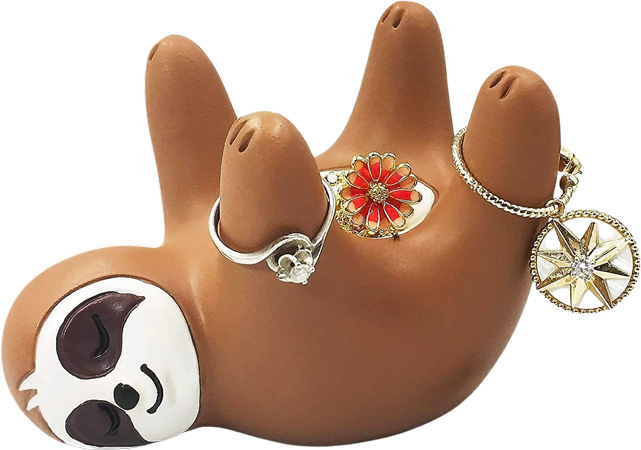 This sleeping little sloth is going to make the perfect ring holder for your girlfriend's nightstand. The ring holder is made of painted resin and designed to look like a sloth laying on its back. Each of the legs can hold multiple rings while the flat belly can hold other small jewelry and trinkets. Don't sleep on this gift idea, she's going to get a kick out of just how cute it is.
19.

Glass Trinket Box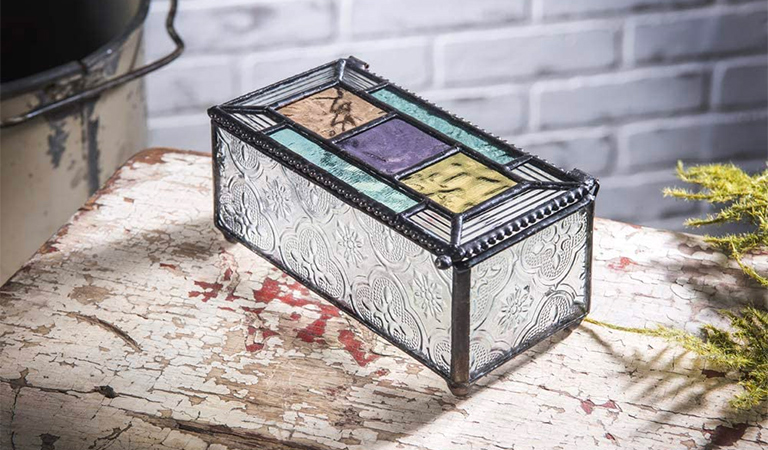 This useful trinket box will come in handy in so many different ways around the house. Your girlfriend can use it for her small knickknacks or organizing jewelry. It's made of clear embossed glass that is accented by color-blocked stained glass panels on the lid. The frame is made out of contrasting black steel that gives the box a vintage vibe while still being universal enough to fit in with any tasteful decor.
20.

Ceramic Pen Holder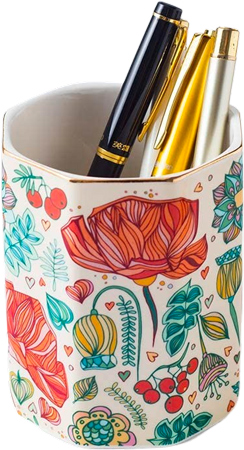 Give your girlfriend a place to collect all of her pens and highlighters with this large ceramic pen holder. It comes in four patterns to choose from, each fun and full of color. It would look great on her desk but could also be used to store her favorite makeup brushes or used as a catch-all pot. This useful gift will brighten her day and her desk.
21.

Colorful Makeup Brushes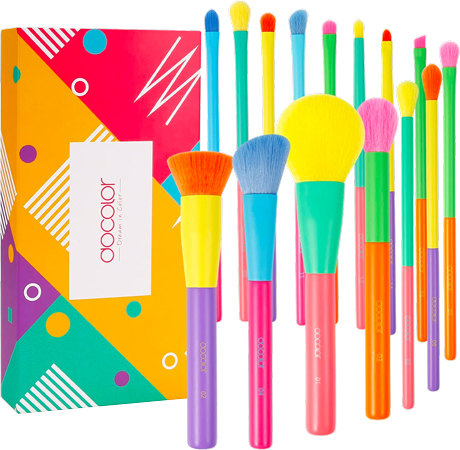 If your girlfriend loves to accessorize in color, these cool makeup brushes are begging to sit on her vanity. The set comes with fifteen different brushes, each with bright color combinations that make these stand out from the usual boring makeup brushes on the market. Everything your girlfriend will need from eyeshadow brushes, to blush, powder and lip brushes is included in this trendy set.
22.

Modern Figurine Sculptures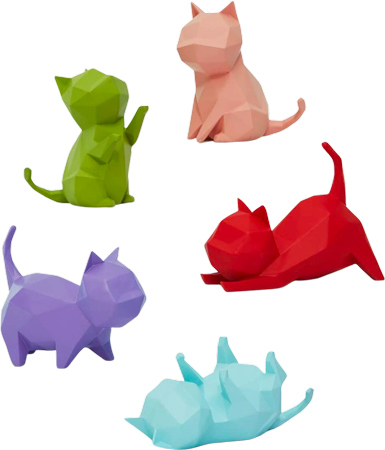 These little cat figurines are such a cute gift idea if your girlfriend loves playful decor around her home or in her workspace. The mini scriptures are made of a poly resin material and come in a set of five. Each one features a cat in a different position and different color. They would look good sitting on top of books on a coffee table, on risers on a bookshelf or scattered around a desktop to add some fun to your girlfriend's surroundings.
23.

Faux Succulent Set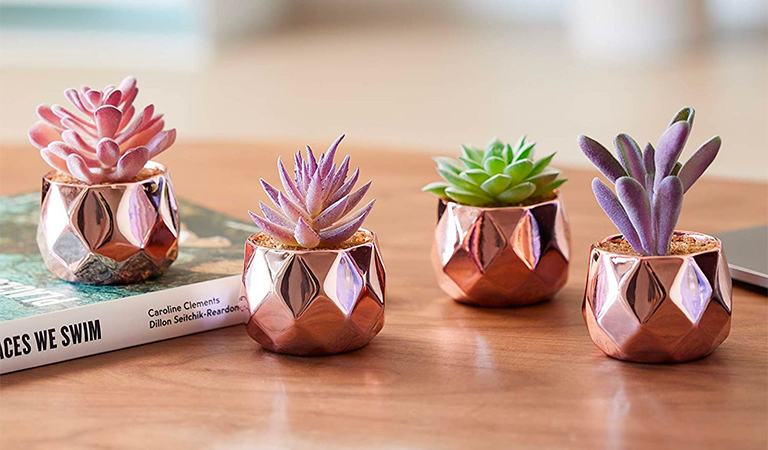 Every room looks better with a bit of greenery and your girlfriend's house will be no exception. This set of very modern and ultra-feminine faux succulents is a sweet twist on traditional faux plants. Instead of the common neutral plant pots, these rose gold geometric planters are small in stature but huge on style. They definitely won't blend into the background. This low-maintenance gift is going to look good in your girlfriend's home.
24.

Funky Shopping Tote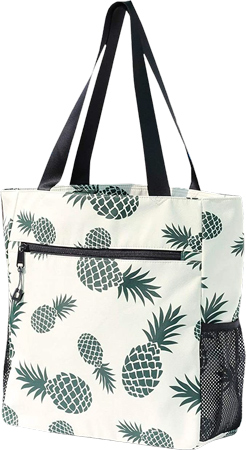 This fun shopping tote that is covered in adorable pineapples is not only a practical gift, but one that's going to help your girlfriend show off her personality wherever she goes. The bag is made of a washable and waterproof fabric that is durable enough to hold big hauls from shopping trips to the grocery store or market. The inside offers multiple pockets for organizing small items like her wallet and keys. The large size and tropical pineapple motif also make this bag the ideal beach or pool accessory.
25.

Luxury Lunch Box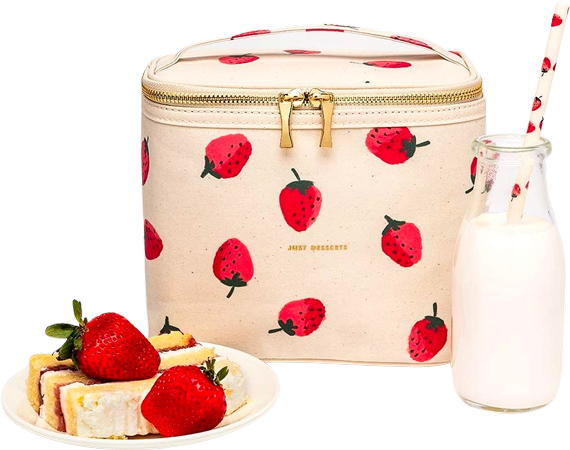 Lunch boxes don't get any more adorable than this designer insulated lunch tote by Kate Spade. The bag is made out of a heavy-duty canvas that is decorated with printed strawberries. The inside has a thick insulated lining that will be sure to keep your girlfriend's lunch cold all day long. The bag is finished off with contrasting gold hardware and a top carrying handle for transport. The is definitely a cool gift.
26.

Woven Rope Basket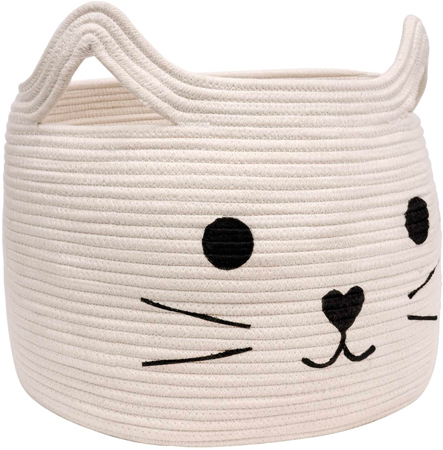 Help your girlfriend organize all of her blankets, pillows or baby toys with this lovable kitten face basket. The basket is made of woven cotton rope and comes in a variety of colors. This would look great in a living room as a piece of fun decor or perfectly blend in with a child's room. The handles of the basket make this extra special because they are designed to look like little kitten ears. So cute.
27.

Donut Flannel Blanket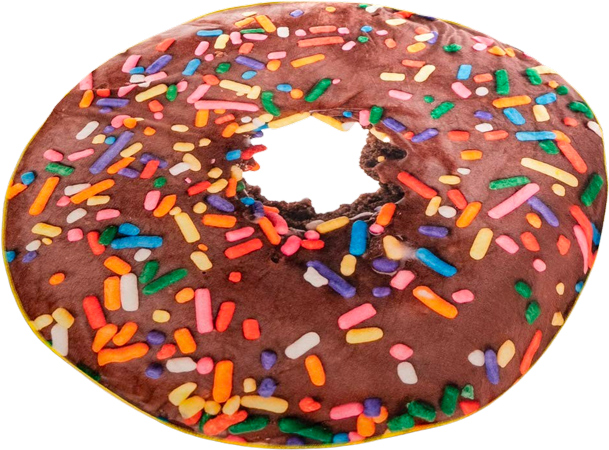 Cute, sweet, funny… this gift has it all. This giant flannel blanket looks like a delicious, pink glazed donut with colorful sprinkles- arguably the best kind of donut! The blanket is made of soft material that will keep your girlfriend warm on the coldest of days. It's also machine washable so it's low maintenance and made to last a lifetime of couch cuddles and lazy days with the one you love.