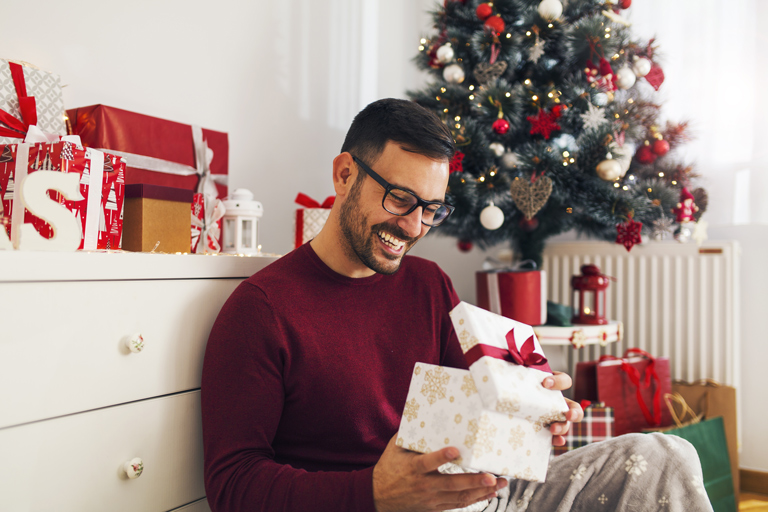 Santa Clause is coming to town. Though it won't be his gift under the Christmas tree that has the guy you're shopping for talking about how this was the best Christmas ever. If you're looking for some Christmas gift ideas for men, you've landed exactly where you're supposed to be.
This list of 27 incredible Christmas gifts for men covers every end of the spectrum of gift ideas that any man is going to love and be excited to use. He'll be singing your praises as the person that knows him best. These gifts are just that good.
1.
Car Phone Holder
This Christmas gift will help the man you're shopping for be safer while he's driving. This dashboard-mounted, heavy-duty phone holder will fit even the largest of phones.
The one-touch mechanism makes getting the phone in and out of the holder easier than typical mounts that require a lot of fiddling to get the phone to release. The last thing he needs to be doing is taking his eyes off the road.
The telescopic arm can extend to up to eight inches and can be adjusted in height for the perfect viewing angle. This is a high-quality, and good-looking, piece of kit for his car.
2.
Wool Outdoor Blanket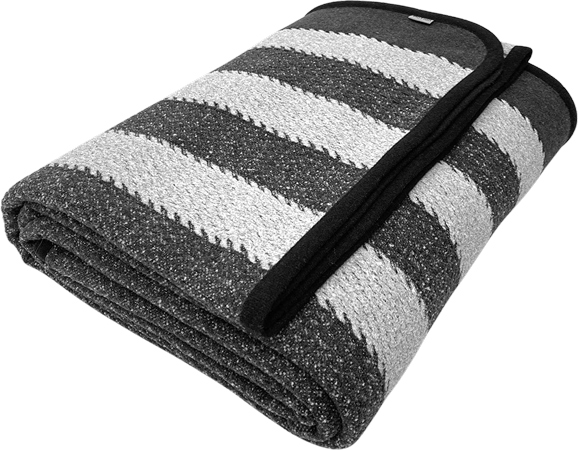 If the man you're shopping for this Christmas loves to be outdoors, this warm blanket will come in handy on more than one occasion. It's made of thick, Merino wool so it will keep him warm at sports events, camping or even if he's just hanging out at night in the backyard. He can also use it as an emergency blanket he keeps in the trunk of his car.
It's machine washable so it's made for a rugged life outdoors. He deserves a blanket that will stand up to his lifestyle, and this is it.
3.
Crystal Pint Glasses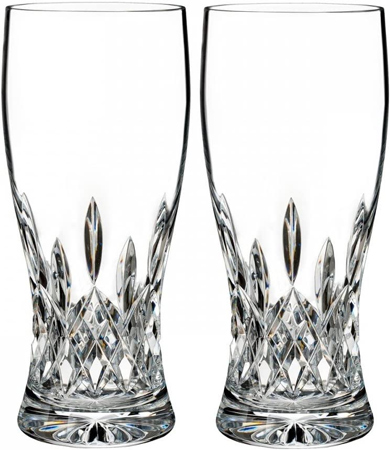 Does the guy in your life enjoy making everything he does just a little bit more fancy? Don't make him drink his expensive IPA beers out of boring glasses. These ultra-luxurious pint glasses are a Christmas gift he's going to love.
They are made of solid crystal with a classic diamond cut pattern on the bottoms. The glasses come in a pair, each with an 18-ounce capacity. They also come in a beautiful presentation box so they'll be sure to make an impression when he unwraps this gift.
4.
Elegant Decanter Set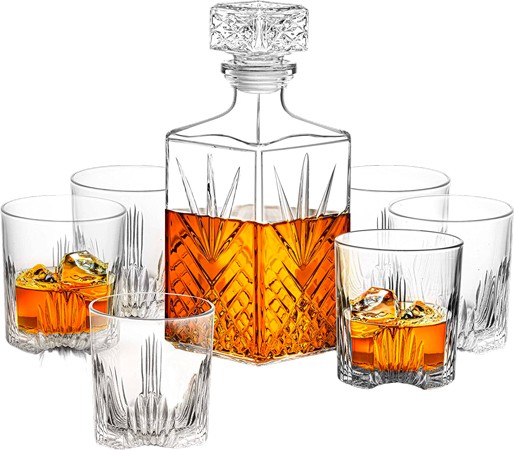 Make the man you're shopping for happy this Christmas morning with this classy decanter and glasses set. The set comes with six whiskey glasses and an elegant decanter with a beveled stopper. All the pieces are lead-free and have been meticulously crafted in Parma, Italy. Give his bar area an instant upgrade with this useful Christmas present. He'll be toasting to your gift-giving skills.
5.
Complete Barware Set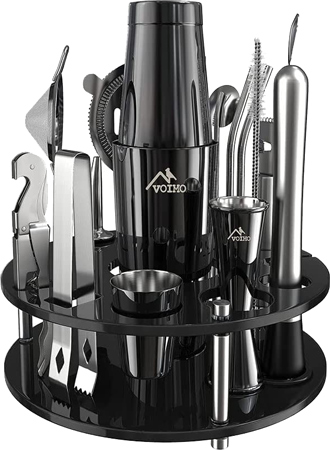 This Christmas gift is going to turn any man from a beer guy to a full-on cocktail extraordinaire. This luxury set of bar tools comes with everything he needs to shake up some Christmas evening fun. The set comes with 22 pieces, all organized and beautifully displayed in the rotating stand. The black stainless steel will give his bar area a modern twist while showing all his friends that when it comes to bartending, he means serious business.
6.
Laptop Backpack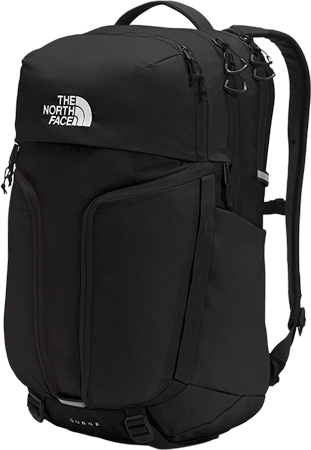 This versatile backpack would be a welcomed gift for any man this Christmas. Whether he's going to the gym, hiking, traveling or just going to the office, this backpack by The North Face is ready to go where he is.
The inside has plenty of space to carry whatever he needs and still leaves room to safely hold his 15-inch laptop in the dedicated computer sleeve. The outside features a zipper pocket for easy access to things like his phone and keys and also has two mesh pockets for a water bottle or umbrella. Make sure your man friend has a stylish way to carry all his gear with this gift idea.
7.
Travel Tech Bag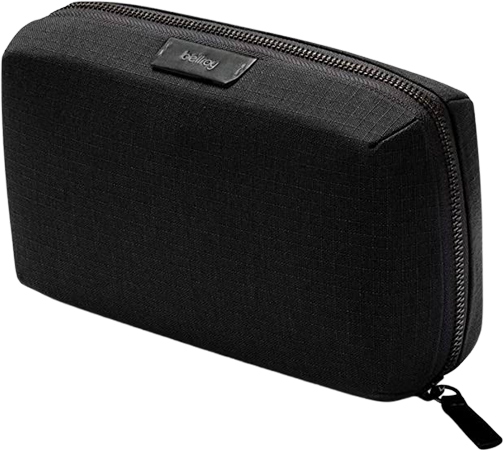 Here's a Christmas gift idea for the man that loves to take his tech with him wherever he goes. This organizer bag features various types of pockets on the inside that will keep all his gadgets and wires exactly where they're supposed to be.
The zipper allows the bag to be opened flat so he won't have to dig for whatever it is he needs. Outside sticks to a minimalist design with no pockets, which keeps it slim and easy to throw in a briefcase or backpack. No more tangled wires with this Christmas gift.
8.
Folding Gym Mat
For the man that loves to work out, this Christmas gift is going to be a great addition to his home gym. This thick gym mat is going to protect his knees and back from injury while he's doing pushups, crunches or any other floor work.
At six feet long there will be plenty of room for whatever he needs to do. It's also easily stored away due to the tri-fold design. When he's done getting buff, he can slip it under a bed or behind a door until it's time for his next sweat session.
9.
Gym Interval Timer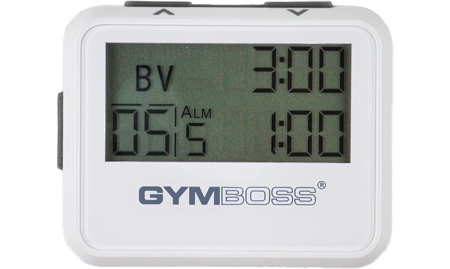 Help the man you're Christmas shopping for take his workout up a couple of notches with this interval trainer by Gym Boss. Interval training, or training at maximum intensity in short spurts, is said to be the best way to lose weight. Instead of only burning calories during exercise like a traditional run, interval training will have him burning calories for a full 24 hours after his workout.
With this timer he won't have to keep track of time, he can set it to beep or vibrate when it's time to take it to the max. This gift idea is like a personal trainer he can clip onto his gym shorts.
10.
Leather Pen Case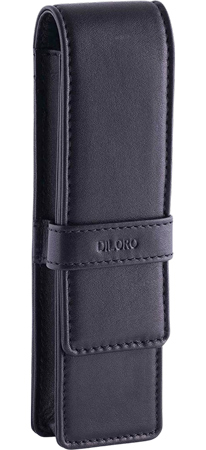 This Christmas gift idea is for the man that likes to keep his writing utensils organized and protected in a classy way. If a neoprene or plastic pen box just isn't cutting it for him, this sophisticated case is made of genuine, full-grain leather. Inside is space for two pens that are separated by a divider.
If your man friend has invested in high-end pens, he can be sure the soft lining will keep them safe from scratches or damage. He's going to look good when he pulls this gift out of his briefcase when he's at the office.
11.
Chess Piece Bookends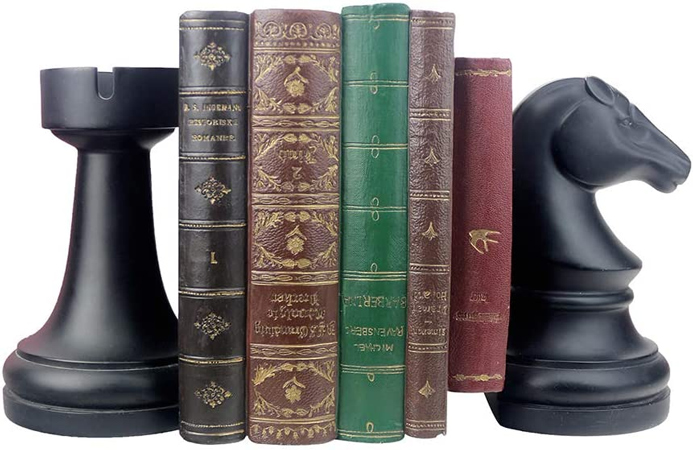 If your man friend would consider himself a bookworm, this Christmas gift is going to look great in his home. The pieces are made of resin so they are heavy enough to stop books from toppling over. Chess pieces are said to be a symbol of wisdom, and isn't that what books are? It's a match made in heaven. He'll appreciate seeing these cool bookends on his shelf.
12.
Neck Reading Light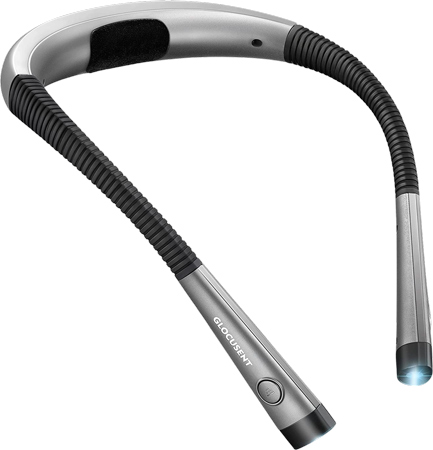 No more squinting in bed trying to read with this Christmas gift. If the man you're shopping for is a reader, this gift is going to light up his Christmas morning. Unlike other book lights that illuminate from only the top, this light rests around his neck for a wider angle of light. Plus, he won't have to keep unclipping the light to turn the page. Simplify his reading experience with this gift idea.
13.
Travel Mug Set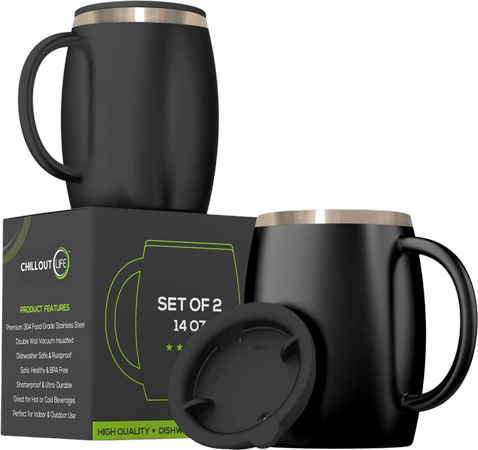 If your man friend can't go without his caffeine fix, this set of travel mugs is the perfect gift for Christmas. The set comes with two identical stainless steel mugs that feature insulated walls that will keep his coffee hot for hours.
The mugs hold 14 ounces of his favorite brew so he'll have enough caffeine to get him through a long day at the office. Also, being that there are two in the set, he could make one of them a dedicated office mug.
14.
Vintage Coffee Maker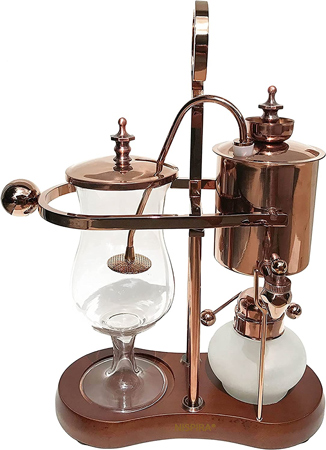 Help the guy you're Christmas shopping for turn making a cup of coffee into a work of art with this cool gift. He's definitely never seen a coffee maker like this. The unique design is inspired by the coffee makers of yesteryear. Constructed of copper and glass, it's something he would be proud to display on his kitchen counter. The set also comes with a measuring spoon, cup and a fiber cloth for keeping it as sparkly as the Christmas morning you gave it to him.
15.
Electric Coffee Grinder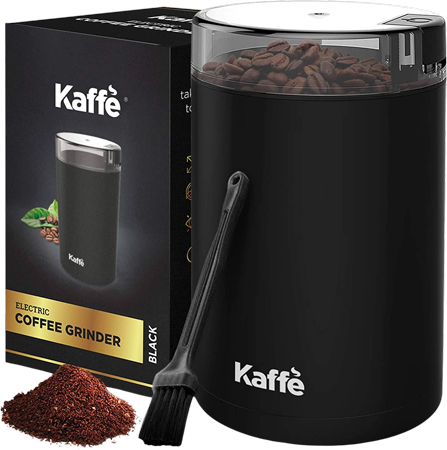 Give your guy the gift of delicious, freshly ground coffee with this Christmas gift. Grinding coffee beans right before putting them into a coffee maker allows the beans to retain their fragrance oils meaning he'll have an aromatic and full-bodied cup of coffee every time.
The coarseness can be adjusted by pressing the grind function for longer and the clear top allows him to see exactly when to stop. It can also be used for herbs, spices and seeds. It's a useful addition to both his morning routine and his evening cooking sessions.
16.
Manual Meat Grinder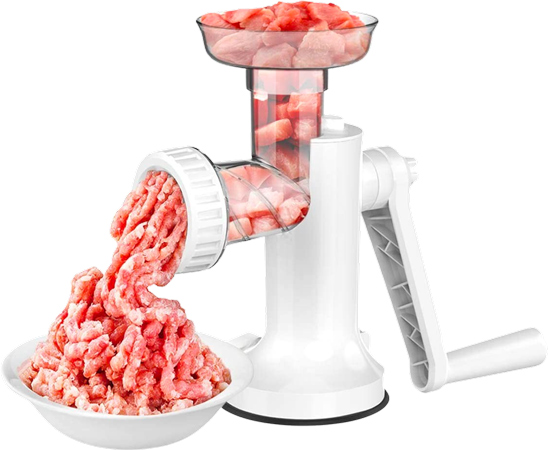 Let's give your friend a new hobby with this Christmas gift. This manual meat grinder will allow him to grind beef, pork, lamb or whatever he likes into custom recipes for sausages, burgers, meatballs and more. He can add his own spices and even grind up vegetables to add to his unique creations. The grinder comes with two grinding plates, a cutting blade and even a cookie attachment. Meat cookies? Sure, why not… if you're brave.
17.
Homemade Sausage Maker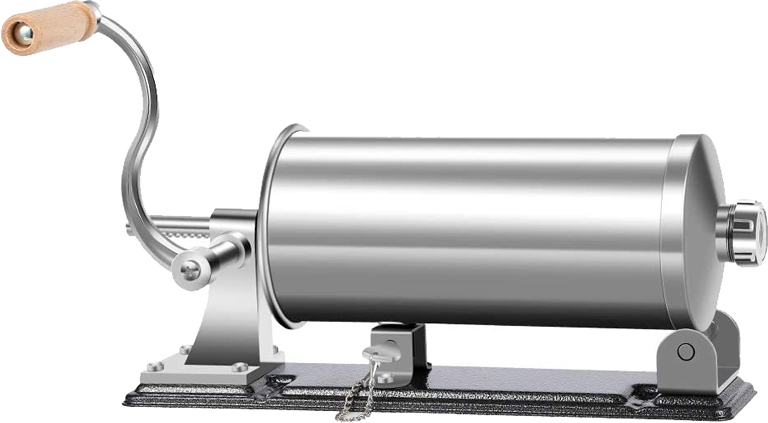 If meat grinding is already a hobby your man friend likes to indulge in, this Christmas gift is going to turn his meat into professional-quality sausages better than anything he can find in the store. This machine is capable of making sausage from six pounds of meat at a time.
It comes with four stainless steel tubes and four plastic tubes that can make sausages in a variety of sizes. He'll be known around town as the man with the best gourmet, homemade sausages.
18.
Belgian Waffle Maker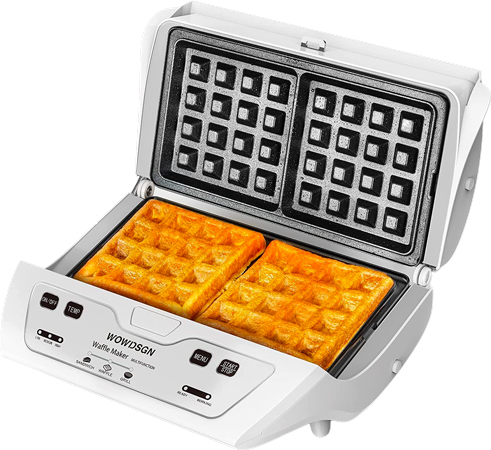 Make this Christmas morning breakfast one to remember with this delightful gift. The little machine will give him delicious Belgian waffles in the easiest way possible. Or if sweet isn't his go-to, it can also make perfect paninis with the changeable plates that it comes with.
All the plates are nonstick so it's easy to clean after his cooking session. He'll be serving up some deliciousness with this gift.
19.
Raclette Table Grill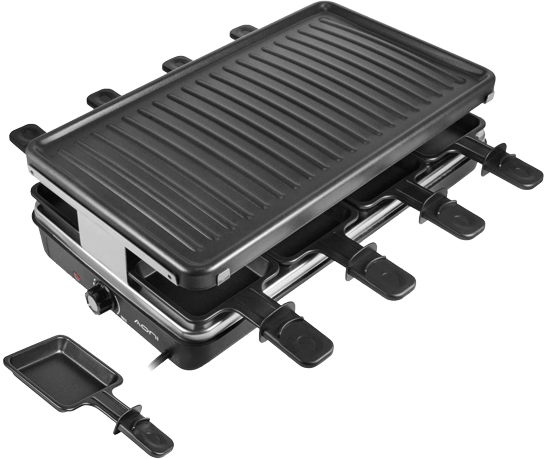 For the man the loves to grill and entertain, this raclette grill is going to keep him happy all year long. Raclette is a traditional meal from Switzerland where melted cheese is poured over vegetables, bread, meat and potatoes. The individual trays under the grill will melt the cheese while the top section will grill the vegetables.
The grill is meant to be used in the middle of the dining room table so everyone can serve themselves. This set is made for eight people so it's the perfect excuse to get all his friends together and make some cheesy magic. As they say, everything is better with cheese.
20.
Healthy Smoothie Blender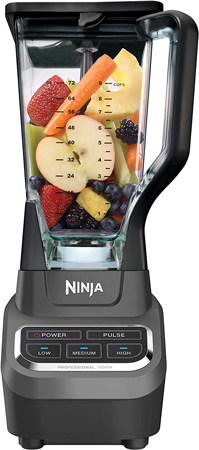 Give your man friend a jumpstart on his New Year's resolution to get healthy with this Christmas gift. It's a robust blender that will make him delicious and nutritious smoothies.
This powerful machine pumps out 1,000 watts of power to crush, chop or blend even the hardest of foods. It even makes an easy task of ice so on his cheat days when he's not chugging kale juice, it makes a mean margarita.
21.
Dental Water Flosser

Give the man that you're shopping for the gift of pearly whites this Christmas. This wireless water flosser replaces the need for traditional flossing, which can be cumbersome and painful.
This ingenious device makes flossing as simple as spraying a high-powered, but painless, burst of water between teeth to ensure that teeth and gums stay healthy. If he hates flossing, and who doesn't, this gift will make him smile. And because of this gift, that smile is going to look even better.
22.
Hanging Toiletry Bag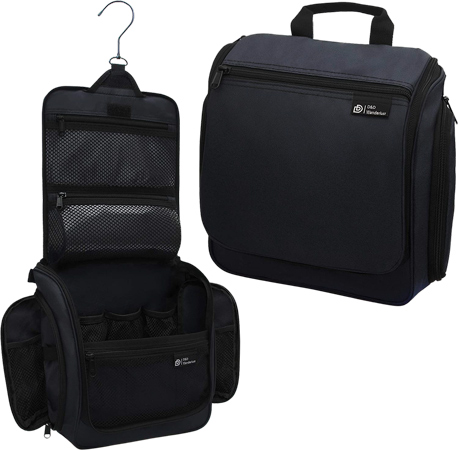 Next time your man friend travels, let him do it in style with this Christmas gift idea. This toiletry bag not only gives him all the space he needs for the essentials he requires when he's away from home, it also hangs on the back of a door via the sturdy hook that's hidden in the top.
That means he doesn't have to unpack all his toiletries or go digging into an endless void of a messy toiletry bag. Everything he needs will be in his own personal toiletry station. No more messy counters or constant packing and unpacking with this gift.
23.
Classic Designer Sunglasses

This Christmas gift will give any guy a reason to look forward to sunnier days. These lightweight sunglasses by Ray-Ban are going to look good on him. The classic square design and smoked lenses will look just as good hiking as they will going to the office.
They go with everything. Plus, with the 100% UV protection, they'll protect his eyes from damaging rays. He's got a (not as) bight looking future with this stylish gift.
24.
Leather Ratchet Belt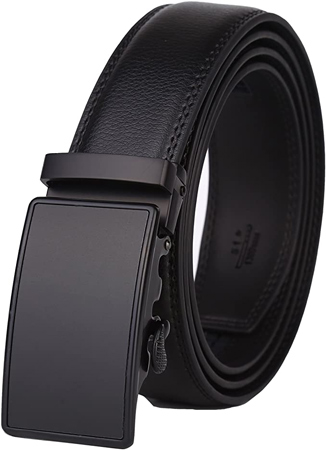 Pump up your man-friend's style with a Christmas gift that will get used all year long. This high-quality belt doesn't just look stylish, it will also give him a perfect fit without the need for holes that get stretched out.
The ratchet design adjusts the tightness of the belt under the buckle so the genuine leather belt stays looking smooth and top-notch. If he eats a little too much at Christmas dinner, no worries. This belt loosens at the flip of a buckle. Feast on, bro.
25.
Weatherproof Shoe Bag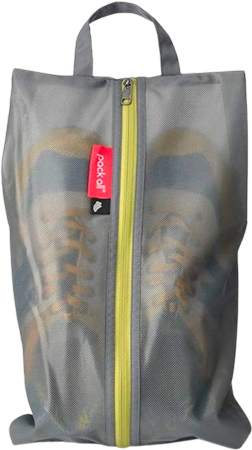 Whether the man you're Christmas shopping for travels or goes to the gym, this useful gift is going to have him thankful you thought of this gift. These waterproof shoe bags will keep his dirty shoes from touching his clean clothes in his bag.
They'll also keep odors at bay if he keeps his golf shoes in the back of his car. They're made of a mesh fabric that resists water and dust so if your guy friend is into his shoes, this is going to be the gift he wants.
26.
Mini Portable Projector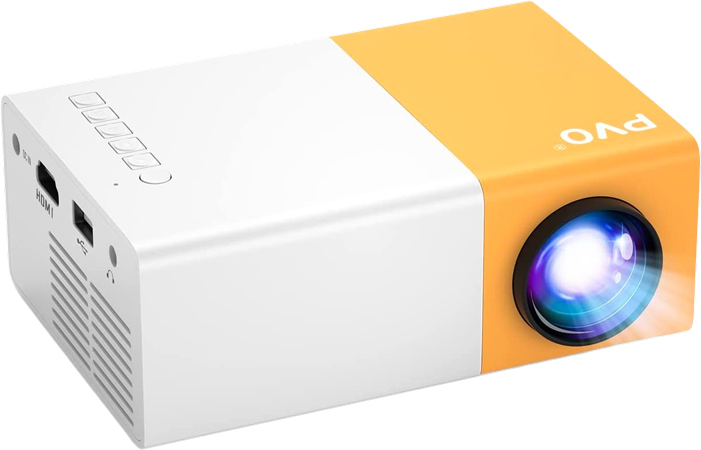 If you're shopping for a man that loves tech and gadgets, here's a gift idea he's likely never thought of. Though once you give it to him, he'll be projecting his joy anywhere he can. This incredibly small projector can project movies in high definition anywhere there's a blank wall. Movie night in the backyard? This gift can make it happen.
It can project a movie to the equivalent of a 100-inch TV without suffering from distortion. What guy doesn't want a 100-inch TV? I guess you could go spend the thousands to get him one. Or just get him this pocket-sized version that he can take anywhere for a fraction of the cost.
27.
Tool Money Clip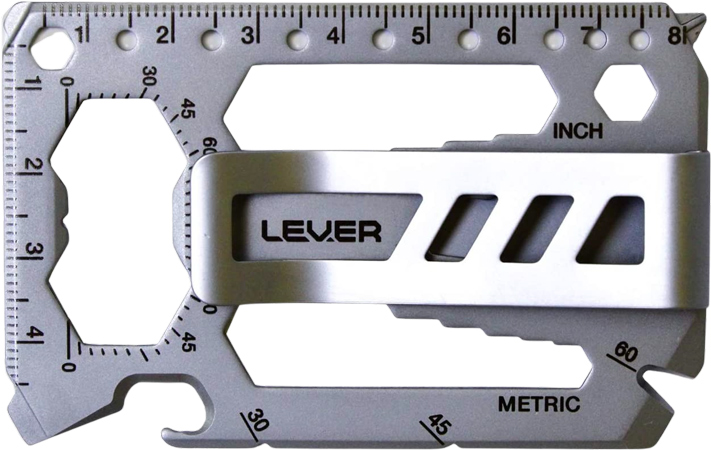 Money clips get a handyman makeover with this impressive Christmas gift. How cool is it that he can keep all his money organized and measure stuff at the same time? It's the future. If your man friend loves tools, DIY or works in construction, there couldn't be a more suited gift.
It's made of stainless steel and has laser etched graphics, so they won't scratch off as paint does. Every time he whips out his huge wad of cash he's going to be turning heads. Because of the clip, not because he's waving money around.
Related Posts