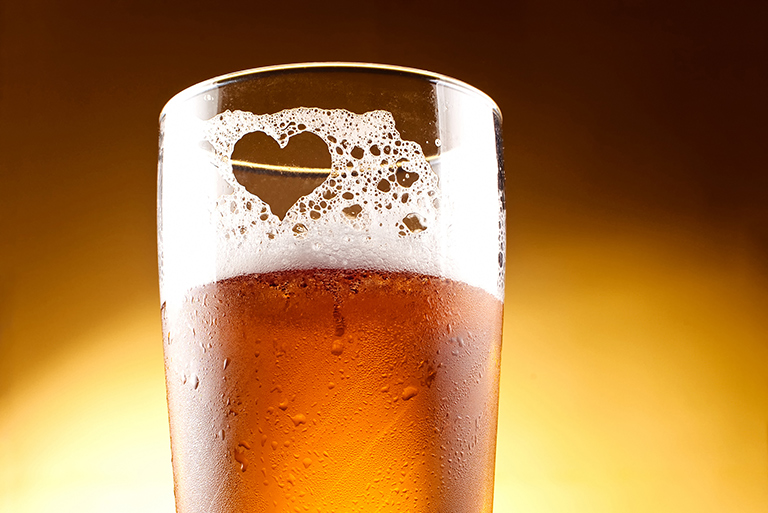 Delicious, refreshing and good times with friends. That's beer. Some people enjoy it and some people, like your friend, love it! If your friend is a beer enthusiast and you're shopping for a fun gift to get them, we have some great ideas worth checking out.
This list of 18 cheers-worthy gifts for beer lovers includes gifts that would please everyone from newcomers to the world of beer all the way up to the most discerning beer aficionado. Whether you're looking for something funny, practical or something that will help them improve their beer-drinking experience, this list has it all. So sit back, grab a cold one and let the fun shopping times begin.
1.
Frosted Beer Glasses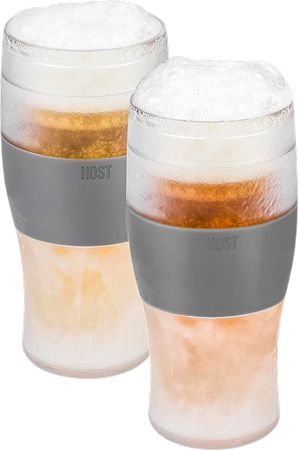 If your beer-loving friend thinks drinking anything but an ice-cold beer is blasphemy, this is a gift they're going to want. This set of beer glasses is made from high-quality, BPA-free plastic that is designed to be frozen in the freezer before use.
The set includes two 16-ounce glasses that feature a double-wall construction. The walls are filled with a fast-freezing and slow-melting gel that will keep beer cold from the first sip to the last. This an ideal gift for any beer lover that wants to appreciate a cold brew out by the pool or while they're flipping burgers on the grill.
2.
Beer Chiller Sticks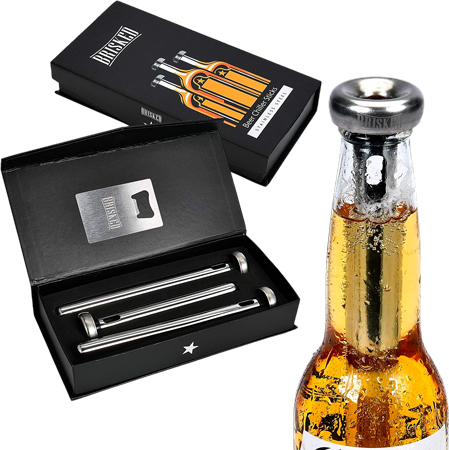 This simple gift solves the problem of bottled beer becoming undrinkable in hot weather. Give your friend this set of beer chiller sticks and they'll be enjoying delicious, cold beer every time. Made of high-quality stainless steel, these chiller sticks are durable, reusable, and easy to clean.
All your friend has to do is place them in the freezer for two hours and then insert them into any standard beer bottle for an instant chill. The set comes with three sticks so there is enough to share with friends or enough to just keep them in rotation so your friend never runs out of cold beer.
3.
Beer Golf Cooler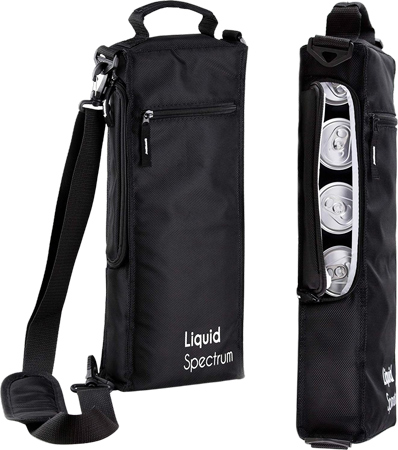 Is your friend into golf? This gift will make sure they never have to wait until the 19th hole to crack open a refreshing can of beer. Instead of having to carry a typical cooler, this cooler is made to fit inside a golf bag. It holds six cans but is designed to stay slim so it won't even be noticeable on the golf course. The insulated sides will also make sure the cans stay ice-cold for the entire game.
Whether your friend is celebrating a hole-in-one or calming their nerves from the shot that landed them in the sand trap, cold beer will always be on hand to make everything better.
4.
Rustic Beer Cooler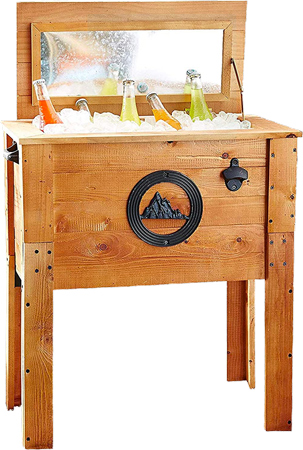 If your friend's favorite place to enjoy a cold beer is outside, this rustic beer cooler needs to be part of their backyard decor. Next time they have a party, all their friends will be able to grab a cold one from this attractive cooler. It's constructed of solid wood, which is a stylish step up from typical plastic coolers.
The inside is large enough to hold approximately 45 cans of beer with ice so there will be plenty to keep the party going all day and night. Clean-up after the party is easy due to the integrated drainage spout and the built-in bottle opener is a nice touch to finish off this all-in-one beer station.
5.
No-Tip Can Cooler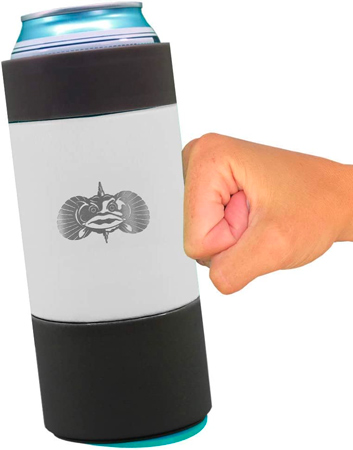 The only thing worse than a warm beer is a beer that's been knocked over. This stainless steel can cooler will put an end to party fouls while keeping beer cold for hours. It may look like a standard insulator but this gift has a special feature. Built into the bottom of the can is a strong suction cup that can attach the can to any hard surface.
Whether it's the back of a truck while tailgating with friends or the edge of a boat during a fun day of fishing, spills won't be something your friend has to worry about ever again.
6.
Carbonated Beer Growler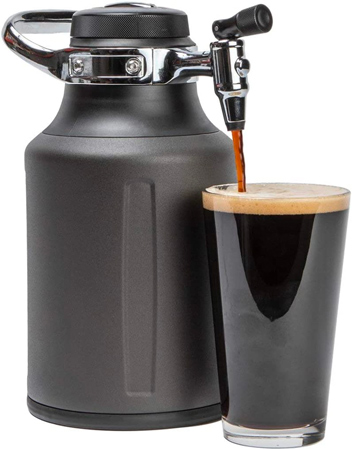 Keep your friend's beer fresh for weeks with this amazing gift idea. This beer growler by Growler Werks will keep the beer as flavorful and effervescent as the day it was filled. The regulator cap even allows for complete control over the carbonation level. All your friend needs to do is drop in the CO2 cartridge and let the growler do the rest.
The double-walled stainless steel construction will keep the contents cold for an entire day and the no-drip spigot means anyone can help themselves. It's the perfect camping companion or tailgate accessory. Don't let your friend's beer go to waste because it's flat. This gift will bring it back to life, and keep it there.
7.
Fleet Sampler Set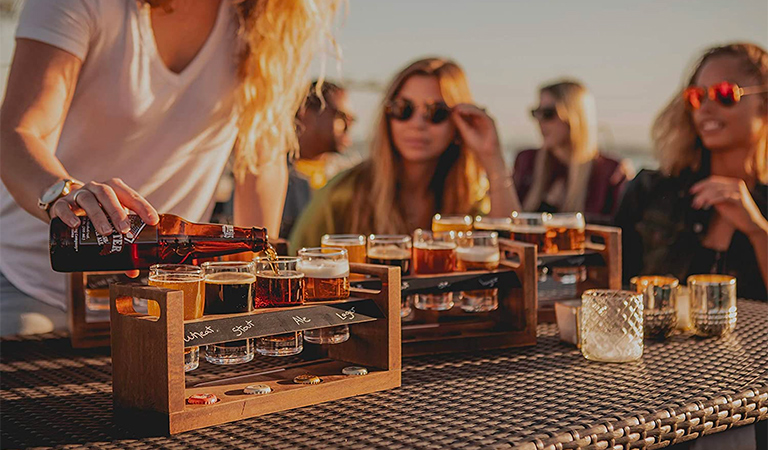 Here's a gift that will bring the craft beer brewery experience to the convenience of your friend's home. This beer flight set features a solid acacia wood base and includes four glasses, each with a chalkboard label for easy identification. The recessed slot under each glass is designed to hold the correlating beer cap, making it the perfect way to showcase their favorite craft beers.
Whether it's for a beer-tasting party or if your friend just likes to keep their options open when they're enjoying their nightly brew, this gift is going to make a great addition to their barware.
8.
IPA Glass Set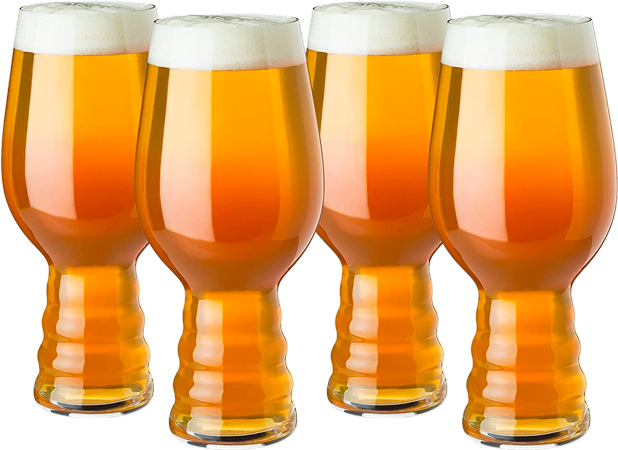 Elevate your friend's IPA drinking experience with this set of four luxury glasses that are designed specifically for India Pale Ales. These glasses, made by Spiegelau, feature unique ridges at the base to aerate the IPA and a full bowl on top to highlight the aromatic hops, resulting in an enhanced flavor and full aroma profile with every sip.
They are made of high-quality, thick European-made lead-free crystal that is not only dishwasher safe but also resistant to scratches and fogging. Next time your friend enjoys an IPA they'll be able to do it in style.
9.
Beer Bottle Opener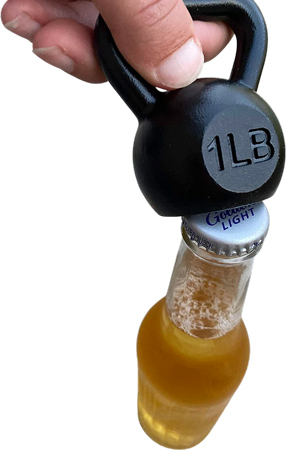 This gift is not only a functional bottle opener but also a fun gift idea if your friend likes to go to the gym just as much as they love beer. The opener is shaped like a kettle weight that depicts a one-pound weight.
The cool thing is it is made of heavy metal that actually does weigh one pound. So every time your friend says they're going to lift weights when they open their bottle, they won't be lying.
10.
Wall Mount Opener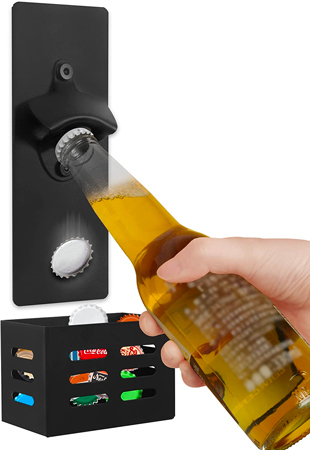 If your friend prefers bottled beers, this wall-mounted opener will be a valued addition to their bar area. The benefits of this gift are threefold. First, they'll never have to worry about being caught without a bottle opener. It mounts flush to the wall with the included mounting tape or can be attached to any metal surface via the integrated magnets. Second, the included cap catcher that hangs below the opener means your friend can open a bottle with one hand and not have to worry about picking up the caps. It's all done in one swoop. Lastly, it looks really cool.
It's another piece of bar decor that will bring the full bar experience to your friend's home.
11.
Beer Drip Mat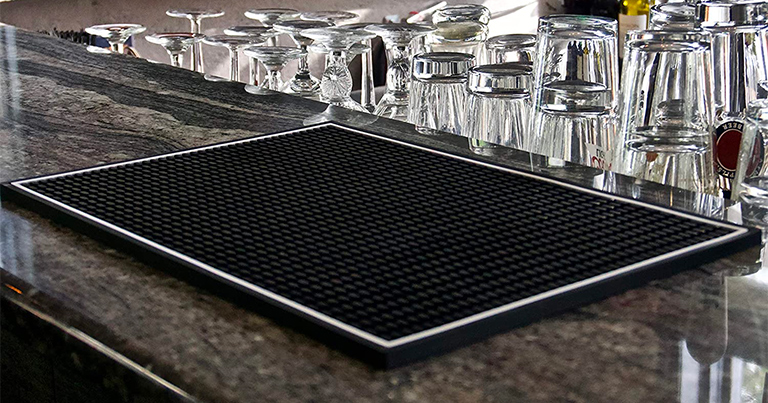 If your friend has a home bar, this practical gift is going to make it look even more professional while protecting their bar top. This rubber spill mat by Supreme Eight is designed to be placed under pouring stations and beer taps to catch drips and spills.
The thick rubber construction not only protects counters from scratches but also makes it easy to pick up and pour out any spills that may have happened. This would be a welcome addition to add style to your friend's home bar.
12.
Beer Can Crusher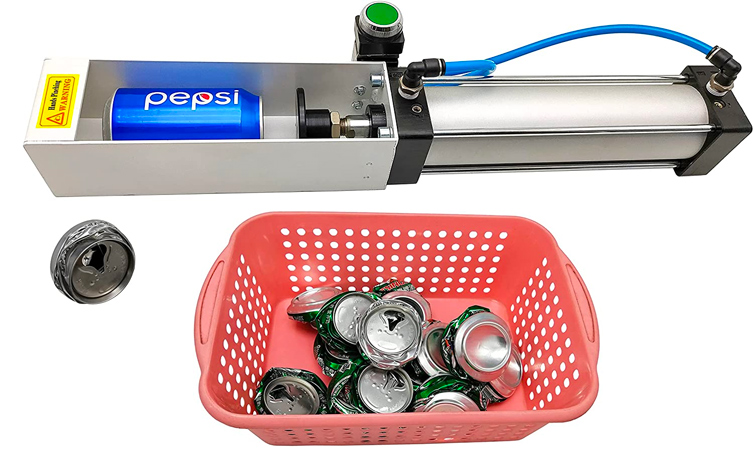 For the environmentally friendly beer lover, this gift is going to make recycling easier. This pneumatic can crusher uses compressed air to instantly crush cans to just one inch in thickness with the press of a button. It is designed to work on both standard-sized cans and tall cans. Your friend won't have to spend all that extra energy stomping on cans that don't evenly crush flat.
This gift will mean your friend can fit more empty cans in their recycling bin, which means fewer runs to the recycling center. Which really means more downtime to enjoy another frosty cold beverage. That's something to be thankful for.
13.
Canned Beer Socks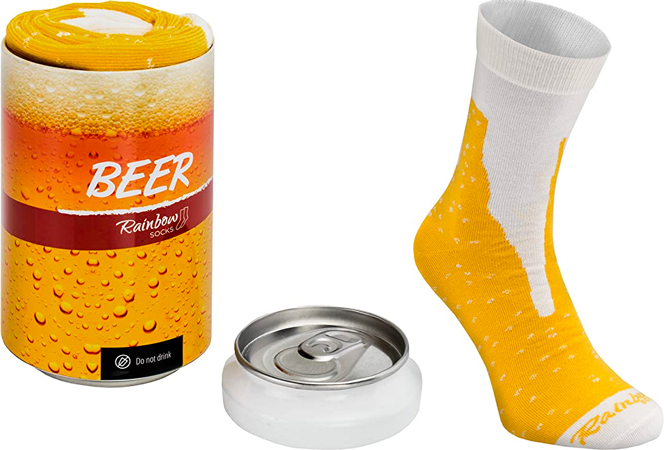 This is a really cute gift idea if your friend loves beer. These unisex socks are designed to look like a frothy pint of beer. While the socks are stylish, high-quality and machine washable, that's not what makes this gift stand out as something that your friend will love.
The adorable packaging looks like a can of beer, complete with a faux metal pop-top. Get your friend their favorite six-pack and replace one of the cans with this for a unique surprise that will make them smile.
14.
Beer Making Kit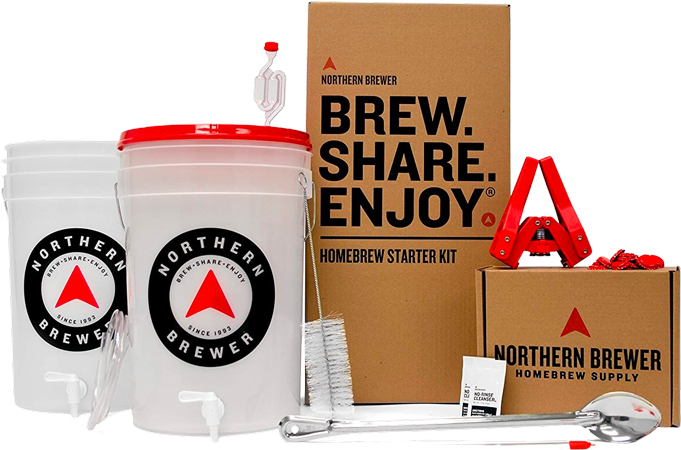 If you have a friend that loves beer so much that they want to start dabbling in the world of brewing their own, this gift is going to get them excited. Everything they need to give it a go is included in this starter kit by Northern Brewer. It's no surprise this kit is consistently rated as one of the top kits to invest in for newbie brewers.
It contains everything from the brewing buckets and hops to supplies that can fill and cap custom bottles of beer. It also includes recipes for your friend to follow but once they know what they're doing, they'll be able to get creative with their own unique flavors.
15.
Beer String Lights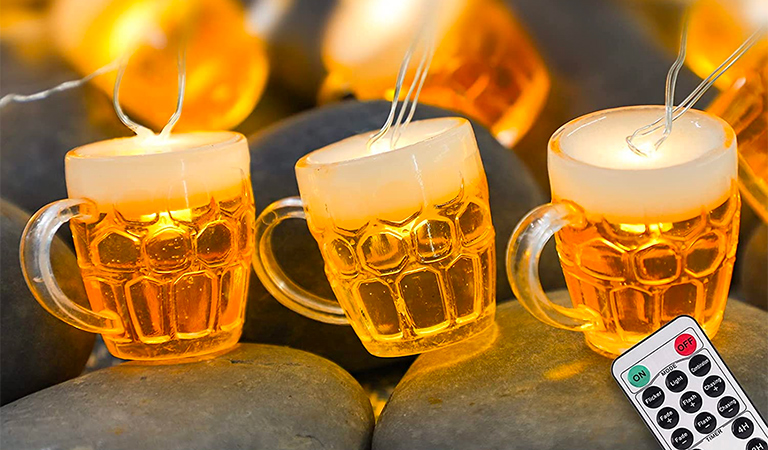 For your beer-obsessed friend that likes to set the perfect atmosphere, this gift is what they're missing in their life. This string of lights stretches 10 feet long and features 15 LED lights that look like beer mugs.
The lights can be controlled from up to five meters away with the included remote so these would be great to hang in high spaces like trees or strung across pergolas in the backyard. The remote will also set the lights to automatically turn off at either two, four, six or eight hours.
Whether your friend uses these as a permanent fixture in their home bar area or they're used to decorate for their next BBQ, these lights are what every fun-loving, beer enthusiast will want.
16.
Portable Beer Pong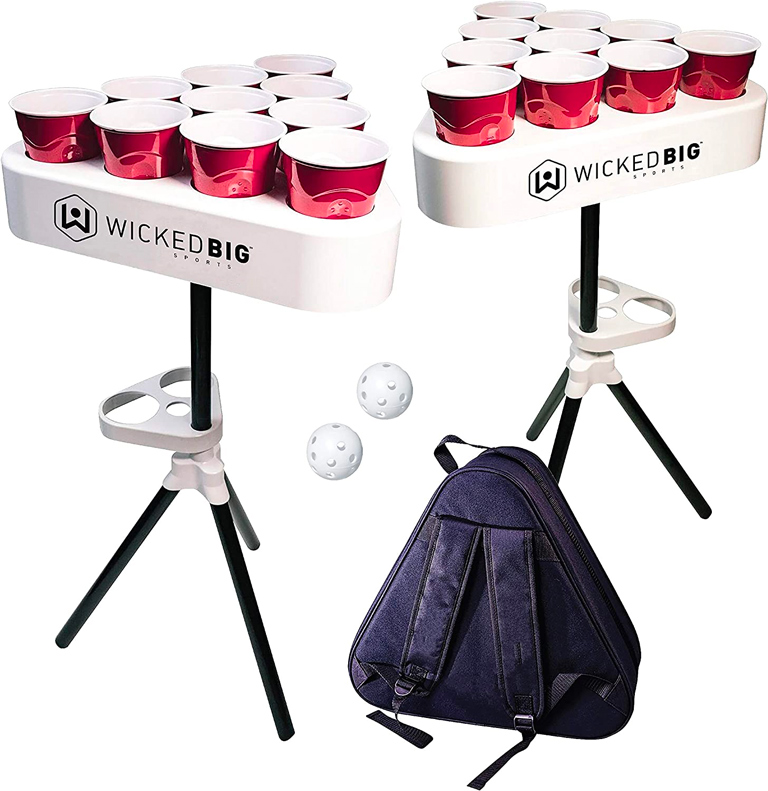 Give your friend a gift that will get the party started from wherever they want to be. Whether it's in their garage, their backyard or outdoors while camping, this portable beer pong game is ready to go.
Unlike other beer pong sets that include a huge table that makes it impossible to travel with, the unique design of this set only requires two collapsible tables that fold down small enough to fit into a backpack. If your friend loves beer, this gift will turn their beer-drinking experience into one everyone can enjoy together.
17.
Beer Bong Syringe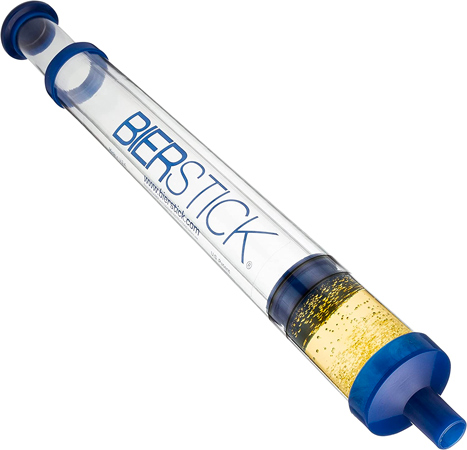 Does your friend love beer so much that they can't drink it fast enough? If that's the case, this gift is going to solve that problem. This syringe-shaped beer bong is like an updated version of the traditional beer funnel. Though instead of the funnel letting gravity do the work, this bong can be shot like a syringe.
It will allow your friend to drink a full 24 ounces of beer in as little as two seconds. It's probably not how they'll enjoy all of their beers but this is certainly a gift to get the next party turned up a notch.
18.
Beer Drinking Helmet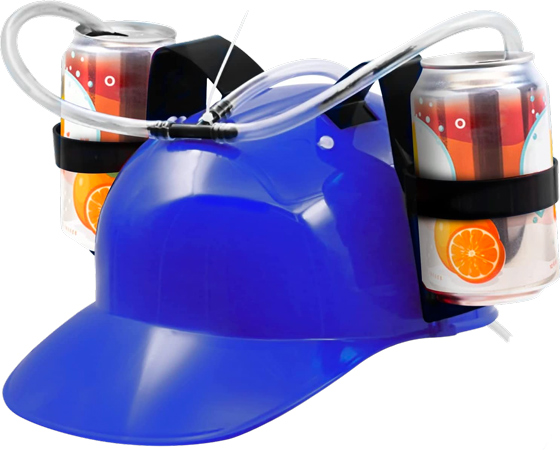 Hands-free drinking is made possible with this fun gift. Beer is great but with all that confusing hand-eye coordination to drink it, it can be exhausting. This beer-drinking helmet is going to make your friend's life easier and a heck of a lot more fun.
It's made of durable plastic and includes two attached BPA-free straws that join into a single drinking point. Each side of the helmet holds a standard-sized can of beer so instead of drinking one beer, your friend can drink two at the same time. As they say, two beers are better than one.
Need more inspiration?