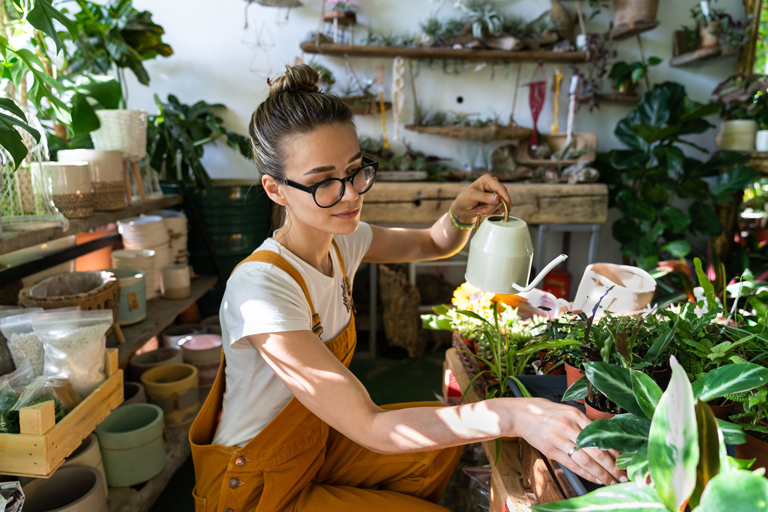 Are you on the hunt for the perfect gift for your plant-enthusiast friend? Sure, you could get them another plant but where's the fun in that? Get creative and give them something that will improve their life and the quality of their existing collection of plant babies. This list of 19 gifts for plant lovers to brighten their day is full of really cool gift ideas that will no doubt be gardener approved.
We've weeded out all the boring gifts the web has to offer so you can be sure what you pick is going to be a winner. After all, you wouldn't want to leaf such a big decision to chance. Good luck. We're rooting for you.
1.
Desktop Plant Terrarium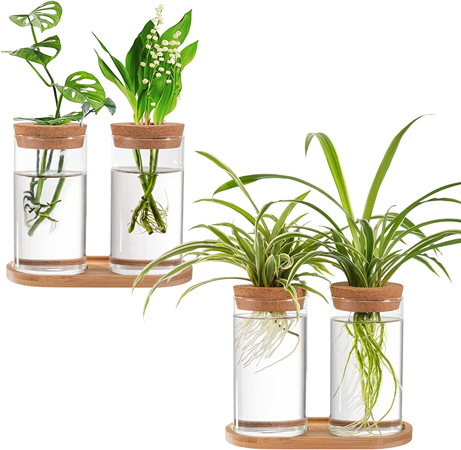 If you're shopping for a plant lover that appreciates minimalist decor and likes to propagate their own plants, this set of terrariums would make a great gift idea. The set comes with four vases and two wood display trays.
The clear glass of the vases provides easy viewing to monitor healthy root growth on plant cuttings. Once the roots are strong enough the cuttings can be potted in soil. This gift not only looks amazing as decor but also gives your plant-loving friend an endless supply of new plants.
2.
Crochet Hanging Planter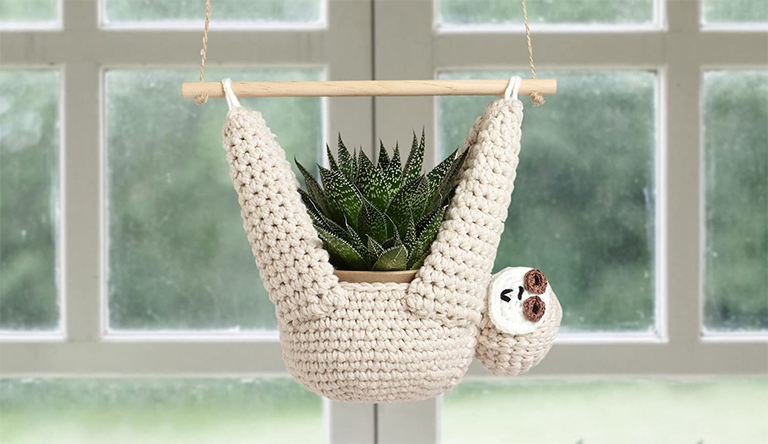 For a quirky addition to your friend's plant decor, don't sleep on this gift. This handmade macrame hanging plant holder is designed to look like a sloth.
It's made of all-natural cotton and linen that can be easily washed. Inside is room to hold a five-inch plant pot, perfect for succulents and small hanging plants. This gift is going to add a lot of personality to their hanging garden.
3.
Glass Plant Globes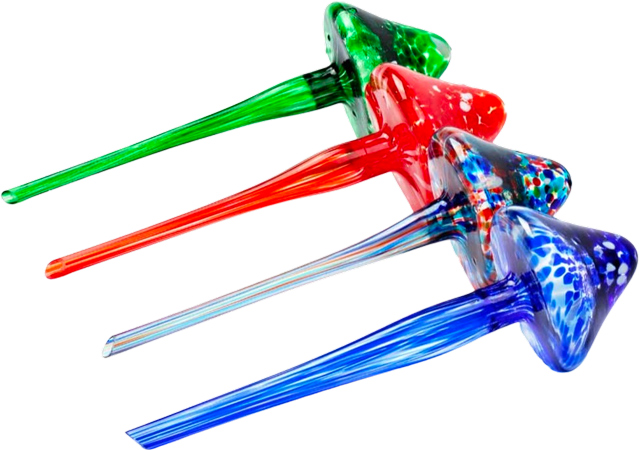 Make sure your friend's plants never go thirsty again with this set of glass watering globes. The set includes four globes that are shaped like whimsical mushrooms, each with a different vibrant color.
The globes can be filled with water and inserted into the soil. They will slowly release water as the plants need it so your friend won't have to worry about forgetting to water them, or worse, overwatering them.
The extra large size of these globes also means they have to be refilled less often. This is a gift that will make your friend and their plants happy.
4.
Animal Succulent Pots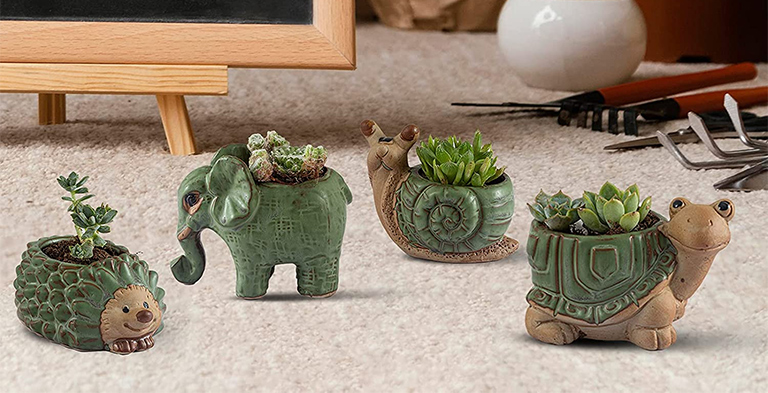 If succulents are your friend's thing, this set of cute animal pots is going to be a gift they want. The set, which comes with four miniature pots, is made of durable ceramic. Each pot has a drainage hole to help drain excess water, prevent root rot and keep plants healthy.
The pots are designed to look like adorable animals, including an elephant, a hedgehog, a snail and a turtle. The pots, measuring only four inches each, are the perfect size to keep on your friend's desk or nightstand. There's no way your friend won't smile when they open this gift from you.
5.
Hydroponic Grow System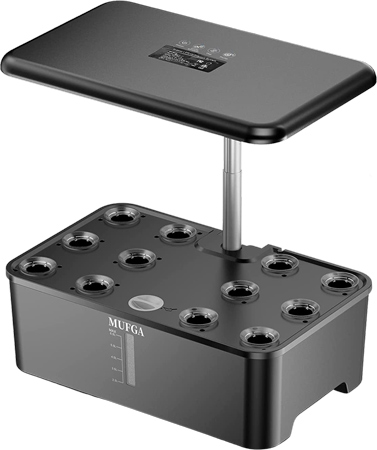 Here's a gift idea that is going to have your friend overjoyed with your amazing gift-giving skills. What plant lover isn't going to want a better and faster way to grow their own indoor garden? This hydroponic growing system will grow plants and vegetables five times faster than in soil.
It includes a water reservoir and LED lights that work constantly to grow healthy plants from a kitchen counter. All your friend has to do is insert one of the grow pods into the base of the system and let the machine do the rest. Your friend will always have healthy herbs and vegetables on hand.
6.
Moss Grow Poles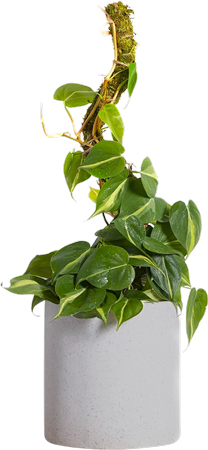 This gift idea is going to help your friend's climbing plants grow taller and stronger. These moss poles give plants something to hold onto as they grow. Each pole is made using real forest moss that retains moisture and can be bent to get the perfect shape for specific plants.
If your friend feels like getting fancy, they can even be bent into shapes like hearts or circles. The 25-inch height and thick diameter make these grow poles ideal for large plants, like Monstera or English Ivy.
7.
Plant Coffee Tumbler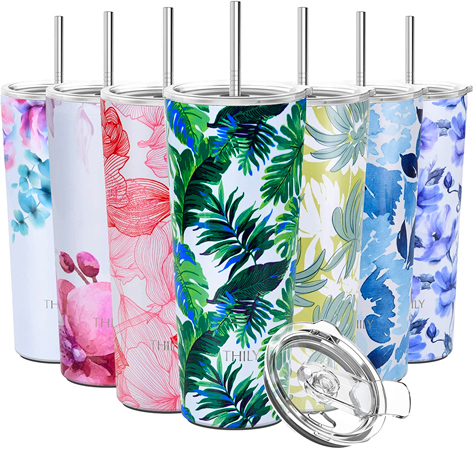 If your friend is obsessed with plants, they probably love to show off their passion in everything they have. So why not give your friend a beautiful tumbler covered in tropical plants? This tumbler can be used for hot or cold drinks. The triple-insulated construction will keep our friend's drinks at the perfect temperature for hours.
It even comes with two lid options, depending on what your friend is drinking. One has an opening for a straw and the other has a spill-proof opening that closes, ideal for taking in the car. This will be their everyday choice for on-the-go hydration.
8.
Indoor Plant Stand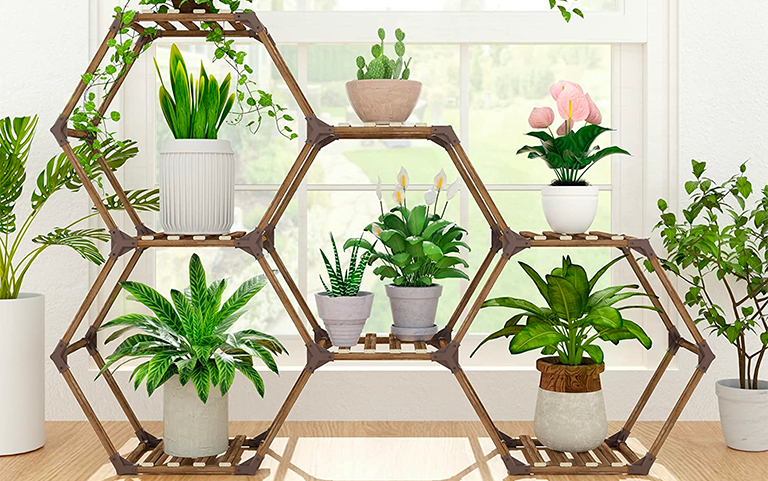 This gift is going to make a big impression when your friend opens it. Give them a way to display all their favorite plants with this huge plant stand. It comes with four hexagonal stands that are made of eco-friendly eucalyptus wood.
Each piece can be connected to the other with the included connectors and can be configured in any pattern your friend chooses. It can also be extended by adding as many additional pieces as your friend wants. It can grow as your friend's plant collection does.
9.
Mini Glass Greenhouse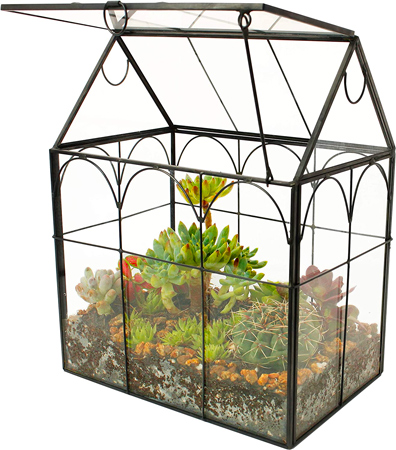 Your friend is going to want this gift in their house. This mini greenhouse would look amazing on a coffee table or used as a centerpiece on the dining room table. It's made of clear glass that is contrasted by black metal details.
The hinged lid opens so your friend can easily design their own mini garden. Or, if you want to really impress your friend, create a succulent garden that you can gift with it. That would really make your friend's day.
10.
Leaf Dinner Placemats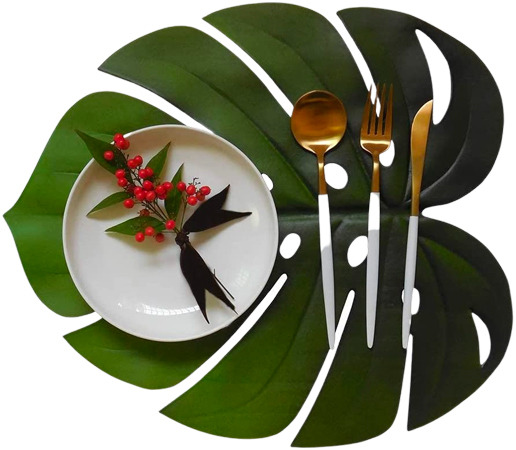 Does your friend love plant-themed decor? This gift won't disappoint. These placemats are designed to look like giant Monstera leaves. They're made of waterproof PVC so they're easy to wipe clean after dinner time.
The set includes five placemats that will protect your friend's furniture from spills or scratches. They would also be great for using under drip trays and plant pots to avoid water stains on wood tables. This amazing gift will give your friend's home a fun touch of tropical style.
11.
Picture Frame Vase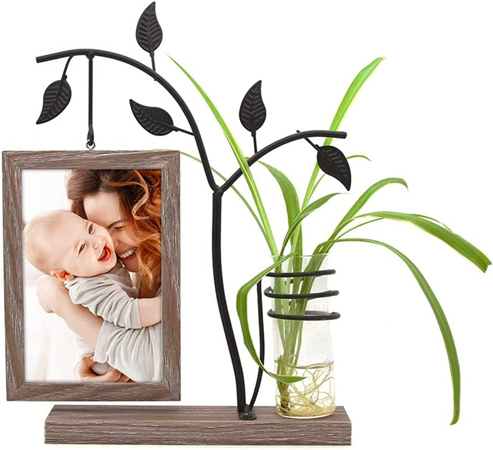 This unique picture frame is going to display everything your friend loves, pictures of their fondest memories and a plant. The frame features a metal decorative leaf vine and a watertight glass vase that can be used to propagate plant cuttings. The frame hangs from the metal vine and can be turned to display both sides of the frame, each holding a 4×6 photo.
This would be a wonderful gift idea for someone that wants to spruce up their desk. It will certainly cheer up their day every time they see all the things they love right in front of them.
12.
Flower Pressing Kit
If your friend likes plants that flower, this gift will give them a fun hobby they can get into. Instead of just appreciating the flowers when they bloom, this pressing kit will preserve them forever. The kit includes all of the supplies your friend will need, including the wood pressing blocks and drying plates. It can also be used to press interesting leaves.
Once they are dry they can be used in scrapbooking, laminated for making bookmarks or can be framed for some homegrown decor that will make their home an even better reflection of who they are and what they love.
13.
LED Grow Light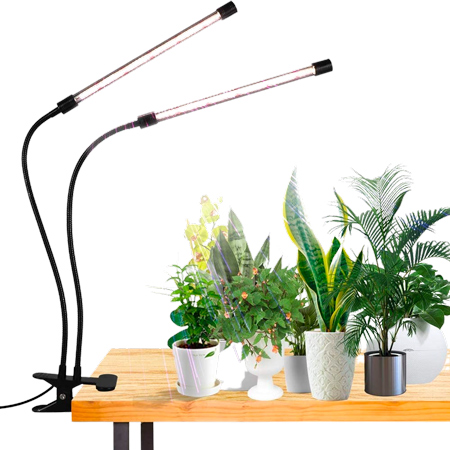 This useful gift will be a welcomed addition to your friend's indoor garden. They'll never have to worry about their plants not getting enough light with these powerful LED grow lights. Unlike other lights that have to be hung from a ceiling, these lights can be clipped to the side of any table or countertop. The timer function will automatically turn the lights on and off and they can be adjusted to five dimmable levels.
The light is specifically designed for growing plants and provides a full spectrum light that emulates the sun at noon. Your friend will appreciate this gift as they see their plants grow faster than they ever have.
14.
All Season Greenhouse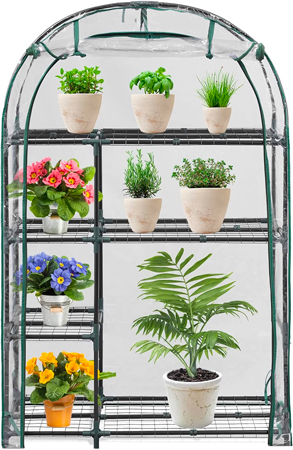 With this gift, your friend will be able to grow their garden all year long. This heavy-duty greenhouse can be used both indoors and outdoors to provide a place to grow seedlings and keep plants thriving.
The clear cover provides an easy view of plants and can be zipped open and closed to protect them from the elements. Inside features four levels of shelving so there will be plenty of room for all of your friend's gardening urges, no matter what the season is.
15.
Plant Drip Tray

Here's a practical gift that any plant lover can never have too many of. Made of recycled materials, this environmentally friendly terra-cotta saucer will protect furniture and floors from being damaged by water from plants. It's lightweight so it's easy to move and is weather resistant so it won't crack or fade from the sun. The classic design and terra cotta coloring make this a seamless match for any type of plant pot your friend has.
16.
Stackable Cactus Glasses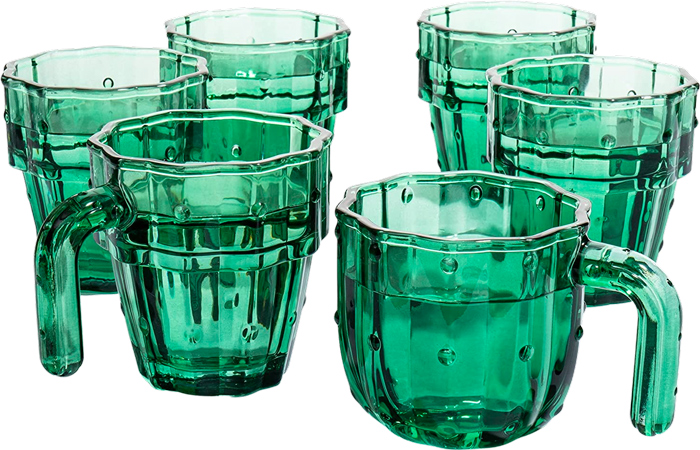 These funky cactus glasses need to be part of your friend's partyware collection. They would be great for a Mexican dinner party or just for a fun way to drink their morning juice. The set comes with six glasses that stack for easy storage.
They're made of thick, dishwasher-safe glass that has been hand cut and polished to a high shine. Depending on your friend's decor you can pick up the set in either green or pink. If plants and succulents are your friend's passion, this is what their life is missing.
17.
Faux Palm Plant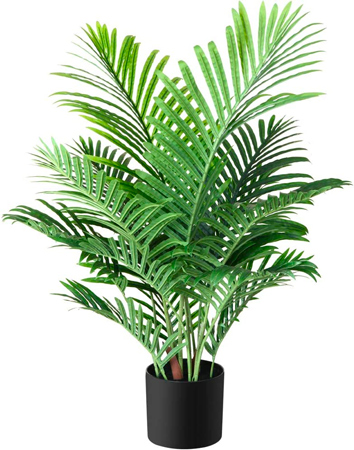 A faux plant on a plant lovers gift list? Sure, because not every corner has enough sunlight to have a plant and a corner without a plant is a sad corner indeed. This ultra-realistic Majestic Palm plant stands at three feet tall so it's large enough to set on the floor without needing a stand.
This would make a great gift for anyone who works in an office that doesn't get a lot of natural light. They can still be surrounded by greenery that will lift their mood.
18.
Chrome Plant Mister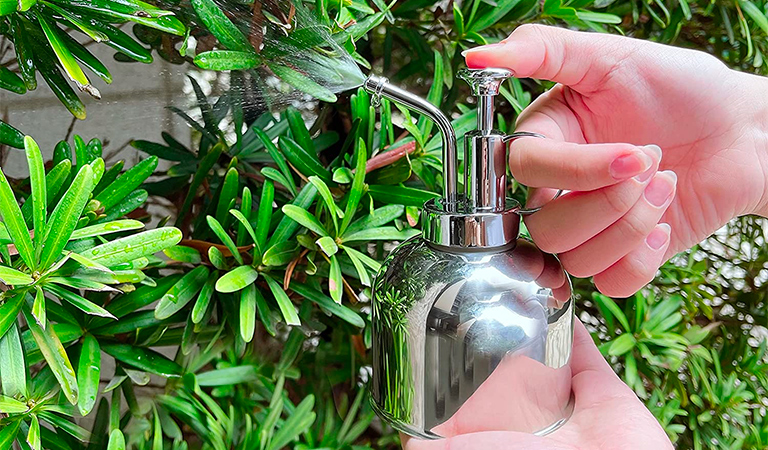 Here's a gift that will give your friend a stylish way to spritz their small plants and succulents. This mister is made of stainless steel that is finished with a high-shine chrome coating.
It holds 10 ounces of water and stands six inches tall, which makes it the ideal size to leave out next to their plant pots as a cool piece of decor. The fine mist nozzle will make sure delicate plants aren't overwatered or get brown spots from water that has pooled on the leaves.
19.
Modern Watering Can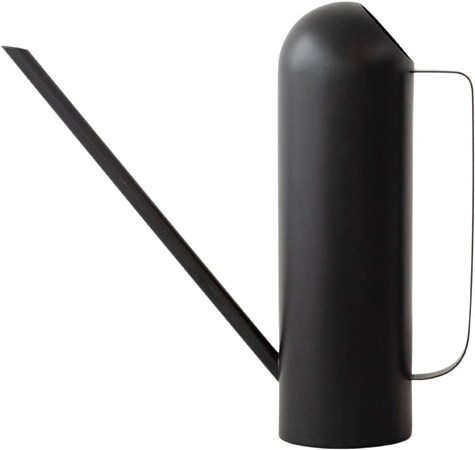 This gift is something every plant parent needs. Even if they already have a watering can, they'll want to get rid of it and replace it with this one. Save your friend from using plastic that can leach chemicals into the plant water. This one is made of stainless steel and coated with a black powder finish that won't tarnish or rust.
The modern design makes this stand out as a piece of art that will look good left out on display. It will also make watering hard-to-reach plants easier due to the extra-long pouring spout. If your friend appreciates bold decor that also serves a purpose, this is the watering can they want.
Need more inspiration?