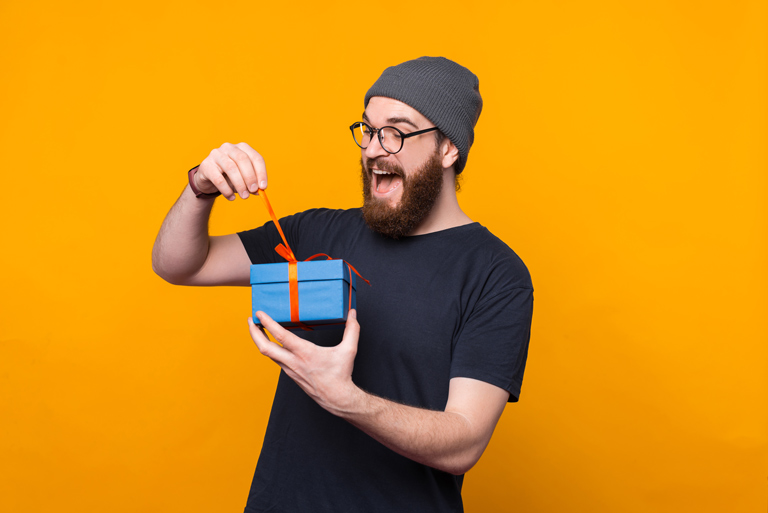 Giving gifts isn't just about showing someone that you like them enough to part with your hard-earned money. Giving someone the perfect gift is a chance to show them that you care enough about them that you want to see them smile. Let's take that one step further and instead of just a smile, let's give them something to full on laugh about.
This list of 25 hilarious gifts for fun-loving men is going to help you pick just the right present that will keep them talking about it long after the gift bow is off. If you're looking for something funny but still useful, or maybe just something funny because it's so off the wall, you'll find it here.
1.
Funny Fanny Pack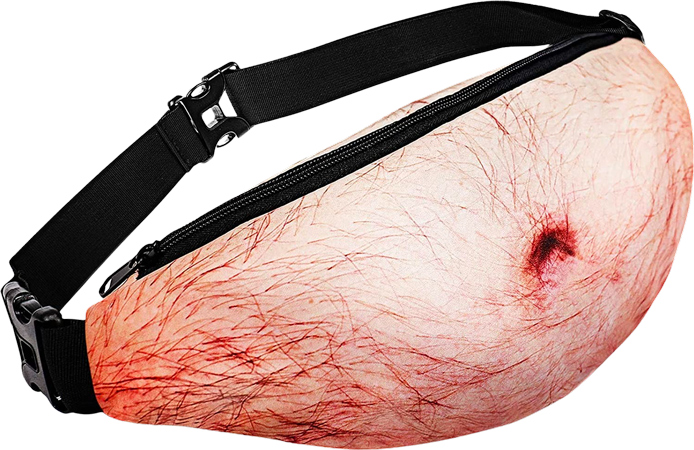 If the man you're shopping for appreciates the convenience of having everything he needs within easy reach, he'll love this fanny pack. Not only will he be able to go hands-free with things like his keys and wallet, but he'll also get tons of comments about the raunchy design. The entire bag is covered with a realistic image of a hairy belly. People will be thrown off guard by how confident your friend is with his manly physique. He's just letting it all hang out. This gift is guaranteed laughs every time he wears it.
2.
Sushi-Themed Socks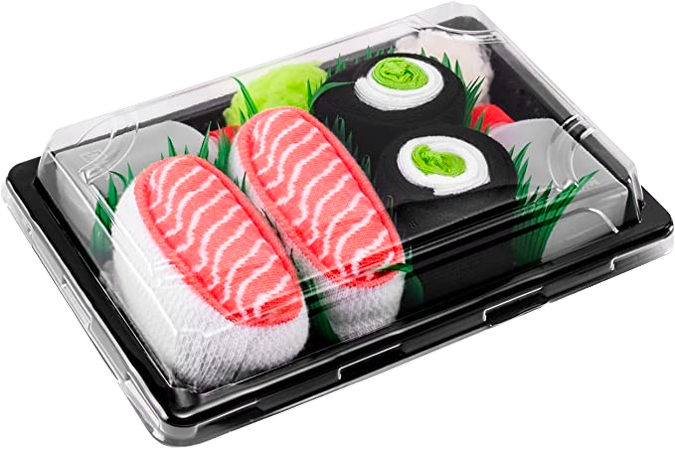 Here's a creative gift idea that will make your man-friend laugh. These sushi socks come rolled and packaged to look like a takeaway sushi tray. The gift set comes with two pairs of high-quality socks that are made from 80% cotton, 17% polyamide, 3% elastane.
In the tray, they look like two pieces of salmon nigiri and two pieces of cucumber maki but when unrolled they are actually pretty stylish socks that he won't mind wearing. This is a funny gift idea that he'll get a lot of use out of.
3.
Inflatable Desk Accessory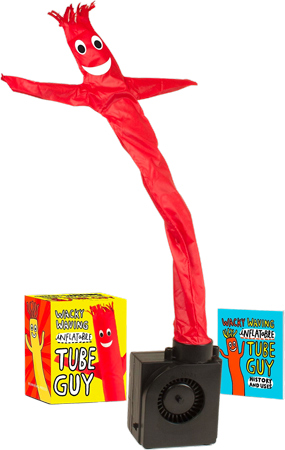 Give your friend a daily boost of motivation with this funny desk accessory. Standing at 18 inches tall, this tiny tube guy is designed to dance, wiggle, and shake just like the real thing, thanks to a fan in the base.
Every time your friend sees his dancing, personal cheerleader he'll appreciate that you chose to get him this hilarious gift. It's also going to be a great conversation starter with all his colleagues at the office.
4.
Retro Coaster Set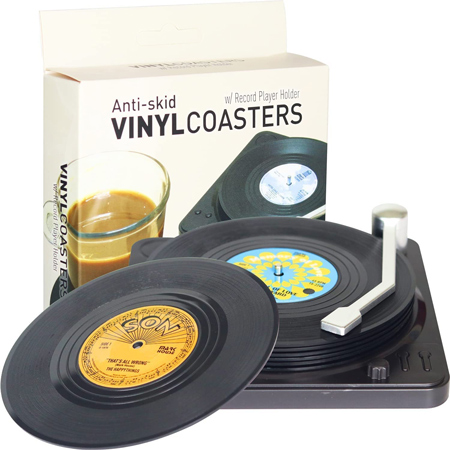 Add some retro style to your friend's coffee table or end table with these cool vinyl record coasters. Whether he's super into his record collection or just likes whimsical and quirky home decor, this gift is going to make him happy.
The set includes six coasters that are made of real vinyl and a holder that looks like a record player. Not only will these be a big hit at his next party, they'll also protect his furniture from water damage and scratches.
5.
Neon Glowing Chopsticks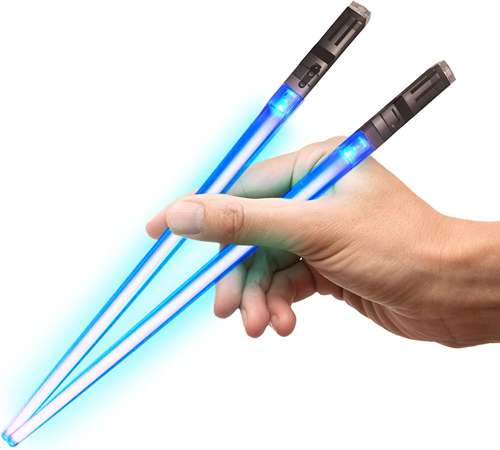 If your friend is a diehard Star Wars fan, he won't ever want to eat sushi without these lightsaber chopsticks again. They're made of BPA-free plastic that can be easily wiped clean and used over and over again. The built-in LED lights glow with the push of a button.
You can choose a set in either blue or red, depending on what side of the force he's on. Sushi nights are about to get a lot more fun with this funny gift.
6.
Ceramic Shot Glasses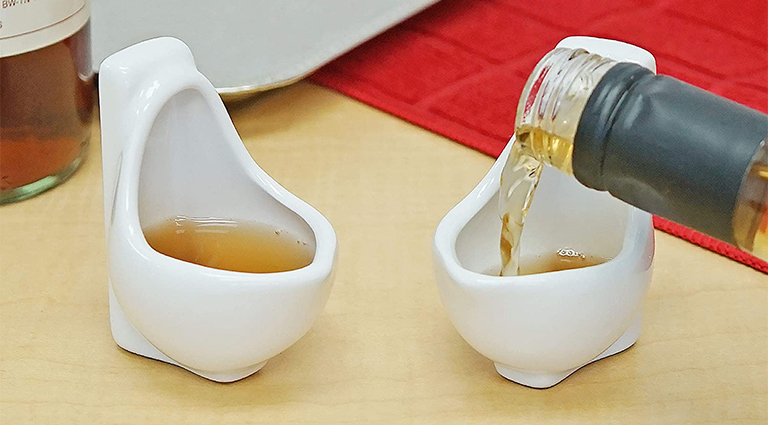 This gift brings a whole new dimension to the term potty humor. These novelty shot glasses are guaranteed to be a hit with your guy friend. Imagine the faces of all of his party guests when he proudly serves them a shot served in a tiny, ceramic urinal.
Not only is this set of shot glasses hilarious, but they're also dishwasher-safe and durable enough for everyday use. They're perfect for serving up his favorite shots and will become the party's talk. Assuming, of course, all his friends also have a sense of humor.
7.
Offensive Whiskey Set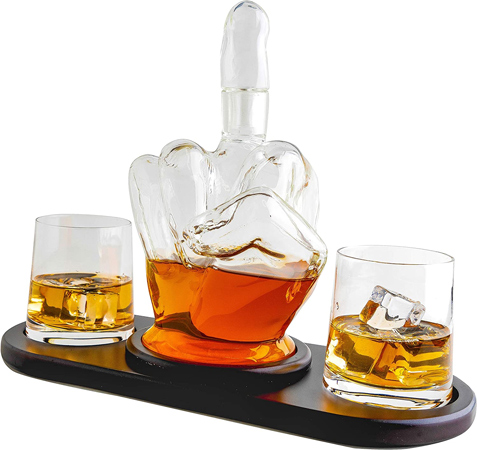 If your friend has a home bar or man cave that he likes to entertain his friends in, this whisky gift is going to give it a bit of attitude and a lot of decor style that will make him laugh. Made of thick glass, this 25-ounce decanter is shaped like an extended middle finger.
It's the ultimate way to subtly tell his friends what he's really thinking when he pours them a drink. The set also includes two matching eight-ounce tumblers so there is plenty of passive aggressiveness to go around.
8.
Roulette Drinking Game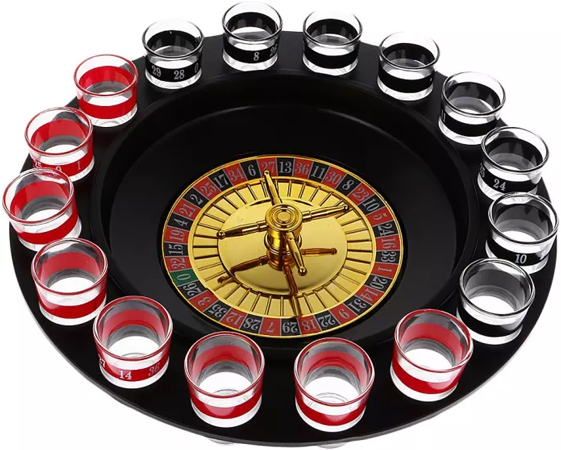 Give your friend a gift that will make his next game night something to remember. Or probably not remember after the excessive number of shots involved. This game puts a new spin on the rules of roulette. Spin the wheel and see which one of the 16 numbered shot glasses it lands on. Each shot is a 1.5-ounce pour.
He can raise the stakes of the game by including both premium shots and shots that might make someone's stomach turn. This will be sure to provide him and his friends with hours of fun and hilarious memories to look back on.
9.
Liquor Bottle Holster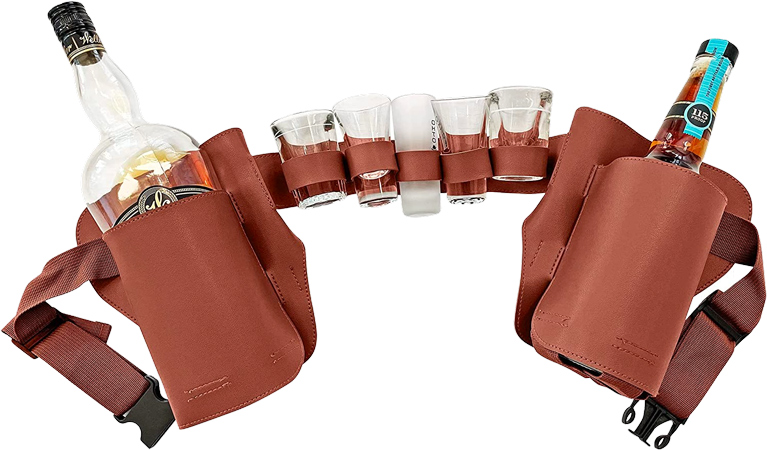 Can you imagine your friend walking around the party styled like a liquor-toting cowboy? This alcohol holster belt can make that happen. The belt, which is made of faux leather and comes in either black or brown, holds two full-sized bottles of liquor and five-shot glasses.
The shot holders are wide enough fit glasses of different widths and heights so he can use whatever shot glasses he already has on hand. This funny gift will have all his friends asking where he got such a cool party accessory.
10.
Hidden Beer Sleeve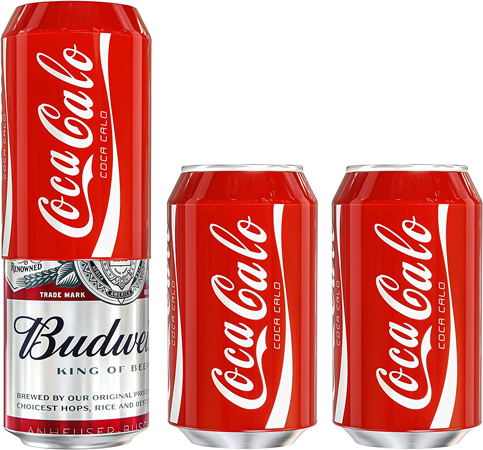 For a more subtle drinking experience, this gift will not only make him laugh when he opens it but he'll also appreciate being able to enjoy his beer wherever he wants without judgment. This silicone sleeve slides over any standard 12-ounce can to make it look like a real Coca-Cola can.
Or if energy drinks are more his speed, it also comes in a Monster Beast design. Next time he's drinking his energy drink in the morning meeting only he'll know why he's the only one not looking annoyed that he's sitting through another meeting that should have been an email.
11.
Shower Beer Holder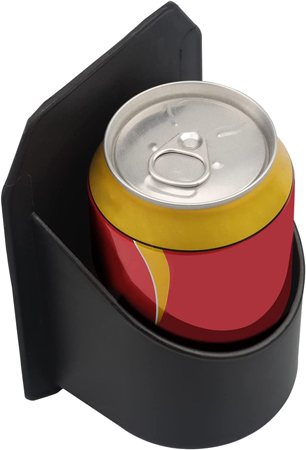 If you're struggling to come up with a funny gift idea that will be something he'll actually want to use, this beer holder is going to be a shower accessory your guy friend wants. The holder is designed to be used in the shower but unlike other competing products, this one doesn't rely on flimsy suction cups. The back surface of the holder is coated in a waterproof, firm grasp glue that will stick to any smooth surface.
He'll never have to worry about dropping his beer in the shower again. Assuming that was something he's ever had to worry about. If shower beers aren't really his thing it's also perfect for holding more boring shower stuff like soap and shampoo.
12.
Super Hero Bottle Opener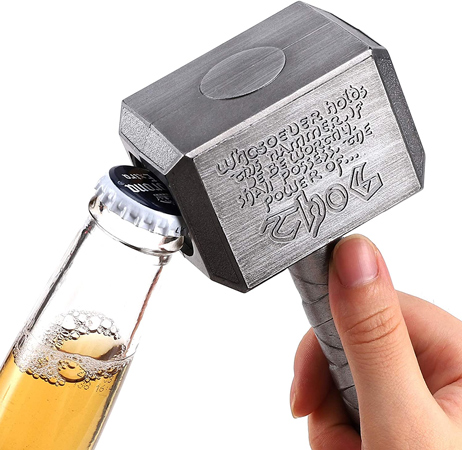 Make your friend feel like a superhero every time he opens his beer with this hilariously oversized bottle opener. It's made of durable metal and shaped to look like Thor's hammer. This will keep the beer flowing and the conversation flowing every time someone asks him if he has a bottle opener.
He can either store it in a drawer when it's not being used or he can use the included hanging chain to add it to the walls of his party cave for some cool barware decor.
13.
Rubber Fish Slippers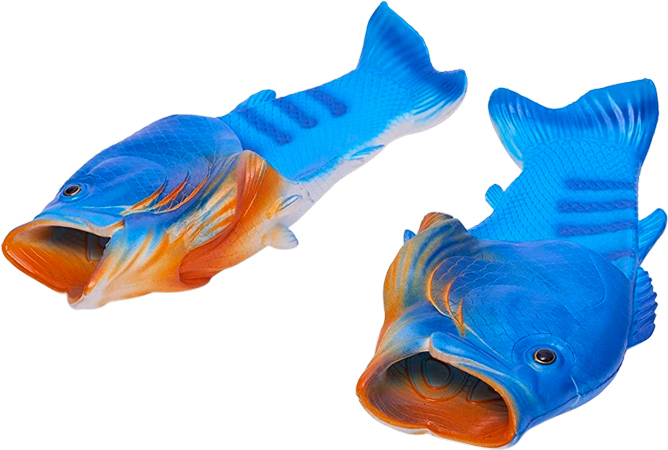 Has your man friend said he's in the market for new slippers? Get him these fish slippers and watch him try and keep a straight face as he tries them on. The slippers, which come in an array of colors and styles to choose from, are made of a single piece of nontoxic rubber so he won't have to worry about them falling apart or tearing at the seams.
The soles are reinforced with thick rubber for comfort and anti-skid safety so they're also suitable for outdoor use if he's brave enough and doesn't mind a few funny glances from onlookers.
14.
Orangoutang Cotton T-Shirt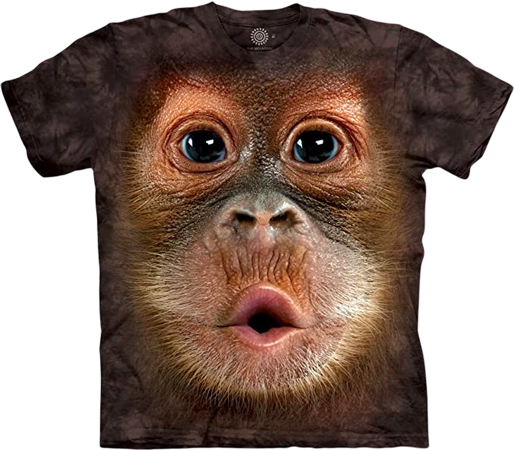 Does your friend like eye-catching fashion that will make him stand out from the crowd? This shirt guarantees he'll be the one everyone else in the room is talking about. The design of the shirt is an oversized orangoutang face that is perfectly placed so the mouth will be over your friend's belly. It'd be funny on anyone but especially if your friend has a little weight on him that will fill the shirt out.
It's made of 100% cotton so it's machine washable and even comes preshrunk so sizing won't be an issue for him. This is the kind of shirt that gets conversations started.
15.
Cozy Lounge Wear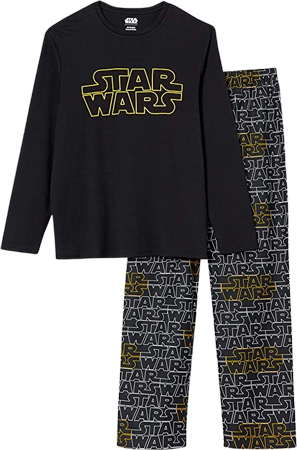 For the kind of guy that's always a kid at heart, get him some cool pajamas that let him express his love for Star Wars. These comfortable pajamas are 100% cotton so they're easy to care for while being soft on the skin and cooling on hot nights.
The long sleeve top features a single Star Wars logo while the matching bottoms have the logo on repeat. Next time he's cozied up watching his favorite Star Wars movie he can dress appropriately for the occasion.
16.
Comic Book Robe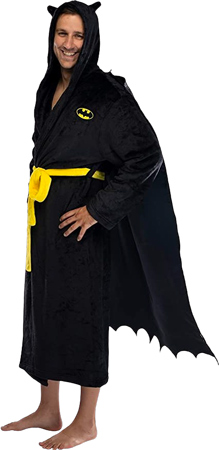 Give your guy friend the gift of comfort with this funny robe. He'll feel like his favorite superhero every time he gets out of the bath. Sure, it has all the basic features of any robe, it's absorbent, soft and machine washable, but this robe comes with a little something extra. It has a built-in cape! It's safe to say this will be his new favorite loungewear.
It comes in three different styles, Batman, Flash and Superman. Your friend will feel powerful couch surfing while he's wearing this funny present. No one will dare try to change the channel.
17.
Fun Coffee Mug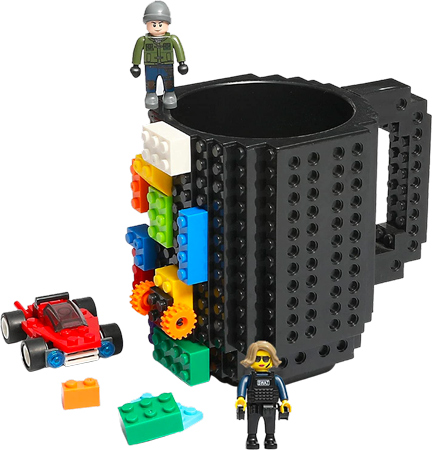 It doesn't matter how old we get, we always look back fondly on Legos. With this coffee mug, your friend can enjoy his coffee while tapping into his creative side. The entire mug is made out of a solid piece of BPA-free plastic that feature outer walls that look and function like a giant Lego piece.
The mug set even includes some bricks so he can start customizing his own mug. It's great for using at home but even better for using at the office to avoid work he doesn't feel like doing.
18.
Wooden Desk Gavel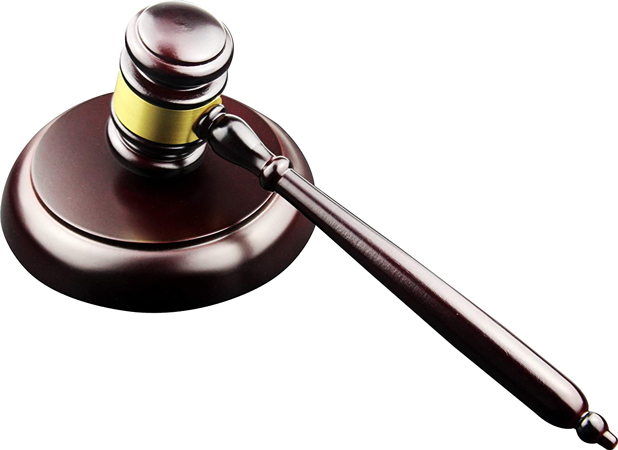 Here's a gift that will make your friend feel like the man of his domain. Whether he's a dad that's sick of hearing, but, why…or he's tired of dealing with incompetent coworkers, this desk gavel will make everything he says final. The set comes with a wooden gavel and matching block to set on his desk.
This is the perfect gift for the man who thinks he knows it all or just likes to take charge. Once the gavel is down, there's no arguing. Just be prepared to live with the consequences if you give him this gift. He'll never think he's wrong again. The gavel has spoken.
19.
Super Hero Pen Organizer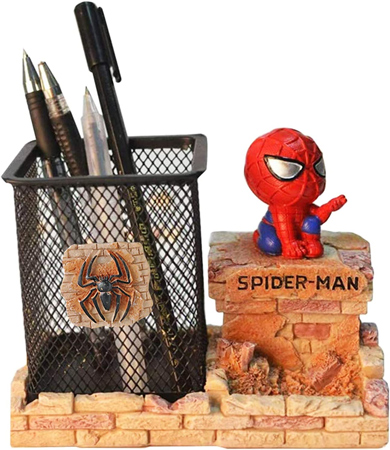 Is your man-friend over the top into Marvel Comics? Then he needs this gift to help him make his work desk his happy place. It's not just a functional pen organizer, it's a piece of superhero art that will allow him to express his appreciation for Spiderman.
In a sea of boring office cubicles, your friend will stand out as the fun guy that knows how to take life in strides. If he loves Spiderman, there's no doubt he'll find it funny that you are supporting his (definitely not crazy) obsession.
20.
Snail Soap Dispenser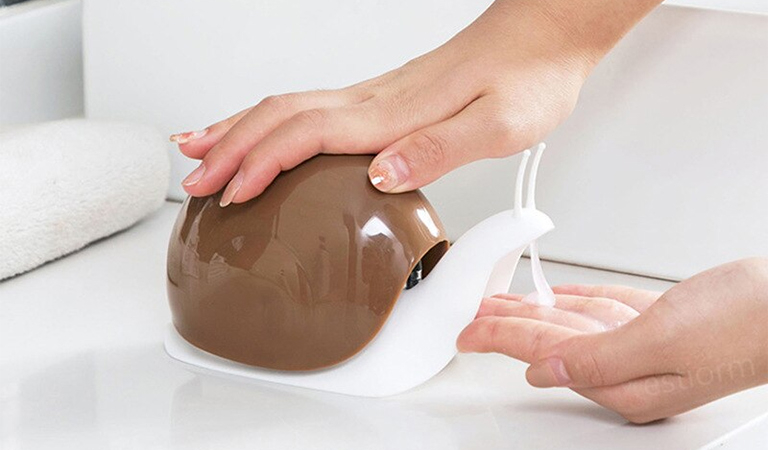 If quirky and funny home decor is what your friend is into, this soap dispenser is yet another way to add more smiles to his daily routine. With this gift, even mundane things like washing his hands or washing the dishes can become his favorite part of the day.
Ok, so that's a stretch, but this cute snail-shaped dispenser is the perfect funny housewarming gift or just a great gift to say, use more soap, bro. It's both useful and funny. Everything you're looking for in a home decor gift for a friend that likes to smile.
21.
Superhero Men's Wallet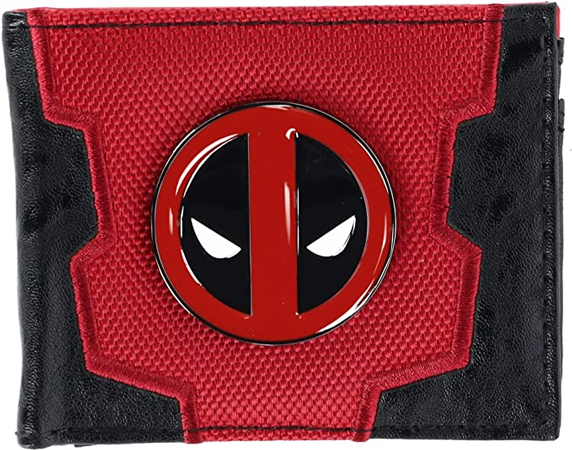 Everyone has a wallet, but does everyone get one as cool as this? Your friend will if you choose this gift. When he unwraps this Deadpool wallet, arguably the funniest superhero, he'll know that giving laugh-inducing gifts is your secret superpower. Yes, even your sophisticated, business-minded man friend has a secret side that he's waiting to expose to the world.
Next time he pulls out his wallet to pay for that important business lunch or his first date, there will be laughs. At him? Possibly, but that's even funnier. You're such a good friend.
22.
Monkey Tape Dispenser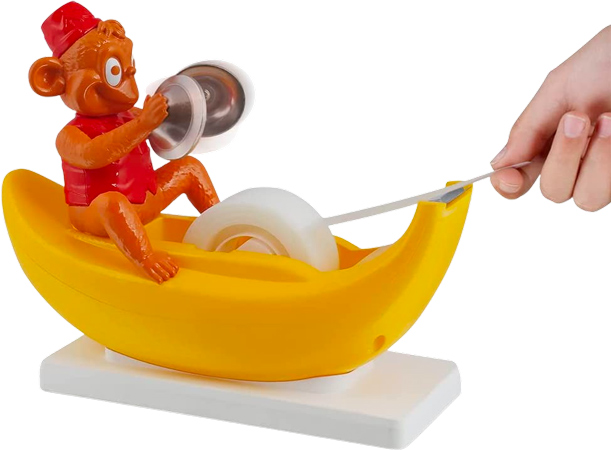 Here's a funny gift that will make your guy friend popular in the office. This weighted tape dispenser with an extra sharp cutter looks like a monkey with cymbals sitting on a banana. Every time your friend pulls a piece of tape the monkey claps his cymbals, letting the whole office know he's hard at work.
When it's not annoying his coworkers with the constant noise, it makes for a fun conversation piece.
23.
Whimsical BBQ Apron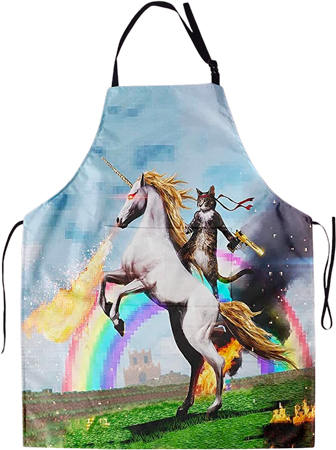 Is your man friend known for having the best backyard BBQs in the neighborhood? If not, he will have everyone talking soon with this funny apron. This apron is made of breathable, lightweight and waterproof polyester and features a graphic with so much going on that it takes more than a glance to appreciate.
Not only does it have a weapon-toting cat riding a fire-spitting unicorn, it also has graphics from Minecraft. All these things shouldn't make sense together, but it works. It's the perfect apron for your friend and he'll agree.
24.
Disco Ball Planter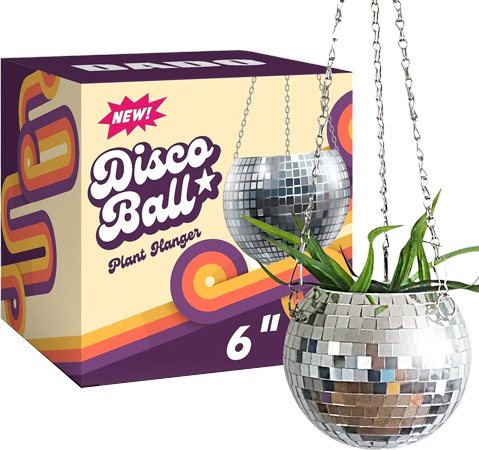 Let your friend fly his disco flag with this unusual planter. This hanging planter looks like a disco ball, covered in hundreds of tiny mirrored squares. The planter hangs from the ceiling with the attached chains and included hook.
Not only will your friend be able to appreciate his indoor greenery, but he'll also love all the light that will bounce all over his room. Let your friend know you appreciate his flamboyant side with this groovy gift idea.
25.
Intoxicated Garden Gnome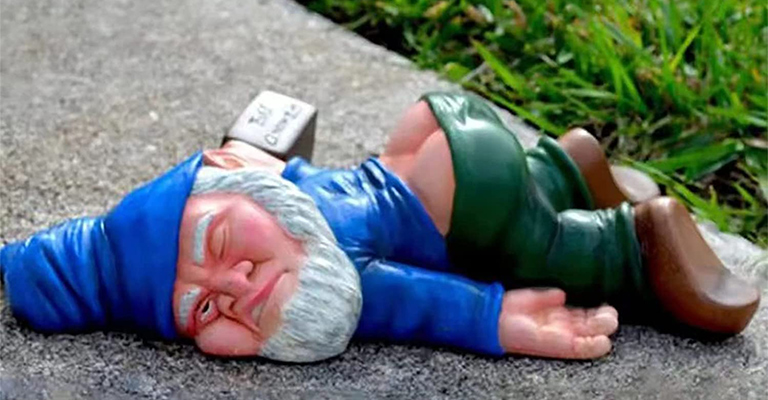 Give your friend a garden companion that shows him what you really think of him. That he's a funny guy, I mean. Not that he's a drunk little gnome, like this guy. This funny garden figure looks like he's had a fun night out and didn't quite make it all the way home. Every time his friends come over or he gets an Amazon delivery, the comments will be flowing as much as this guy's booze was.
Need more inspiration?