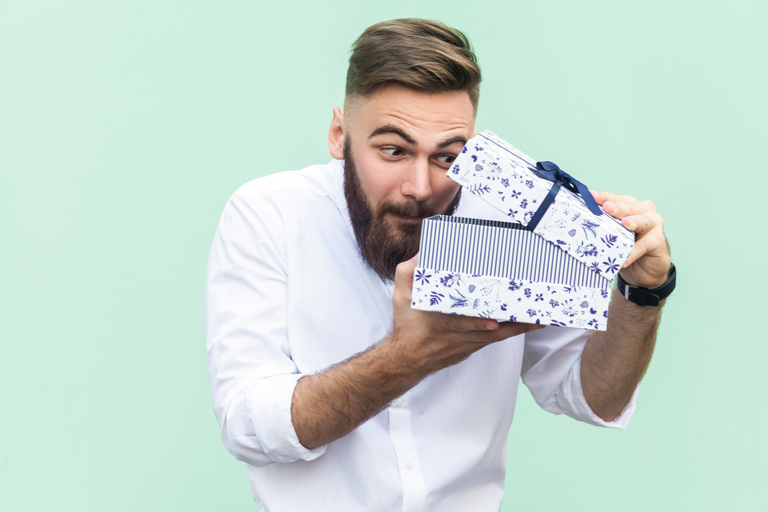 Lucky you that you've got some cool friends with a great sense of humor! Now you get to have fun picking out the right gift that they will get a kick out of. Obviously, you've been searching for some ideas, which is how you've landed in this little corner of the internet that is dedicated to helping you do just that.
This list of 24 funny gifts to give your friend is full of ideas that will give the lucky recipient a good laugh. It will be funny for you as well watching them open what you've chosen. Whether they're into bathroom humor, pranks or just a funny take on useful things to use around the house, this list is going to make sure your friend smiles a little more today because you thought to get them such a funny gift.
1.
Loaf Lumbar Pillow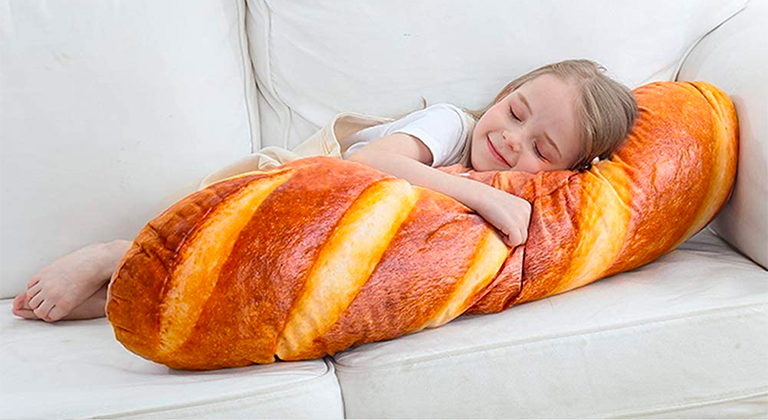 This funny gift is perfect for a friend that loves home decor. It would be a hilarious housewarming gift if they mention they are looking for ways to spruce up their new home. And what better way to do that than with a statement throw pillow? This giant pillow looks like a warm loaf of French bread. Bread makes everyone happy and this soft pillow is going to make them happy every time they lay on it.
2.
Lobster Oven Mitts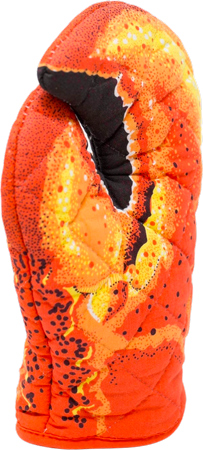 Have a friend that loves to cook? These lobster claw oven mitts by Boston Warehouse are going to amuse them every time they're taking their casserole out of the oven. They are not only functional to use to protect their hands, they would also make a statement piece of decor hanging on their kitchen wall or from their oven door handle. They'll definitely get some funny comments from anyone who sees them.
3.
Bum Collage Art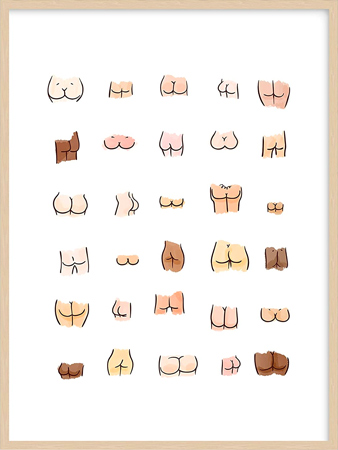 For the art lover, this cheeky piece is going to get a laugh. It's a 12×16 collage of bums in all shapes, sizes and colors. It would be the ideal piece to hang in a bathroom to amuse guests with their taste in art that makes a statement. The piece is printed on 100% cotton archival paper so it's high quality and won't fade. It comes unframed, which makes it easy for your friend to choose a frame that matches their own personal decor style.
4.
Bathroom Figurine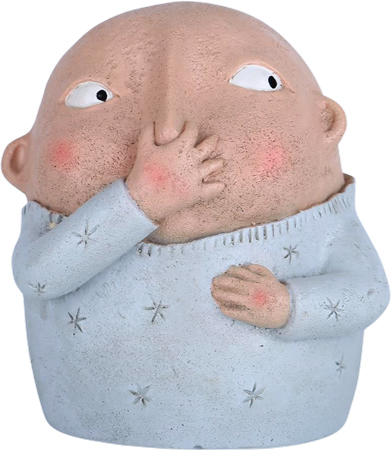 This funny piece of decor is just perfect to sit in your friend's bathroom to judge all their guests. It's constructed of hand-painted resin and made to look like a little child holding their nose. At six inches tall, it's small enough to set on the back of the toilet, on the vanity or a bathroom shelf. Wherever it is, your friend will get a kick out of this judging little friend whenever they are in their bathroom.
5.
Egg Bath Mat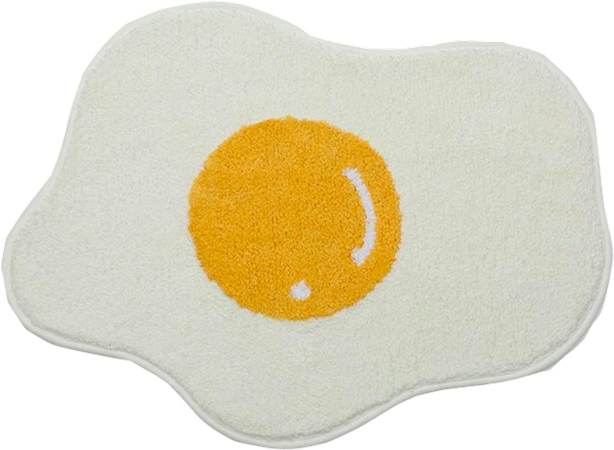 This gift is not only funny, but it's also actually a pretty cool and modern bit of bathroom kit. This bath rug looks like a sunny-side-up egg. It's made of a super soft shaggy polyester microfiber that is more water absorbent than cotton and still easily washed by machine. The material also makes it fast drying. The back side of the rug features a rubber non-slip grip for extra safety while getting out of the bath or shower. Your friend will love having this burst of happy under their feet every morning.
6.
Super Hero Bookends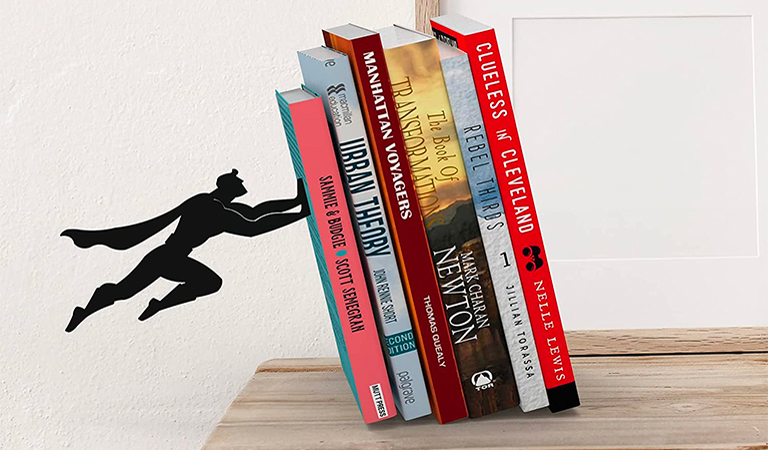 If your friend is a reader, these funny book ends need to be in their home. They are designed to look like a superhero is holding up a stack of leaning books. What makes these bookends unique though is the magnetic design that hides the actual part of the bookend that secures the books. All your friend will see is a superhero magically floating to stop the books from falling. It's funny, cool and actually a useful gift. Your comic book-loving friend will love this gift.
7.
Ceramic Toilet Mug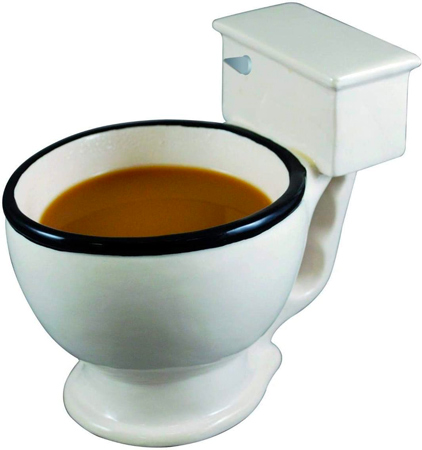 Sick of your coffee snob friend complaining about how the coffee at work tastes like poop? (They probably used a different word to describe it.) This gift is made for them. This huge, twelve-ounce mug is made out of durable ceramic and hand painted to look like a toilet. It definitely sends a passive-aggressive message to whoever is in charge of making the coffee at the office. You can't look at that mug and not laugh.
8.
Salad Socks Set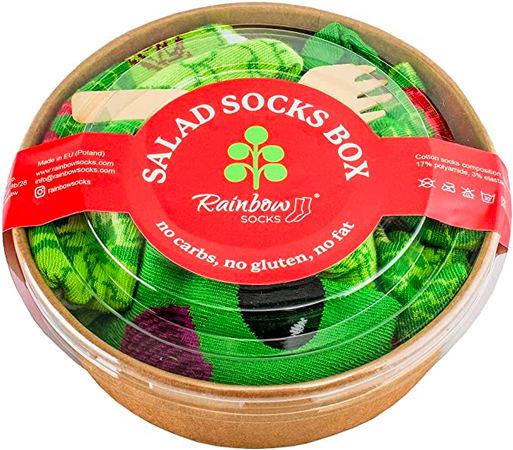 Give your friend a funny gift that will keep their toes feeling cozy. This pair of socks is designed and presented to look like a healthy geek salad. The socks, made of pure cotton, feature a salad topping design that includes pictures of olives, red onions, cucumbers, lettuce and crumbled feta cheese. The socks are rolled and packaged in a cardboard salad box and even include a wooden salad fork to top it off. This is a funny gift that looks good enough to eat.
9.
Decision Maker Paperweight
We all have that one friend that can never seem to make a decision. Help take the pressure off them with this funny decision-making paperweight. It's made of solid metal and has enough weight to not only hold papers in place but also just makes a fun and good-looking piece of desk decor. This would be a great gift for your executive friend or for a boss you like… if those exist.
10.
Giant Pizza Blanket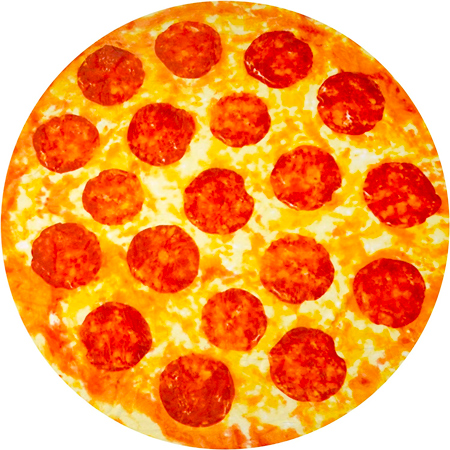 Help your friend dress for the occasion for their next pizza and Netflix night with this funny, oversized flannel blanket. This cozy blanket is 60 inches in diameter, so there is plenty of room for two, and is designed to look like a photo-realistic pepperoni pizza. It's made of a soft anti-fade fleece that is breathable and machine washable so it's easy to clean if your friend drops any of that pizza on it. It's the perfect gift for a friend that likes to cuddle on the couch. Even more perfect if that friend happens to be a Ninja Turtle.
11.
Fantasy Blanket Robe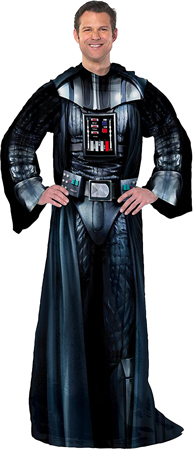 If your friend loves Star Wars, they are going to love this blanket robe. Now they can chill around the house feeling like Darth Vader. The robe is made of pure polyester so it is soft and machine washable. It features a fully printed Darth Vader design on the front and sleeves and has an open back for easy movement. Your friend is going to look, and feel, so cool walking around in this hilarious robe.
12.
Hotdog Beach Towel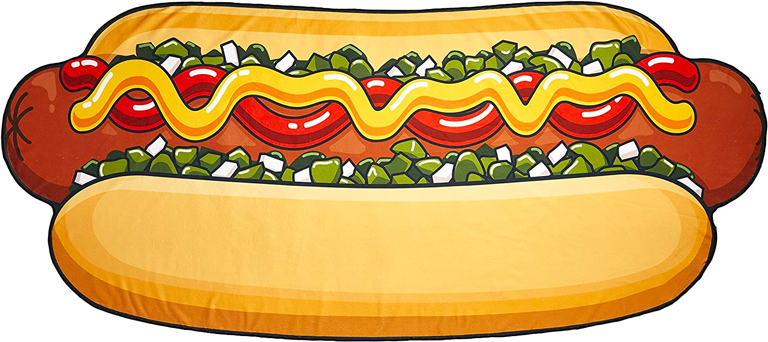 Does your friend like to hang out by the pool or spend the day at the beach? Here's a funny gift that they are going to love. This giant beach towel looks like a huge, five-foot hot dog, complete with ketchup, mustard, onions and relish. It's made of a water absorbent and fast-drying microfiber that's easy to wash in the machine. It even comes with a carrying tote to get to and from the beach. Plus, you'll never have to worry about not being able to find your friend in the crowd with this gift. They'll be the only one on the beach lounging on a hotdog.
13.
Golf Drinking Game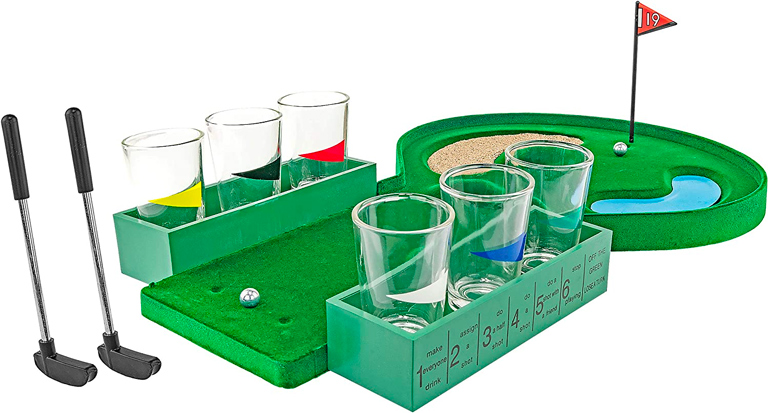 For your golfer friend that likes to get a little wild at parties, this drinking game is going to be on par with their level of fun. The game includes a felt-covered putting green, two putters, two miniature golf balls, a flag pole and even a bag of sand for the built-in sand trap. The board holds six shot glasses to up the ante on missed shots. The game is compact enough to play on any flat surface, even an office desk if they're brave enough. It would be a funny gift for a boss or coworker that loves golf.
14.
Toilet Golf Game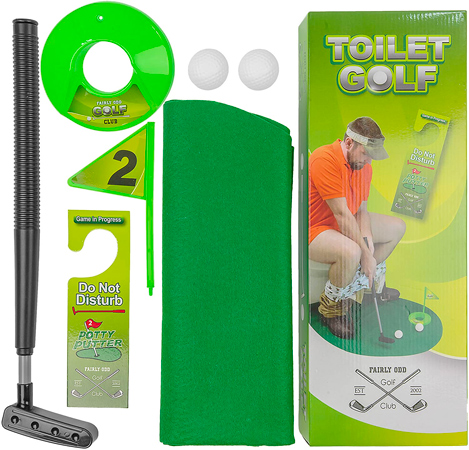 Help your friend improve their golf game while they're otherwise indisposed. Instead of wasting time checking social media on their phone, or reading the back of shampoo bottles, this hilarious gift will let them practice their putting skills. The set includes the green toilet mat, a golf club, two plastic balls and the putting hole with a flag. Don't get your friend a crappy gift, give them this instead so they can squeeze more productive time into their day.
15.
Gag Exploding Golf Balls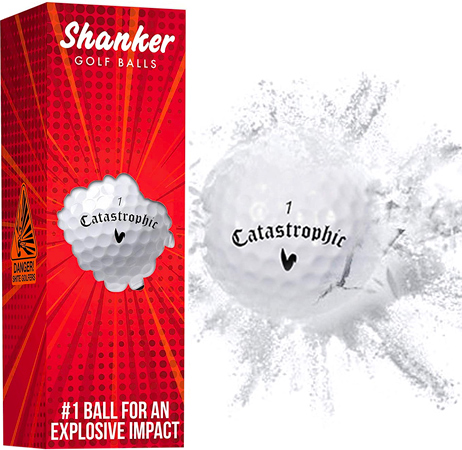 Prank your friend with these funny exploding golf balls. The realistic-looking balls are made of plastic that contain a white powder inside. When you swing it will explode on contact causing a huge white cloud of smoke. Either use them yourself to watch your friend's reaction or better yet, sneak one of these onto their golf tee and stand back and watch the fun. They won't know what the heck just happened.
16.
Toilet Paper Puzzle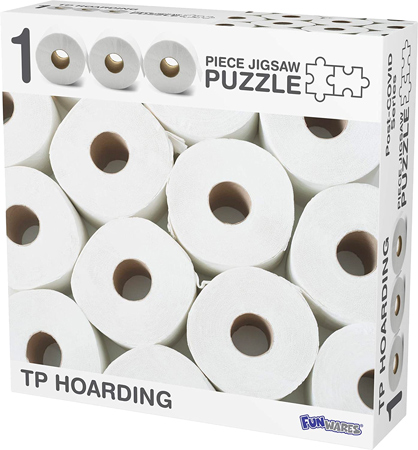 If your friend loves to kick back with a glass of wine and spend quality time putting together a beautiful puzzle, this is probably not the puzzle they would have chosen. Though it is guaranteed to be a good laugh when they unwrap this gift from you. This 1000-piece puzzle features a collection of toilet paper rolls. Why? Because it's funny, and a nice reminder that we all made it out of 2020 and we'll never have to fight in public over toilet paper again. (Hopefully.)
17.
Cooking Spoon Holder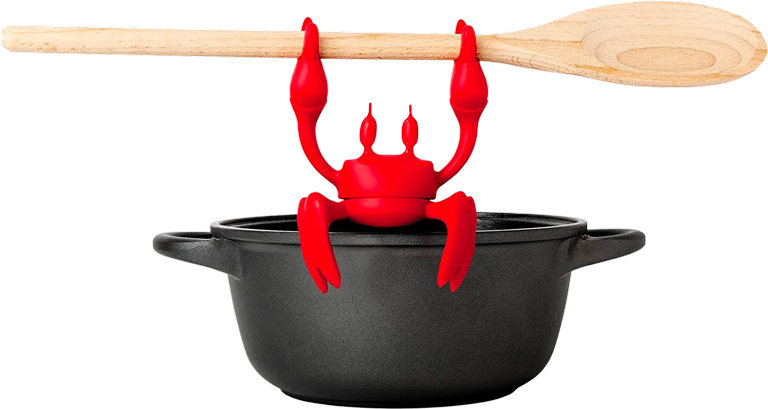 This funny little spoon holder is going to look great in your friend's kitchen. The spoon holder is made of heat-resistant silicone and is shaped like a crab that perches on the side of pots and pans. The claws are open to accommodate resting the spoon or they can be used to prop open pot lids to release steam. If your friend wants to bring some humor into the kitchen, this useful gift will be a real treat for them.
18.
Superhero Apron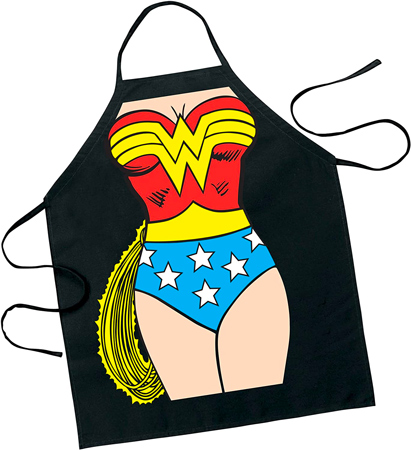 With this gift, your friend will look like the superhero of their own kitchen. The apron is an officially licensed product of DC Comics and is printed with the curvaceous torso of Wonder Woman. It's made of pure cotton so it's not only machine washable but also cooling so your friend won't be uncomfortable in a hot kitchen. It's not just for women though. Imagine getting this funny apron for the man you are shopping for. Even funnier.
19.
Funny Tape Dispenser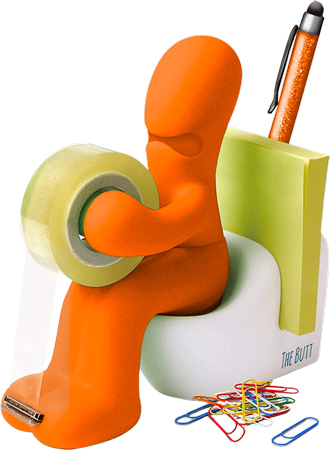 The creative design of this tape dispenser will not only serve multiple functions on your friend's desk but it will be sure to get lots of comments from their coworkers. The dispenser is designed to look like a man sitting on a toilet. Instead of holding toilet paper though, he's standing by waiting to give your friend a funny way to get a piece of tape. It includes the tape cutter that's incorporated into his feet and the back of the dispenser holds a full-sized sticky note pad and has room to hold his favorite pen. Under the little man's bottom is even a place to hold paperclips.
20.
Wine Bottle Stopper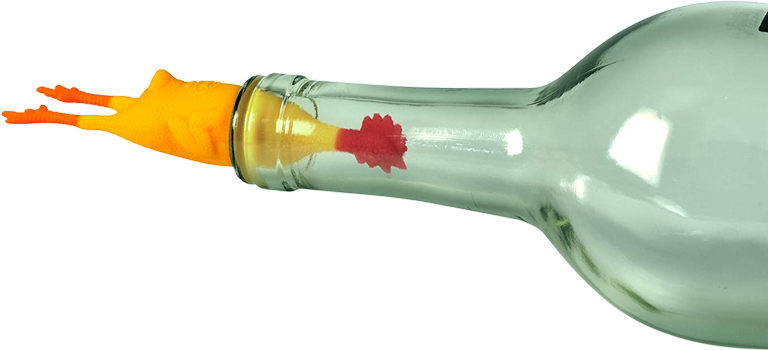 This is a fun gift if your friend enjoys having a glass of wine. This unusual wine stopper looks like a rubber chicken that has gotten its head stuck in the open bottle. It's made of flexible, food-grade silicone that fits snuggly into the bottle and creates an air-tight seal to keep an open bottle of wine fresh for longer. Whether your friend leaves this out on the table at their next dinner party or uses it to bring a pre-opened bottle to their next get-together, everyone is going to be talking about what an odd and funny little wine stopper this is.
21.
Beer Dumbbells Set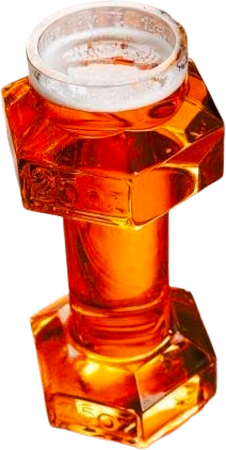 If you have a friend who loves hitting the gym, these dumbbell-shaped beer glasses would be a funny gift. The glasses come in a set of two and are made of durable and dishwasher-safe glass. Each glass holds a generous 25 ounces of their favorite beer. Cheers to staying in shape.
22.
Wine Bottle Puzzle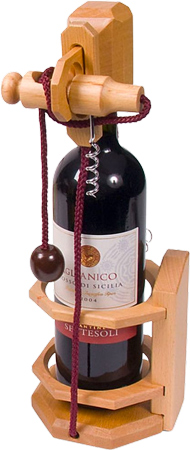 Bring the wine to your friend's party in this fun wine bottle puzzle. Watch them struggle as they try to solve it to release the bottle. The puzzle is made out of solid wood and can be reused over and over again. It can even be left out on the counter as a wine bottle holder that will also be a conversation starter.
23.
Shocking Party Game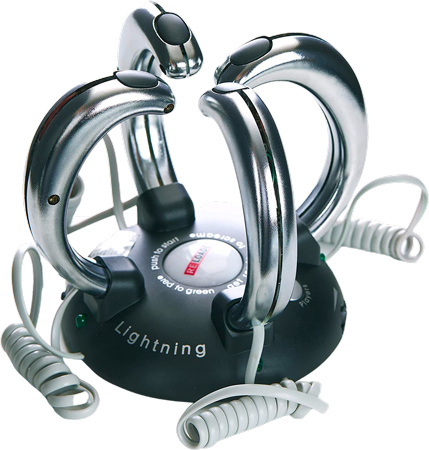 Here's a fun party game that is 100% going to deliver on the laughs. The game can be played with up to four players, each one holding one of the handles. When the music stops, players need to quickly press the trigger button. The last one who pushes the trigger gets an electric shock! The shock can be adjusted to three different levels of intensity. Make it really funny and explain the rules but don't tell them about the shock.
24.
Prank Lottery Tickets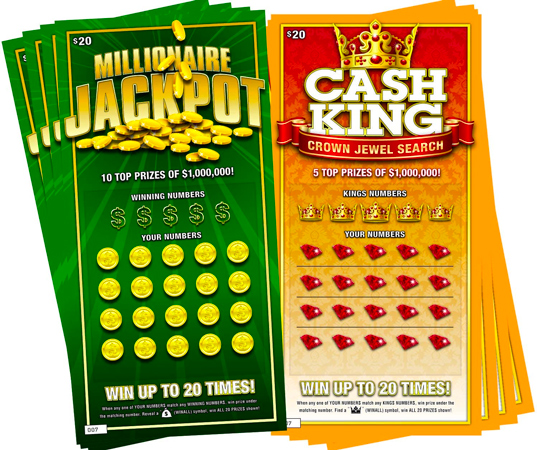 This gift is only for the friend you know who can take a joke. It's hilarious but be prepared to console them after the prank is over. These fake scratch-off tickets will make them think they've just hit the jackpot. They look so realistic they won't even suspect that they're being pranked. They come in a set of eight so there's enough to trick all of your closest friends. Hopefully they still want to stay friends after they realize they aren't actually a millionaire. Cruel, but so funny.
Related Posts