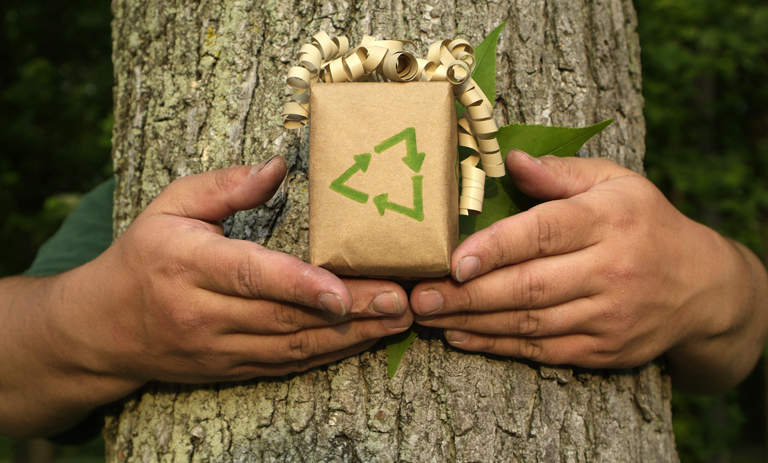 Gift exchanges are always a fun experience. Whether you're the one that gets the pleasure of making someone happy or you're the one that gets to untie the bow, gifts are a chance to connect with the ones we love. Though sometimes gifts fall short, ending up unused at the back of a cupboard and eventually in a landfill.
If you're shopping for the perfect gift for your eco-conscious friend, make sure you get them something they'll love, want to use and that won't contribute to further environmental damage. This list of 18 eco-friendly gifts that are planet-approved will help you choose a gift that will have your friend living a cleaner, guilt-free life. Just remember to wrap it in recycled paper!
1.
Reusable Paper Towels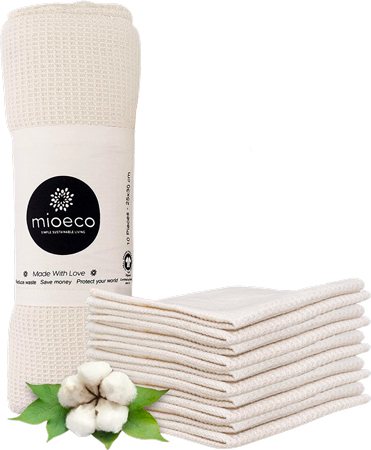 If your friend is serious about being environmentally conscious, they no doubt know the impact disposable paper towels have on the environment. Single-use paper towels not only contribute to waste, but also deforestation. This set of 10 reusable paper towels will have them wiping away messes while they wipe away their carbon footprint.
They're made of 100% organic cotton so they are super absorbent, durable and machine washable. Just one of these towels can replace 130 rolls of paper towels. Your friend is going to feel really good about doing their part for the environment with this gift.
2.
Eco-Friendly Pens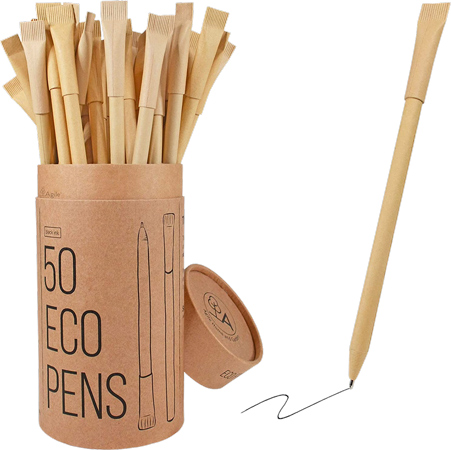 This gift is a great way for your friend to help cut down on the amount of plastic that ends up in landfills. Instead of using plastic pens, which are usually regarded as disposable, these ballpoint pens are made of kraft paper and can be totally recycled after they are no longer useable. The ink chamber, made of stainless steel, is also removable and easily recycled.
They are completely plastic-free. Each pen comes with a paper cap to stop the ink from drying out. The set comes with 50 pens so there is enough for your friend and their entire family to use. Help your friend truly go plastic-free with this gift.
3.
Glass Storage Containers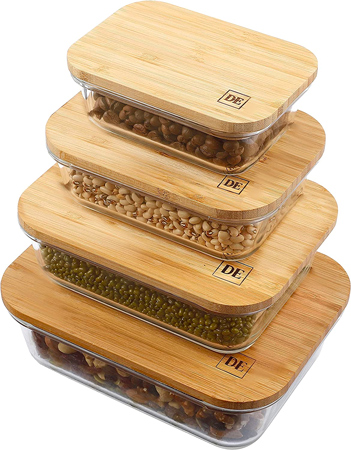 This useful gift will not only help your friend move away from plastic containers but will also help cut down on food waste. These glass storage containers are made of high-quality lead-free borosilicate glass and come with eco-friendly bamboo lids.
The set includes four containers of varying sizes so there's an ideal size for whatever your friend is using them for. While they are made for food, they would also make great containers to store and organize other small objects like stationary, sewing essentials or even toiletries.
4.
Reusable Sandwich Bags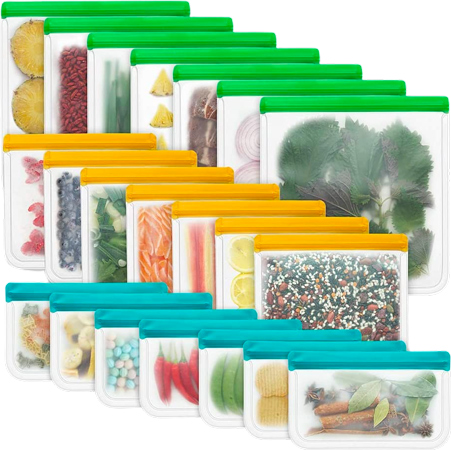 Here's a gift that will save the planet from having to spend hundreds of years trying to decompose something that held a sandwich for a few hours. It's said that in the United States alone, an estimated 20 million sandwich bags are thrown away every day. Like, what?! That's just needless plastic waste that will end up in landfills and oceans.
Give your friend a better way to get their lunch to work with this set of reusable sandwich bags. They are made of thick silicone that is dishwasher and freezer safe. The set includes 21 pieces of different sizes so there's the perfect size for whatever your friend wants to snack on.
5.
Cork Slim Wallet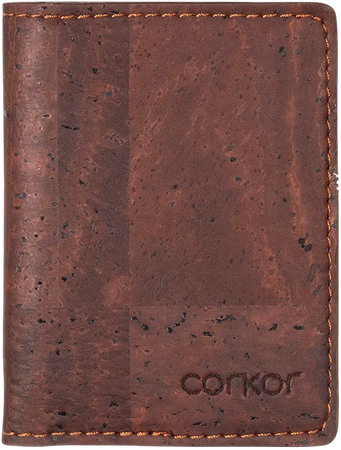 For a friend who is always on the lookout for eco-friendly alternatives, this wallet is the perfect gift. Made from cork, a renewable and durable material, this wallet offers a stylish and sustainable option to traditional pleather or leather wallets. With the slim design, this wallet not only fits in pockets easily but also provides RFID blocking to keep personal information secure.
The multiple card slots and bill compartment make it the perfect all-in-one wallet for holding all your friend's daily essentials. This gift supports both sustainability and gives your friend a beautiful accessory they'll proud to carry with them every day.
6.
Stainless Steel Tumbler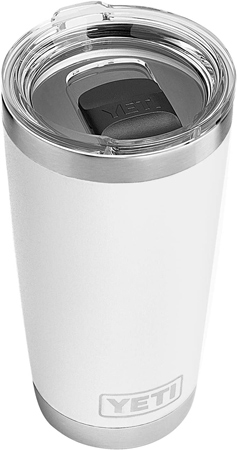 If you're looking for an eco-friendly gift for your friend that they'll get a ton of use out of, this is the gift you're looking for. This 20-ounce stainless steel tumbler by Yeti will help your friend cut down on disposable coffee cups, a contributor to waste and environmental damage.
Next time they go to their favorite coffee spot, they can come prepared with their own cup. Plus, the triple-insulated walls will keep their coffee hot for way longer than those paper cups their coffee is usually served in. The MagSlide cover is also another perk, as it will prevent spills when driving or walking.
7.
Natural Soy Candle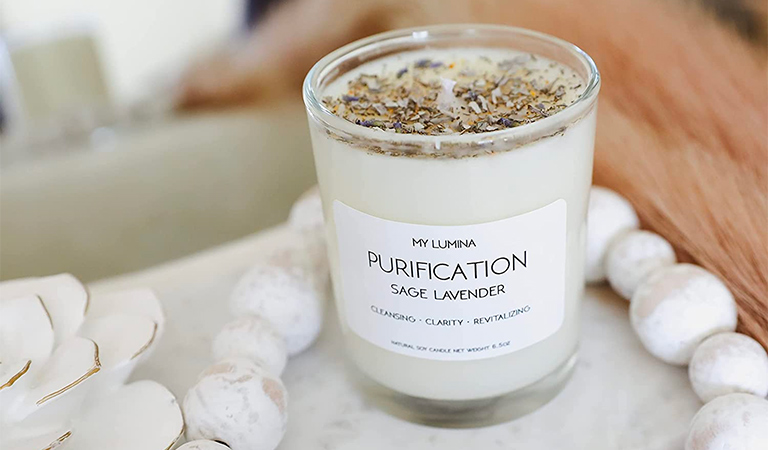 No thanks, I have enough candles- said no one, ever! Everyone loves candles, especially ones that contribute to a calmer mind and a greener planet. This 100% soy wax candle is a calming blend of sage and lavender which is said to promote deeper meditation and relaxation.
Unlike traditional paraffin candles, soy wax is a renewable and sustainable resource that won't release toxins into the air as most commercial candles do. Your friend is going to love burning this gift to unwind from a stressful day.
8.
Reusable Shopping Bags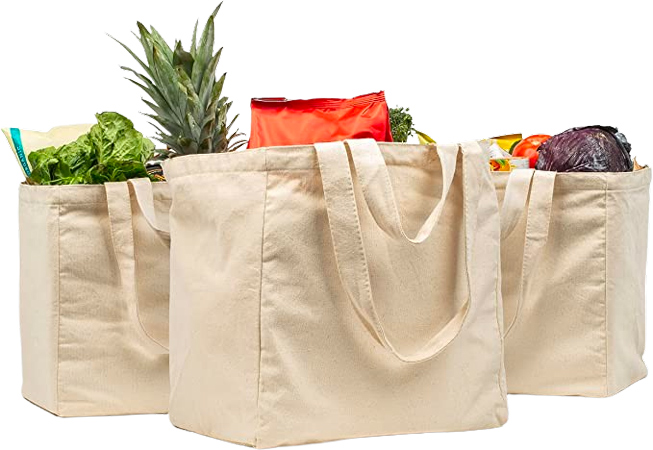 This gift of reusable shopping bags may seem pretty standard on the surface, but your friend is definitely going to be happy you're replacing their old bags with these ones. Not only are these canvas shopping bags some of the largest on the market, holding a whopping 80 pounds of groceries, but they also feature side pockets and two handle lengths.
The handles are also wider than most other bags, which will evenly distribute weight. No more thin straps digging into their shoulders as they carry home their groceries. The set comes with three bags so there will be plenty of room for the whole shopping trip.
9.
Cooling Bamboo Sheets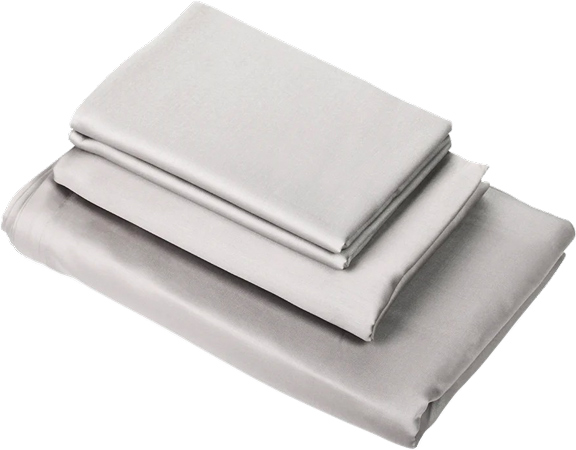 When most people think of eco-friendly sheets they think of organic cotton. Though did you know bamboo is actually considerably more environmentally friendly than cotton? Bamboo is a highly sustainable crop that requires less water, pesticides and fertilizers to grow. That's why your friend is going to love this set of bamboo sheets.
The set includes one flat sheet, one fitted sheet and two matching pillowcases. Not only will these sheets be the softest sheets they've ever had the pleasure of sleeping in, but bamboo is also naturally thermoregulating so your friend will stay at the perfect temperature all night long.
10.
Mesh Produce Bags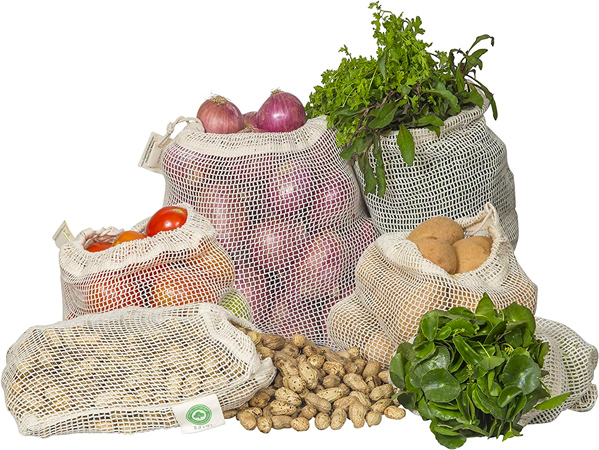 Plastic use sneaks up on us in ways we don't even think about. Even those annoying little plastic bags in the produce section that never want to open are a major contributing factor to environmental strain. This gift will save the environment and save your friend from the frustration of trying to get those darn bags open.
This set of reusable produce bags includes two large, two medium and two small bags. They are made of eco-friendly mesh cotton that will not only help your friend get their fruit and veg home but will also keep it fresh for longer either on the counter or in the refrigerator.
11.
Waxed Lunch Bag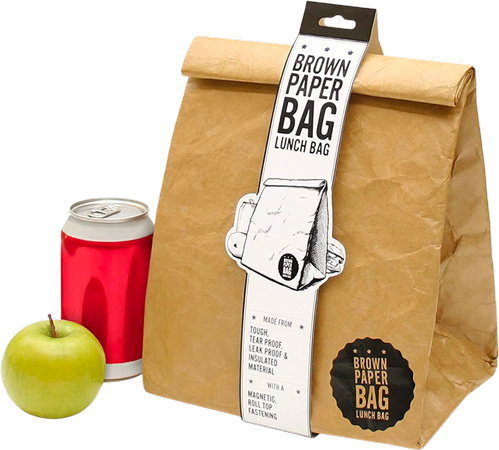 This gift will bring a little nostalgia to your friend's lunchtime. Designed to look like a classic brown paper bag, this reusable retro lunch sack will provide a stylish way to take lunch on the go while eliminating unnecessary waste.
The outside of the lunch bag is completely waterproof and easy to wipe clean while the inside features a modern upgrade to the classic sack with built-in insulation to keep lunches cold or hot for hours. The tear-proof material means your friend will be able to reuse this gift for many years to come.
12.
Indoor Composting Bin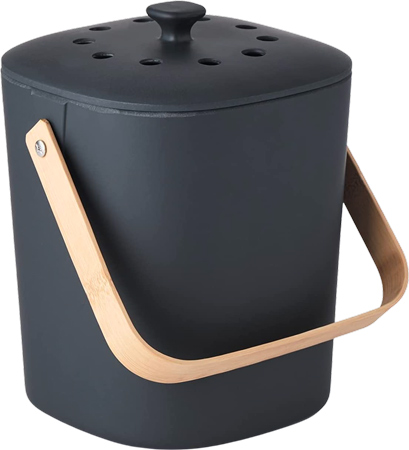 Here's a gift that your friend is going to love for so many different reasons. This countertop composting bin by Bamboozle will not only reduce waste in landfills and lower greenhouse gas emissions, it will also provide your friend with a sustainable source of nutrient-rich soil for their garden or house plants. With a capacity of 1.6 gallons, this compost bin is the perfect size for standard households.
It's great for composting fruit and vegetable scraps, coffee grounds, eggshells, and other organic waste. The lid of the bin features a unique design that allows for air circulation, which helps to reduce unpleasant odors and the modern design and graphite color make it a stylish addition to your friend's kitchen counter.
13.
Recycled Drink Coasters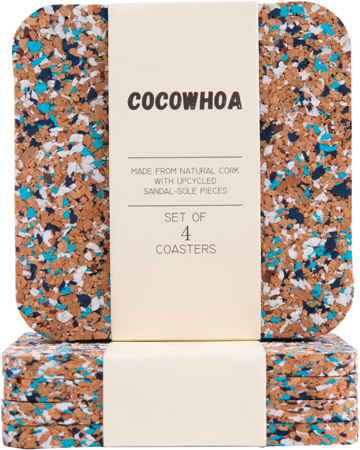 If your friend loves home decor, this gift is going to really impress them. Not only is this set of four coasters stylish and functional, it's also doing something great for the environment. They are made of recycled flip-flops and sustainable cork.
The colorful pieces of up-cycled flip-flops will add a pop of color to their tabletop while also protecting it from scratches and spills. Next time your friend sets their coffee mug down on a coaster they'll feel good about themselves for saving thousands of flip-flops from the landfill.
14.
Recycled Champagne Flutes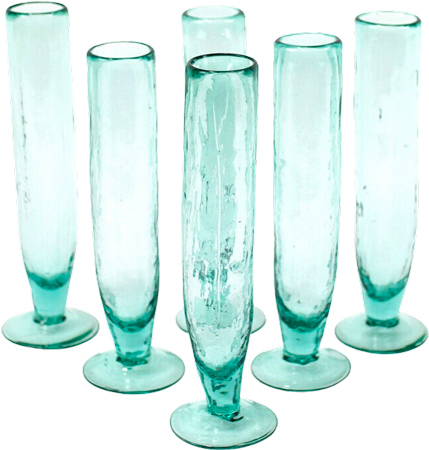 For a truly unique gift, this set of Champagne flutes is something to toast about. This set of six champagne flutes by Kalalou is made from recycled glass. Each flute is crafted by hand, giving it a unique and one-of-a-kind look. The green tint gives it a slightly vintage vibe that is very on-trend.
If your friend is dedicated to protecting the environment and sees the beauty in perfectly imperfect home decor that looks handmade, this elegant set of flutes needs to make an appearance at their next dinner party.
15.
Vintage Paper Set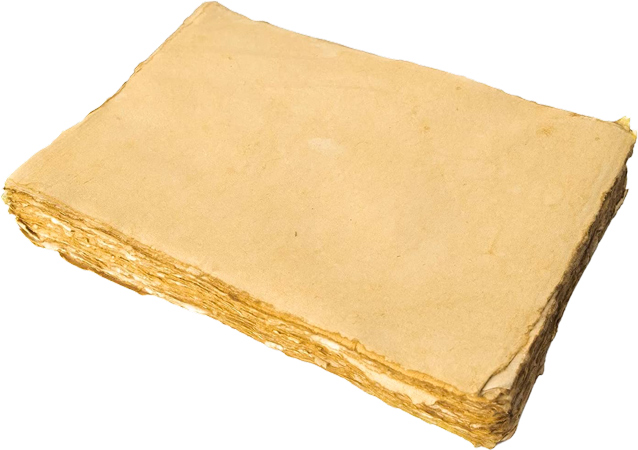 If your friend is into stationary or sending handwritten notes, this is a gift idea that will give them something to write home about. The pack of handmade paper is made of recycled and environmentally friendly raw materials that have been pressed and sun-dried to make beautiful vintage-inspired paper. The thick construction makes this paper ideal for collages, watercolor painting or creating unique party invitations.
Each pack contains 75 acid-free and bleed-resistant pages that look like they've been aged over time. Whether your friend wants to use them for crafting, journalling or just sending unique letters that will make an impression, this gift will make your eco-friendly pal happy.
16.
Natural Cleaning Set
This is a great gift idea for any eco-conscious household. Instead of using plastic dish brushes, this set of natural bamboo dish-cleaning brushes is a better alternative for both your friend and the environment.
The brushes are made with 100% natural bamboo handles and have durable heads that are made of sisal plant bristles, which are stiff and durable for easy scrubbing. The bristles are naturally antibacterial, helping to reduce the spread of germs in the kitchen, unlike synthetic bristles that can grow bacteria.
The set comes with five brushes and two reusable bamboo cleaning cloths. Your friend is going to love ditching their old set of scrubbers for this attractive kitchen gift.
17.
Travel Utensil Set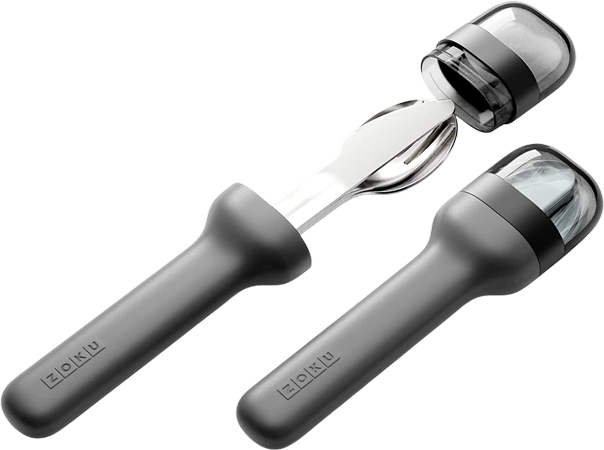 Plastic cutlery, as stated by the Ocean Conservancy, is among the top 10 items found in ocean trash. Each year over 40 billion plastic knives, forks and spoons are tossed away in the USA alone. With this gift, your friend won't be part of that problem. This set of reusable and easily transportable cutlery is made of high-quality stainless steel.
It includes a fork, knife and spoon that are all conveniently stored inside the hygienic carrying case. It's the perfect set to always keep in a backpack or purse so your friend will be able to enjoy their lunch without the guilt of disposable plastic pollution.
18.
Reusable Metal Straw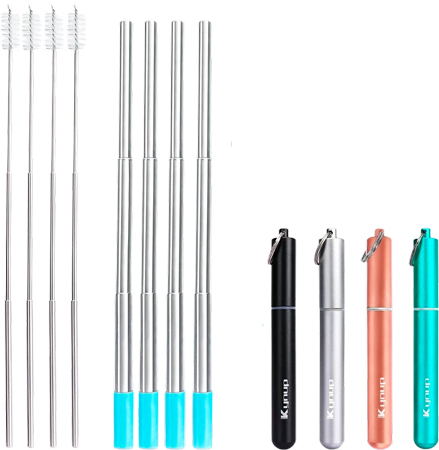 You can't even talk about ocean pollution without bringing up straws. Even huge fast-food brands are making the leap from plastic straws to paper straws. Though if your friend doesn't want to go the paper route, this gift is exactly what they'll want. This set of reusable straws is made of high-quality stainless steel.
Unlike other metal straws, these straws are designed to be collapsible so they're compact enough to slip into a pocket. The set includes four straws, four cleaning brushes and four mini carabiner clips. Your friend, and the sea turtles, will be thanking you for this cool gift.
Need more inspiration?