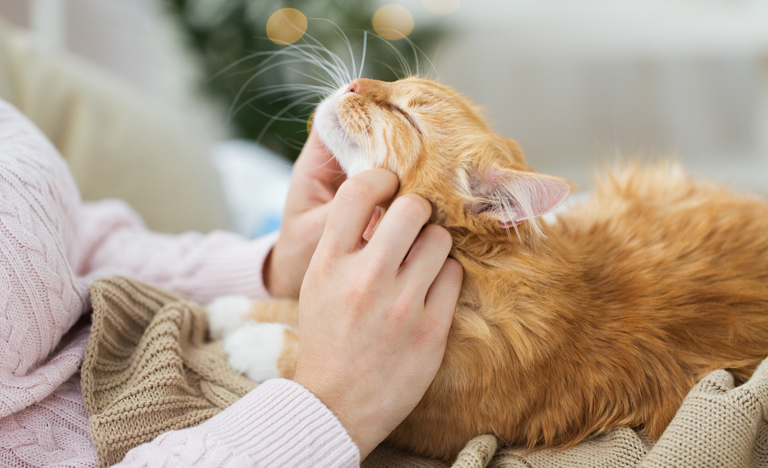 Do you have someone in your family who is mad about their kitty-kat? Find the perfect gift for friends or relatives who love spending time with their feline companions with one of these delightful cat-themed gifts. Choose from fantastic ornaments, cute clothing, and cat-related items to make a great present that is suitable for any occasion and will be completely fitting for any pet parent. Getting the right present for someone can often be challenging but for those who have a four-legged furry friend, you can never go wrong with a cat-themed gift.
1.
Cat Water Bottle

This slim gold colored cat water bottle will be the ideal way to carry drinks to work or the gym. With a stainless steel, fully insulated vacuum insulated container, it will keep drinks hot or cold for hours. Take it to yoga class, or when going out to the park. Convenient to transport and great for travel use this bottle has a striking appearance with its eye-catching brushed gold finish and cat-ear lid. Comes with a handy carrying strap and will make a useful gift for any cat mom or dad.
2.
Cat Planter Pots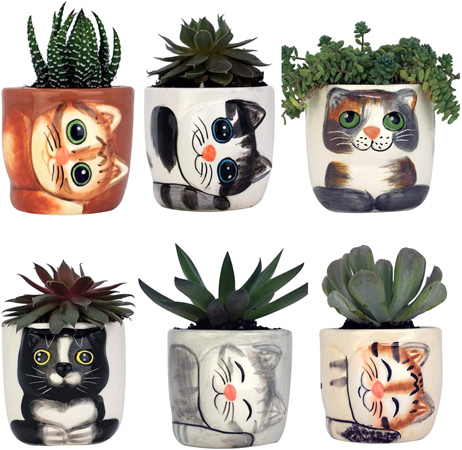 Keep plants displayed in these perfectly sized plant pots. Each one is colorfully decorated and individually hand-painted to depict an artistically styled cat. Made of durable ceramic, each pot can hold a cactus, house plant, or succulent and will look fantastic on a window sill or office desk. Use them in the kitchen to grow fragrant cooking herbs or place in the bathroom to bring some organic greenery into the room. Cat lovers will love getting these bright and cheerful plant pots as a birthday or Christmas gift.
3.
Funny Cat Coasters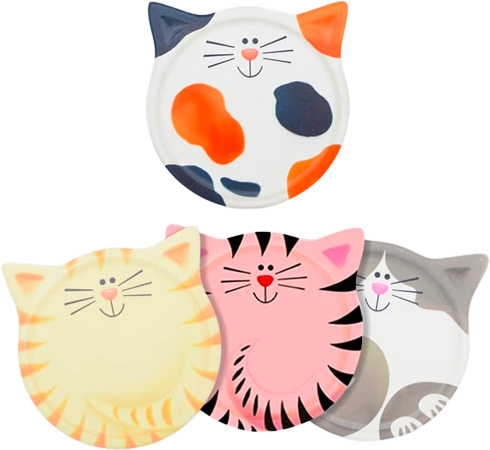 Give cat parents a lighthearted gift for the home with these ceramic cat coasters. Made from durable ceramic, they are more absorbent than wood or silicone and will protect tables and surface from drips and spills. The cork base will prevent slipping and scratching and the front of each coaster has a unique cat design. Keep tables clean and dry with these super absorbent coasters, and use at home or work to brighten up surroundings. Will make an excellent housewarming or party gift for your cat-loving friends and relatives.
4.
Glow in the Dark Blanket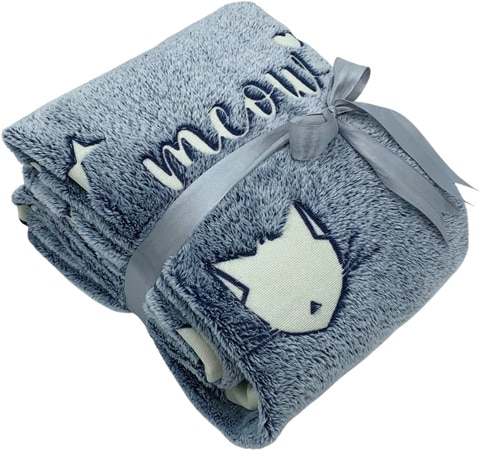 Make bedtime fun and cozy with this super glow in the dark cat blanket. Suitable for kids and adults alike this warm, fleece, blanket will keep heat in and drafts out. Soft, plush, and durable it can be used as a living room throw, a picnic blanket, or as an additional bed cover. The stitched text and cat decorations glow softly in the dark once the lights go out and can help kids feel secure and safe as they go to sleep. The blanket is machine washable, wrinkle free and will not shed.
5.
Cat Coffee Mug

Coffee drinkers will love using this stylish cat coffee mug complete with convenient cell phone holder lid. Take a break and rest your phone against the cute cat lid topper to keep your phone stable and watch videos while eating and drinking. The black ceramic mug will keep coffee or tea piping hot, and can hold up to 16 oz of liquid. It is a perfect gift for family or workmates that can be used every day. Microwave and dishwasher safe, this mug is sure to last for many years of use.
6.
Cat Coloring Book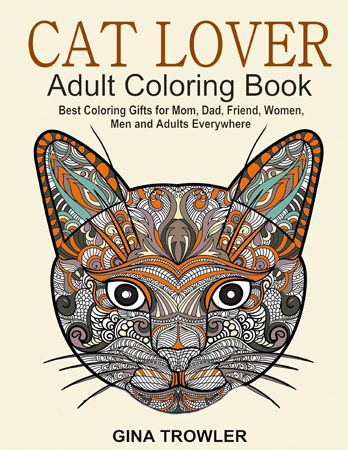 Help them to relax and relieve built-up stress with this fun adult coloring book. Filled with pictures to complete and color, this book is the perfect way to unwind or spend a quiet afternoon at home. The artistic cat designs are fun to complete and can be cut out, framed, and hung on the wall to display. An ideal gift for any cat lover this coloring book can be given to moms, dads, friends, or sisters as a way to help them de-stress and enjoy their quiet time alone.
7.
Kitty Cat Hanging Hooks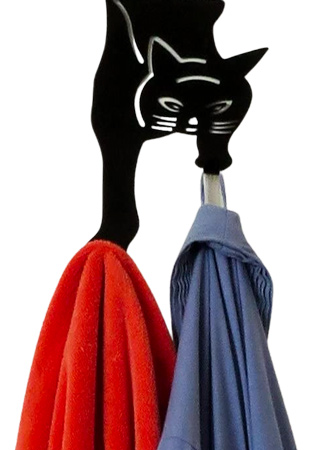 Keep coats, towels, and bathrobes off the floor and safely stored with these fun cat hanging hooks. The over the door metal hanger makes a smart and efficient way to keep garments hung up, and the fun design makes it a great gift for any cat owner. The premium quality metal will not bend or distort, and is completely rust free. An over the door cat design leaves space to hang several items from the kitty's paws and is a great way to keep space organized. Will easily hang on any door without obstructing opening or closing.
8.
Cat Shaped Ceramic Spoons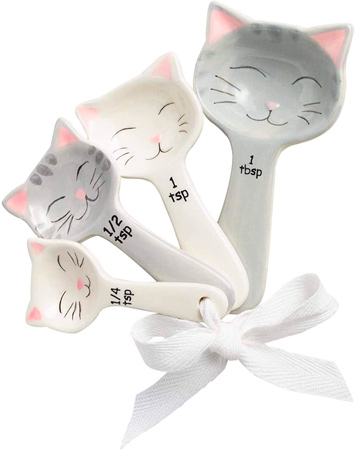 Budding chefs and aspiring cooks will love getting these fun ceramic cat spoons. Add a bit of fun to the kitchen with these stylish hand-painted accessories, and use for cooking or preparing meals and drinks. Each spoon features an original cat design painted in high detail, and is crafted from extra durable material. A ribbon is included for easy hanging and stowage, and the spoons are designed to measure different quantities of tea, flour, or anything else that's needed for meal preparation.
9.
Cat Slippers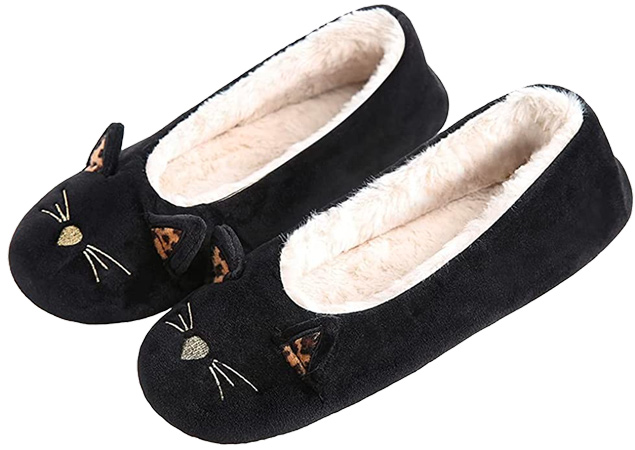 Help keep their feet toasty warm with these lovely soft lined cat slippers. Will make a great gift for any cat-loving mom or aunt, these slippers are warm and comfortable to wear. Contrasting stitching and raised ear details make the front of the slippers look just like a cat's face. Ideal for wearing around the house, and they will make a fun and enjoyable present for ladies of all ages. The soft wraparound midsole will keep feet protected and supported, and the slippers come in sizes to fit most women.
10.
Cat Hand Towel Holder

This original and versatile cat towel can be used to add a bit of lighthearted humor to any kitchen or bathroom. The highly absorbent towel is constructed from premium materials to look just like a cat, and the paws will hang neatly over a towel rail and fasten securely. The cat remains perfectly upright and can be used to dry hands or be displayed for decorative purposes. Choose from a huge array of styles and colors to resemble your own cat or match the décor. Makes a great cat gift for any friend or relative who owns a kitty.
11.
Gift Set for Cat Lovers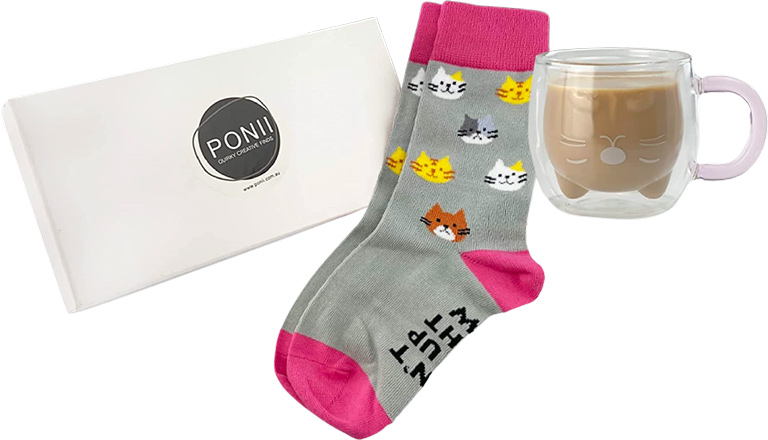 Make a fabulous present for any cat owner with this amazing sterling silver cat necklace. Can be given as an elegant anniversary present or as a delightful birthday gift. The shining pendant is styled as a cat hanging from the matching chain by his paws, and comes in a brushed metal or high shine polished finished. This necklace is a fantastic addition to any lady's jewelry collection and It will match any type of outfit. Cat moms will love wearing it and this original and stylish necklace will be the envy of everyone who sees it.
12.
Hand Painted Cat Figure
Help them show off how much they love their cat with this gorgeous cat figurine from Willow. Hand-painted and featuring a single, elegant cat sat on a pedestal, this really is the perfect gift for cat lovers. Made from resin and based on an original hard carved design, this cat figurine will look amazing in the home and the natural, muted colors will fit in nicely with any décor. Comes packaged in an elegant box and can be given as a present for any special occasion, or simply to make a lovely gift for a friend.
13.
Colorful Cat Notebook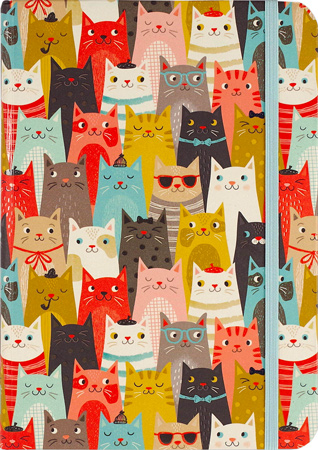 This notebook features fun, feline designs in a range of stylish colors on the front and back covers. Keep notes, lists, or sketch quick designs on the premium quality, acid-free paper. With glossy highlights and eye-catching details, the notebook features raised embossing to add extra texture. Finished with a contrasting elastic band to use as a placeholder or keep the notebook closed, the book comes in a handy size that can easily be carried in any backpack or schoolbag. Jot down quotes, or make to-do lists with this elegant journal.
14.
Large Rope Basket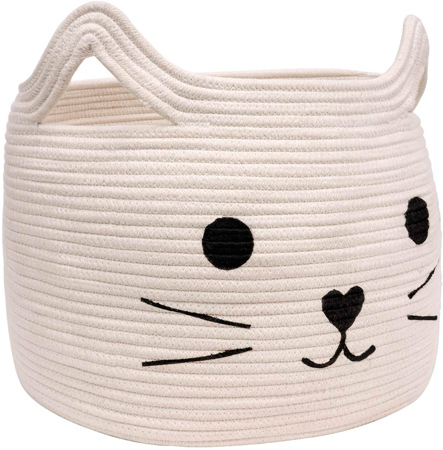 Make laundry days fun with this fabulous basket! Made from durable woven rope the basket is designed to look like a large cat face with ears that double as carrying handles. Can be used for carrying laundry, or for holding towels and linens. Put it in the kid's room to use a toy box, or store your cat's toys in this versatile cat basket. It could even be used as a cat bed to let your feline friend sleep in. With so many different applications this handy basket will make a useful gift for any cat owner, and the natural cotton rope is hardwearing and soft to the touch.
15.
Cute Cat Socks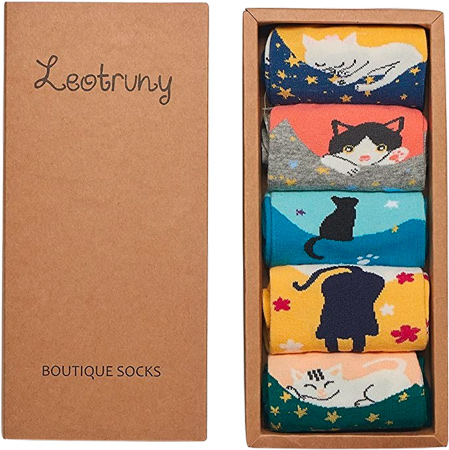 Any cat lover is bound to appreciate these bright, novelty cat socks. Each unique pair features a different cat scene and is designed for maximum comfort. Step out in style with a different pair every day and be the envy of all your cat friends. Wear with walking boots or shoes to keep feet warm and toes toasty. The socks come neatly packaged in their own special gift box and will make a delightful birthday gift or a fun stocking filler. No pun intended!
16.
Cat Shaped Ice Cube Tray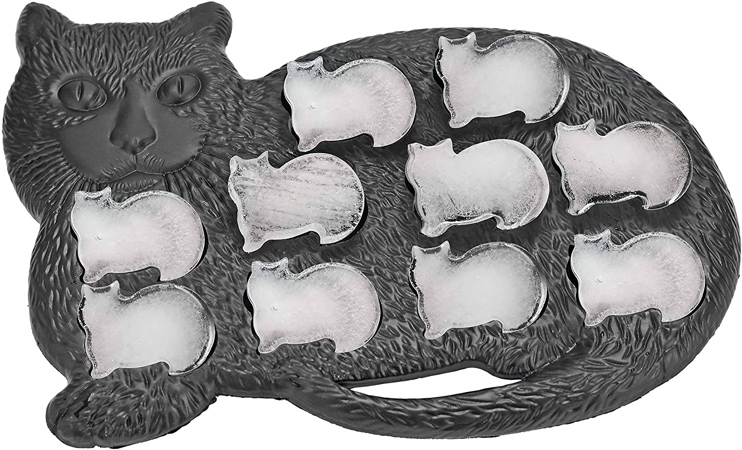 Make the party go with a swing with this adorable cat ice tray. Add fun and interest to guest's drinks with the feline shaped ice-cubes and keep drinks fresh and cool. Great for using at parties, get togethers, or family barbecues, the molded cat ice cubes will be sure to be a talking point. Add extra creativity by using the tray to make chocolate shapes, jelly, or cat cookies that can be served up at parties. The tray is a great kitchen accessory to give to any cat owner.
17.
Decorative Fridge Magnet Set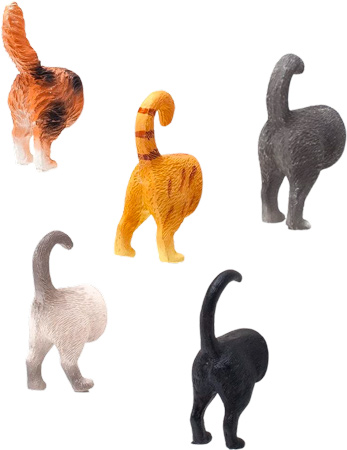 Keep shopping lists and important notes safely attached to the fridge with these funny fridge magnets. The decorative magnets are styled as the rear end of a cat, complete with tail and can be affixed to the front of any fridge. Add a bit of fun to the kitchen décor at home or in the workplace and delight a cat lover with this amusing gift. The highly colored cat butts represent different breeds and are made from durable vinyl with a high-powered magnet included. Stick your kid's drawings to the fridge and keep shopping coupons stored safely with these original kitchen decorations.
18.
Cat Meme Cards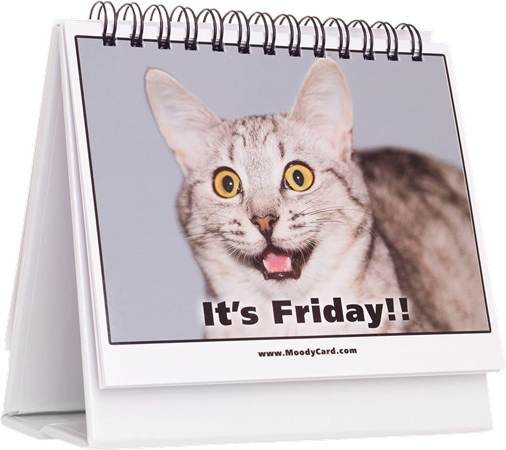 Create the perfect gift for a college or a workmate with these adorable and amusing cat memes. Put a smile on their face at the start of every day and lighten the mood at the office with these funny memes. Features cards packed with cat pictures and sayings, and the ring bound book can be stood on a desk or worktable. Kitty Moodycards make a great gift for the workplace, teachers, or as a gag gift for the boss. Guaranteed to bring a smile and relieve tension.
19.
Fairy Garden Cat Figurines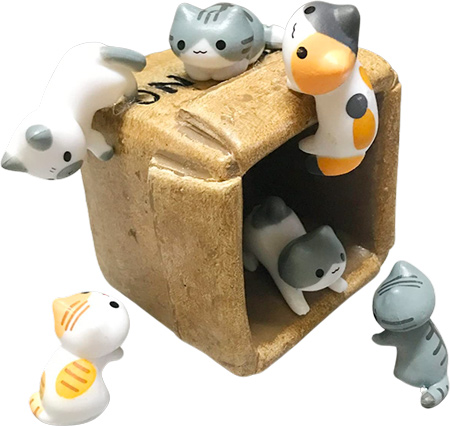 These super cute miniature cat figurines will make the perfect addition to plants, terrariums, or for home decoration. They can be used as ornaments or cake toppers and are made of durable polyresin which is completely rustproof and waterproof. The adorable hand-crafted cat figurines are styled in different designs and poses and can be hung off the side of a plant pot or used to make a fairy garden. Each one is styled in unique colors with a different facial expression and will be adored by cat loving kids and adults.
20.
Cat Night Light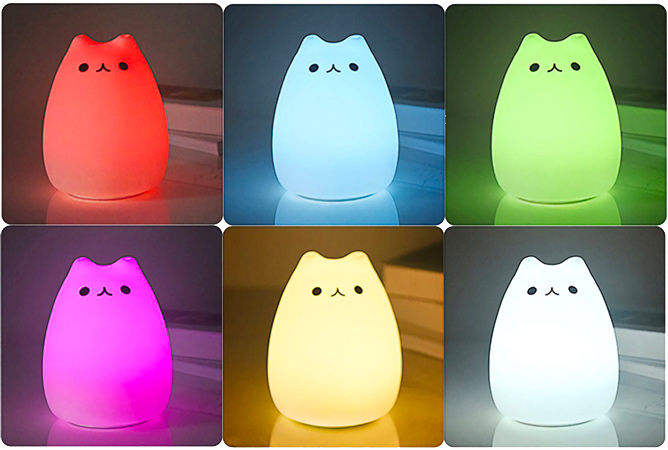 Create an ideal gift for kids or children who like a light on at night. This kitty night light emits a soft, comforting glow and comes with a handy remote control. Choose from different colors, brightness levels, and light modes to soothe and support better sleep. Made from soft BPA-free silicone that remains cool to the touch. The cute little kitty face makes this an adorable gift for young children but adult cat owners will enjoy it just as much. The night light is small enough to be portable and recharges easily with one charge providing up to 15 hours of use.
21.
Disney Travel Tote
Do the shopping in style with this eye-catching travel tote bag. This officially licensed bag features all the classic Disney cats from movies like the Aristocats and Alice in Wonderland. All of the famous cats are depicted on the durable canvas tote bag which can be used for carrying food items, or as an overnight bag. Strong shoulder straps make carrying easy and any cat fans will be sure to love using this large capacity tote bag for holding their essentials.
22.
Knitted Beanie Hats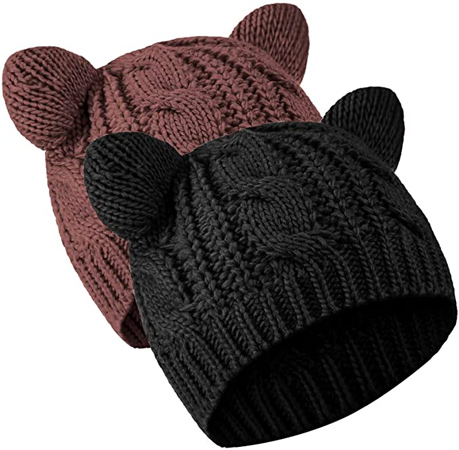 Keep head and ears warm and covered with these knitted beanie hats. Featuring a traditional cable knit design the hats come in black and brown to match any outfit or mood, and include adorable pointy catlike ears. The hats are made from lightweight, breathable material for maximum comfort and are great to wear outdoors to events like concerts and festivals, or to use when hiking. Will fit most adults and teen, and the feline profile will be appreciated by cat parents.
23.
Magnetic Cat Bookmark Set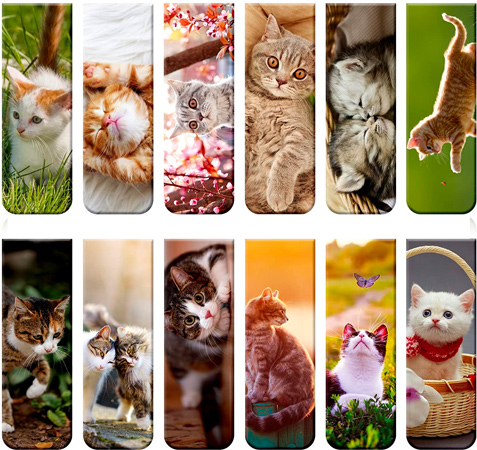 Bookworms and readers will agree that you can never have too many bookmarks, so this set will make the perfect gift for them. This bookmark set features original designs and images that will not fade easily, and each one can be used to mark a place in a book, or clip to the page for later reference. Useful for students or for those who work in an office, these colorful bookmarks can be given as a gift to anyone that loves to read and will allow them to look at beautiful cat images every time they open a book.
24.
Beauty Hair Band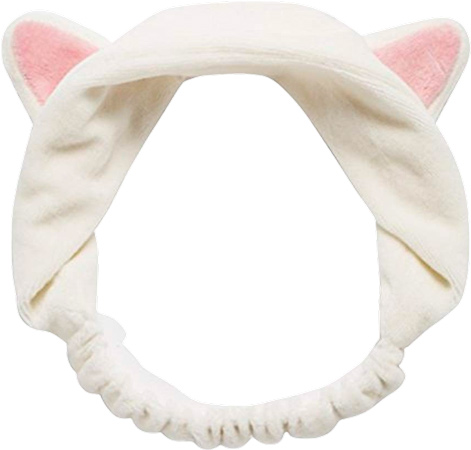 Make an adorable gift for a daughter or a niece with this beauty band. Keep hair neat and out of the way when applying make-up or performing beauty treatments. This handy band is made from soft material and adjusts to fit the head, keeping hair tidy and secure. As well as being functional, the hair band is fun to wear with its cute little cat ears and will made an adorable gift for any young girl. Pop it in a bag when traveling so it can be used anywhere and keep stray hair out of your face and eyes when in front of the mirror.
25.
Pounce Toy Gift Box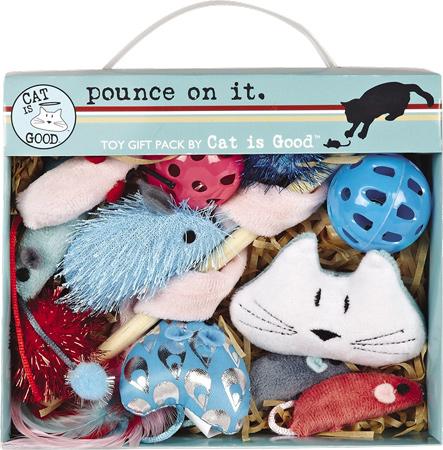 Help your friend or relative to keep their cat fully entertained with this box of toys. This assortment contains fun and interactive toys for chewing, playing and fun, and their cat is sure to enjoy exploring all the items in the set. Rolling balls, crunchy mice, and a couple of catnip infused toys will give the cat hours of fun and the owner can watch their favorite pet enjoy the fun and frolics. Each toy in the box comes individually wrapped to make it perfect for gift giving. Both the cat an owner with appreciate your thoughtfulness when they receive this present.
26.
Black Cat Trivet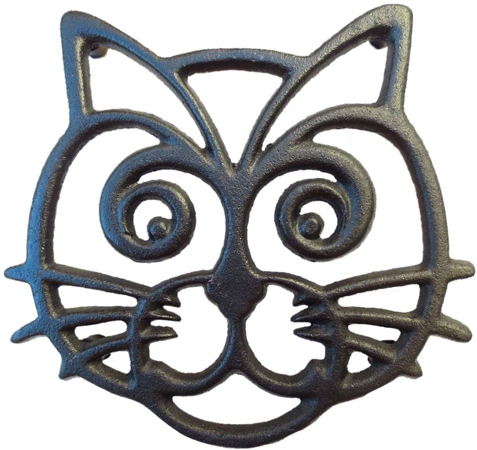 Make any table or kitchen counter look fabulous with this solid black cat trivet. Made from hardwearing cast iron the trivet will protect surfaces from hot pans or plates. The non-scratch rubber feet will prevent heat transfer and damage from scratches and the trivet can be used to serve up platters or soups. The stylish cat trivet can be hung on the wall for decorative purposes and will make an excellent house warming gift for a new home owner. Use as a single piece or purchase as a set to cover larger areas.
Need more inspiration?