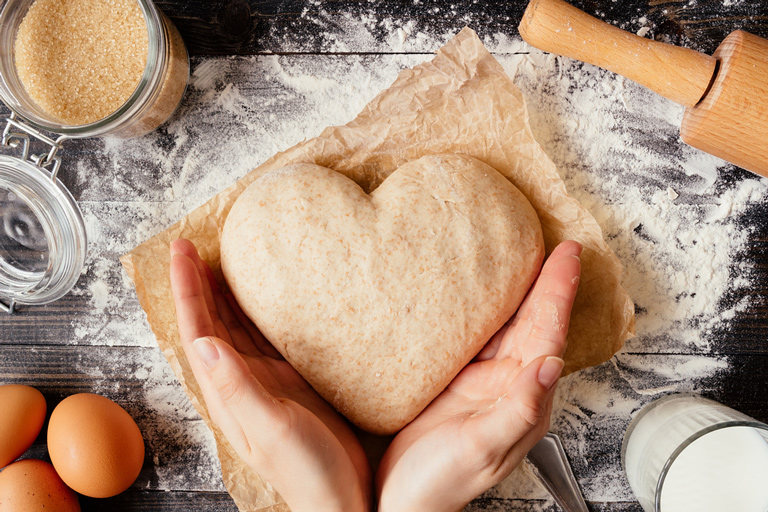 Help them become the next star baker with this list of handy and creative kitchen items. Whether it's cupcakes, pies, or gourmet cookie creation there will be a gift to help your budding baker make their delectable goodies. From creative pastry molds to cake decorating tools, we have something that will be ideal for pastry chefs, bread-makers, and confectioners to help them produce savory delights and sweet, sugary treats.
1.
Premium Culinary Butane Torch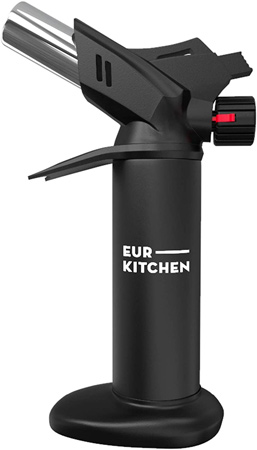 Save time when caramelizing creme brulees, crisping meringue, or melting gooey cheese with a versatile Culinary Butane Torch. This professional model includes a built-in finger guard for safety, and a gas flow regulator dial to adjust the flame. Designed to be bigger yet lighter than other culinary torches, it comes with a comfortable grip for easy flame manipulation. Create a continuous flame up to 6 inches long and voila, perfect crisping and caramelization every time!
2.
Adjustable Bib Apron with Pockets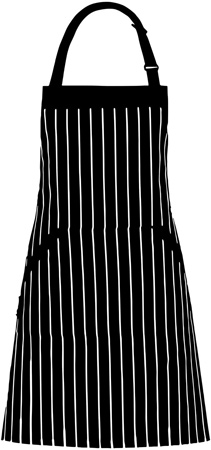 This simple and stylish bib apron will make a thoughtful gift for any man or woman who loves to cook. Decorated in a bold black and white pinstripe, this apron will keep clothes clean and perfectly protected. The heavy-duty, machine-washable material will easily guard against spills, stains, and oil or grease splashes. Comes with an adjustable neck strap and waist ties to fit all sizes and the large front pocket can easily hold essential kitchen items like cooking spoons or jars.
3.
Shori Bake Banneton Proofing Set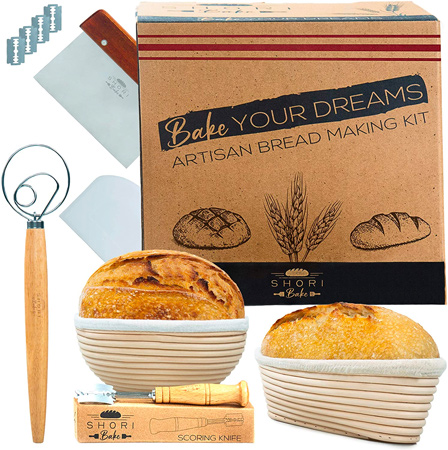 An ideal gift for bread-lovers and bakers complete with all the tools and accessories needed to create the perfect loaf. The Shori Bake Proofing Set is made from natural Indonesian Rattan cane with baskets that are guaranteed not to splinter. Support the bread rising process and wick away moisture easily with these versatile baking tools. Special bread baking extras like scapers and liners help to shape and cut dough. Comes with an e-book with 21 bread recipes and will make a delightful and thoughtful gift for your family baker.
4.
3 Piece Fun Silicone Spatula Gift Set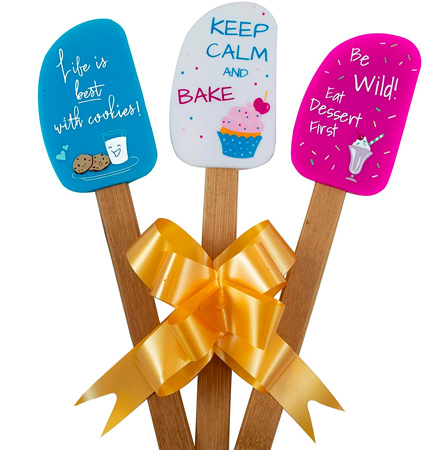 Inject a bit of fun into the baking process with these brightly colored spatulas. Completely stain resistant and constructed with bamboo handles, these spatulas will be great for cooking, baking, or sauteing. Each spatula features an amusing quote that will be sure to delight any aspiring bakers. They will make an ideal Mother's Day present, birthday gift, or can be used as party favors or stocking stuffers. Made to withstand temperatures up to 450 F, they are great for baking and high-heat kitchen work.
5.
Professional Stainless Steel Dough Blender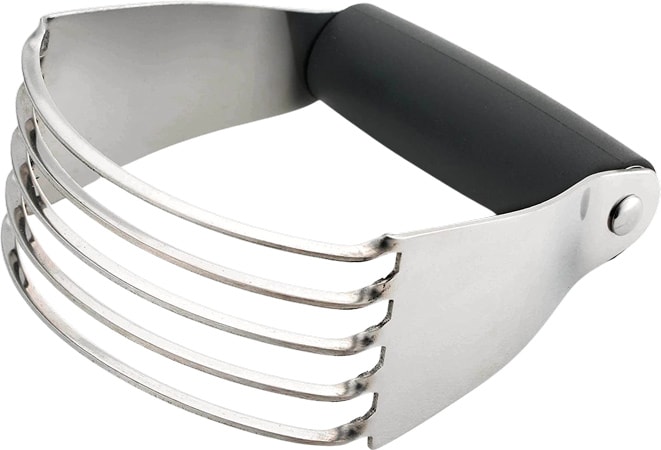 Make pastries, pie crusts, and pizza dough extra light and fluffy with this professional dough blender. Designed to be sturdy and durable with thick, solid blade this useful kitchen tool will help bakers make even better creations. Made with a comfortable soft grip handle that will prevent blistering from heavy or prolonged use, and can double-up as a food chopper. Make the perfect loaf of bread, slice fruit, nuts, or vegetables with ease, and mash potatoes to perfection.
6.
Babycakes Mini Maker Cake Pop
Need an easy snack that can be ready in minutes? Make adorable mini-cake pops with this convenient baking tool from Babycakes. This mini maker can bake 9 cake pops at a time to create a tasty and fun snack. Get your kids interested in baking and decorate these fun treats together. The mini-cake maker comes in brightly colored purple and comes with a latching handle for security. The non-slip feet will keep it safely in place while you make batch after batch of fun cake pops.
7.
Geesta Collapsible Cooling Rack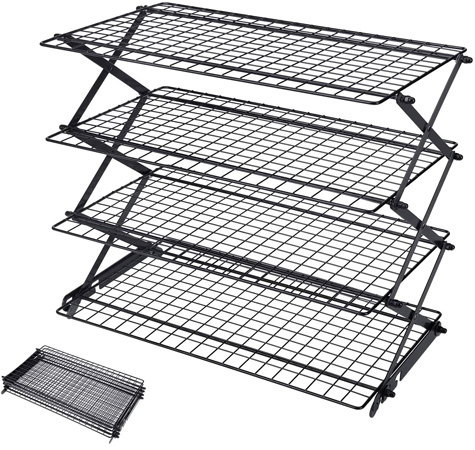 Store food easily with this adjustable and stackable Geesta Cooling Rack, which will make the ultimate kitchen accessory for bakers. The sturdy construction features a 4 tier cooling rack that can hold cakes, cookies, pies or any other baking products. Folds neatly for easy storage and each level can be set to adjustable intervals for different height needs. Heavy gauge materials evenly distribute heat for perfect cooling every time. Frees up space on kitchen surfaces to conveniently provide room for food preparation or baking functions.
8.
Cakebe Cake Decorating Tools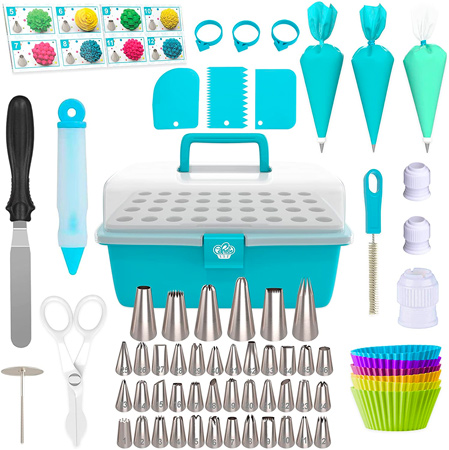 Truly expert cake bakers will have every cake decorating tool they will ever need with this 115 piece set from Cakebe. Includes 42 numbered icing tips for intricate and detailed cake design, and big cake frosting. All comes in a handy storage box to keep items safely stored and well organized. Disposable and reusable icing bags, couplers, nozzles and ties, combined with cake scrapers, icing spatulas and other tools make this the complete all-in-one cake decorating set for professional and aspiring bakers.
9.
Set of 3 Stainless Steel Cake Testers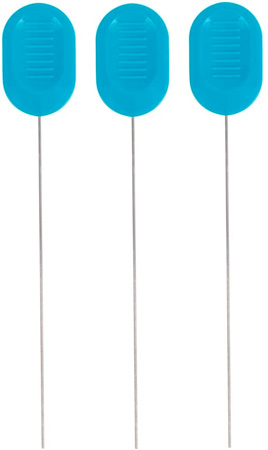 Not sure exactly when your cakes are ready to come out of the oven? Wonder no more with these useful stainless steel cake testers. The slim needles can be inserted into muffins, buns, and cakes to test for readiness and the molded plastic handle will protect fingers from heat. Easy to clean with a quick wipe, these needles can help to increase the success rate of baked batches of food and reduce waste.
10.
Baker's Edge Nonstick Edge Brownie Pan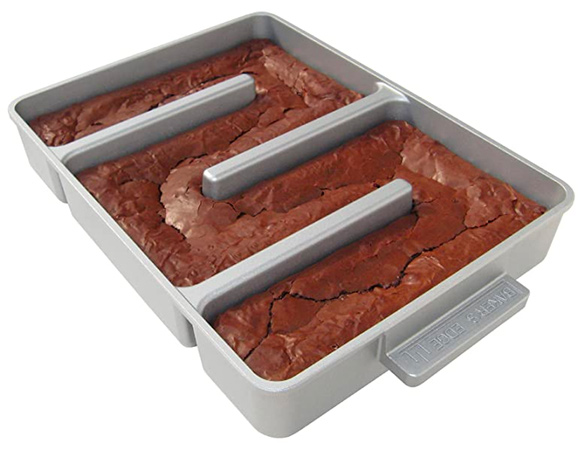 Make perfect yummy brownies every time with this Baker's Edge Nonstick Edge Brownie Pan. Constructed using heavy gauge cast aluminum the rectangular silver pan will give brownies that perfect crispy edge every single time. A non-stick coating makes cooked brownies super easy to remove in one piece. The continuous chamber fits standard size boxes of brownie mix and a spatula is included for easy spreading. A great gift for practicing dessert chefs, the brownie pan comes with a recipe book packed with tasty brownie recipes.
11.
Hyzrz Chef Hat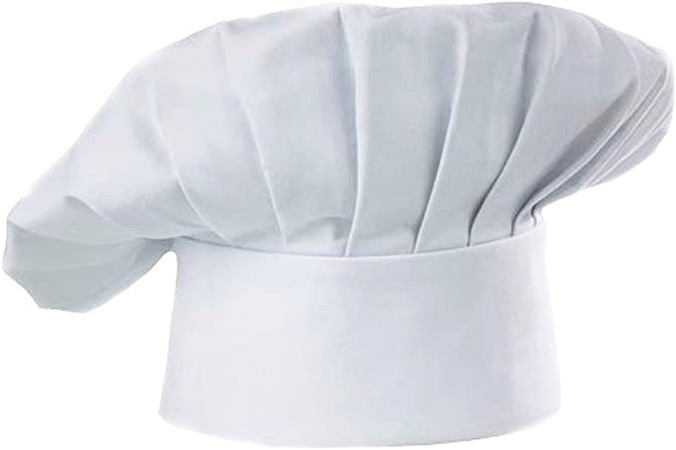 Wear this hat at a jaunty angle! Whether your friend or relative is a professional baker, or just learning the craft, make them look the part with this adjustable chef's hat. Keep hair tucked away and tidy under the elastic band and complete their kitchen outfit. This machine-washable hat will comfortably fit most adults and is suitable for men or women. Made from a polyester-cotton blend the hat is lightweight and comfortable for wearing in hot kitchens.
12.
Whisk Wiper Multipurpose Kitchen Tool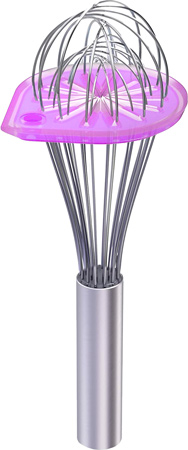 Whisking up batter, cake mix, and pastry mix can leave kitchen tools in need of cleaning. The multi-function whisk wiper is designed to make cleaning a breeze. The cool kitchen gadget comes in a range of color choices and easily catches messy drips. It will make a great gift for any baking hobbyist and even comes with a stainless steel whisk included. The whisk wiper also doubles as a bowl wiper to easily remove excess cake or batter. Makes baking much easier with easy cleaning functionality and will be the ideal kitchen accessory for any baker.
13.
42 Holes Cake Stand – Lollipop Cupcake Display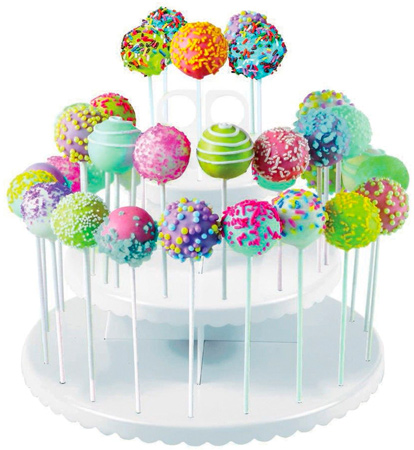 Display baked goods in style with this versatile 42 hole cake stand. Use for birthday parties, kids get togethers, or wedding displays. Can be used to hold up to 42 cake pops, or display party favorites like cookies or cupcakes. The stand can be quickly disassembled for storage and is made from polished plastic for easy cleaning. Make party favorites look even more appetizing by making a colorful arrangement using this convenient and lightweight stand.
14.
Caliente Nonstick Bakeware Set of 8
Need an ideal gift for a mum or auntie that loves to bake? Then this Caliente Non Stick Bakeware Set will provide them with everything needed to cook cakes, cookies and other baked treats. Contains baking sheets, muffin pans, and bread baking pans all made from durable non-stick premium steel. The brightly colored pan set has a professional looking blue coated finish and will bake food flawlessly every time. Would make a fantastic housewarming or wedding gift for budding bakers.
15.
Cookie and Cake Carrier Container with Handle and Lid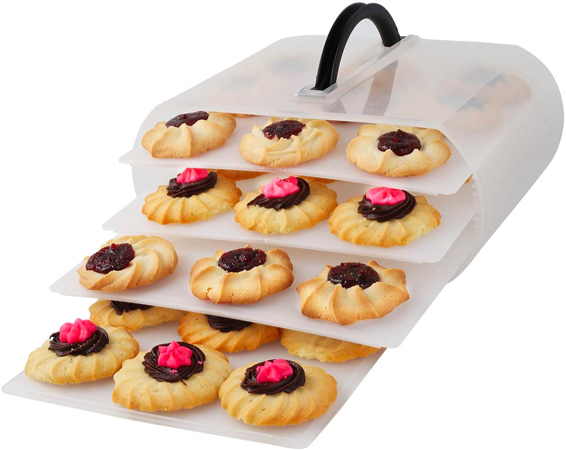 If you need to transport your cooking creations and carry food to different locations this Cookie and Cake Carrier will be the perfect travel companion. The 4 separate trays can hold up to 45 cookies or 32 mini cupcakes. Adjustable sliding trays can be configured for maximum storage and will keep baked goods safe and fresh. The container can be divided into compartments and used in an upright position for transporting chips or snacks. The Cookie and Cake Holder is built to last and comes with a 1 year warranty.
16.
Cat Shaped Ceramic Measuring Spoons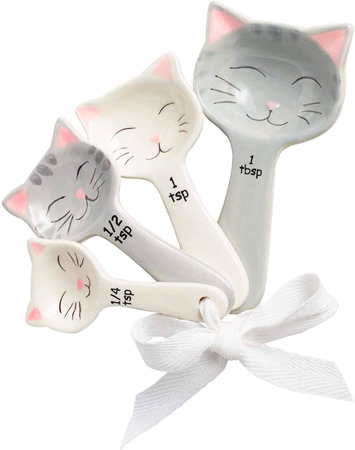 These charming feline fashioned spoons will be an ideal gift for any cat lover that enjoys baking. Give them to friends, relatives, or workmates as a fun and delightful present. The gray and pink smiling kitty cat design makes for a fun addition to kitchen decor, and the measuring spoons are completely functional. With 4 different sized spoons and a ribbon for hanging these spoons can be kept proudly on display in the kitchen. Made from durable ceramic and easy to clean, these cat shaped spoons will measure flour, sugar, or spices accurately.
17.
Extra Thick Silicone Baking Mat
Non-slip and completely reusable, this silicone mat is a must-have for any baker. Designed to be non-stick and is perfect for kneading dough or rolling out pastry. Printed with handly cooking measuring guides on the surface and edge with fiberglass to prevent the edges from rolling up. Keep work surfaces clean and clean the extra thick mat with just a quick wipe. The mat is constructed using food-grade silicone and is completely safe to use in the oven or freezer.
18.
Funny Baking Themed Socks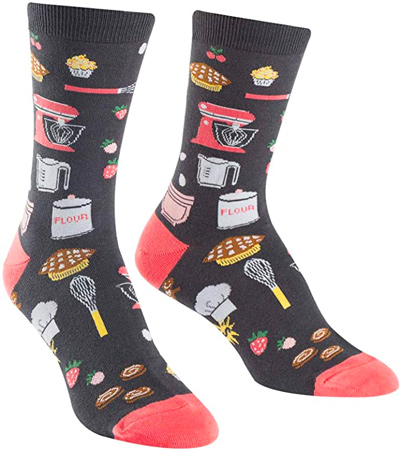 These super fun and brightly designed ladies socks will make an excellent gift for women who like to bake. Adorned with cooking images like chefs hats, whisks, and flour jars, these colorful socks are thick and comfortable. Fits ladies shoe sizes 5 – 10 and will keep toes toasty and warm while working in the kitchen. Made from durable materials with no chemicals these eye-catching socks will keep your skin safe and happy.
19.
Adjustable Rolling Pin with Removable Rings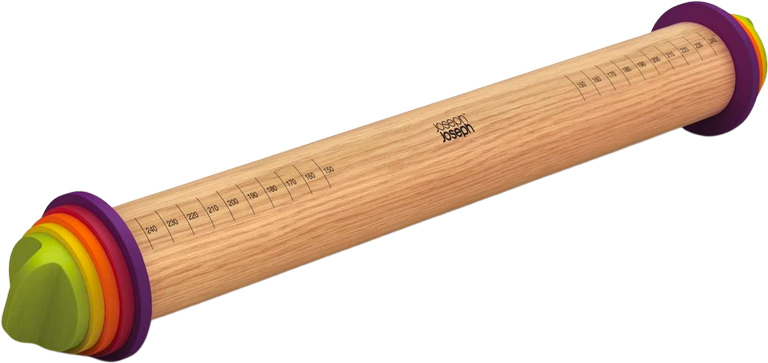 Rolling, rolling, rolling! For the baker who has everything, this adjustable rolling pin with removable rings will be bound to be a hit. Made from solid beech wood, the pin is etched with a handy pastry-width measurement guide. Removable rings in different sizes make it easy to roll pastry or dough to the correct thickness. Make perfect pies, pizza, and cookies every time with this versatile rolling pin.
20.
Etekcity Digital Kitchen Scale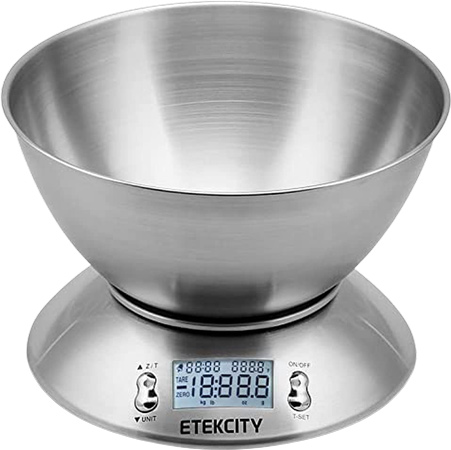 Get precise weight measurements every single time with the Etekcity Digital Kitchen Scale. Features an 11lb capacity stainless steel bowl and an easy-to-read LCD display. High precision sensors provide accurate readouts every time and an alarm and room temperature sensor is included. The bowl is detachable for easy measuring and pouring, and the modern steel finish will match any style of kitchen decor.
21.
Set of 3 Non-Stick Cake Molds
These non-stick and durable cake molds will make the ideal gift for bakers or culinary students, as well as help them create perfectly round cakes. The non-stick pans are made from tough carbon steel and are covered with a safe, chemical-free coating. Molds will not rust, corrode, or deteriorate over time and can be used again and again. Adjustable sides and removable base make separating cakes from the pan simple, and the molds can be stacked and stored together to save space.
22.
Oven Mitts and Pot Holders 6pcs Set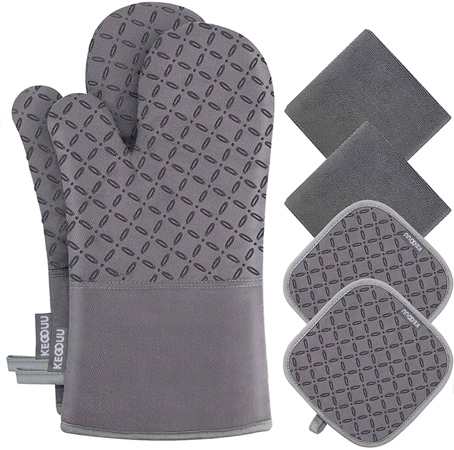 Protect hands from spills and burns with these 500 F resistant pot holders and oven mitts. The silicone material is designed to withstand high temperatures and is ideal for cooking and baking. The set includes gloves, pot holders and 2 kitchen towels and will fit men and women. Durable enough for daily use, and easy to clean, these protective cookware items will make a thoughtful present for any chef or baker.
23.
KP Kitchen Pancake Batter Dispenser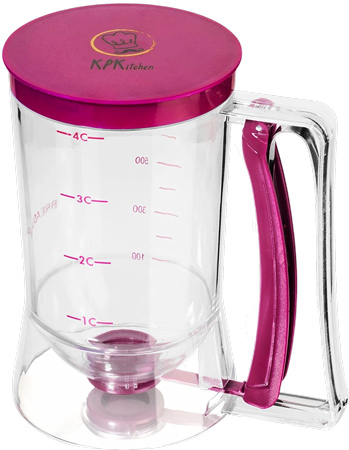 Bake waffles, pancakes, cookies, and crepes to perfection using this Pancake Batter Dispenser. Made from completely BPA-free plastic, this lightweight and easy to clean dispenser provides an accurately measured pour. A wide-mouth opening and quick close valve makes filling and pouring simple using the squeezable handle. Portion control means that baking mix is evenly distributed with every squeeze, and the dispenser comes with a 3 year guarantee. Be in complete control of your baking.
24.
Genuine Fred Oven Mitts Bear Hands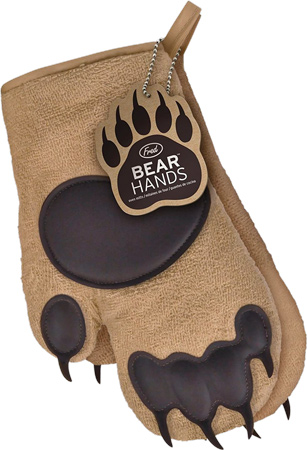 If Dad or Uncle fancy themselves as a bit of a baking expert they will get a kick out of these Bear Hands oven mitts. Designed to look like giant bear paws, complete with claws, these mitts come in brown bear or polar bear options. Made from genuine cotton with protective silicone paw pads, these oven mitts will keep hands safe and protected from hot ovens. One size will fit most people and the mitts will make a fun and lighthearted present for any guy.
25.
Stainless Steel Measuring Cups and Spoons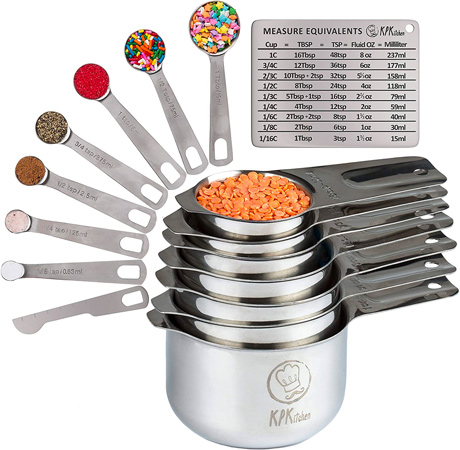 Bring precision and accuracy to baking measurements with this complete set of measuring cups, and spoons. Comes in a full range of sizes to accommodate all baking needs, the stainless steel set also includes a leveler and handy conversion chart. Easy to read measurements are stamped right into the metal so it doesn't matter if recipes are in teaspoons, ounces, cups, or milliliters. The one piece metal construction is super durable and the set is backed by a 3 year warranty. This will make an ideal gift for advanced bakers and cooking experts.
26.
Measuring Spoons Pendant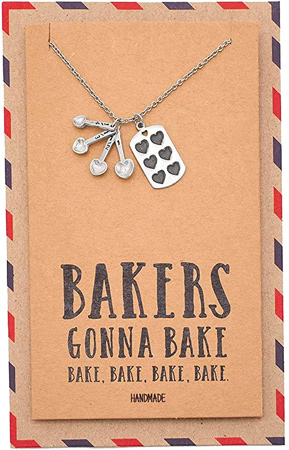 Make a sentimental and thoughtful gift for mums, wives, or female relatives who like to bake. This cute necklace features a measuring spoons set and mini-baking tray charm with heart design and will make a touching present. Comes with a card that reads 'Bakers Gonna Bake, Bake, Bake' and is made of high quality pewter and stainless steel. Long lasting and stylish this is a great necklace to give for birthdays, anniversaries, or Valentine's Day and can be kept and worn daily by baking fans.
27.
Bread Basket Serving Set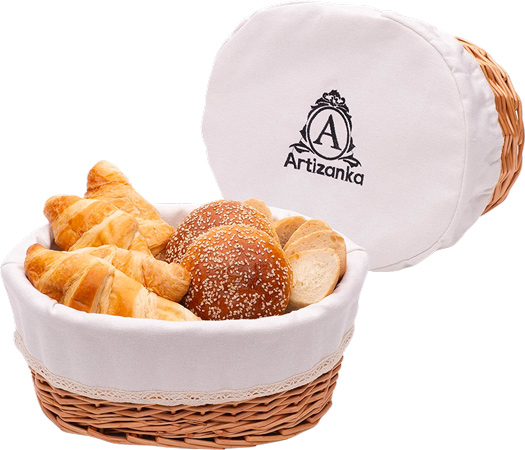 Serve up bread in style with this wicker and lace breadbasket. Makes a great table decoration, and the thick double-walled liner and elastic top prevents messy crumbs and keep bread fresh for longer. The basket can easily hold loaves, fruit bread, and dinner rolls, and can be used in the home or outdoors. Easy to clean and reuse with a hand-washable liner, and is a great eco-friendly alternative to plastic bread containers.
Related Posts