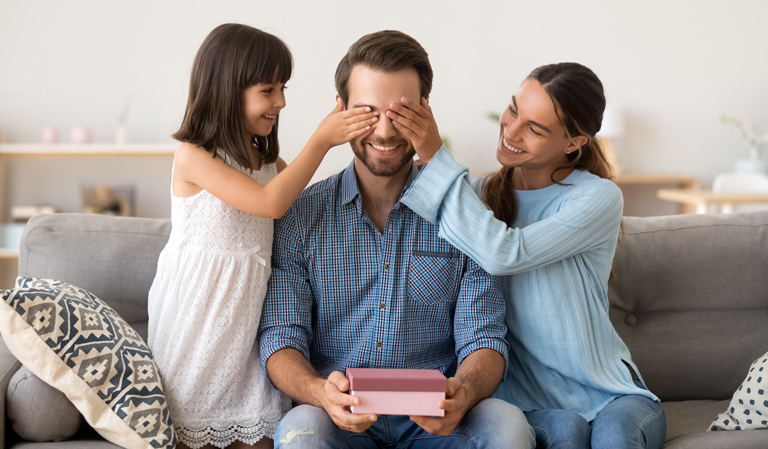 Coming up with gift ideas for men is hard enough but trying to find something unique and equally useful can be a challenge. It may be easy to find something he's never seen before, but will he use it? Make sure you choose a gift that will blow him away by choosing one of these 25 unique gifts for men.
If the man you're shopping for loves cooking, we've got you covered. If he loves tools, got you covered. Everything from practical gifts he didn't even know he wanted to tech gear to make his life easier, you can find it right here on this list. Rest assured he'll get a unique surprise that will impress him with how well you know him.
1.
Luxury Knife Roll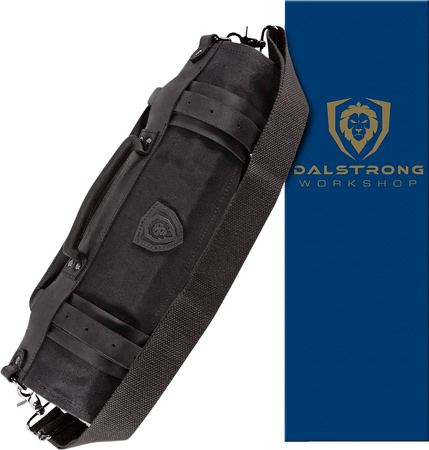 For a unique gift that will delight the man that loves his chef knives, this heavy-duty knife roll by Dalstrong will fit the bill. This canvas and leather roll holds 13 knives that measure up to 15 inches in length. It also features zipped pockets for miscellaneous tools like thermometers, pens or recipe cards. It's great to store knives at home but also allows for easy traveling. The puncture-resistant material makes it long-lasting and durable and the individual knife pockets stop knives from touching each other so the blades don't get damaged. It's truly a unique and luxurious gift that will last a lifetime.
2.
BBQ Smoker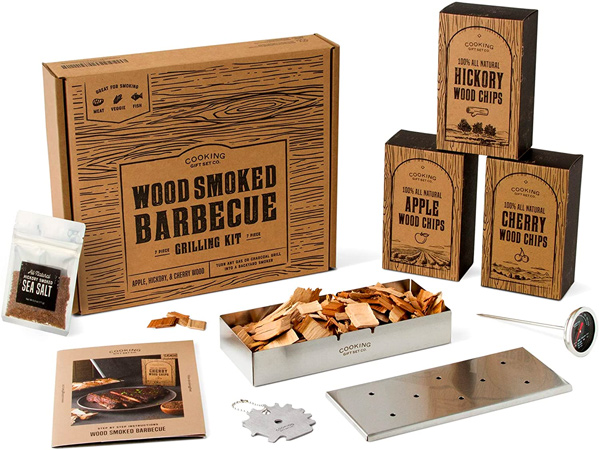 He may have gotten tons of BBQ gifts before but I bet he's never gotten one like this. This eight-piece smoking set comes with everything he needs to turn his regular BBQ grill into a professional-grade meat smoker. It comes with 100% all-natural wood chips that are free of artificial flavors and toxins which means he'll get a longer-lasting, clean burn for great taste. He can choose between the included flavored wood chips of apple, cherry or hickory wood for a delicious infused flavor. The kit also includes the stainless steel smoker box, a meat thermometer, bottle opener and grill brush for cleaning. It's everything he needs to become a meat smoking machine.
3.
Magnetic BBQ Lights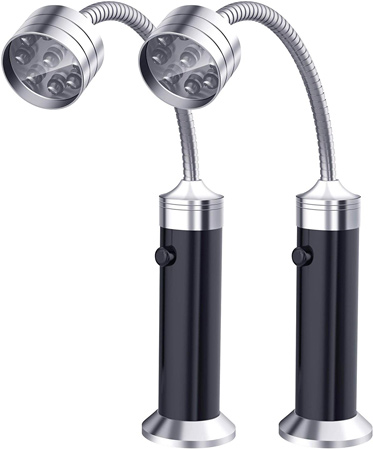 These unique and powerful lights are perfect for grilling at night or taking along for camping trips. Not only do they provide 360 degree light due to their flexible adjusting neck, they also attach to the BBQ via industrial strength magnets so it's hands-free illumination. The lights feature nine light density settings with a wide beam for a bright, glare-free light. They're also made of durable aluminum that makes them resistant to extreme heat so it's safe for long summer night cooking sessions. Now the BBQ fun doesn't have to end when the sun goes down.
4.
Classy Beer Caddy
For the man the likes to show up to the party in style, this textile beer caddy is like no other. No more showing up with a paper bag full of beer. This waxed cotton canvas bag holds six beers and comes with an adjustable shoulder strap for easy transport. The exterior pocket provides ample space for necessities like his keys and phone and even hides the included bottle opener that's attached to the bag via a retractable cord. The interior dividers can also be removed or configured however it best suits his needs. This is definitely the classiest way to show up to the party.
5.
Beer Stout Glasses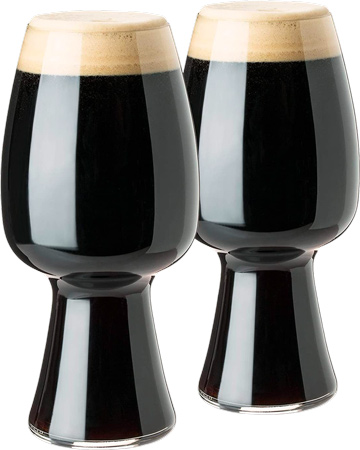 Buy him a set of beer glasses that are as unique as his craft beer. These interesting beer glasses are made of lead-free European crystal and designed by expert brewers to heighten the tasting experience of his beer. The glasses hold a full 21 ounces of whatever brew he chooses. They come in a set of two so there's one for him and one for you to toast to such an amazing gift.
6.
Whiskey Gift Set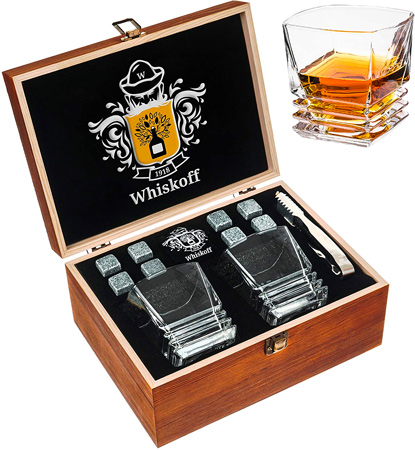 For the man that loves whiskey, this gift set is a special gift that he'll be excited to open. The set comes in a handcrafted wooden display box that opens to reveal two gorgeous square-shaped whiskey glasses with ribbed detailing, eight granite whisky stones for chilling, tongs for distributing the stones, and two slate coasters. This unique set is for the whiskey connoisseur that won't compromise on quality and class.
7.
Da Vinci Puzzle Box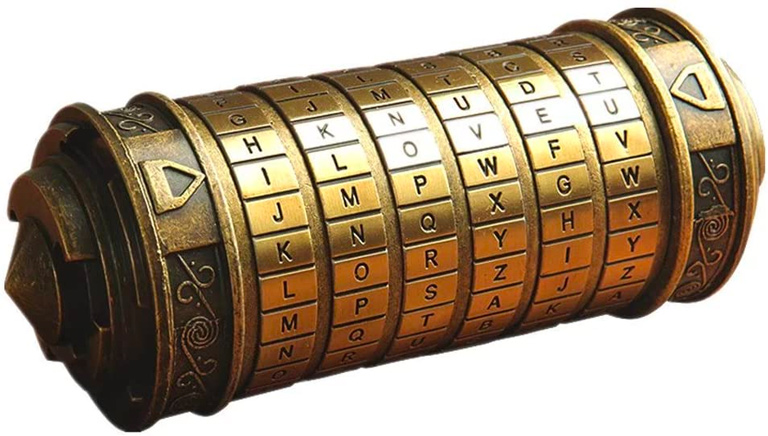 Not only is this a unique gift to have, it's also a creative way to package a gift. With the right password, this Da Vinci Code style cryptex box can be opened to reveal a hidden compartment that can either store a small gift or a special message. The default password to open it is ILOVEU but the password can be changed to something unique to you. If the man you're shopping for loves puzzles, this will definitely bring him joy while he tries to crack the code.
8.
Maintenance Lift Seat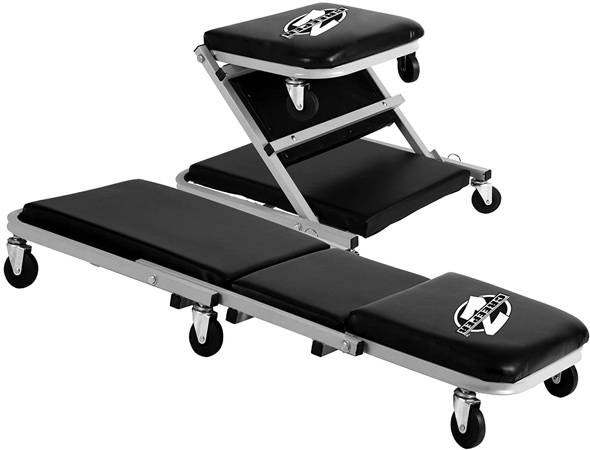 If you're looking for a unique gift for the handyman in your life, this lift seat will come in useful in more ways than one. This clever gift converts from a lay flat maintenance bed to a seated stool with a few clicks of a button. It's great for car maintenance as well as general garden and home maintenance. The swivel casters make it easy to move and the vinyl padding makes it comfortable for long maintenance projects.
9.
Portable Car Vacuum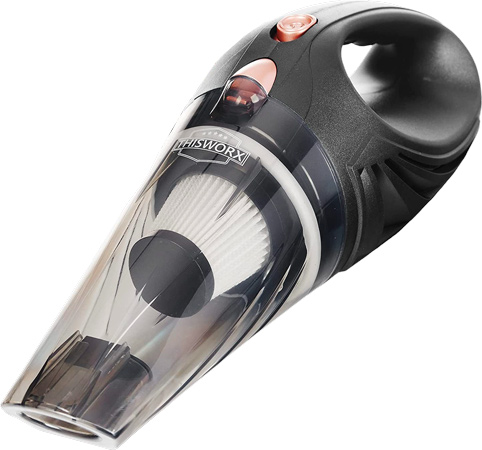 If the man you're shopping for loves his car, make sure he can always keep it clean with this powerful handheld portable vacuum designed for on-the-go cleaning. This compact and lightweight piece of kit comes with three different attachments, including, a filter brush, a spare filter and a carrying case that will keep everything neat in the back of his car until he needs it. It's great for getting out sand, dust, debris or even fur if he loves to travel with his furry friend. This is definitely a unique but very useful gift idea that he'll be happy you thought of.
10.
Wallet Ninja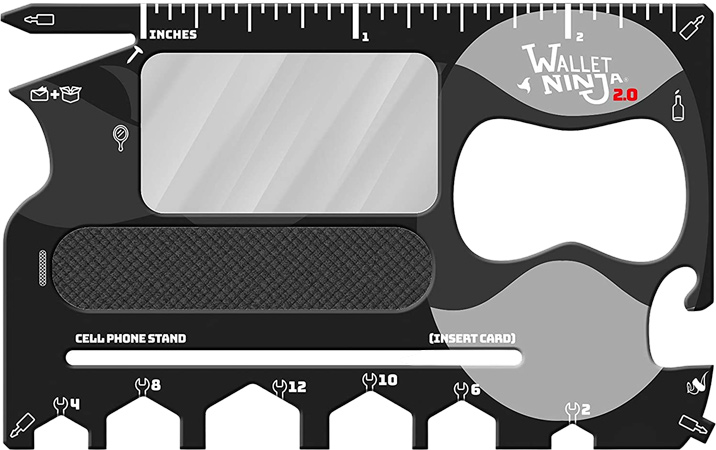 This useful gadget is like nothing he's seen before… And he's going to want one! This multi-tool not only plays the part of 18 different tools it's also the size of a credit card so it lives discreetly in his wallet until he needs it. The ingenious tool does everything from opening boxes, beers and cans to acting as a screwdriver and hex wrench. It's made of four times heat-treated steel so it's guaranteed to never dull or rest. This little multitasker is made to last a lifetime. It's the perfect gift for a man who always likes to be ready for whatever problem comes up.
11.
Sand Pendulum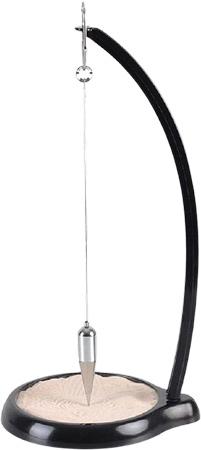 If the man you're shopping for appreciates unique desk decor, this sand pendulum will be a welcome addition to his workspace. Not only does it look ultra-modern, but it's also calming to swing the pendulum and watch gravity create breathtaking designs in the sand. The kit comes with everything needed, including the sand, to create unlimited sand art.
12.
Clip Watch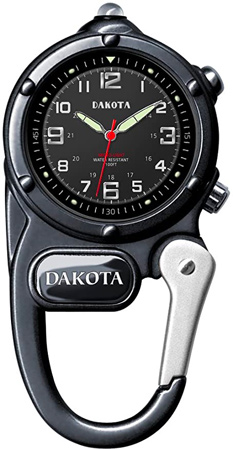 A watch is always a great gift idea but he probably doesn't have one like this. This clip watch by Dakota Watch Company is a useful watch that can be clipped to the outside of his backpack, briefcase, or even to his belt loop. It's perfect if he doesn't like wearing a traditional watch but still wants something handy to make sure his day stays on schedule. The carabiner closure makes it easy to take on and off to switch bags, and the gunmetal design keeps it classy, making it fashionable enough for any occasion. Whether he's hiking in the mountains or going to the office, this clip watch will look the part.
13.
Leather Wallet and Card Holder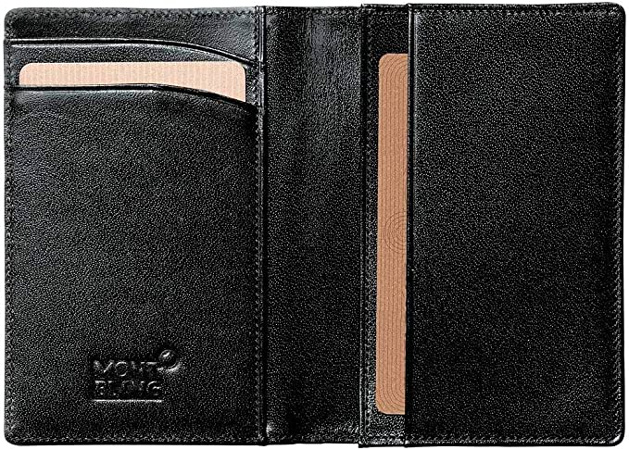 A wallet might be a traditional gift idea but one of this level of luxury will certainly stand out as unique and one of the best gifts he's ever gotten. This high-quality leather wallet by Montblanc is pure class. Not only is it a slimline wallet with room for his essential cards, but it's also a business cardholder. Anytime he pulls out his business cards he will definitely make an impression.
14.
Leather Messenger Bag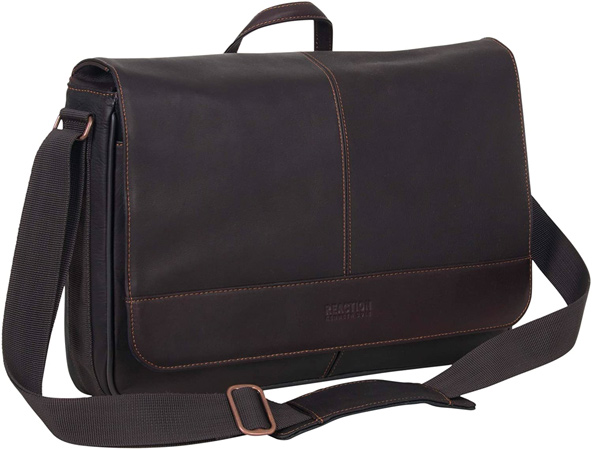 If you're looking for a unique but practical gift that will get a lot of daily use, give the man your shopping for this versatile messenger bag to carry all of his essentials. This 100% soft leather bag by Kenneth Cole is perfect for the office or for everyday use. The bag features a large center compartment that closes securely with a hidden magnetic closure so the profile of the bag stays streamlined and stylish. The bag also features an RFID-lined business organizer pocket to protect sensitive information. This high-end and sophisticated bag will become his new go-to bag whenever he leaves the house.
15.
Slim Sling Backpack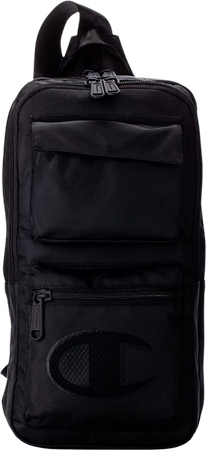 For a super minimalist backpack that's unlike traditional bulky backpacks, this sling bag by Champion is a great gift option for the man that prefers a sportier look than a briefcase or messenger bag. While it's compact in design, it's still large enough to hold a 13-inch laptop. It can either be worn across the back or slung to the side across his chest. It features both interior and exterior zipper pockets that provide plenty of secure space to hold all his daily gear on the go.
16.
Men's Manicure Kit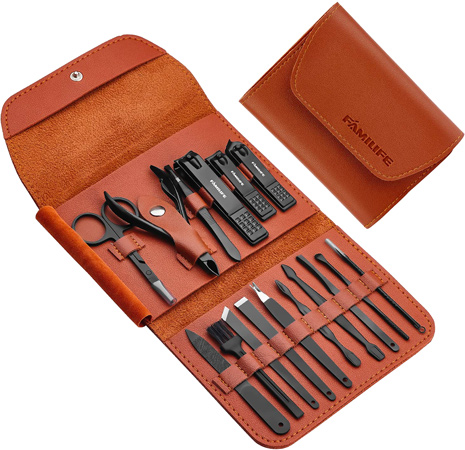 This is the perfect unique gift for the man who takes pride in his appearance. This professional, high-quality manicure set is as beautiful as it is practical. The 16-piece set is made of durable, black carbon steel that is made to stay sharp and last a lifetime. Everything from tweezers to files and clippers can be found in the sleek set that all stores nicely in the included vegan leather case. It's great to use at home or throw in a travel bag or gym bag.
17.
Shoe Shine Kit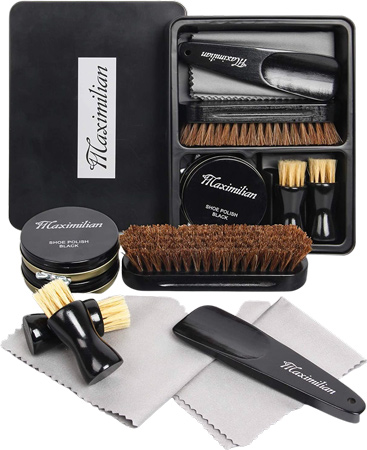 For the dapper man who seems to have it all, this unique, luxury shoe shine kit will keep him looking his best from head to toe. This isn't your traditional shoe shine kit. It's like stepping back in time and getting a shoeshine for a nickel. It's all the bells and whistles. The kit includes black shoe cream made with natural waxes and oils to clean and restore leather shoes, as well as microfiber shine cloths and shoe brushes made of 100% horsehair. When not in use the kit is stored away in the sleek black and white tin.
18.
Tile Tracker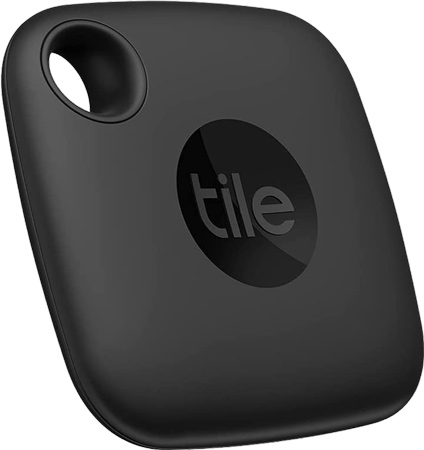 Here's a unique gift idea that will make his life easier. Give him something that he'll use all the time with this Bluetooth tracker that can clip onto his keychain or bag. This amazing little device can track where his belongings are up to 250 feet away. It not only helps him keep track of his keys but is also perfect to clip onto carry-on cases for travel. He'll never lose his things again.
19.
Finger Print Lock
He'll probably be the only one at the gym with a lock like this one. This futuristic padlock is fingerprint protected so he won't have to waste time fiddling with traditional rotating dials to get into his locker. The lock opens and locks by reading his fingerprint making it safer than dial locks. It can even be connected to his phone so it can be unlocked remotely in case of emergencies. Not only is it perfect for the gym, it can also be used as a bike lock or a lock on storage units. Anything he wants to be locked will be safer with this high-tech security lock.
20.
Tech Docking Station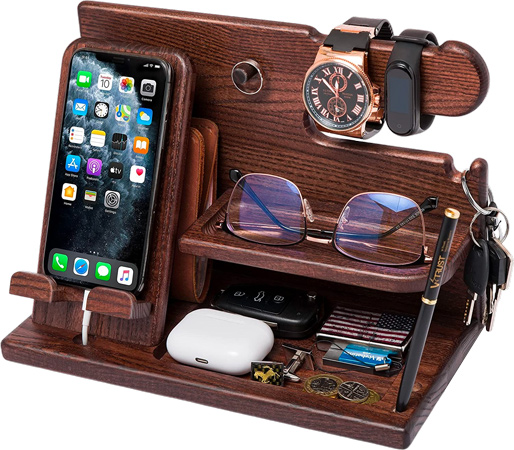 This unique gift idea will keep everything organized on his nightstand or desk while still keeping it looking upscale and classy. No plastic here, just high-quality and sturdy ash-tree wood that will stay beautiful for years. The attractive docking station has dedicated space for charging his phone, holding his glasses, hanging his watches and even includes a peg to hang his ring. The bottom section features an open tray for any miscellaneous necessities he wants to keep within reach.
21.
Ultimate Gear Organizer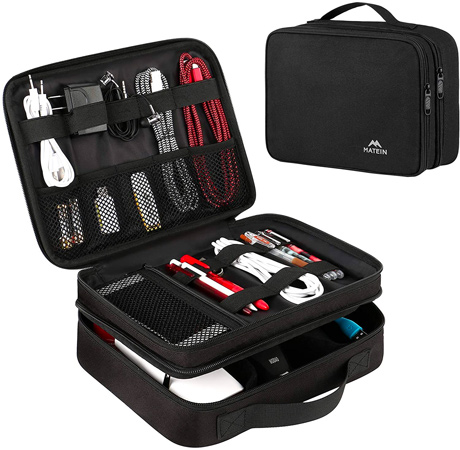 Not just an ordinary tech organizer. This ultimate tech bag holds just about anything he needs, including a mini tablet! Don't bother with traditional tech rolls that don't hold everything or get too bulky to close. This uniquely designed bag is made for the tech-head that likes to stay organized. The bag is divided into two main zippered compartments that open flat, providing easy access. Each compartment has multiple pockets for everything from wires and chargers to small SSD cards and more. It's a great way for him to stay organized at home but it's also ready to zip up and go for travel.
22.
Outdoor Speaker

This is a gift probably no one is thinking of getting him. It's perfect for the outdoorsy man or the guy that loves to spend time in the backyard grilling with the family. Give him the gift of tunes wherever he goes with this durable and waterproof outdoor speaker. He can set it up in the backyard, garage or even throw it in his backpack for camping or hiking. This Bluetooth speaker plays his favorite songs straight from his phone and even lets him make and receive calls. This speaker is made to take a beating which makes it the only outdoor speaker he'll ever need.
23.
Modern Watch Display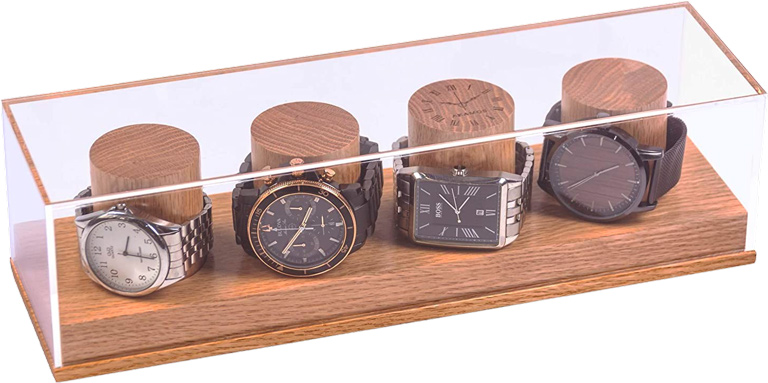 His watches will look like they're in a high-end jewelry store with this unique wood and glass watch display. The base of the display is made of solid oak and provides space to display four of his favorite watches. The glass case cover not only provides a beautiful presentation but also protects watches from dust and scratches. With this case, he won't have to hide away his watches in traditional watch rolls or jewelry boxes. This case is made for the man who loves his watches and wants to show them off.
24.
Motorized Tie Organizer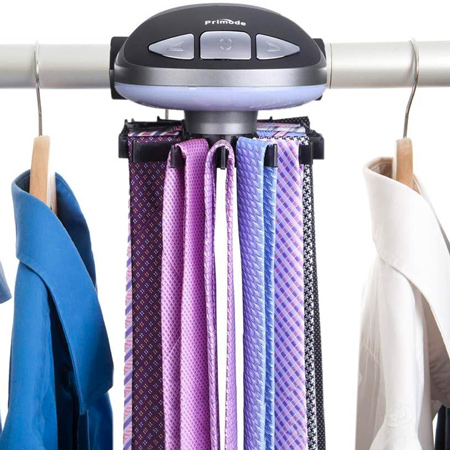 Does your man friend wear ties? Then he needs this in his life and he doesn't even know it yet. Unlike traditional tie racks that pile ties on top of ties so he can't see what he has, this clever organizer is motorized to display ties individually. The battery-operated holder fits onto any standard closet rack and rotates at the touch of a button to display up to 50 ties. Not only is it a space-saving and organizing marvel, but it also keeps all his ties wrinkle-free and ready for wear. It's the tie rack of the future.
25.
Wooden Sunglasses Holder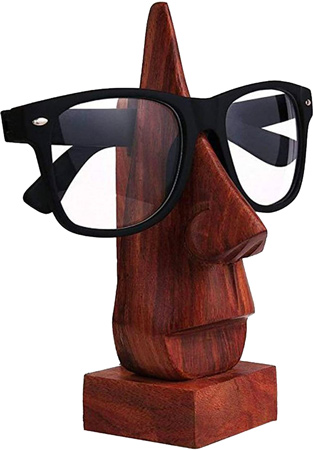 No need to throw his expensive glasses on the counter if he has this unique and whimsical glasses holder. The display holder, shaped like a nose, is handmade out of solid wood. It's perfect for holding sunglasses or reading glasses and the design makes it a quirky piece of home decor worthy of display. It would look equally great on a nightstand or a desk. Keeping his glasses on this stand will stop them from getting scratched or damaged so it's a gift he'll appreciate and use every day.