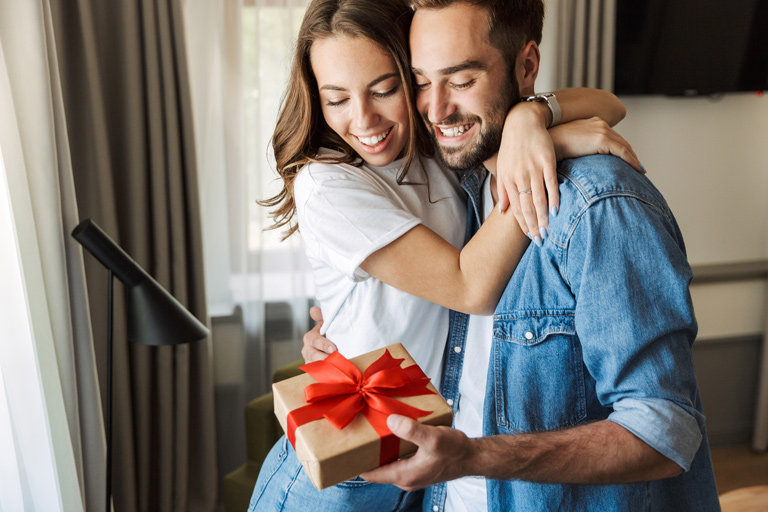 What do you get for the one special man that you have chosen to spend the rest of your life with? How do you show him through a gift how much he means to you? This list of 26 gifts that will thrill your husband will help you do just that. All without having to spend endless hours weeding out the subpar junk on the internet.
This list is packed with top-notch gifts he'll want to keep, use and play with. Everything from self-grooming to tools, tech and sports is sitting right here ready to save you time and end your search. He's about to be one lucky hubby.
1.
Electric Grooming Kit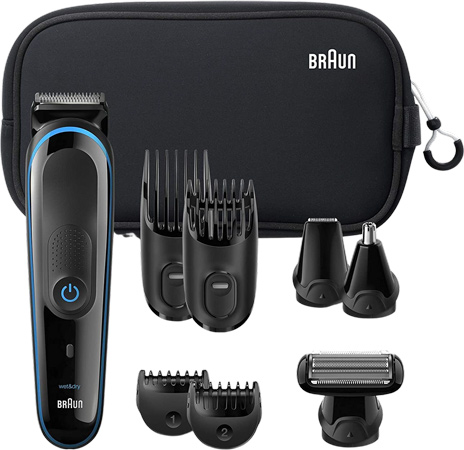 With this gift, your husband will always look like the best version of himself. This complete electric grooming kit by Braun includes all the attachments he needs to manscape, including hair clippers, a beard trimmer and an ear and nose trimmer. The shaver is completely waterproof so he can even use it in the shower. The set includes one shaver with eight different attachments and comes complete with a travel storage pouch for safekeeping at home or on the road.
2.
Massage Oil

Here's a gift he won't refuse. Give him a relaxing massage with this de-stressing massage oil by Elemis. It's made with all-natural essential oils that are proven to relax both his body and mind. This luxurious massage oil smells of rosewood, geranium, lavender, melissa and chamomile. Not only will he feel relaxed, but the formula is ultra-hydrating to leave his skin feeling soft and nourished. This is one gift he won't soon forget.
3.
Luxury Money Clip

Give your husband this classy money clip to carry his cash and cards in the most minimal way. This luxury clip by Tumi is made of solid metal with a classic textured pattern. The tight grip snuggly holds multiple bills and up to six cards. It's a modern and minimalist way to carry just what he needs. No more bulky pockets.
4.
Cap Clip Light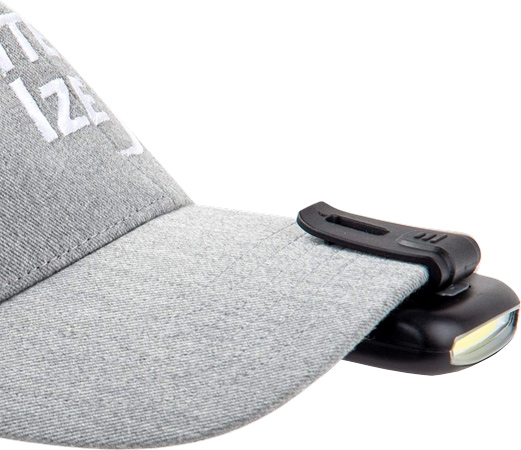 If your husband loves cool and useful gadgets, this cap light will come in handy in many situations. This tiny light clips to the brim of his baseball cap for hands-free light whenever he needs it. The light features four different brightness modes, the highest of which shines out an impressive 170 lumens. It also provides a high-powered flashing red light for emergency situations. It's perfect for working on his car, camping, or even running at night. When not in use it's small enough to easily slip into his pocket. The little light is a great gift with many uses.
5.
Universal Socket Tool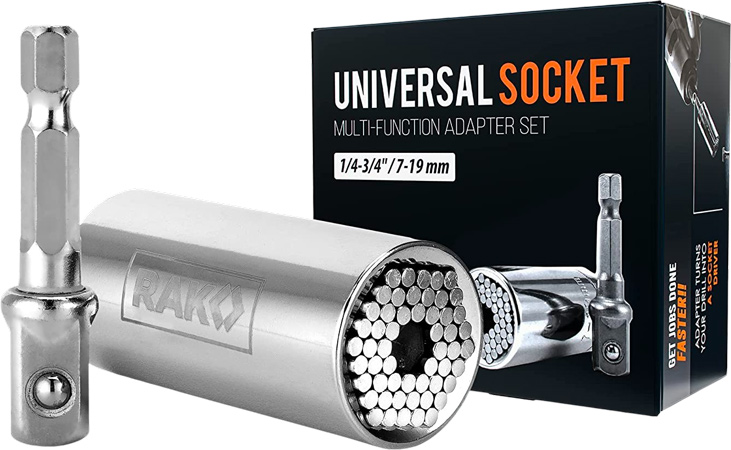 Give your husband this cleverly designed tool to add to his toolbox. This universal socket wrench will be the only wrench he needs to keep on hand. The internal steel spring pins allow the tool to adjust to the shape of different sized bolts, hooks, nuts, or whatever else he needs to loosen or tighten. It even comes with a power drill adapter so he can turn his standard drill into a power socket driver. This multipurpose tool makes a great gift for any husband that loves his tools.
6.
Bucket Tool Organizer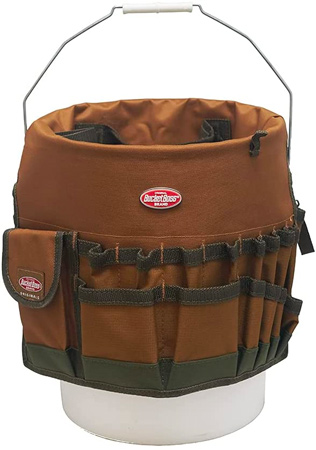 This clever idea for a tool caddy is a great gift for the DIY husband. The Bucket Boss is a sleeve that turns any standard five-gallon bucket into a portable tool organizer. The sleeve provides tons of pockets for various large and small tools on both the inside and outside. The rugged material is resistant to tears and fraying so it's ready to stand up to any job. It's also quickly removable and machine washable for easy clean-up. Make the handyman in your life happy with this useful gift.
7.
Fashionable Sweater
Help your husband makeover his wardrobe with this chic, shawl neck sweater. The sweater comes in 15 different fashionable colors to choose from, including classics like black and grey. The sweater would look great paired with dress slacks for the office or dressed down with a pair of jeans for a casual date night out. It's made of pure cotton so it's soft on the skin and naturally cooling to wear. The slightly tapered waist provides a flattering fit and a more put-together look than oversized and baggy sweaters. Your husband is going to look good in this classic sweater.
8.
Classic Cashmere Scarf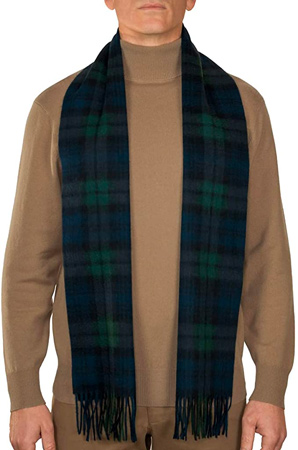 This scarf would be a great gift if your husband appreciates high-end luxury fashion. Made of pure, two-ply cashmere, this scarf will keep him warm on chilly days while feeling like he's wearing a cloud around his neck. The scarf comes in many color and pattern options, including different shades of classic tartans. This scarf is one he'll keep for a lifetime.
9.
Comfortable Lounge Pants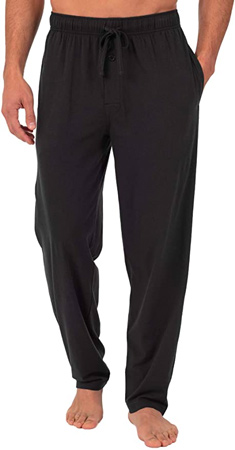 Help your husband lounge in comfort with this set of jersey knit lounge pants. The set comes in a pack of two in various available color combinations. The pants are made of pure cotton which makes them comfortable to wear and easily machine washable. They are designed with a relaxed fit throughout the legs and feature a drawstring elastic waist for comfort. They're the perfect pants for relaxing around the house.
10.
Deluxe Lunch Cooler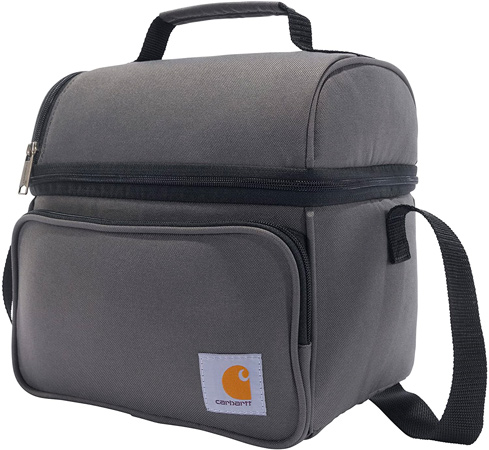 Give your husband a convenient and stylish way to take his meals on the go. This dual compartment lunch cooler is large enough to hold multiple meals while keeping them fresh all day long. The top compartment is spacious enough to carry a six-pack of beer or soda. The front pocket is perfect for utensils, condiments, and miscellaneous items that don't need insulation. The cooler comes in various solid colors as well as a military-inspired camo print one. The long shoulder strap makes carrying this lunch cooler more convenient than traditional lunchboxes. Make sure he stays fed well with this deluxe lunch cooler.
11.
Insulated Travel Mug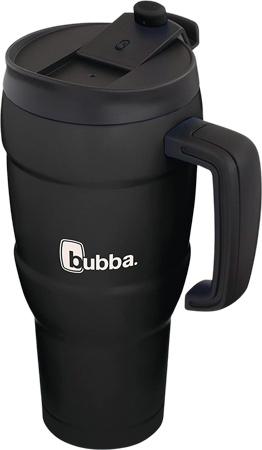 If your husband loves coffee (and a lot of it!) this is the perfect travel mug for him. This huge mug by Bubba holds 30 ounces of coffee and will keep it hot for up to 7 hours. It's designed with double-walled, vacuum insulated sides to control temperature and has a tapered bottom so it can fit into most standard-sized cup holders. The integrated large handle makes carrying it convenient and more comfortable. Help your husband start his day out right with this great looking travel mug.
12.
Unique Whiskey Glasses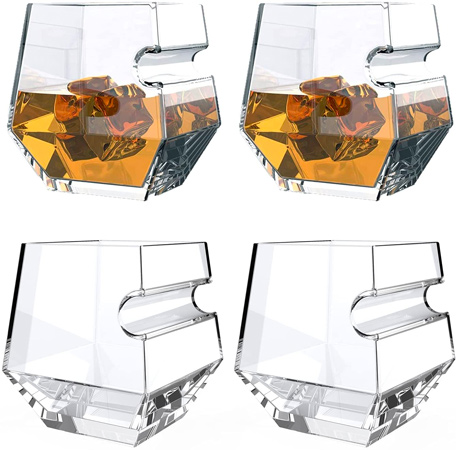 These unique whiskey glasses will be an impressive gift if your husband enjoys the occasional drink to unwind from a stressful day. The set of four glasses is made of heavy, lead-free glass that is highly durable and dishwasher safe. Not only is the squared-off design unusual and eye-catching, but the cutout cigar holder also makes these glasses multifunctional and a set he'll want to add to his bar cabinet. Next time he pours himself his favorite drink, it will be one of these cool glasses he'll be reaching for.
13.
Beer Bottle Insulator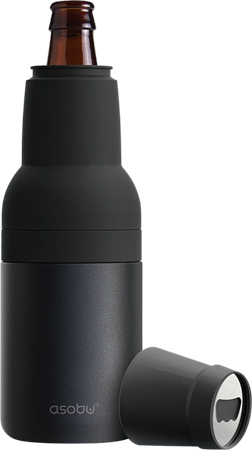 Help your husband kick back and enjoy a brew that stays cold for hours with this dual-action bottle insulator. Not only will this hold a full-sized glass bottle, it also reconfigures to fit standard-sized beer cans. The top portion of the beer bottle insulator also features a built-in bottle cap remover so he'll never find himself searching for a way to pop open his beer. This is a great gift idea for husbands that enjoy backyard BBQ's, tailgating, camping or fishing. No more warm beers destroyed by the sun. With this insulator, he can enjoy his beer how it should be, ice cold.
14.
Funny Beer Glasses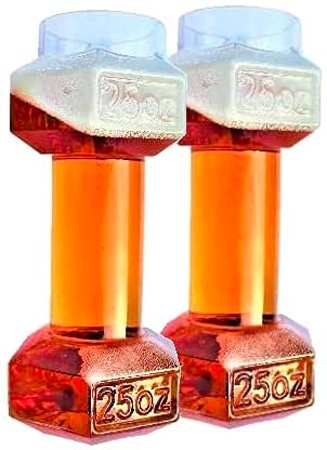 Have a husband with a great sense of humor? These funny beer glasses will make his day. These giant beer glasses hold twenty-five ounces of beer and are designed to look like dumbbell weights. They are made of crystal-clear glass that is durable and dishwasher safe. He'll enjoy the attention he gets drinking out of these conversation-starting beer glasses. This is definitely a set of dumbbells that he won't mind getting in a few more reps on.
15.
Wine Opener Set
If wine is your husband's beverage of choice, this high-end wine opener set is a gift that will win him over. The set comes with everything he needs to enjoy his favorite bottle in the best way possible. The electric opener makes cork extraction effortless and removes up to 30 corks from one full charge. Along with the wine opener comes a pouring aerator, a foil cutter, a manual wine pump to remove excess air and two wine stoppers to preserve and extend the shelf life. The set all displays neatly in the charging base. This will look great left out on the counter so it's always in quick reach for the next occasion that calls for a bottle of wine.
16.
Modern Hip Flask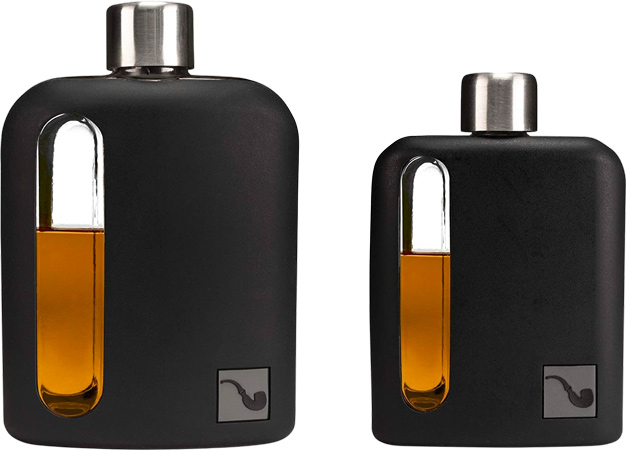 This modern hip flask is a great gift if your husband likes to keep a little booze handy for special occasions. Whether it's a concert, tailgating or golfing, this stylish flask will make sure he's always ready to toast. The flask is available in two sizes, a single shot or double shot, and comes with a funnel for easy filling. Unlike traditional flasks that are made of stainless steel, this unique flask is made of thick, durable glass that is covered by a removable silicone sleeve. It's the perfect size to fit discreetly into a jacket pocket, backpack or golf bag.
17.
Eco-Friendly Tech Bag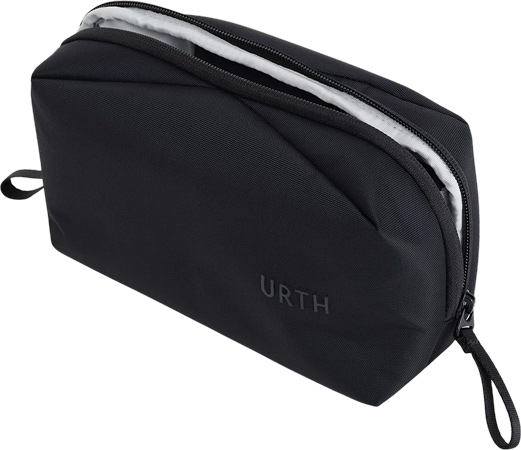 If your husband needs a better way to organize all his tech gadgets and wires, this eco-friendly bag by Urth would make a useful gift. The bag features a single top zip that opens up to access the eleven different storage compartments. Everything from large power banks to small memory cards will have a designated space. The bag is not only weatherproof to protect all his gear, it's also mostly made out of recycled materials so it's a great choice for the environment. This great looking bag is spacious enough to store all of his essentials but still small enough to fit in a backpack for easy transport.
18.
Portable Shower Speaker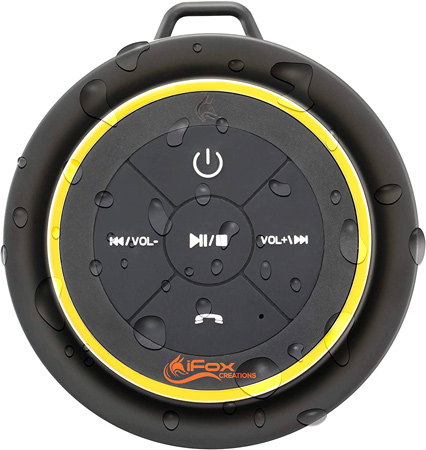 Give your husband the gift of singing to his favorite tunes in the shower with this portable shower speaker. This little Bluetooth speaker is completely waterproof and suction cups to the shower wall. Though don't be put off by its small footprint. This speaker delivers deep bass and powerful, distortion-free sound. The battery lasts for ten hours on a single charge so when he's not dancing in the shower, it's the perfect speaker to take camping, kayaking, or for just laying out at the beach. It also features a built-in microphone for hands-free calling. This cool gift will have him singing your praises.
19.
Golf Range Finder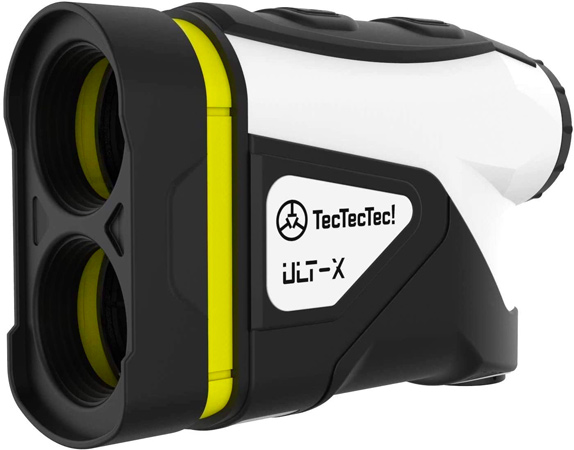 If your husband is serious about his golf game this is the gift for him. This laser range finder features six times magnification to help him gauge the distance of the flag. When the target is locked in, the device vibrates to confirm it has been registered. The precision measuring will measure the distance to within less than a third of a yard. It can even provide accurate readings on slopes. This high-end gift comes with a protective carrying case for transport and storage. He'll thank you for helping him improve his game.
20.
Golf Chipping Practice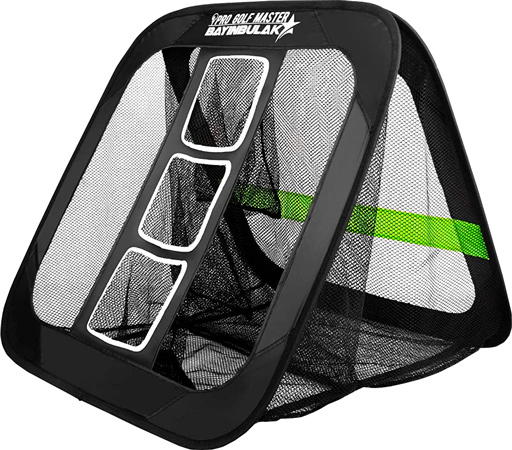 With this gift your husband can level up his golf game from the convenience of his own backyard. This practice net is designed for practicing his chipping by improving aim and accuracy as he chips the ball into the pockets. The double-sided net provides various sized targets to practice with. The net easily pops up without any need for assembly and folds down into a very compact storage bag so when it's not in use it can be stored out of sight. If he loves golf, he's going to love this gift.
21.
Golf Ball Washer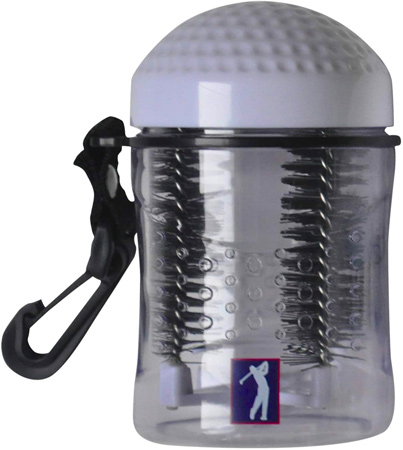 Make sure your husband is never caught with dirty balls. (Golf balls! Obviously.) This portable golf ball washer will make sure his balls stay clean on the course which will improve his accuracy while playing. It also prolongs the life of his golf balls so he'll have to invest less in new equipment. The plastic body with a golf-themed lid can attach to a golf bag or belt clip with the included carabiner. No more dirty shirts from trying to clean them on his clothes.
22.
Heat Resistant Gloves
If your husband loves to BBQ, these extreme heat-resistant gloves are the perfect addition to his grill gear. These gloves will keep his hands burn-free from heat up to 1,472 degrees Fahrenheit. They're also great for using as an oven mitt, deep frying or starting fires. They're made of aramid fabric, a highly heat-resistant material that is tough and long-lasting. Next time he's cooking around flames, make sure he's got these on hand.
23.
Wireless Digital Thermometer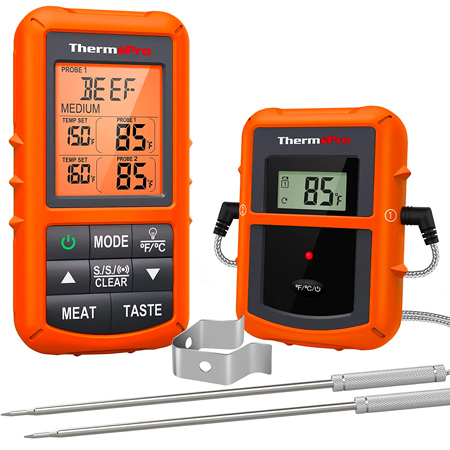 The perfect meat every time is easier than ever with this wireless digital thermometer. This thermometer features stainless steel dual probes that provide accuracy within 1.8 degrees Fahrenheit. It is conveniently loaded with ten presets for different types of common meat and the wireless function allows meat to be monitored from up to 300 feet away. With this gift, your husband will be able to whip up his best recipes without having to stand by and manually check temperatures. It's the ultimate thermometer for the husband that loves to grill.
24.
Leather Backpack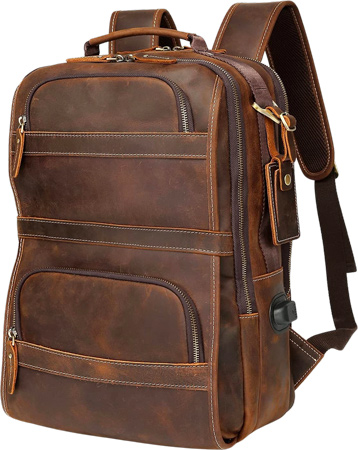 This great-looking backpack is perfect if your husband either works in an office or just likes to take all his gear with him when he leaves the house. The vintage-inspired design and genuine leather construction give this bag a truly timeless look. It's sophisticated while still being extremely functional. It features multiple interior and exterior zippered pockets as well as two large interior pockets that are spacious enough to hold a 16-inch laptop. He'll look good carrying this around town.
25.
Luxury Fountain Pen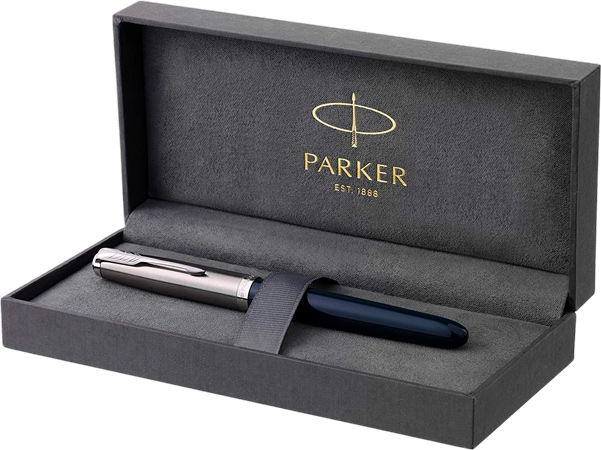 This pen will be a special gift he'll keep with him every day. This attractive pen comes in five classy colors, all made with a smooth resin barrel with a stainless-steel cap. The unique writing nib of this fountain pen ensures a superior writing experience that allows the ink to glide onto the page. It comes in a beautiful presentation box that's ready to be wrapped and given to the number one man in your life.
26.
Classy Chronograph Watch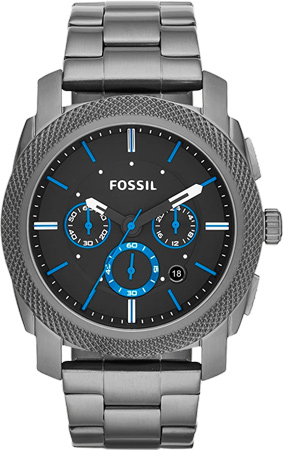 If your husband likes watches, this chronograph watch by Fossil is going to be the next one he wants. The oversized black face of this watch with white and blue contrasting numerals makes this watch stand out and grab attention. The subtle sporty design is paired with a classic smoke stainless steel cage which makes this a watch he can wear with any outfit. It's water-resistant up to 50 meters and has a hardened mineral crystal lens that makes it scratch resistant. This watch is made to stand up to everyday wear. Which is good, because he won't want to take it off.
Need more inspiration?